Ein Trial-Gerät der Spitzenklasse für das Schärfen der Extrem-Enduro-Fähigkeiten. Hier ein ausführlicher Test mit allen Details und Einschätzung aus der Sicht eines klassischen Endurofahrers.

---
DIREKTLINKS / Direct links

TECHNISCHE DATEN / TECHNICAL SPECS
LEISTUNGSDIAGRAMME & PRÜFSTANDSLAUF / PERFORMANCE DIAGRAMS & VIDEO
WEITERE IMPRESSIONEN / MORE IMPRESSIONS
---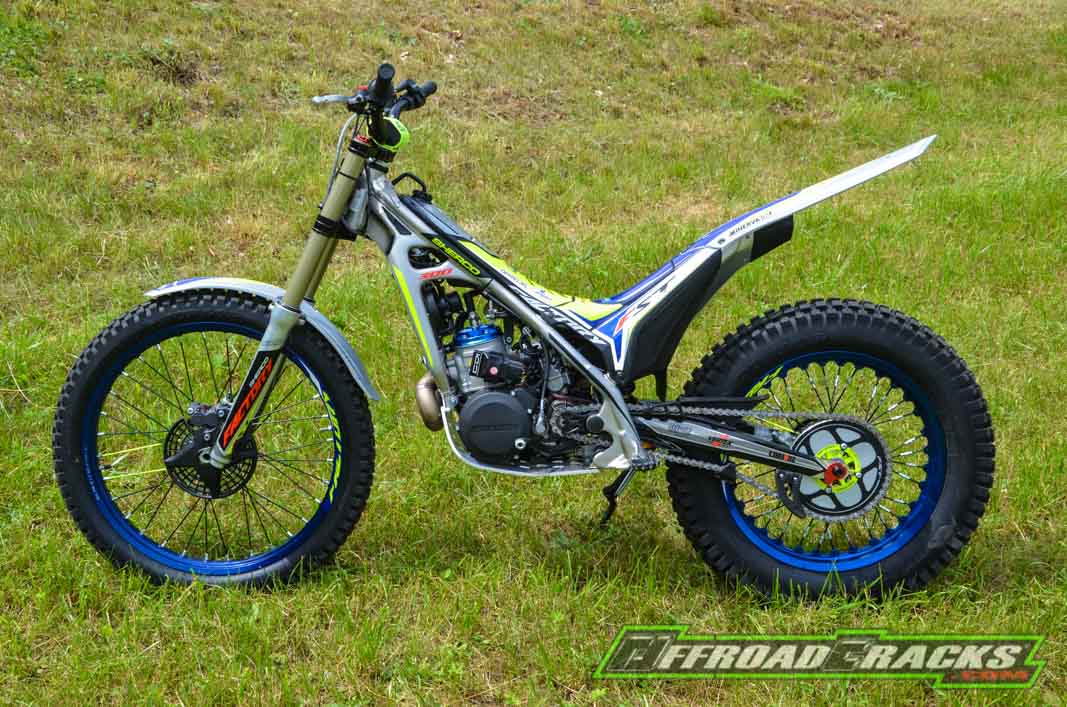 Wie bereits bekannt ist das Trialgerät nicht mehr nur für den klassischen Trial-Piloten ein Arbeitsgerät, sondern auch für den Endurofahrer. Warum? Ganz einfach, da die Extrem-Enduro- oder Hardenduro-Szene durch den stetig steigenden Schwierigkeitsgrad oder besser gesagt den fahrerischen Anforderungen an die Akteure besondere Fähigkeiten verlangen, die genau in der Sparte des Trialsports erlernt werden. Kein Wunder also, das bekanntermaßen seit Jahren Spitzenfahrer aus dem Trialsport wie beispielsweise Graham Jarvis als Urgestein die Extrem-Enduro-Szene beherrschen wie keine anderen.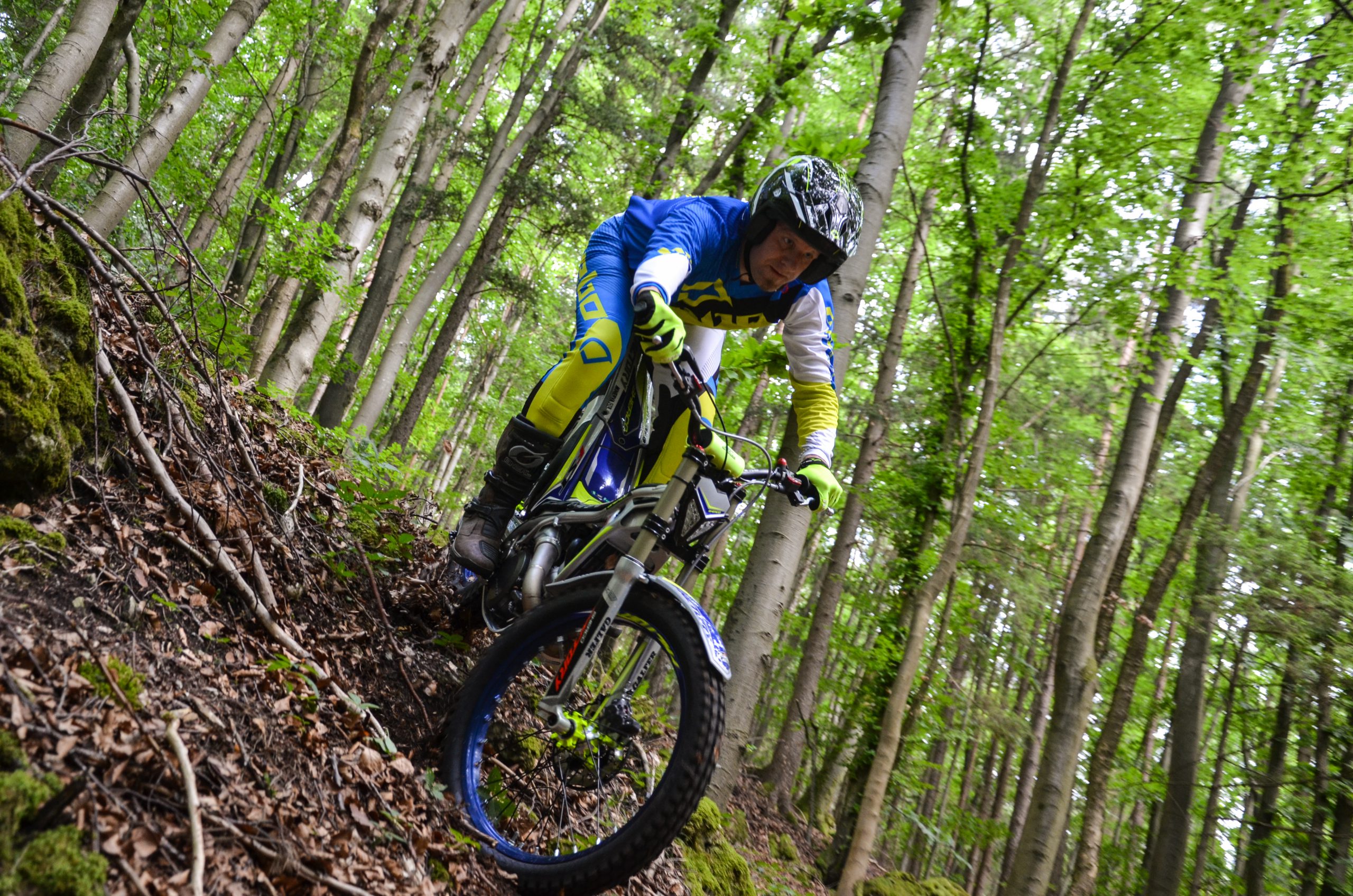 Auch aus deutscher Sicht wäre unser Nachwuchstalent Manuel Lettenbichler nicht da wo er jetzt ist, hätte er nicht seine Ursprünge im Trialsport und natürlich das fahrerische Know-How seines Vaters Andreas Lettenbichler geerbt. Das bedeutet also im Umkehrschluss für diejenigen, die einen gewissen Anspruch an ihr Fahrkönnen im Extrem-Enduro haben und dementsprechend sportliche Ambitionen aufweisen unweigerlich der Kauf eines Trialgeräts? Genau so ist es. Natürlich muss es nicht gleich eine Factory-Edition wie im Fall unseres Testkandidaten sein. Auch wenn die Sherco TS 300 Factory ein absoluter Hingucker mit zahlreichen technischen Highlights ist und dem Technik Verwöhnten unweigerlich ins Auge springt beziehungsweise in den Modus "Will ich haben" versetzt. Das Standards-Modell ist natürlich völlig ausreichend, da man erst einmal die fahrerischen Fähigkeiten erlangen muss, um dieses Trial-Gerät überhaupt an seine Grenzen zu bringen. Und das geht genauso wie im Endurosport logischerweise nicht von heute auf morgen.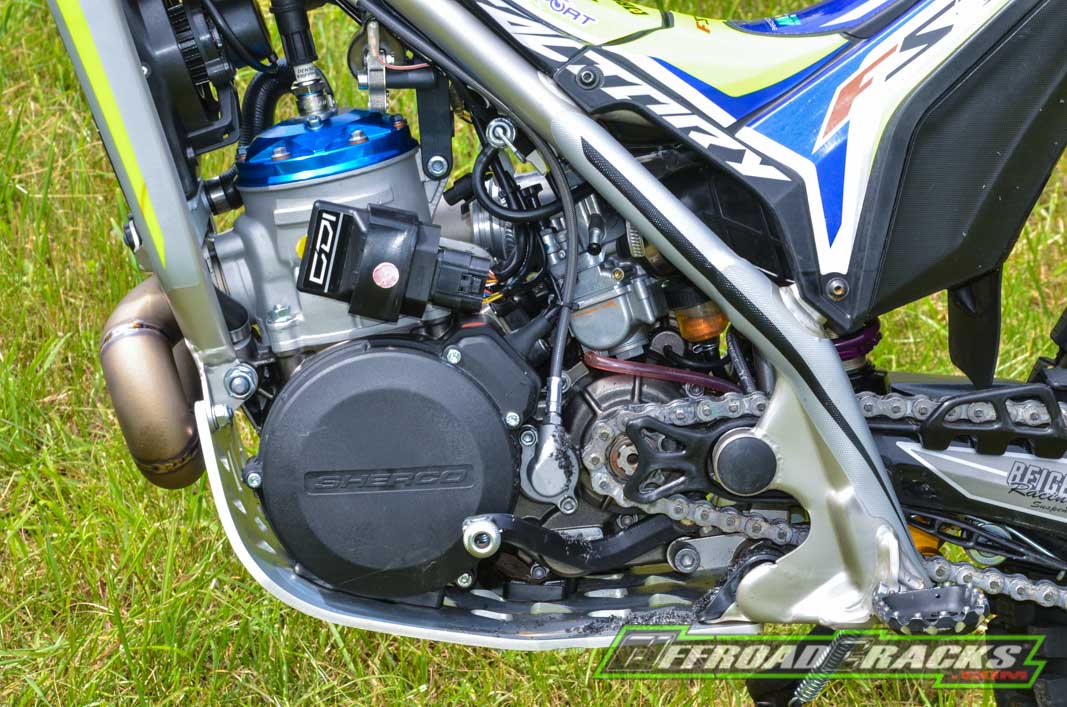 Zusammengefasst heißt es also, dass man auf Grund entsprechender Trial-Erfahrung zu einem versierten Extrem-Enduro-Fahrer werden kann? Wie immer gilt, dass Ausnahmen die Regel bestätigen, doch die Trainingsmöglichkeiten mit einem Trial-Gerät bieten doch erhebliche Vorteile im Einsatz beim Testen von neuen Geländesituationen und der dafür notwendigen Fahrtechnik gegenüber einer hochbeinigen Sportenduro mit deutlich mehr Pfunden auf den Rippen.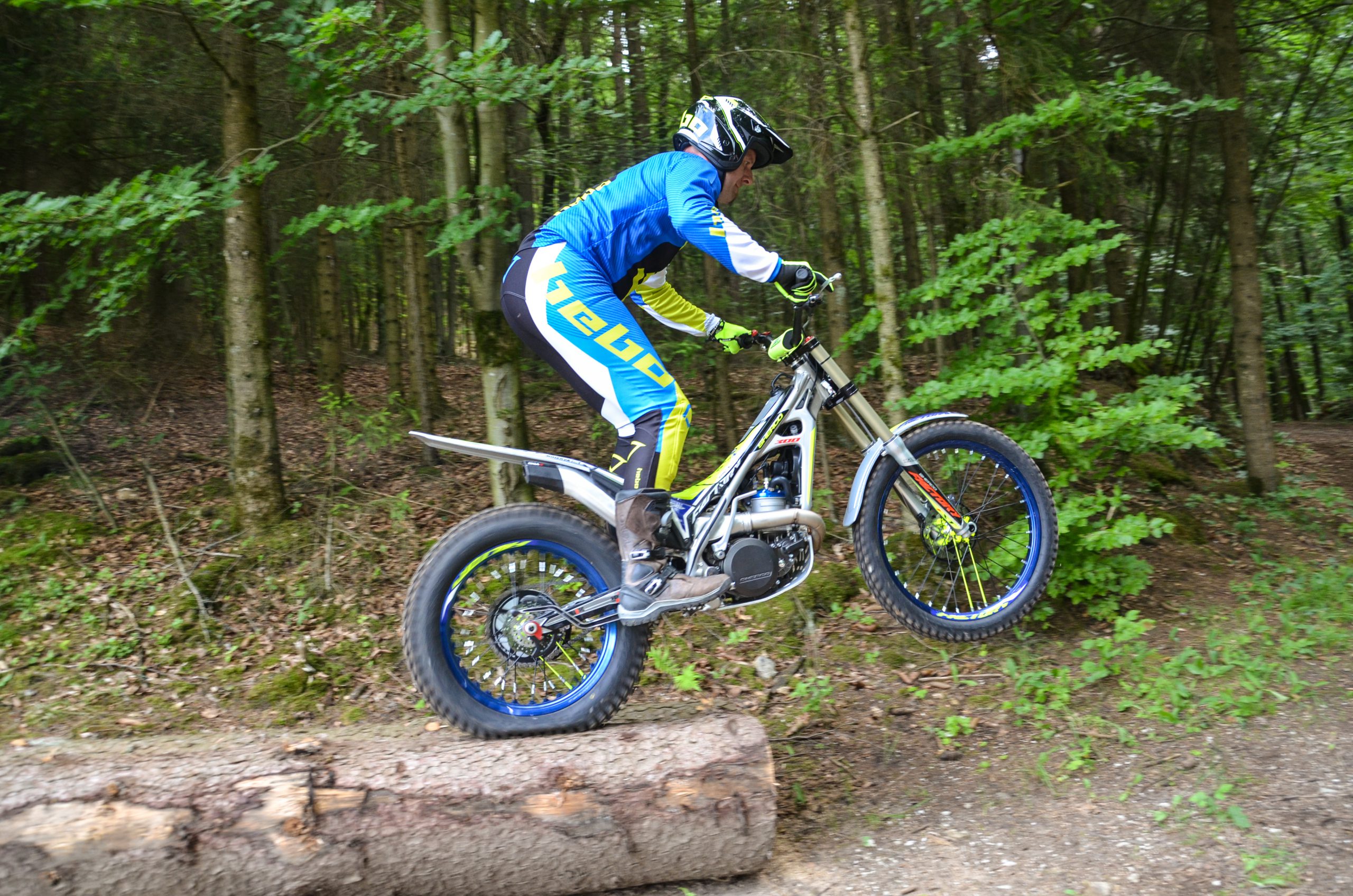 Hier die Fakten: Die Sherco besitzt ein Startgewicht von bemerkenswerten 78 Kilogramm, womit wir im direkten Vergleich zur einer 300er Zweitakt-Enduro – stets die erste Wahl für den Extremen-Enduro-Einsatz – eine Gewichtseinsparung von gut 35 Kilogramm und mehr vorfindet. Bezüglich der Sitzhöhe hat das Trial-Gerät mit 68 Zentimetern auf den ersten Blick logischerweise die Nase vorn. Das Thema Wendekreis ist sicherlich noch ein interessanter Faktor, denn hier besticht die Sherco mit sagenhaften 3,1 Metern, was im Durchschnitt eine Einsparung von gut 1,4 Metern gegenüber einer Sportenduro bedeutet.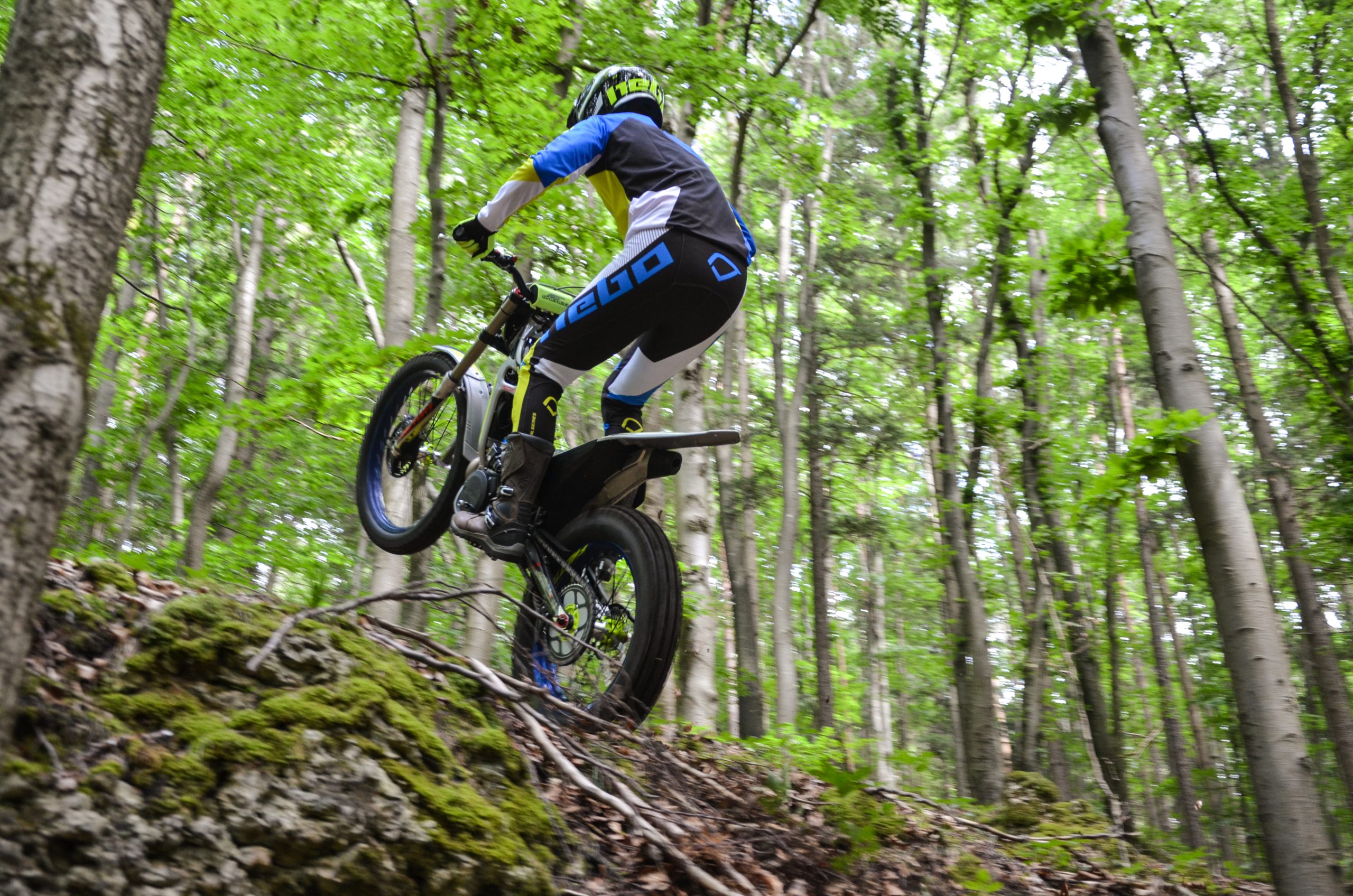 Anhand dieser Fakten wird natürlich sofort ersichtlich, dass herausfordernde Geländeabschnitte deutlich einfacher und vor allem sicherer trainiert werden können, als mit den üblichen 96 Zentimetern Sitzhöhe einer Sportenduro. Denn im Notfall heißt es einfach den Fuß auf den Boden stellen und die anfangs brisante Situation ist neutralisiert. Hört sich einfacher an als getan. Denn das geringe Fahrzeuggewicht fordert inklusive der Ergonomie eine komplette Anpassung des Fahrstils beziehungsweise Herangehensweise an die Aufgabenstellung.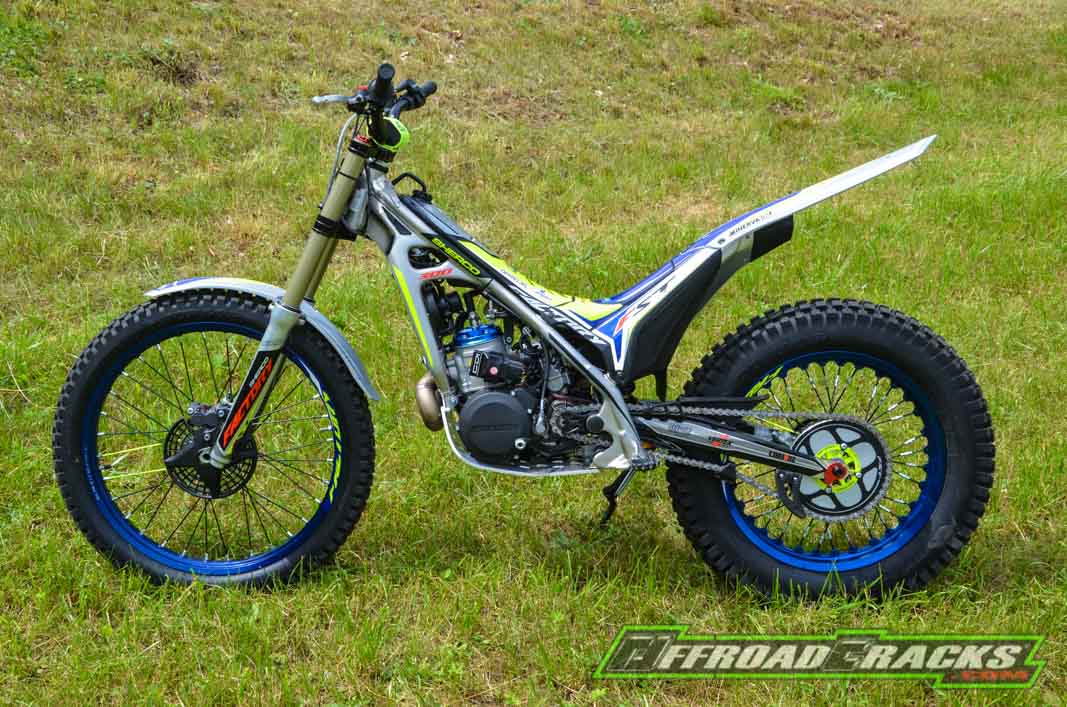 Die von uns eingesetzte 300er ist natürlich die absolute Königsklasse, denn sie besitzt sattes Drehmoment und geizt somit nicht mit einem erstaunlichen Antrittsvermögen. Wo wir schon bei den Fahrzeugdetails sind hier noch ein paar Fakten: 2,4 Liter fassender Kraftstofftank für ein Öl-Benzin-Gemisch von 1:50 laut Hersteller. In der Realität wird ein Mischungsverhältnis von 1:75 bis 1:100 verwendet. Der empfohlene Reifenluftdruck liegt vorn zwischen 0,38 und 0,4 bar und hinten zwischen 0,27 und 0,30 bar. Das sind im direkten Vergleich mit der Sportenduro extrem niedrige Drücke, allerdings wird im Trial-Segment auf maximale Traktion und Anpassungsfähigkeit bei niedrigster Geschwindigkeit gesetzt, um die meterhohen Hindernisse ohne gefährliche Rutscher durch Wheelspin überwinden zu können. Hier sei sogleich erwähnt, dass der Ketten-Durchhang zwischen drei und vier Zentimetern angegeben ist. Die Fahrwerks-Einstellung sind wie folgt durchzufühen: Am linken Gabelholm kann mit einem passenden Innensechskant-Schlüssel die Federvorspannung justiert werden während am rechten Gabelholm Zug- und Druckdämpfung in bekannter Manier eingestellt werden. Am Reiger-Federbein verhält es sich identisch zu den Sportenduro-Lösungen. Die Fahrwerks-Abstimmung ab Werk ist auf ein Fahrergewicht von 70 bis 80 Kilogramm ausgelegt.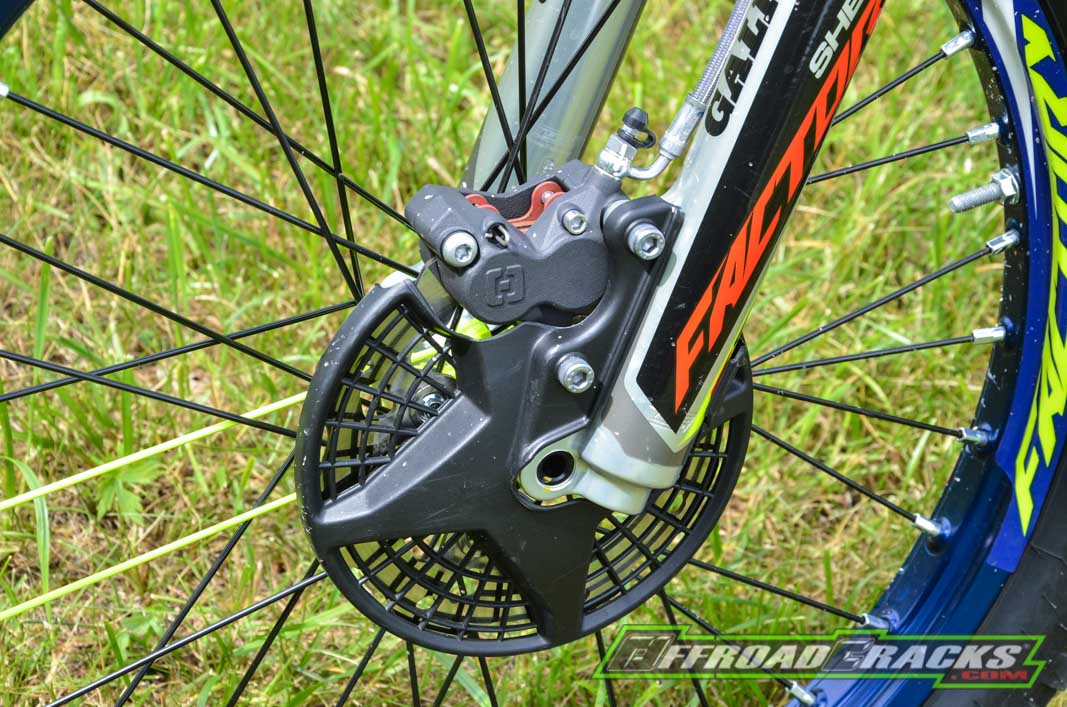 Die hydraulische Diaphragma-Kupplung ist nicht wie im Fall der meisten Sportenduros mit zahlreichen Reib- und Stahlscheiben versehen, sondern verfügt nur über drei. Erstaunlich ist der Vierkolben-Bremssattel am Vorderrad der für eine hervorragende Verzögerung auf den Punkt sorgt, was im exakten Bezwingen von Hindernissen auf den Zentimeter genau ein absolutes Muss ist. Am Hinterrad sitzt im Gegensatz dazu ein Zweikolben-Bremssattel. Interessant ist die Art der Speichen, die nicht wie bei der Enduro auf klassische Weise mit ihren Kopf durch die Felge geführt werden, sondern auf einem aufgesetzten umlaufenden Ösenring eingehakt gespannt werden. Damit ist bei geringen Luftdrücken das Risiko für einen beschädigten Schlauch im Reifen auf ein Maximum reduziert. Bei der Sportenduro wird hierfür ein Felgenband und im Fall von Mousse-Nutzung mehrlagiges Gewebe-Klebeband zum Schutz vor Beschädigungen eingesetzt. Zumal auch die Trial-Lösung nach derben Sprüngen einfacher wieder nachjustiert und zentriert werden kann.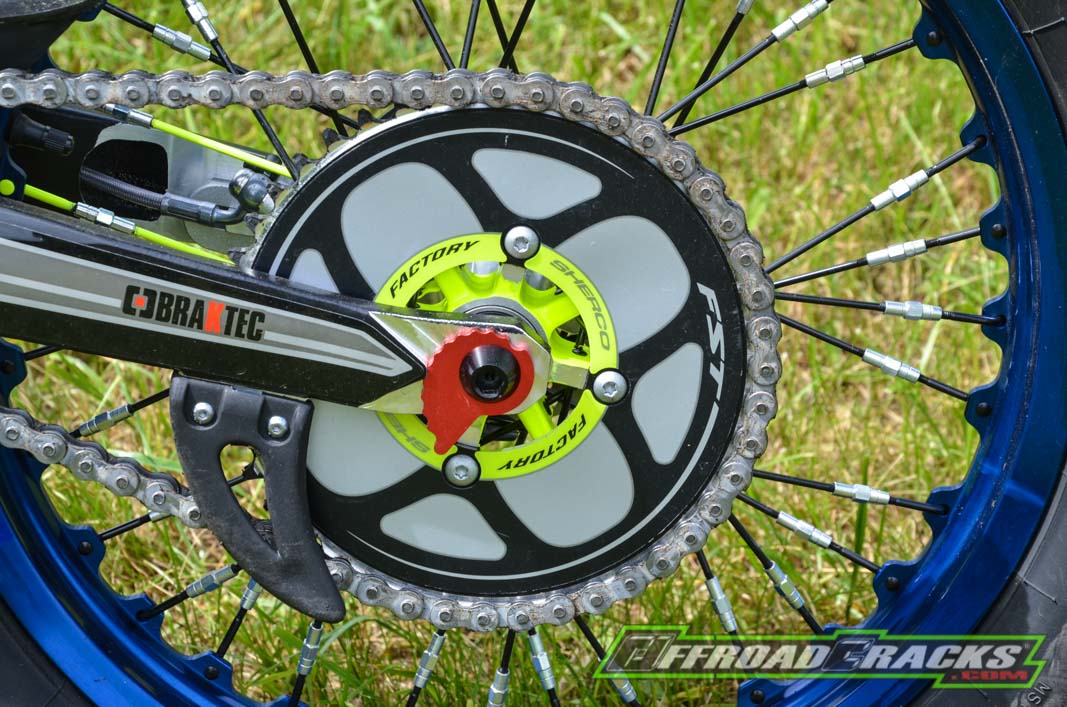 Das Kettenrad ist mit einer Abdeckung versehen, um eine mögliche Schmutzaufnahme sowie das Einfädeln von Ästen oder Gegenständen zu verhindern. Die Kettenspannung erfolgt über ein einfaches Exzenter-System. Für den perfekten Grip kommen S3-Fußrasten des Typs Hard-Rock zum Einsatz. Auch motorisch überlässt man nichts dem Zufall und setzt auf einen Oxia-Zylinderkopf, der nicht nur optisch ansprechend ist, sondern auch für eine noch bessere Motorleistung dank erhöhter Kompression sorgt. Das spürt man auch beim Einsatz des Kickstarters, denn dieser muss mit Nachdruck betätigt werden. Natürlich ist die Zylinder-Kalotte austauschbar und somit die Leistungsabgabe für individuelle Wünsche leicht anpassbar, was aber vermehrt dem ambitionierten Könner betreffen dürfte. Der montierte Elektrolüfter kann per Kippschalter unter den Rahmenoberzügen manuell zugeschaltet werden. Anstatt des Notaus-Schalters ist eine Handschlaufe mit magnetischem Knopf vorgesehen, so wie man es beispielsweise aus der Quad-Szene, Jetskis oder von Kinder-Motorrädern kennt. Zuletzt sei noch erwähnt, dass der Luftfilter über die spartanische Sitzfläche mittels Innensechskant-Verschraubung erreichbar ist.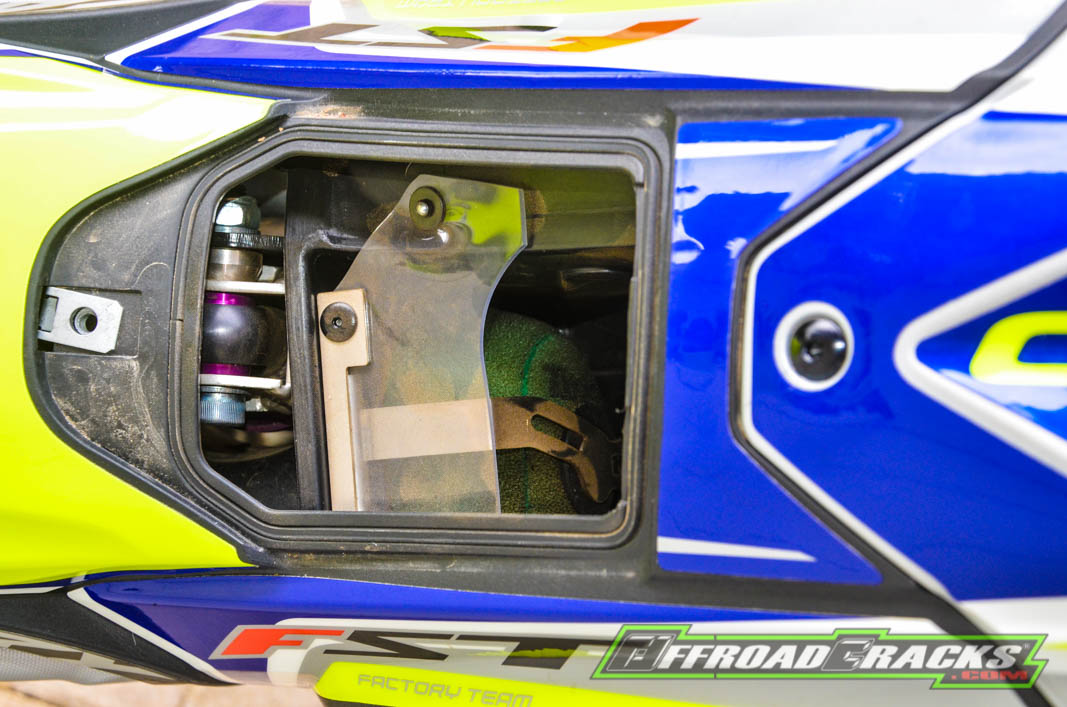 Start: Mit meiner Körpergröße von 1,86 Meter fühlt sich die Sherco ST 300 Factory extrem handlich an. Will man die 300er zum Leben erwecken, dann ist das ausschließlich mit einem beherztem Tritt auf den Kickstarter möglich und schon kann's losgehen. Zunächst tritt man mit dem linken Fuß ins Leere, denn wie beim Trial-Gerät üblich ist der Schalthebel weiter vorn angebracht, so dass man diesen ohne das Verlassen der Fußrasten mit dem Stiefel nicht erreichen kann – oder versehentlich betätigt. Das hat auch seinen Grund, denn im Trial-Sektor wird der passende Gang vor dem Hindernis eingelegt und dann heißt es nur noch mit Bremse, Kupplung und Gasgriff die Bewältigung des Hindernisses zu steuern und abzuschließen.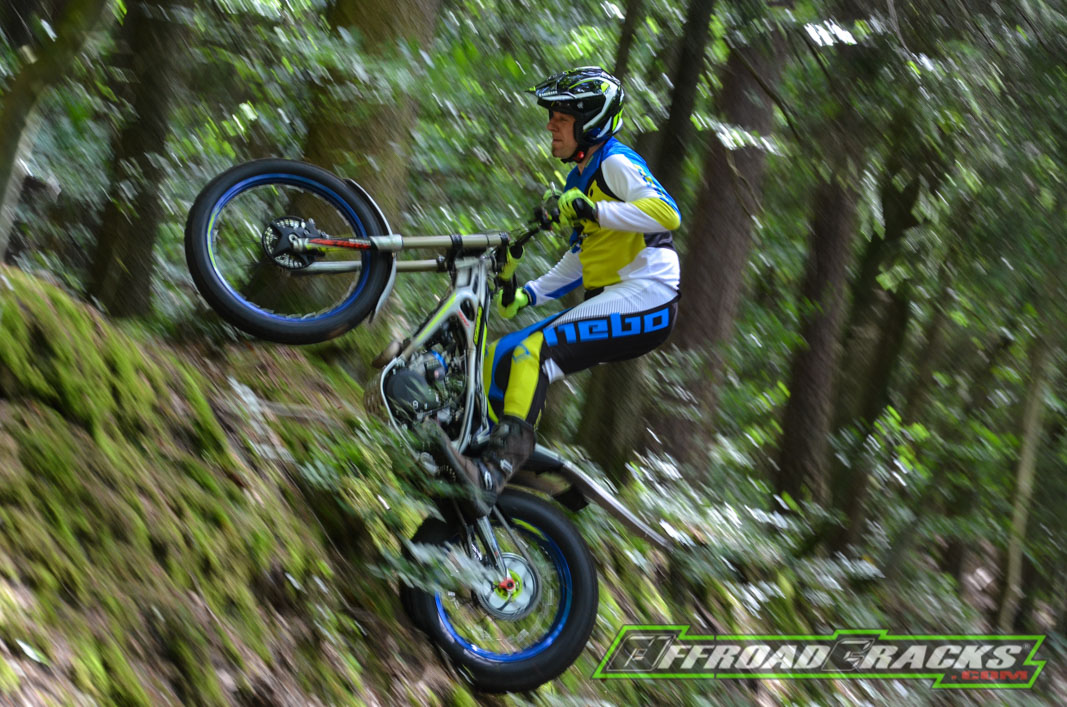 Zieht man in gewohnter Manier am Kabel, dann heißt es sogleich Wheelie am laufenden Band, denn das geringe Gewicht auf der Vorderachse zeigt kaum Gegenwehr zum kräftigen Antritt des 300er Aggregats, der aber perfekt dosiert werden kann, so dass sich der Wheelie fast unendlich fortführen lässt. Die Leistungsentfaltung ist unter anderem deshalb so gleichmäßig, da man bei dieser Art von Motor weder eine Auslass-Steuerung einsetzt noch eine hohe Spitzenleistung wünscht – eine entsprechend angepasste Zündkurve samt Vergaser-Einstellung vorausgesetzt.
LEISTUNGS- & DREHMOMENTDIAGRAMME + VIDEO: PRÜFSTANDSLAUF / PERFORMANCE DIAGRAMS + VIDEO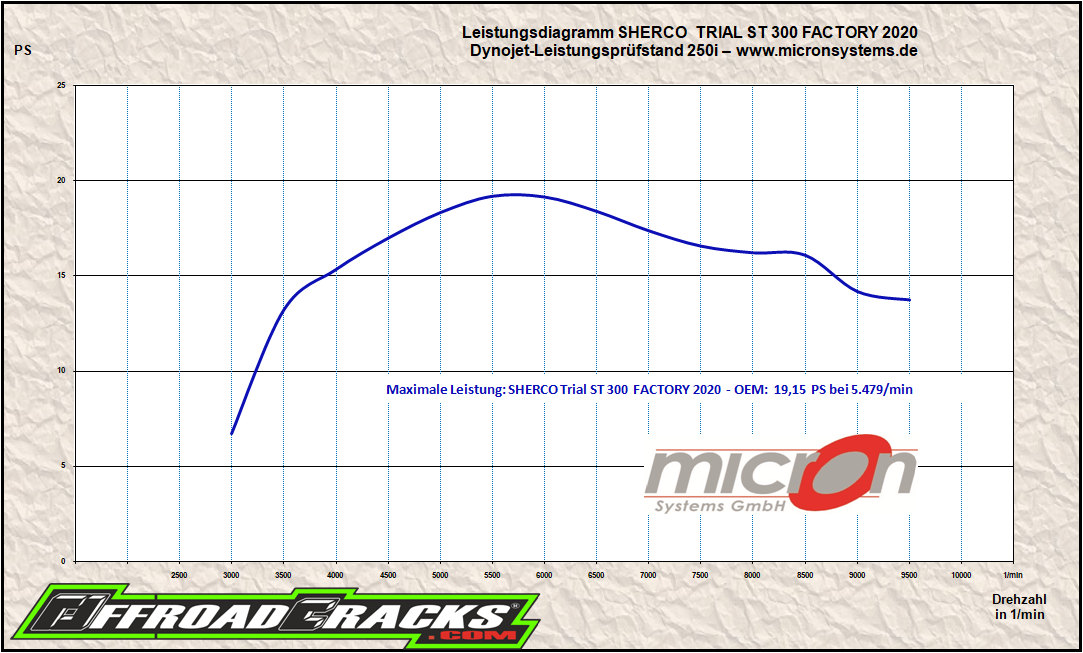 HINWEIS: Das Video ist noch deaktiviert, damit keine unerwünschte Datenübertragung zu Youtube stattfindet. Zur Aktivierung bitte auf das Vorschaubild/Video-Link klicken. Damit werden Daten übermittelt, zu deren Art, Umfang und Verwendungszweck wir keineAuskünfte geben können. NOTE: The video is still deactivated so that no unwanted data transfer to YouTube takes place. To activate, please click on the preview image / video link. This transmits data about the type, extent and purpose of which we cannot provide any information.
---
HINWEIS: Mit Anklicken des Videos stellen sie automatisch eine Verbindung zu Youtube/Google her, was einen ungewünschten personenbezogenen Datenaustausch mit sich bringen kann. Weitere Infos unter: www.google.de/privacy[
---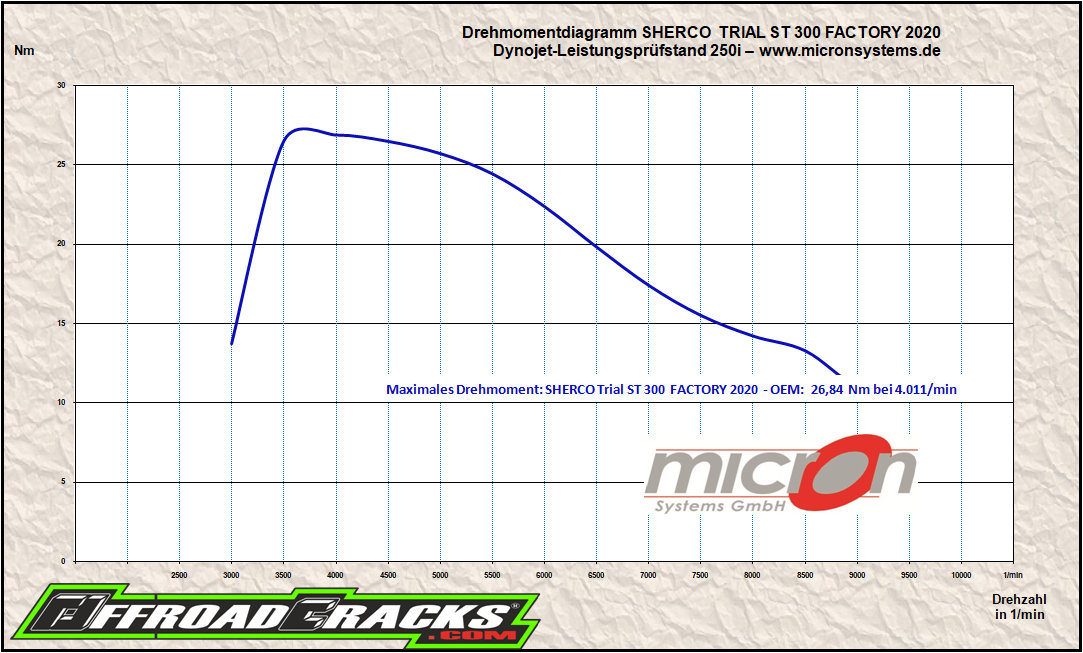 Jetzt mit etwas weniger Wheelie-Time geht es gesittet mit über 80 km/h im extra lang übersetzten fünften Gang zum nächsten Hindernis. Um diesen ellenlangen Gang nutzen zu können muss lediglich der dritte oder vierte Gang aus dem Stand heraus eingelegt werden, um dann relativ zeitnah den langen fünften nutzen zu können. Denn dann marschiert die Sherco erst richtig los und macht ordentlich Meter, was gerade für eine homologierte Variante zum Erreichen des Übungsgeländes ein wichtiger Aspekt ist. Natürlich muss hierbei der Kraftstoff-Stand bei nur 2,4 Liter Fassungsvermögen stets im Auge behalten beziehungsweise Ersatz mitgeführt werden.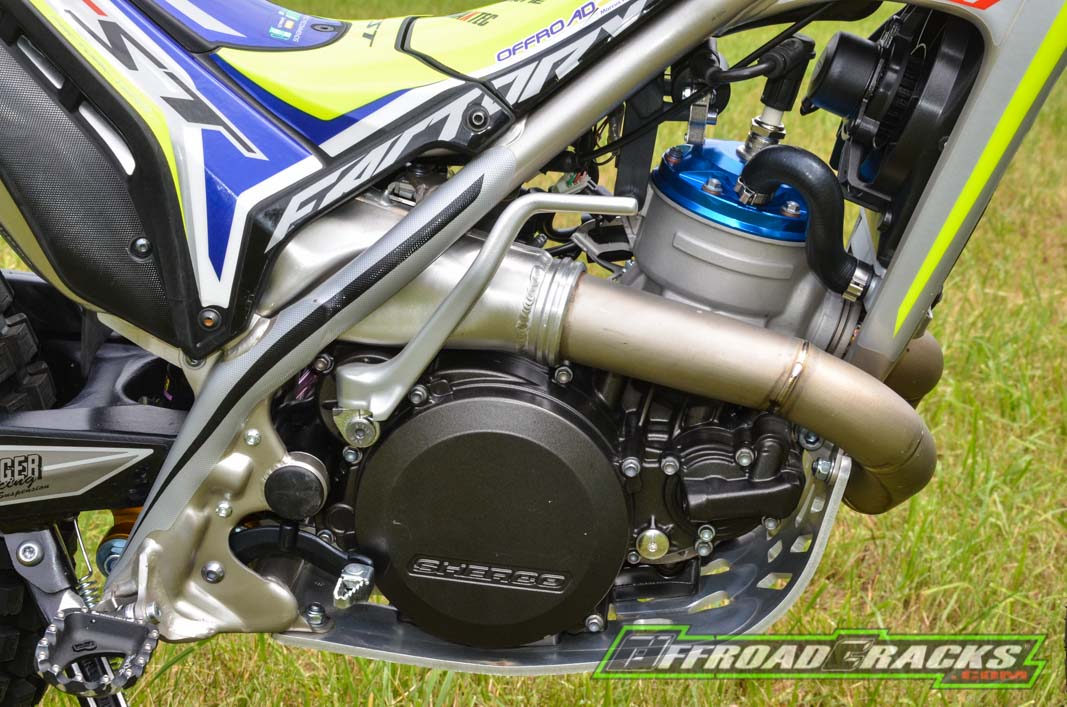 Und schon geht's im angemessenen Terrain aus dem Stand heraus einen steilen Absatz hinauf. Hier heißt es mit erhöhter Drehzahl ohne Anlauf anfahren und beim Überfahren oder Überspringen der Kante das Körpergewicht nach vorn verlagern. Natürlich bin ich beim ersten Versuch deutlich zu forsch und hebe auf Grund der enormen Traktion am Hinterrad und dem daraus resultierenden Tempo gut zwei Meter ab. Erste Lektion gelernt unter der Prämisse "Weniger ist hier definitiv mehr" und vor allem kontrollierbarer.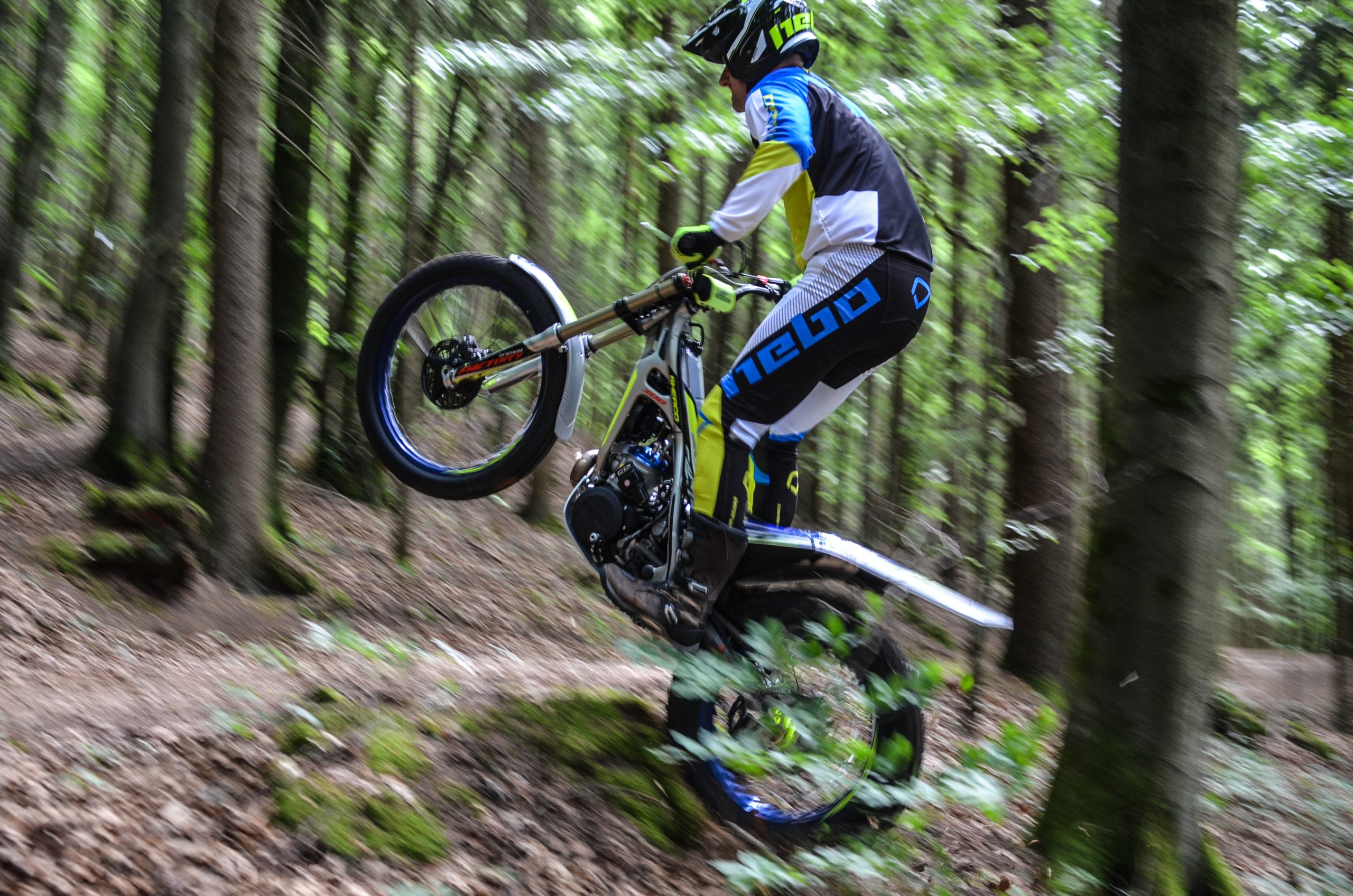 Auf gleichem Weg geht es mit dem Leichtgewicht bergab, während der breite Lenker in Verbindung mit den hervorragenden Bremsen beste Fahrzeugkontrolle bietet. Eine lange Auffahrt lädt zum Angasen ein. Schon wieder hat mich die gewohnte Sportenduro-Gangart für derartige Situationen gepackt und die Sherco ist erneut viel zu schnell und springt oben angekommen erneut viel zu weit hinaus. Die Leistungsbereitschaft der 300er ist phänomenal, muss aber gezielt eingesetzt werden, wofür definitiv noch an der Herangehensweise gefeilt werden muss. Denn es ist bislang bekanntlich noch kein Meister vom Himmel gefallen, was trotz meiner überschaubaren Trial-Erfahrung immer wieder in den Fokus gebracht werden muss. Also geht's ab sofort mit gebremster Gangart zur Sache und siehe da, der Kraftaufwand ist deutlich geringer und die exakte Fahrweise ist schnell von Erfolg gekrönt. Das zieht unweigerlich eine fieberhafte Suche nach anspruchsvollen Hindernissen im Steilhang nach sich. Die Bereitschaft für Extremeres nimmt kontinuierlich zu, da man ja jederzeit den Fuß zum sicheren Abbruch der fahrerischen Aktion überall abstellen kann.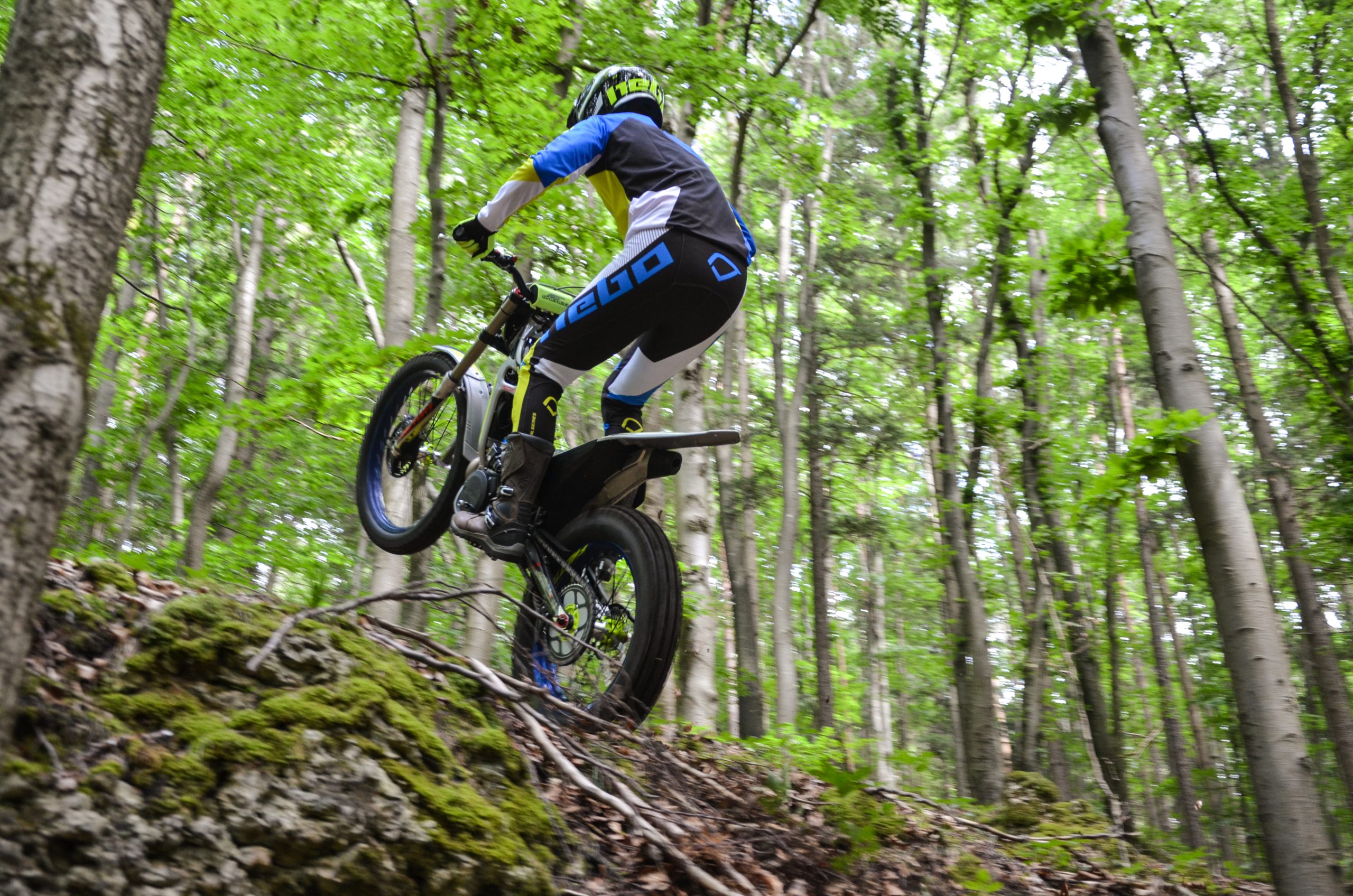 Für mich ist das Trialgerät eine ungewohnte aber durchweg sinnvolle Trainingsmöglichkeit für technisch anspruchsvolles Terrain, um zugleich die eigenen fahrerischen Fähigkeiten sicher und effektiv zu steigern. Daher Daumen hoch und uneingeschränkt empfehlenswert für diejenigen, die mehr im Extrem-Enduro-Segment erreichen möchten.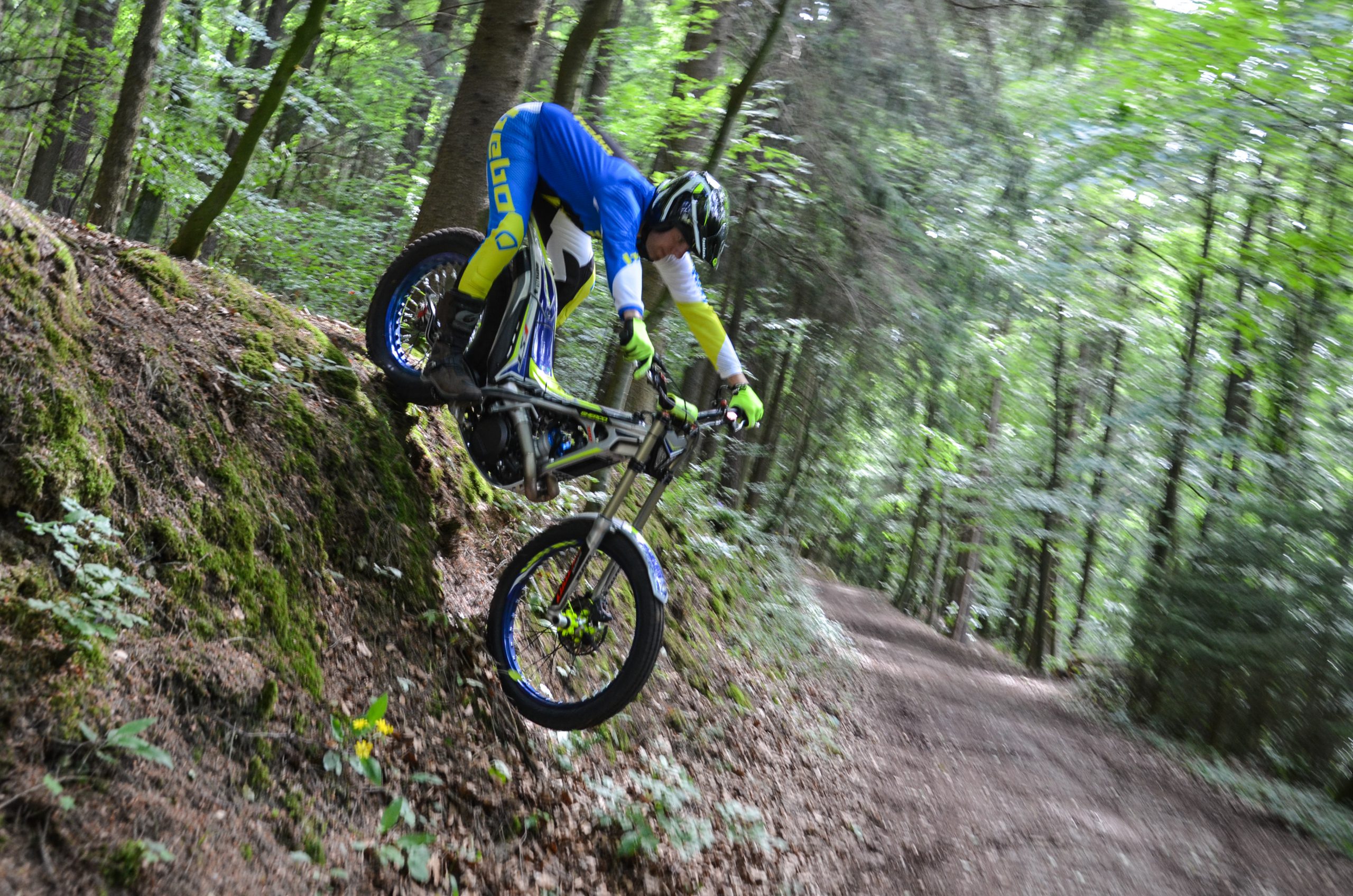 TECHNISCHE DATEN / TECHNICAL SPECS
Technische Daten Sherco ST-Factory 300 2020 © OFFROADCRACKS

PLUSMINUS SHERCO ST 300 FACTORY
PLUS
• Kräftiges Drehmoment
• Tadellose Dosierbarkeit der Motorleistung
• Hervorragende Fahrzeugbalance
• Geniales Handling
• Einstellbereich der Federelemente
• Überzeugende Verarbeitungsqualität
• Optisches Erscheinungsbild
MINUS
• Keine nennenswerten Punkte
---
WEITERE IMPRESSIONEN / MORE IMPRESSIONS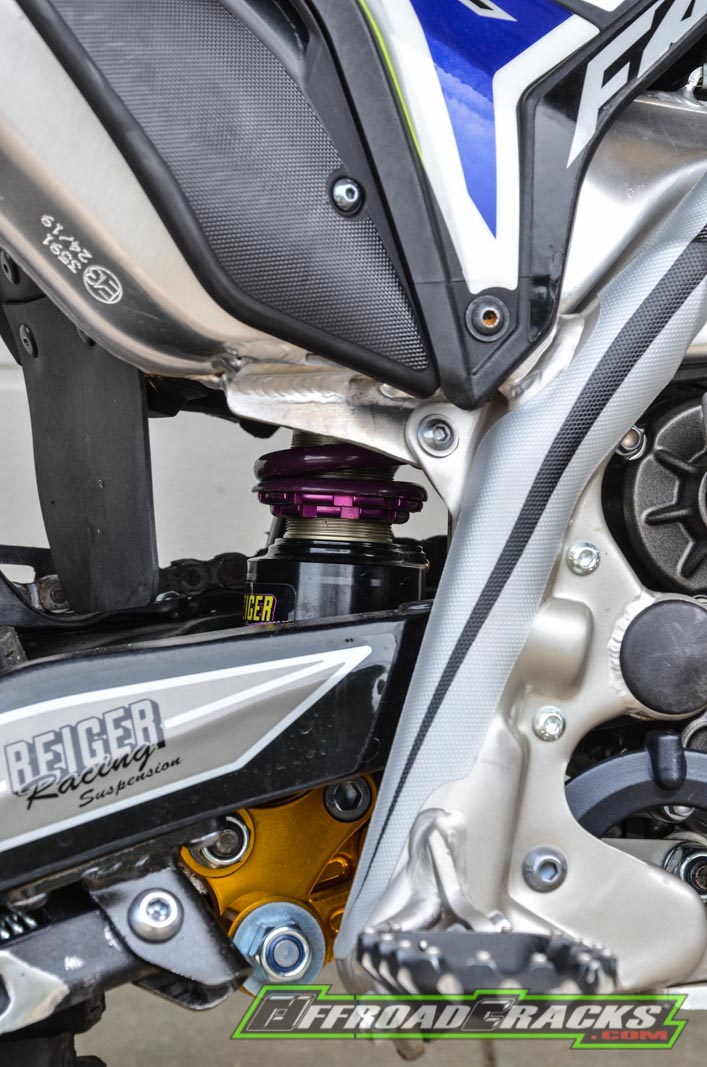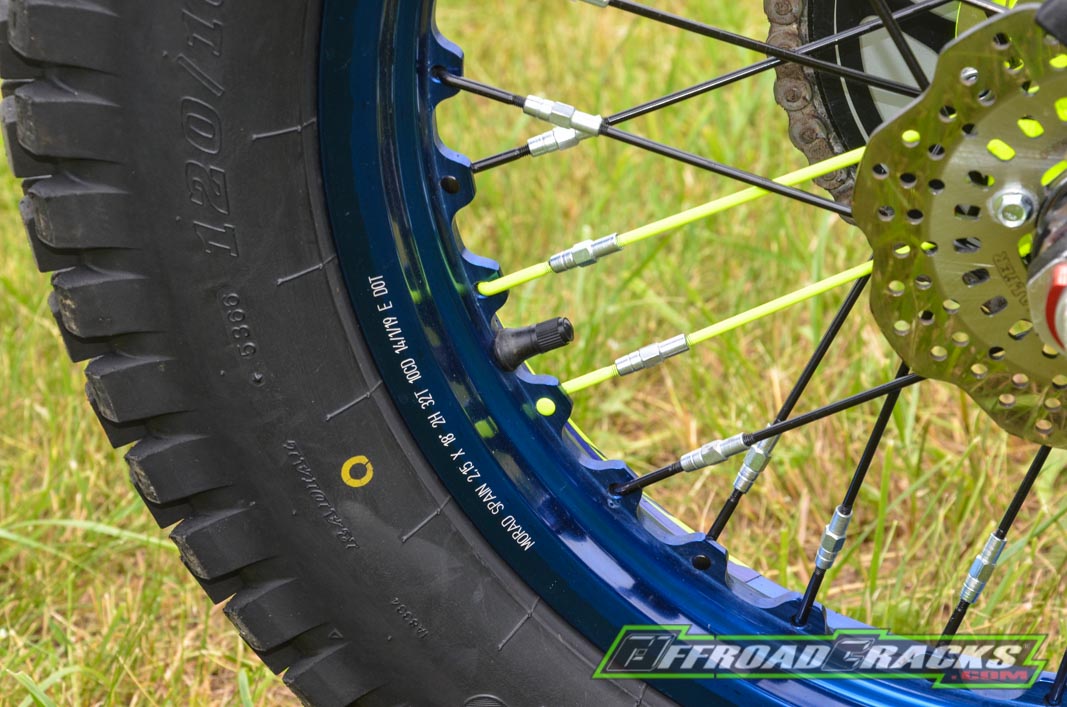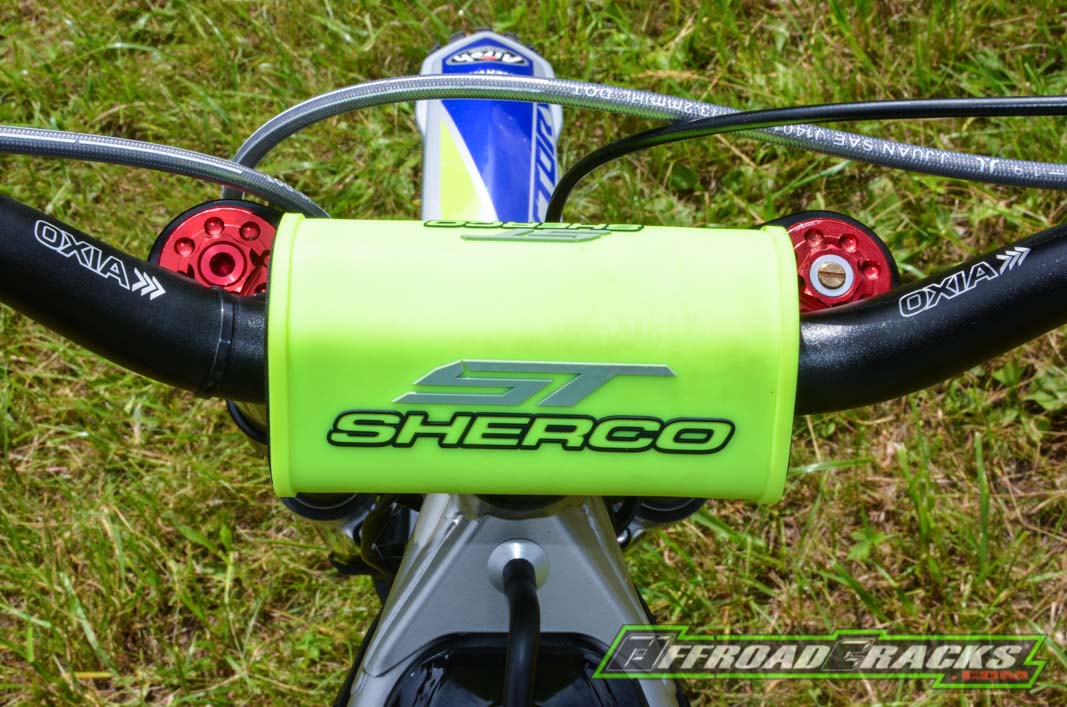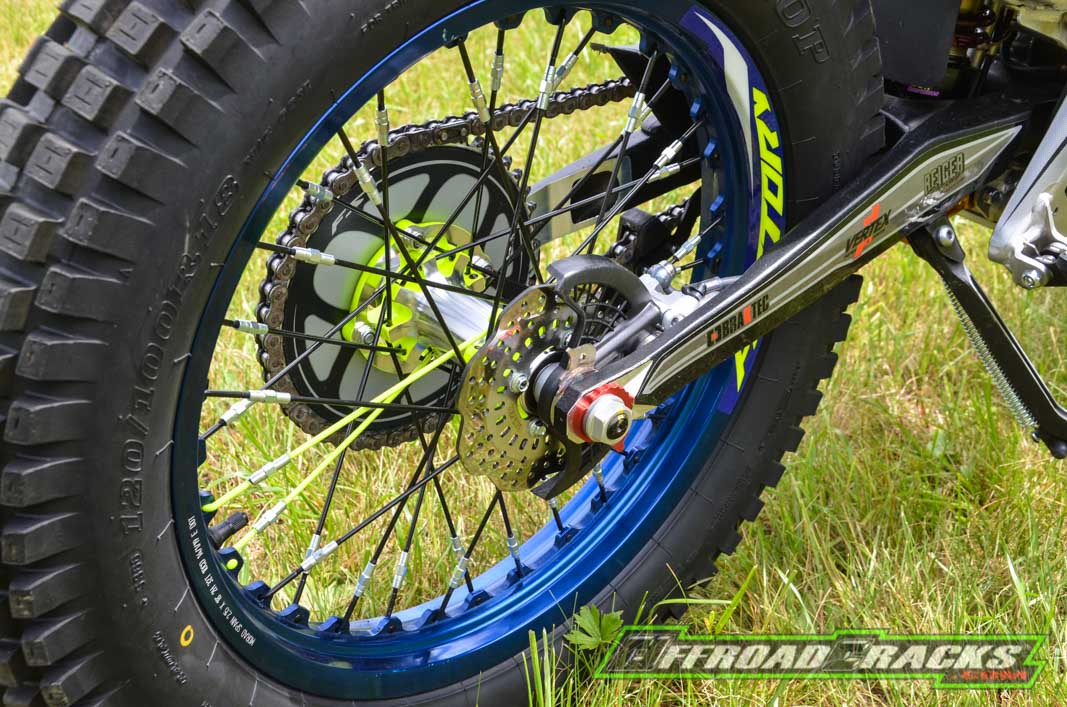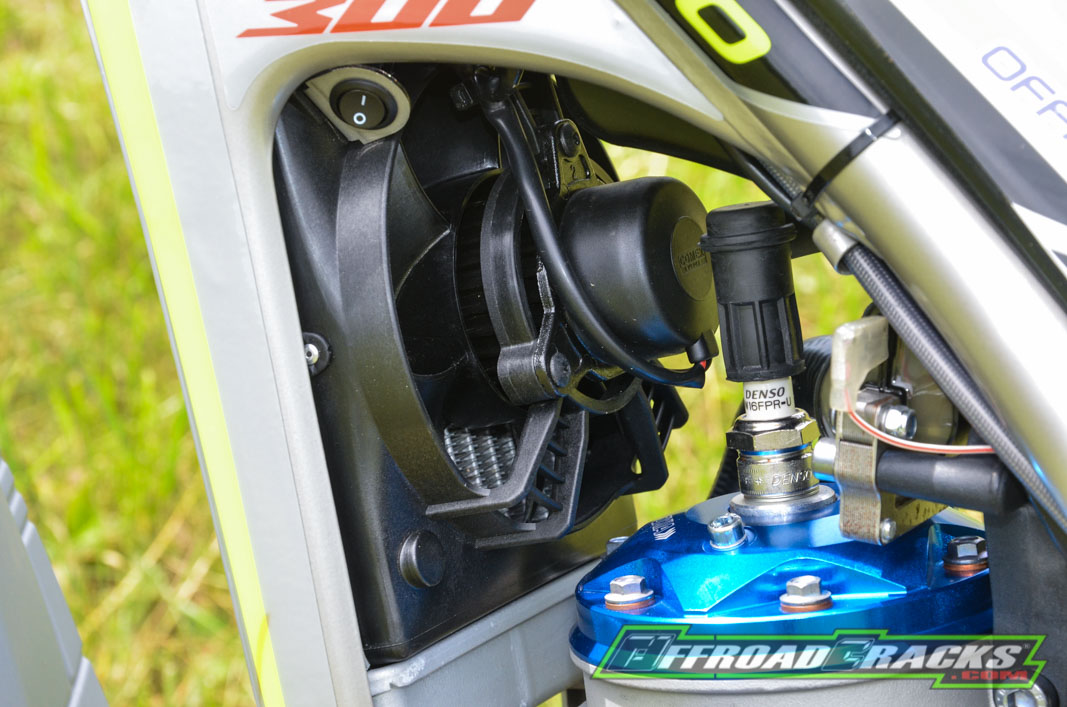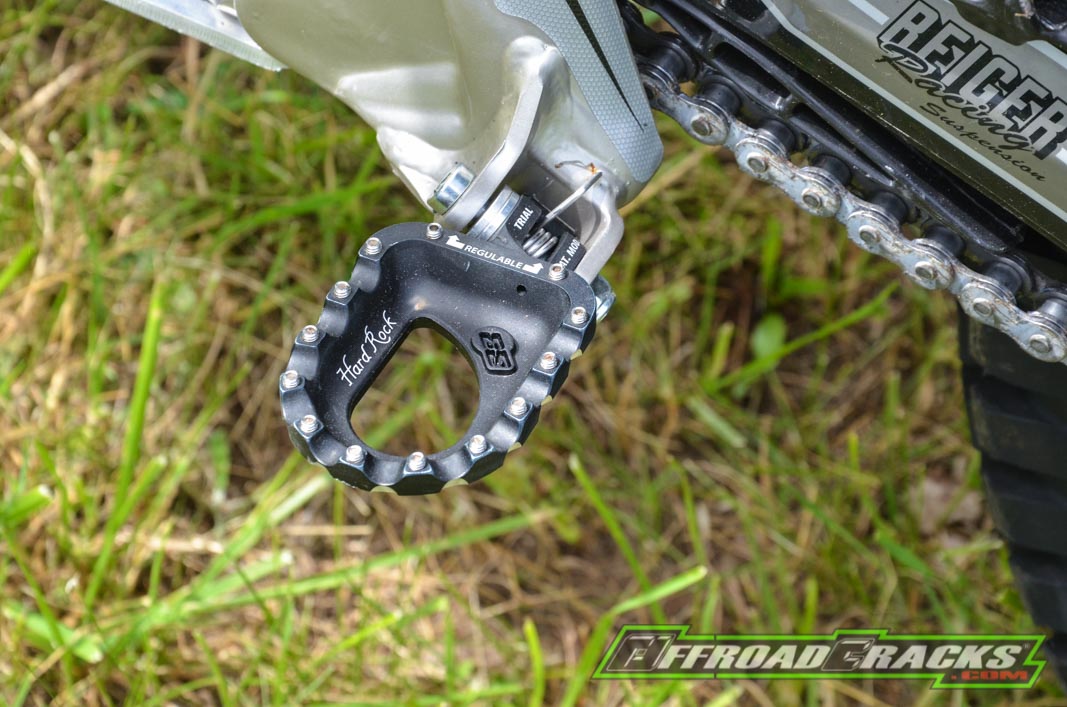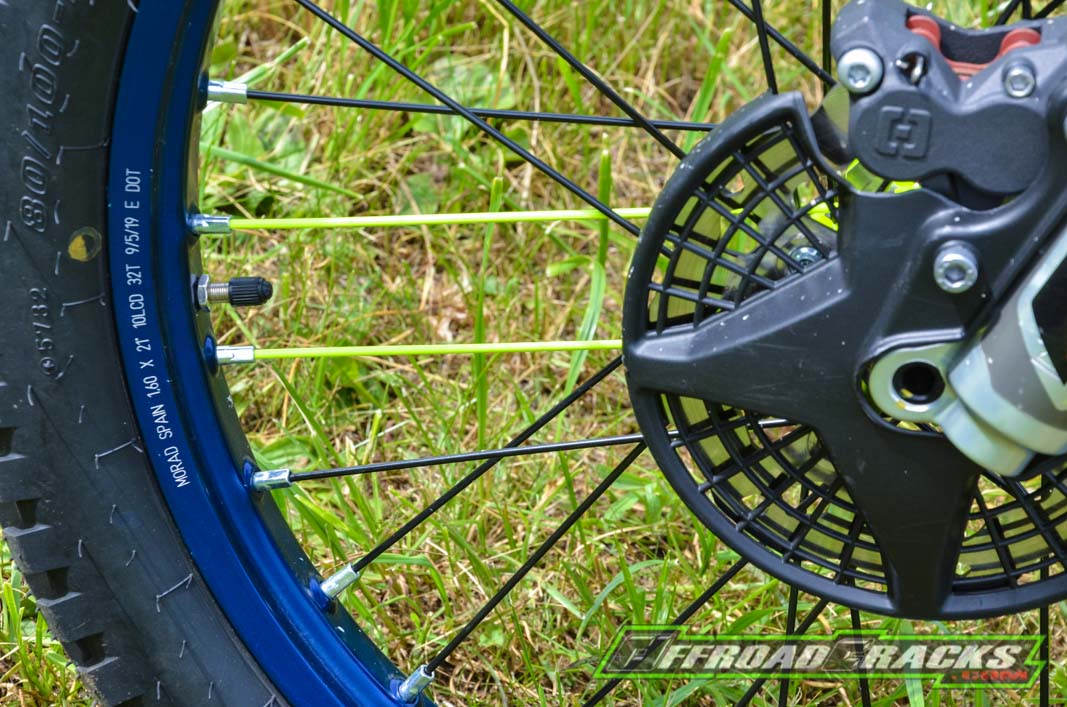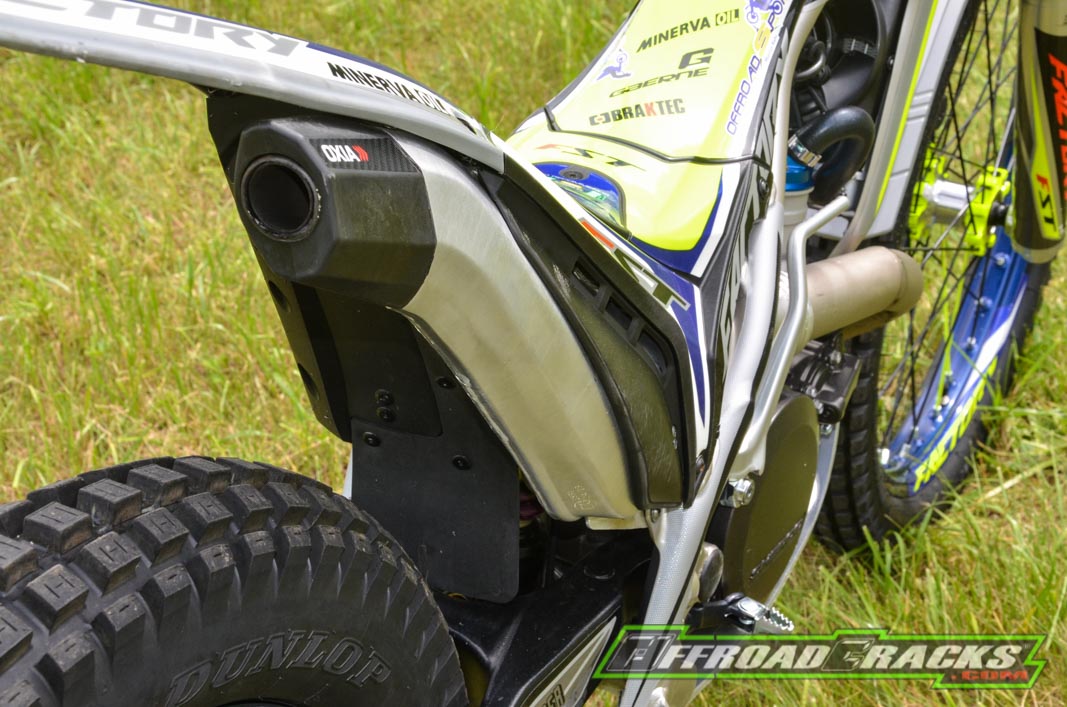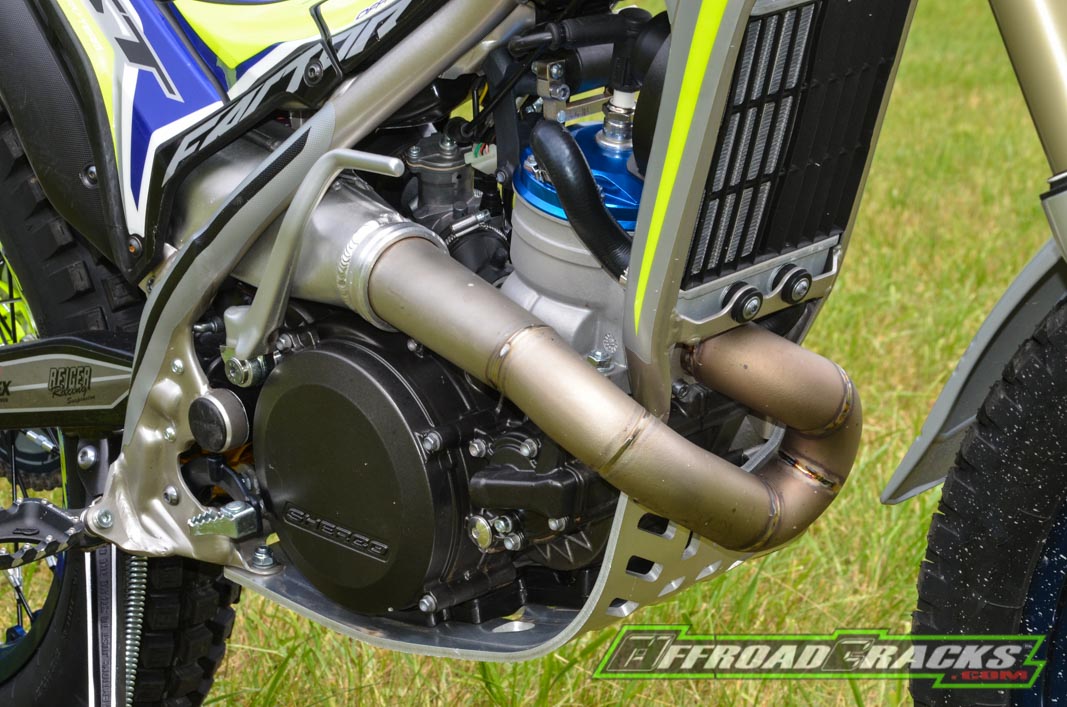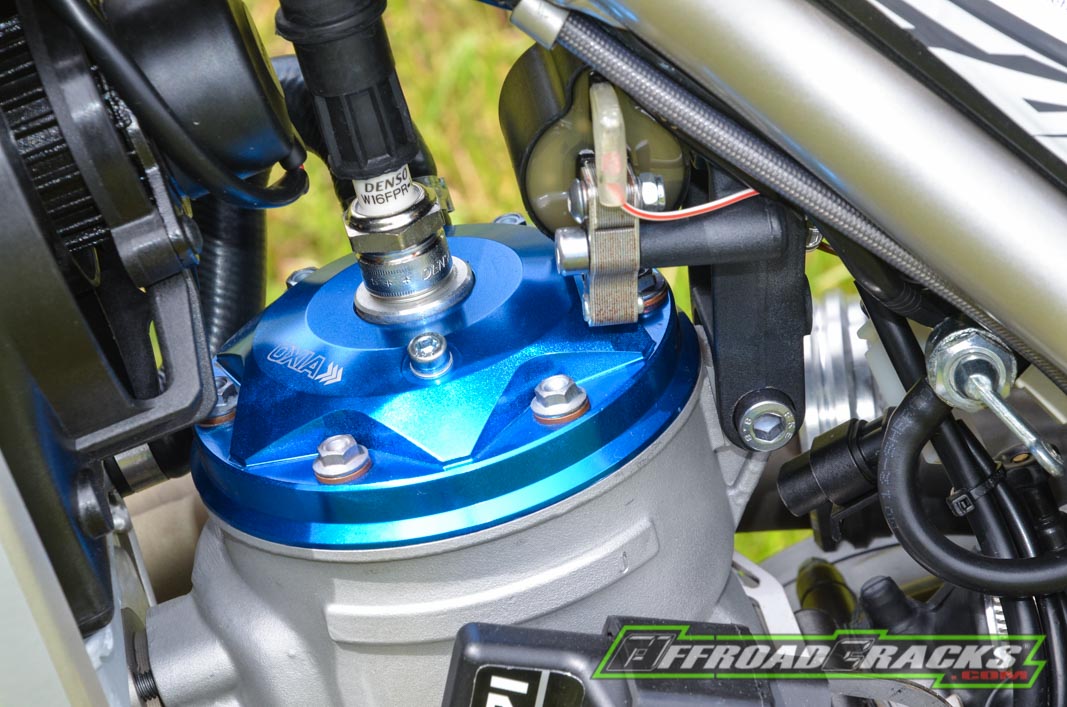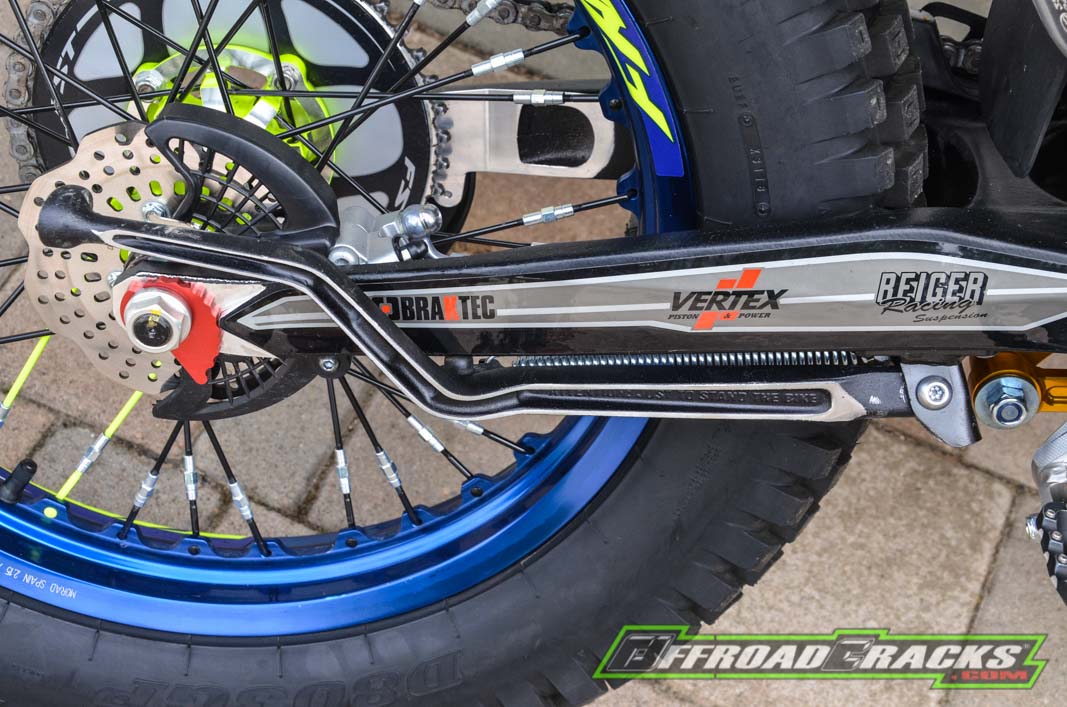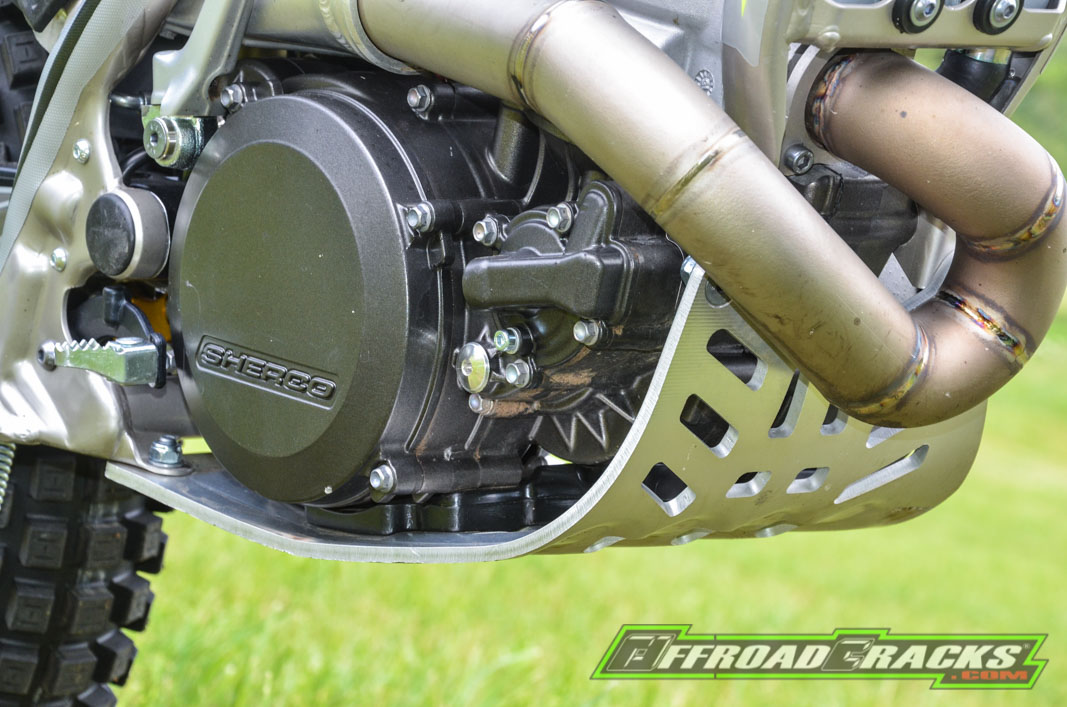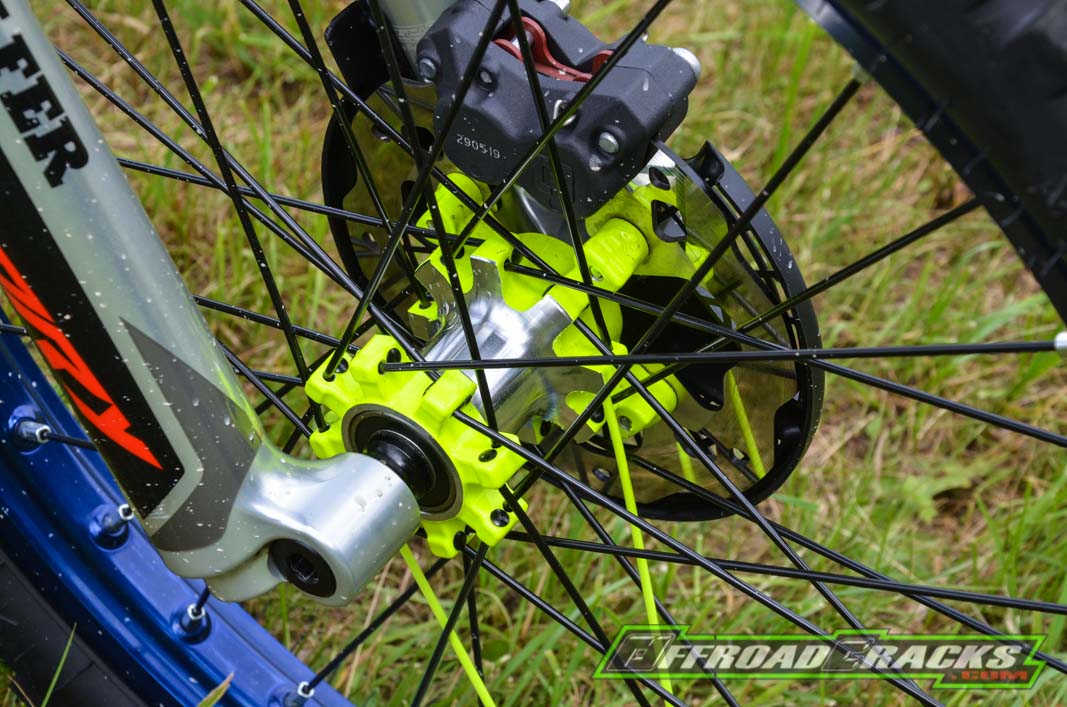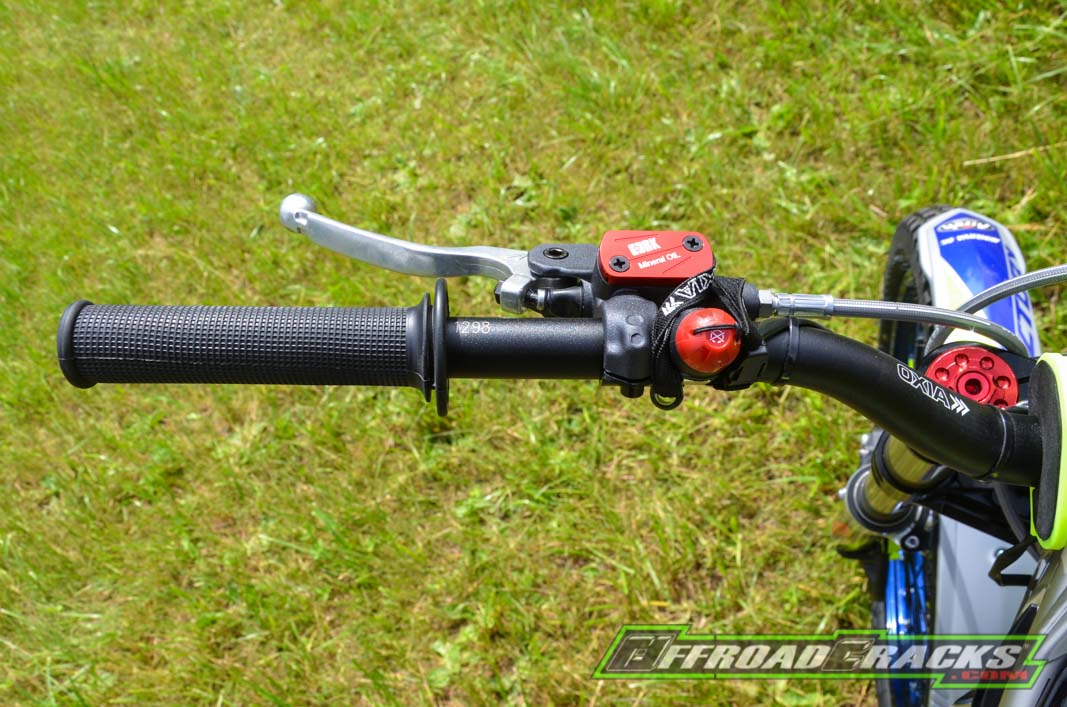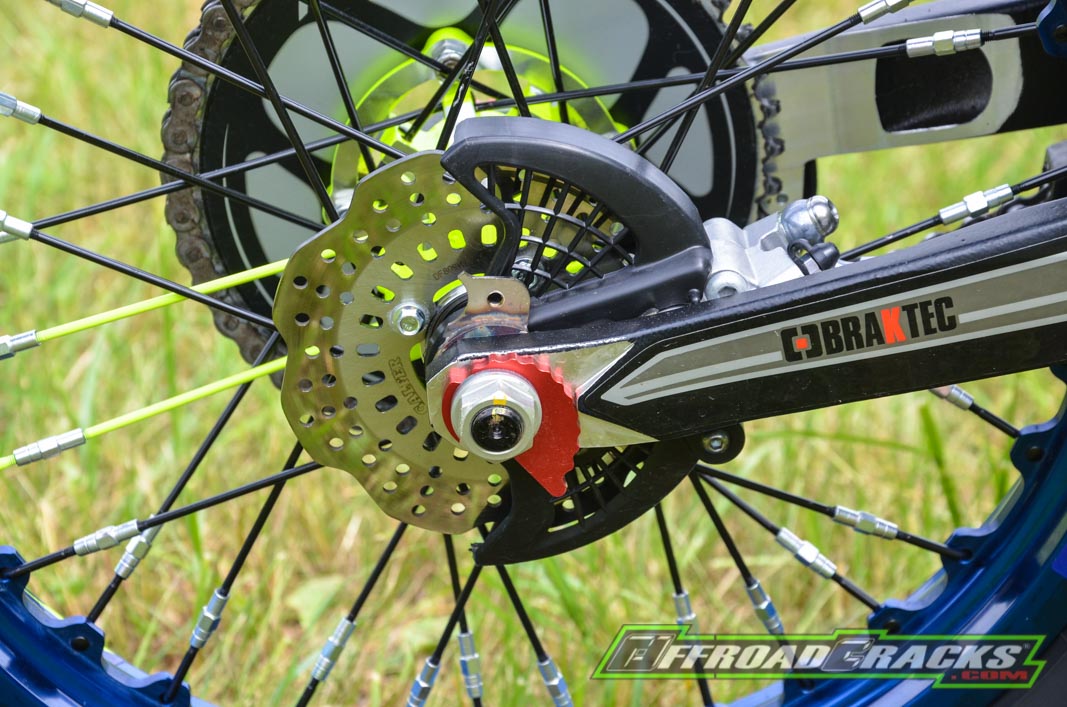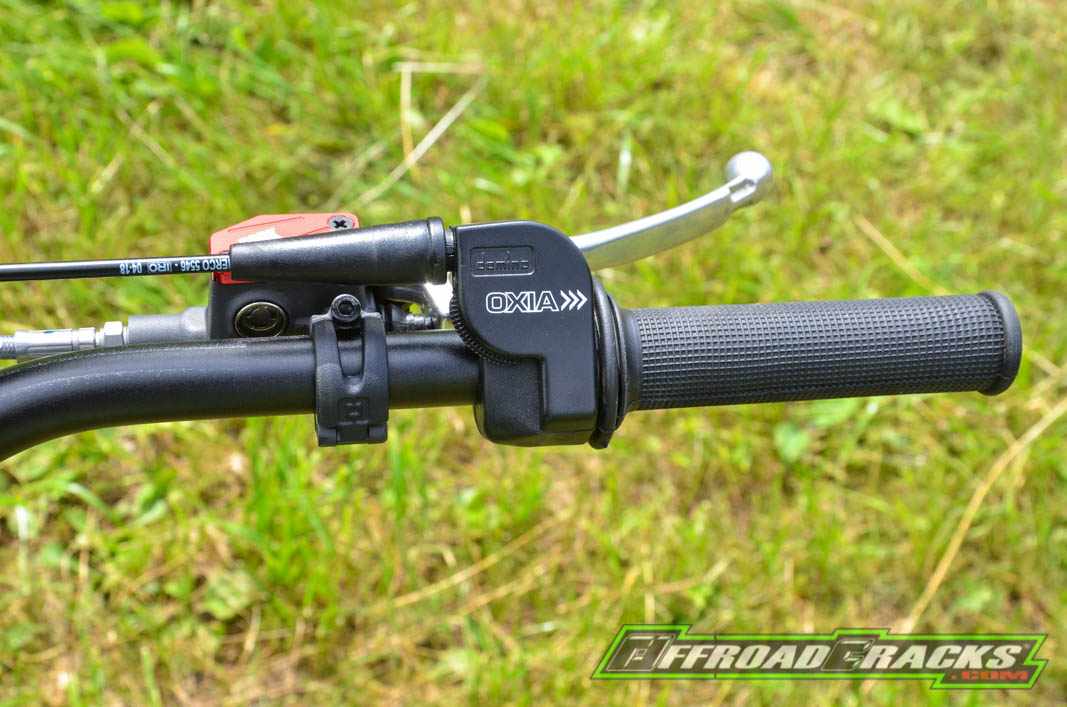 ---
Weitere Infos unter: www.SHERCO.com
Bilder: OFFROADCRACKS.com
Kleidung & Protektion: HEBO by Jochen Bader Motorsport
Fahrzeug-Vorbereitung: SHERCO Deutschland
"Wir bedanken uns für die professionelle Zusammenarbeit bei…
…SHERCO Germany, HEBO by Jochen Bader Motorsport…
…und Micronsystems."
---

A top-class trial device for sharpening extreme enduro skills. Here is a intensive test with all details and assessment from the perspective of a classic enduro rider.
As already known, a trial bike is no longer just a tool for the classic trial pilot, but also for the enduro rider. Why? Quite simply, because the extreme enduro or hard enduro scene demands special skills due to the constantly increasing level of difficulty or better said the driving demands on the riders, which are exactly learned in the field of trial sports. It's no wonder that top riders from trial sports, such as Graham Jarvis as veteran, have been dominating the extreme enduro scene like no other for years.
From a german perspective our young talent Manuel Lettenbichler would not be where he is now if he had not inherited his origins in trial sports and of course the driving know-how of his father Andreas Lettenbichler. Conversely, does this mean that for those who have a certain claim to their ability in extreme enduro and accordingly have sporting ambitions, inevitably the purchase of a trial device? It is exactly like that. Of course, it doesn't have to be a factory edition like in the case of our test candidate. Even if the Sherco TS 300 Factory is an absolute eye-catcher with numerous technical highlights and inevitably catches the eye of the technology-indulged or puts it in the 'I want it' mode. The standards model is of course completely sufficient, because you first have to acquire the driving skills to push this trial device to its limits. And, just like in enduro sports, that doesn't happen overnight.
In summary, does it mean that you can become an accomplished extreme enduro rider based on the appropriate trial experience? As always, there are exceptions to the rule, but the training options with a trial bike offer considerable advantages when testing new terrain and the necessary driving technique compared to a long-legged sports enduro with significantly more pounds on the ribs.
Here are the facts: The Sherco has a starting weight of a remarkable 78 kilograms, which means that in direct comparison to a 300 two-stroke enduro – always the first choice for extreme enduro use – we find a weight saving of almost 35 kilograms (77,12 lbs) and more. With regard to the seat height, the trial device at 68 centimeters logically has the edge at first glance. The turning circle is certainly an interesting factor, because here the Sherco impresses with incredible 3.1 meters, which means an average saving of a good 1.4 meters compared to a sports enduro.
Based on these facts, it is immediately evident that challenging terrain sections can be trained much easier and, above all, safer than with the usual 96 centimeters seat height of a sports enduro. Because in an emergency, you just have to put your foot on the ground and the initially explosive situation is neutralized. Sounds easier than done. Because the low vehicle weight, including the ergonomics, requires a complete adjustment of the driving style or approach to the task.
The 300 we use is of course the absolute premier class, because it has a strong torque and is not stingy with an amazing power. Speaking of the vehicle details, here are a few facts: 2.4 liter fuel tank for an oil / petrol mixture of 1:50 according to the manufacturer manual. In reality, a mixing ratio of 1:75 to 1: 100 is used. The recommended tire pressure is between 0.38 and 0.4 bar at the front and between 0.27 and 0.30 bar at the rear. In a direct comparison with the sports enduro, these are extremely low pressures, but in the trial segment, maximum traction and adaptability at the lowest speed are used in order to be able to overcome meter-high obstacles without dangerous slips by wheelspin. It should be mentioned here immediately that the chain sag is between three and four centimeters. The suspension settings are carried out as follows: The spring preload can be adjusted on the left fork leg with a suitable Allen key, while the right fork leg tension and compression damping can be adjusted in a known manner. The Reiger shock is identical to the sports enduro solutions. The suspension setting right out of th efactory is setup for a driver weight of 70 to 80 kilograms.
The hydraulic diaphragm clutch is not provided with numerous friction and steel disks as in the case of most sports enduro, but only has three. The four-piston brake caliper on the front wheel is astonishing and ensures excellent deceleration to the point, which is an absolute must in order to overcome obstacles to the centimeter. In contrast, there is a two-piston brake caliper on the rear wheel. What is interesting is the type of spokes, which are not led with their heads through the rim in the classic way, as with the Enduro, but are hooked onto a circumferential eyelet ring. This reduces the risk of a damaged tube in the tire to a maximum at low air pressures. For the sports enduro, a rim tape and, in the case of mousse use, multi-layer fabric adhesive tape is used to protect against damage. Especially since the trial solution can be readjusted and centered more easily after rough jumps.
The sprocket is covered with a cover to prevent possible dirt pick-up and threading of branches or objects. The chain is tensioned using a simple eccentric system. S3 hard-rock footrests are used for perfect grip. Even when it comes to the engine, nothing is left to chance and you rely on an Oxia cylinder head, which is not only visually appealing, but also ensures even better engine performance thanks to increased compression. You can also feel this when using the kick starter, because it has to be pressed firmly. Of course, the cylinder inlay is interchangeable and thus the power output can be easily adapted to individual wishes, which should, however, increasingly affect the ambitious expert. The mounted electric fan can be switched on manually using a switch under the frame. Instead of the emergency stop switch, a hand strap with a magnetic button is provided, as is known, for example, from the quad scene, jet skis or children's motorcycles. Finally, it should be mentioned that the air filter can be reached via the spartan seat by unscrewing of a single hexagon socket screws.
Start: With my height of 1.86 meters, the Sherco ST 300 Factory feels extremely handy. If you want to bring the 300ccm to life, you can only do that with a courageous kick on the Kickstarter and you're ready to go. First you step into the space with your left foot, because, as is usual with the trial device, the shift lever is located further forward so that you cannot reach it with your boot without leaving the footrests – or actuate it accidentally. There is also a reason for this, because in the trial sector the right gear is choosen right in front of the obstacle and then the only thing left to do is to control and complete the obstacle with the brake, clutch and throttle.
If you pull the cable in the usual manner, then it is called wheelie on the conveyor belt, because the low weight on the front axle shows hardly any resistance to the powerful start of the 300 unit, which can be dosed perfectly, so that the wheelie can be continued almost infinitely. The power delivery is so smooth, among other things, because with this type of engine, neither an exhaust control system is used nor a high peak output is required – provided the ignition curve and carburetor setting are adjusted accordingly.
Now with a little less wheelie time, the next terrain is easy reached with over 80 km/h in the extra long fifth gear. In order to be able to use this extremely long gear, only the third or fourth gear needs to be engaged from a standing position so that the long fifth can be used relatively quickly. Because then the Sherco really starts going and makes good meters, which is an important aspect for a homologated variant to reach the practice area. Of course, the fuel capacity with only 2.4 liters must always be kept in mind or an additional fuel canister must be carried.
And it's already going up a steep step in the appropriate terrain from a standing start. This means starting with increased revs without enough start and putting your body weight forward when driving over or jumping over the edge. Of course, when I tried it for the first time, I'm clearly too researched and take off a good two meters due to the enormous traction on the rear wheel and the resulting speed. First lesson learned under the premise 'less is definitely more here' and above all more controllable.
The lightweight goes downhill in the same way, while the wide handlebar combined with the excellent brakes offers the best vehicle control. A long driveway invites you to gas. Again, the usual sport enduro gait has grabbed me for such situations and the Sherco is again too fast and once again jumps too far when it reaches the top. The willingness to perform of the 300s is phenomenal, but has to be used in a targeted manner, for which the approach must definitely be refined. As is well known, no master has yet fallen from the sky, which despite my manageable trial experience has to be brought into focus again and again. So from now on it gets down to business with a slow pace and lo and behold, the effort is significantly lower and the exact driving style is quickly crowned with success. This inevitably leads to a feverish search for demanding obstacles on the steep slope. The willingness for the more extreme is continuously increasing, since you can always put your foot down anywhere to safely abort the driver's action.
For me, the trial device is an unusual but consistently sensible training option for technically demanding terrain, in order to simultaneously and safely increase my own driving skills. Therefore thumbs up and highly recommended for those who want to achieve more in the extreme enduro segment.
RATING
PLUSMINUS SHERCO ST 300 FACTORY
PLUS
Powerful torque
Flawless metering of the engine power
Excellent vehicle balance
Ingenious handling
Adjustment range of the spring elements
Convincing build quality
Optical appearance
MINUS
• No noteworthy points
---
Images: OFFROADCRACKS.com
Gear & protection:HEBO by Jochen Bader Motorsport
Vehicle preperation: SHERCO Germany
"We say thank you for the professional cooperation with…
…SHERCO Germany, HEBO by Jochen Bader Motorsport…
…and Micronsystems."
---