Eine GasGas mit veränderter Optik? Nicht nur, denn es sind spürbare Unterschiede vorhanden und der Preis ist heiß.
---
DIREKTLINKS / Direct links

TECHNISCHE DATEN / TECHNICAL SPECS
LEISTUNGSDIAGRAMME & PRÜFSTANDSLAUF / PERFORMANCE DIAGRAMS & VIDEO
WARTUNGSINTERVALLE & E-TEIL-PREISE / SERVICE DATA & SPARE PARTS PRICES
WEITERE IMPRESSIONEN / MORE IMPRESSIONS
---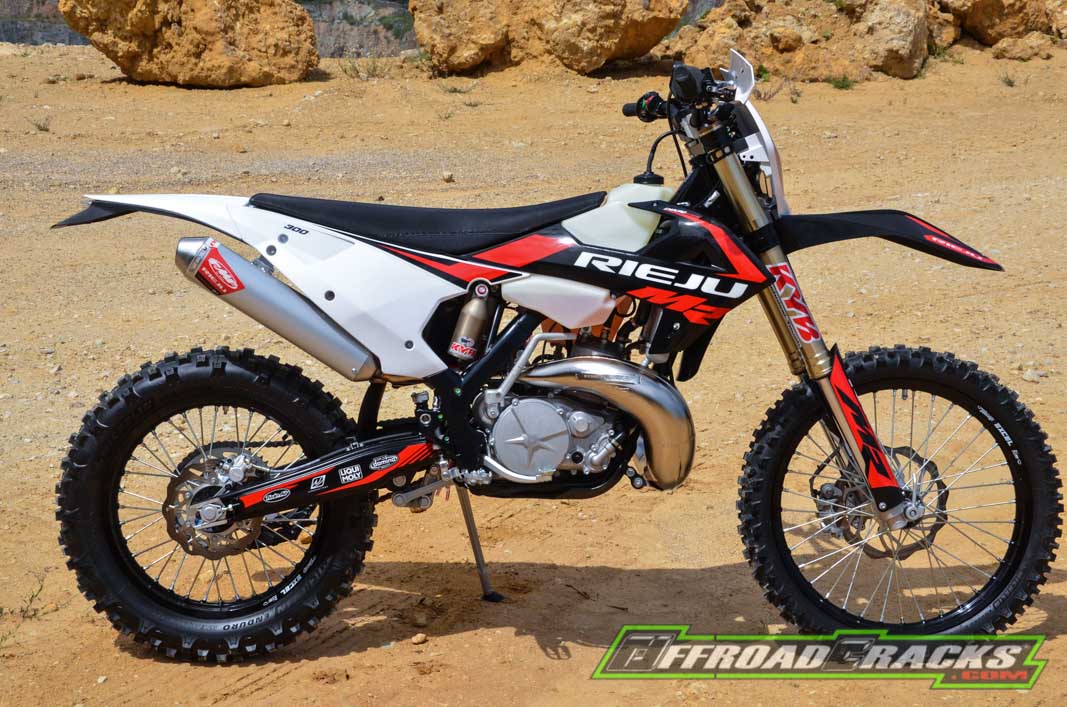 Bevor wir nun abschweifen und uns in der GasGas-Historie verlieren sowie alle mehr oder weniger bekannten Erfolge aufführen, wenden wird uns doch lieber wie üblich der unwiderlegbare Fakten der neuen Rieju MR 300 Racing 2021 zu. Einige dürften die Features der GasGas EC 300 Racing 2019 – die letzte ihres Standes – in Erinnerung sein. Doch für diejenigen, die mit dem spanischen Produkt weniger vertraut sind hier nochmal alle Details, die nahezu identisch mit der Rieju sind: Ein 28,6 Millimeter starker Oversize-Lenker von Neken ohne Mittelstrebe wird von einer extra steifen T-Bone-Lenkeraufnahme gehalten. Demzufolge ist auch ein kompaktes Lenkerpolster aus einem sehr elastischen Gummi-Material mit Rieju-Logo im Einsatz. In der Summe soll dadurch eine Erhöhung der Steifigkeit in der Front erreicht werden, das außerdem zu noch exakteren Lenkmanövern führen soll. Die Gummigriffe stammen von Neken und sind in der Farbe schwarz gehalten.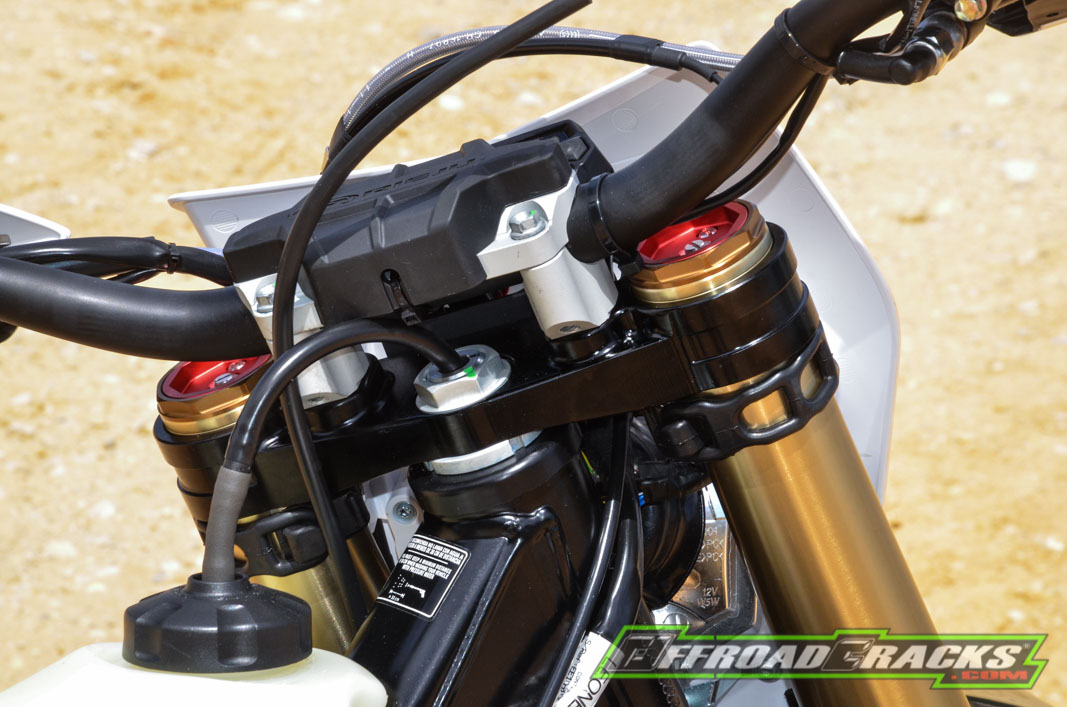 Der Zylinder wurde zuletzt bei GasGas vollständige überarbeitet – leider sind keine weiteren Details dazu bekannt. Der Elektrostarter in der Rieju stammt von einem neuen Hersteller und die Elektro-Bauteile sind seit dem letzten GasGas-Update noch zuverlässiger und von höherer Qualität. Der bekannte Mappingschalter mit den legendären Wolken- und Sonnensymbol ist natürlich mit an Bord und der Digitaltacho erhielt einen neuen Kunststoffträger. Praktisch sind die schwarz durchgefärbten Rahmenschützer, die die lackierte Rahmenoberfläche schützen. Der Seitendeckel zur Abdeckung der Airbox wurde bereits durch GasGas optimiert und mit einem neuen Rieju-Dekor versehen.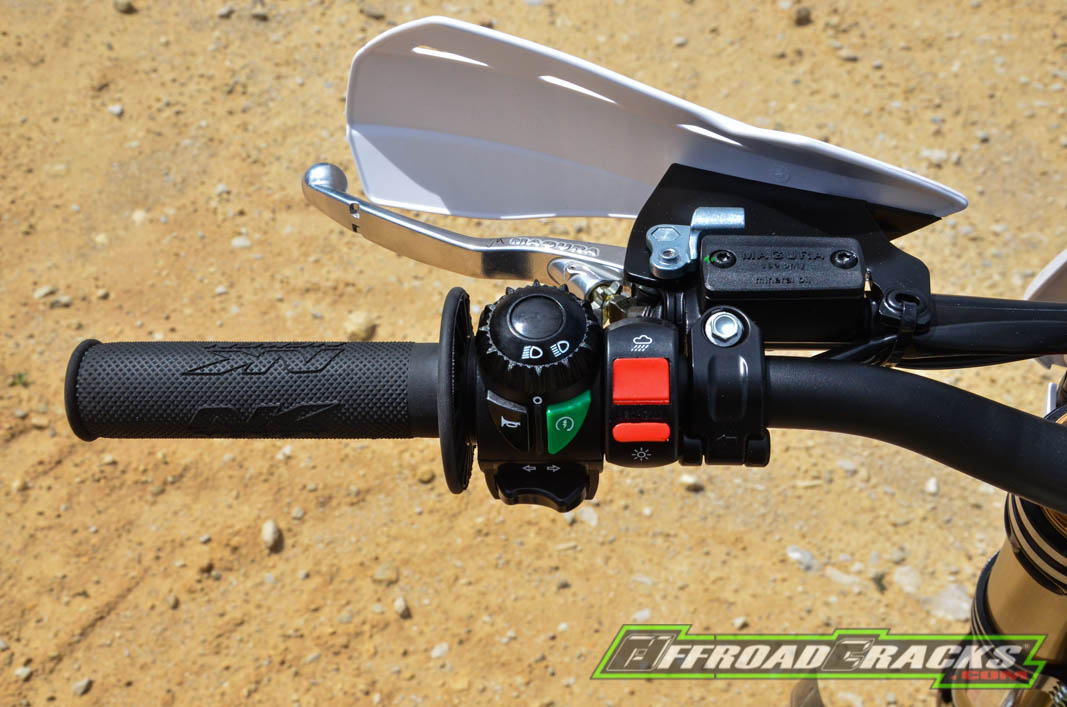 GasGas gab damals ein Leergewicht von 105 Kilogramm an, das für die Rieju identisch ist. Da wir bekanntlich immer das Startgewicht mit allen Flüssigkeiten und vollen Tank angeben, denn damit steht man auch immer am Start, sprechen wir hier von einsatzfertigen 115 Kilogramm – ermittelt auf einer geeichten Waage. Die Sitzhöhe beträgt klassenübliche 96 Zentimeter und die Lenkerhöhe gemessen vom Boden beträgt 122 Zentimeter – der zwischen Lenker und Fußrasten 80 Zentimeter. Der Sitzbank-Fußrasten-Abstand fördert die üblichen 54 Zentimeter zu Tage, so dass man auch mit einer Körpergröße von über 1,80 Meter durchaus entspannt mit einem angenehmen Kniewinkel auf der Rieju sitzen kann.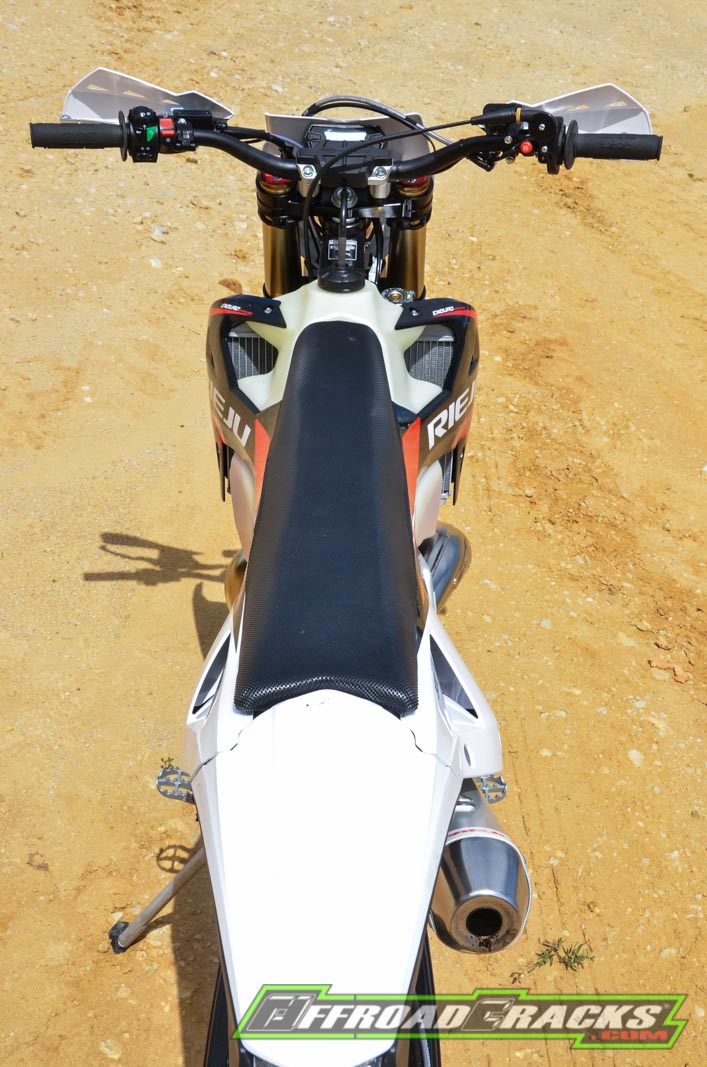 Ergonomie: Alle Bedieneinheiten befinden sich an Ort und Stelle, ohne nennenswerte Auffälligkeiten, so dass man sofort loslegen kann. Halt, da gibt es doch eine GasGas-Besonderheit, die nach wie vor auch bei Rieju bestand hat. Der Elektrostarter-Knopf ist nicht wie üblich am rechten Lenkerende positioniert, sondern im Kombischalter am linken Lenkerende integriert und zusätzlich in der Farbe Grün zur schnellen Erkennbarkeit designt. Weniger auffällig als noch bei der GasGas ist die Lenkerform der Rieju. Zudem erscheint die Kröpfung besser passend – leider haben wir dazu keine näheren geometrischen Infos. Die Silhouette der Rieju ist gewohnt schlank gehalten, ohne störende Ecken und Kanten und weiß durch die hohe Bewegungsfreiheit zu überzeugen.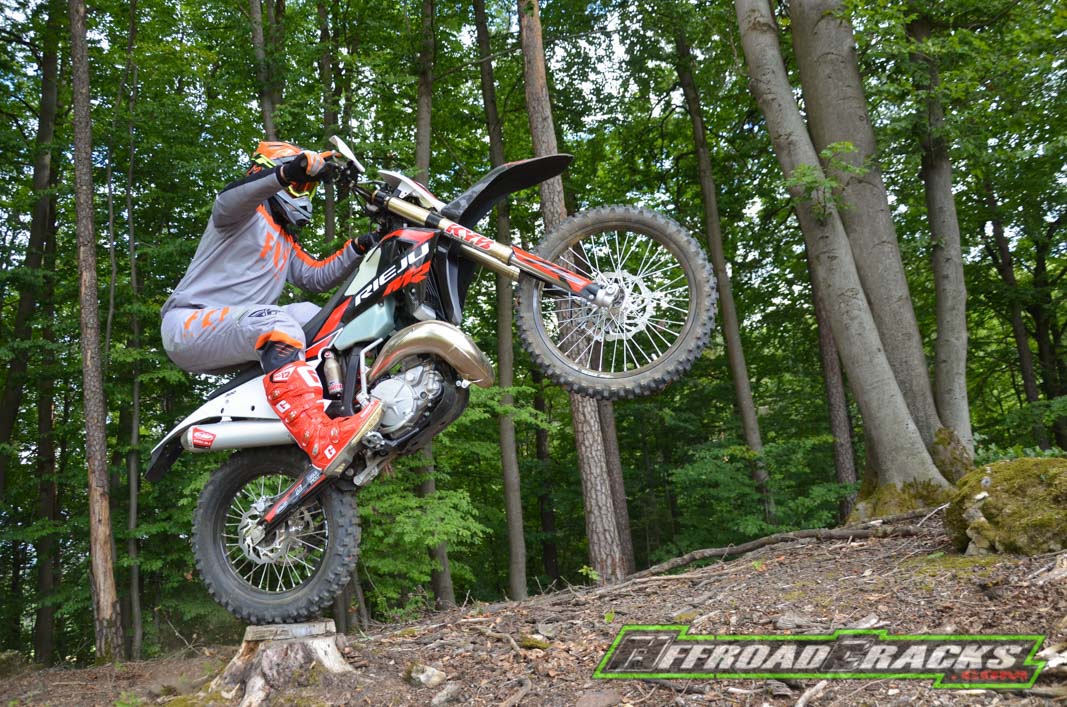 Ausstattung: Rahmen-, Hebel- und Motorschutz jeweils aus Kunststoff sind Standard. Ein hochwertiger FMF-Schalldämpfer samt hauseigenem Leistungsteil gehörte bei GasGas zum guten Ton. Doch Rieju legt noch eins drauf und spendiert der MR 300 auch noch ein FMF-Leistungsteil oder umgangssprachlich besser bekannt als Krümmer. Der praktische Tank, da transparent, ist ein Muss, was ebenso für eine hydraulische betätigte Kupplung – in diesem Fall von Magura – gilt. Das Highlight schlechthin ist sicherlich das Kayaba-Fahrwerk: Closed-Cartridge Technologie, Upsidedown-Gabel, 48 Millimeter Durchmesser und klassische Öl-Feder-Kombination. Dazu kommt ein voll einstellbares Kayaba-Federbein mit progressiver Hebelumlenkung. Für eine europäische Enduro von der Stange und nicht als Sondermodell in der Summe eine herausragende Sportenduro, die man ab sofort bei Rieju findet.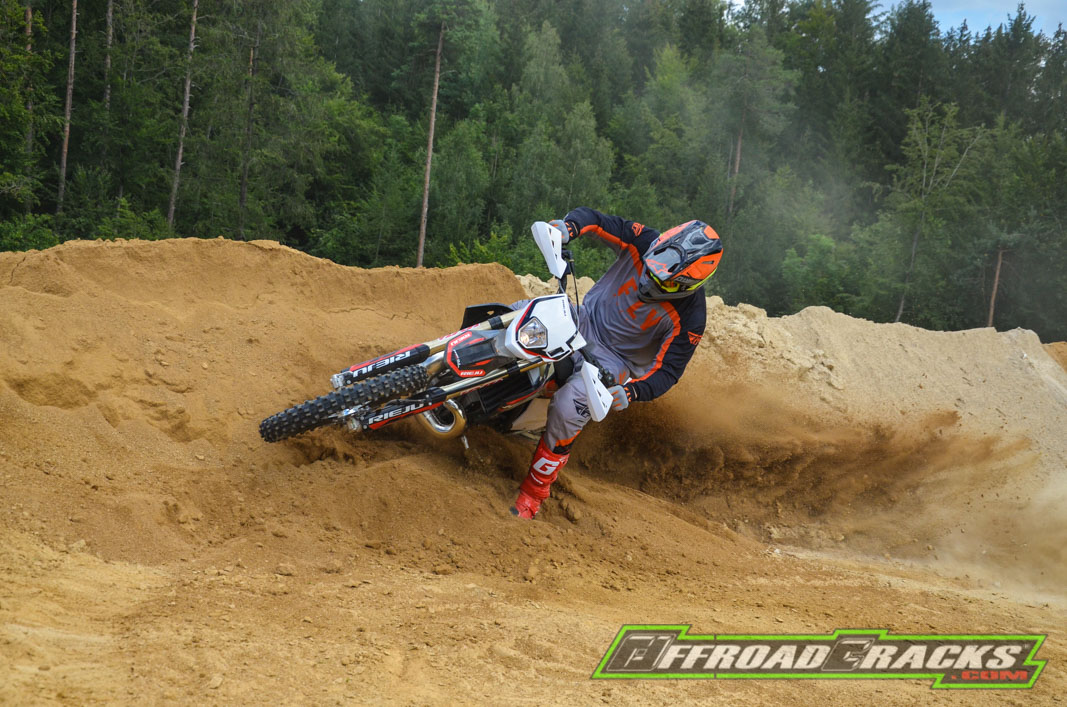 Auch die Nissin-Bremsanlage samt NG-Wave-Bremsscheiben vorn und hinten gelten als hochwertige und hervorragende Kombination mit überzeugenden Verzögerungswerten. Die zwei bereits erwähnten Mappingkurven gehören ebenso zum guten Ton wie ein gut erreichbarer Luftfilter, was über den großen hinteren linken Seitendeckel praktisch gelöst wurde. Motorseitig setzt man auf Gutes und Bewährtes und nimmt wie üblich auf einen VForce4-Membranblock und einen Keihin-Flachschiebervergaser, die perfekt miteinander harmonieren. Schwarze Excel-Felgen und Michelin-Bereifung sind ebenfalls mit von der Partie. Damit hinterlässt die Rieju wie auch schon die GasGas einen bleibenden Eindruck und erweist sich als äußerst stimmig. Ich persönlich würde mir noch immer eine hochwertige Lampenmaske wünschen.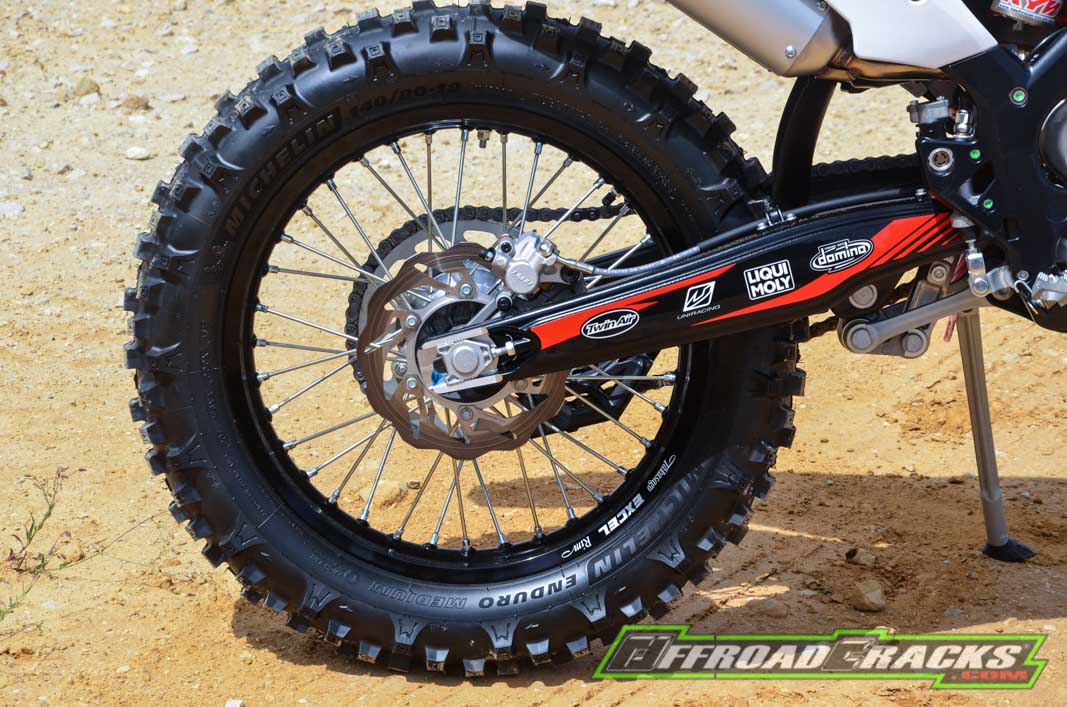 Und was ruft der neue alte Importeur BLM respektive Rieju für seine MR 300 Racing in Deutschland auf? Zunächst wurden der Verkaufspreis zur Markteinführung auf 8.490 Euro festgesetzt – identisch zu GasGas, der vermutlich wegen dem kommenden PRO-Modelle dann auf äußerst attraktive 7.990 Euro reduziert wurde. Damit ist man im Vergleich der Zweitakter-Riege der günstigste Anbieter eines 300er Standard-Modells. Schaut man aber genauer hin und bezieht die hochwertige Sonderausstattung der Rieju mit ein, dann dürfte man fairerweise eigentlich nur die Sondermodelle der Konkurrenz für einen Preisvergleich heranziehen. Damit hätte man dann einen Preisvorteil je Modell von zirka 1500 bis zu satten 2800 Euro. Sieht man diesen Vergleich aber wegen einer gewissen emotionalen Markentreue zur Konkurrenz als ungerechtfertigt an und zieht nur die Standard-Modelle der Konkurrenz heran, dann bietet die Rieju noch immer einen Preisvorteil von zirka 450 bis 2.500 Euro.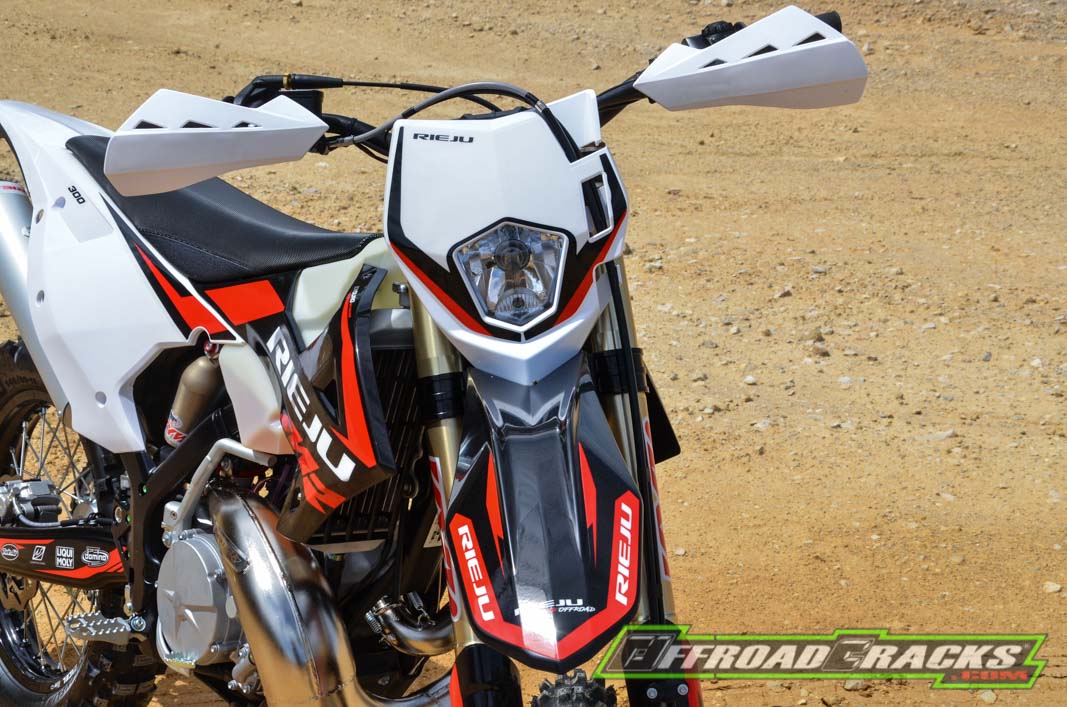 Klar ist natürlich auch, dass hier unterschiedliche Konzepte miteinander verglichen werden, was aber im Fall der E3-Klassen-Zugehörigkeit keine Rolle spielt. Die gemachte Aussage hinsichtlich der Emissions-Werte und Euro5-Tauglichkeit von KTM und Husqvarna, das nur ihre "fortschrittliche" Zweitakt-Einspritz-Technologie zulassungsfähig wäre kann hiermit ab sofort als nichtig erklärt werden. Denn Rieju erteilt hier dem Branchenführer eine klare Absage, der bis zuletzt propagandierten Euro5-Thematik. Denn die Rieju MR 300 Racing 2021 besitzt laut COC-Papiere, die wir in Kopie vorliegen haben, eindeutig eine Euro-5-Zulassung und das nur mit Vergaser-Technologie. Hatte die Aussage aus Österreich hinsichtlich dieser Problematik reinen Marketing-Aspekt mit strategischen Hintergründen? Das werden wir wohl nicht erfahren und darf sich jeder selbst zusammenreimen. Damit hat auf alle Fälle Rieju bewiesen, dass auch mit Vergaser die Geräusch- und Emissions-Werte der Euro-5-Norm nach wie vor realisierbar sind. Immerhin hat Rieju bereits einen serienreifen Zweitakt-Motor mit Einspritzung aus dem GasGas-Erbe übernommen und könnte auch diese Karte ausspielen, sobald tatsächlich notwendig. Was hat sich dadurch in den Zulassungsdaten geändert? Die eingetragene Leistung wurde minimal erhöht, was ebenso für die dazugehörige Drehzahl gilt und das zulässige Gesamtgewicht wurde um vier Kilogramm auf 221 reduziert – fertig ist der Lack.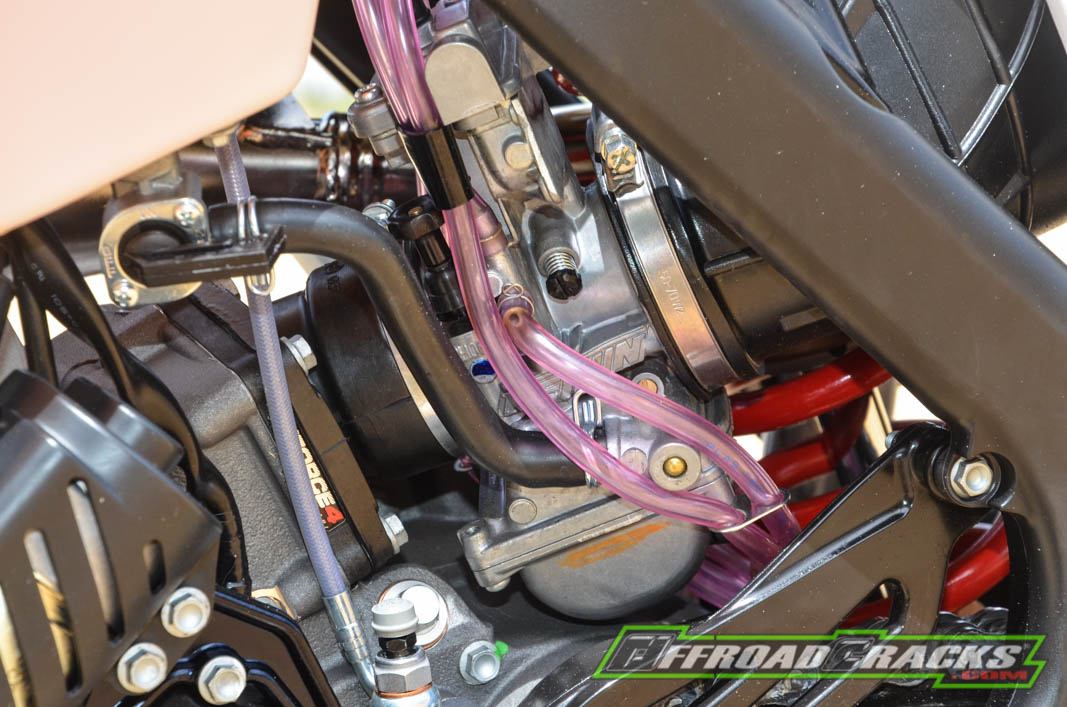 LEISTUNGS- & DREHMOMENTDIAGRAMME + VIDEO: PRÜFSTANDSLAUF / PERFORMANCE DIAGRAMS + VIDEO
---
HINWEIS: Das Video ist noch deaktiviert, damit keine unerwünschte Datenübertragung zu Youtube stattfindet. Zur Aktivierung bitte auf das Vorschaubild/Video-Link klicken. Damit werden Daten übermittelt, zu deren Art, Umfang und Verwendungszweck wir keineAuskünfte geben können.
---
NOTE: The video is still deactivated so that no unwanted data transfer to YouTube takes place. To activate, please click on the preview image / video link. This transmits data about the type, extent and purpose of which we cannot provide any information.
---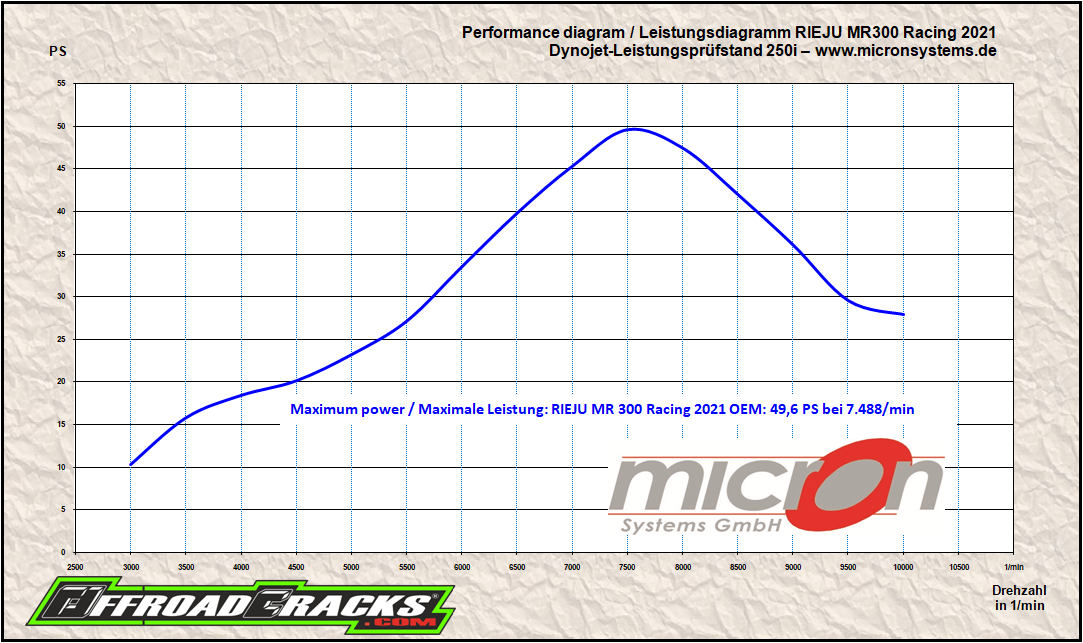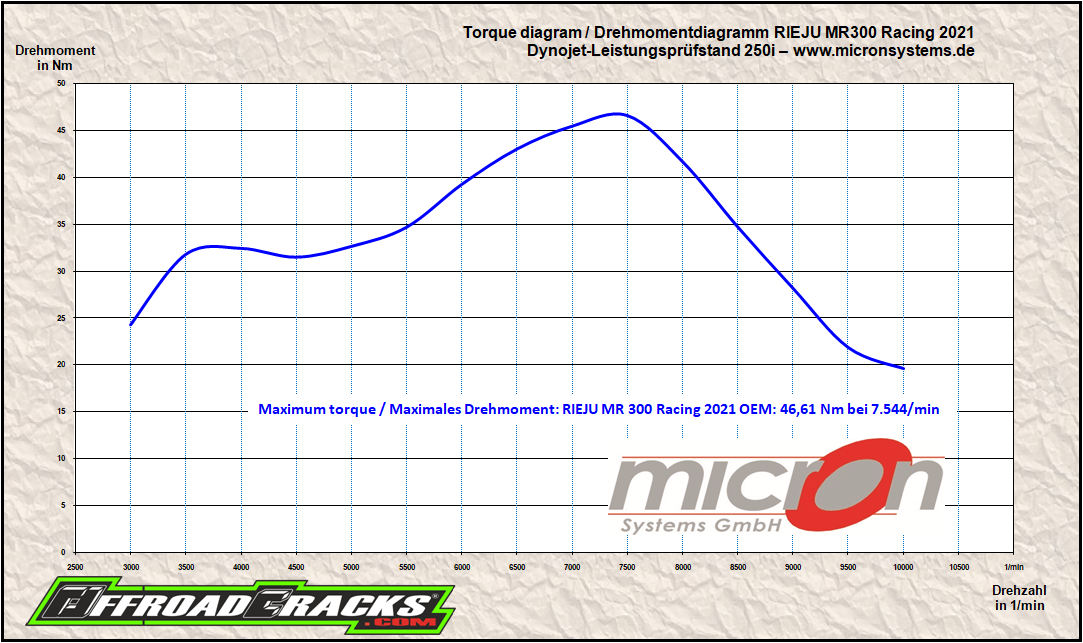 Einsatz: Sofort fällt der kräftig drehende Anlasser auf, der die Rieju auf den ersten Knopfdruck ohne wenn und aber bei 27 Grad Lufttemperatur zum Leben erweckt. Kurz notiert: Die Rieju erhielt für die Testvorbereitung eine abgeänderte Vergaser-Abstimmung, da die Standard-Einstellung für derartige Bedingungen schlichtweg zu fett war und durch eine kleinere Hauptdüse realisiert wurde.
Auf los geht's los und die Magura-Kupplung trennt sofort beim Einlegen des ersten Gangs. Und schon folgt der fliegende Wechsel bis hoch in den fünften Gang, denn die 300er hat ordentlich Drehmoment, um gesittet eine kurze Warmfahrphase durchzuführen. Sofort fällt das hervorragend agierende Kayaba-Federbein positiv auf und glänzt mit hervorragendem Ansprechverhalten, während sich die Gabel gleichen Herstellers noch etwas schwerer tut. Gut, die Rieju hat auch gerade mal eine kurze Eingewöhnungsphase samt Einfahrzeit von einer halben Stunden auf einem Stoppelacker hinter sich und bekanntlich benötigt die Kayaba-Gabel sechs bis sieben Betriebsstunden bis sich ihre gesamte Performance offenbart.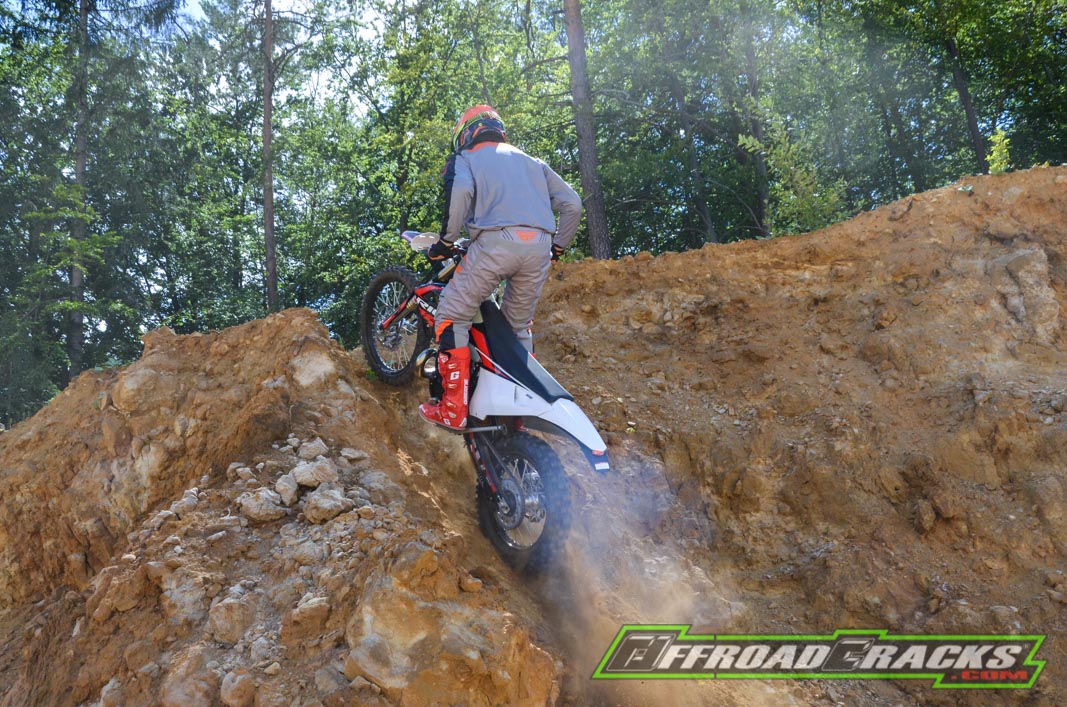 Bedingungen: Harter Boden und loses Gestein, das jede Fahrdynamik an seine Grenzen bringt und hier muss Fahrzeug und Fahrer bestens harmonieren. Mit Vollgas schießt die Rieju nach der Warmfahrphase den breiten Schotterweg entlang, ohne dass der immense Schub der 300er enden will. Hier heißt es fest zupacken oder die Rieju zeigt ihre Krallen legt man Gashahn mal soeben bis auf Anschlag um. Ist das zu viel des Guten? Wir haben ja noch das zweite sanftere Mapping mit dem Symbol Wolke, dass etwas zahmer zur Sache gehen sollte. Und das spürt man sofort. Als wenn man eine Zehntelsekunde mehr an Zeit für die richtige Entscheidung bekommen würde. Und schon steht die erste knackige Auffahrt gespickt mit losem Geröll an.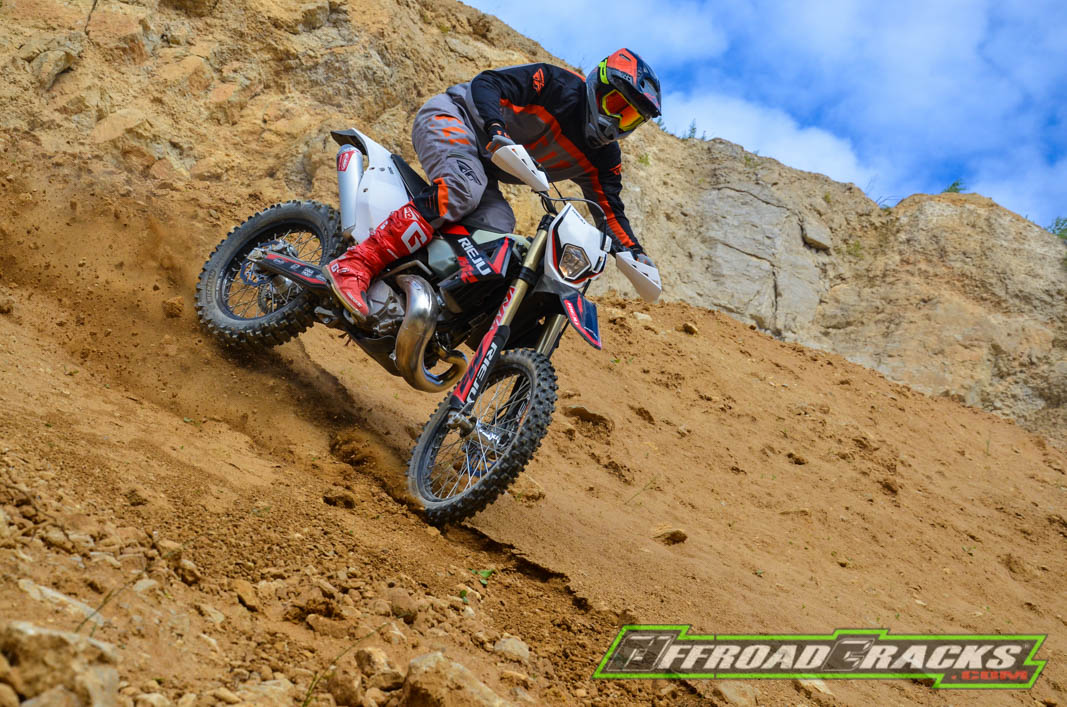 Die Rieju zieht mit knackiger sportlicher Geräuschkulisse dank FMF-Schalldämpfer und FMF-Gnarly-Leistungsteil die Auffahrt hinauf, als wenn man hierfür überhaupt keinen Gedanken an die Traktionsverhältnisse auf dem losen Untergrund verschwenden hätte müssen. Die Gabel ist noch etwas unsensibel, aber bei derart guter Traktion ist sie ohnehin bergauf entlastet und spielt keine so große Rolle. Der Michelin-Reifen zeigt in Verbindung mit dem Kayaba-Federbein eine harmonische Vorstellung, die nicht besser sein könnte.
Sofort geht's weiter und ein paar Singletrails offenbaren die von der GasGas bekannt spielerische Handlichkeit, so dass man stets versucht ist das Tempo zu erhöhen. Hier spielt das hohe Drehmoment seine Vorzüge aus und man kann die Rieju mit niedrigster Drehzahl im dritten Gang zwischen den Bäumen und Felsen mit beeindruckendem Tempo hindurchzirkeln. Hier heißt es nur aufpassen, um nicht mit den widerstandsfähigen Waldbewohnern unfreiwillig mit Schulter oder Arm in Kontakt zu geraten, denn dann heißt es blaue Flecken und Prellungen im Nachgang pflegen.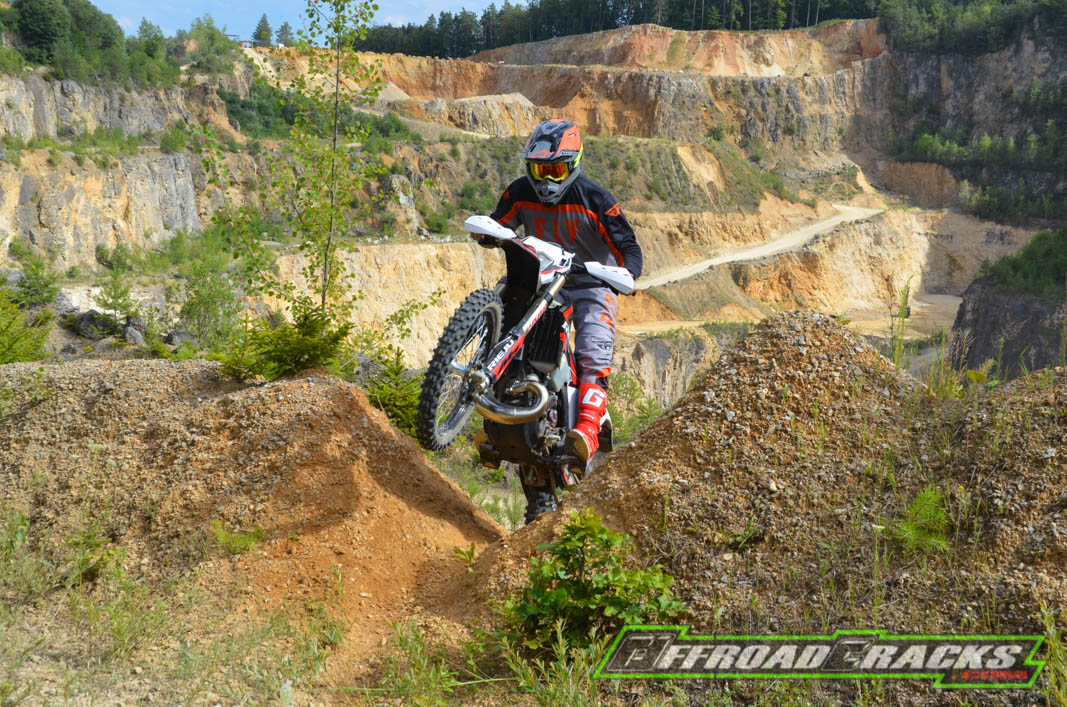 Die Leistungsdosierung ist auch für kleine Wheelie-Einlagen oder das Überwinden von Baumstämmen tadellos, so dass man gerne bewusst diese Art von Hindernissen aufsucht. Nach derart viel Fahrspaß im engen und technisch fordernden Terrain, muss die Rieju nun zeigen, was in ihr steckt. Das heißt Mapping Sonne und abrufen der vollen Leistung. Das bedeutet volle Konzentration auf korrekte Brems- und Schaltpunkte sowie Gasgriff- und Kupplungs-Einsatz. Dabei wird man von dem kräftigen Antritt anfangs fast etwas überrascht, ist man doch die deutlich zahmere Leistungsentfaltung der Einspritz-Zweitakt- und Viertakt-Motoren gewöhnt. Also doch nur was für echte Männer? Ja und Nein, denn beherrscht man die Leistung ist man verdammt schnell unterwegs und dürfte hinsichtlich des Antritts und Drehvermögens das Einspritzmodell der Konkurrenz leicht überflügeln. Zumal auch noch das Fahrwerks-Setup passend ist und einen schonende Fahrstil gar nicht erst gefordert wird.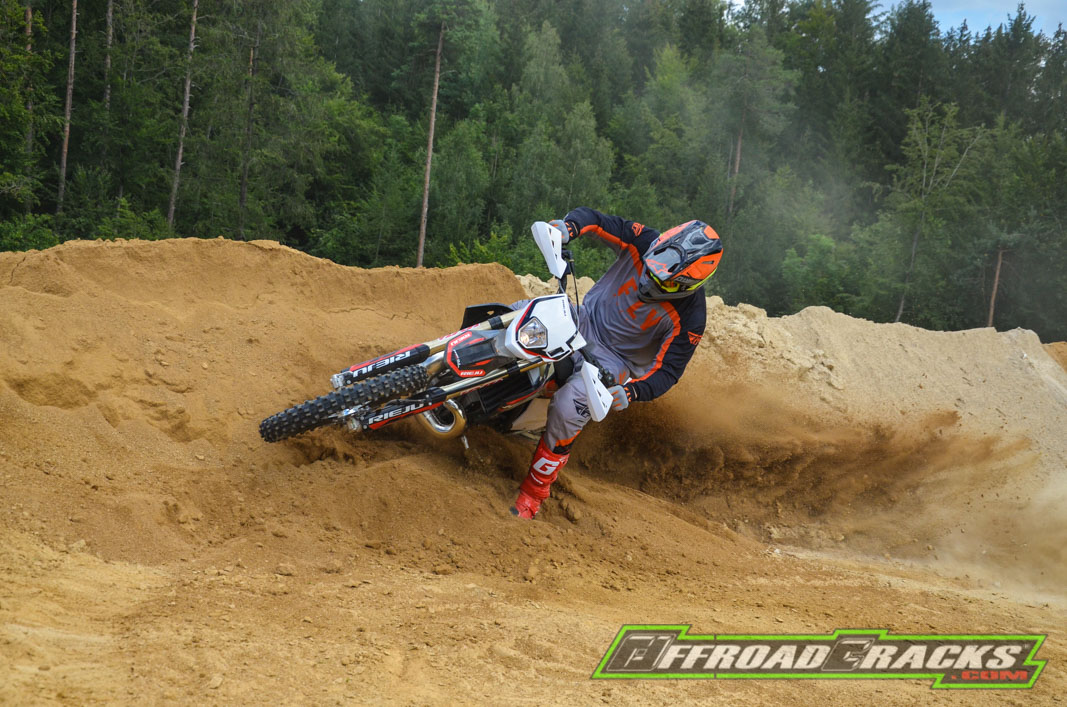 Mit Vollgas im dritten Gang rast die Rieju auf einen Anlieger zu, hartes Verzögern, zweiter Gang, Körpergewicht aufs Vorderrad und schon knallt sie in den Anlieger und katapultiert unter Zuhilfenahme von Kupplung und Gasgriff ebenso schnell Ross und Reiter heraus, um dann im dritten Gang wieder richtig Meter zu machen. Das ging ja mal richtig flott, ohne dabei auf ein zu weiches Fahrwerk mit durchschlagendes Ergebnis warten zu müssen.
Und schon geht's wieder zu einer ellenlangen Auffahrt die wir voller Übermut und unwissend sogar mit dem Sonnen-Mapping in Angriff genommen haben. Ergebnis? Die Rieju meistert auch diese Passage kritikfrei und der untere und mittlere Drehzahlbereich ist dennoch überraschend gut dosierbar.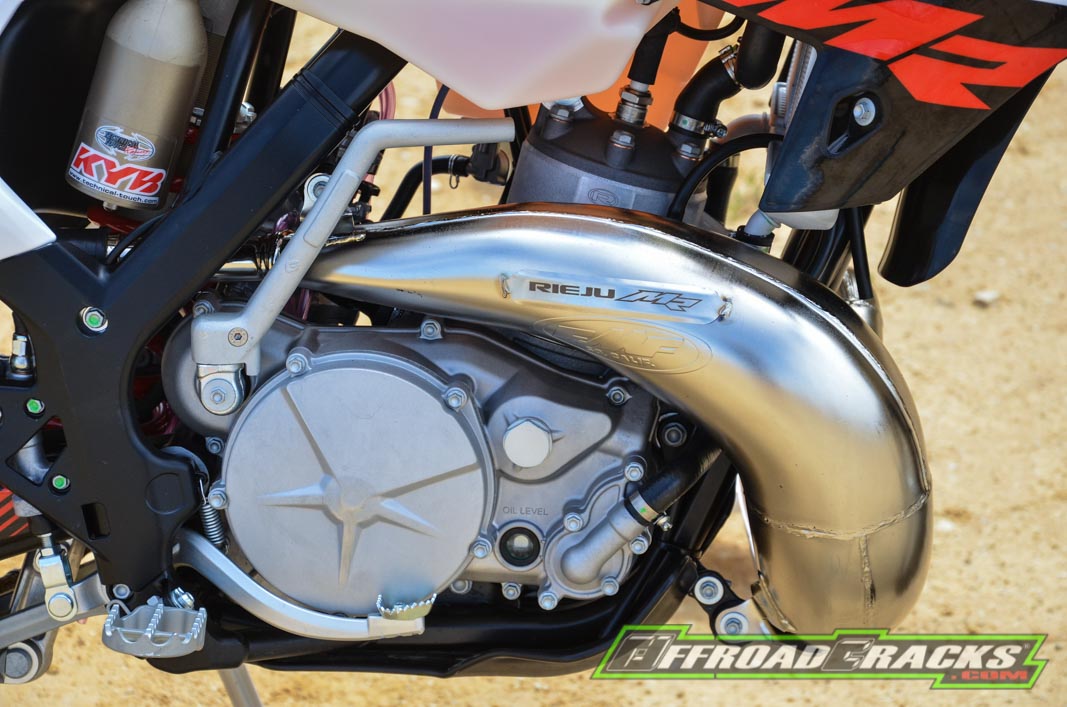 Will man hoch muss man auch wieder runter und genau das ist es was die Spanierin auf relativ harten Boden leisten muss. Jetzt geht es den Nissin-Komponenten an den Kragen. Besser gesagt glänzt die Vorderradbremse mit besten Verzögerungswerten und geringsten Bedienkräften und erhält von uns die Note Eins mit Stern. Dafür ist die hintere Bremse etwas weniger sensibel und beißt teilweise etwas zu forsch zu, was sich vor allem bei hoher Betriebstemperatur zeigt. Also hier mit noch mehr Gefühl als gewohnt und dann gelingt auch die Verzögerung ohne blockierendes Hinterrad.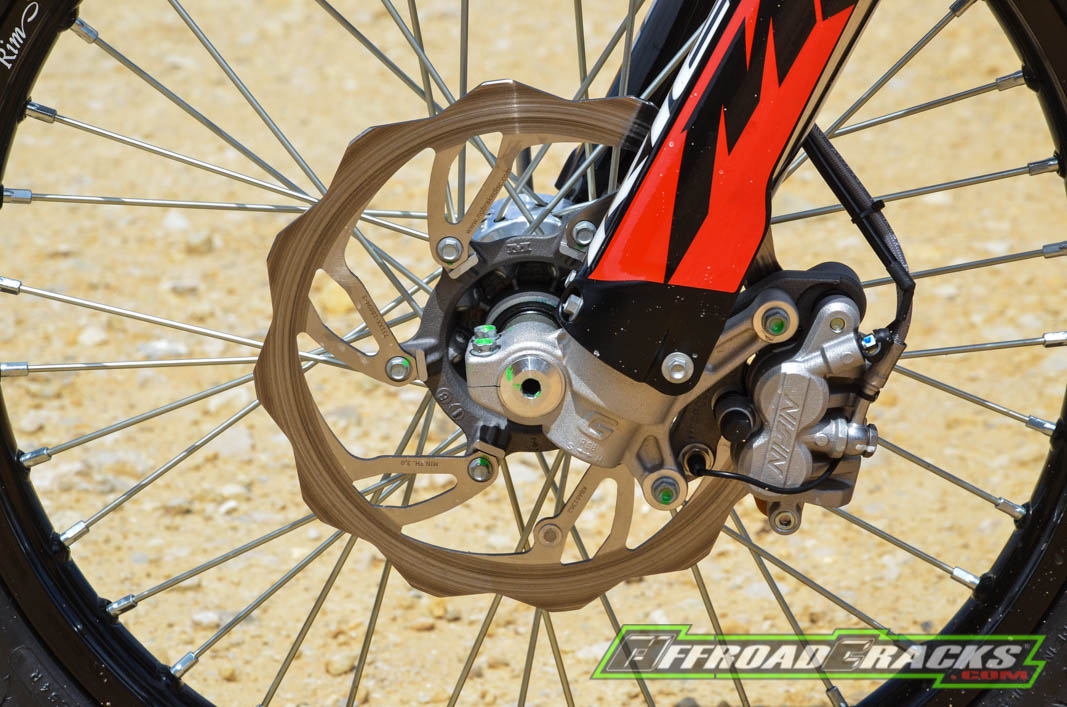 Als letzte zwingende Maßnahme bei derart hohen Temperaturen ruft eine Wasserdurchfahrt, bei der das sanfte Mapping auf rutschigem Boden für Traktion sorgen muss. Und auch das scheint die Rieju zu beherrschen, da der Wheelie im Wasser fahrend problemlos klappt.
Wo liegen wir eigentlich hinsichtlich der Leistungswerte? Diese sind natürlich identisch zur GasGas mit gut 49 PS bei 7.500/min und 46 Newtonmeter bei gleicher Drehzahl.
TECHNISCHE DATEN / TECHNICAL SPECS
Technische Daten Rieju MR 300 Racing 2021 @offroadcracks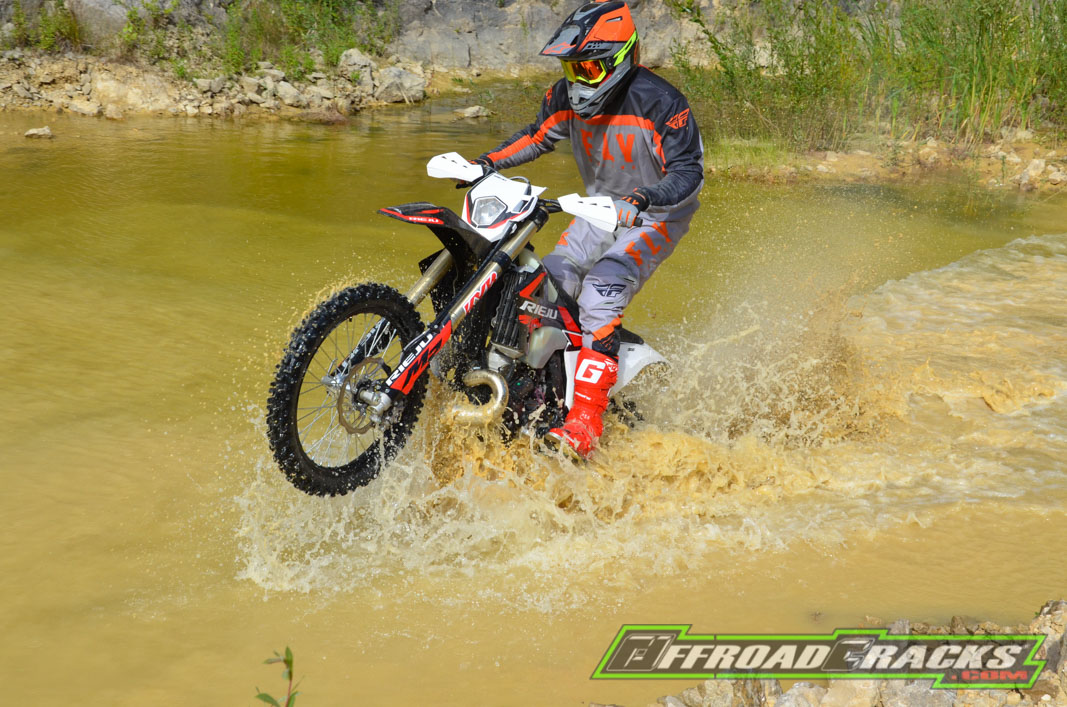 FAZIT
Damit gehört die Rieju MR 300 Racing unweigerlich mit zu den wohl komplettesten Sportenduros in der E3-Zweitakt-Kategorie am Markt ab Hersteller, die sowohl die sportlich forsche Gangart als auch technisches Terrain im Hardenduro-Segment beherrscht und zudem durch den höchst attraktiven Anschaffungspreis von nur 7.990 Euro begeistert. Zumal sie mit einer besonders üppigen und hochwertigen sinnvollen Ausstattung glänzt. Damit stellt sie eine echte E3-Alternative dar, zumal man damit kein Neuland betritt, sondern zugleich auf das bewährte GasGas-Händlernetz zurückgreifen kann und auch schon die begehrte und hoch aktuelle Euro5-Homologation besitzt.
Für mich tritt besonders das Fahrerlebnis mit dem feurigen Sound, ultrakräftigen Antritt und gleichzeitig guter Leistungsdosierbarkeit in den Vordergrund und fördert immer wieder ein breites Grinsen unter dem Helm hervor. Zumal man dank passender Fahrwerks-Abstimmung auch mal deftig zur Sache gehen kann, ohne dabei Material und in der Folge den Fahrer zu überlasten. Wie man schon im Text bemerkt hat wurde dieses mal weniger auf Getriebe-Schaltbarkeit, -Abstufung, Kupplung und den anderen Details eingegangen, da diese bereits von der GasGas bestens bekannt sind, sich bewährt haben und daher keiner extra Erwähnung bedürfen.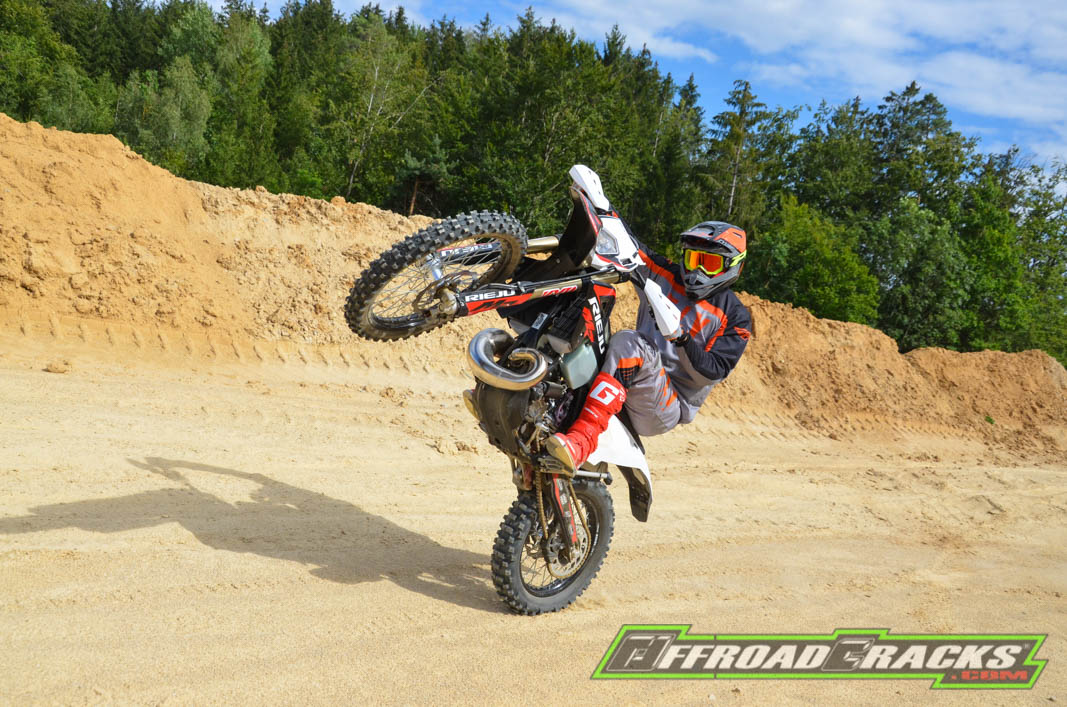 PLUSMINUSRIEJU MR 300 RACING 2021
PLUS
• Verwertbare Spitzenleistung und Drehmoment
• Einwandfrei dosierbare Motorleistung
• Breites nutzbares Drehzahlband
• Spielerisches Handling
• Hohe Fahrsicherheit
• Fahrwerks-Abstimmung
• Ergonomie
• Euro5-Zulassung
• Preispolitik

MINUS
• Geringe Motorvibrationen
• Lampenmasken-Design verbesserungswürdig
---
WARTUNGSINTERVALLE & E-TEIL-PREISE / SERVICE DATA & SPARE PARS PRICES
Wartungsdaten u. E-Teil-Preise Rieju MR 300 Racing 2021 @ offroadracks

WEITERE IMPRESSIONEN / MORE IMPRESSIONS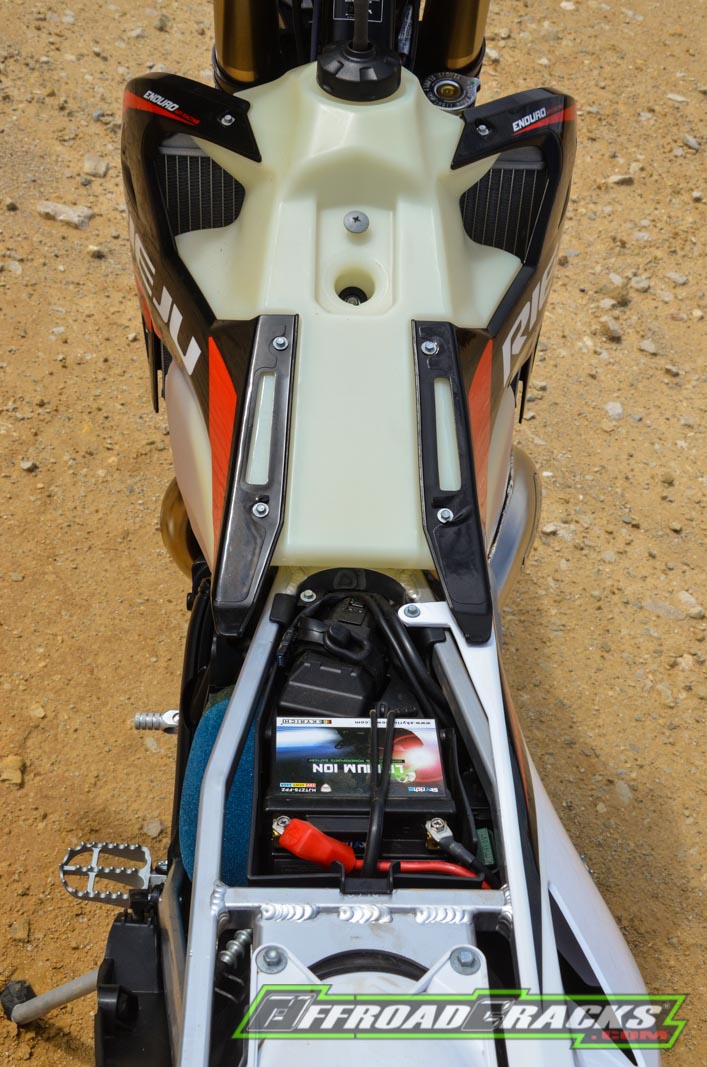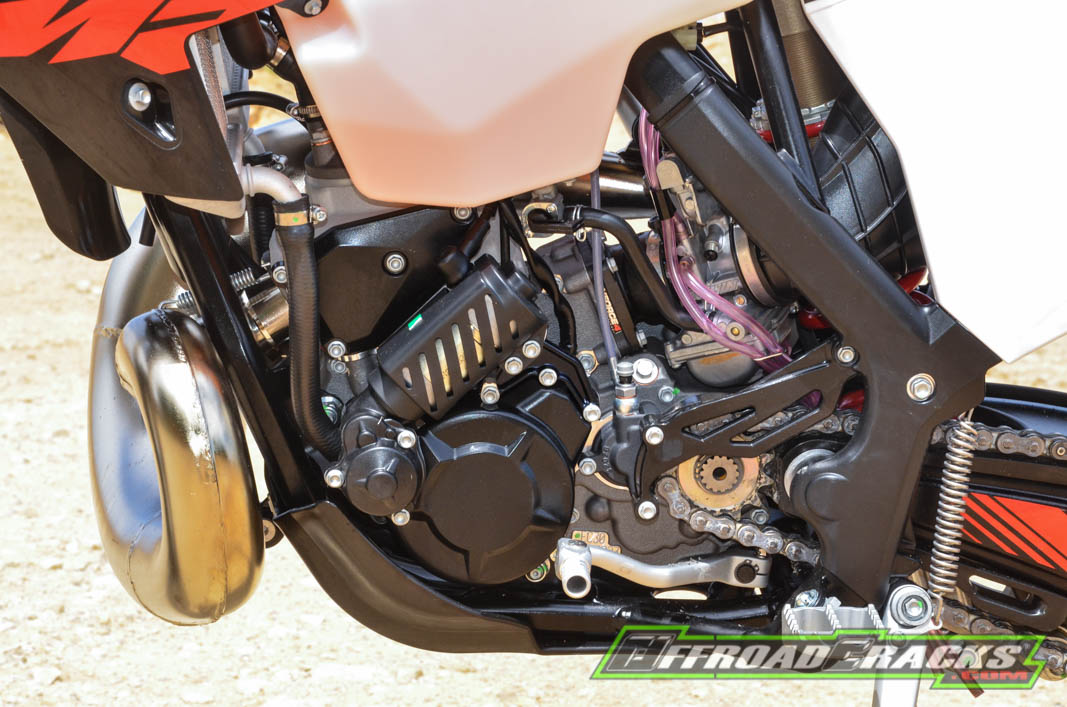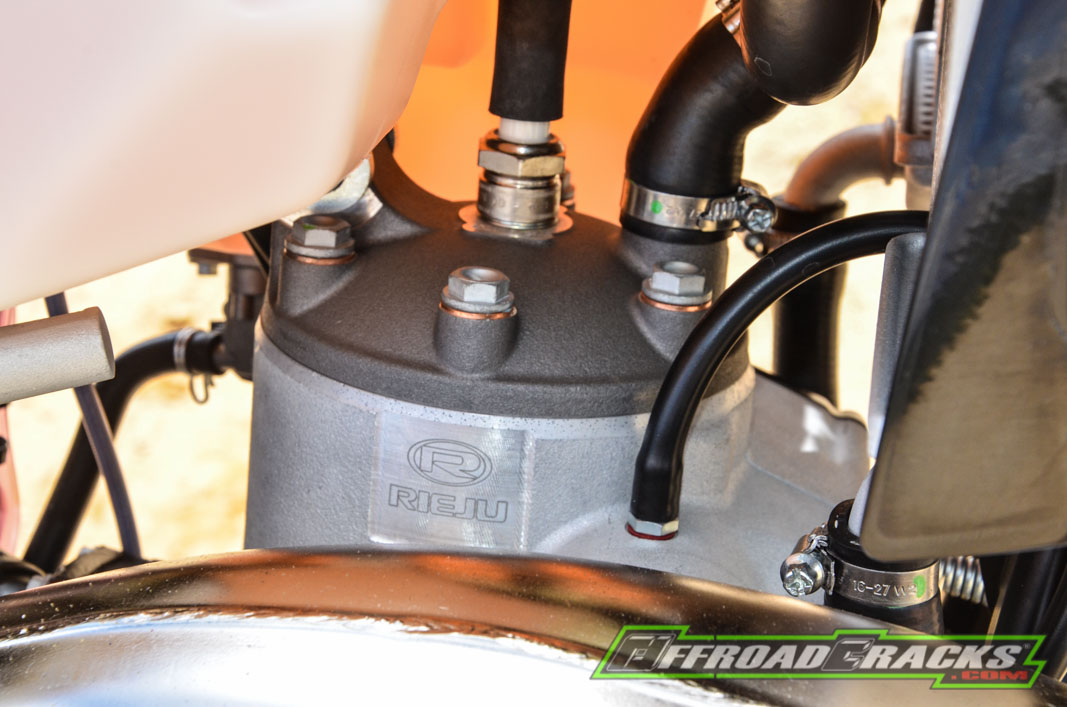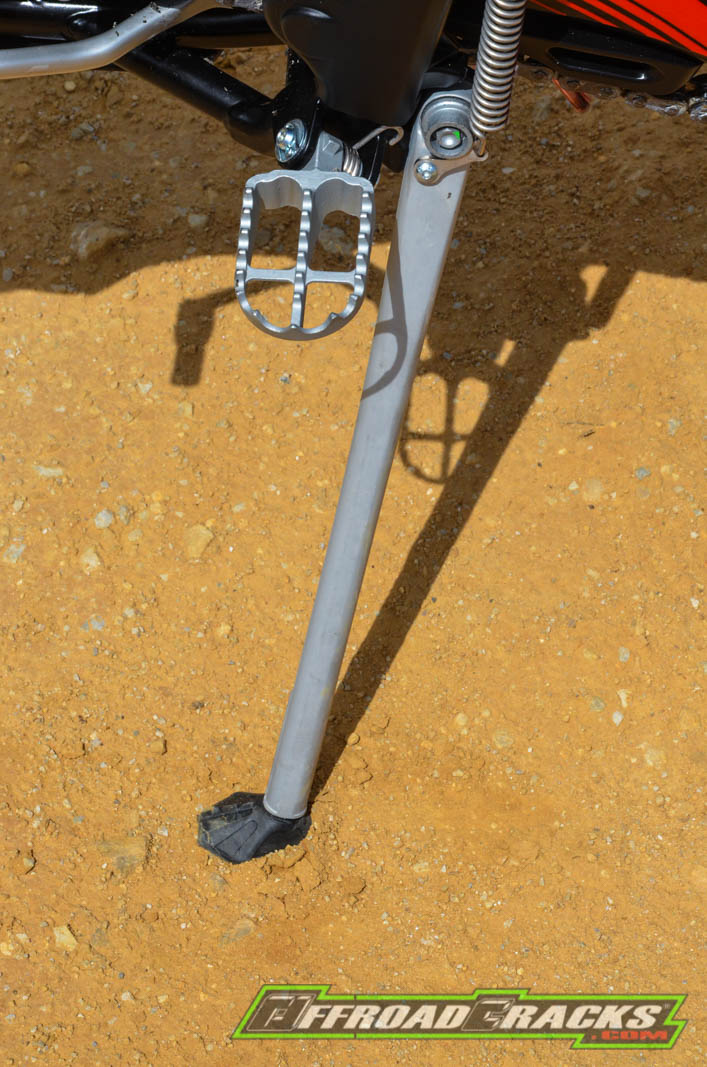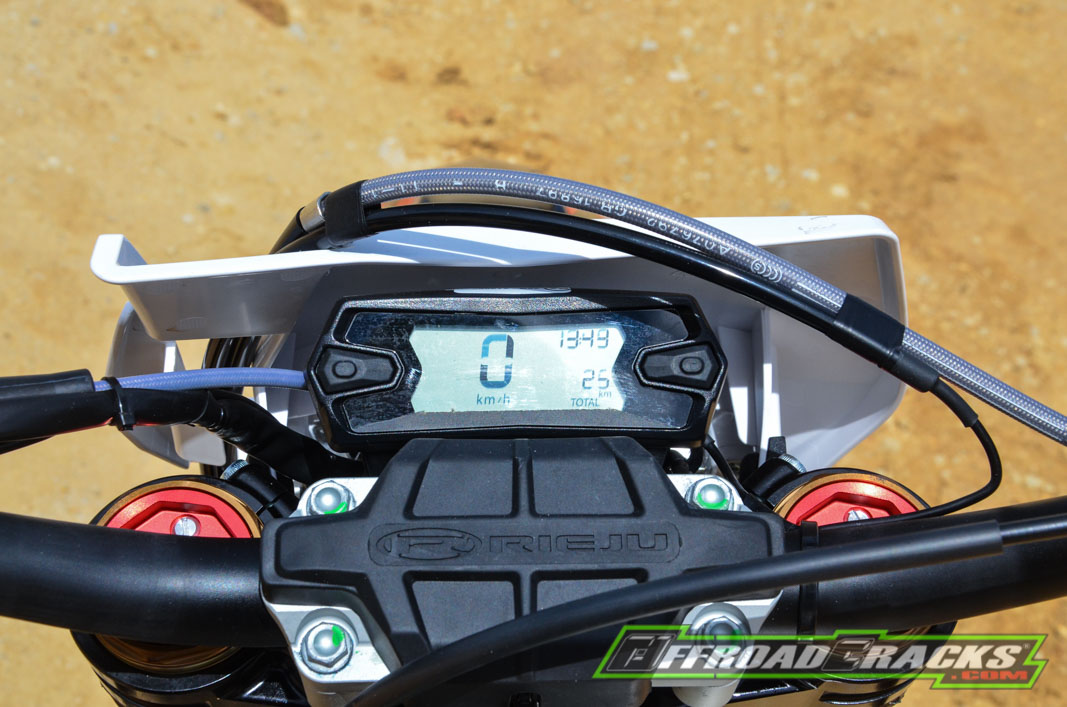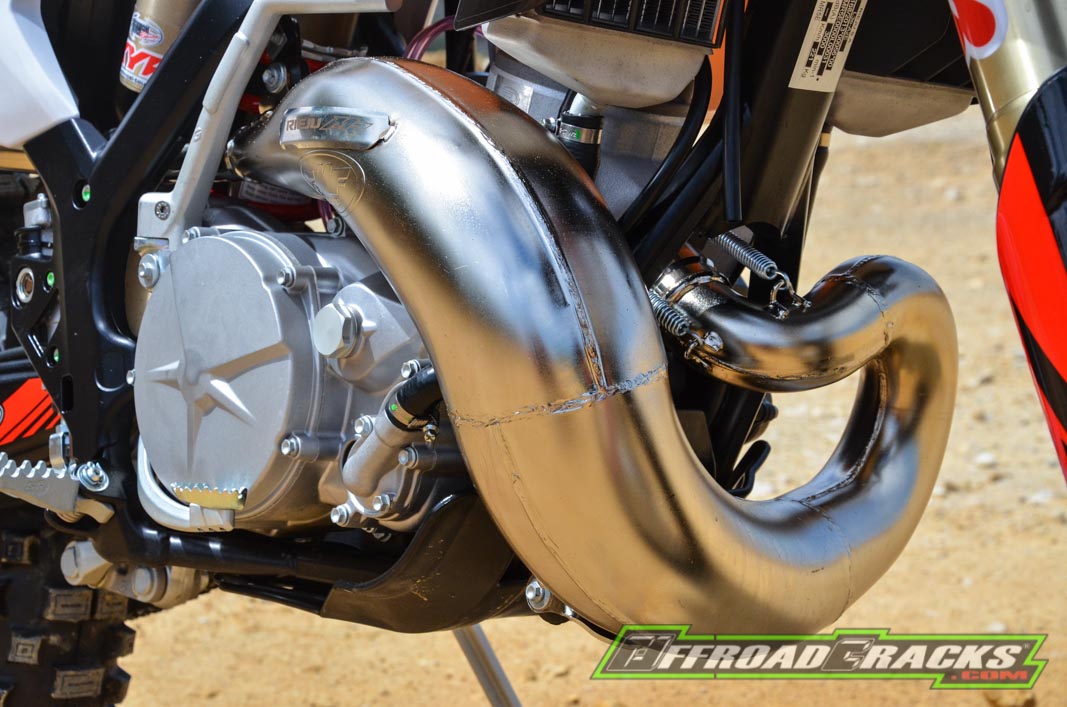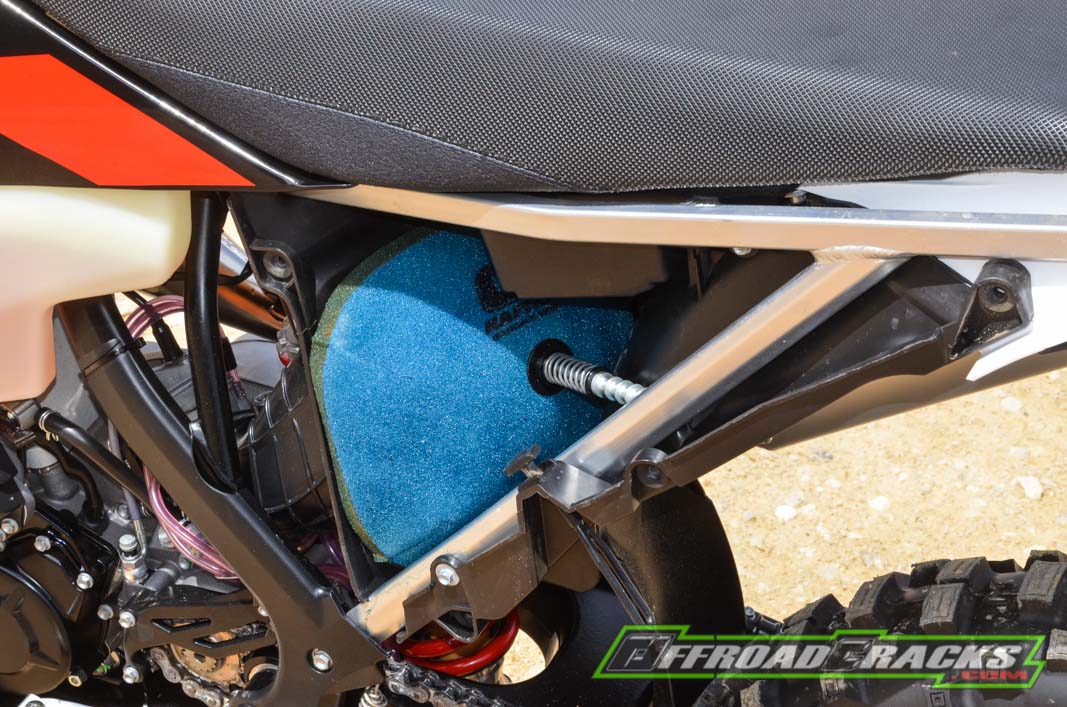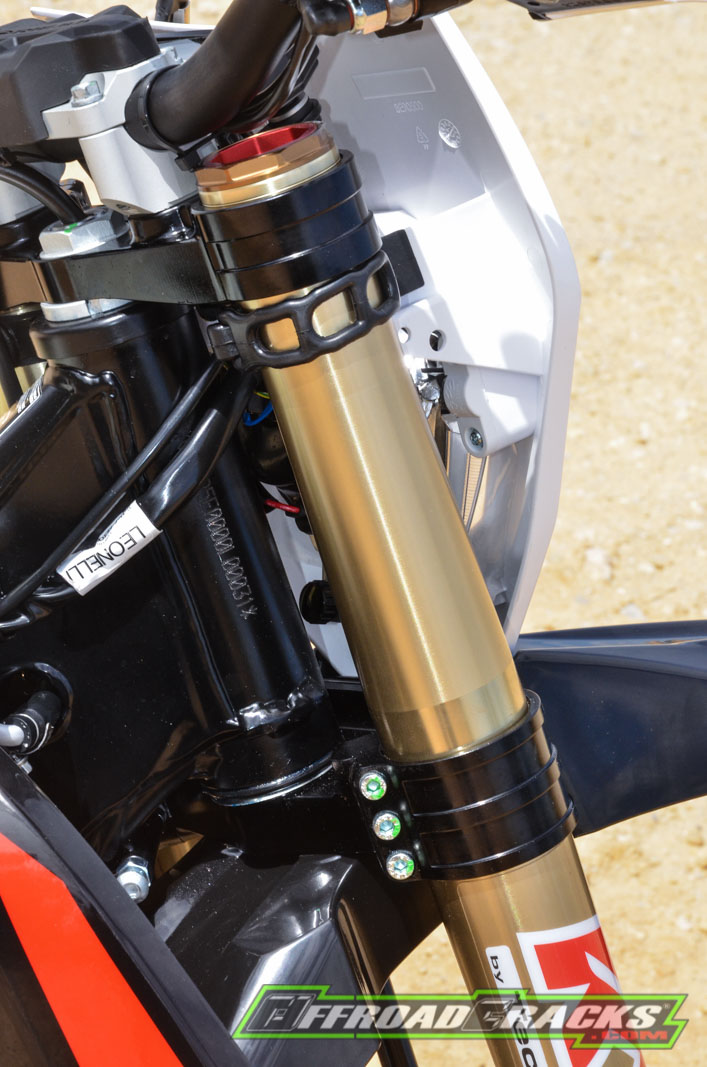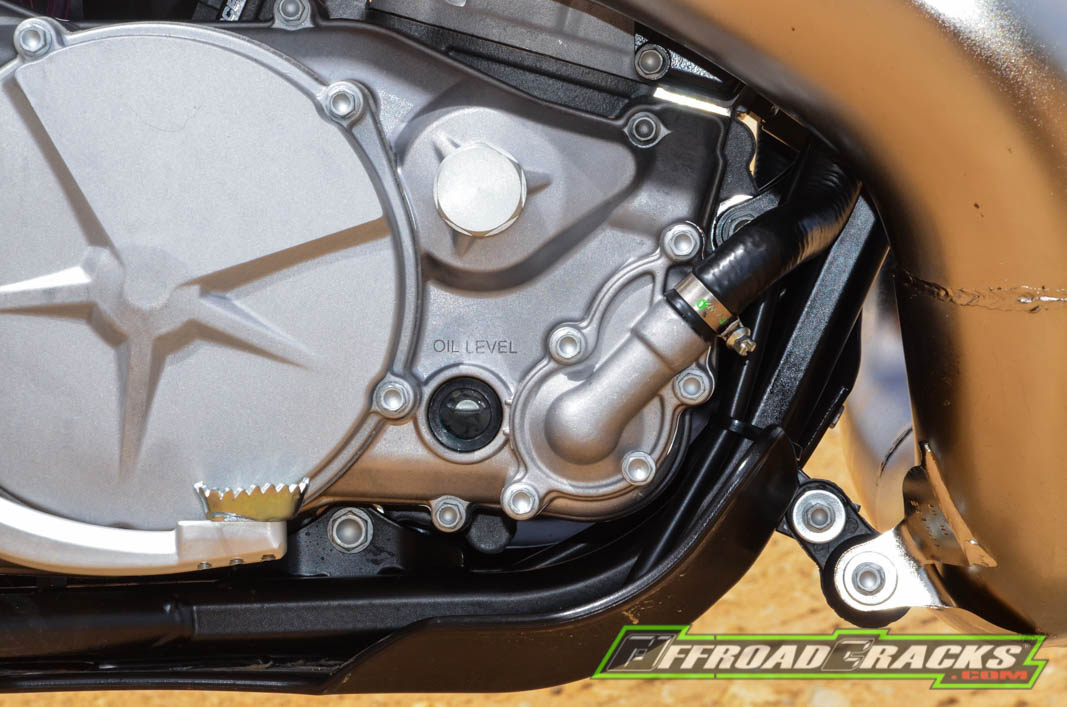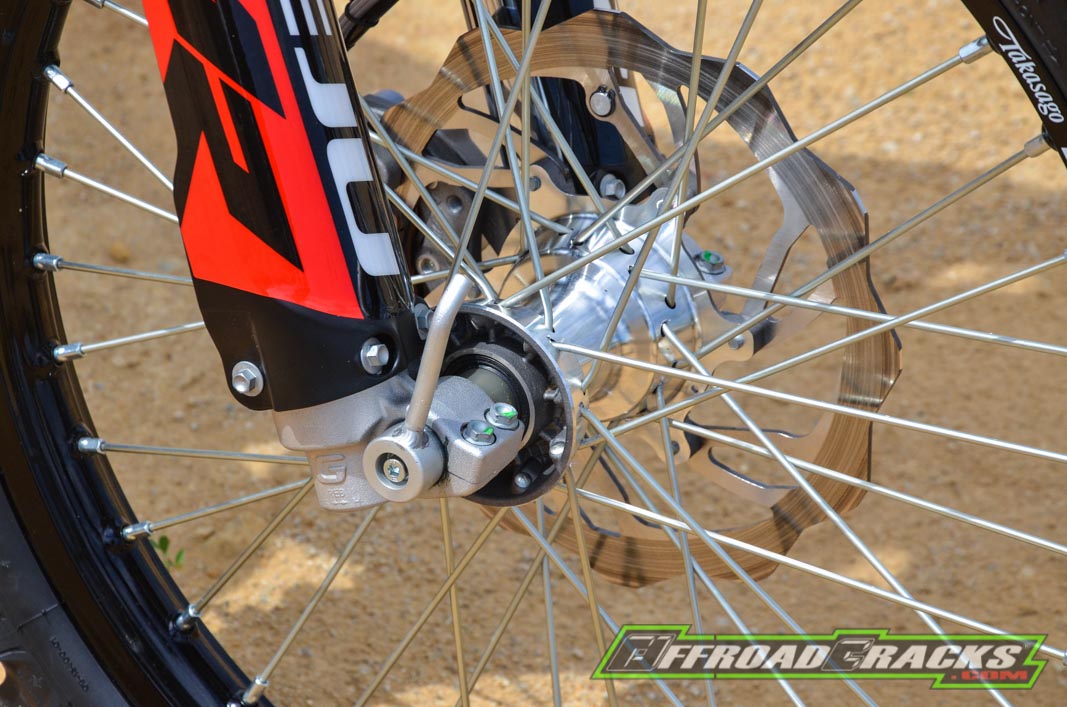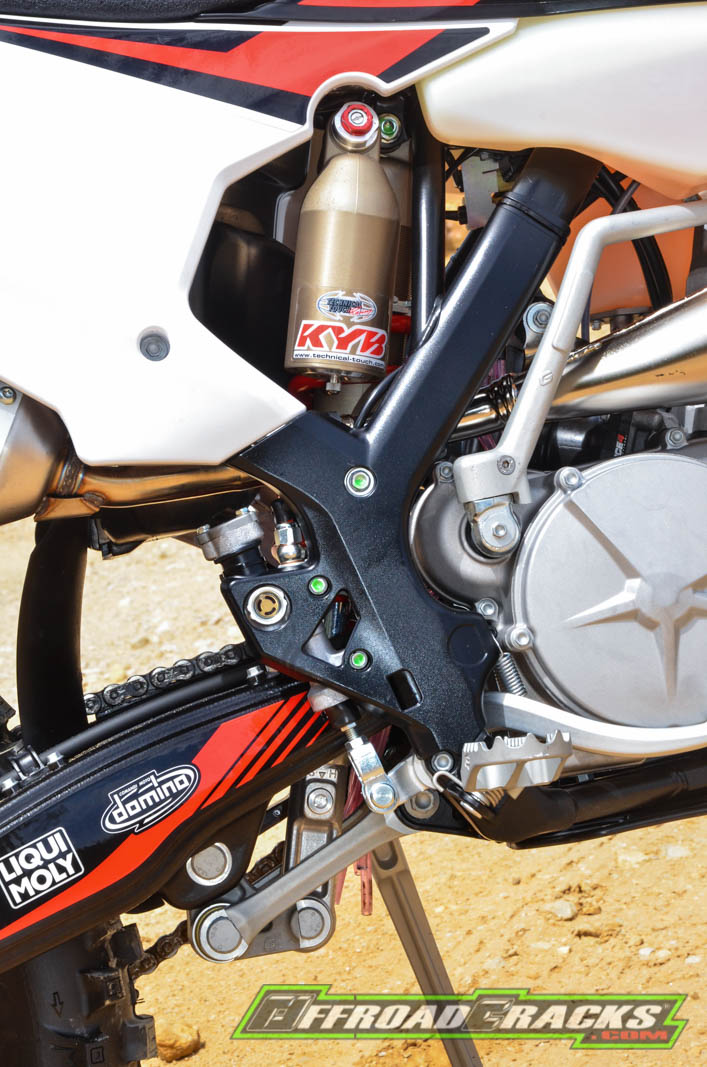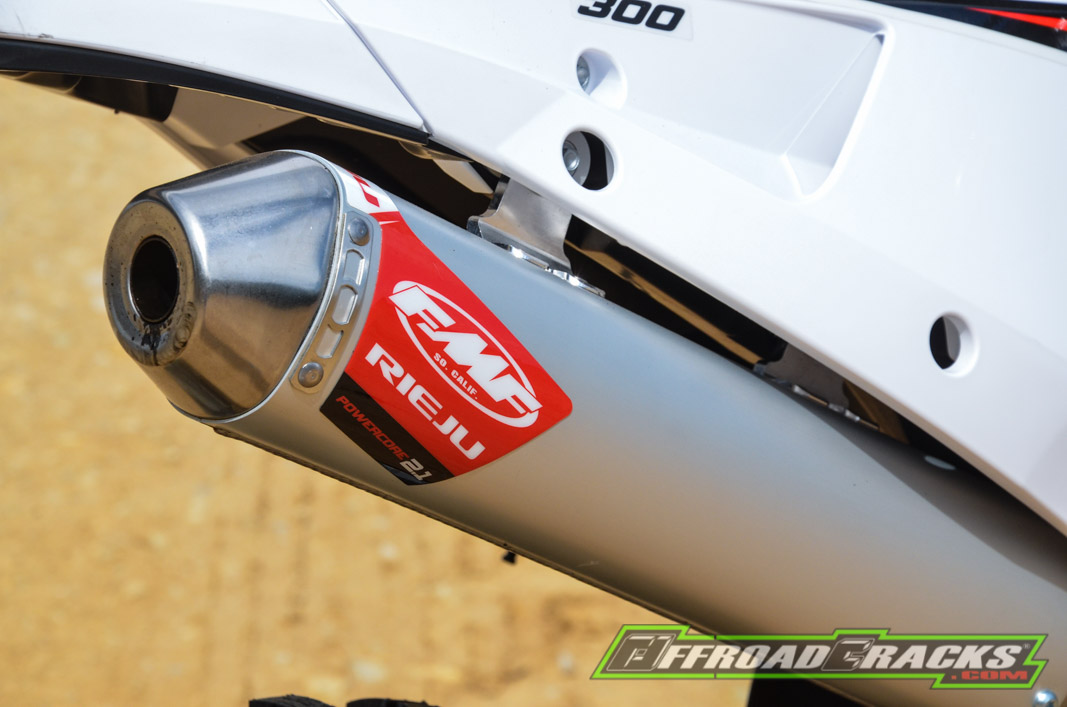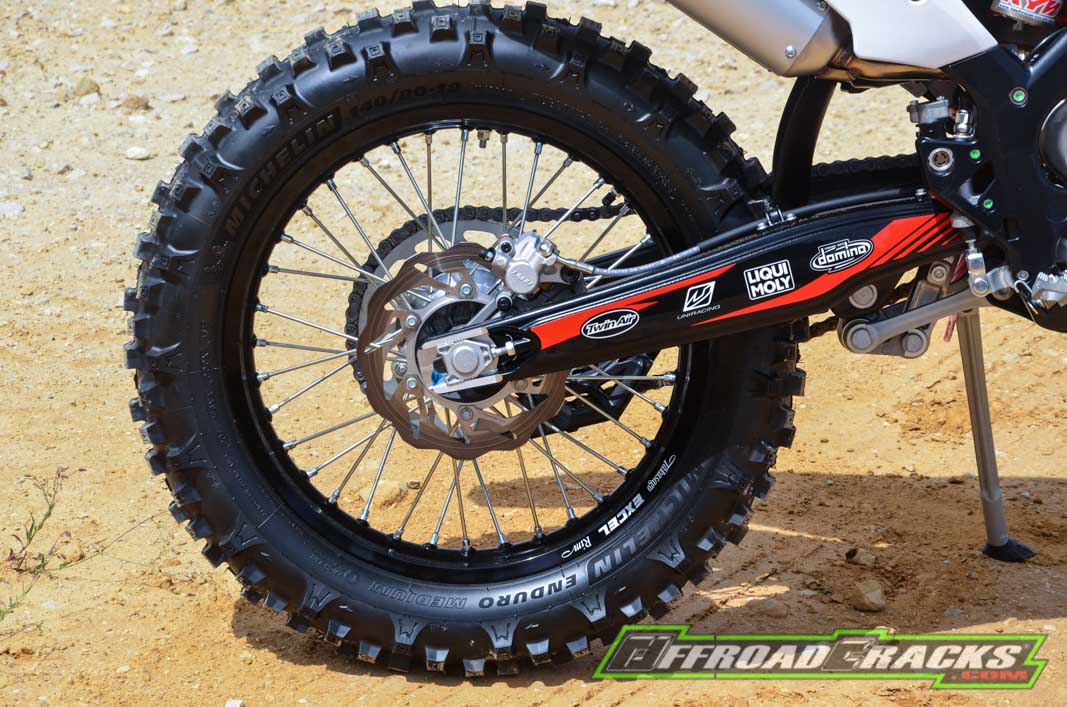 ---
Weitere Infos unter: www.RIEJU.es
Bilder: OFFROADCRACKS.com
Kleidung & Protektion: FLY RACING (Zupin), ALPINESTARS, GAERNE, PROGRIP, ORTEMA, YAMIBRACE
Fahrzeug-Vorbereitung: RIEJU Deutschland
"Wir bedanken uns für die professionelle Zusammenarbeit bei…
…RIEJU Germany, Fly Racing (Zupin), Alpinestars, Gaerne, Progrip, Ortema…
…Yamibrace und Micronsystems."
---

A GasGas with a different look? Not only, because there are noticeable differences and the price is hot.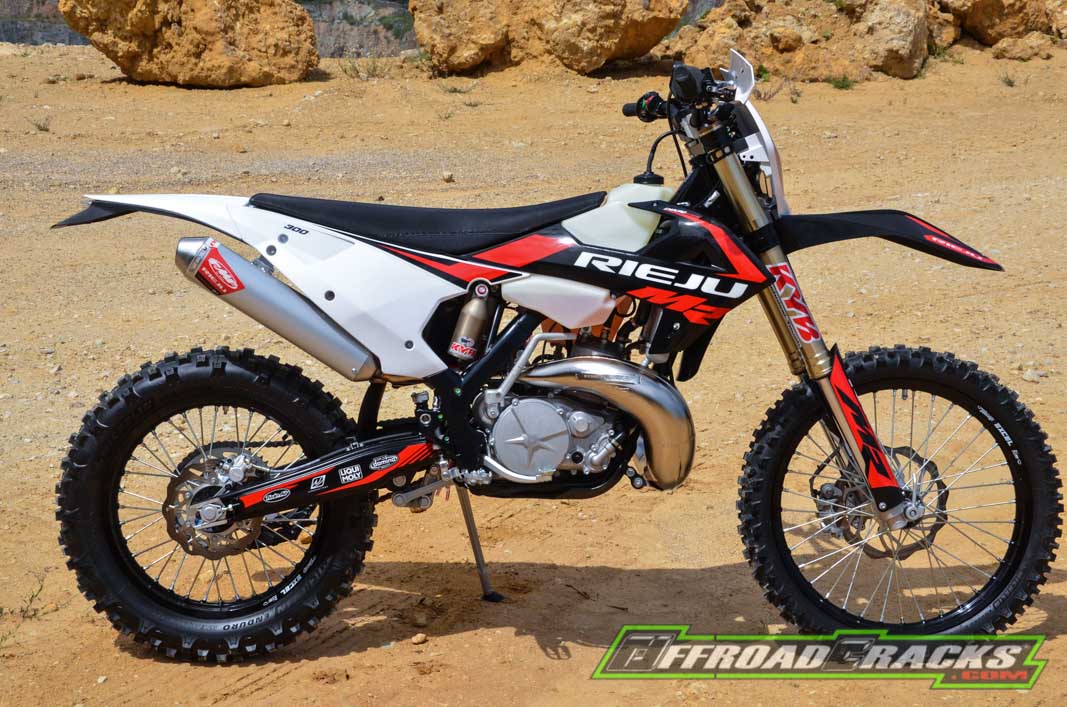 Before we digress and lose ourselves in the GasGas history and list all the more or less known victory in sport, we prefer to turn to the irrefutable facts of the new Rieju MR 300 Racing 2021 as usual. Some of the features of the GasGas EC 300 Racing 2019 – the last of its style – will be remembered. But for those who are less familiar with the Spanish product, here are all the details that are almost identical to the Rieju: A 28.6 millimeter thick oversize handlebar from Neken without a central strut is held by an extra stiff t-bone handlebar mount. As a result, a compact handlebar pad made of a very elastic rubber material with the Rieju logo is also used. Overall, this should increase the stiffness in the front, which should also lead to even more precise steering maneuvers. The rubber grips come from Neken.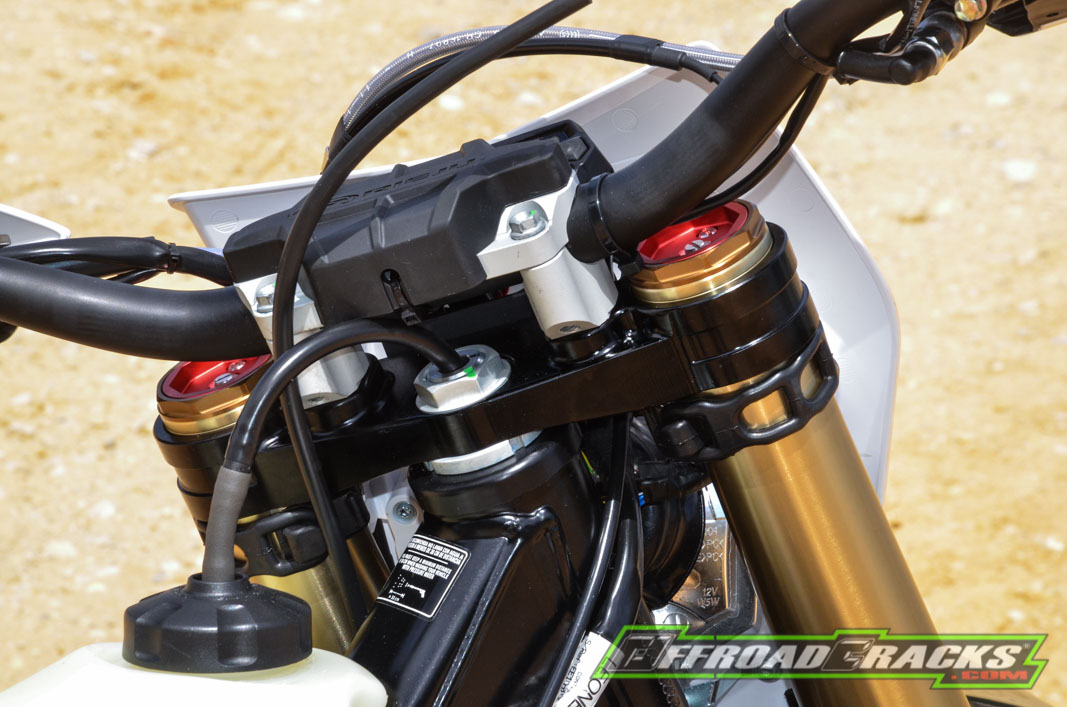 The cylinder was last completely revised at GasGas – unfortunately no further details are known. The electric starter of thef Rieju comes from a new manufacturer and the electrical components have been even more reliable and of higher quality since the last GasGas update. The well-known mapping switch with the legendary cloud and sun symbols is of course on board and the digital speedometer has a new plastic carrier. The black through-dyed frame protectors, which protect the painted frame surface, are practical. The side cover fo the airbox has already been optimized by GasGas and is given a new Rieju design.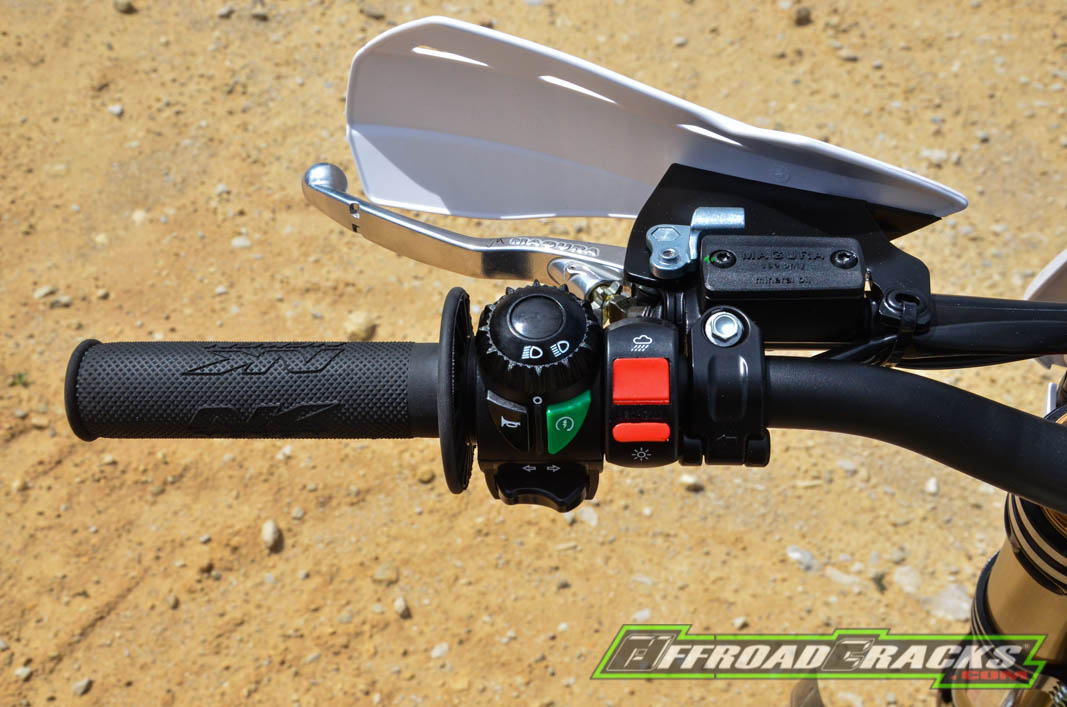 At that time, GasGas stated an empty weight of 105 kilograms, which is identical for the Rieju. As it is well known, we always specify the starting weight with all liquids and full tank, because that's how you are always at the start. We are talking from about 115 kilograms ready for use – determined on a calibrated scale. The seat height with 96 centimeters is usual for this class and the handlebar height measured from the floor is 122 centimeters – between the handlebars and footpegs it is 80 centimeters. The distance between the bench and footpegs is the standard of 54 centimeters, so that even those who are over 1.80 meters tall can sit comfortably on the Rieju with a good knee angle.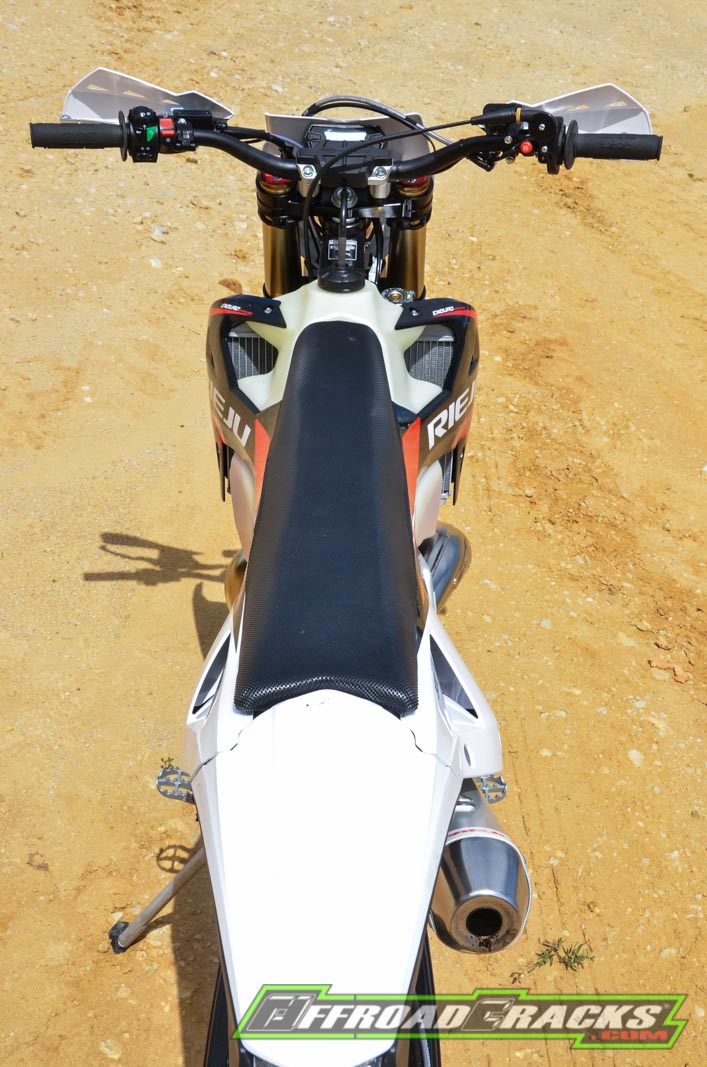 Ergonomics: All operating units are in place, without any noticeable abnormalities, so that you can start immediately. Wait, there is a GasGas peculiarity that still existed at the Rieju. The electric starter button is not positioned on the right-hand end of the handlebar as usual, but is integrated in the multi-switch on the left-hand end of the handlebar and is also designed in the color green for easy recognition. The handlebar shape of the Rieju is less noticeable than at the GasGas. In addition, the offset seems to be more suitable – unfortunately we don't have any more detailed geometric information. The silhouette of the Rieju is kept slim as usual, without disturbing corners and edges and knows how to convince with the free movement.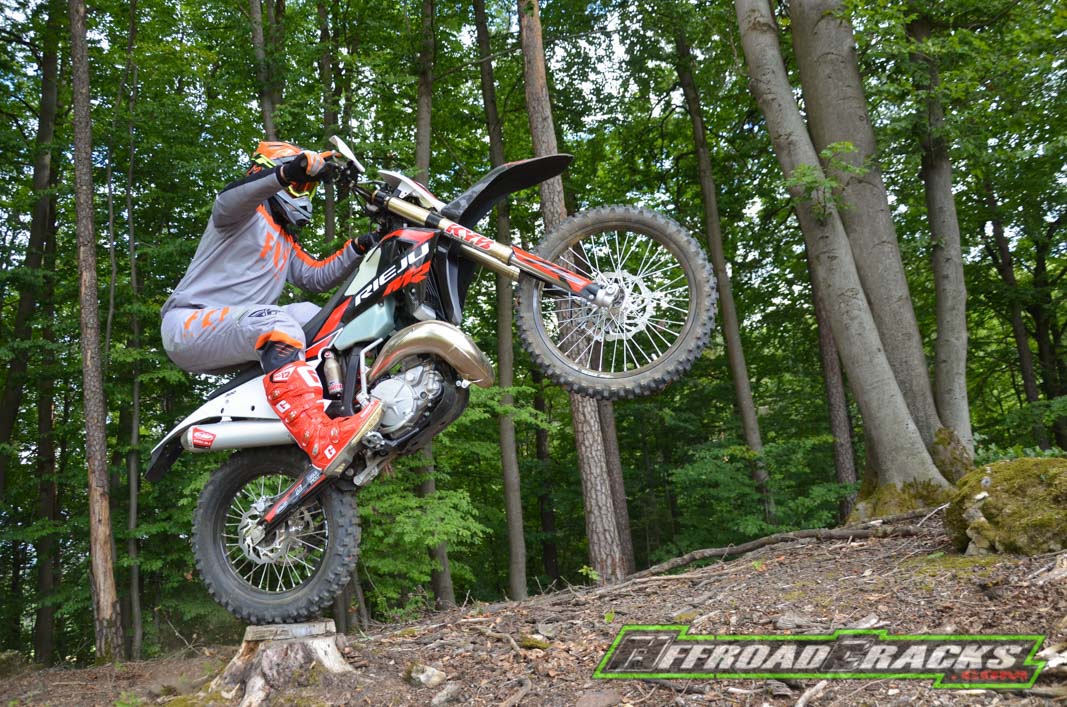 Equipment: Frame, lever and motor protection made of plastic are standard. A high-quality FMF silencer including an in-house pipe was a good thing at GasGas. But Rieju goes one better and gives the MR 300 an FMF pipe, or better known colloquially as a manifold. The practical tank, as it is transparent, is a must, which also applies to a hydraulically operated clutch – in this case from Magura. The absolute highlight is definitely the Kayaba chassis: Closed-cartridge technology, upside-down fork, 48 millimeter diameter and a classic oil-spring combination. There is also a fully adjustable Kayaba shock absorber with progressive linkage. For an off-the-peg European enduro and not as a special model, the Rieju is an outstanding sports enduro.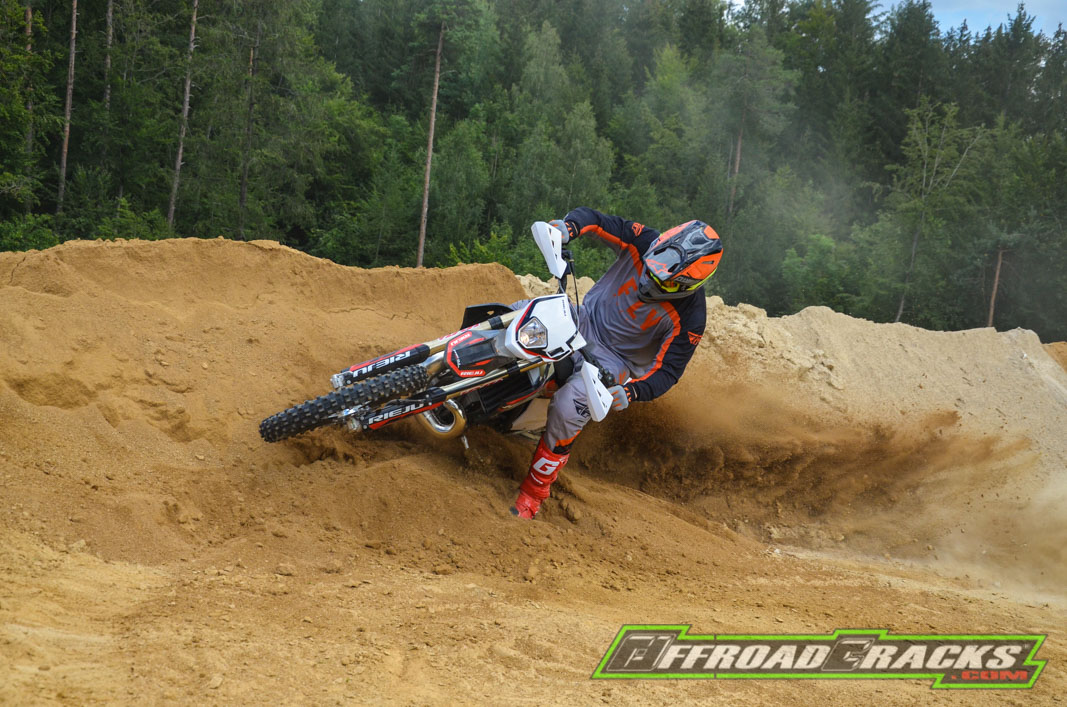 The Nissin brake system including NG-Wave brake discs front and rear are also considered a high-quality and excellent combination with convincing deceleration values. The already mentioned two mapping curves are just as good as an easily accessible airbox, which was practically solved via the large rear left side cover. On the engine side, they rely on the good, the tried and tested and, as usual, use a VForce4 reed valve block and a Keihin flat slide carburetor, which harmonize perfectly with each other. Black Excel rims and Michelin tires are also included. Like GasGas, the Rieju leaves a lasting impression and proves to be extremely coherent. Personally, I would still want a high quality lamp mask.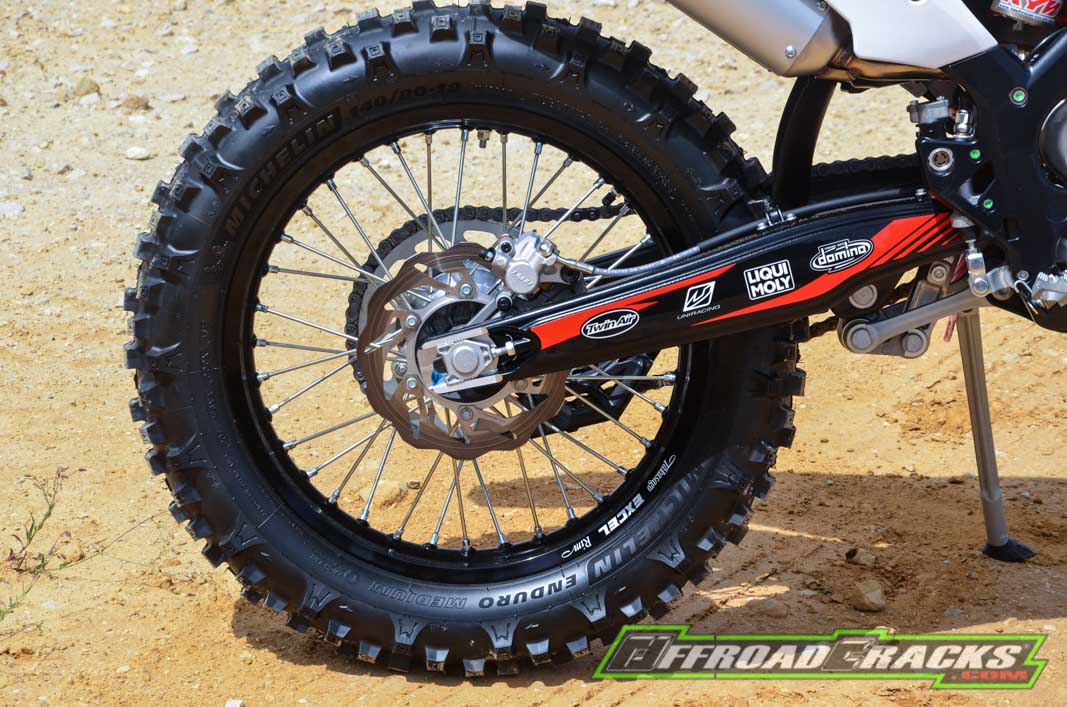 And what is the new old importer BLM or Rieju calling for their MR 300 Racing in Germany? Initially, the sales price for the market launch was set at 8,490 euros – identical to GasGas, which was then reduced to an extremely attractive 7,990 euros, presumably because of the upcoming PRO models. This makes it to the cheapest supplier of a 300 standard model in the two-stroke categorie. But if you take a closer look and include the high-quality acessoires of the Rieju, then, in fairness, you should actually only use the special models of the competitior for a price comparison. This would give you a price advantage of around 1500 to a whopping 2800 euros per model. However, if you see this comparison as unjustified because of a certain emotional brand loyalty to the competitior and only use the standard models , then the Rieju still offers a price advantage of around 450 to 2,500 euros.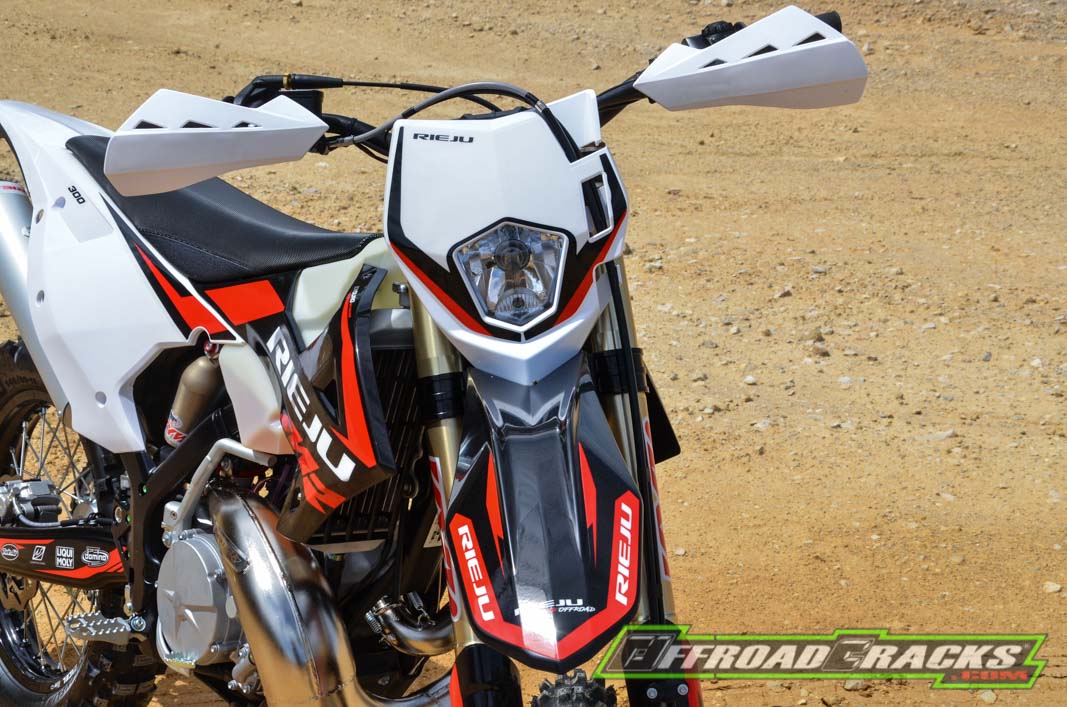 Of course, it is also clear that different concepts are being compared with each other, but this does not matter in the case of E3 class membership. The statement made with regard to the emission values ​​and Euro5 suitability of KTM and Husqvarna, that only their 'advanced' two-stroke injection technology would be approved, can be declared null and void with immediate effect. Because Rieju gives the industry leader a clear rejection of the Euro5 topic that was propagated until recently. Because the Rieju MR 300 Racing 2021 has, according to the COC papers, which we have copies of, clearly Euro 5 approval and only with carburetor technology. Did the statement from Austria with regard to this problem have a purely marketing aspect with a strategic background? We will probably not find out and everyone can figure it out for themselves. In any case, Rieju has proven that the noise and emission values ​​of the Euro 5 standard can still be achieved with a carburettor. After all, Rieju has already adopted a series-production two-stroke engine with injection from the GasGas legacy and could also play this card as soon as actually necessary. What has changed in the registration data as a result? The registered power has been increased slightly, which also applies to the associated speed and the permissible total weight has been reduced by four kilograms to 221.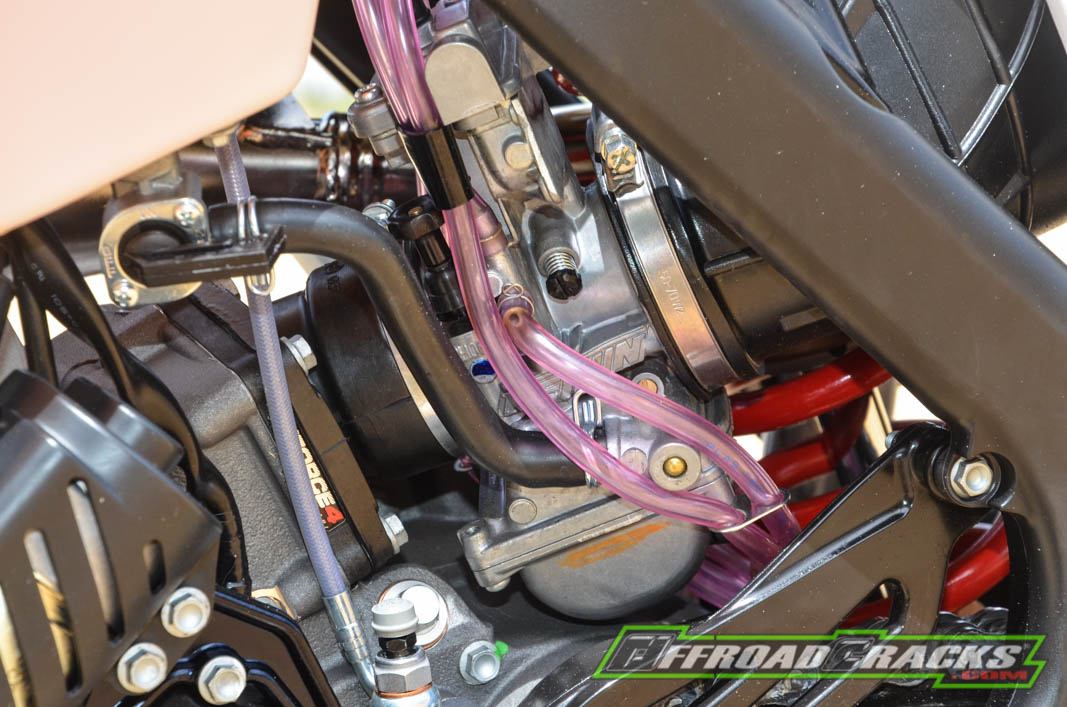 START: You immediately notice the vigorously rotating starter, which brings the Rieju to life at the first push of a button with no ifs or buts at an air temperature of 27 degrees. Briefly noted: The Rieju received a modified carburetor set-up for the test preparation, since the standard setting was simply too rich for such conditions and was implemented by a smaller main jet.
Let's go and the Magura clutch disengages as soon as first gear is choosen. And then the flying change up to fifth gear follows, because the 300 has plenty of torque to properly carry out a short warm-up phase. The Kayaba shock, which works excellently, immediately attracts attention and shines with its perfect responsiveness, while the fork from the same manufacturer is even more rough. Well, the Rieju has just gotten used to a short period of acclimatization, including a break-in period of half an hour on a field, and it is well known that the Kayaba fork needs six to seven hours of operation before its full performance is revealed.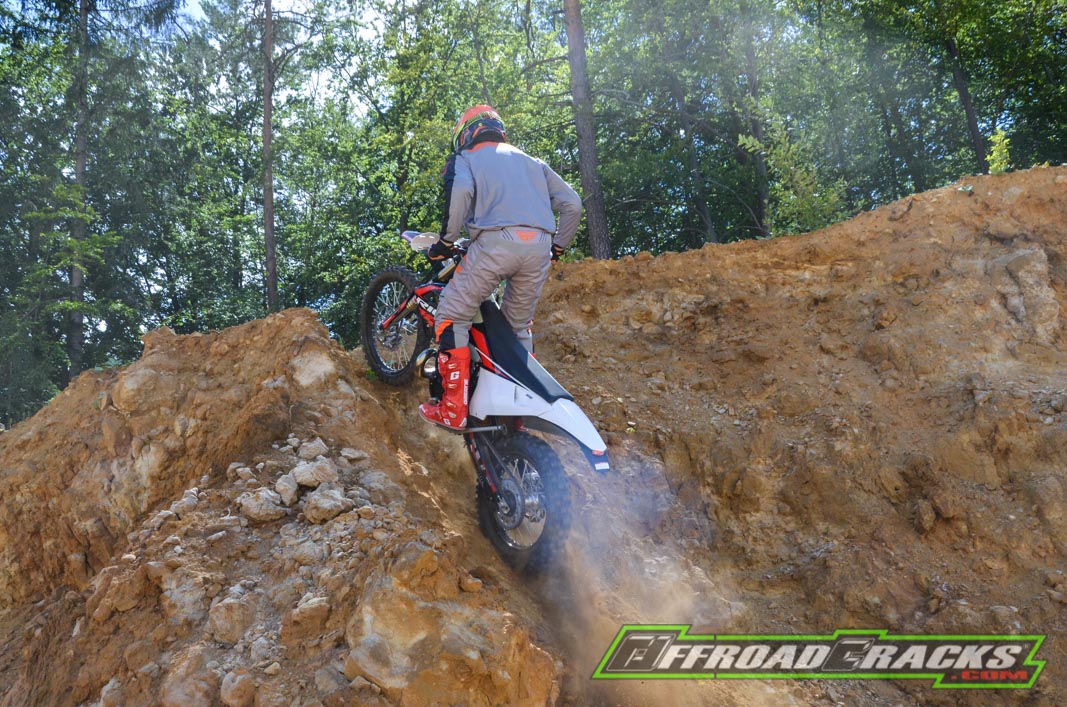 Conditions: Hard ground and loose rock that pushes every driving dynamics to its limits and here the vehicle and driver must harmonize perfectly. After the warm-up phase, the Rieju shoots at full throttle along the wide gravel path without the immense thrust of the 300s wanting to end. Here you have to grab tightly or the Rieju shows her claws if you just turn the gas tap to the maximum. Is that too much of a good thing? We still have the second, gentler mapping with the cloud symbol, that something should be more tame. And you can feel that immediately. As if you were given a tenth of a second more time to make the right decision. And already the first crisp driveway is riddled with loose scree.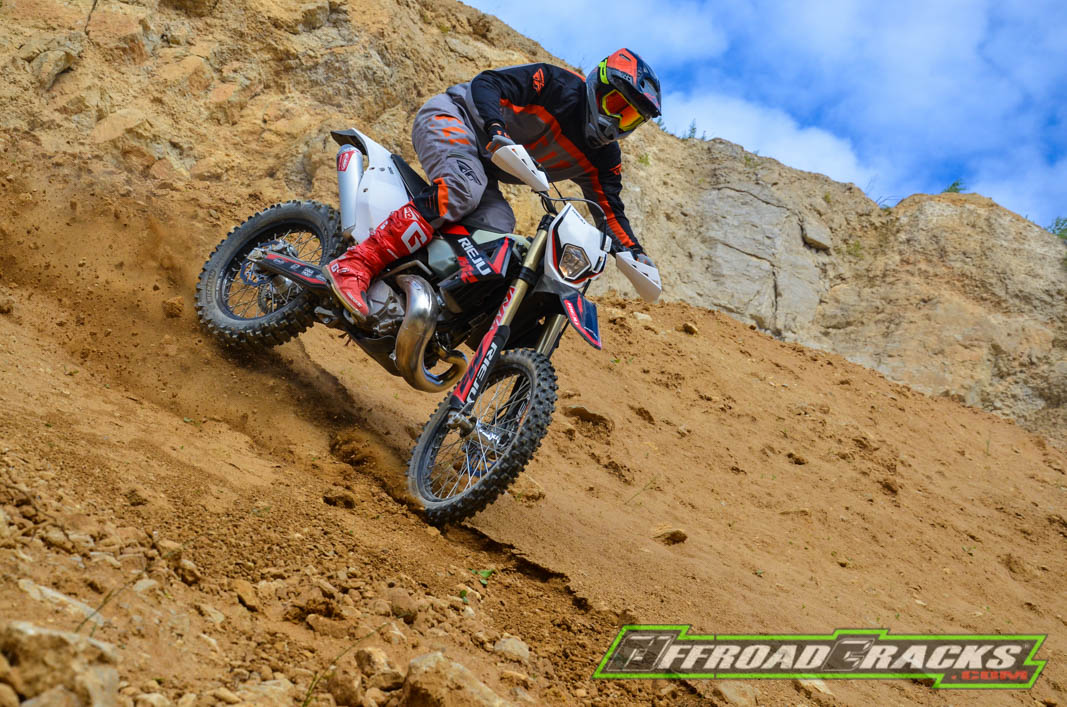 The Rieju pulls up the driveway with a crisp, sporty background noise thanks to the FMF silencer and FMF Gnarly pipe, as if you didn't have to worry about the traction conditions on the loose ground. The fork is still a bit insensitive, but with such good traction it is relieved uphill anyway and does not play such a big role. The Michelin tire in conjunction with the Kayaba shock absorber shows a harmonious game that couldn't be better.
Immediately it goes on and a few single trails reveal the playful handiness known from GasGas, so that one is always trying to increase the speed. Here the high torque shows its advantages and you can circle the Rieju with the lowest speed in third gear between the trees and rocks at an impressive speed. Here you just have to be careful not to involuntarily come into contact with the resilient forest dwellers with shoulder or arm, because then you have to care for bruises and bruises afterwards.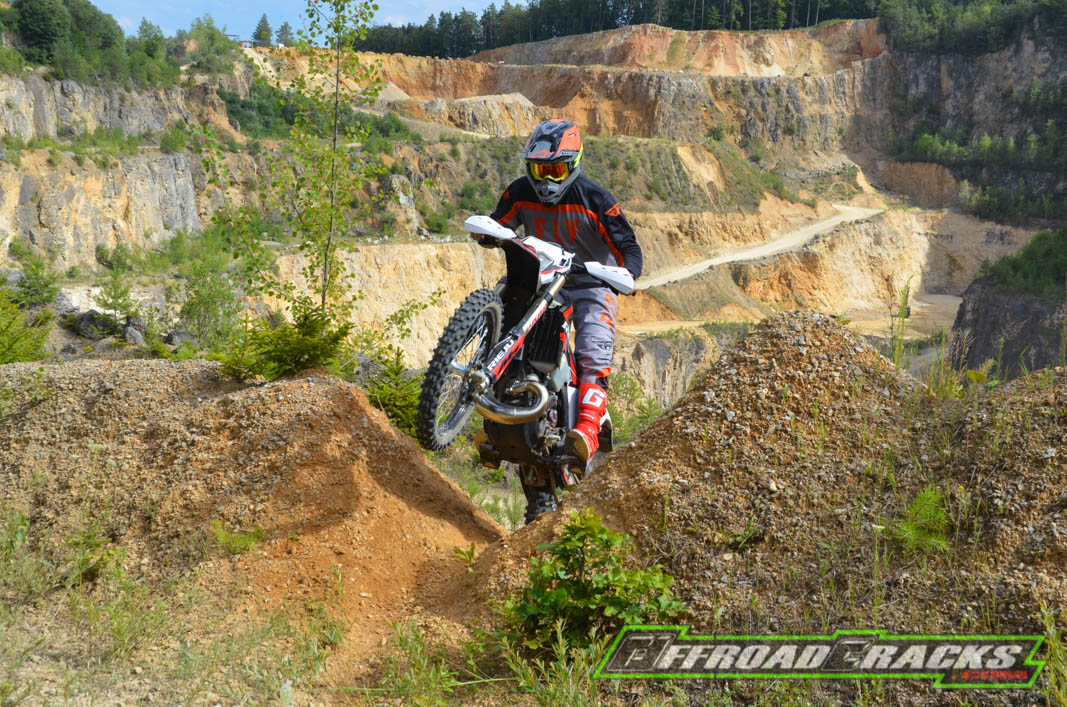 The power dosage is also impeccable for small wheelies or for overcoming tree trunks, so that one likes to consciously seek out these types of obstacles. After so much driving pleasure in narrow and technically demanding terrain, the Rieju now has to show what it can do. That means mapping sun and calling up full power. This means full concentration on correct braking and shifting points as well as using the throttle and clutch. At first you are almost a bit surprised by the powerful acceleration, as you are used to the much more tame power delivery of the injection two-stroke and four-stroke engines. So only for real men? Yes and no, because if you master the performance you are really fast on the track and should easily outperform the competition's injection model in terms of acceleration and turning ability. Especially since the chassis setup is also suitable and a gentle driving style is not even required.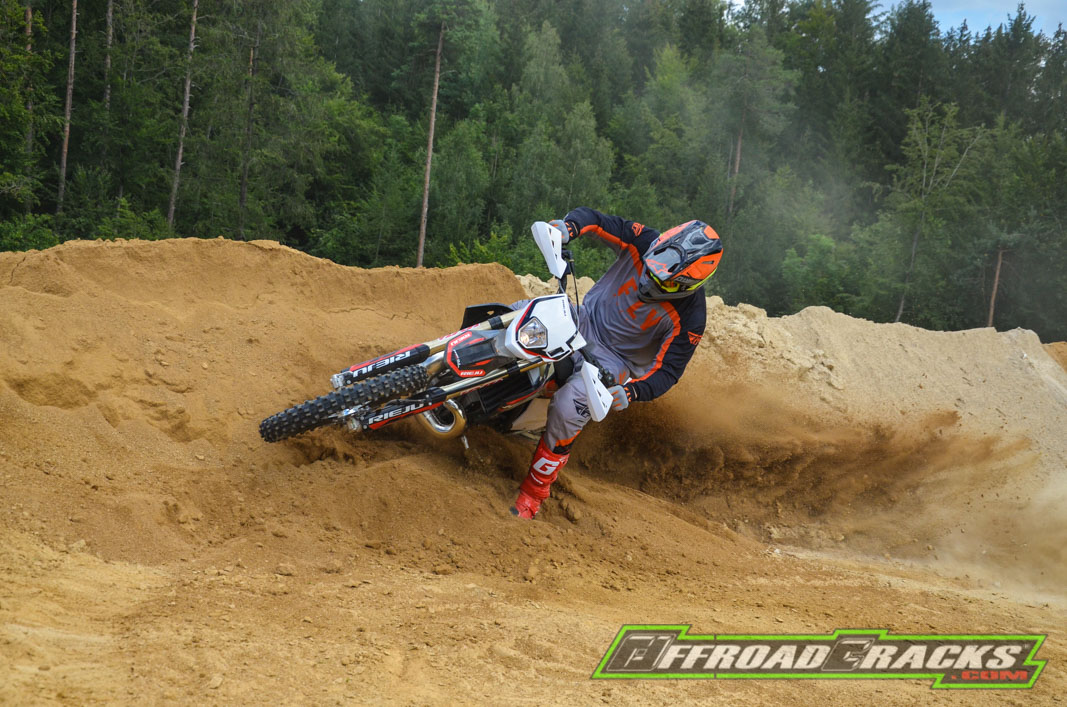 At full throttle in third gear, the Rieju races towards a resident, slow down hard, second gear, body weight on the front wheel and then it slams into the corner and catapults horse and rider out just as quickly by usind clutch and throttle and then back in third gear to make meters correctly. That went really quickly without having to wait for a too soft suspension reaction.
And off we go again to an incredibly long uphill that we even tackled with high spirits and ignorant even with the sun mapping. Result? The Rieju also masters this passage without criticism and the lower and middle speed range is surprisingly easy to control.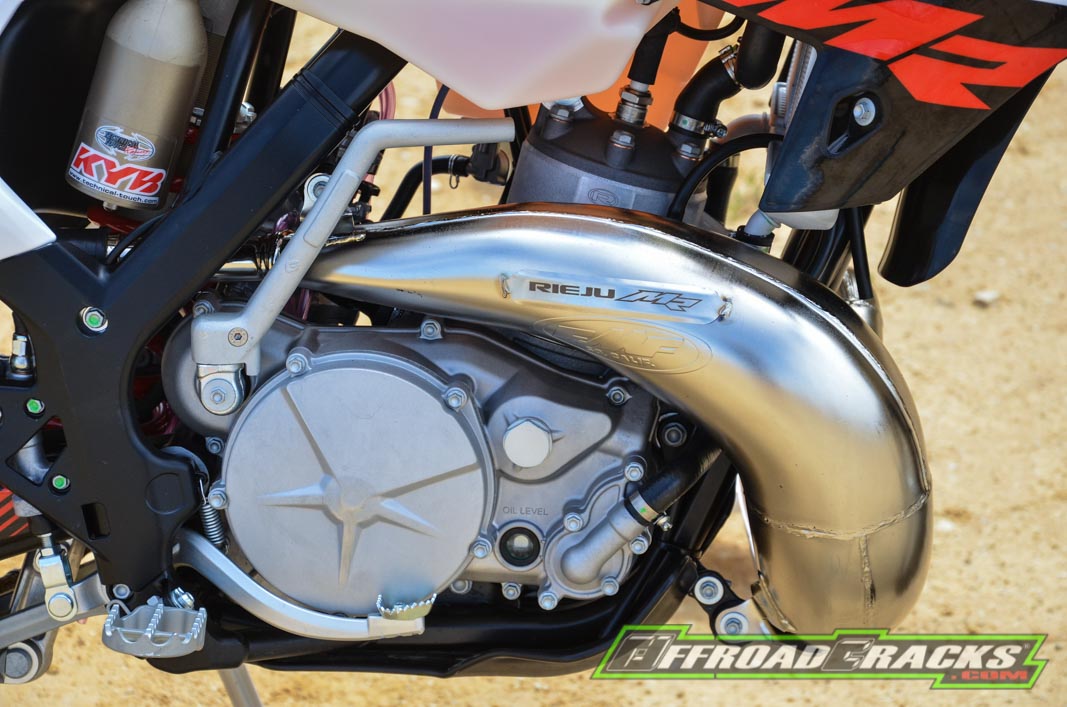 If you want to go up you have to go back down and that is exactly what the Spaniard has to do on relatively hard ground. Now it's time for the Nissin components. In other words, the front brake shines with the best deceleration values ​​and the lowest operating forces and we gave it a one-star rating. On the other hand, the rear brake is a little less sensitive and sometimes bites a little too briskly, which is particularly evident at high operating temperatures. So here with even more feeling than usual and then the deceleration succeeds without locking the rear wheel.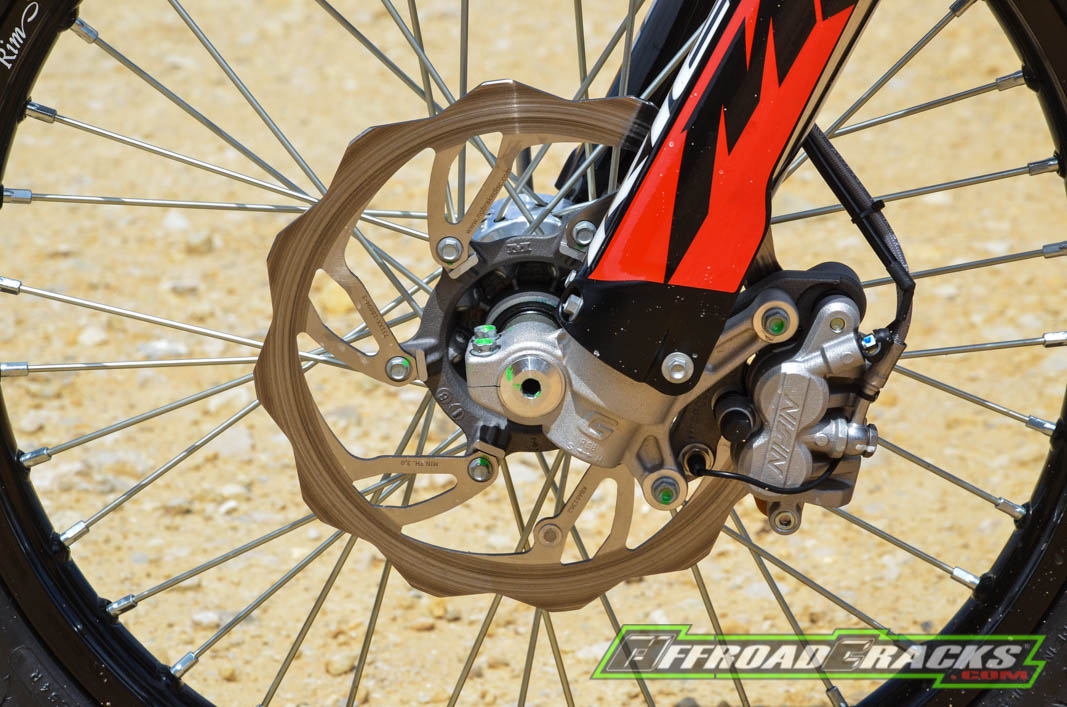 The last mandatory measure at such high temperatures is a water challenge, in which the gentle mapping on slippery ground must ensure traction. And the Rieju seems to be able to do that too, as the wheelie works without any problems when driving in the water.
Where are we actually in terms of performance values? These are of course identical to GasGas with a good 49 hp at 7,500 rpm and 46 Newton meters at the same speed.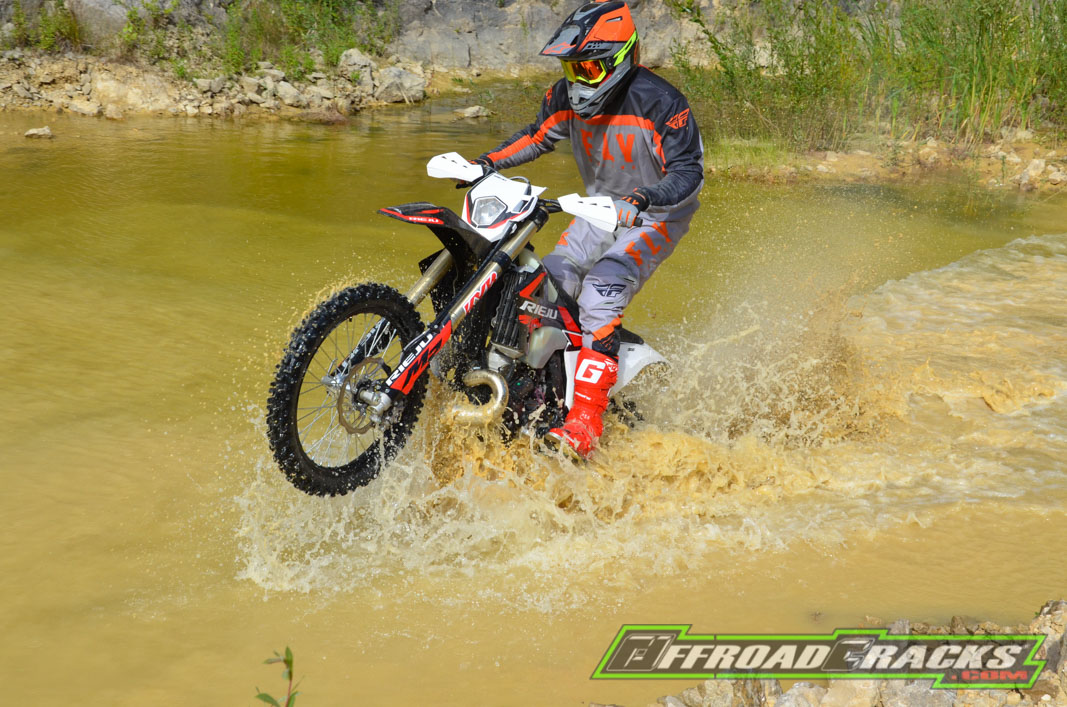 RESULT
The Rieju MR 300 Racing is inevitably one of the most complete sports enduros in the E3 two-stroke category on the market direct from the manufacturer, which masters both the sporty, brisk pace as well as technical terrain in the hard enduro segment and also thanks to the highly attractive purchase price of only 7,990 euros. Especially since it shines with a particularly lush and high-quality equipment. This makes it a real E3 alternative, especially since you are not breaking new ground, but can also revert on the tried and tested GasGas dealer network and already have the coveted and highly up-to-date Euro5 homologation.
For me, the driving experience with the fiery sound, ultra-powerful acceleration and at the same time good power control comes to the fore and always encourages a broad grin from under the helmet. Especially since, thanks to the right suspension tuning, you can get down to business without overloading the material and rider. As you have already noticed in the text, this time was paid less attention to gear shiftability, ratios, clutch and the other details, as these are already well known from GasGas, which have proven themselves and therefore do not need to be mentioned separately.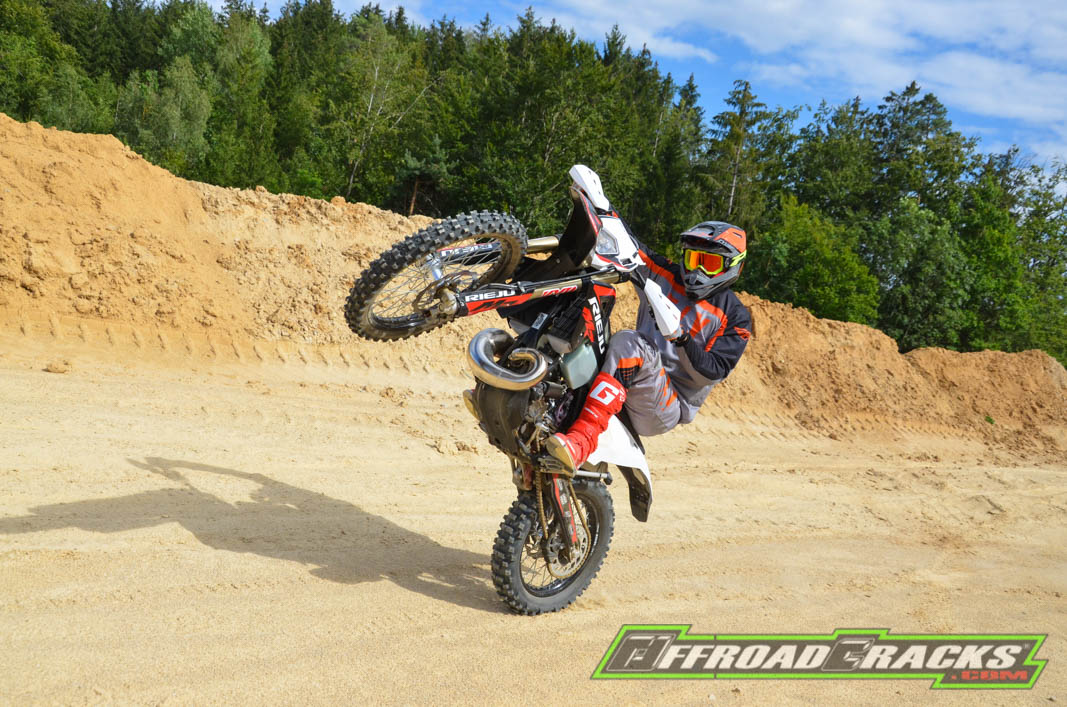 RATING
PLUSMINUSRIEJU MR 300 RACING 2021
PLUS
• Usable peak power and torque
• Flawlessly controlable motor power
• Broad usable rev range
• Playful handling
• High driving safety
• Suspension setup
• Ergonomics
• Euro5 approval
• Pricing Policy
MINUS
• Low engine vibrations
• Lamp mask design could be improved

---
Images: OFFROADCRACKS.com
Gear & protection: FLY RACING, ALPINESTARS, GAERNE, PROGRIP, ORTEMA, YAMIBRACE
Vehicle preperation: RIEJU Germany
"We say thank you for the professional cooperation with…
…RIEJU Germany, Fly Racing, Alpinestars, Gaerne, Progrip, Ortema…
…Yamibrace und Micronsystems."
---