Colton Haaker (Husky) machte alles richtig und holte sich in Lauf 1 & 3 den Sieg. Beim 2. Lauf mit umgekehrter Startreihenfolge lieferten sich Haaker und Blazusiak ein wahres Gemetzel, wovon Webb profitierte und dadurch Lauf 2 gewinnen konnte. Im dritten Rennen fiel Blazusiak frühzeitig aus. Webb musste mit einer gerissenen Kette vorlieb nehmen. Kevin Gallas  kämpfte wie ein Stier und konnte nur ein 8-9-10 Ergebnis einfahren – trotzdem bleibt ein hervorragender 7. Tabellenrang – wir drücken weiterhin die Daumen!
Bei den Junioren konnte sich William Hoare mit einem 1-3-1 Ergebnis erneut in Szene setzen. Tim Apolle belegte dreimal Platz 4 und untermauerte damit seinen 4. Gesamtrang, auch wenn David Cyprian gefährlich nahe aufrückt. Leon Hentschel debütiert nach wie vor auf dem 5. Gesamtrang – Klasse!
HINWEIS: Das Video ist noch deaktiviert, damit keine unerwünschte Datenübertragung zu Youtube stattfindet. Zur Aktivierung bitte auf das Vorschaubild/Video-Link klicken. Damit werden Daten übermittelt, zu deren Art, Umfang und Verwendungszweck wir keineAuskünfte geben können. NOTE: The video is still deactivated so that no unwanted data transfer to YouTube takes place. To activate, please click on the preview image / video link. This transmits data about the type, extent and purpose of which we cannot provide any information.
---
HINWEIS: Mit Anklicken des Videos stellen sie automatisch eine Verbindung zu Youtube/Google her, was einen ungewünschten personenbezogenen Datenaustausch mit sich bringen kann. Weitere Infos unter: www.google.de/privacy
---
PRESTIGE-KLASSE – ERGEBNISSE SUPERENDURO SPANIEN 2019
Heat 1: 1. Colton HAAKER ; 2. Taddy BLAZUSIAK ; 3. Cody WEBB ; 4. Diogo VIEIRA ; 5. Blake GUTZEIT ; 6. Xavi LEON SOLE ; 7. Pol TARRES ; 8. Kevin GALLAS ; 9. Alfredo GOMEZ ; 10. Cristobal GUERRERO…
Heat 2: 1. Cody WEBB ; 2. Pol TARRES ; 3. Colton HAAKER ; 4. Diogo VIEIRA ; 5. Alfredo GOMEZ ; 6. Blake GUTZEIT ; 7. Xavi LEON SOLE ; 8. Cristobal GUERRERO ; 9. Kevin GALLAS ; 10. Jose Maria JUAN BERNABEU…
Heat 3: 1. Colton HAAKER ; 2. Alfredo GOMEZ ; 3. David LEONOV ; 4. Blake GUTZEIT ; 5. Xavi LEON SOLE ; 6. Pol TARRES ; 7. Cristobal GUERRERO ; 8. Diogo VIEIRA ; 9. Jose Maria JUAN BERNABEU ; 10. Kevin GALLAS…
Super Pole Akrapovic: 1. Colton HAAKER; 2. Cody WEBB; 3. Taddy BLAZUSIAK…
OVERALL Classification PRESTIGE
1. Colton HAAKER 159pts ; 2. Cody WEBB 146pts ; 3. Taddy BLAZUSIAK 128pts ; 4. Pol TARRES 90pts ; 5. Alfredo GOMEZ 80pts. 6. Diogo VIEIRA 76pts ; 7. Kevin GALLAS 76pts ; 8. Blake GUTZEIT 74pts ; 9. Xavi LEON SOLE 59pts ; 10. Cristobal GUERRERO 55pts…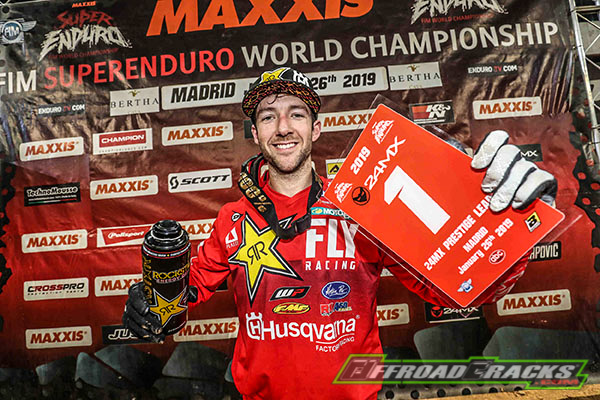 JUNIOREN-KLASSE – ERGEBNISSE SUPERENDURO SPANIEN 2019
Heat 1: 1. William HOARE ; 2. Norbert JOSZA LEVENTE ; 3. David CYPRIAN ; 4. Tim APOLLE ; 5. Dominik OLSZOWY. 6. Teodor KABAKCHIEV. 7. Leon HENTSCHEL ; 8. Enrico RINALDI ; 9. Diego HERRERA ; 10. Andris GRINFELDS…
Heat 2: 1. David CYPRIAN ; 2. Leon HENTSCHEL ; 3. William HOARE ; 4. Tim APOLLE ; 5. Adrien JACON ; 6. Teodor KABAKCHIEV ; 7. Norbert JOSZA LEVENTE ; 8. Diego HERRERA ; 9. Ivan PUEYO GIL ; 10. Enrico RINALDI…
Heat 3: 1. William HOARE ; 2. Leon HENTSCHEL ; 3. Teodor KABAKCHIEV ; 4. Tim APOLLE ; 5. David CYPRIAN ; 6. Diego HERRERA ; 7. Enrico RINALDI ; 8. Dominik OLSZOWY ; 9. Ivan PUEYO GIL ; 10. Adrien JACON…
OVERALL Classification JUNIOREN
1. William HOARE 167pts ; 2. Tim APOLLE 124pts ; 3. David CYPRIAN 119pts ; 4. Leon HENTSCHEL 98pts ; 5. Norbert JOSZA LEVENTE 86pts ; 6. Diego HERRERA 86pts ; 7. Dominik OLSZOWY 65pts ; 8. Teodor KABAKCHIEV 65pts ; 9. Ivan PUEYO GIL 45pts ; 10. Enrico RINALDI 41pts…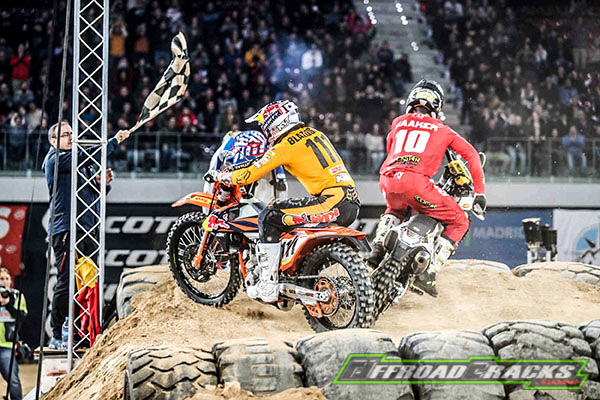 Bilder: SuperEnduro, Husqvarna