Taddy Blazusiak heißt der überlegene Sieger des diesjährigen SuperEnduro-WM-Laufes in Riesa. Der sechsfache Weltmeister gewann alle drei Läufe der Top-Klasse Prestige und wiederholte damit seinen Grand-Prix-Sieg vom Debüt in Sachsen im Jahr 2015. Bei der sechsten Ausgabe des Riesaer Hallen-Spektakels verwies der 36-jährige Pole die Briten Billy Bolt und Jonny Walker auf die Plätze. In der Junior-Klasse musste der Norddeutsche Leon Hnetschel nur dem US-Amerikaner Ty Cullins den Vortritt lassen. Mit 5.000 Zuschauern war die SACHSENarena Riesa wieder bis auf den letzten Platz gefüllt.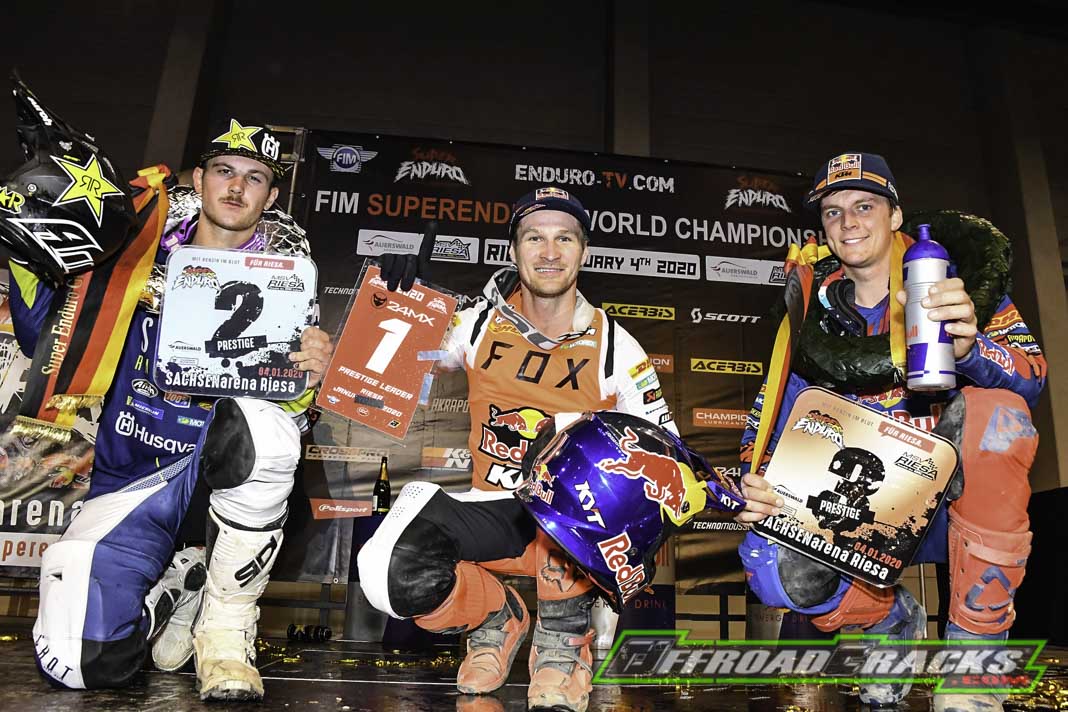 "Es war unglaublich, dass ich alle drei Rennen gewinnen und damit die WM-Führung übernehmen konnte. Im Training bin ich noch nicht gut mit der schweren Strecke zurechtgekommen, doch über den Tag wurde es immer besser und am Abend waren meine Fahrten nahezu perfekt. Die Halle ist nicht die größte, aber die Riesaer Fans waren genauso enthusiastisch wie jedes Jahr. Es war wieder eine tolle Atmosphäre", meinte der Multi-Weltmeister Taddy anschließend.
Vorausgegangen waren in allen drei Klassen atemberaubende, teils dramatische Rennen mit tollen Positionskämpfen – einfach hochklassiger Motorsport. Der erste Act des Abend war wieder die Superpole, bei der sich der KTM-Werkspilot Jonny Walker den besten Startplatz sicherte und die drei Extra-Punkte für die Weltmeisterschaftswertung einstrich. Sein Teamkollege Taddy Blazusiak landete auf Rang zwei, was schlussendlich dessen letzter Punktverlust für den restlichen Abend sein sollte.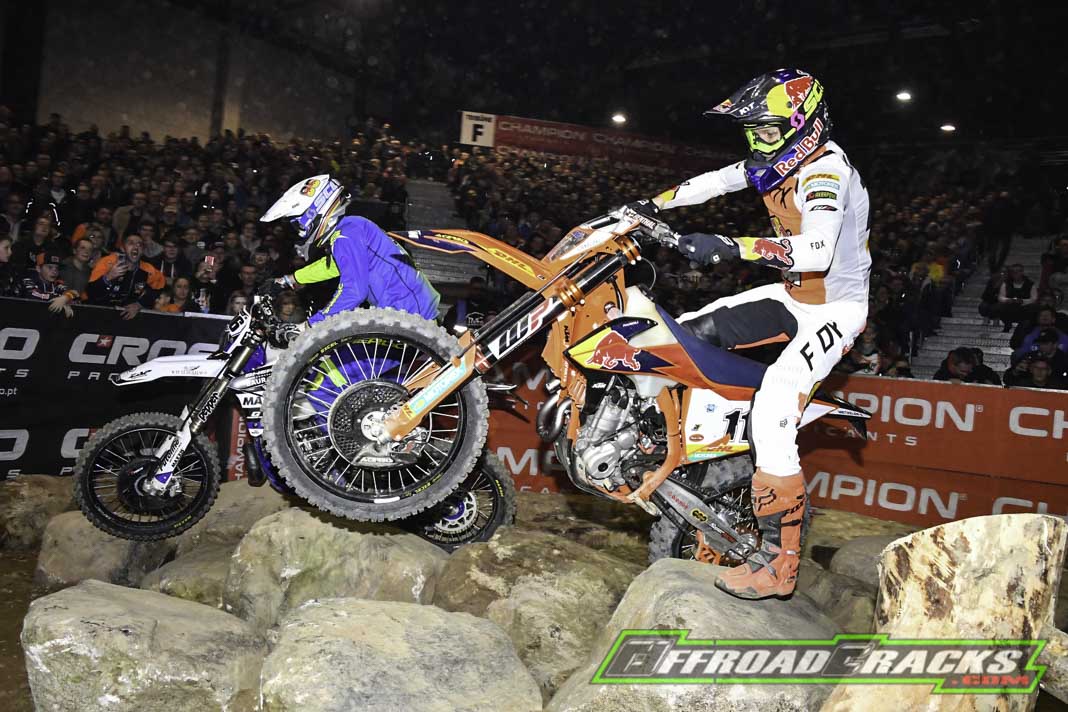 Im ersten Heat führte zunächst der Husqvarna-Factory-Rider Alfredo Gomez aus Spanien vor seinem Stallgefährten Billy Bolt. In der zweiten Runde passierte dann der als WM-Leader angereiste Brite den Spanier, strauchelte allerdings fünf Runden später an der spektakulären Brücke. Wie sich noch herausstellen sollte, war dies der neuralgische Punkt der wieder von allen Seiten gelobten anspruchsvollen Strecke. Der inzwischen von Platz drei auf zwei vorgefahrene Taddy Blazusiak nahm die Einladung dankend an und fuhr zu einem letztlich ungefährdeten Laufsieg. Billy Bolt verlor  dabei sogar noch zwei weitere Plätze an Alfredo Gomez sowie den anfangs per Sturz weit zurückgefallenen Jonny Walker.
Im zweiten Heat, bei dem die beiden Siebener-Startreihen in umgekehrter Reihenfolge Aufstellung nahmen, stürmten Billy Bolt und der Noch-WM-Zweite Taddy Blazusiak schnell nach vorn. Wieder holte sich der erst 22-jährige Mann der Zukunft die Spitzenposition, und wieder verlor er diese an der aus zig Baumstämmen gezimmerten Brücke an Taddy Blazusiak. Immerhin brachte er diesmal wenigstens Rang zwei ins Ziel. Jonny Walker musste erneut eine Aufholjagd starten und schaffte es wieder vor bis auf den dritten Platz.
Beim finalen Rennen diktierte der Multi-Weltmeister das Geschehen von Beginn an, feierte einen ungefährdeten Start-Ziel- sowie den ebenso souveränen Tagessieg. Zweiter wurde Alfredo Gomez, doch da er den mittleren Heat nur auf Platz sieben beendet hatte, reichte es für ihn noch nicht einmal fürs Podium. Auf diesem standen nach Laufplatz drei Billy Bolt sowie Jonny Walker.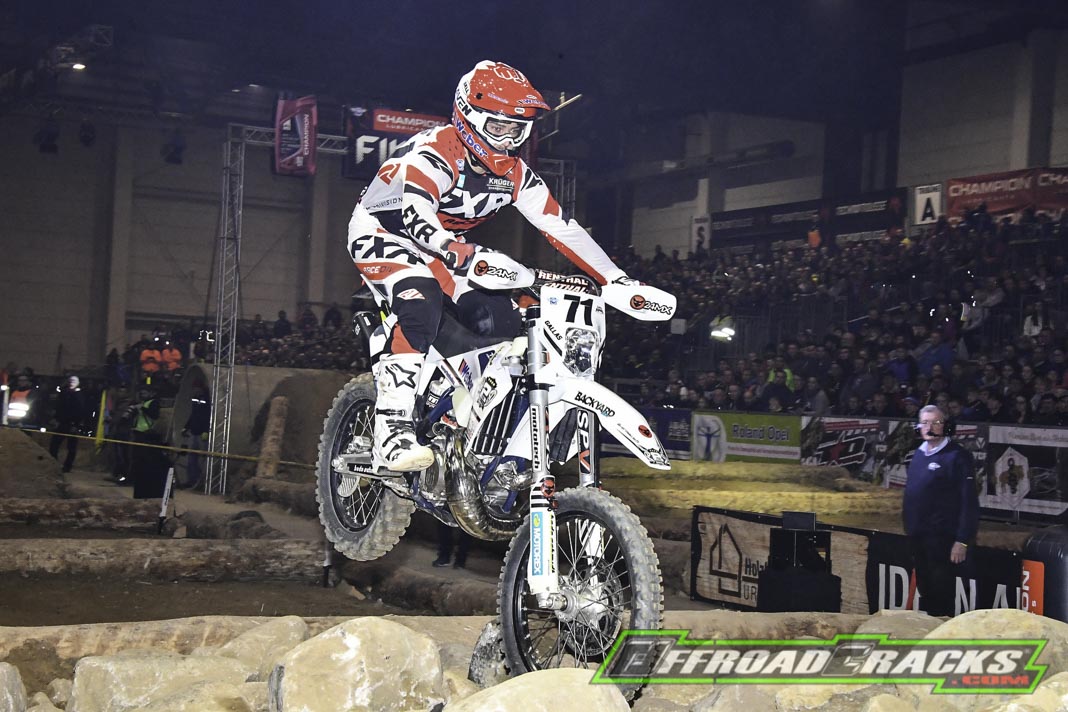 Hinter den Top 4 wurde der Südafrikaner Blake Gutzeit mit den Plätzen acht, vier und fünf quasi "best oft the rest". Hinter dem Spanier Pol Tarres wurde der Badener Kevin Gallas Siebenter der Tageswertung. Er sagte dazu: "Das war wieder ein Hammer-Abend. Die Fans in Riesa, sind die geilsten der Welt. Meine ersten beiden Rennen waren von einer jeweils schlechten Startposition sehr gut. Ich bin beide Male sehr sauber und konstant gefahren. Mit zwei Mal Platz sechs war ich sehr zufrieden. Im dritten Lauf hatte ich zwar wieder einen guten Start, doch im Bergaufstück hoch auf die Brücke haben sich vor mir alle festgefahren, sodass ich dort ewig hing. Ich glaube, ich bin erst als Vorletzter dort wieder weggefahren. Danach habe ich drei Runden gebraucht, um meinen Rhythmus wiederzufinden und konnte dann noch ein paar Positionen gutmachen. Unterm Strich bin ich zufrieden, zumal ich in diesem Winter nur drei Trainingstage auf dem Motorrad hier in Deutschland bei suboptimalen Bedingungen hatte."
Der zweite Deutsche im Feld, Tim Apolle aus Sachsen-Anhalt, wurde, wie beim Saisonauftakt im polnischen Krakau Anfang Dezember 2019, guter Neunter. Der Aufsteiger aus der Klasse Junior war damit ebenfalls zufrieden. Er resümierte anschließend: "Mein Heimrennen hat mir wieder sehr viel Spaß gemacht. Hier sind immer sehr viele Fans auch aus meinem Umfeld, das ist einfach toll. Vom sportlichen her bin ich nicht mit mir zufrieden, wobei ich selten zufrieden bin und immer mehr will. Trotzdem ist es der Weg in die richtige Richtung. Wieder Top 10 in der Prestige-Klasse, der höchsten Klasse in der Welt, ist nicht so schlecht. Das Ergebnis ist okay, wobei ich weiß, dass ich noch besser fahren kann. Das habe ich im Training gezeigt, doch im Rennen fehlt mir vielleicht noch ein wenig Erfahrung im Pulk. Vielleicht mache ich mir auch nur selbst zu viel Druck. Mit etwas Abstand werde ich meine heutige Leistung sicherlich besser einschätzen, aber man will ja nach vorn kommen."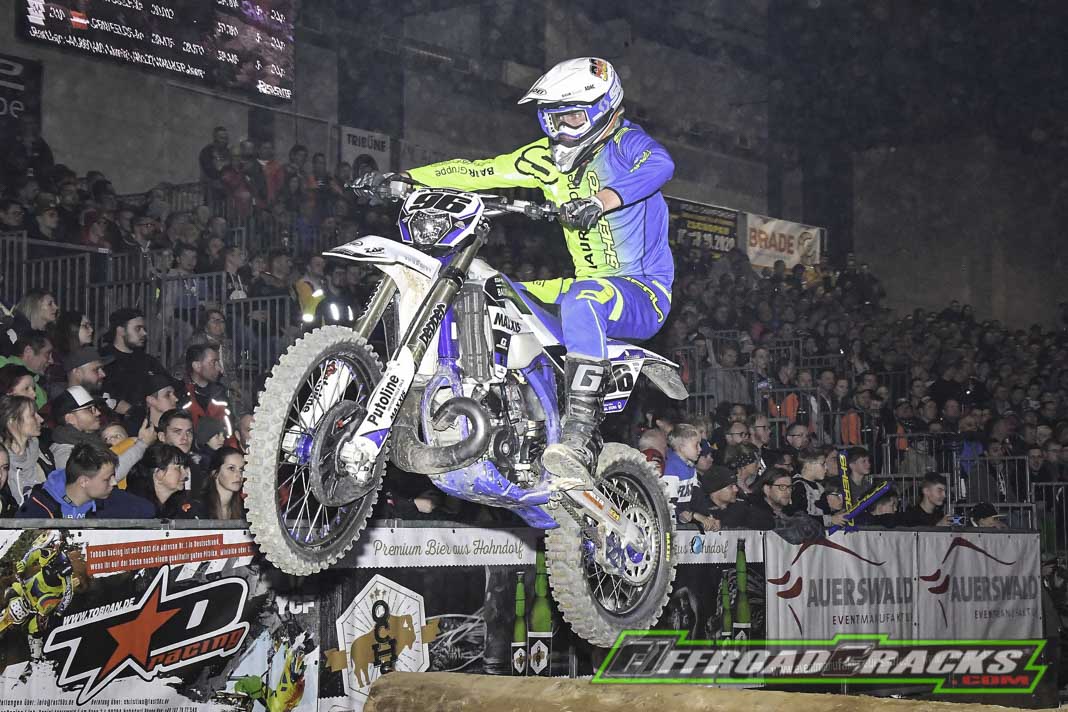 In der Klasse Junior der bis 23-Jährigen dominierte der US-Boy Ty Cullins fast nach Belieben. In den ersten beiden Läufen lag er zu Beginn jeweils weit zurück, was ihn nicht davon abhielt, zu gewinnen. Nach seinem Start-Ziel-Sieg im dritten Heat war er natürlich auch der Tagessieger, wie schon zuvor in Krakau. Ebenfalls wie beim ersten von fünf Läufen zur SuperEnduro-Weltmeisterschaft 2019/2020 wurde Leon Hentschel aus Uelzen Gesamtzweiter und strahlte anschließend bis über beide Ohren. Dazu sagte er: "In den ersten beiden Rennen lief alles gegen mich, doch am Ende konnte ich jeweils noch Dritter werden. Im dritten Lauf ging dann alles glatt, sodass ich Zweiter werden konnte, damit bin ich top zufrieden. Ty ist schwer zu schlagen. Bei den nächsten Rennen versuche ich aber weiter, ihn einzuholen."
Auch hier war mit Milan Schmüser aus Tensfeld in Schleswig-Holstein ein zweiter deutscher Fahrer am Start. Der erst 16-jährige Rookie wurde nach den Plätzen 14, elf und neun Tageszwölfter, wozu er erklärte: "Ich wurde heute leider ein bisschen vom Pech verfolgt und habe auch selbst zu viele Fehler gemacht. Aber ich bin soweit zufrieden, dass ich mich, wie in Polen, wieder für die Wertungsläufe qualifizieren konnte und im letzten Lauf nach dem Holeshot sogar eineinhalb Runden lang führen konnte."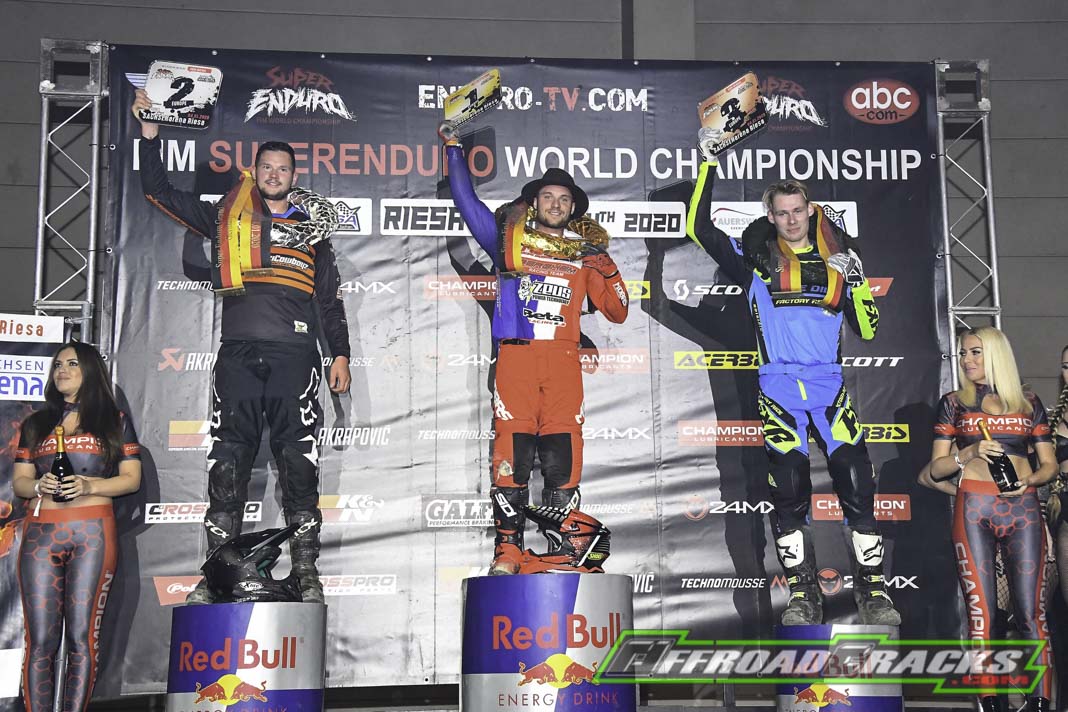 Die Rennen zum SuperEnduro Europe Cup entschied der Italiener Sonny Goggia für sich. Zweiter wurde Marco Pfeifer aus dem baden-württembergischen Berglen, gefolgt vom Schweden Magnus Thor. Mit dem Marbacher Pascal Springmann auf Rang fünf, Mirko Fabera aus Heideck auf Platz sechs sowie Thomas Schley (Köln), Marcel Teucher (Wiesa) und Louis Richter (Pockau), die die Plätze neun, zehn und elf belegten, schafften es unter 44 Startern fünf Deutsche in den Main Event.
RESULTS / ERGEBNISSE – Superenduro RIESA 2020 – PRESTIGE
SER2020_Gesamtergebnis_Prestige

RESULTS / ERGEBNISSE – Superenduro RIESA 2020 – JUNIOR
SER2020_Gesamtergebnis_Junior

RESULTS / ERGEBNISSE – Superenduro RIESA 2020 – EUROPE
SER2020_Gesamtergebnis_Europe

GoPro Track Preview: Superenduro Riesa 2020
HINWEIS: Das Video ist noch deaktiviert, damit keine unerwünschte Datenübertragung zu Youtube stattfindet. Zur Aktivierung bitte auf das Vorschaubild/Video-Link klicken. Damit werden Daten übermittelt, zu deren Art, Umfang und Verwendungszweck wir keineAuskünfte geben können. NOTE: The video is still deactivated so that no unwanted data transfer to YouTube takes place. To activate, please click on the preview image / video link. This transmits data about the type, extent and purpose of which we cannot provide any information.
---
HINWEIS: Mit Anklicken des Videos stellen sie automatisch eine Verbindung zu Youtube/Google her, was einen ungewünschten personenbezogenen Datenaustausch mit sich bringen kann. Weitere Infos unter: www.google.de/privacy
---

Taddy BLAZUSIAK Reigns in Riesa
In the first race, the SuperEnduro veteran shot out of the blocks but found himself behind Husqvarna rivals Billy BOLT (GBR-Husqvarna) and Alfredo GOMEZ (ESP-Husqvarna), who both made a great start to the heat. However, they remained under constant pressure from the factory KTM rider. At the halfway point, BOLT, who had got into a strong lead at the end of the first lap, made a series of errors which threw him off guard. The young Brit then suffered a big crash on the 'bridge section.' Stunned and suffering pain, he saw BLAZUSIAK slip away from his grip. Alfredo GOMEZ (ESP-Husqvarna) put his bike in 2nd place after a tussle with Jonny WALKER (GBR-KTM). While WALKER himself was ready and willing to grab 3rd place in the race, after doing an absolutely incredible job to recover from the back of the field after a first corner crash. BOLT came over the line in 4th despite feeling the effects of his heavy fall.
In Race 2, with its 'reverse grid' format, it was once again BLAZUSIAK who lead proceedings after a first corner pile-up involving GOMEZ and WALKER. But BOLT was soon on the back tyre of the Pole, and the two were neck and neck. BOLT shot into the lead after a heavy landing for BLAZUSIAK. But the 'King of SuperEnduro' remained calm and on the 4th lap, BOLT had another huge moment on the bridge, losing a lot of time as well 1st place. Once BLAZUSIAK had regained the lead, he never looked back. BOLT and WALKER then became embroiled in a battle and they swopped places twice before the finish line, with the young Husqvarna rider snatching second from the KTM rider.
BLAZUSIAK came into the last race claiming that he'd keep an eye on the points and not necessarily go 'all out' for a race win. But as soon as the gate dropped, Taddy slotted straight into the holeshot. BOLT tangled with his teammate, GOMEZ, as the pair watched WALKER slot into 2nd place. The two Husqvarna riders lost a lot of time, allowing BLAZUSIAK to cultivate a big lead. The every fiery BOLT fought hard with WALKER for the remainder of the race, with the British rivals exchanging blows and both committing errors. And as Jonny went down on the last lap, Billy saw his chance to snatch 3rd in the race and 2nd overall on the night. The 6-time World Champion, BLAZUSIAK, made it look easy as he crossed the finish line in first for the third time of the night. He now leads the championship by 11 points ahead of Billy BOLT. Alfredo GOMEZ and Jonny WALKER leave Riesa tied for 3rd, 30 points down on BLAZUSIAK.
It's also worth pointing out the strong performance from South Africa's Blake GUTZEIT (KTM) who took two 4th place finishes in the SachsenArena.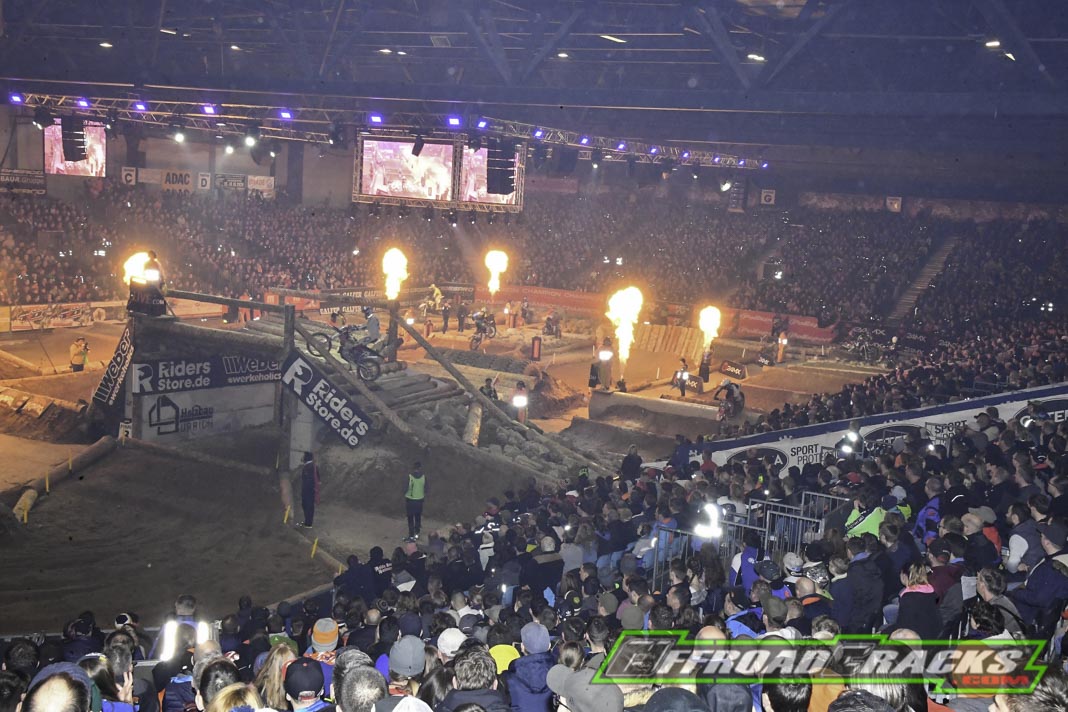 Junior: A Hard Fought Hat-trick for CULLINS
After taking an impressive overall victory on his SuperEnduro debut in Poland, America's Ty CULLINS (TM) made it his mission to win all three races in Germany. However, he made it very tough for himself with several errors which saw him plummet down the field. In the first race he bogged the start and had to carve through to the front, achieving the lead only on the penultimate lap. It was a similar story in Race 2, the 'reverse grid', as he lost places in the early laps. But in the third and final race of the night he lead virtually from start to finish. The young American has emphatically shown he has the fight and skill to work his way through a big pack of other riders. He took overall victory ahead of impressive home favourite Leon HENTSCHEL (GER-Husqvarna) and France's Adrien JACON (FRA-KTM)
After this hectic evening, CULLINS increases his lead to 15 points over HENTSCHEL. While JACON is 3rd, 30 points down.
FIM-Europe: An Exciting Night
The European class saw much closer racing than we witnessed in Poland, where Sweden's Magnus THOR (SWE-Husqvarna) dominated. In the first race the Husqvarna rider took the holeshot but was hunted down by a hungry Sonny GOGGIA (ITA-Beta), who closed the gap to just 4 seconds before getting stuck in the logs and allowing the Swede to take the win. But THOR's luck ran out in Race 2 as he made a mistake on the bridge on the first lap. GOGGIA saw his chance and shot straight to the front of the pack, winning by a huge margin and taking the overall victory. A strong Marco PFEIFER (GER-KTM) pleased the Germany fans with 2nd overall, while Magnus THOR (SWE-Husqvarna) held onto his points lead by finishing 3rd on the night. Although he is now just 4 points ahead of Sonny GOGGIA and Miha SPINDLER (SLO- KTM).
What They Said
Taddy BLAZUSIAK: "I think I now know the definition of a perfect night! I scored 62 points out of a possible 63. Everything went perfectly, and I really like this track. I must admit that this evening I owe a lot of my success to my starts. I have 15 years of experience and it paid off tonight. I am really happy to be back at the top of the championship. Now we have to keep this pace for the rest of the season, it won't be easy!"
Billy BOLT: "I lost the red 24MX Leader Plate tonight but frankly, considering how I rode, I didn't deserve to keep it. I made far too many mistakes and I attacked too much, I think because I really liked the track and I was excited to ride. My body will be sore tomorrow morning because that crash was a big one, but as of Monday I go back to work and aim to retake the title lead."
Jonny WALKER: "I'm angry tonight because, despite getting my first podium of the season, I think I missed an opportunity to do much better. I used a lot of energy in the first two races to try to get back on the podium. I ran out of juice in the heat. But it is reassuring all the same to see that I have the rhythm now, so I'll hope to convert that into a victory next time out in Spain."
Prestige Class:
Finale 1 : 1. Taddy BLAZUSIAK ; 2.Alfredo GOMEZ; 3.Jonny WALKER; 4.Billy BOLT ; 5.Pol TARRES
Finale 2 : 1. Taddy BLAZUSIAK ; 2. Billy BOLT ; 3. Jonny WALKER; 4.Blake GUTZEIT; 5. Pol TARRES
.
Finale 3 : 1.  Taddy BLAZUSIAK ; 2.Alfredo GOMEZ; 3.Billy BOLT ; 4. Jonny WALKER; 5. Blake GUTZEIT
Provisional classification : 1. Taddy BLAZUSIAK  117pts ; 2. Billy BOLT 106 pts ; 3. Alfredo GOMEZ 87pts ; 4.Jonny WALKER 87 pts ; 5. Blake GUTZEIT 60pts.
Junior Class:
Finale 1 : 1. Ty CULLINS ; 2. Adrien JACON; 3.Leon HENTSCHEL; 4. Isaac DEVOULX ; 5. Dominik OLSZOWY
Finale 2 : 1. Ty CULLINS ; 2.Fabien POIROT ; 3. Leon HENTSCHEL. ; 4. Adrien JACON; 5. Dominik OLSZOWY
Finale 3 : 1. Ty CULLINS  ; 2. Leon HENTSCHEL ; 3. Fabien POIROT; 4. Adrien JACON ; 5. Teodor KABAKCHIEV.
Provisional Classification : 1. Ty CULLINS 112 pts ; 2. Leon HENTSCHEL 97 pts ; 3. Adrien JACON 82 pts ; 4.Teodor KABAKCHIEV 71pts ; 5. Isaac DEVOULX  45pts…
FIM-Europe Class: 
Finale 1: 1. Magnus THOR  ; 2. Miha SPINDLER ; 3. Pascal SPRINGMANN ; 4. Thomas SCHLEY; 5. Sonny GOGGIA
Finale 2: 1. Magnus THOR  ; 2. Sonny GOGGIA ; 3. Miha SPINDLER ; 4. Pascal SPRINGMANN ; 5. Kacper BAKLARZ
Provisional Classification: 1. Magnus THOR 69 pts  ; 2.Sonny GOGGIA 65 pts ; 3. Miha SPINDLER 51 pts; 4 Pascal SPRINGMANN 50 pts; Alessandro AZZALINI 37 pts
Quelle / Source: FIM Superenduro, T. Horn