SuperENDURO Poland, Krakau 2019 – auf den Punkt gebracht
Billy Bolt übernimmt in der SuperEnduro-Meisterschaft 2019/2020 mit einer 1-2-1 die Meisterschaftsführung.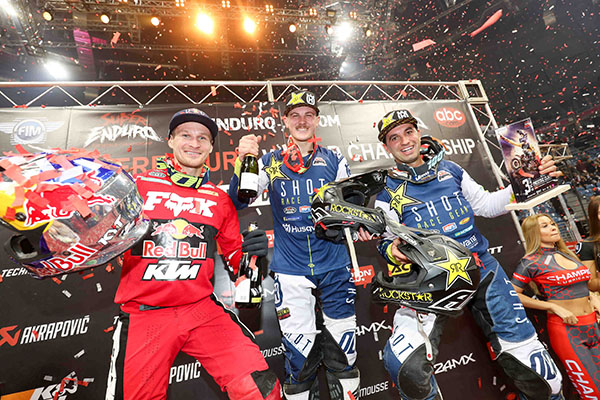 Bolt gewann das heiß umkämpfte Race mit einem Sieg, nachdem er die schnellste Zeit in der Superpole gefahren war. Sein Laufsieg im dritten Finale sorgt schlussendlich für den Gesamtsieg.
Tatsächlich war die Strecke durchweg anspruchsvoll, ohne mögliche Verschnaufpausen für die Fahrer und wie es in Polen häufig der Fall ist, war der Untergrund extrem kräftezehrend.
Taddy Blazusiak feierte im zweiten Finale ein Comeback und kämpfte sich von hinten aus schnell nach vorne, um vor Bolt und Alfredo Gomez zu gewinnen. Aber es reichte nicht für den Gesamtsieg!
Jonny Walker schloss zu Bolt auf und war damit einer der zwei schnellsten Fahrern bei der Superpole, aber diverse Stürze sorgten für ein durchschnittliches Ergebnisse und beim letzten Finallauf wurde er vom Führungsduo sogar noch überrundet.
Alfredo Gomez sorgte mit seinem Ergebnis 3-3-3 für absolute Konstanz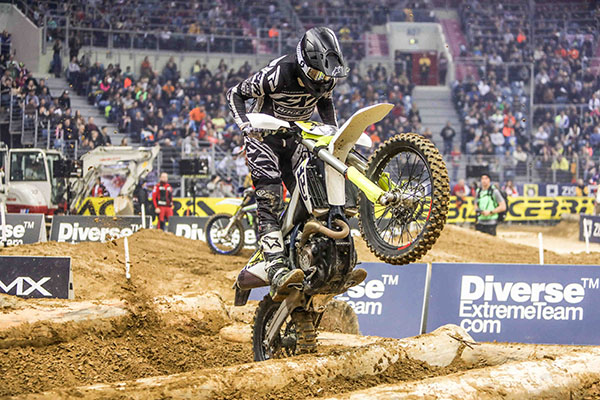 Ty Cullins übernimmt die Führung bei den Junioren. Cullins fuhr im ersten Rennen einen guten Vorsprung heraus und holte im zweiten Rennen einen knappen zweiten Rang. Zunächst konnte er die Führung im Finallauf hole, machte aber dann zu viele Fehler, was ihm extrem viel Kraft kostete, so dass der TM-Fahrer hinter Leon Hentschel Dritter wurde.
Die Top 3 der Junioren: Cullins (52 Punkte), Hentschel und dem Sieger des zweiten Rennen, Teodor Kabakchiev (50 Punkte).
Magnus Thor aus Schweden stand in der ersten europäischen Saisonrunde ganz oben auf dem Podium.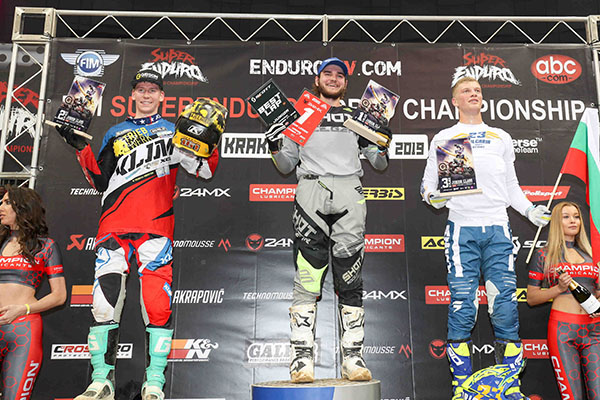 Results / Ergebnisse Prestige – Superpole
2019-12-07-prestige-superpole

Results / Ergebnisse Prestige – 1. Heat / 1. Lauf
2019-12-07-prestige-finale1

Results / Ergebnisse Prestige – 2. Heat / 2. Lauf
2019-12-07-prestige-finale2

Results / Ergebnisse Prestige – 3. Heat / 3. Lauf
2019-12-07-prestige-finale3

Results / Ergebnisse Prestige – OVERALL
2019-12-07-prestige-event

---
HINWEIS: Mit Anklicken des Videos stellen sie automatisch eine Verbindung zu Youtube/Google her, was einen ungewünschten personenbezogenen Datenaustausch mit sich bringen kann. Weitere Infos unter: www.google.de/privacy
---
---

14,000 spectators marks an absolute record for the FIM SuperEnduro World Championship.
For the 4th year in a row, the Tauron Arena in Krakow was packed to the rafters and cheering on the heroes of this brand new 2020 season. Local hero and superstar, Taddy BLAZUSIAK aimed to shine in front of the home fans, who chanted his name at every opportunity.
To kick the night off, the Akrapovic SuperPole allowed the 7 fastest riders from timed practice to make their mark on the extremely technical Polish track. The crowd were stunned to see a returning Billy BOLT (GBR-Husqvarna) secure the best time from under the nose of BLAZUSIAK, although they seemed to appreciate the young Brit's panache! Jonny WALKER (GBR-KTM) also set a quicker time than his team-mate, Taddy BLAZUSIAK (POL-KTM), who had to settle for 3rd. This set everything up for a wild night of racing.
12 months ago, Billy BOLT was forced to watch the season kick off on TV whilst confined to a hospital bed. The victim of a serious left leg injury, the Husqvarna rider had to sit out the entirety of last season. Therefore, he was determined to prove his skills and speed right from the start of this new 2020 season….
When the gate dropped for Race 1, BOLT was quick to get into the lead ahead of Taddy BLAZUSIAK. But the Pole, keen to win at home, made a pass straight back on BOLT. The pair remained neck-and-neck, engaging in a fantastic fight which lasted for several laps and sent the Tauron Arena into a frenzy. BLAZUSIAK went for one final attack, but BOLT pulled out a lad of 3.9 seconds and took his first race victory since March 2018.
Behind this epic battle, Jonny WALKER struggled to find his rhythm on the tricky track. The English rider getting caught up in the carnage several times. He nevertheless managed to finish 4th in the first race by gritting his teeth and carving through. Alfredo Gomez (ESP-Husqvarna) took his first Top 3 of the evening.
In the second race of the evening, Taddy BLAZUSIAK got his revenge on Billy BOLT as he forced the crowd to knock their support up a notch with his excellently crafted race. When he crossed the line with a victory, the fervent fans were beside themselves. BOLT, meanwhile, found himself hampered by the 'reverse grid' start. Although the youngster impressively pushed himself through the field to take valuable points and 2nd place. GOMEZ was 3rd once again, a little way behind the leading pair.  The Top 5 was completed by Jonny WALKER and Blake GUTZEIT (RSA-KTM).
It was all to play for in the final race of the night; BOLT or BLAZUSIAK, whoever won Race 3 would be the overall victory in Krakow! The two riders proved to be in a league of their own as they slotted into 1st and 2nd, with BLAZUSIAK taking the initial lead. The 14,000 strong crowd urged their hero on, but Billy wasn't caving under the pressure; after 4 laps, he led by more  than 4 seconds over Taddy. Meanwhile, Jonny WALKER suffered a big crash on the rocks but still managed an impressive comeback to 4th place in the race, and overall.
Several riders battled it out for the final podium place,  but young guns GALLAS (GER-Husqvarna) and GUTZEIT could not out-pace SuperEnduro veteran GOMEZ – the Spaniard finishing 3rd in all three races, and therefore taking a decent 3rd overall.
And so, much to the surprise of the Polish fans, Billy BOLT returned with a flourish to take the lead in the provisional standings ahead of BLAZUSIAK and GOMEZ. However, things are still tight at the top, with BOLT and BLAZUSIAK separated by just 5 points, and WALKER only 4 points behind GOMEZ.
Ty CULLINS (USA-TM) is a newcomer to the Junior category in FIM SuperEnduro this year, and the American has already made a name for himself. Out of the three races on the night, he achieved one dominant victory, one second place, and one third. The TM rider felt quick and comfortable despite being completely new to SuperEnduro, having previously only ridden in the American Endurocross series. An impressive performance, he is certainly one to watch.
Bulgarian Teodor KABAKCHIEV (KTM) won the second race ahead of CULLINS, much to the delight of his assembled fan club! And France's Adrien JACON (KTM) finished 3rd. The last race went to Germany's Leon HENTSCHEL (Husqvarna) in front of KABAKCHIEV and CULLINS. Overall on the night, the result was: CULLINS, HENTSCHEL and KABAKCHIEV.
FIM-EUROPE
Sweden's Magnus THOR (SWE-Husqvarna) took the lead in the FIM-Europe category. He won the first race ahead of Miha SPINDLER (SLO-KTM) and Germany's Pascal SPRINGMAN (Beta). And proceeded to win the second race by overhauling Italy's Sonny GOGGIA (Beta) and Miha SPINDLER. Overall it was THOR, SPINDLER and GOGGIA.
Billy BOLT (GBR-Husqvarna): " 12 months ago i was watching this race on my laptop in the hospital. I was really really upset not to be here. A lot has happened since then, so as you can imagine facing you like this after winning 2 races makes me really happy. When I arrive to the last final facing Taddy and his fans I had nothing to lose. It was really a special race and probably the best one of my career."
Taddy BLAZUSIAK (POL-KTM): " If tonight you couldn't hear the fans it meant you really had a hearing problem. It was really a fantastic night with 3 great races. The track was tricky, I made a few mistakes and did everything to try to catch Billy. I would have loved to win but this is a really good start to the championship."
Alfredo GOMEZ (ESP-Husqvarna): " Tonight I did my maximum but i did not have the confidence to fight with Billy and Taddy. I am pleased to be back on the podium. I feel really good and Im' looking forward to be in Riesa (Germany) next year."
Quelle / Source: SuperEnduro