Heute erhielten wir die ersten Bilder der RIEJU MR 300 PRO aus der Vorserie, die natürlich mit ihrer High-End-Ausstattung begeistert.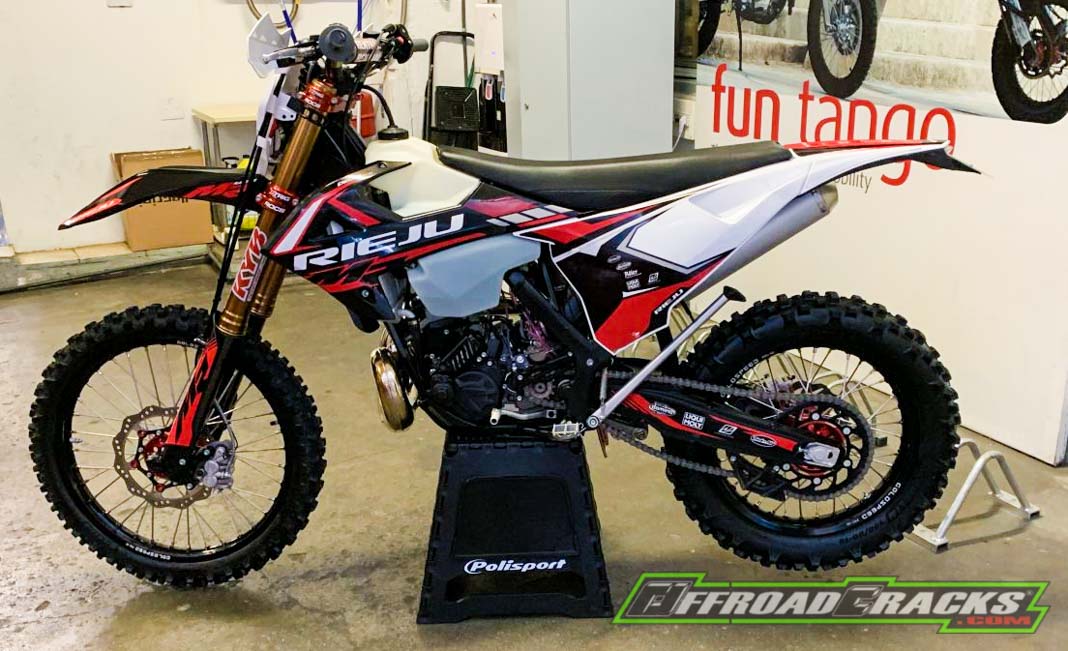 Hier die ersten zu erkennenden Highlgihts der MR 300 "PRO" 2021
KAYABA Factory Upsidedown-Gabel mit DLC-Beschichtung (Diamond Like Carbon)
Schwimmend gelagerte Wave-Bremsscheibe vorn
Schwarz beschichtete Gabelfäuste aus der KYB Factory Serie
CNC gefräste rot eloxierte Naben
Rote Goldspeed-Felgen
Rote Xtrig Rocs Gabelbrücken
Renthal Twinwall-Lenker
Renthal-Griffe
FMF-Komplett-Auspuffanlage (identisch zur Racing)
Preis: 8.990 Euro (Racing: 7.990 Euro)
Verfügbarkeit: Ab Oktober 2020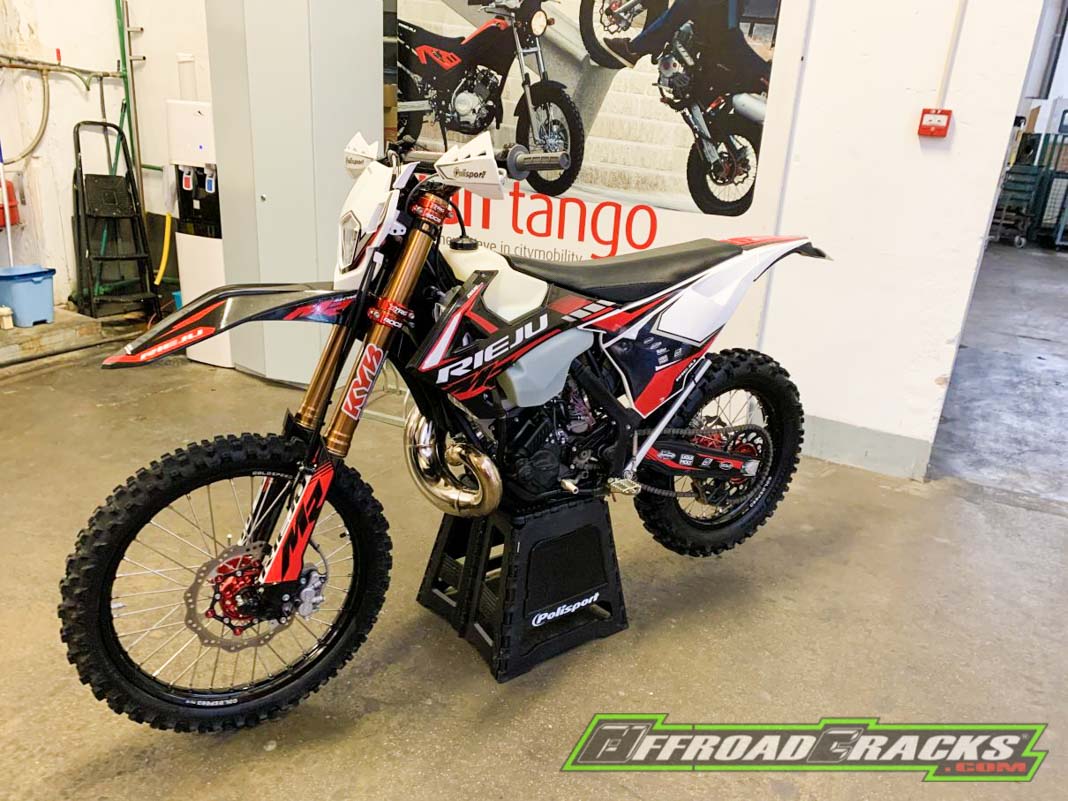 Auf wieviel Einheiten die Rieju MR300 PRO limitiert ist, steht noch in den Sterne. Fakt ist, wer zuerst kommt, fährt zuerst. Klar ist auch, dass man mit der PRO-Version der MR300 eine ultimative Wettkampf-Waffe ab Hersteller bekommt, die mit einem Aufrpeis von nur 1000 Euro gegenüber der Racing-Variante ein echtes Schnäppchen darstellt. Schon allein die Teile haben einen vielfachen Wert exlusive Montage.
Wir hoffen natürlich baldmöglichst ein entsprechendes Testbike zu bekommen, um die Upgrades auf Herz und Nieren prüfen zu könnten. Akutell haben wir ja bereits die MR 300 Racing in der Mangel, deren umfangreicher Test demnächst veröffentlich wird.
Und hier bekommt ihr die Rieju-Sportenduro-Modelle 2021
RIEJU Händler Deutschland-Österreich (Stand 01.07.2020) © OC

---

Today we received the first pictures of the RIEJU MR 300 PRO from the pre-series, which of course inspires with its high-end equipment.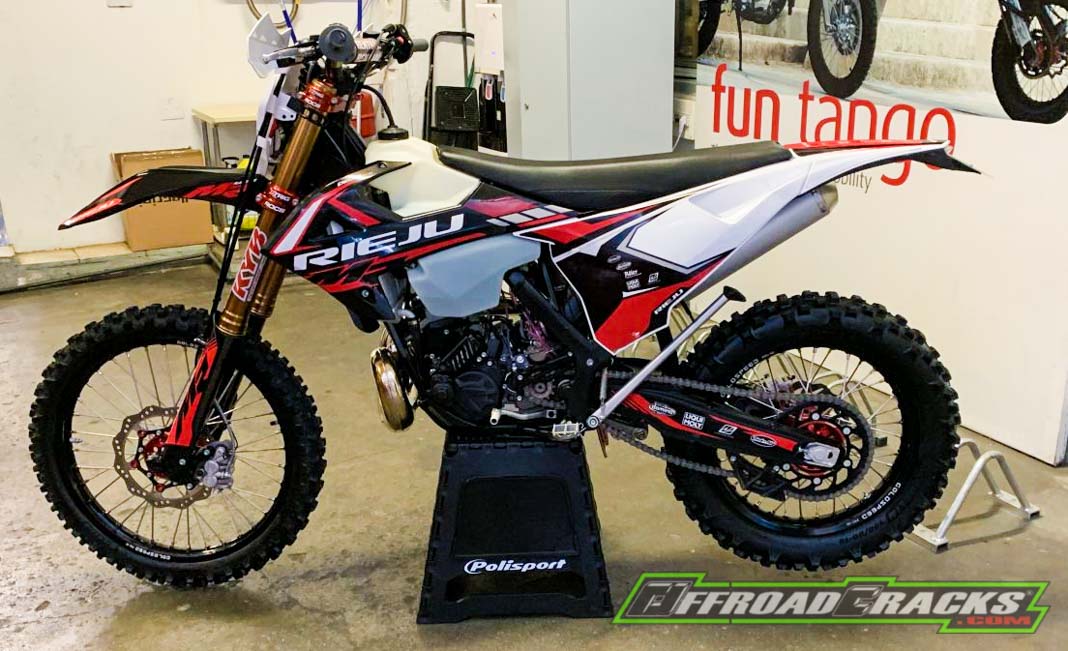 Here are the first highlights of the MR 300 'PRO' 2021
KAYABA Factory Upsidedwon fork with DLC coating (Daimond Like Carbon)
Floating wave brake disc at the front
Black coated fork fists from the KYB Factory series
CNC machined red anodized hubs
Red gold speed rims
Red Xtrig Rocs triple trees
Renthal twinwall handlebars
Renthal handles
FMF complete exhaust system (identical to racing)
Price: 8,990 euros (Racing: 7,990 euros) – German/Austrian market
Availability: From October 2020
The Rieju MR300 PRO is limited, so we do not know how many units will be offered. The fact is, whoever comes first drives first. It is also clear that with the PRO version of the MR300 you get an ultimate competition weapon directly from the manufacturer, which is a real bargain with an additional cost of only 1000 euros compared to the racing version. The parts alone have a multiple value of exclusive assembly.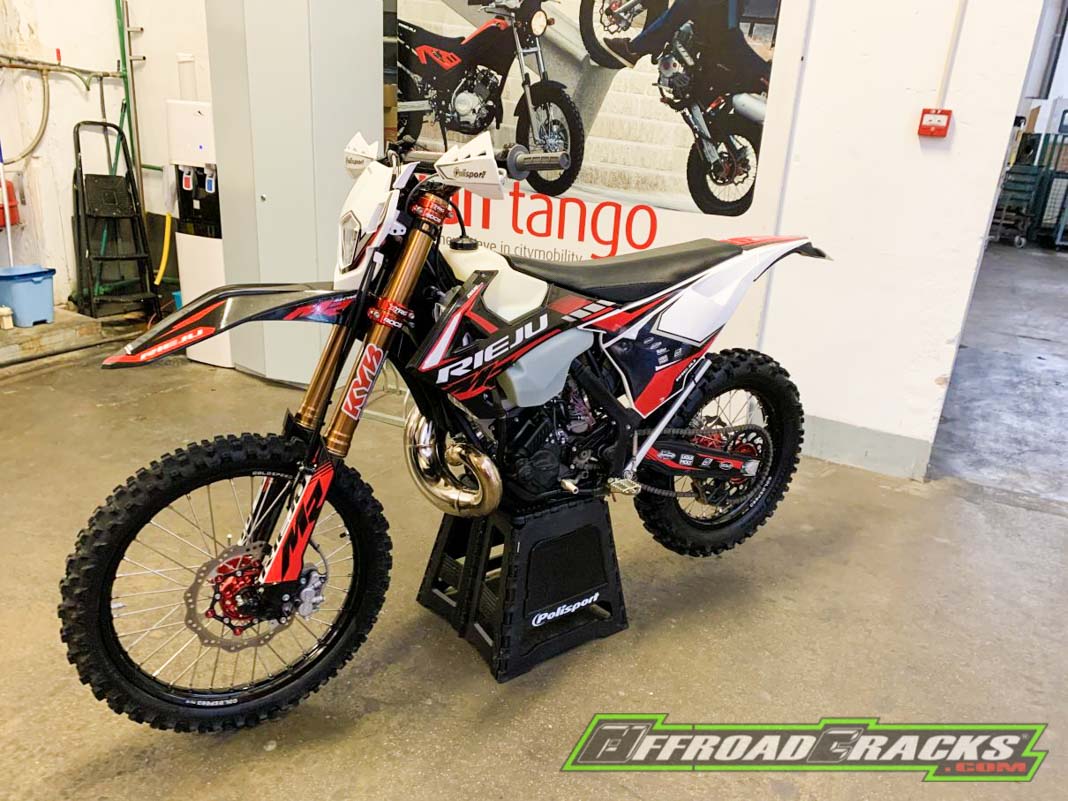 Of course we hope to get a suitable test bike as soon as possible, so that we can test the upgrades intensively. We currently have the MR 300 Racing in our test pool and the extensive test will be published soon.
And here you get the Rieju Sportenduro models 2021 – Germany / Austria
RIEJU Händler Deutschland-Österreich (Stand 01.07.2020) © OC

Quelle / Source: BLM