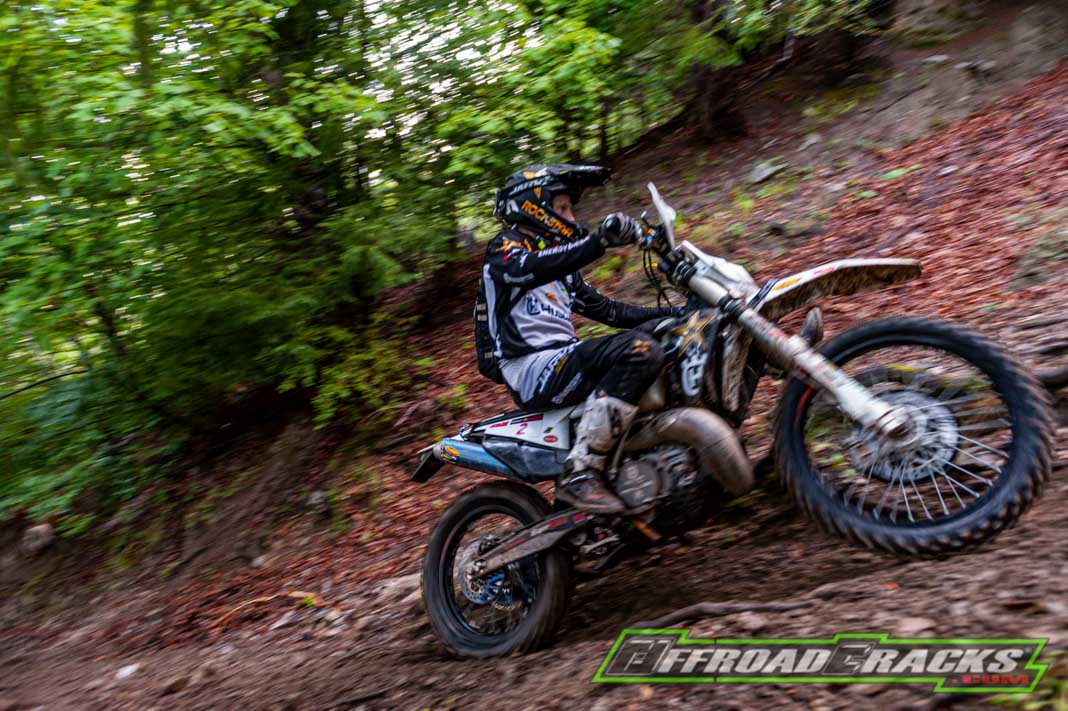 Graham Jarvis von Rockstar Energy Husqvarna Factory Racing hat am ersten Offroad-Tag bei den Red Bull Romaniacs eine beeindruckende Siegesfahrt hingelegt. Der Brite war am schnellsten und übernahm die Führung im Gesamtklassement vor dem Deutschen Manuel Lettenbichler gefolgt von Wade Young auf Platz drei.
Regen über Nacht und der morgendliche Nebel machten es den Teilnehmern nicht leicht, als die Gold-Klasse in den 116 Kilometer langen Tag in Angriff nahm. Der Temperaturabfall war zwar willkommen, aber der Regen machte einige der Abfahrten, für diejenigen, die die Strecke eröffneten, extrem rutschig.
Nachdem sich die ersten drei – Wade Young, Teodor Kabakchiev und Alfredo Gomez – sich in den Bedingungen zurechtgefunden hatten, wurden sie bald von Manuel Lettenbichler von KTM Factory Racing eingeholt. Aber zur korrigierten Zeit war es Jonny Walker von Vision Track Beta, der zusammen mit Mario Roman (Sherco) am schnellsten durch den Checkpoint 1 kam.  Ihm spielte die spätere Startzeit direkt in die Hände.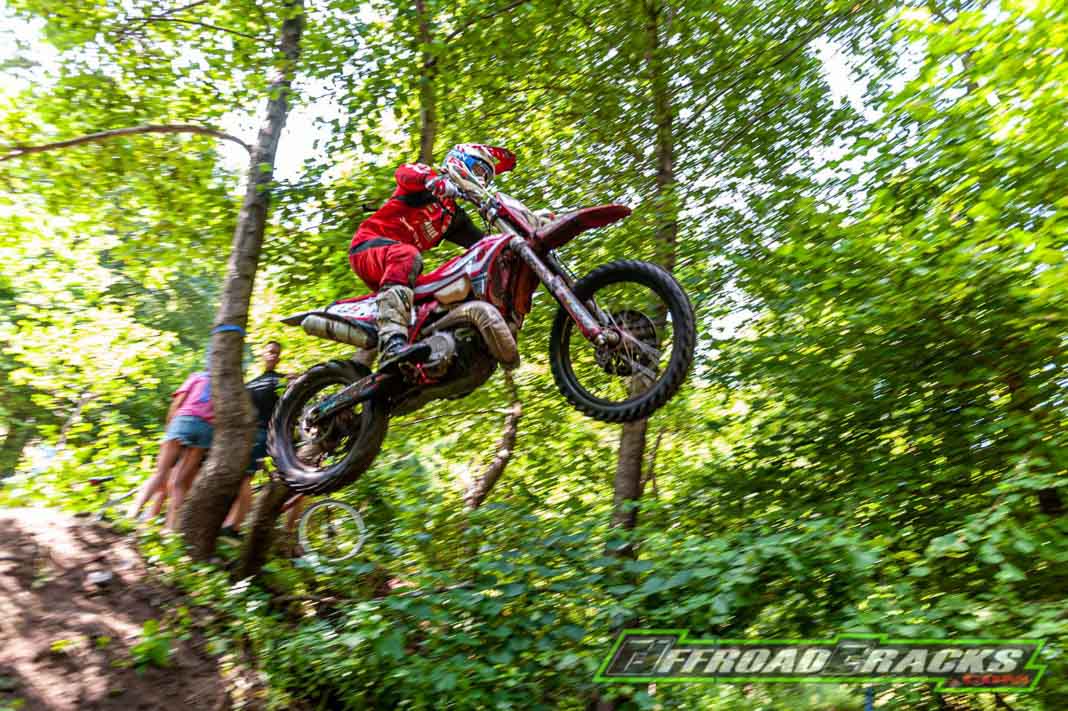 In der ersten Hälfte des Tages war das Tempo hoch. Ein GPS-Navigationsproblem kurz vor dem Service sorgte dafür, das Roman nicht mehr unter den Top-3 weilte. Jarvis begann sein Pferd laufen zu lassen und stellte einige der schnellsten Checkpoint-Zeiten auf.
Nachdem der sechsmalige Red Bull Romaniacs-Sieger am Morgen noch ein paar kleine Fehler machte, hatte er nun seinen Rhythmus gefunden und war zurück auf dem Weg nach ganz vorn. Er holte sich die  Bestzeit bei den letzten drei der fünf Kontrollpunkte des Tages. Damit sicherte er sich einen guten Vorsprung von drei Minuten und 29 Sekunden auf Lettenbichler, was ihn schlussendlich an die Tabellenspitze katapultierte.
Lettenbichler genoss seine durchgehend solide Fahrt, steuerte seine KTM auf den zweiten Platz nach Hause und hielt ständigen Kontakt zu Jarvis. Trotz einer starken Fahrt aber mit etwas Unzufriedenheit landete Wade Young auf dem dritten Platz mit neun Minuten hinter Jarvis.
Roman und Walker arbeiteten sich von den Plätzen 11 und 12 durch den Verkehr und holten mächtig auf. Beide machten die meisten Plätze im gesamten Fahrerfeld gut, so dass Walker sogar Roman von seinem vierten Platz verdrängen konnte.
Der 2. Fahrtag markiert den Beginn der wichtigen Marathonetappe. Die Teilnehmer beenden den Tag im Wald, wo keine fremde Hilfe erlaubt ist. Den Speed zu halten, aber Fahrer und Maschine dabei zu schonen, wird sich als entscheidend erweisen, um eine erholsame Nacht unter den Sternen genießen zu können!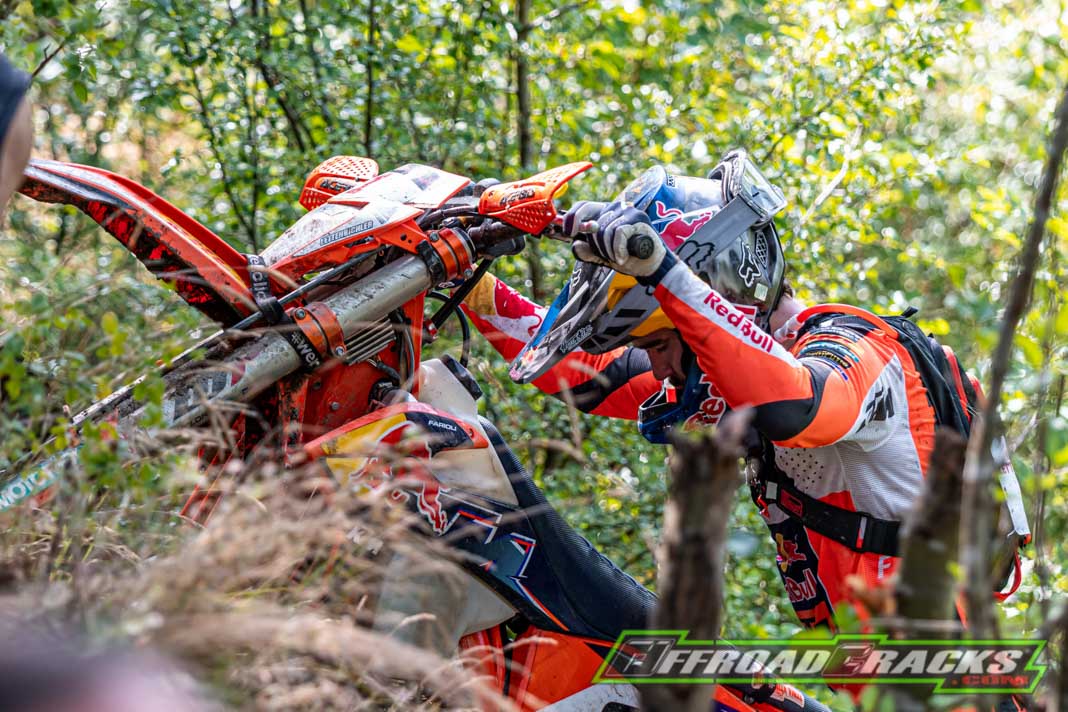 Graham Jarvis (Husqvarna): "Es war tatsächlich ein ereignisreicher Tag. Ich stürzte früh in ein Loch, verfuhr mich im Nebel, fand dann aber meinen Rhythmus und fing an, ein paar Fahrer zu überholen. Es war eine kleine Überraschung heute zu gewinnen, aber ich bin mit diesem Ergebnis zufrieden, weil ich das Gefühl habe, dass ich gut fahre. Ja, morgen Abend im Zelt sollte für einen alten Kerl wie mich könnte interessant werde und ich kämpfe definitiv weiter."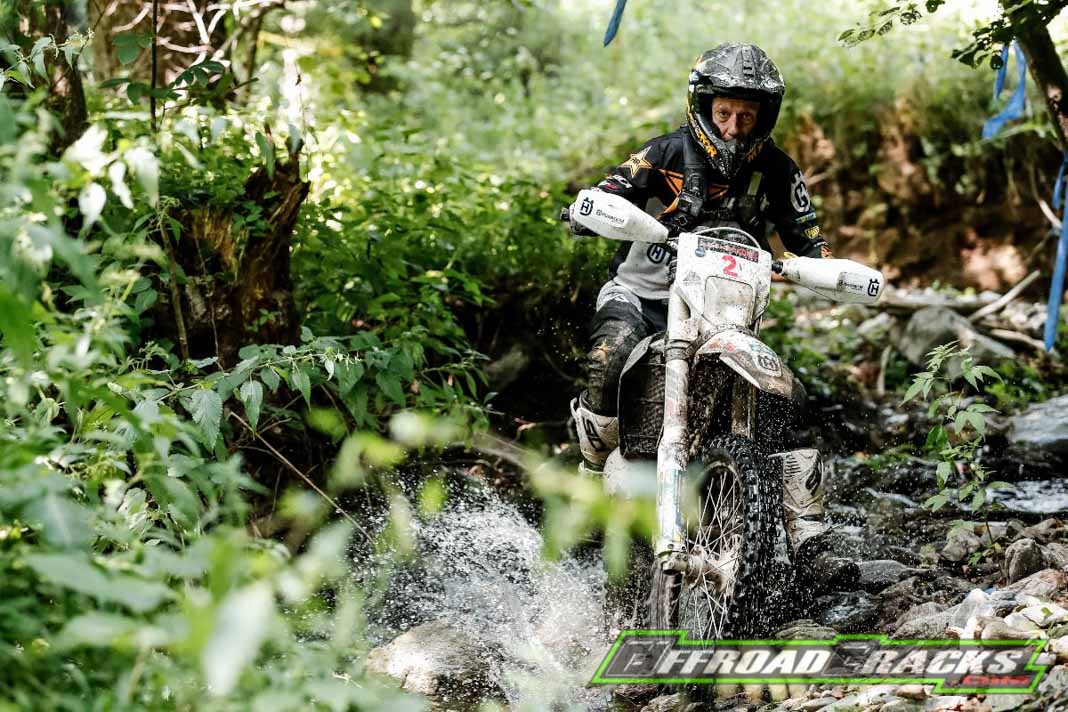 Manuel Lettenbichler (KTM): "Ich bin heute mit diesem Ergebnis zufrieden, ich hatte das Gefühl, dass ich eine solide Fahrt hingelegt habe. Das Tempo aller bis zum ersten Servicepunkt war so hoch und wir waren sicher alle am Limit. Graham fuhr wahnsinnig gut und wenn er so in Bestform ist, wird es gegen ihn hart! Ich habe das Gefühl, dass ich bei den Red Bull Romaniacs gut gestartet bin, morgen wird es interessant und ich freue mich auf die Marathonetappe. Wir begeben uns in neues Terrain und mit dem Biwak am morgigen Abend sollte es im Ziel gute Stimmung geben. Ich freue mich darauf, in einem Zelt zu schlafen."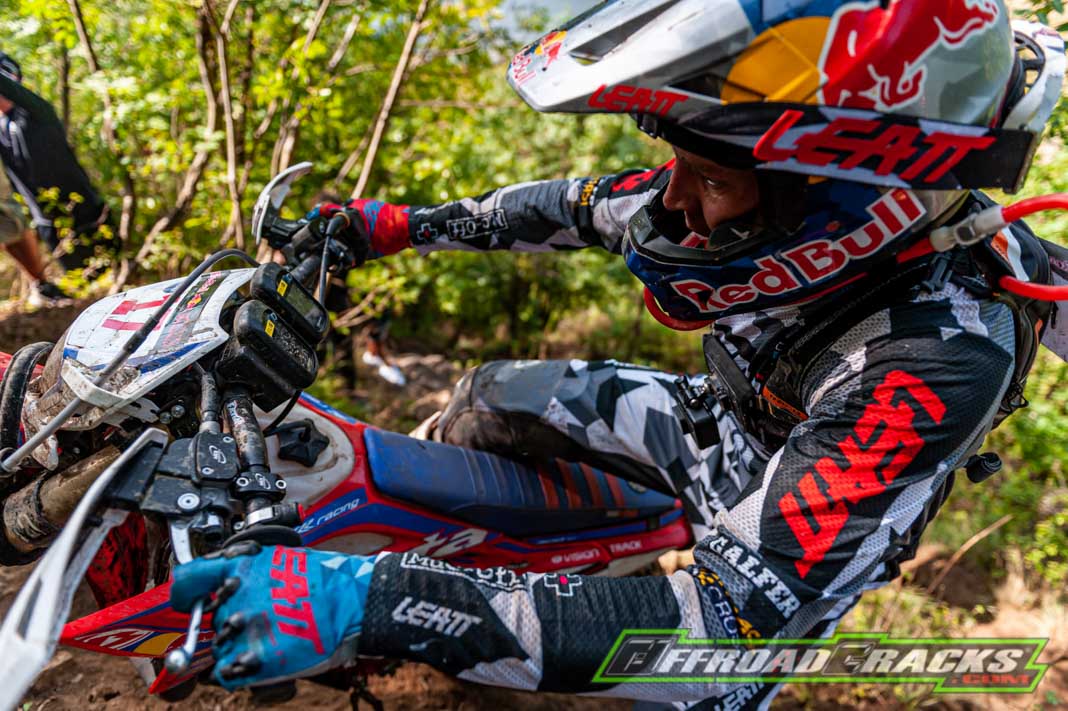 Jonny Walker (Beta): "Ich hatte heute Morgen einen guten Start und hatte in der zweiten Tageshälfte nur ein paar kleine Fehler gemacht. Aber das war ziemlich normal für ein Rennen wie dieses. Insgesamt bin ich froh, einen so großen Tag wie diesen mit meiner Beta zu erleben, und ich habe das Gefühl, dass ich gut fahre, und es werden noch mehr kommen. Es ist noch ein langer Weg, aber ein Podiumsplatz ist möglich, wenn ich konzentriet bleiben – das ist das Ziel."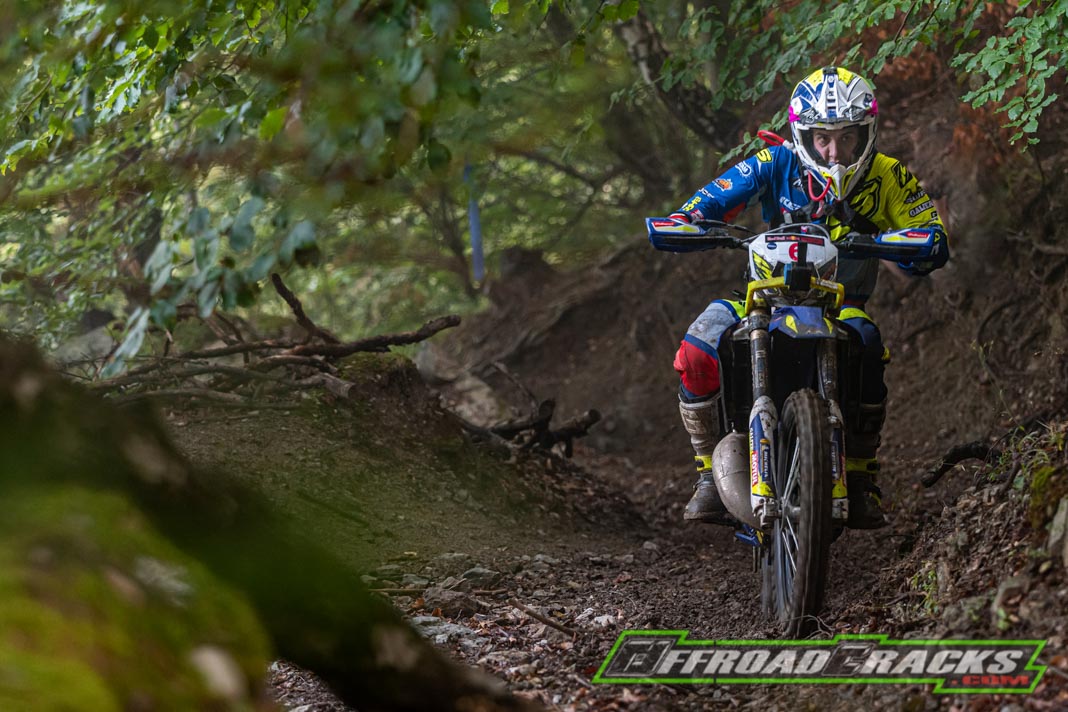 Mario Roman (Sherco): "Ich bin mit dem heutigen Ergebnis zufrieden. Beim gestrigen Zeitfahren hatte ich ein wenig Probleme mit dem Setup, also haben wir ein paar Dinge geändert und es schien viel besser zu funktionieren. Die Bedingungen an diesem Morgen waren rutschig mit Regen und Nebel. Bei den Abfahrten war Vorsicht geboten. Nach einem starken Start hatte ich vor dem Service ein GPS-Problem, sodass ich meinen gefahrenen Weg nochmal zurück musste. Aber ich habe es repariert und konnte in der zweiten Tageshälfte eine weitere starke Fahrt hinlegen. Insgesamt war es ein guter Start in die Woche und ich werde morgen nochmal pushen."
Ergebnisse: Offroad Day 1
1. Graham Jarvis (Husqvarna) 4:51:07
2. Manuel Lettenbichler (KTM) 4:54:36
3. Wade Young (Sherco) 5:17:00
4. Jonny Walker (Beta) 5:05:01
5. Mario Roman (Sherco) 5:05:31
6. Teodor Kabakchiev (Husqvarna) 5:08:38
7. Alfredo Gomez (Husqvarna) 5:10:39
8. Billy Bolt (Husqvarna) 5:13:34
9. Taddy Blazusiak (GASGAS) 5:13:47
10. Michael Walkner (GASGAS) 5:15:07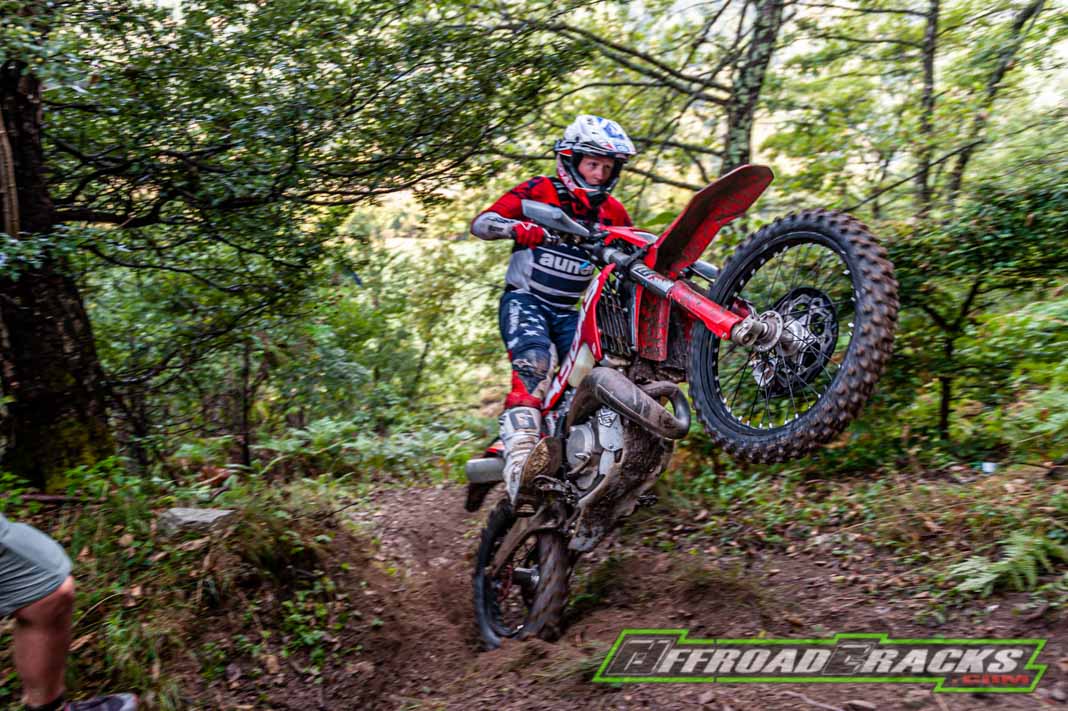 Overall Standings (After Offroad Day 1)
1. Graham Jarvis (Husqvarna) 5:29:49
2. Manuel Lettenbichler (KTM) 5:33:05
3. Wade Young (Sherco) 5:37:59
4. Jonny Walker (Beta) 5:46:05
5. Mario Roman (Sherco) 5:46:30
6. Teodor Kabakchiev (Husqvarna) 5:46:39
7. Alfredo Gomez (Husqvarna) 5:49:06
8. Taddy Blazusiak (GASGAS) 5:22:28
9. Billy Bolt (Husqvarna) 5:53:57
10. Michael Walkner (GASGAS) 5:54:46
Ergänzende Berichterstattung vom Veranstalter
Die Red Bull Romaniacs sind traditionell das längste und anstrengendste Rennen der Hard Enduro Saison und für die 18. Ausgabe haben sich Veranstalter Martin Freinademetz und sein Team noch mehr einfallen lassen um die Fahrer tiefer in die Karpaten zu führen als jemals zuvor. Heute, am frühen Mittwochmorgen fiel der Startschuss zum ersten Offroad Tag der Red Bull Romaniacs "Vertical Madness Reloaded".
Ziemlich unerwartet regnete es letzte Nacht und die Karten wurden vor dem ersten Offroad Tag noch mal neu gemischt. Der erste Offroad Tag startete unter dem Motto: "Achtung Rutschgefahr!" Als die ersten  Fahrer den Fluss Olt über die altbekannte Stahlbrücke überquerten, waren die Berge noch wolkenverhangen und im Tal hatte sich dichter Nebel ausgebreitet. Noch bevor die Motoren überhaupt warm waren, führte die Strecke die Fahrer der Gold-Klasse direkt auf den "Sheep Trail", ein Warm-up im Romaniacs Style: über unzählige, steinige Spitzkehren ging es den schmale Pfad extrem steil nach oben. Die Steine waren vom Regen und Nebel nass und besonders glatt. Das ausgesetzte Gelände ließ keine Fehler zu und zwang die Fahrer von Anfang an mit voller Konzentration dabei zu sein. Alfredo Gomez musste den Tag eröffnen und wurde von Teodor Kabakchiev gejagt, der ihm schon bald dicht auf den Fersen war. Wade Young, der gestern die Qualifikation für sich entschieden hatte, spielte dahinter mit Titelverteidiger Manuel Lettenbichler Katz und Maus. Die eigentliche Schlüsselstelle auf dem Weg zum Servicepoint war der Abschnitt "Sheep Farmer", ein kurzer, heftiger Anstieg, für den alle vom bike mussten.
Wade Young und Manuel Lettenbichler pushten sich gegenseitig bis zum Service-Punkt, das Duell konnte Wade mit einer Motorradlänge Vorsprung für sich entscheiden. Und auch wenn es nicht für die schnellste Zeit gereicht hatte, lief es für Manuel Lettenbichler nach Plan: "Ich bin gut in den Tag gestartet, die Pace ist wahnsinnig hoch und bis jetzte sind wir alle noch sehr dicht beieinander."
Nach den obligatorischen 20 Minuten Pause am Service ging es auf schnelleren Pfaden durch die wunderschöne Landschaft der "Toscana Hills". Im Anschluss an den anstrengenden Vormittag schienen die Strecken-Manager doch etwas erbarmen zu haben. Wer die Romaniacs kennt, weiß jedoch dass das nie lange anhält. Für die Fahrer der Gold-Klasse kam der Weckruf in Form von "Martins Idea". Danach folgten ikonische Streckenabschnitte wie zum Beispiel "Dammed Dam", "Broke back Mountain" und "The Impossible". Die letzten anderthalb Stunden bis zum Ziel waren das, was Martin Freinademetz als "waschechte Gold-Strecke" bezeichnet.
Graham Jarvis bewies, dass er nicht ohne Grund als König der Karpaten gilt. Sobald es richtig anspruchsvoll wird, taucht er wie aus dem Nichts ganz vorne auf. Da er nur als sechster gestartet war und als Erster die letzte Abfahrt zum Ziel herunter kam, war klar, dass die schnellste Zeit des Tages auf sein Konto gehen wird. Die Plätze zwei und drei gingen heute an Manuel Lettenbichler und Wade Young.
Graham Jarvis: "Der Tag lief optimal, mein Bike hat super funktioniert und ich bin gut gefahren. Ich bin als sechster gestartet und konnte alle überholen. Am ersten Tag habe ich noch die meiste Energie, deshalb musste ich heute alles geben. Ich werde die nächsten Tage zwar müde sein, aber jetzt bin ich erstmal happy."
Manuel Lettenbichler:
"Nach dem Service bin ich zusammen mit Graham (Jarvis) wieder auf die Anderen aufgelaufen, wir haben uns dann gut durchgekämpft und konnten Alfredo (Gomez) und Wade (Young) übrholen. Durch den hohen Speed den wir fahren, ist es wirklich anstrengend. Und ziemlich heiß ist es ja auch. Alles in allem war es ein guter Start in die Woche für mich."
Die Silber-Klasse hatte 123 Kilometer klassische Romaniacs-Strecken zu bewältigen. Der Wechsel zwischen Auf- und Abfahrten und flüssigen Strecken, ermöglichte den Fahrern zumindest ein kurzes Durchatmen bevor sie die nächste Überraschung erlebten. Nick Fahringer (USA) und Toniu Mulec (SVN) hatten den ganzen Tag über einen spannendes Duell, das erst in der letzten Sektion vor dem Ziel entschieden wurde. Hier konnte sich Fahringer absetzen und den ersten Platz nach Hause bringen. Mulec wurde Zweiter und Jamie Lewis (GBR) belegte Platz drei. Emanuel Gyenes, der zum 18. mal bei den Romaniacs am Start steht, musste heute seine mechanischen Fähigkeiten unter Beweis stellen, nachdem er sich zweimal den Kupplungshebel abgebrochen hatte. Trotzdem kam er noch auf Platz 14 ins Ziel. Bester Deutscher in der Silber-Klasse wurde Rookie Max Faude: "Ich bin als 18. gestartet und konnte ziemlich gut nach vorne fahren, bis mich ein Sturz ausgebremst hat und ich ein paar Minuten Pause machen musste, ich kam als zehnter ins Ziel. Morgen geht's weiter!" Der österreichische Ski-Star Marcel Hirscher konnte das Rennen nach einem Sturz heute nicht beenden.
Die Bronze-Fahrer hatten einen langen Tag vor sich und mussten 130 Kilometer absolvieren. Von ihrem Vormittag waren sie begeistert. Die Strecke war schnell und größtenteils trocken, mit einigen schwierigen Auf- und Abfahrten, vor allem die letzte Abfahrt ins Ziel hatte es in sich. Hier wurde den Berg herunter geschlittert was das Zeug hielt und es war recht belebt, da die Strecken von verschiedenen Klassen hier zusammen kamen. Pol Tarres ließ es zu Beginn noch etwas langsamer angehen, kam dann im Laufe des Tages aber immer besser in Fahrt und manövrierte seine schwere Yamaha Tenere 700 fast schon spielerisch durch das technische Gelände. Bis zum Service lag der Deutsche Valentin Rehrl in Führung. Eingebremst von Stürzen musste er sich im Ziel jedoch mit Platz drei begnügen: "Das wichtigste für mich ist es einen guten Fluss zu finden und konstant durch zu fahren. Die Bedingungen sind perfekt, im Wald ist es schön griffig nur die Wiesen waren am Morgen noch ziemlich nass und rutschig. Nach dem Service bin ich im hohen Gras zweimal gestürzt, da muss man echt vorsichtig fahren, das hab ich jetzt auch gelernt."
Die Iron und die Atom Klasse hatten einen schwierigen Start und die Fahrer kämpften mit den rutschigen Bodenverhältnissen, sodass die Energiereserven früh aufgebraucht waren. Am Nachmittag waren die Fahrer froh, auf flowigen Trails zurück zum Ziel fahren zu können. Beide Klassen hatten heute zum Einstieg etwas kürzere Renndistanzen.
Trotz der heutigen bereits anstrengenden 116 km, 9347 Höhen- und 9408 Tiefen-Metern werden die Gold-Fahrer bald merken, dass es die nächsten Tage über nicht einfacher wird. Martin und die Strecken-Manager haben noch einige der härtesten Streckenabschnitte wie "Galindo Hill", "Babysitter", "Lost World" und "Kill 'em all" in der Hinterhand. Morgen wird in Gura Raului die erste Marathon-Biwak-Etappe in der Romaniacs Geschichte gestartet, dadurch kann die Rallye in ganz neue Gebiete tief in den Karpaten vorstoßen. Nach dem Service-Point am Offroad Tag 2 sind alle Teilnehmer auf sich alleine gestellt, bis sie am dritten Offroad Tag wieder von ihrer Crew beim Service in Empfang genommen werden.
Martin Freinademetz: "Heute war der erste richtige, lange Offroad-Tag von "Vertical Madness Reloaded" 2021.  Es war definitiv ein schöner Renntag, was sich auch in den Ergebnissen widerspiegelt, denn die Mehrheit der Teilnehmer konnte das Rennen heute beenden. Nur die Silber-Klasse schien ein wenig leiden zu müssen: Wir hatten trockene Bedingungen erwartet, aber ein kurzes Gewitter in der Nacht machte die Strecke recht anspruchsvoll und es wurde nass genug, um rutschig zu sein. Dafür war es nicht mehr staubig. Auch heute Abend sind in einigen Gebieten wieder Gewitter zu erwarten. Wir werden morgen trotzdem die volle Länge fahren. Der erste Tag ist normalerweise recht kritisch und die Fahrer sind gerne mal etwas zu schnell unterwegs. Vielleicht hat der rutschige Boden sie heute vorsichtiger gemacht. Der Kampf um die Führung war sehr anspruchsvoll, man konnte sehen, wie der "König der Karpaten" (Graham Jarvis) an jedem Kontrollpunkt näher an die Führung herankam, und sie am Ende übernahm. Mani, der sich im letzten Jahr als Favorit etabliert hat, war ebenfalls gut unterwegs. Morgen geht es auf die Marathon-Etappe, im Finish sind die Fahrer auf sich alleine gestellt. Nur sie und ihr Zelte, keine Familien, Ehefrauen oder Support Crews. Das Wetter sieht gut aus, ich denke, wir werden eine schöne Zeit haben und ich freue mich schon darauf!"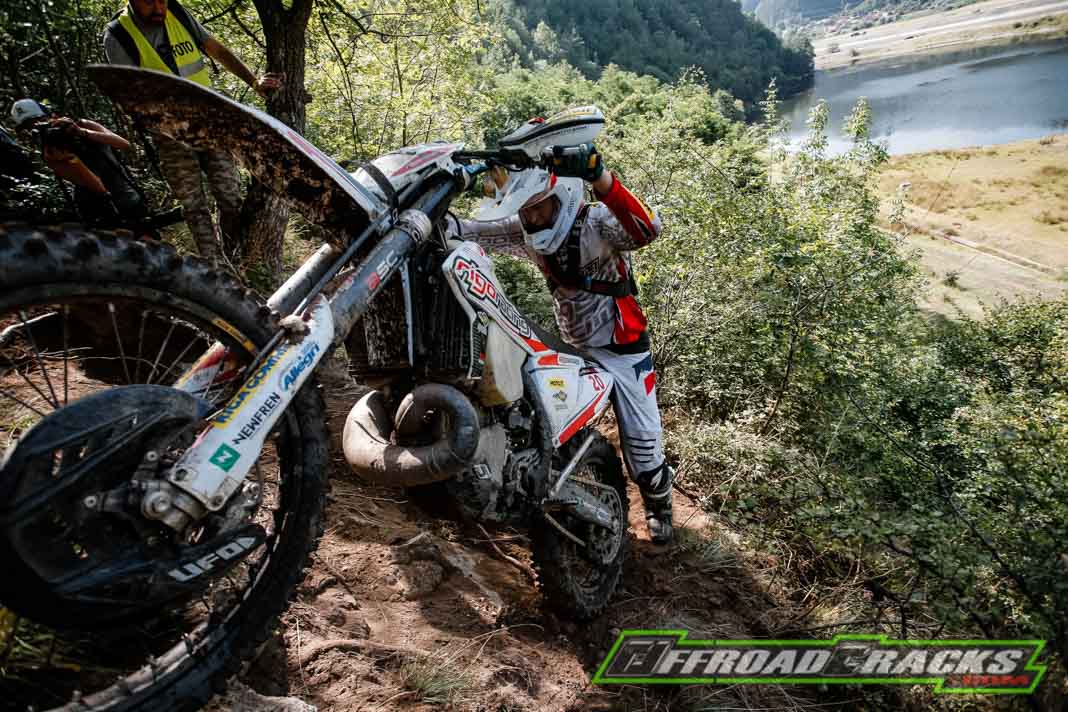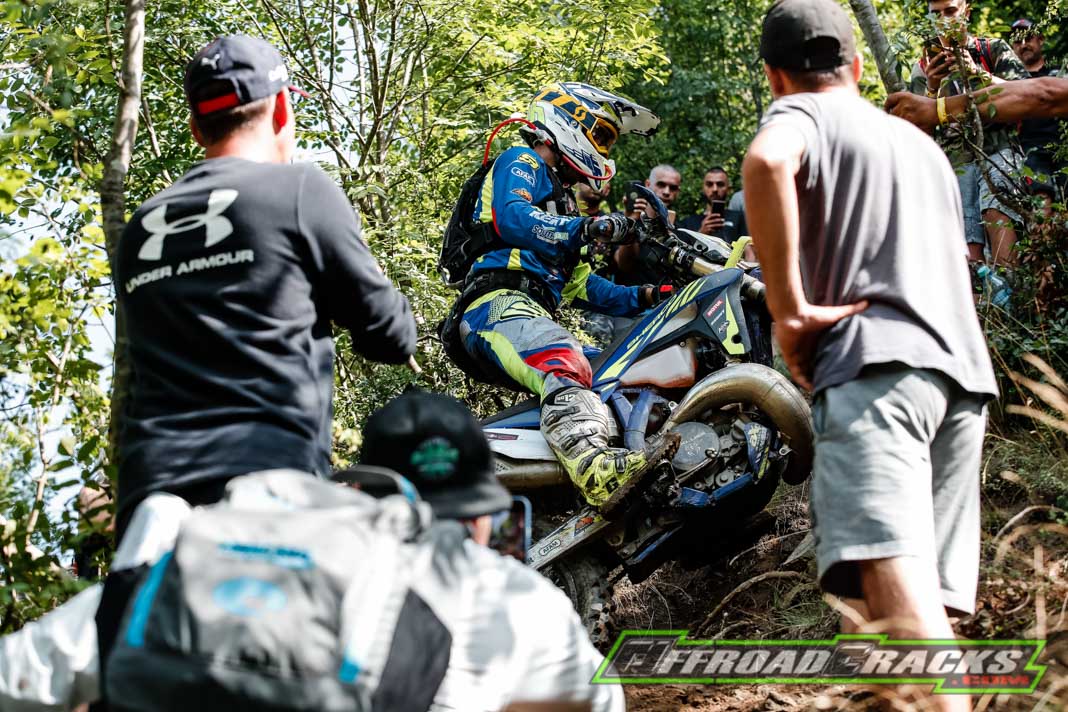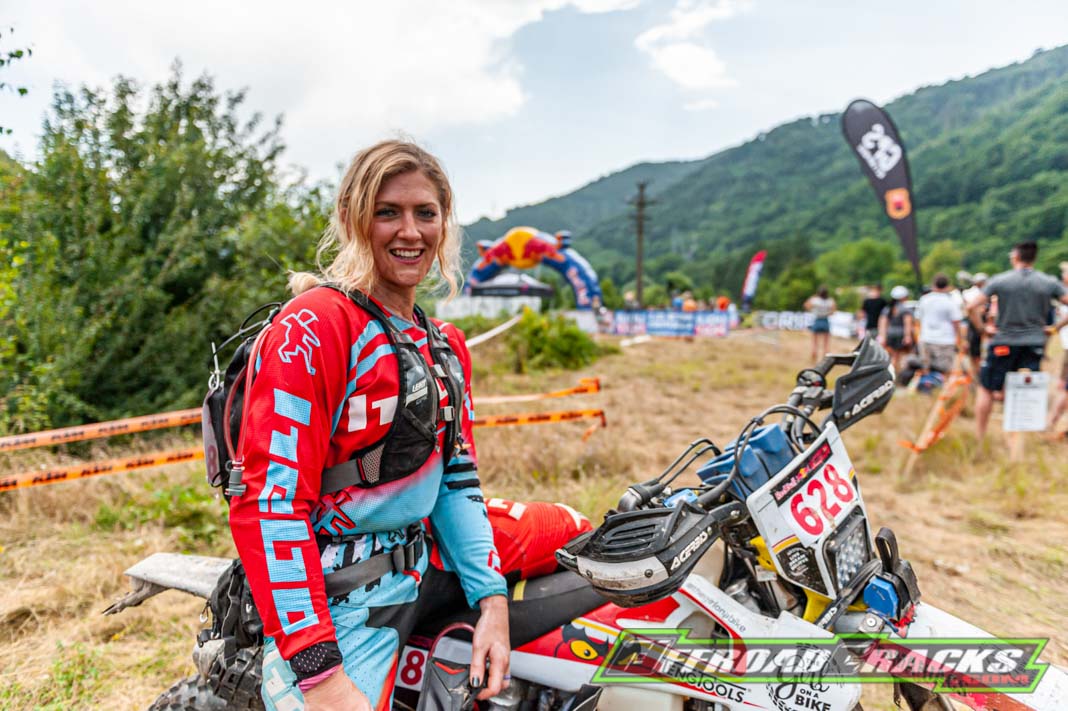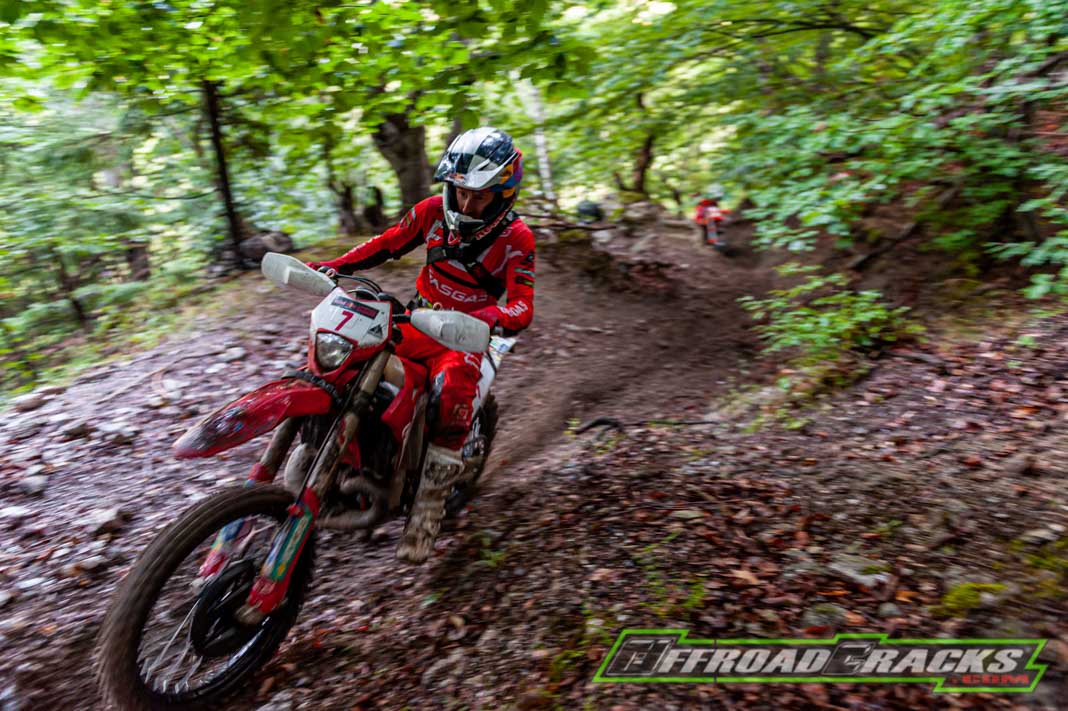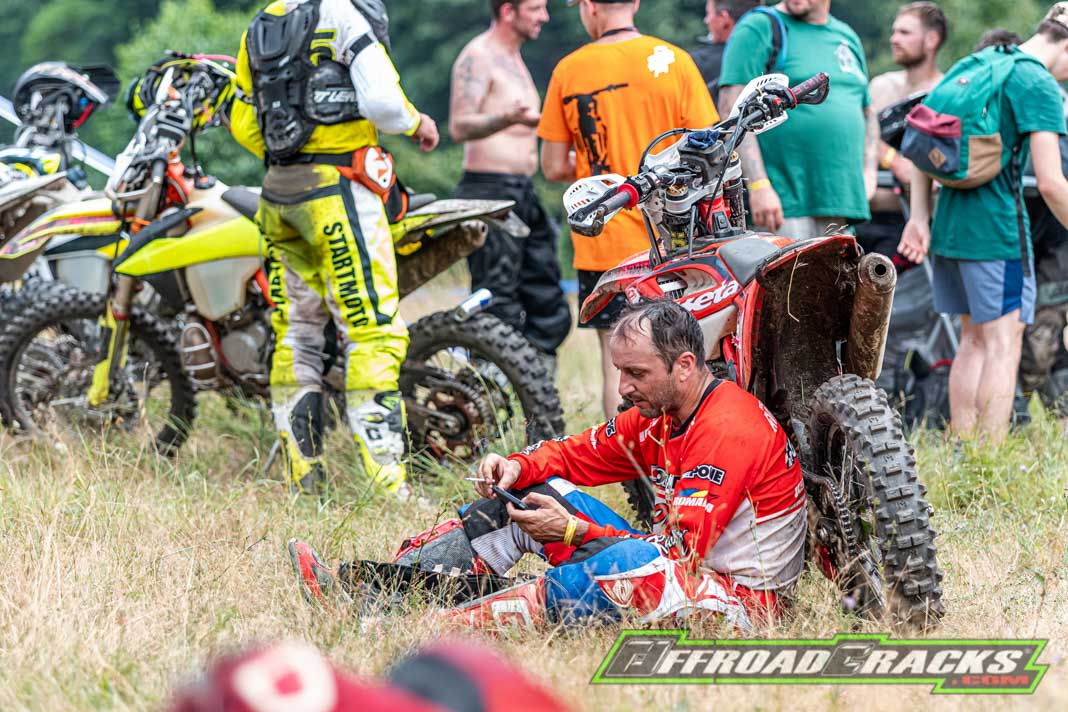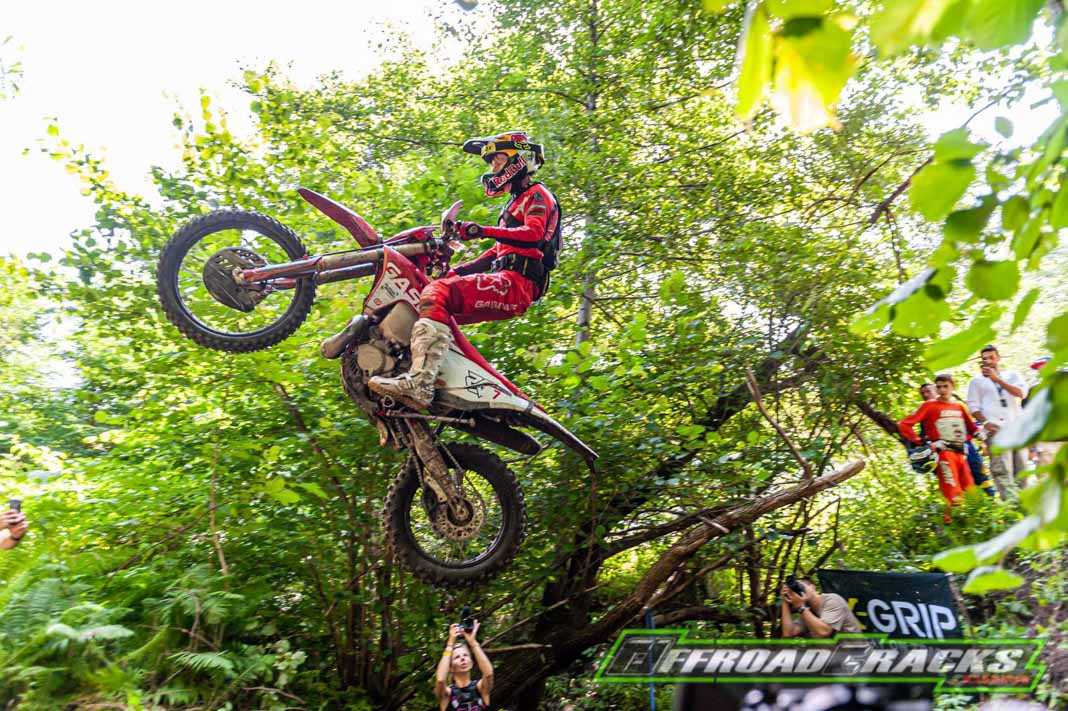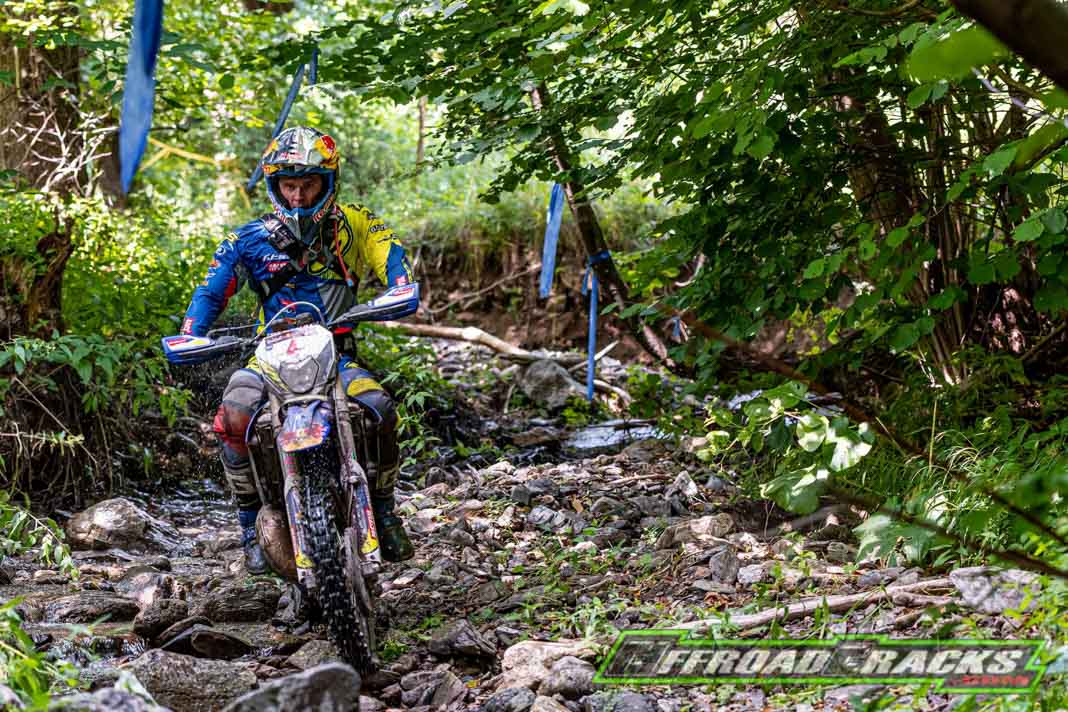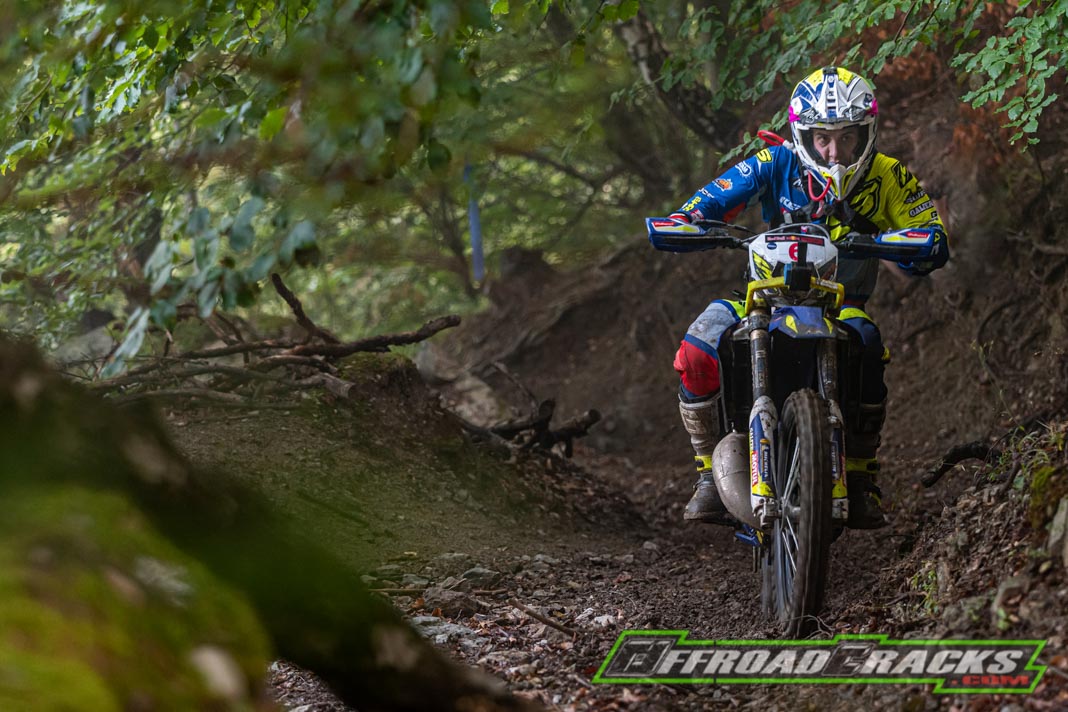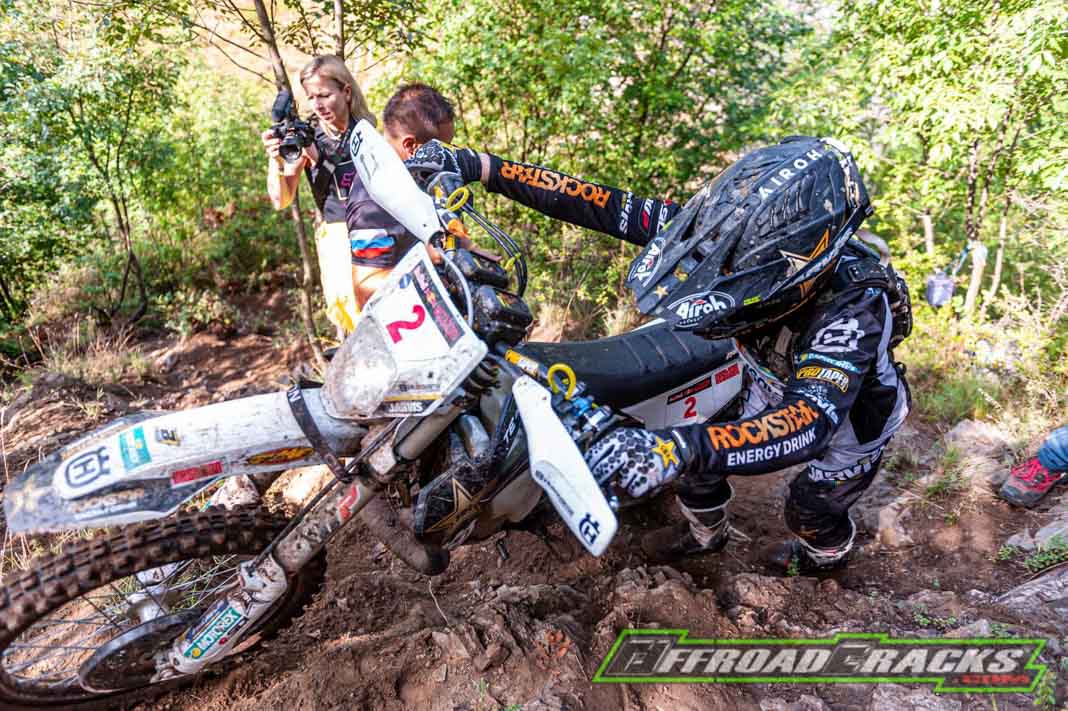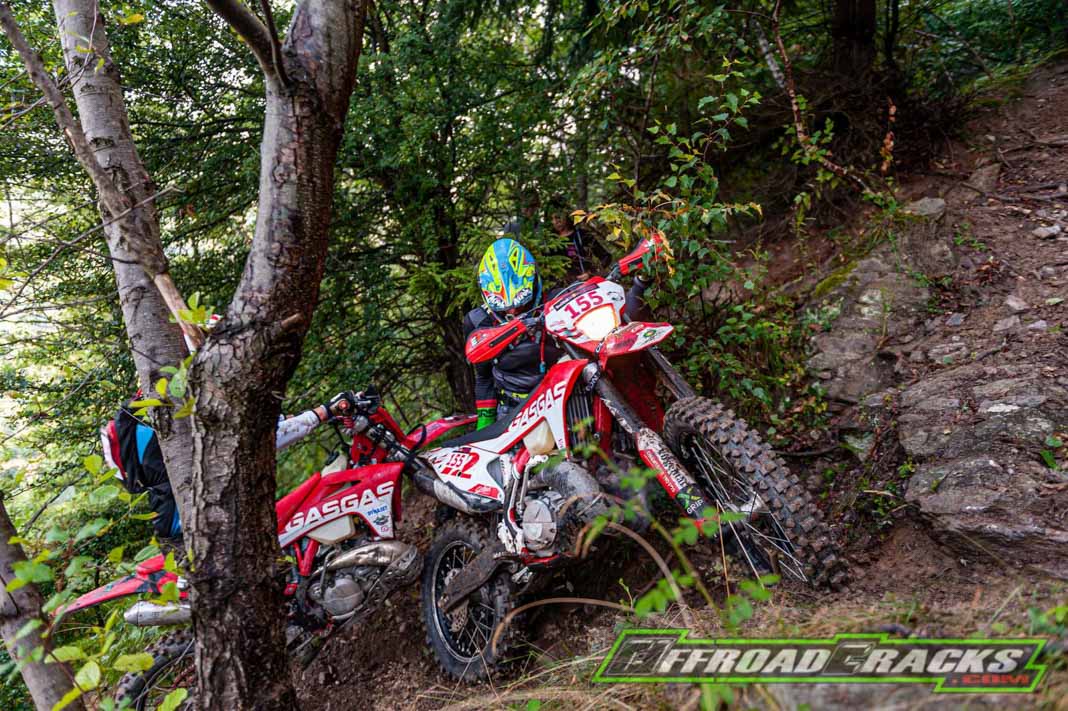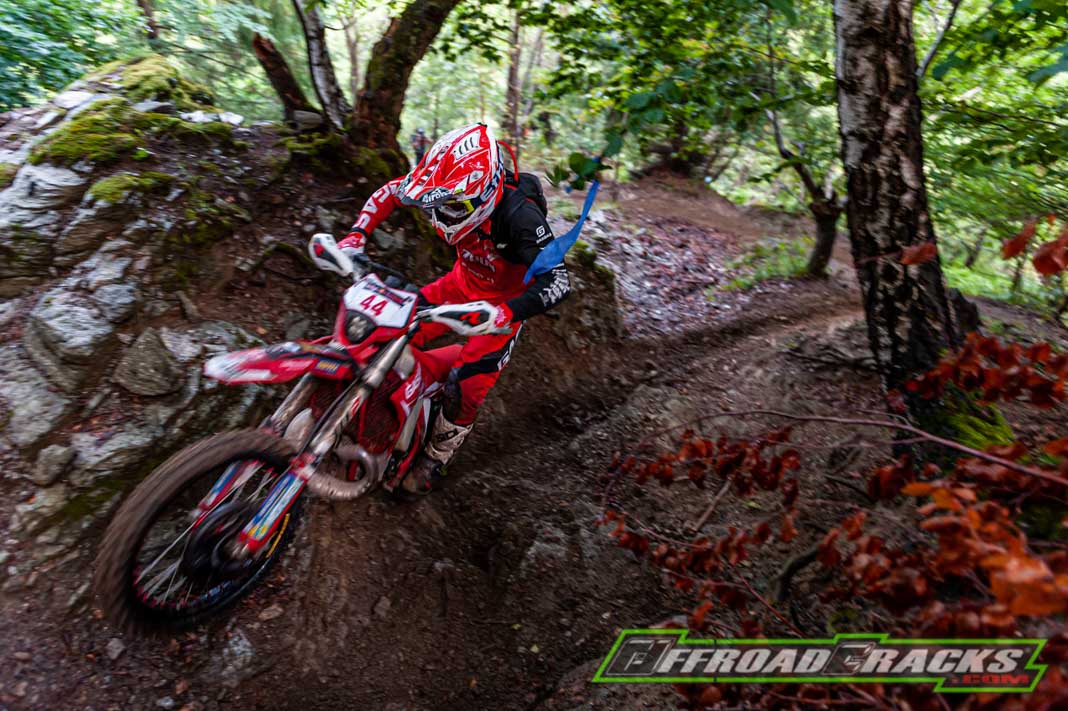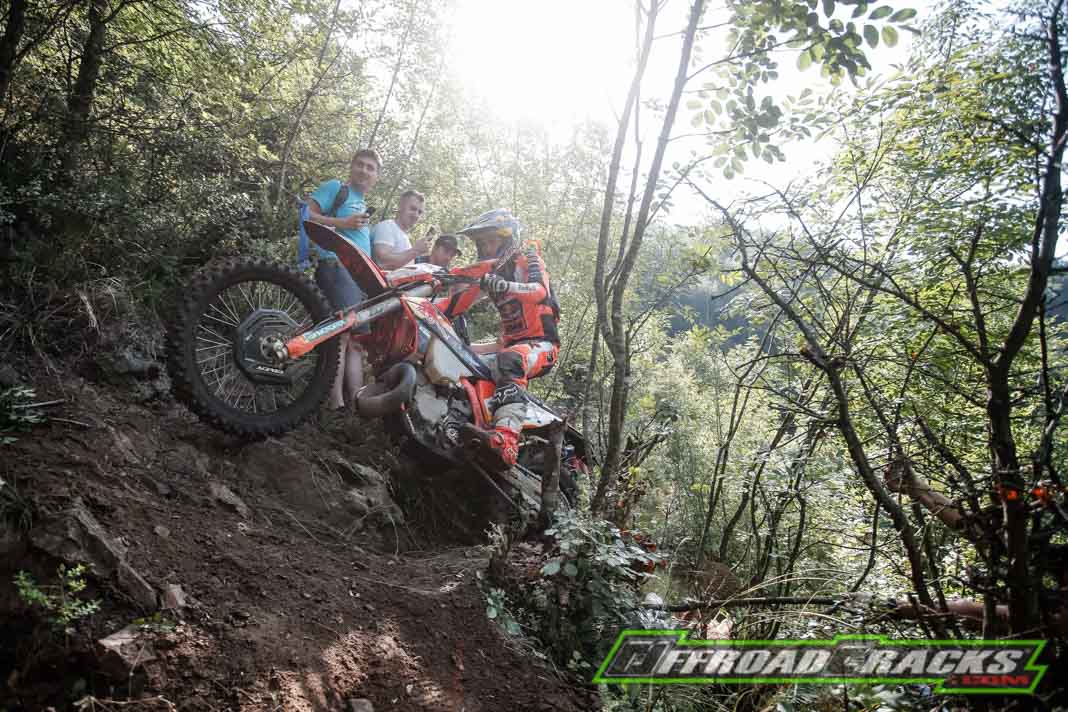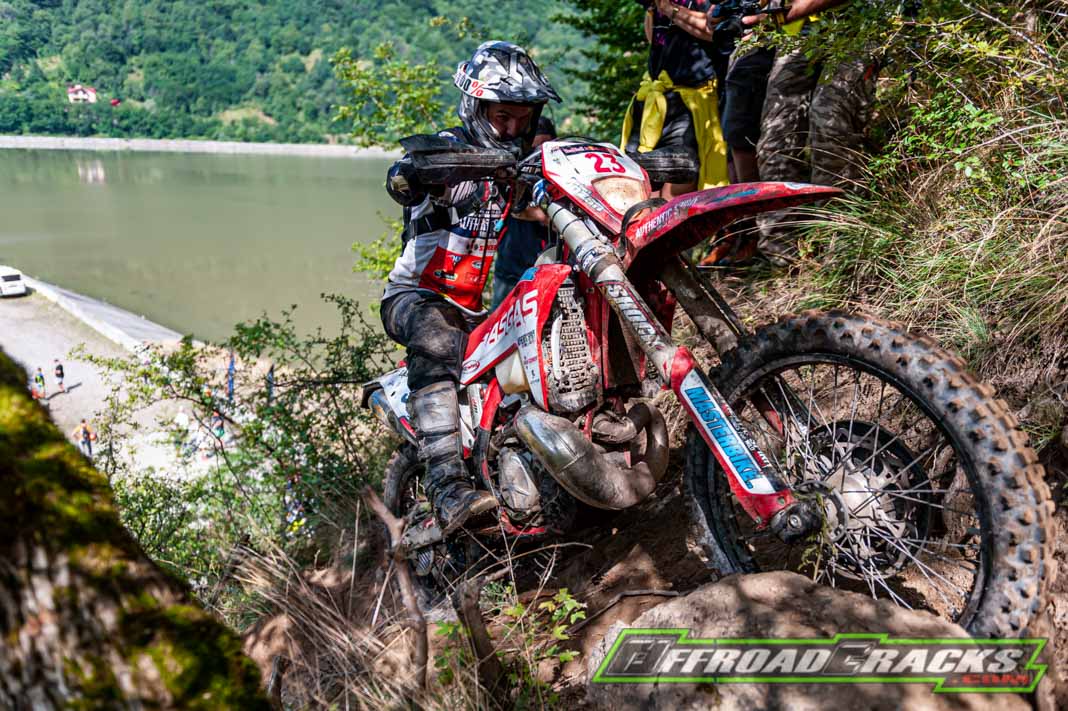 ---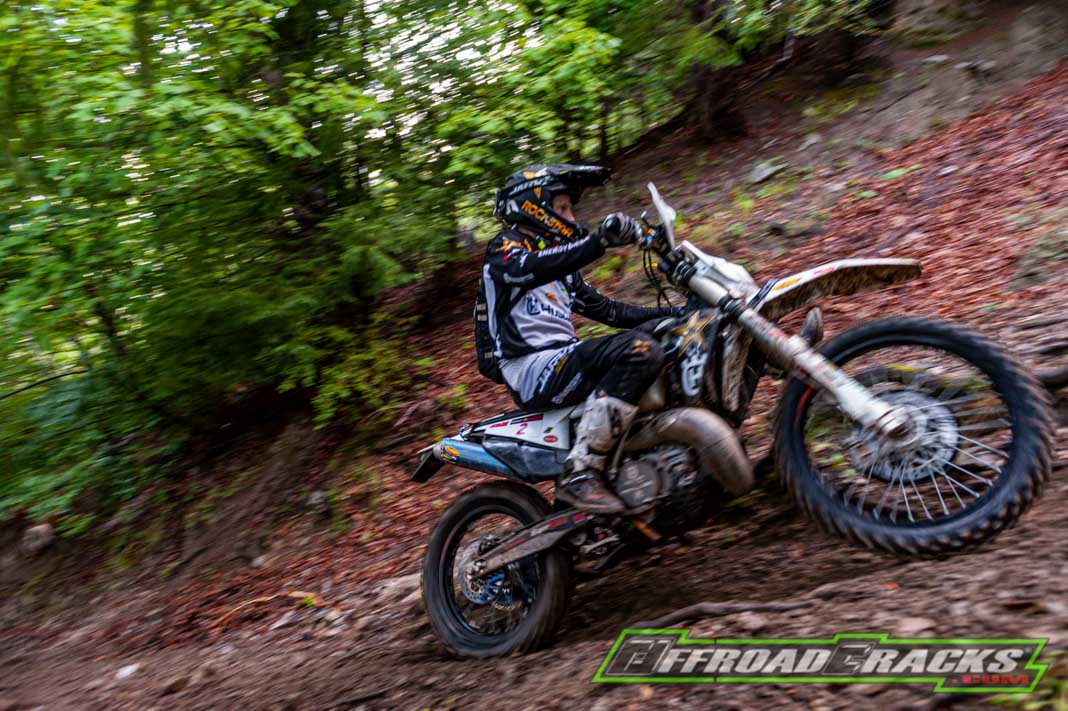 Rockstar Energy Husqvarna Factory Racing's Graham Jarvis has put in a winning ride on Offroad Day 1 at Red Bull Romaniacs, round four of the FIM Hard Enduro World Championship. The Brit finished fastest to take over the overall race lead from Germany's Manuel Lettenbichler with South Africa's Wade Young third.
Overnight rain and early morning mist made it a tricky start for competitors as the Gold class riders set off into the 116-kilometre-long day. While the drop in temperature was welcomed, the rain would make some of the descents increasingly slippery for those opening the course.
Third in yesterday's Time Trial, Rockstar Energy Husqvarna Factory Racing's Alfredo Gomez was first to start Offroad Day 1, by virtue of the reversed start order from yesterday's top three. He was followed by young Bulgarian hotshot Teodor Kabakchiev (Husqvarna) who was eager to build on his result of second, 24 hours earlier. Time Trial winner Sherco Factory Racing's Wade Young was third off the line.
With the top three feeling their way through the conditions, they were soon caught by KTM Factory Racing's Manuel Lettenbichler. But on corrected time it was Vision Track Beta's Jonny Walker who was fastest through checkpoint 1. Together with Mario Roman (Sherco) the later start time was playing right into Walker's hands.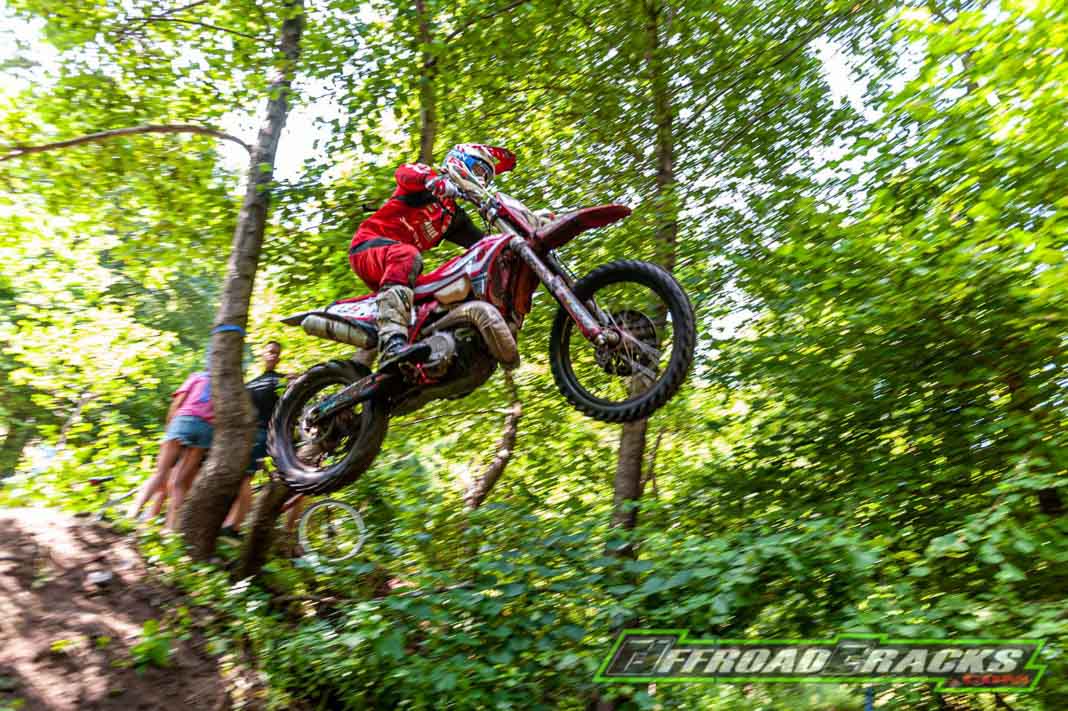 For the first half of the morning the pace was high. A GPS navigational issue just before service dropped Roman back outside the top three. Jarvis began to take the reins out front, setting some of the fastest checkpoint times.
Having shaken off a few mistakes in the morning, the six-time Red Bull Romaniacs winner was now on a charge. Topping three of the day's final five checkpoints, the Rockstar Energy Husqvarna Factory Racing rider claimed a healthy three-minute-and-29-second margin of victory over Lettenbichler to bump him to the top of the overall standings.
Enjoying a solid ride throughout, Lettenbichler steered his KTM home for second, keeping relatively close to Jarvis. Despite a strong ride exiting the service point, the day didn't quite go Young's way and he ended it third, losing nine minutes to Jarvis.
Working their way through traffic from 11th and 12th respectively, Roman and Walker gained the most places on Offroad Day 1. Walker edged out Roman, jumping from 12th to fourth, with Roman taking fifth, just 25 seconds behind the Beta rider in the overall standings.
Offroad Day 2 marks the beginning of the all-important marathon stage. Competitors will end the day in the forest where no outside assistance is allowed. Remaining fast, but preserving both rider and machine, will prove crucial in order to enjoy a relaxing night under the stars!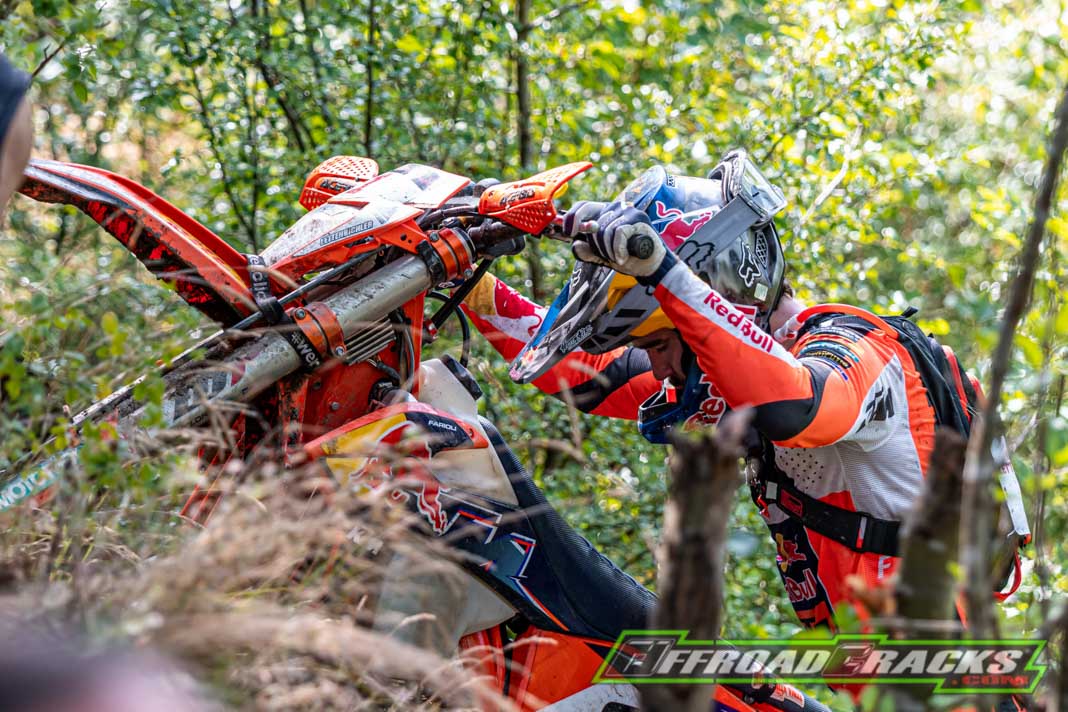 Graham Jarvis (Husqvarna): "It was actually an eventful day. I dropped into a hole early on, got lost in the mist, but then found my rhythm and started to pick off some riders. It's been a little bit of a surprise to win today, but I'm happy with that result because I feel like my riding is good. Yeah, tomorrow night in a tent should be interesting for an old guy like me, but I'm battling on!"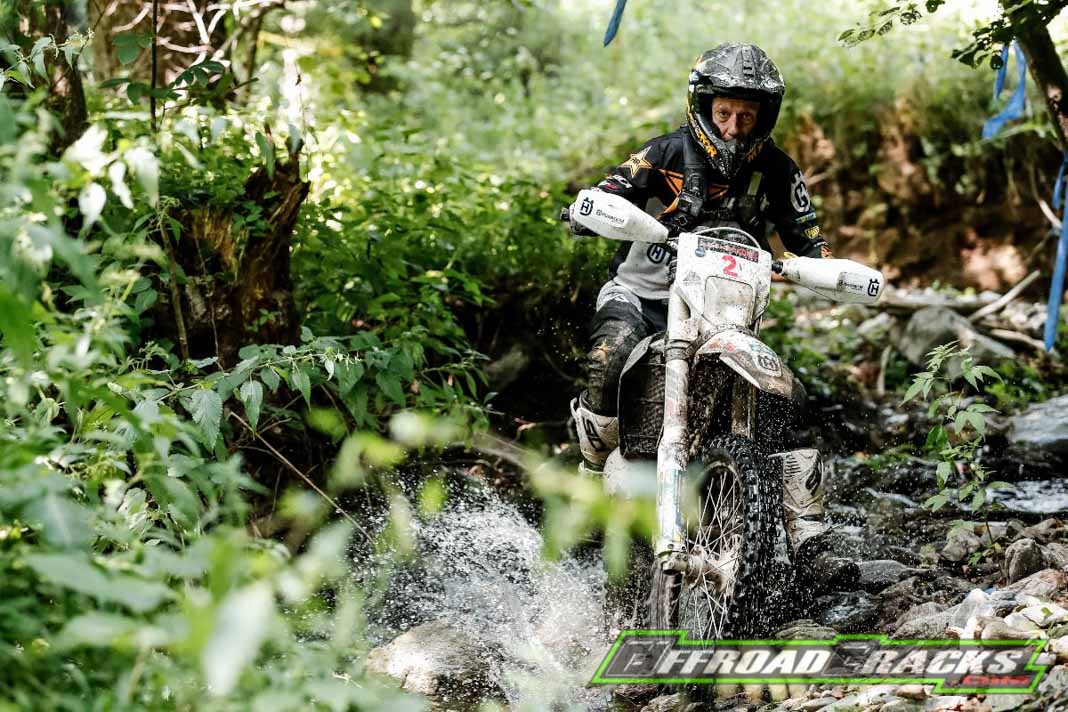 Manuel Lettenbichler (KTM): "I'm happy with that result today, I felt like I put in a solid ride. The pace of everyone up to the first service point was so high and we were all on the limit for sure. Graham rode insanely good and when he's at his best like that, he's tough! I feel like I'm off to a good start in Red Bull Romaniacs, tomorrow will be interesting and I'm excited for the marathon stage. We're heading into new riding areas and with tomorrow night's bivouac there should be good vibes at the finish. I'm excited to sleep in a tent!"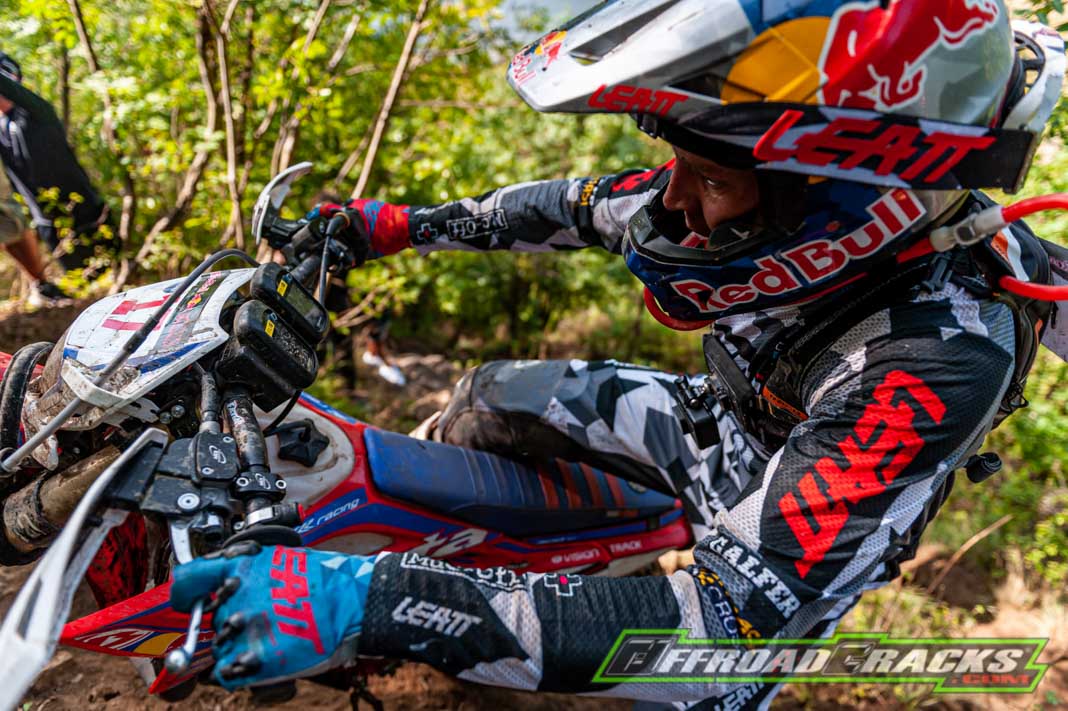 Jonny Walker (Beta): "I had a good start this morning and just made a couple of little errors in the second half of the day. But they were fairly normal for a race like this. Overall, I'm happy to get a big day like this in on my Beta and I feel like I'm riding well, with more to come. There's a long way to go, but a podium result is possible if I can keep things together – that's the goal."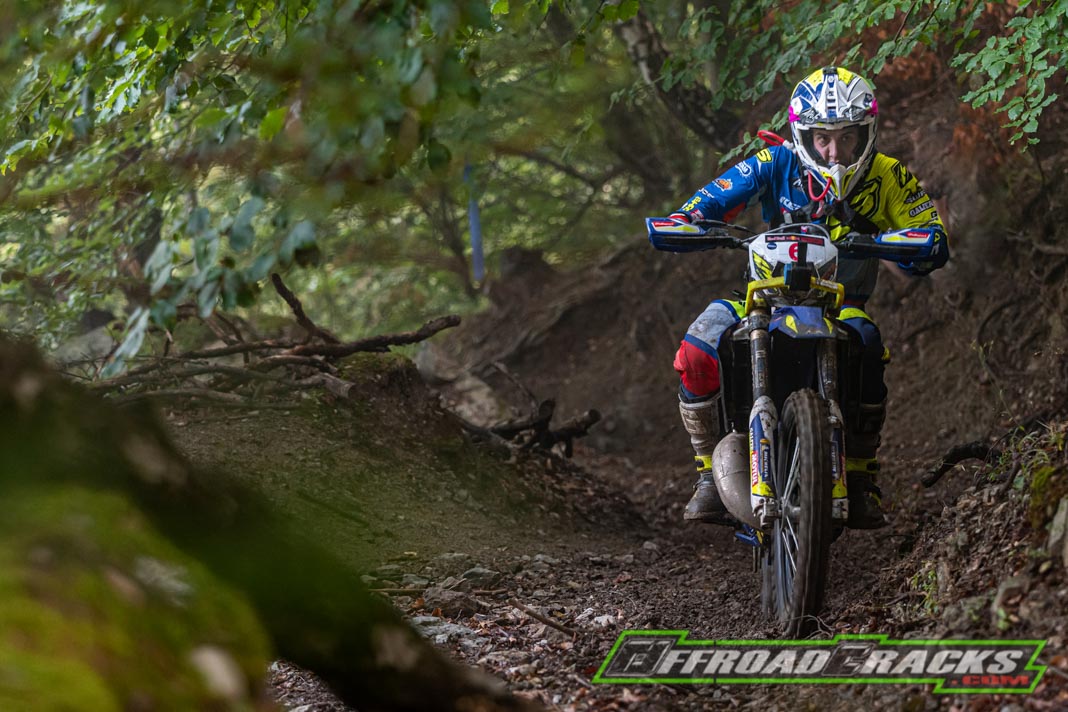 Mario Roman (Sherco): "I'm pleased with things today. I struggled a little with setup in yesterday's Time Trial so we changed a few things around and it seemed to work much better. Conditions this morning were slippery with the rain and fog, which came as a surprise overnight. You needed to be careful on the downhills. After a strong start, I had a GPS issue before service, so I had to retrace my tracks. But I got it fixed and was able to put another strong ride in during the second half of the day. Overall, it's been a good start to the week and I will push again tomorrow."
Results: Offroad Day 1
1. Graham Jarvis (Husqvarna) 4:51:07
2. Manuel Lettenbichler (KTM) 4:54:36
3. Wade Young (Sherco) 5:17:00
4. Jonny Walker (Beta) 5:05:01
5. Mario Roman (Sherco) 5:05:31
6. Teodor Kabakchiev (Husqvarna) 5:08:38
7. Alfredo Gomez (Husqvarna) 5:10:39
8. Billy Bolt (Husqvarna) 5:13:34
9. Taddy Blazusiak (GASGAS) 5:13:47
10. Michael Walkner (GASGAS) 5:15:07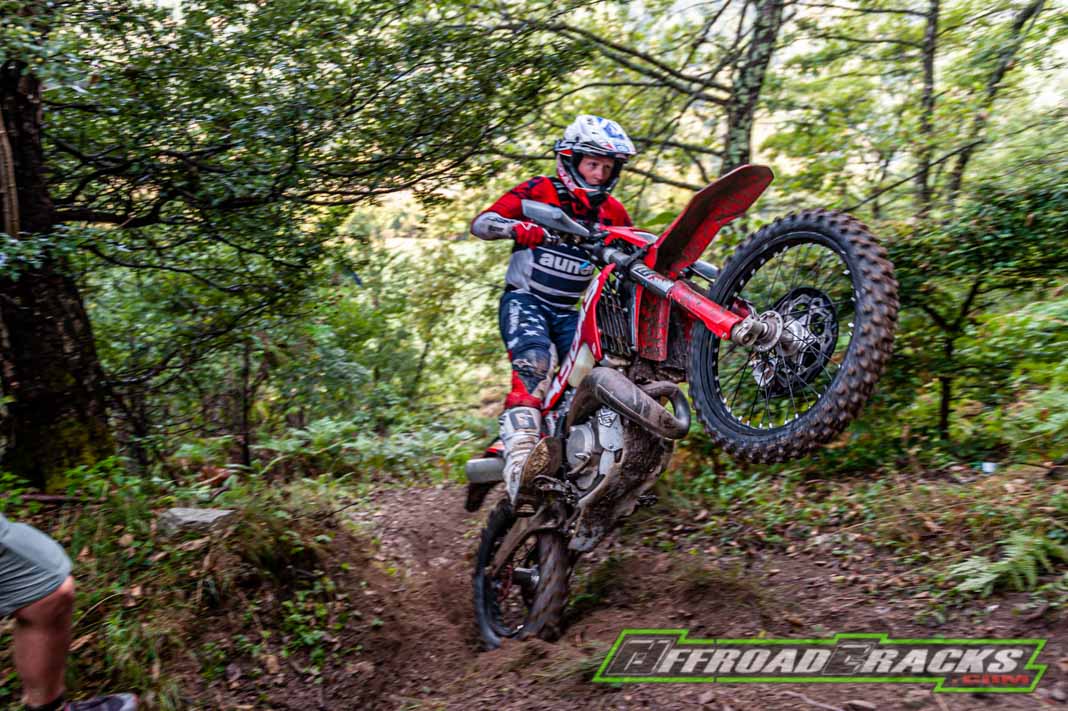 Overall Standings (After Offroad Day 1)
1. Graham Jarvis (Husqvarna) 5:29:49
2. Manuel Lettenbichler (KTM) 5:33:05
3. Wade Young (Sherco) 5:37:59
4. Jonny Walker (Beta) 5:46:05
5. Mario Roman (Sherco) 5:46:30
6. Teodor Kabakchiev (Husqvarna) 5:46:39
7. Alfredo Gomez (Husqvarna) 5:49:06
8. Taddy Blazusiak (GASGAS) 5:22:28
9. Billy Bolt (Husqvarna) 5:53:57
10. Michael Walkner (GASGAS) 5:54:46
Additional reporting from the organiser
A beautiful Red Bull Romaniacs Offroad Day 1 started today from the well known steel bridge crossing the Olt River, in the Râul Vadului region south of Sibiu. Low fog was covering the valley and an unexpected rainfall overnight had washed away most of the dust, but left many of the hard sections in quite slippery conditions.
For the Gold competitors it was again an "all or nothing" kick off into the day. At 07:00 am they were unleashed onto the steep, rocky "Sheeps trail", warming them up instantly, followed by a smooth ride along the river to the "Nice One". After that, the fun kicked in at the "Sheep farmer" one of the Red Bull Romaniacs' signature sections. It was quite a struggle to get traction and riders were pushing their bikes in some of the steep rutted parts and were even helping each other when the bikes were slipping away.
There were a few games of tag taking place during the first part of the morning in particular between Alfredo Gomez and Teodor Kabakchiev, who was hot on his heels. Teodor passed Gomez in the "Sheep farmer" section for a while, meanwhile Manuel Lettenbichler and Wade Young were battling it out back and forth all the way to the service point where Wade arrived a bike length ahead! Jonny Walker, Billy Bolt and Taddy Blazusiak were also back and forthing, struggling to break away from one another. These "Alpha"-battle-proven Romaniacs veterans were being chased hard by some of the newcomers in the Romanian forest like Trystan Hart and Michael Walkner, who were pushing hard and posing as a possible threat during the first half of the day.
By the time they reached the service point, located on a plateau in the Toscana Hills, the tracks, despite being quite slippery, were in near perfect condition. After a 20 minute break riders set out again and it appeared that the track managers were showing some mercy and eased up on the steep climbs and offered some flowy riding through the smooth enduro terrain surrounded by the spectacular Romanian landscape. But in true fashion this did not last long, the wakeup calls came quick and hard with  "Martin's Idea" followed by "Dammed Dam", "Broke back Mountain" and "The Impossible". The final hour and a half to the finish would be what Martin Freinademetz refers to as "Really Gold" riding. The top guns broke away in these technical sections, carefully selecting lines that left the less experienced behind fighting their own battle. And then there was Graham Jarvis, having missed his 7th Romaniacs victory by only 2 minutes last year, due to a crash and placing 6th in the TTQ yesterday his determination was steadfast.  He "silently" started from the back this morning and kept a low profile. But after the Service Point he took the lead, had a technically smooth afternoon and gave his all through the tough sections and  descending the final steep downhill. At the end of the day, Graham was the fastest rider to pass through the finishing arch, followed by Mani in second and Wade in third.
Graham Jarvis: "The day went really well, the bike was good, really happy with the way I rode. I started 6th and managed to pass everybody. The first day is the day I have the most energy so I've got to go for it, I'll get tired the remaining days, so I'm really happy".
The Silver class had 123 km of classic Romaniacs tracks. Starting out there were some steeper uphills and downhills which then progressed into faster, flowy tracks where riders were able to open up before being dealt some final surprises. Nick Farhinger (USA) and Toniu Mulec (SVN) seemed to be duelling throughout most of the day and ahead of the rest of the pack until the last difficult section when Fahringer pulled away and finished in first place, Mulec in second and Jamie Lewis (GBR) in 3rd. Emanuel Gyenes, in his 18th year of Red Bull Romaniacs, was able to put his mechanical skills to the test after breaking his clutch lever, which he went on to damage again in another small crash and he crossed the finish line in 14th place today. Ski-star Marcel Hirscher from Austria could not finish the race after a crash today.
The Bronze riders were elated with their morning, the tracks were fast and mostly dry with some tough ups and downs, especially the final descent into the finish where riders cartwheeled down the slippery slope leaving a pile of carnage for the Gold class to dodge around when they arrived at the scene! Pol Tarres seemed to start out slightly slower and then gather momentum and pick up speed as the day progressed. He displayed jaw-dropping riding skills through the 130km of tracks, maneuvering his roaring Yamaha Tenere 700 through the technical terrain alongside the light and nimble, by comparison, enduro bikes, some of them already stranded right and left of his path.
The Iron class had a tough start with some sections becoming slick in the overnight rain. Some competitors drained their energy resources quite early on. By the afternoon they were happy to cruise some grassy, flowy trails above the Olt River and relieved to have a shorter day today, 89km. The Atom riders showed signs of struggling in some muddy, wet log sections in the forests and the gap between the leaders grew as the day went on.
After a tiring 116 km, an elevation gain of 9347m and descent of 9408m the Gold competitors will soon realize that things are not going to get any easier on the second day. With their history of setting the stage for extreme enduro, Martin and the track managers will, in true Red Bull Romaniacs style, navigate the tracks through some of the toughest signature sections like "Galindo Hill", "Babysitter", "Lost World" and "Kill 'em all" whilst offering up some fast sections in between to show some compassion. The start will be at Gura Raului.
This year's competitors will be the first ever to partake in the "competitors only" marathon bivouac stage. After passing through the Service Point competitors have no more support help until the Service Point the following day on Offroad Day 3.  By adding this stage the rallye will be able to access new offroad regions even further out into the wilderness. As if the level of extreme riding terrain and hard endurance required both mentally and physically isn't enough this stage takes it one step further including each rider being responsible for their own bike mechanics.
Martin Freinademetz: "Today's first real, long offroad day of Vertical Madness Reloaded 2021 has been definitely a beautiful racing day and this can be seen in the results with the majority of the participants finishing today's race. Only the Silver class seemed like they had to suffer a bit: We expected dry conditions but a short thunderstorm overnight made the race track quite challenging and wet enough to be slippery, yet no dust. We can also expect some thunderstorms tonight in some areas. We'll go for the full race length tomorrow. The first day is usually quite a critical day with racers maybe going a bit fast but maybe the slippery soil made them go more careful. The battle for the lead was very challenging, you could see the King of the Carpathians getting closer to the lead at each checkpoint and in the end he took the lead. Mani, who has proven himself last year,was also riding well. So far so good. Tomorrow we head to the marathon stage for only the riders and their tents, no families, wives or support crew. The weather looks good, I think we will have a nice time and I'm looking forward to that!"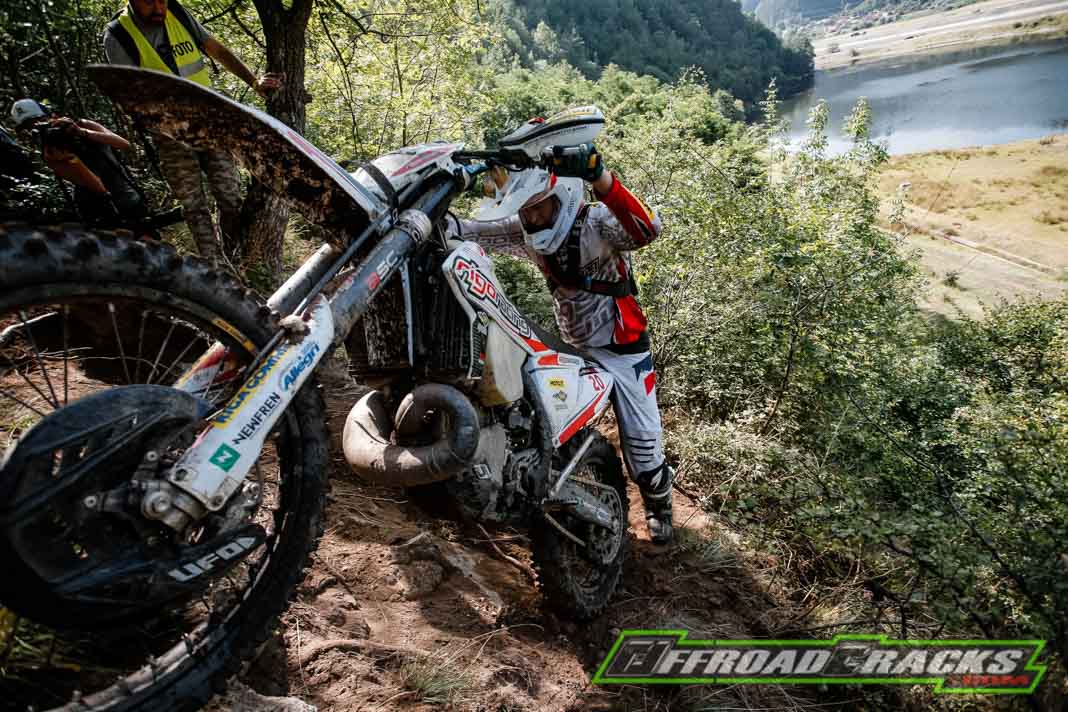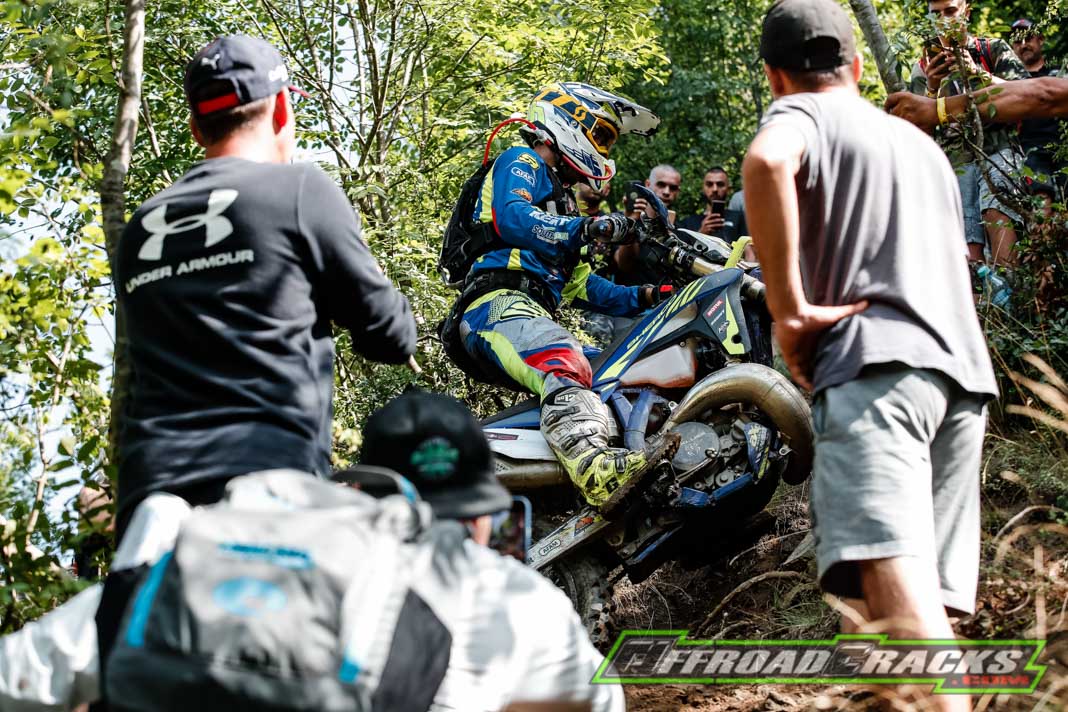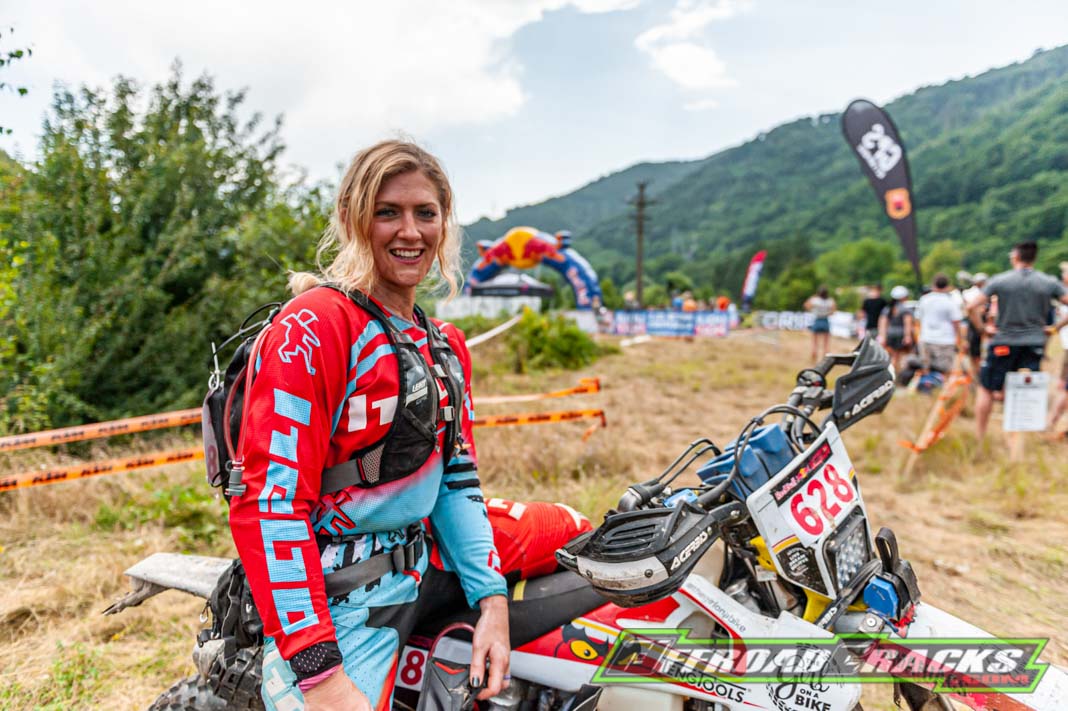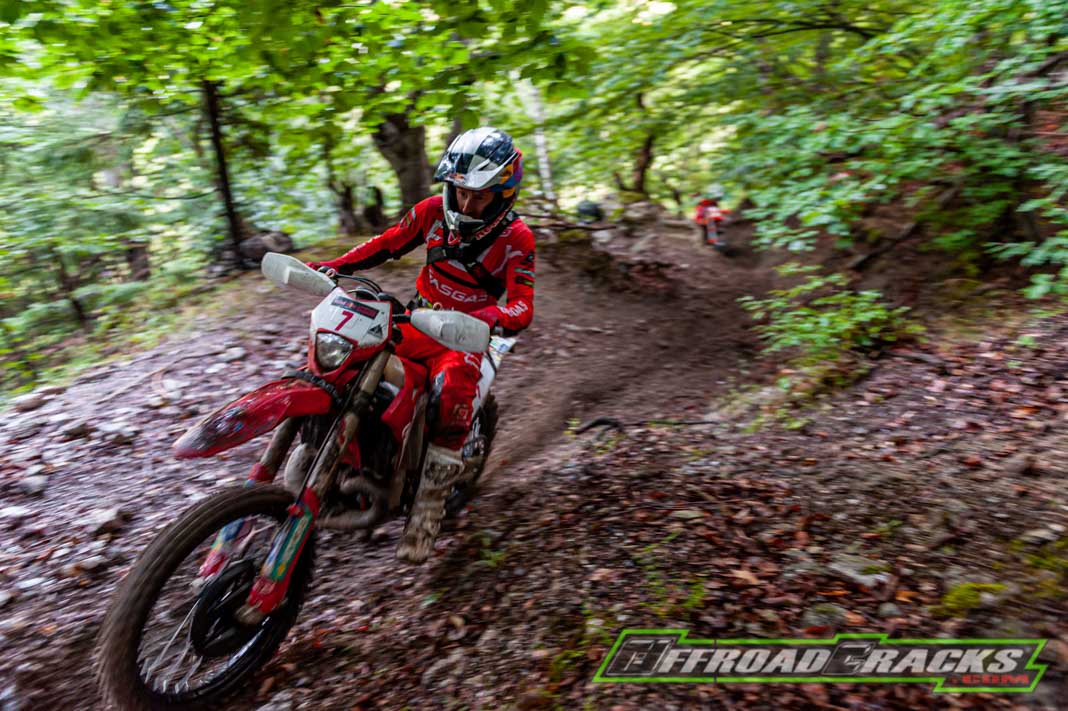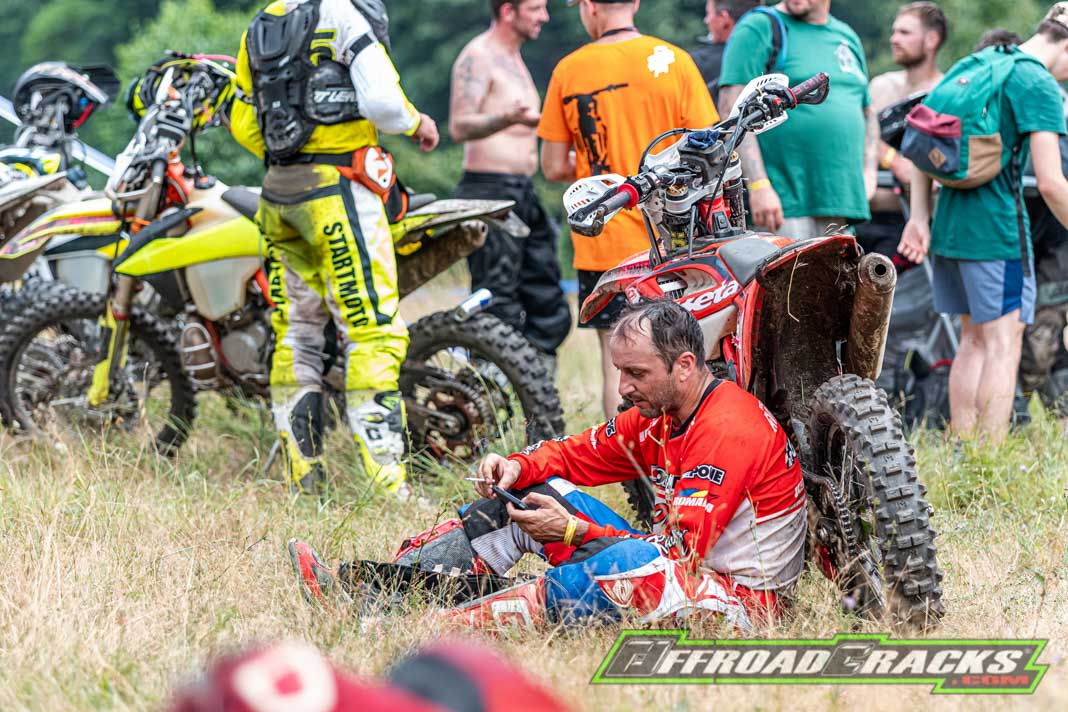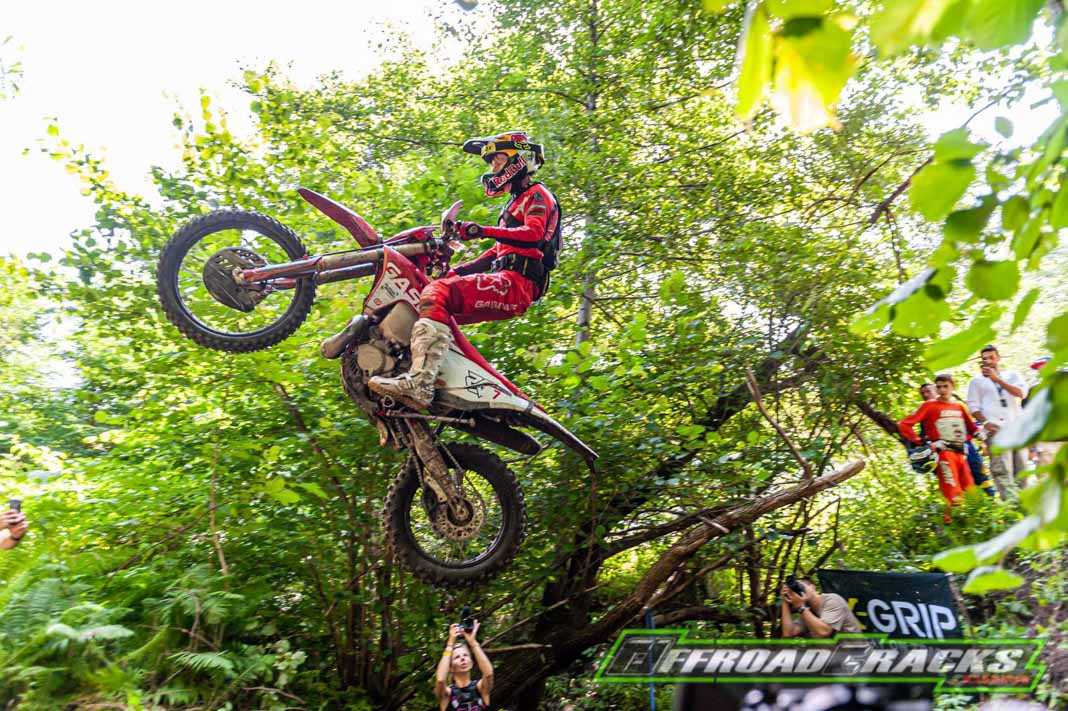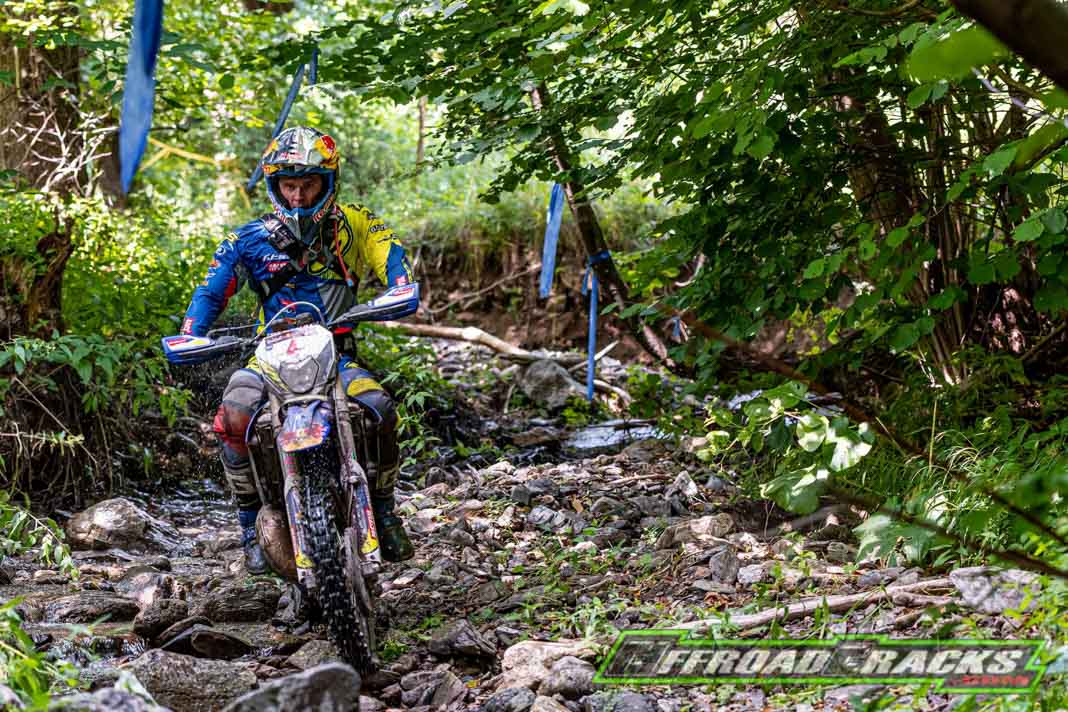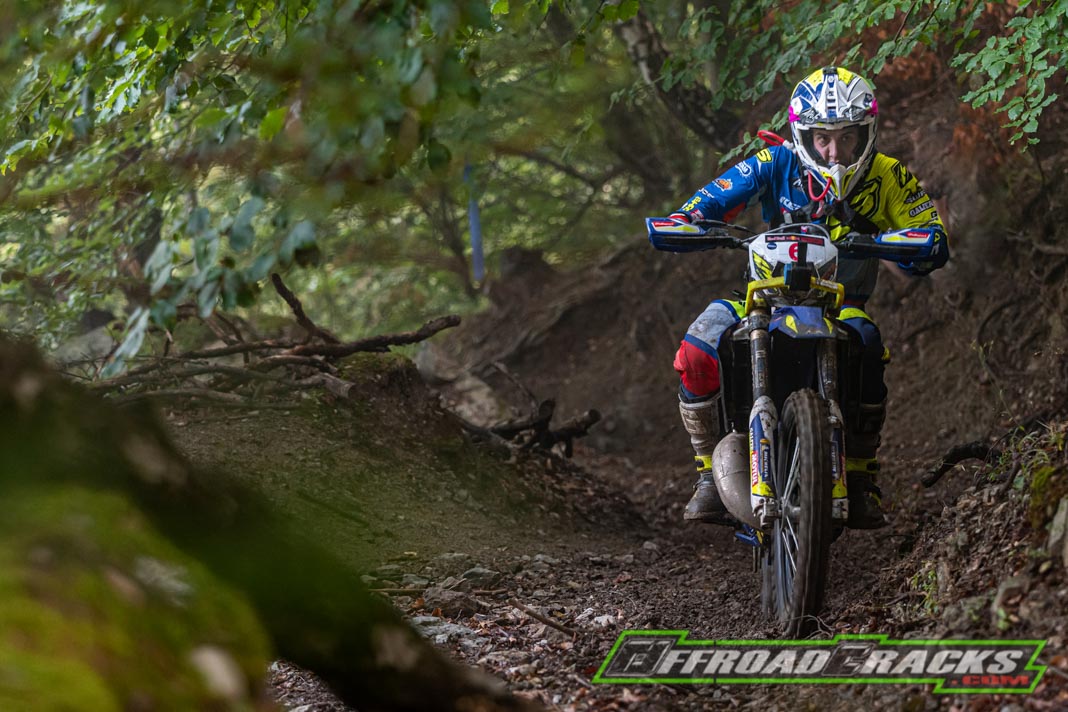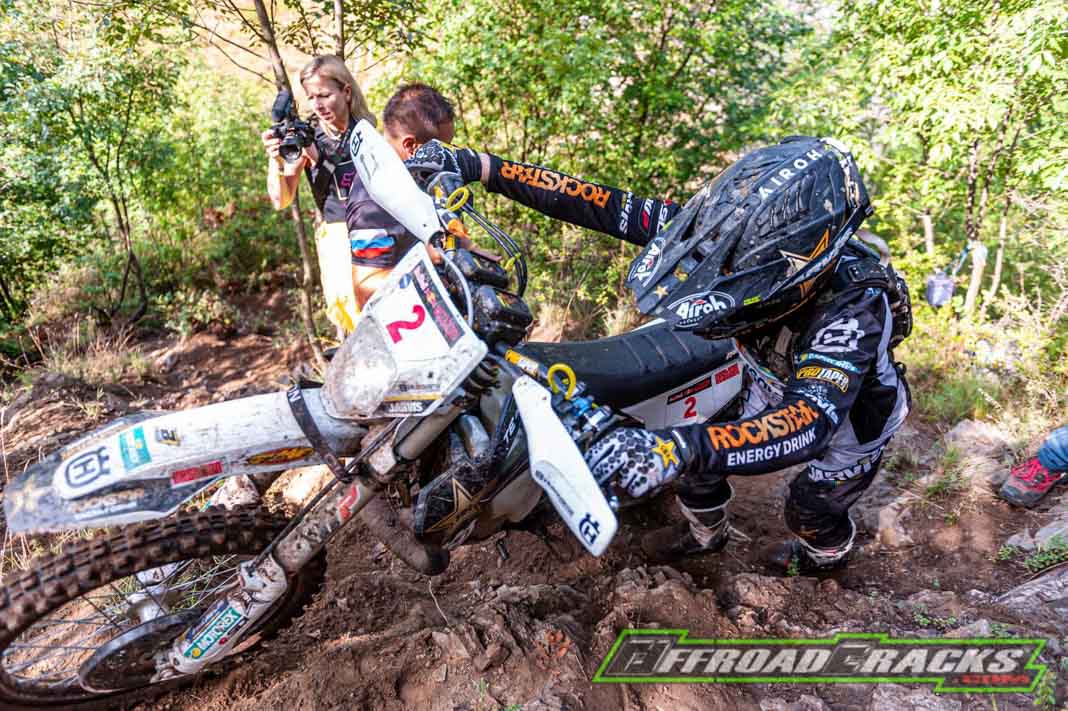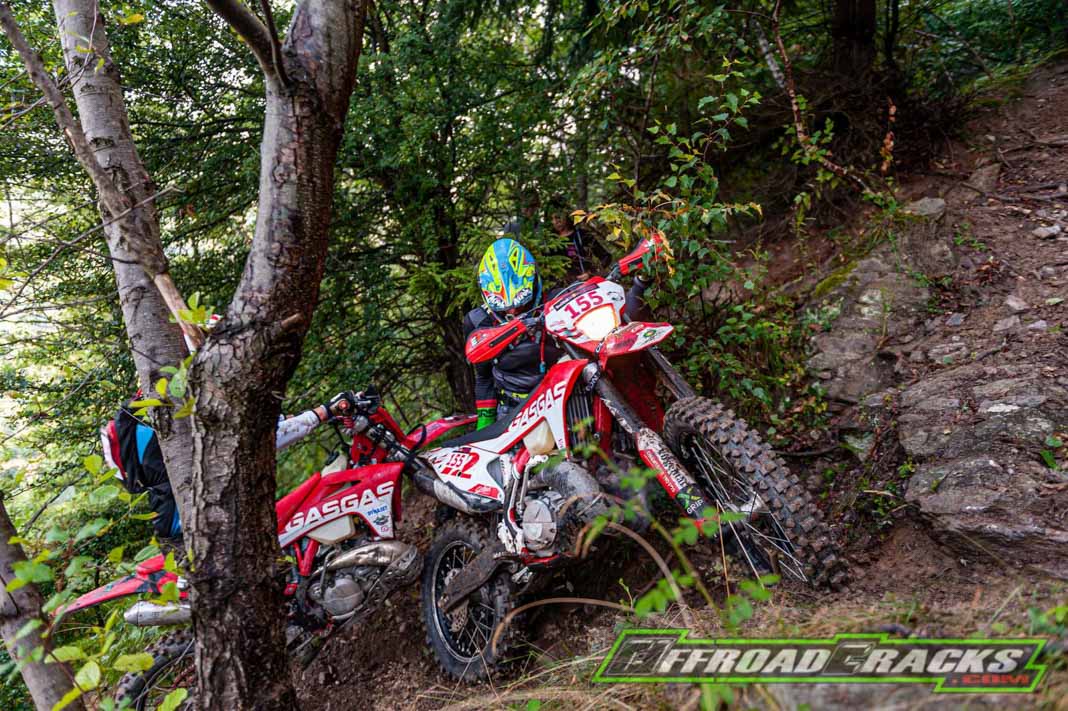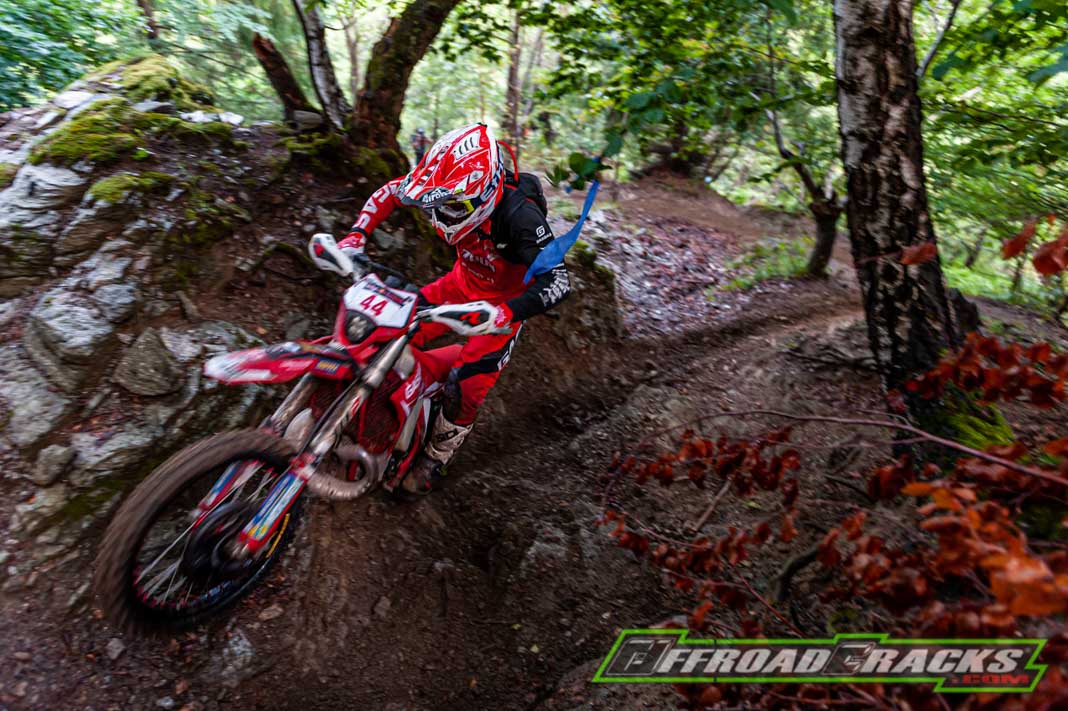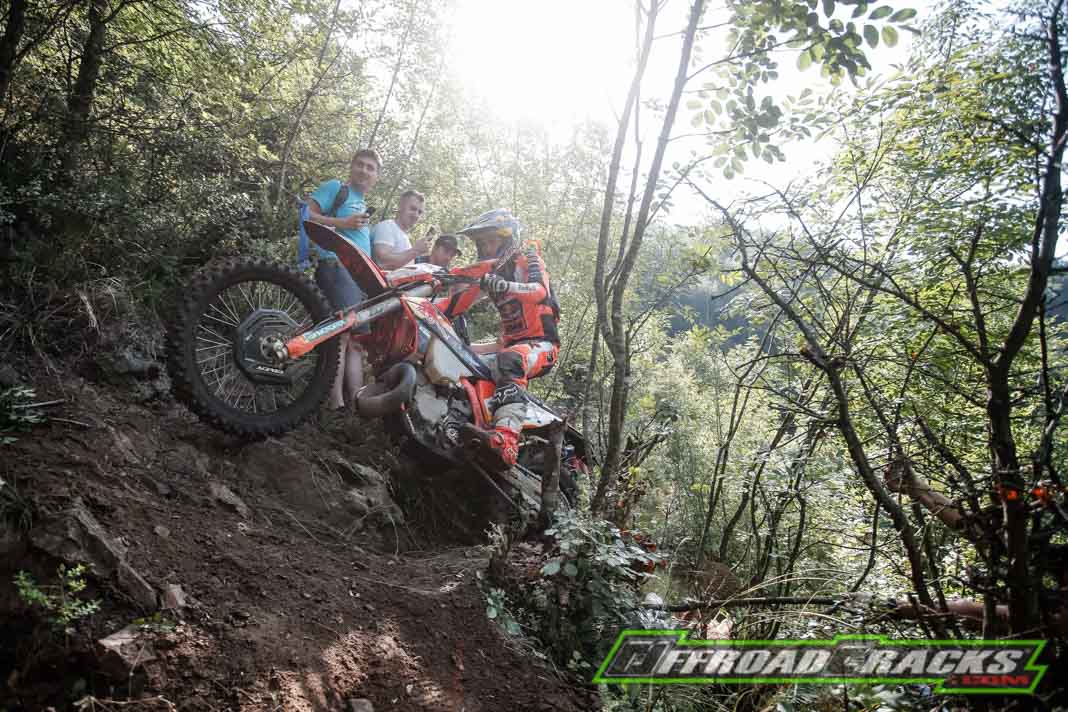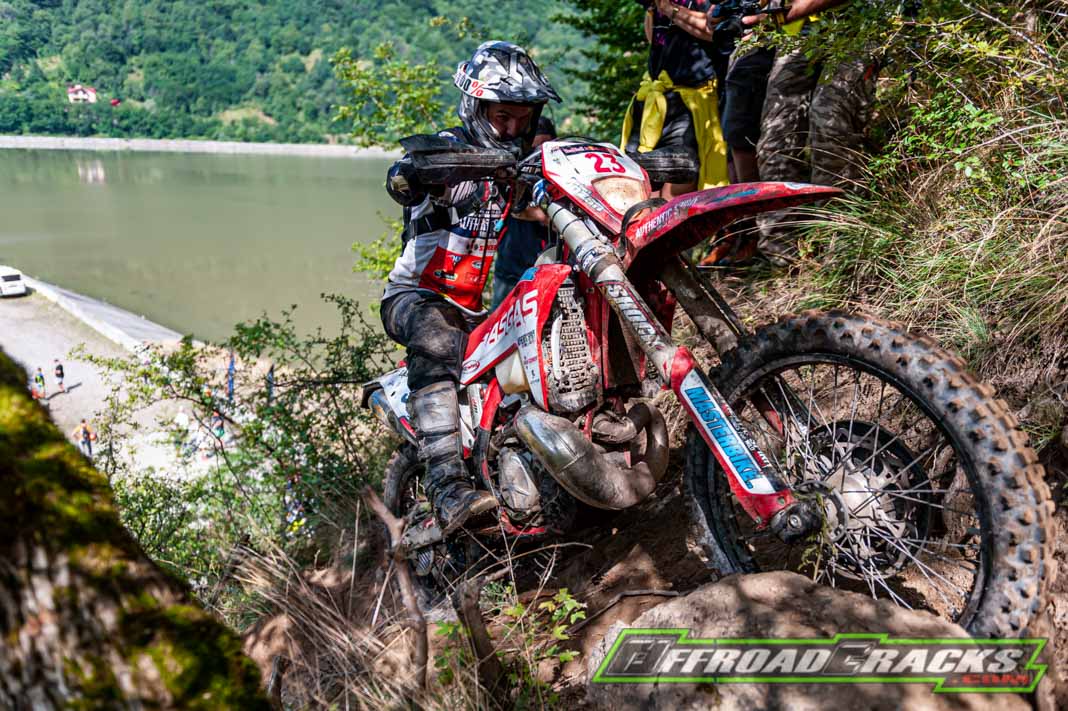 Quelle / Source: FIM Hardenduro WM, I. Gorodnyakova