PRO EAGLE 3 to "Kratos"
---
HINWEIS: Das Video ist noch deaktiviert, damit keine unerwünschte Datenübertragung zu Youtube stattfindet. Zur Aktivierung bitte auf das Vorschaubild/Video-Link klicken. Damit werden Daten übermittelt, zu deren Art, Umfang und Verwendungszweck wir keineAuskünfte geben können.
---
NOTE: The video is still deactivated so that no unwanted data transfer to YouTube takes place. To activate, please click on the preview image / video link. This transmits data about the type, extent and purpose of which we cannot provide any information.
---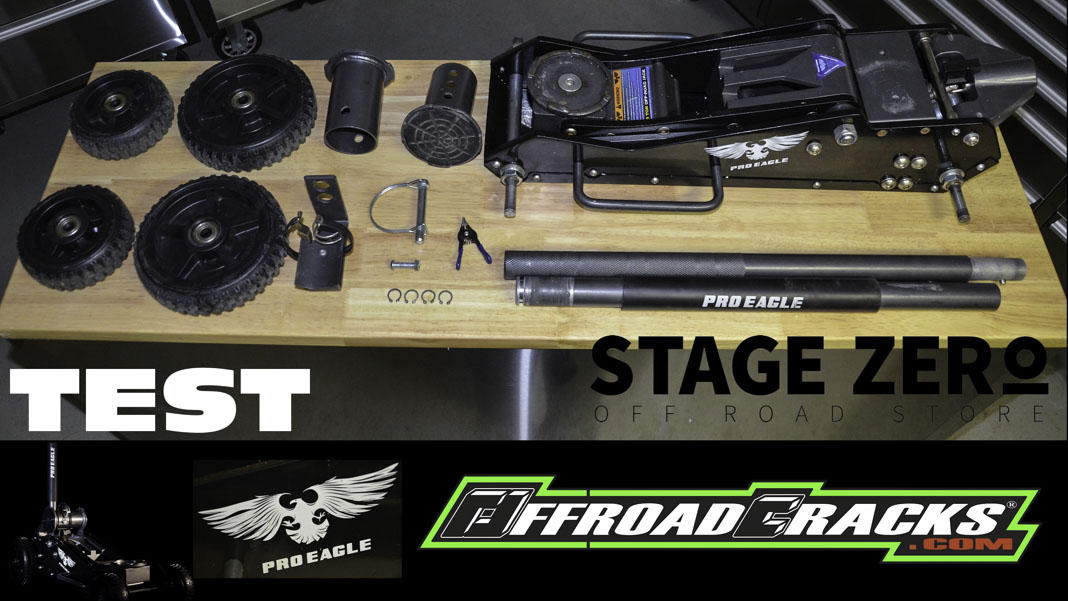 Ihr sucht den idealen Offroad-Wagenheber für euer Hobby, auf Reisen oder den Wettbewerb? Hier ein ausführlicher Test samt Produktbeschreibung des legendäre PRO EAGLE "Kratos" by STAGE ZERO aus Österreich. In unserem Video findet ihre alle Vorzüge dieser genialen Lösung aus den USA, die jeden Cent wert ist. Mit einer MEGA-Hubhöhe von 72 Zentimetern kann nahezu jedes Offroad-Fahrzeug auf losem oder weichen Untergrund angehoben werden.
Produktdetails – PRO EAGLE 3to "Kratos"
Gewicht: 32,1 kg (inkl. Erhöhung und Hubstange)
Maße ohne Erhöhung (L x B x H): 775 x 330 x 220 mm
Maße mit Erhöhung (L x B x H): 775 x 330 x 315 mm
Hubstangenlänge: 1140 mm
Tiefste Stellung des Stempels ohne Erhöhung: 155 mm
Maximal Hubhöhe Standard: 535 mm
Maximale Hubhöhe mit Erhöhung: 720 mm
Versionen & Preise
Pro Eagle 2to "The Beast" 599,90 Euro
Pro Eagle 3to "Kratos" 699,90 Euro (

getestet

)
Halterung "The Beast" 269,90 Euro
Halterung "Kratos 284,90 Euro
Hubverlängerung 95,90 Euro
Alle Pro Eagle Produkte können aus dem Sortiment in den USA bestellt werden
Ersatzteilversorgung
Alle Bauteile eines Pro Eagle Wagenhebers können instand gesetzt oder ausgetauscht werden. Anfragen an STAGE ZERO!
Garantie
Bezugsquelle
Adresse: STAGE ZERO, Stadtplatz 10, A-6460 IMST (Österreich)
Telefon: +43 660 1046207
Email: info@stagezero.store

---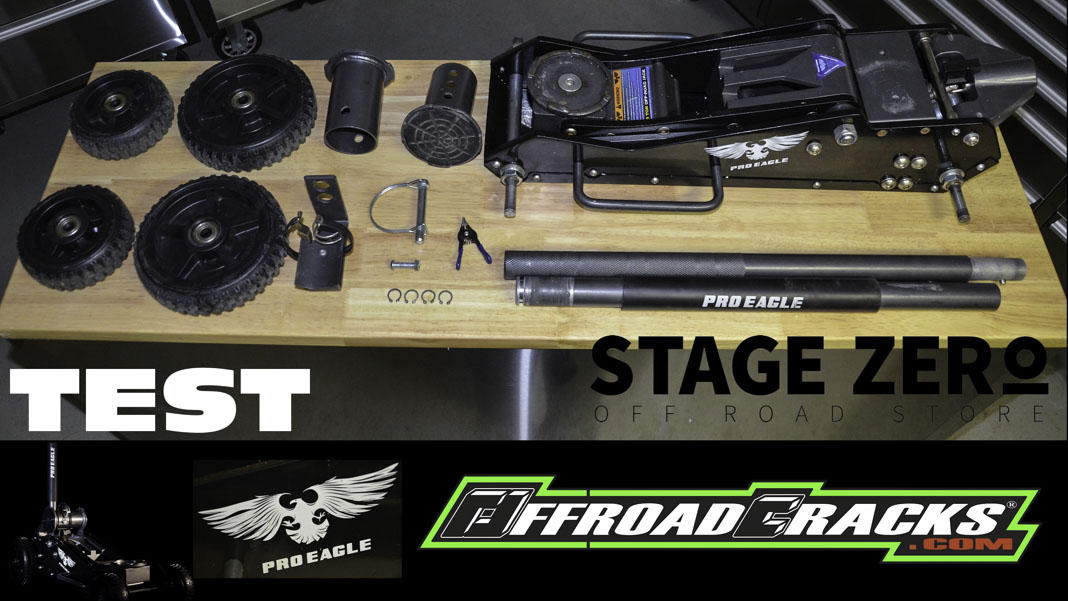 Are you looking for the ideal off-road jack for your hobby, when traveling or for serious competition? Here is a detailed test including a product description of the legendary PRO EAGLE 'Kratos' by STAGE ZERO from Austria. In our video you will find all the advantages of this ingenious solution from the USA, which is every penny worth. With a MEGA lifting height of 72 centimetres (28.3 in), almost any off-road vehicle can be lifted on loose or soft surfaces.
Product Details – PRO EAGLE 3to 'Kratos'
Weight: 32.1 kg (incl. extension and lifting rod) / 70,7 lbs.
Dimensions without extension (L x W x H): 775 x 330 x 220 mm / 30,5 x 13 x 8,7 in.
Dimensions with extension(L x W x H): 775 x 330 x 315 mm / 30,5 x 13 x 12,4 in.
Lifting rod length: 1140 mm / 44,9 in.
Deepest position of the stamp without extension: 155 mm / 6,1 in.
Maximum standard lifting height: 535 mm / 21,1 in.
Maximum lifting height with extensuin: 720 mm / 28,3 in.
Versions & Prices
Pro Eagle 2to 'The Beast' 599.90 euros
Pro Eagle 3to 'Kratos' 699.90 euros (tested)
Mount 'The Beast' 269.90 euros
Mount 'Kratos 284.90 euros
Extension 95.90 euros
All Pro Eagle products can be ordered from the USA
Spare parts supply
All components of a Pro Eagle jack can be repaired or replaced. Inquiries to STAGE ZERO!
Guarantee
Source of supply
Address: STAGE ZERO, Stadtplatz 10, A-6460 IMST (Austria)
Telephone: +43 660 1046207
Email: info@stagezero.store

Tested in cooperation with STAGE ZERO…