English text link
---
Der Niederländer Jeffrey Herlings scheint wieder einigermaßen auf der Höhe zu sein und kehrt seit seiner Knöchelverletzung erstmals wieder zurück ins MXGP Geschehen. Dabei handelt es sich mittlerweile um die zweite Rückkehr in dieser Saison. Man möchte Schweden für wichtige Rennkilometer und zum Aufbau der Fitness nutzen, denn in einem Monat steht bereits das MXoN an.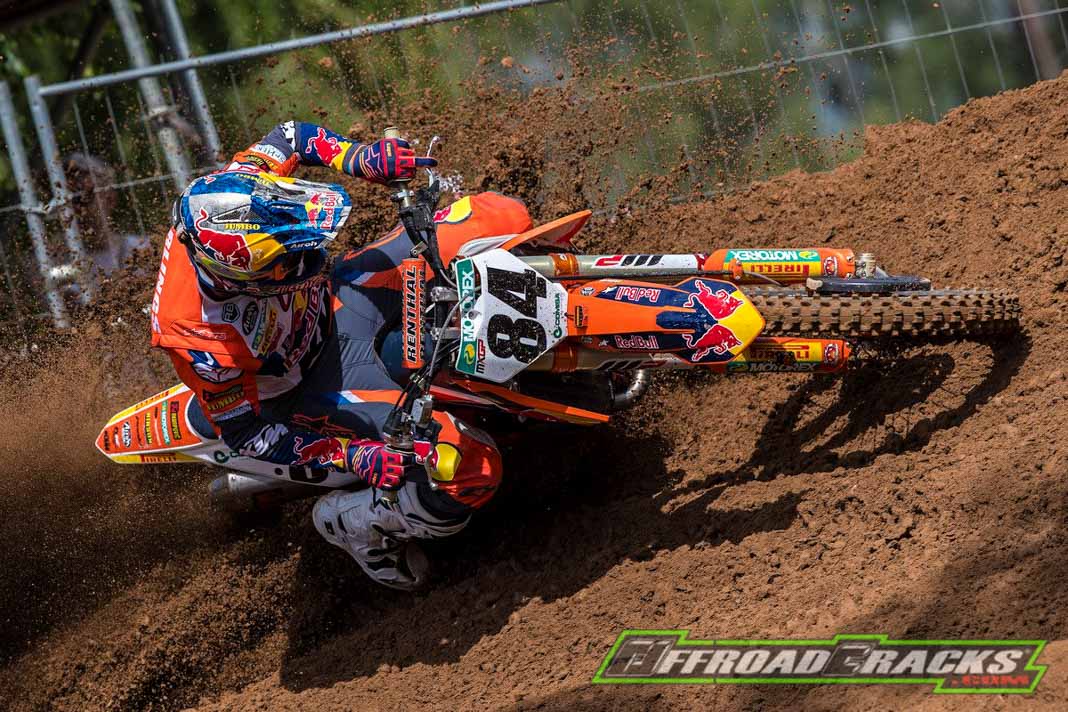 Jeffrey Herlings: "Jetzt geht es wieder los! Ich trainiere jetzt seit ein paar Wochen und fühle mich bereit, Uddevalla auszuprobieren. Wie ich bereits sagte, dreht es sich für mich in 2019 nur noch um das Motocross der Nationen in Assen. Durch die Rennen in Schweden machen wir einen weiteren Schritt in Richtung Fitness für das MXoN. Es gibt nur ein Ziel für dieses Wochenende: Die Rennen zu beenden und ein gutes Gefühl auf dem Motorrad zu finden."
Dirk Gruebel, technischer Koordinator des Teams und MX2-Teammanager: "Es ist gut, dass Jeffrey wieder Rennen fährt, aber wir haben keine Erwartungen für dieses Wochenende. Er ist immer noch auf dem Weg der Genesung und hat sich entschlossen Schweden als gute Gelegenheit zu nutzen, um einige Starts zu machen und sein Tempo an die der Top-Fahrer wieder anzupassen. Als Team sind wir bereit alles zu geben, was er für ein Rennen benötigt. Wir wissen jedoch, dass dies nur ein weiterer Schritt in Richtung einer vollständigen Genesung ist und hoffentlich die Chance bietet, mit guten Vorraussetzungen in die Tests nach der MXGP-Saison zu starten."
---

The Dutchman has made sufficient progress to be able to steer his KTM 450 SX-F at pace and return to the premier class for the second time in an injury-hit season. The 24 year old will use the sixteenth round of eighteen to gauge the level of his fitness and readiness and to accumulate valuable race mileage.
Jeffrey Herlings: "Here we go again! I've been riding for a couple of weeks now and feel ready to try Uddevalla. As I've said, 2019 is only really about the Motocross of Nations for me at Assen next month and by trying the motos in Sweden we are making another step towards that goal. There is no target for this weekend other than to finish the races and find some good feeling on the bike."
Dirk Gruebel, Team Technical Co-Ordinator & MX2 Team Manager: "It's good to have Jeffrey riding and racing again but we have no expectations for this weekend. He is still on the way back and has chosen to use Sweden as a good opportunity to make some starts and build his speed against top level opposition. As a team we'll be ready to give him whatever he needs to be able to race but we know this is just another step towards a full recovery and hopefully a chance to go into post-season testing with a good condition."
STARTERLISTE / START LIST MXGP – SWEDEN UDDEVALLA
2019_MXGP_of_Sweden_Entrylist_MXGP

STARTERLISTE MX2 / START LIST – SWEDEN UDDEVALLA
2019_MXGP_of_Sweden_Entrylist_MX2

TIMETABLE / ZEITPLAN – SWEDEN UDDEVALLA
2019_MXGP_Sweden_Timetable

TRACK MAP / STRECKENVERLAUF – MXGP of SWEDEN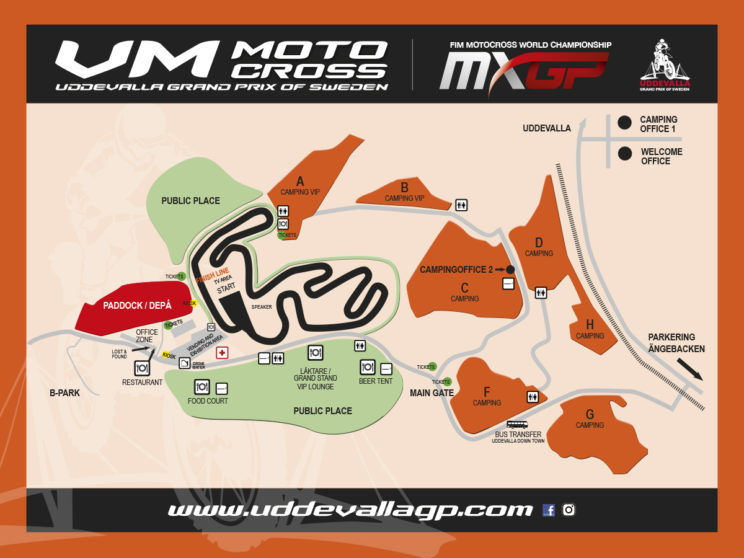 RECAP / RÜCKSCHAU – MXGP of SWEDEN 2017
HINWEIS: Das Video ist noch deaktiviert, damit keine unerwünschte Datenübertragung zu Youtube stattfindet. Zur Aktivierung bitte auf das Vorschaubild/Video-Link klicken. Damit werden Daten übermittelt, zu deren Art, Umfang und Verwendungszweck wir keineAuskünfte geben können. NOTE: The video is still deactivated so that no unwanted data transfer to YouTube takes place. To activate, please click on the preview image / video link. This transmits data about the type, extent and purpose of which we cannot provide any information.
---
HINWEIS: Mit Anklicken des Videos stellen sie automatisch eine Verbindung zu Youtube/Google her, was einen ungewünschten personenbezogenen Datenaustausch mit sich bringen kann. Weitere Infos unter: www.google.de/privacy
---
Quelle / Source: KTM, UDDEVALLAGP.COM, MXGP, Youthstream