MXGP Kalender UPDATE 2020
Nach der Entwicklung der COVID-19-Beschränkungen und Reisewarnungen wurde beschlossen, das der ursprünglich am 5. und 6. September geplante MXGP der Türkei in Afyonkarahisar auf 2021 verschoben wird. Dies gilt ebenso für die geplanten  und noch unbestätigten Veranstaltungen, sowie den MXGP von Portugal und Russland.
Stattdessen wird die FIM Motocross-Weltmeisterschaft nach dem Erfolg des lettischen Triple-Headers die Veranstaltungen in Italien in Form des MXGP von Italien am 5. und 6. September, dem MXGP von Città di Mantova und Faenza am 8. und 9. September und die MXGP der Emilia Romagna am 12. und 13. September angehen. Zu den Veranstaltungen in Faenza gehört auch die EMX125 und die EMX 2t Meisterschaft.
Darüber hinaus wird der MXGP-Tross zu weiteren drei Rennen nach Mantova, MXGP der Lombardei am 26. und 27. September, Città di Mantova vom 29. bis 30. September und schließlich zum MXGP von Europa am 3-4. Oktober reisen. In den ersten beiden Rennen in Mantova wird zusätzlich die EMX250- und WMX-Meisterschaften ausgetragen, während der MXGP of Europe die EMX125- und EMX250-Fahrer begrüßen wird.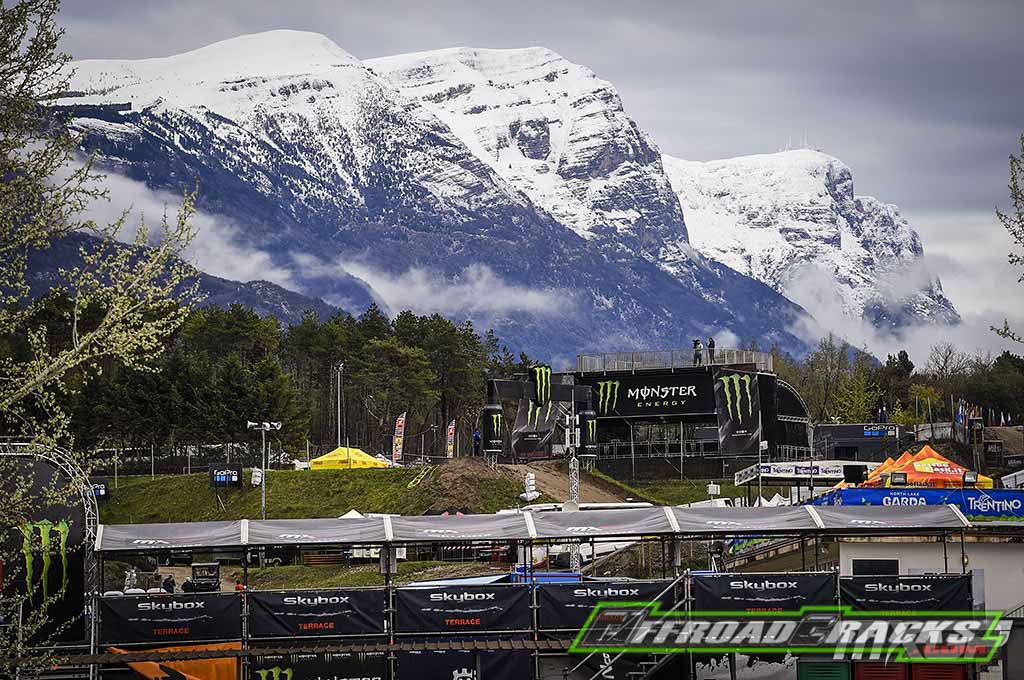 Dazu kommen noch die November-Veranstaltungen in Petramurata in Form des MXGP of Trentino, MXGP of Petramutra und der MXGP of Garda Trentino. Züsätzlich werden die EMX Open- und WMX-Fahrer für das erste Rennen am Start sein, während es während der letzten beiden Events die EMX Open und EMX 2t Klassen betreffen wird.
Der Kalender 2020 wird nun drei Triple-Header in Italien enthalten. Diese Entscheidung wurde getroffen, um die maximal mögliche Anzahl von Veranstaltungen abzuhalten und um die Reisekomplikationen für das gesamte Fahrerlager-Kollektiv auf ein Minium zu reduzieren.
Darüber hinaus wird der MXGP von Lommel, der letzten der drei belgischen Stationen, am 24. und 25. Oktober auch das Yamaha YZ bLU CRU Superfinale austragen.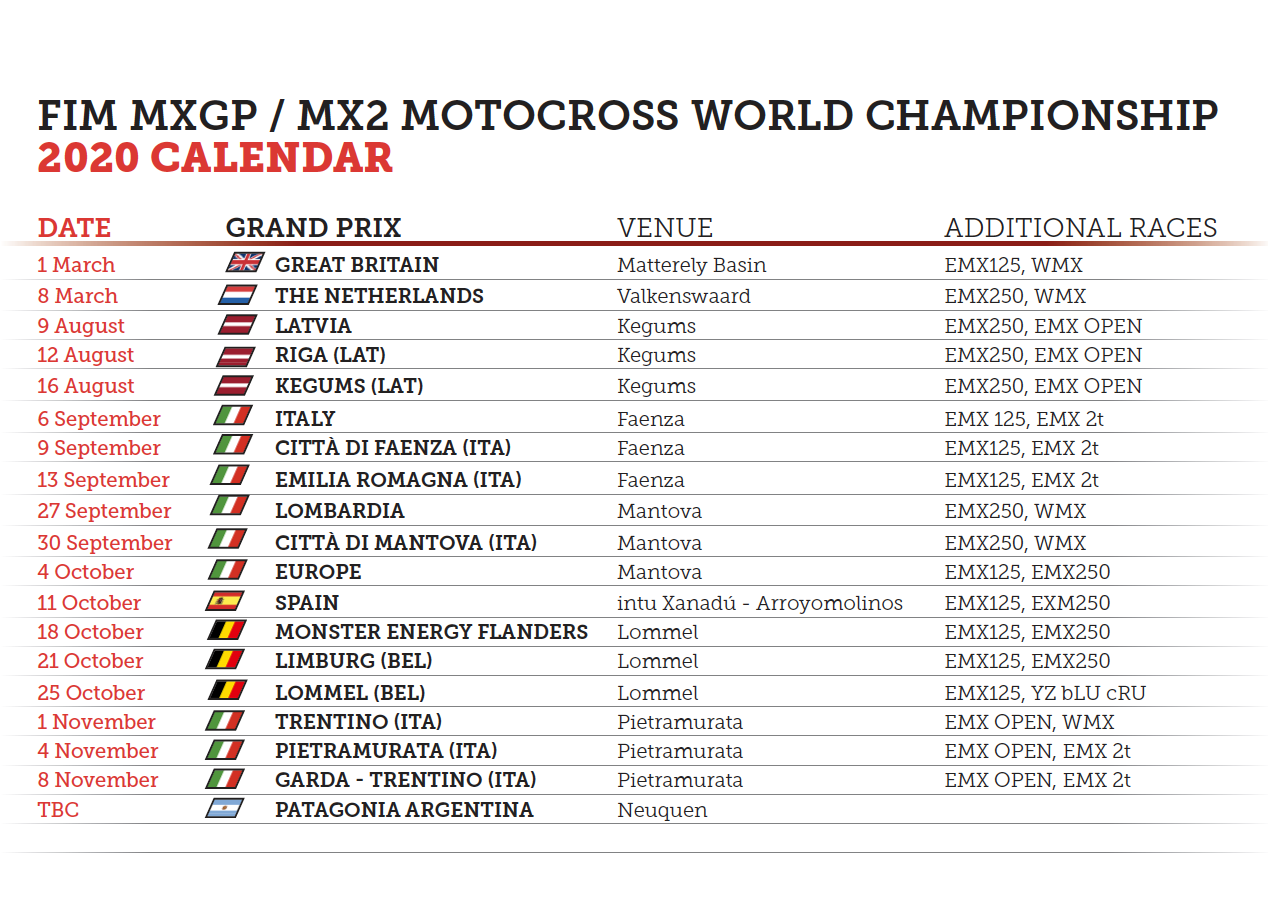 Das MXGP von Patagonien-Argentinien in Neuquen bleibt abhängig von den aktuellen nationalen Bedingungen als TBC Teil des FIM Motocross-Weltmeisterschaftskalenders 2020.
MXGP MAG #84 AUGUST 2020
MXGP Mag 84 klein


MXGP Calendar UPDATE 2020
Following the big success of the Latvian stops of MXGP and the support received, MXGP continues to look forward to more epic races this season and therefore Infront Moto Racing would like to reveal the most recent updates to the 2020 FIM Motocross World Championship racing calendar.
Following the evolution of COVID-19 restrictions and the difficulty of travel, the decision has been made to postpone to 2021 the MXGP of Turkey in Afyonkarahisar, originally scheduled on the 5-6th of September, while also the TBC events scheduled this season, the MXGP of Portugal that originally was going to take place in Agueda as well as the MXGP of Russia, scheduled in Orlyonok, have been also postponed to 2021.
Instead, following the success of the Latvian triple-header, the FIM Motocross World Championship will anticipate the event in Faenza, Italy, for three epic Grand Prix races with the MXGP of Italy on the 5-6th of September, the MXGP of Città di Faenza on the 8-9th September and the MXGP of Emilia Romagna on 12-13th September. The events in Faenza will also be joined by the EMX125 Presented by FMF racing and EMX 2t Presented by FMF Racing Championship.
Additionally, MXGP will head to Mantova in Italy for another trio of races, for the MXGP of Lombardia taking place on the 26-27th of September, the MXGP of Città di Mantova on the 29-30th of September and finally the MXGP of Europe on the 3-4th of October. The first two races in Mantova will additionally see rounds of the EMX250 and WMX Championships, while the MXGP of Europe will also welcome the EMX125 and EMX250 riders.
Further changes will then see MXGP head to Pietramurata, for the MXGP of Trentino, scheduled for the 31st-1st November, then the MXGP of Pietramurata on the 3-4th of November and finally the MXGP of Garda Trentino will finish off the Italian stint on the 7-8th of November. The additional classes that will join MXGP in Pietramurata will be the EMX Open and WMX riders for the first race, while during the final two events it will be EMX Open and EMX 2t.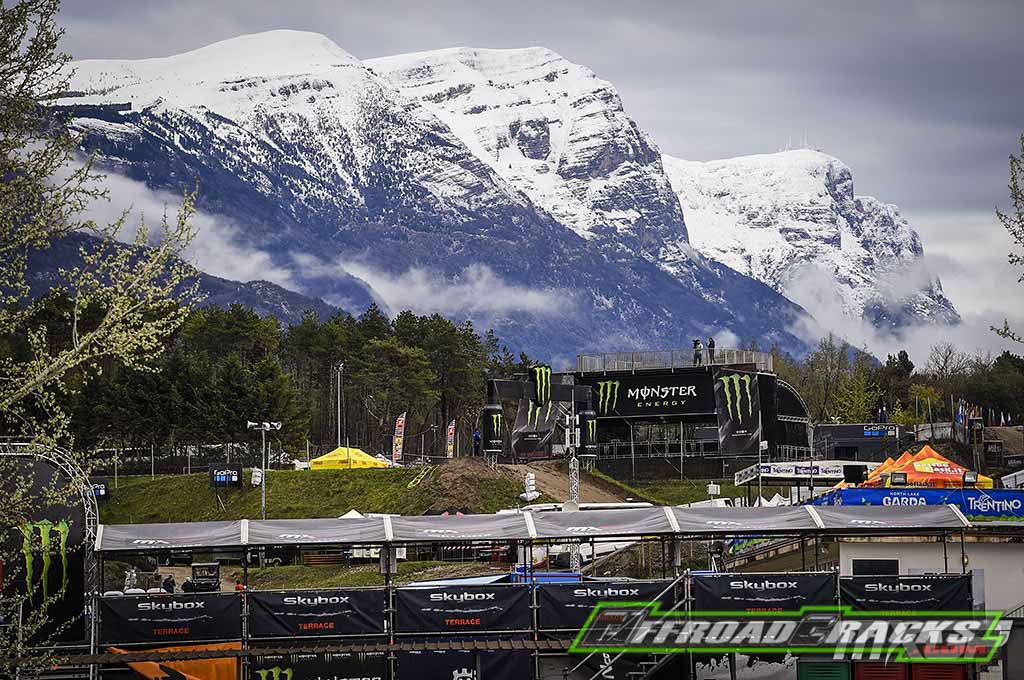 The 2020 calendar will now feature three triple-headers in Italy. This decision has been made in order to be able to hold the maximum number of events possible to make a competitive and thrilling championship, as well as to reduce the amount of travel complications for the whole paddock collective.
Furthermore, the MXGP of Lommel, last of the three Belgian stops, on the 24-25th of October, will also see the Yamaha YZ bLU CRU Superfinale, that will welcome some up and coming motocross stars of tomorrow, to the fierce Lommel circuit in Belgium. Last year's final saw Jekabs Kubulins take a victory in the 65cc class, while in 85cc it was Olle Martensson and finally in 125cc it was Mairis Pumpurs who was the winner.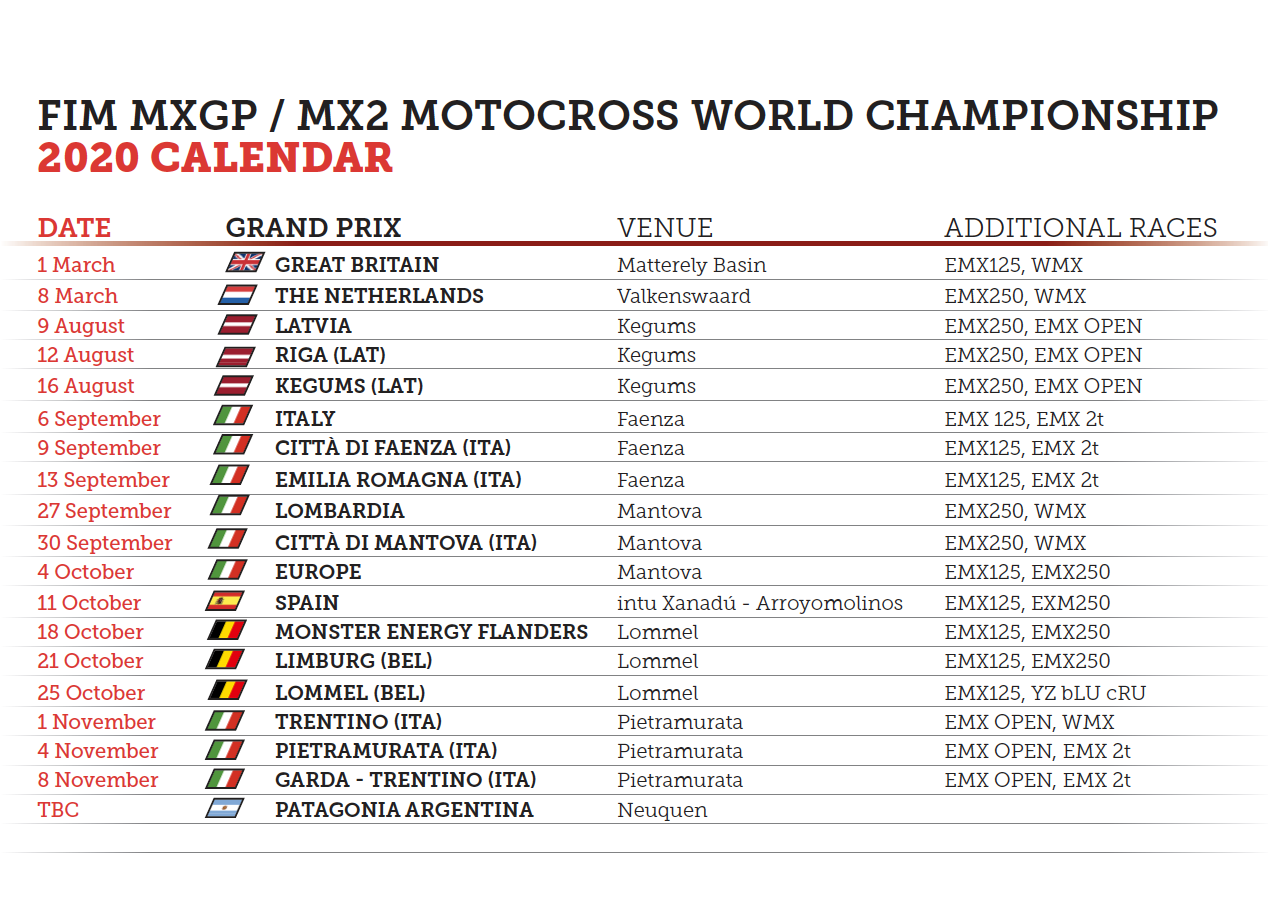 The MXGP of Patagonia-Argentina, in Neuquen, remains part of the 2020 FIM Motocross World Championship calendar as TBC depending on the ongoing national conditions.
MXGP MAG #84  AUGUST 2020

MXGP Mag 84 klein

Quelle / Source: Infront Moto Racing