Wenn duauf der Suche nach dem bist, was viele als den ultimativen Truck bezeichnen würden, dann hat MegaRexx Trucks kürzlich genau das Richtige für dich vorgestellt. Sehen euch die neuste Kreation ihrer äußerst beliebten MegaRaptor-Reihe an. Der neueste MegaRaptor des Unternehmens begann als serienmäßiger 2022 F-250 4×4 Crew-Cab Lariat, ausgestattet mit Fords 6,7-Liter-Power-Stroke-Turbodiesel-V8. Nach erheblichen Modifikationen bekam der Megaraptor eine ganz neuen Style und erwies sich als luxuriös sowie extrem offroad tauglich.
Das MegaRexx-Team initiierte diesen Build, indem man den Ruf des serienmäßigen F-250 verbesserte und seinen mechanischen Fußabdruck optimiert. Dazu gehörte beispielsweise die Umrüstung des Lkw-Getriebes auf ein Übersetzungsverhältnis von 4,88, sowie eine Vielzahl zusätzlicher Upgrades.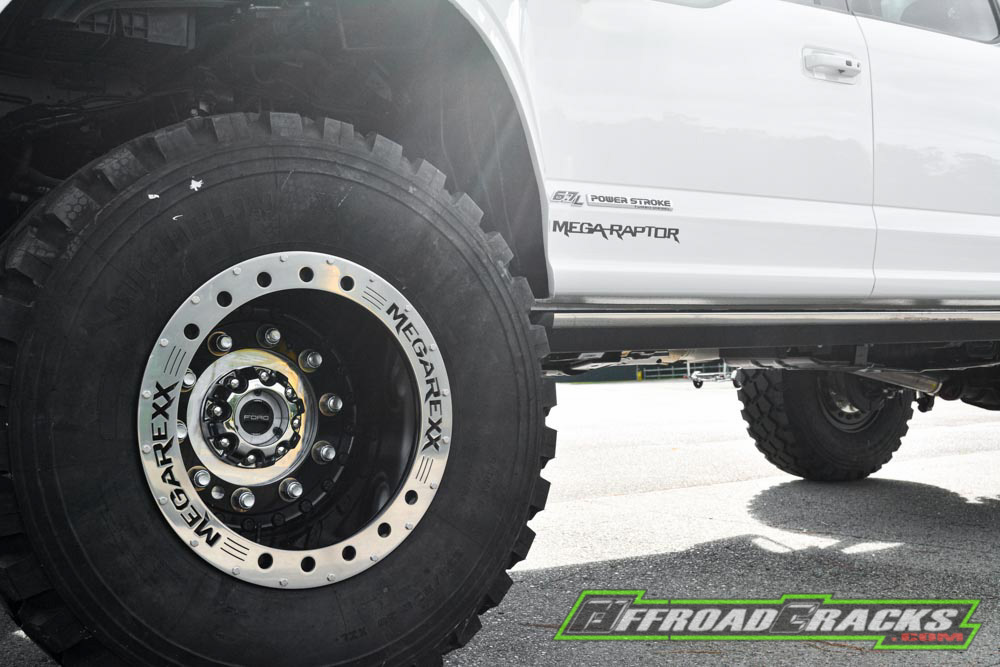 Ein Satz individuell angefertigter  MegaRexx-Radiusarme wurde installiert, ebenso wie Fox Racing-Stoßdämpfer und eine vollständig einstellbare Icon-Trackbar. Darüber hinaus wurde ein Satz dreiteiliger MRAP-Räder aus Vollaluminium nach Militärspezifikation montiert. Diese Felgen verwenden keine Abstandshalter, passen direkt auf die Naben des F-250 und verfügen über Beadlock-Ringe für zusätzlichen Schutz.
MegaRexx wählte Michelin als bevorzugten Lieferanten für die Reifen des MegaRaptor. Auf den Militärfelgen des neuesten MegaRaptor ist ein Satz strapazierfähiger 46 × 15,5 (395 / 85R20) Michelin XZL-Reifen montiert.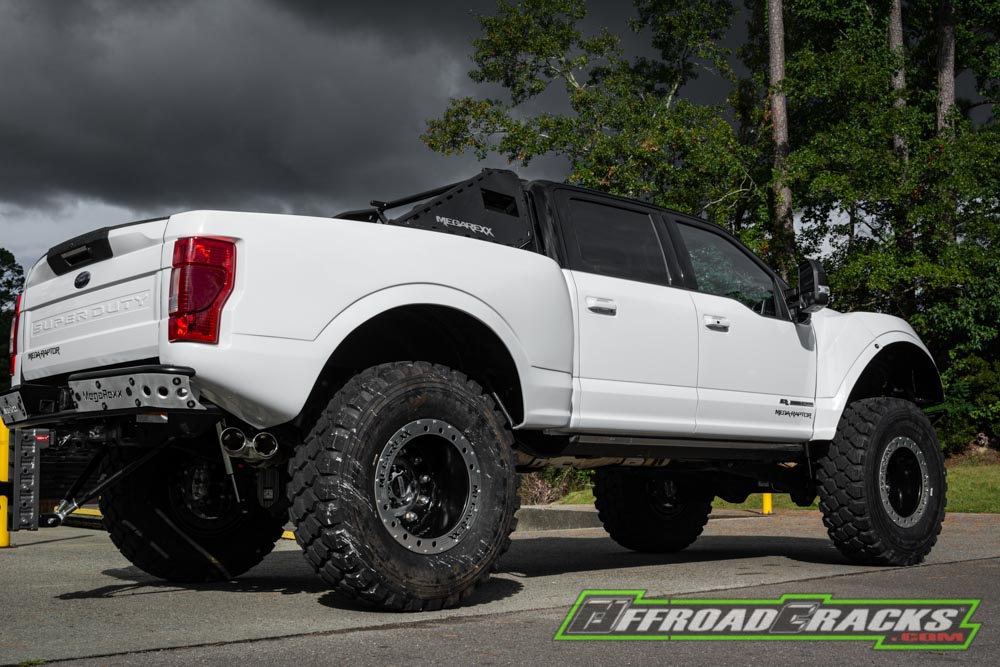 Die mühsame Aufgabe, diese robuste Radkombination ordnungsgemäß zu montieren, erforderte jedoch auch ein erhebliches Maß an zusätzlicher Modifikation. Tatsächlich musste die Spritzwand des F-250 Lariat getrimmt werden, um die Installation der übergroßen Reifen auszugleichen. Um die strukturelle Steifigkeit nach dieser Modifikation zu erhöhen, wurde eine verstärkte Platte angebracht und in den verbleibenden Hohlraum eingeschweißt.
Wie bereits erwähnt, beherbergt der MegaRaptor einen 6,7-Liter-Power-Stroke in seinem Motorraum mit 475 PS und 1.050 lb-ft Drehmoment. Diese Leistung wird über ein TorqueShift 10-Gang-Automatikgetriebe mit wählbaren Fahrmodi auf die Räder des MegaRaptor übertragen.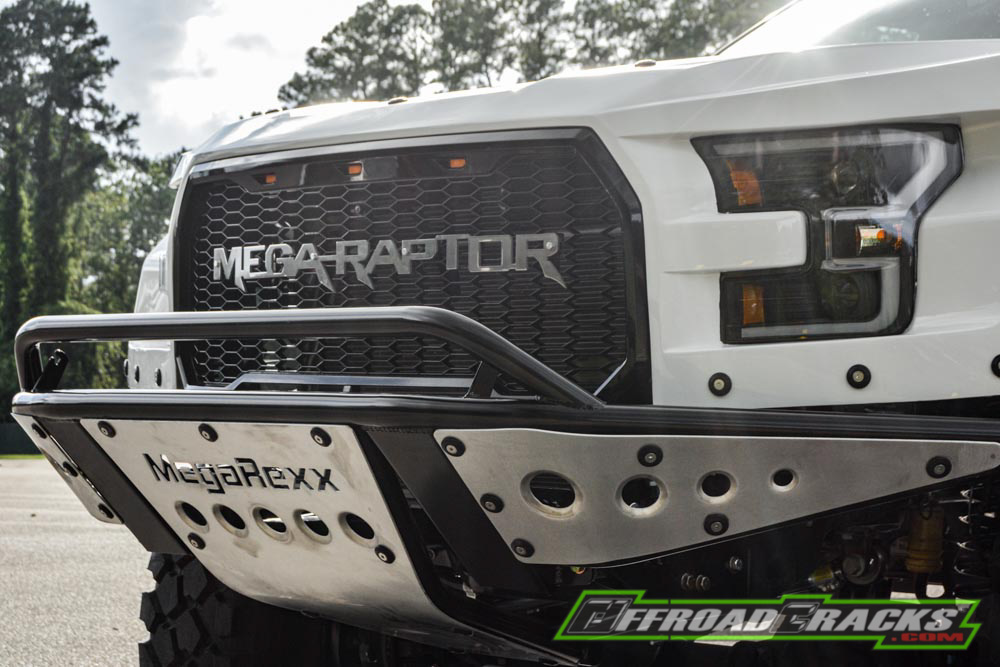 Kosmetisch ist der MegaRaptor beeindruckend und präsentiert eine Vielzahl aggressiver Upgrades. Zu den bemerkenswertesten Modifikationen dieser Art gehören das Hinzufügen eines speziellen Kühlergrills, eines Stadionstoßfängers und Anzo Switchback-Scheinwerfern.
Der MegaRaptor erhielt auch eine einzigartige Lackierung, die aus einem zweifarbigen Schwarz-Weiß-Farbschema besteht. Während ein erheblicher Teil des Trucks eine weiße Lackierung (Star White Metallic Tri-Coat) aufweist, sind alle Punkte oberhalb der Fensterlinie des Trucks schwarz lackiert.
Wie alle MegaRaptor-Builds davor ist auch die neueste Kreation von MegaRexx vollgepackt und spart keine Kosten in Bezug auf Luxus. Zu den bemerkenswertesten Innenausstattungsmerkmalen des MegaRaptor gehören ein elektrisch verstellbares Doppelpaneel-Panorama-Schiebedach, elektrisch verstellbare Pedale, ein elektrisch verstellbares Lenkrad, Scheibenwischer mit Regensensor, Fernstart und eine ferngesteuerte Heckklappe. Darüber hinaus ist das Innere des MegaRaptor mit perforiertem Leder in Black Onyx ausgeführt.
Dieser Spezialumbau beherbergt auch eine vollständige Palette von Infotainment-Technologien und bietet so ein interaktiveres Fahrerlebnis. Die neueste Ausgabe des MegaRaptor bietet FordPass Connect 4G LTE Wi-Fi, Sync 4-Technologie mit einem 12-Zoll-Touchscreen-Monitor und ein sprachaktiviertes Navigationssystem mit HD und SiriusXM-Satellitenradio. Apple CarPlay und Android Auto sind ebenfalls enthalten.
Alles in allem verschiebt der MegaRaptor die Grenzen des derzeit Möglichen in Bezug auf Ausstattung und nachträgliche Modifikationen massiv. Obwohl dieser von MegaRexx abgeleitete F-250 Lariat stark modifiziert wurde, behielt man den guten Geschmack mit einem erheblichen Maß an Zweckmäßigkeit bei. Diese neueste Version des MegaRaptor wird mit Sicherheit die Blicke auf sich ziehen.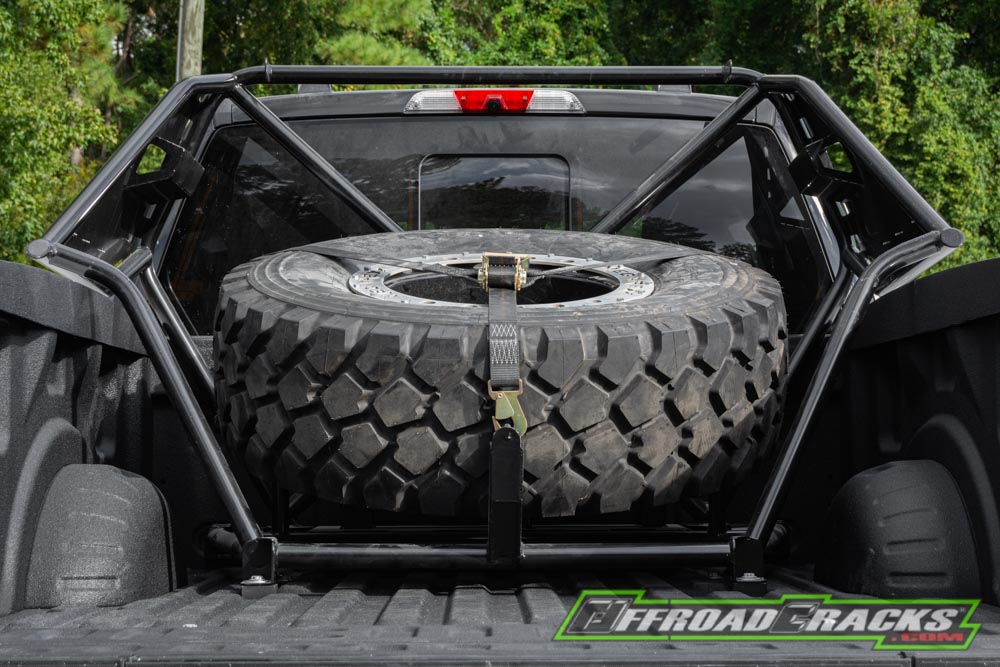 Für Aaron Richardet und sein Team bei MegaRexx ist das natürlich nichts Neues. Das Unternehmen selbst ist bekannt dafür, kundenspezifische Trucks von höchstmöglicher Qualität herzustellen.
"MegaRaptors sind handgefertigte Luxus-Superlastwagen", sagte Aaron Richardet, Eigentümer von MegaRexx. "Jeder Build ist ein Statement. Und da jeder Eigentümer seine eigenen Wünsche verewigt, gleicht keiner wie dem anderen."
---

If you are looking for what many would call the ultimate truck, then MegaRexx Trucks recently unveiled something right up your alley. Behold the latest build within their highly popular MegaRaptor line. The company's newest MegaRaptor began life as a stock 2022 F-250 4×4 Crew-Cab Lariat, equipped with Ford's 6.7-liter Power Stroke turbo-diesel V8. After significant modification, the Megaraptor took on a facade all its own, proving to be every bit as luxurious, as it is physically capable.
The MegaRexx team initiated this build by enhancing the stock F-250's stance and beefing up its mechanical footprint. This involved retrofitting the truck's gearing to that of a 4.88 ratio, before computer-programming its speedometer to compensate for this modification, as well as a host of additional upgrades.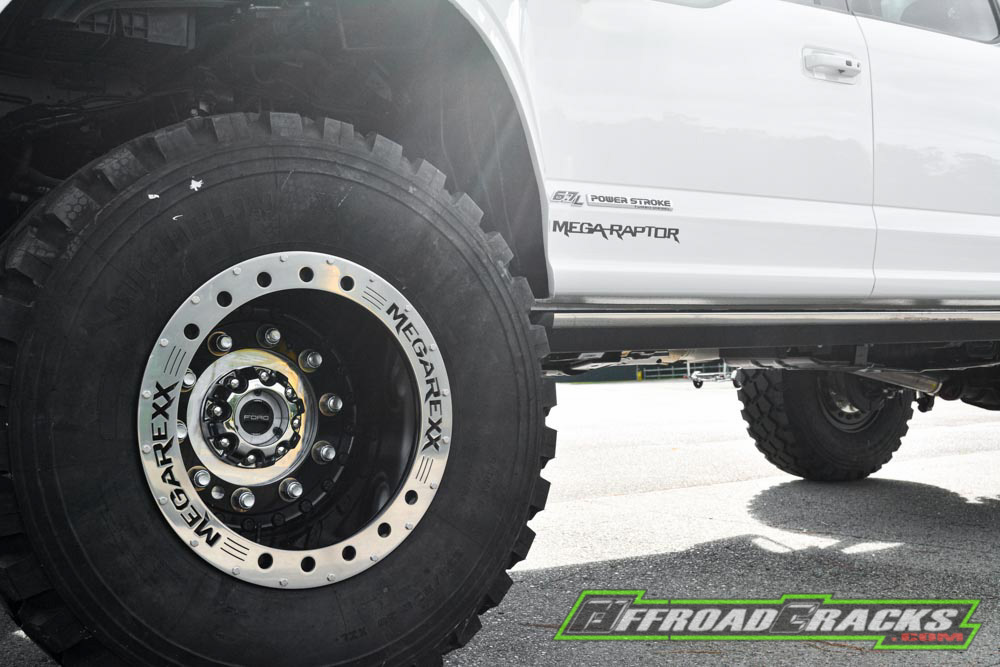 A set of custom MegaRexx radius arms were also installed, as were Fox Racing shocks, and a fully-adjustable Icon track bar. Additionally, a set of three-piece, all-aluminum military-spec MRAP wheels became standard fare. These rims utilize no spacers, directly fitting to the F-250's hubs, and feature custom rock rings for additional protection.
MegaRexx chose Michelin as the supplier of choice for the MegaRaptor's tires. Mounted to the latest MegaRaptor's military-spec rims are a set of heavy-duty 46×15.5 (395/85R20) Michelin XZL tires.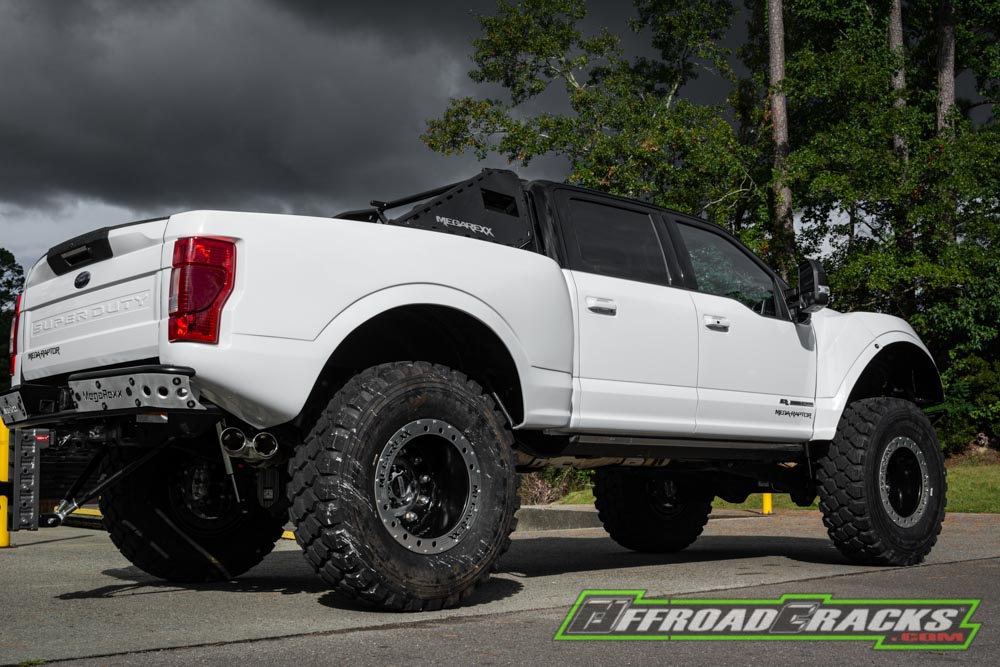 However, the chore of achieving proper fitment of this robust wheel combo also required a significant degree of additional modification in itself. In fact, the F-250 Lariat's firewall had to be trimmed in order to compensate for the installation of the MegaRaptor's oversized tires. In order to enhance structural rigidity following this modification, a reinforced plate was fitted and welded into the remaining void.
As mentioned, the MegaRaptor houses a 6.7-liter Power Stroke within its engine bay, complete with 475 horsepower, and 1,050 lb-ft of torque on tap. This power is delivered to the MegaRaptor's wheels via a TorqueShift 10-speed automatic transmission, featuring Selectable Drive Modes.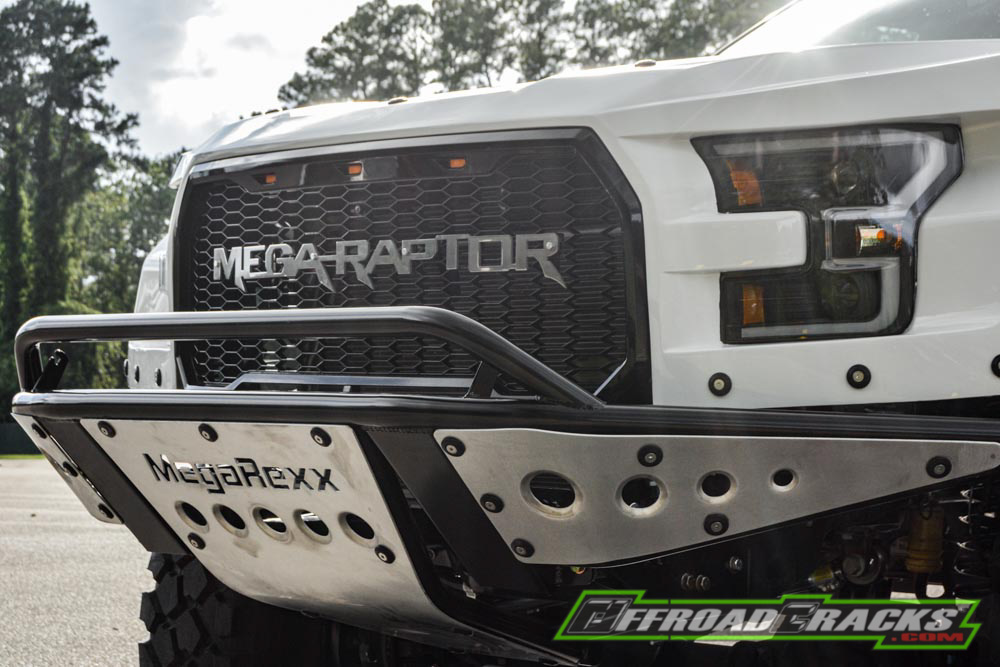 Cosmetically, the MegaRaptor is equally impressive, showcasing a host of aggressive upgrades. Some of the most notable modifications of this type include the addition of a custom grille, stadium bumper, and Anzo Switchback headlights.
The MegaRaptor also received one-of-a-kind paintwork, consisting of a dual-tone black and white color scheme. While a significant portion of the truck showcases white livery (Star White Metallic Tri-Coat), all points above the truck's window line are painted black.
Like all MegaRaptor builds before it, MegaRexx's latest creation also comes fully loaded, sparing no expense in terms of luxury or accommodations. Several of the MegaRaptor's most notable interior features include a power twin-panel panoramic moonroof, power-adjustable pedals, power telescoping/tilt steering wheel, rain-sensing wipers, remote start, and a remote-actuated tailgate. Additionally, the MegaRaptor's interior is finished in Black Onyx perforated leather.
This specialty build also hosts a full range of Infotainment technology, thereby providing a more interactive driving experience. The latest edition of the MegaRaptor features FordPass Connect 4G LTE Wi-Fi, Sync 4 technology with a 12-inch touchscreen monitor, and a voice-activated navigation system with HD and SiriusXM Satellite radio. Apple CarPlay and Android Auto are also included.
All things considered, the MegaRaptor pushes the bounds of what is currently possible, in terms of upfitting and aftermarket modification. While this MegaRexx-derived F-250 Lariat is heavily modified, all has been done in good taste, and with a significant degree of purpose. This latest version of the MegaRaptor is sure to turn heads wherever it is found. We're also certain it will inspire others to set lofty goals when modifying their own trucks to better suit their needs.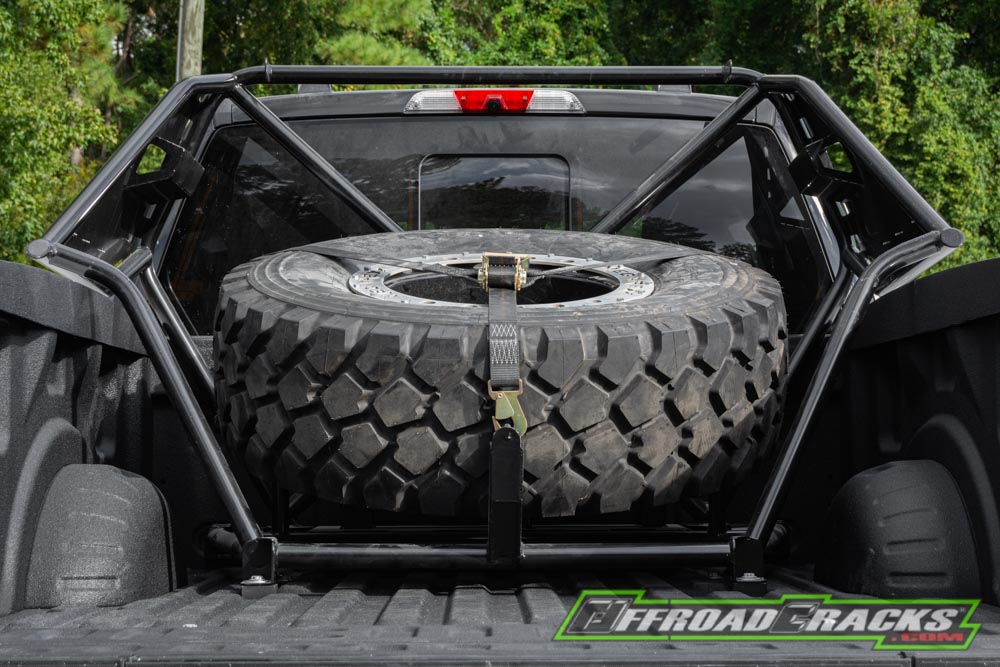 Of course, this is nothing new for Aaron Richardet and his team at MegaRexx. The company itself is no stranger to crafting custom trucks, of the highest possible quality. With a number of builds beneath their belt, the MegaRexx crew has mastered the art of turning unique concepts into rolling masterpieces.
"MegaRaptors are hand-crafted luxury super-trucks," said Aaron Richardet, owner of MegaRexx. "Every build makes a statement. And with each owner adding his own options, no two are ever alike".
Quelle / Source: Megarexx