Mit dem Start der AMA Supercross-Saison 2020 am 4. Januar im kalifornischen Anaheim hat man mit der KTM 450 SX-F FACTORY EDITION des amtierenden Champions Cooper Webb eine Replika herausgebracht.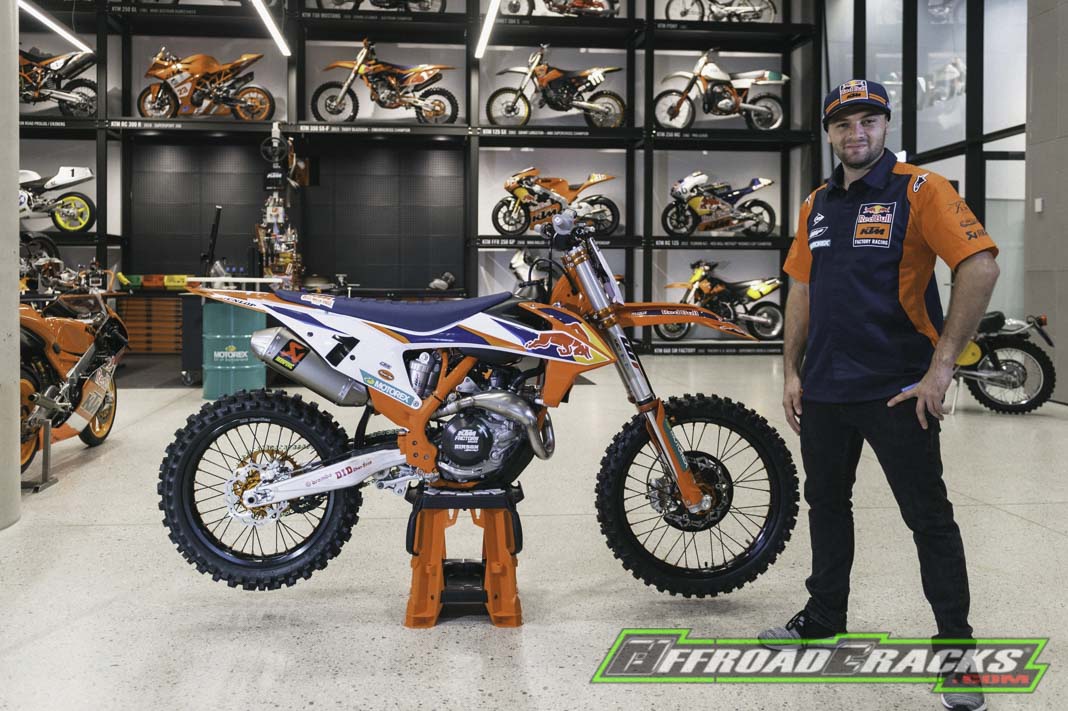 Da Cooper Webb 2019 zum AMA Supercross-Champion gekürt wurde, ist die KTM 450 SX-F FACTORY EDITION von Red Bull KTM Factory Racing eines der produktivsten und erfolgreichsten Rennmotorräder der jüngsten Geschichte. Die neueste Version des Serienmodells KTM 450 SX-F FACTORY EDITION wurde mit Blick auf höchste Leistungsfähigkeit im Rennen entwickelt und verfügt standardmäßig über eine Reihe spezieller, leistungssteigernder Spezialteile, so KTM.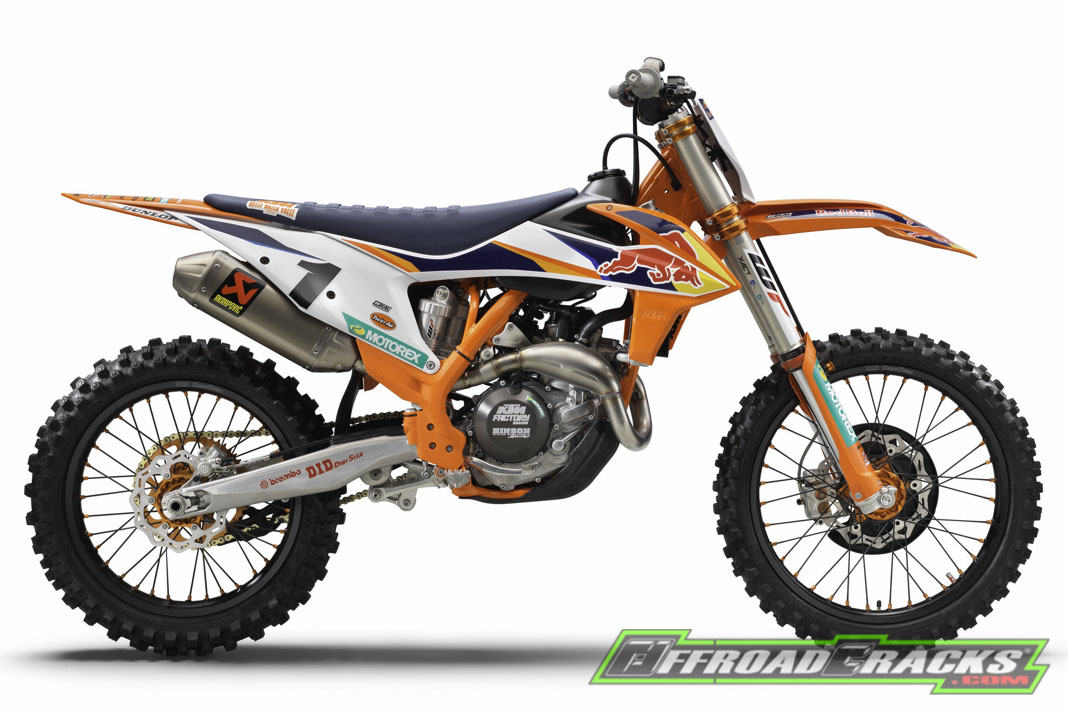 Akrapovič-Slip-On-Schalldämpfer
Schwimmend gelagerte Bremsscheibe vorn
Bremsscheibenschutz vorn
Factory-Sitzbank Selle Dalla Valle
Startvorrichtung Gabel
orangefarbene Factory-Gabelbrücken
orangefarbener Rahmen
Kunststoff Motorschutz
orangefarbenes Kettenrad
Hinson-Kupplungsdeckel
Red Bull KTM Factory Racing-Grafik
Die neue KTM 450 SX-F FACTORY EDITION ist ab Januar 2020 bei allen autorisierten KTM-Händlern weltweit erhältlich. Weitere Informationen zu Preisen und Verfügbarkeit sind über den Händler vor Ort zu bekommen.
HINWEIS: Das Video ist noch deaktiviert, damit keine unerwünschte Datenübertragung zu Youtube stattfindet. Zur Aktivierung bitte auf das Vorschaubild/Video-Link klicken. Damit werden Daten übermittelt, zu deren Art, Umfang und Verwendungszweck wir keineAuskünfte geben können. NOTE: The video is still deactivated so that no unwanted data transfer to YouTube takes place. To activate, please click on the preview image / video link. This transmits data about the type, extent and purpose of which we cannot provide any information.
---
HINWEIS: Mit Anklicken des Videos stellen sie automatisch eine Verbindung zu Youtube/Google her, was einen ungewünschten personenbezogenen Datenaustausch mit sich bringen kann. Weitere Infos unter: www.google.de/privacy
---

UNVEILED: NEW KTM 450 SX-F FACTORY EDITION SET TO STUN RIVALS ON AND OFF THE TRACK
With the launch of the 2020 AMA Supercross season taking place on January 4 at Anaheim in California, the spotlight will focus on the form of the #1 KTM 450 SX-F FACTORY EDITION race machine steered by reigning champion Cooper Webb. While thousands of fans will be marveling at the skills of the 24-year-old, riders around the globe can try to imitate the form of their racing heroes thanks to the sharp performance of the new KTM 450 SX-F FACTORY EDITION.
With Cooper Webb crowned the 2019 AMA Supercross Champion, the Red Bull KTM Factory Racing's KTM 450 SX-F FACTORY EDITION has become one of the most prolific and successful race motorcycles in recent history. Developed with the highest out-of-the-box race performance in mind, the latest version of the KTM 450 SX-F FACTORY EDITION production model enjoys a wide array of special, performance-enhancing features as standard.
On the technical side, an Akrapovič slip-on silencer filters the power of the engine and features several upgrades compared to the stock unit. KTM factory wheels will be able to cope with the biggest of triple jumps, while a works floating front disc will ensure maximum stopping power for the next switchback turn.
The front brake disc guard will protect the premium components from any roost or rocks. Riders and racers can feel extra confident and comfortable thanks to the Factory Selle Dalla Valle seat and the front fork start device – as used by the Red Bull KTM Factory Racing crew – will assist in the pursuit of that essential holeshot.
The Factory 'look' of the KTM 450 SX-F FACTORY EDITION is sharpened with works triple clamps anodized in orange, an orange-painted frame, a composite skid plate, an orange rear sprocket and the Hinson clutch cover. Lastly, 2020 Red Bull KTM Factory Racing graphics add that desirable livery that makes the KTM 450 SX-F FACTORY EDITION standout in any Motocross or Supercross track.
The new KTM 450 SX-F FACTORY EDITION will be available at authorized KTM dealers internationally from January 2020. For more information on pricing and availability, please contact your local KTM dealer.
Quelle / Source: KTM