WSX until 2025
---
HINWEIS: Das Video ist noch deaktiviert, damit keine unerwünschte Datenübertragung zu Youtube stattfindet. Zur Aktivierung bitte auf das Vorschaubild/Video-Link klicken. Damit werden Daten übermittelt, zu deren Art, Umfang und Verwendungszweck wir keineAuskünfte geben können.
---
NOTE: The video is still deactivated so that no unwanted data transfer to YouTube takes place. To activate, please click on the preview image / video link. This transmits data about the type, extent and purpose of which we cannot provide any information.
---

Ken Roczen wird die gesamte Saison der FIM Supercross-Weltmeisterschaft fahren. Roczen wird rund um den Globus Rennen fahren und den Fans eine neue Gelegenheit geben, ihn in mehreren Ländern kämpfen zu sehen, während er seinen Titel verteidigt. D.h. das Thema Outdoors (Pro Motocross) ist für ihn in den USA Geschichte.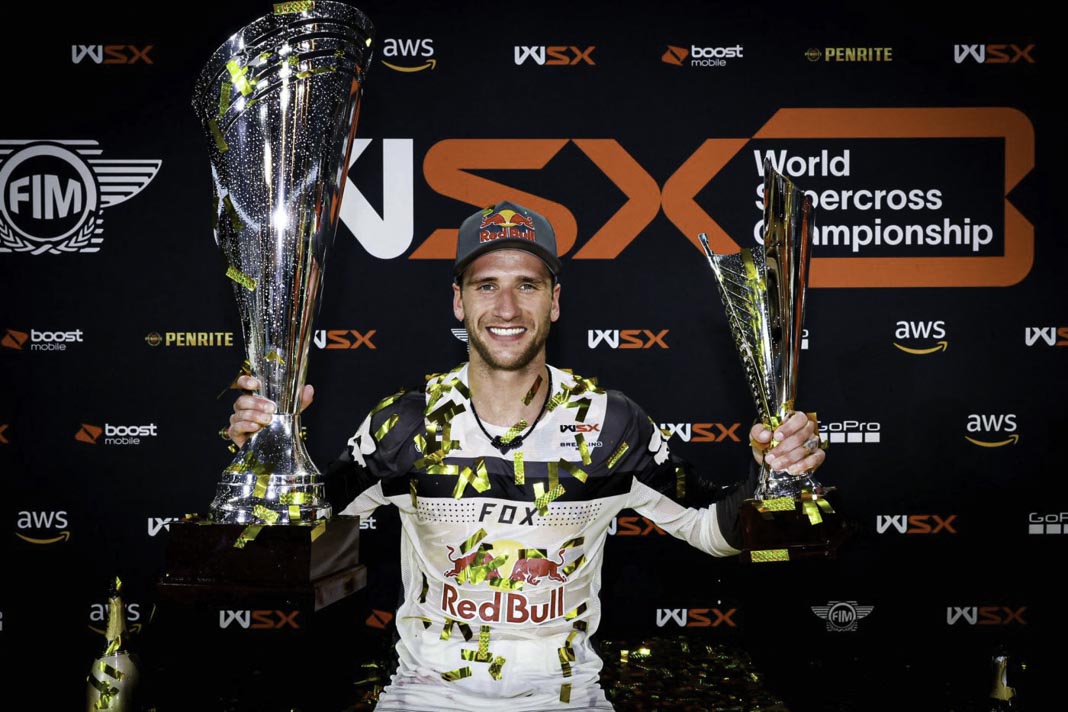 Round 1 – Birmingham, UK – 1st July 2023
Round 2 – Lyon, France – 22nd July 2023
Round 3 – SouthEast Asia (TBA) – 30th Sept 2023
Round 4 – Dusseldorf, GER – 14th Oct 2023
Round 5 – Vancouver, CA – 28th Oct 2023
Round 6 – Melbourne, AUS – 24/25th Nov 2023
DETAILS – KEN ROCZEN
Roczen kehrt zurück, um seinen WSX-Weltmeistertitel im Jahr 2023 und darüber hinaus zu verteidigen
Ken Roczen hat heute sein Engagement für die FIM Supercross-Weltmeisterschaft (WSX) bestätigt und über eine virtuelle Medienkonferenz angekündigt, dass er bis 2025 in der Meisterschaft fahren wird.
Roczen ist bereits Fahrer des von Dustin Pipes geführten Progressive Insurance ECSTAR Suzuki-Teams in den USA und wird 2023 unter dem Banner der Pipes Motorsports Group antreten, wo er seinen aktuellen WSX-Weltmeistertitel verteidigen wird.
Roczen sagt, dass seine Rückkehr zur Supercross-Weltmeisterschaft für die nächsten drei Jahre sein Engagement darstellt, ein Supercross-Spezialist zu werden und die Disziplin auf der ganzen Welt auszubauen.
"Ich hatte letztes Jahr eine großartige Zeit in Cardiff und Melbourne, was es mir leicht machte, mich für die Supercross-Weltmeisterschaft zu engagieren", sagte Roczen. "Ich bin hungriger denn je nach Rennsiegen und werde mit meinem Team alles geben, um auf der obersten Stufe zu stehen, wenn die Saison diesen November in Melbourne endet.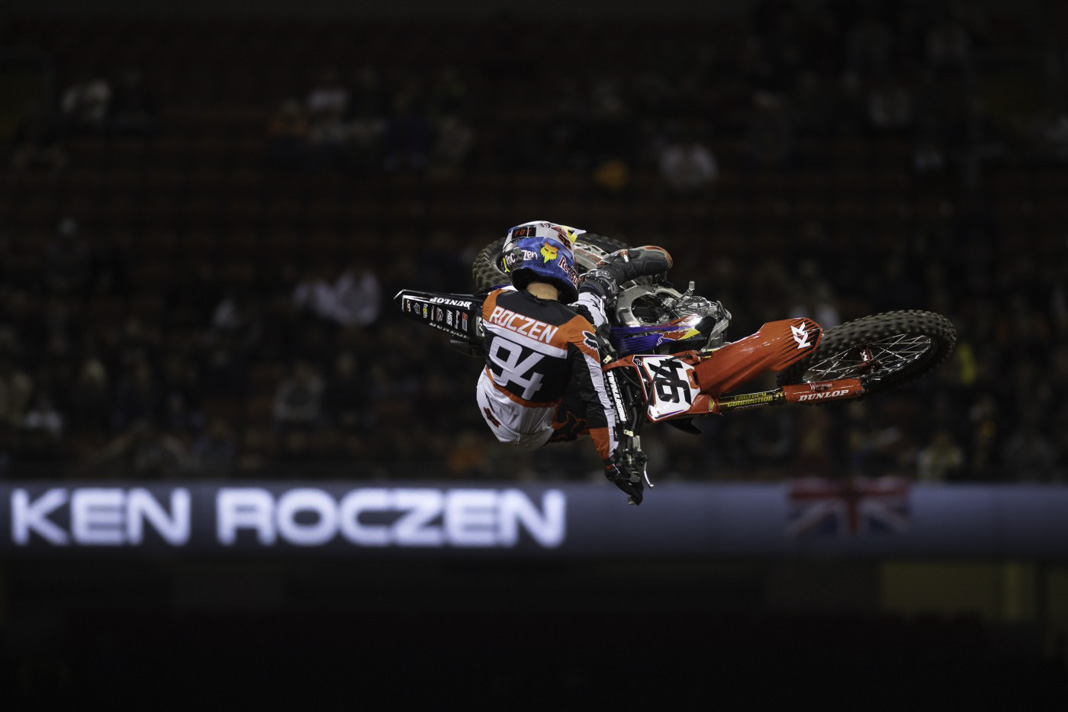 "Damit Supercross als Sport weltweit wachsen kann, ist es meiner Meinung nach wirklich wichtig, dass sich mehr Fahrer ausschließlich auf die Disziplin konzentrieren, weshalb ich mich in den kommenden Jahren auf die Supercross-Weltmeisterschaft und die AMA Supercross-Meisterschaft konzentriere. Ich habe das Gefühl, dass mein Fahren in diesem Jahr so ​​gut war wie immer, und ich bin gespannt, was ich tun kann, wenn ich mich auf eine Spezialität konzentriere.
"Ich bin besonders stolz auf das, was wir dieses Jahr mit dem Progressive Insurance ECSTAR Suzuki Team erreicht haben. Dustin, Larry und das gesamte Team haben große Anstrengungen unternommen, um es mir so bequem zu machen, wie ich es war, die ganze Saison über an der Spitze zu fahren.
"Für uns ist es eine großartige Gelegenheit, unsere Supercross-Dynamik gemeinsam fortzusetzen und den Sport, den wir lieben, zu Fans auf der ganzen Welt zu bringen, für die ich sehr dankbar bin. Ich bin überglücklich, die Möglichkeit zu haben, zu Hause in Deutschland um einen WM-Titel zu kämpfen, wovon ich bisher nur träumen konnte."
Adam Bailey, CEO von SX Global, sagte, die heutige Ankündigung sei nicht nur ein großer Gewinn für den Sport, sondern auch für Fans, die zuvor möglicherweise keine Gelegenheit hatten, einen der größten Namen im Supercross-Rennen ihres Landes zu sehen.
"Supercross hat eine unglaubliche Anhängerschaft auf der ganzen Welt, und wir wissen, dass Ken einer der beliebtesten Fahrer der Welt ist. Ihn für die nächsten drei Jahre für die WSX zu verpflichten, ist ein fantastischer Schritt in Richtung unserer Mission, ein wirklich globales World Supercross aufzubauen Meisterschaft, die Fans, Athleten, Teams, Sponsoren und Medienpartner begeistert.
"Ich kann es kaum erwarten zu sehen, wie Fans in neuen Regionen den besten Sport der Welt aus erster Hand genießen. Es gibt nichts Schöneres, als zu sehen, wie viel Freude sie haben, wenn sie diese unglaublichen Athleten live erleben", sagte Bailey.
Dustin Pipes, Teamchef von Pipes Motorsports, sagte, Roczens Professionalität und Erfahrung seien Qualitäten, mit denen das Team bereits vertraut sei. Jetzt können sie auf dieser Grundlage aufbauen, wenn sie in eine neue Saison des WSX-Rennsports starten.
"Ken ist ein Supercross-Champion auf und neben der Strecke, und wir haben bereits gesehen, was er mit unserem Team in den USA erreichen kann. Diese Beziehung und Konstanz übertragen sich nun auf unser World Supercross Championship Team, daher sind wir zuversichtlich, dass Ken 2023 einen weiteren Weltmeistertitel einfahren kann, diesmal auf einer Suzuki", sagte Pipes.
Fans können Zeuge werden, wie Roczen seinen WSX-Weltmeistertitel bei sechs Supercross-Weltmeisterschaftsrunden in Großbritannien, Frankreich, Südostasien, Deutschland, Kanada und Australien verteidigt. Um Tickets zu kaufen, besuchen Sie WSXChampionship.com
Über WSX
Die FIM World Supercross Championship (WSX) ist eine internationale Meisterschaft, die von SX Global in Australien geleitet wird. Die Supercross-Weltmeisterschaft war hauptsächlich in den USA angesiedelt, bevor der Weltverband des Motorradsports, die Fédération Internationale de Motocyclisme (FIM), SX Global die exklusiven organisatorischen und kommerziellen Rechte zur Ausrichtung und Förderung der Supercross-Weltmeisterschaft ab 2022 zuerkannte.
Letztes Jahr wurde die WSX-Pilotsaison im Principality Stadium in Cardiff vor über 35.000 Fans gestartet, bevor sie nach Down Under ging, wo 50.000 Fans das Finale an zwei Abenden im Marvel Stadium in Melbourne, Australien, miterlebten. Bei der Meisterschaft 2022 gewann Ken Roczen aus Deutschland die WSX-Klasse und Shane McElrath aus den USA gewann die SX2-Klasse.
WSX bietet das größte Preisgeld in der Geschichte der Supercross-Weltmeisterschaft, mit 250.000 US-Dollar, die in jeder Runde in den beiden Rennklassen – WSX (450 ccm) und SX2 (250 ccm) – gewonnen werden können. Im Rahmen ihres unabhängigen Team-Franchise-Modells bietet die Meisterschaft auch beispiellose finanzielle Unterstützung für Teams und Fahrer. WSX bietet Fans durch einzigartige Rennformate, Übertragungsinnovationen und Stadionunterhaltung, die für Menschen und Familien jeden Alters geeignet ist, ein gehobenes Erlebnis.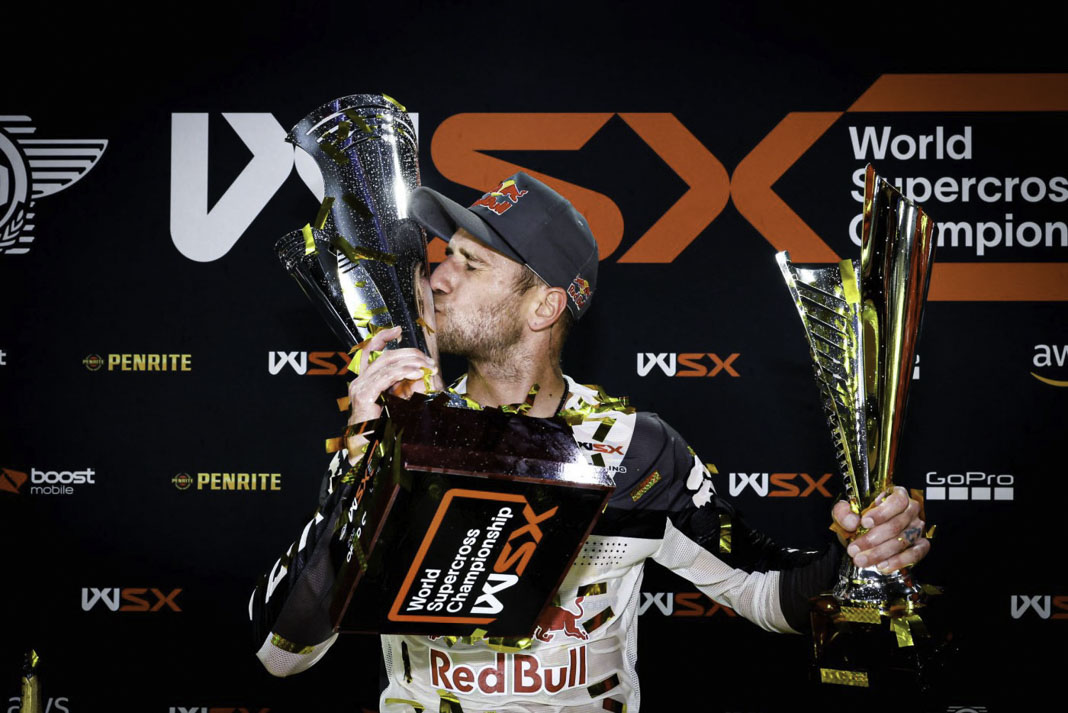 ---

Ken Roczen will race the full FIM World Supercross Championship season. Roczen will race around the globe, giving fans a new opportunity to see him battle in multiple countries as he defends his title. This means that the outdoors (pro motocross) in the US is history.
Round 1 – Birmingham, UK – 1st July 2023
Round 2 – Lyon, France – 22nd July 2023
Round 3 – SouthEast Asia (TBA) – 30th Sept 2023
Round 4 – Dusseldorf, GER – 14th Oct 2023
Round 5 – Vancouver, CA – 28th Oct 2023
Round 6 – Melbourne, AUS – 24/25th Nov 2023
DETAILS – KEN ROCZEN
Roczen returns to defend his WSX world title in 2023 and beyond
Ken Roczen has today confirmed his commitment to the FIM World Supercross Championship (WSX), announcing via a virtual media conference that he will race in the championship until 2025.
Already a rider for the Dustin Pipes-led Progressive Insurance ECSTAR Suzuki team in the US, Roczen will compete under the Pipes Motorsports Group banner in 2023, where he'll defend his current WSX world title.
Roczen says returning to the World Supercross Championship for the next three years represents his commitment to becoming a supercross specialist and growing the discipline around the world.
"I had a great time in Cardiff and Melbourne last year, which made it easy to commit to the World Supercross Championship," said Roczen. "I'm hungrier than ever for race wins and will be giving it my all with my team to be standing on the top step when the season ends in Melbourne this November.
"For supercross to grow as a sport around the world I think it's really important that more riders focus solely on the discipline, which is why I'm concentrating on the World Supercross Championship and the AMA Supercross Championship in the coming years. I feel like my riding this year has been as good as ever, and I'm excited to see what I can do when focusing on one speciality.
"I'm particularly proud of what we've achieved this year with the Progressive Insurance ECSTAR Suzuki Team. Dustin, Larry and the whole team have put in a huge effort to make me as comfortable as I have been to race at the front all season long.
"For us to continue our supercross momentum together and take the sport we love to fans around the world is an amazing opportunity that I'm very grateful for. I'm ecstatic to have the opportunity to compete for a world title at home in Germany, which is something I could only dream about until now."
SX Global CEO Adam Bailey said that today's announcement was not only a huge win for the sport but for fans who might not have had an opportunity to see one of the biggest names in supercross race in their country before.
"Supercross has an incredible following around the globe, and we know Ken is one of the most popular riders in the world, so having him commit to WSX for the next three years is a fantastic step towards our mission to build a truly global World Supercross Championship that fans, athletes, teams, sponsors and media partners are passionate about.
"I can't wait to see fans in new regions enjoy the best sport in the world firsthand. There's nothing more rewarding than seeing the enjoyment they get witnessing these incredible athletes race in person," said Bailey.
Pipes Motorsports team principal Dustin Pipes said Roczen's professionalism and experience are qualities the team is already familiar with. Now, they can build on that foundation as they embark on a new season of WSX racing.
"Ken is a champion in supercross both on and off the track, and we've already seen what he can achieve with our team in the States. That relationship and consistency now transfer to our World Supercross Championship team, so we're confident that Ken can deliver another world title win, this time on a Suzuki, in 2023," said Pipes.
Fans can witness Roczen defend his WSX World Title at six World Supercross Championship rounds in the United Kingdom, France, Southeast Asia, Germany, Canada and Australia. To buy tickets, visit WSXChampionship.com
About WSX
The FIM World Supercross Championship (WSX) is an international championship led by SX Global in Australia. The World Supercross Championship was primarily based in the USA before the world governing body for motorcycle sport, Fédération Internationale de Motocyclisme (FIM), awarded SX Global the exclusive organisational and commercial rights to stage and promote the World Supercross Championship from 2022 onwards.
Last year, the WSX pilot season was launched at Principality Stadium in Cardiff to over 35,000 fans before it headed down under, where 50,000 fans witnessed the finale across two nights at Marvel Stadium in Melbourne, Australia. The 2022 Championship saw Ken Roczen from Germany win the WSX class, and Shane McElrath from the USA win the SX2 class.
WSX offers the biggest prize money in World Supercross Championship history, with US$250,000 to be won at each round across the two racing classes – WSX (450cc) and SX2 (250cc). Under its independent team franchise model, the championship also features unprecedented financial support for teams and riders. WSX provides an elevated experience for fans through unique race formats, broadcast innovations, and in-stadium entertainment suitable for people and families of all ages.