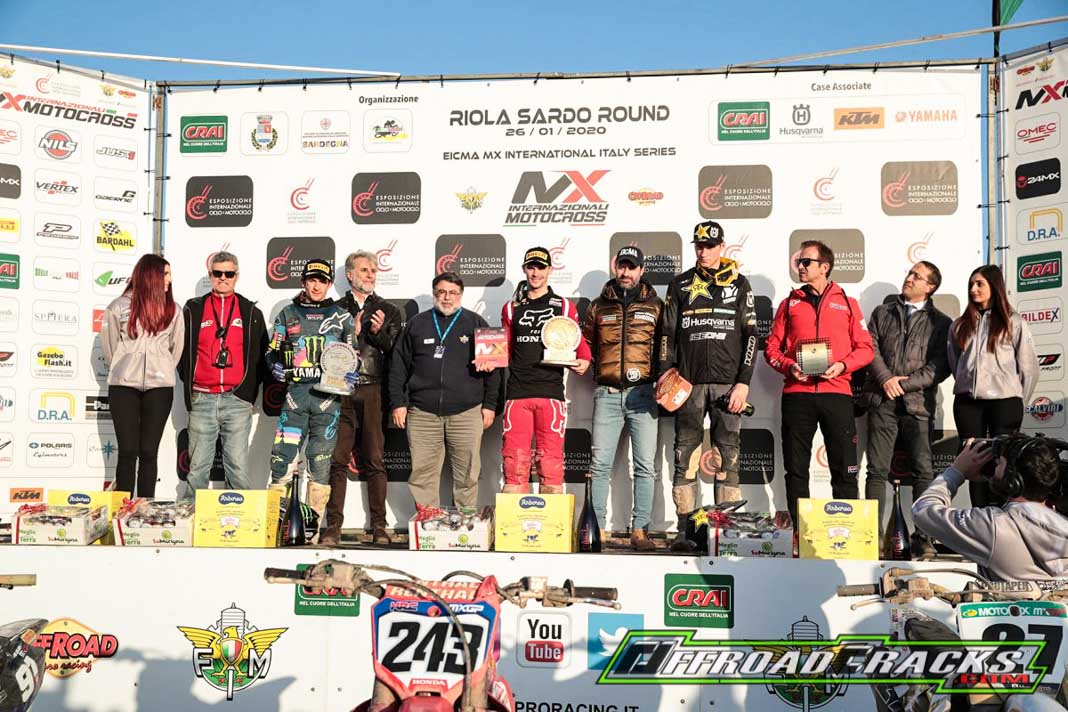 Die internationale Motocross-Saison hat endlich begonnen und es war für die Teilnehmer in Riola Sardo auf Sardinien kein einfacher Start auf diesem sandigen Geläuf.
MX2 – Race
Jago Geerts holte den Holeshot vor Teamkollege Ben Watson mit Maxime Renaux im Schlepptau. Renaux zeigte eine hervorragende Performance und war stets an Watson dran, nur um seine Chance auf den Sieg zu wahren, was letztendlich in einen dritten Platz endete, während der Spitzenreiter schon auf und davon war.
Geerts schien in seiner Führungsrolle alles unter Kontrolle zu haben, aber nach ein paar Runden konnte sich Watson heranarbeiten und klebte förmlich an Geerts Hinterrad, der verzweifelt eine Lösung suchte um Watson loszuwerden. Der junge Belgier reagierte sourverän und hatte alles unter Kontrolle, so dass Watson keinen Weg an ihm vorbei fand. Dieser Umstand wurde noch für Geerts von zwei Überrundete unterstützt, da diese Ben Watson aufhielten.
"Wir sind sehr glücklich, sie respektieren einander und haben nichts falsch gemacht", sagte ein fröhlicher Bervoets, nachdem er beobachtet hatte, wie sich seine Schützlinge um den Sieg duellierten.
Watson sagte: "Es war ein wirklich schönes Rennen, ich hatte viel Spaß da ​​draußen, wir haben hier trainiert und es ist so anders (schneller im Rennen). Ich bin Jago das ganze Rennen gefolgt und habe versucht die Gelegenheit zu nutzen, um ihn zu überholen. Ich habe es bis zur letzten Kurve versucht, konnte es aber nicht."
Geerts kommentierte: "Es war ein gutes Rennen für mich, ich hatte Arm-Pump und es war wirklich schwierig die Führung zu halten. Aber am Ende habe ich gewonnen und ich bin wirklich glücklich mit einem ersten Sieg in die neue Saison."
Ergebnisse / Results – MX2
mx2 - gara - classifica - 2020-01-26 14.01.54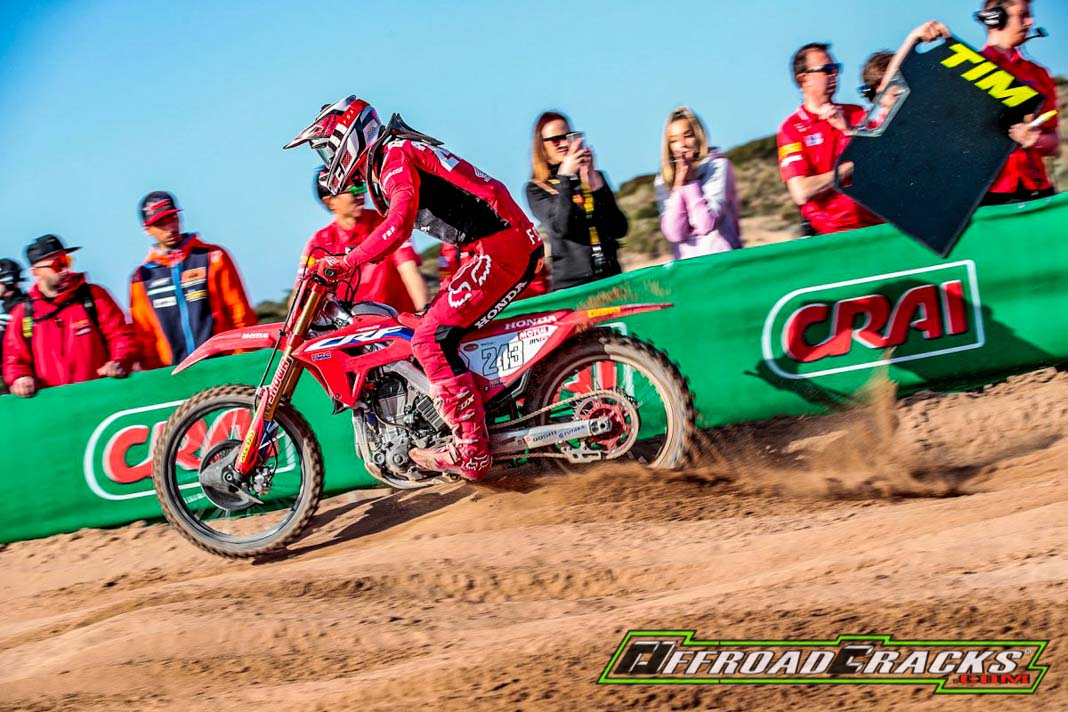 MX1 – Race
Tim Gajser debütierte auf seiner 2021er Honda mit Style, indem er einen Doppelsieg nach Hause holte. Die eigentliche Story lieferte aber Mitch Evans! Der Australier wurde Zweiter und holte Gajser gegen Ende des Rennens noch ein, nachdem Evans einen wild agierenden und sehr schnell fahrenden Monticelli überholen konnte.
Jeremy Seewer fuhr früh vom vierten auf den zweiten Platz vor und verfolgte Gajser. Trotz eines Sturzes schaffte er es zurück auf den dritten Platz. Seine Chancen auf einen Sieg waren auf die schon enteilten Honda-Fahrern dann einfach zu gering.
Seewer sagte: "Ein guter Saisonstart, obwohl ich hinter Tim diesen Fehler gemacht hatte. Ich bin froh, dass es vorwärts geht, obwohl ich eigentlich dachte, dass mir mehr Fehler passieren würden."
"Überhaupt nicht", sagte Evans, als er gefragt wurde, ob seine Leistung ihn überraschte. "Ich bin im besten Team, das es gibt. Ich konnte mit Tim auf dem neuen Motorrad fahren und ich habe immer gesagt, dass die 450 besser zu mir passt und es ist gut, das hier bewiesen zu haben – aber es liegt noch ein weiter Weg vor mir."
Gajser kommentierte seinen ersten Laufsieg wie folgt: "Mir ging es gut, ich hatte einen guten Start, aber ziemlich früh im Rennen bekam ich Arm Pump. Wir hatten heute schönes Wetter und es ist ein wirklich schöner Renntag. "
Ergebnisse / Results – MX1
mx1 - gara - classifica - 2020-01-26 14.57.29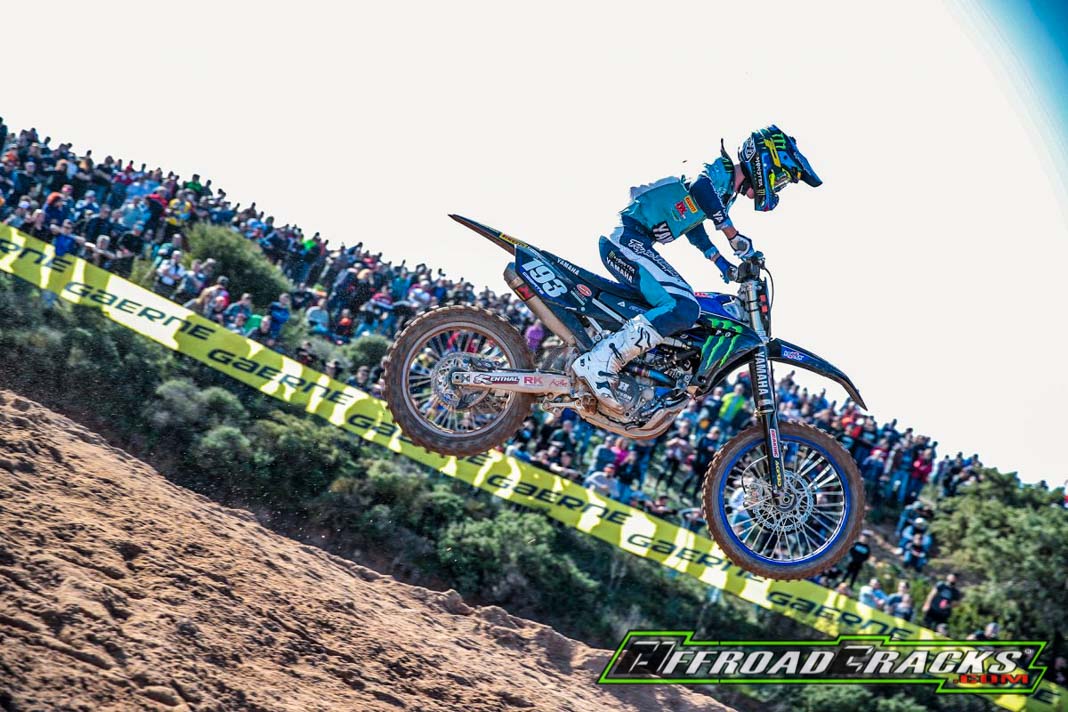 SUPERFINAL
Tim Gajser übernahm von vornherein die Führung, als in der zweiten Runde ein absolut MX-Massaker seinen Lauf nahm. Evans knallte mit Seewer gegen die Streckenbegrenzung und Paulin musste ebenfalls zaubern. Evans musste sicherstellen von den nachfolgenden Fahrern nicht überfahren zu werden. Jeremy Seewer konnte wieder loslegen und schaffte es letztendlich auf einen beeindruckenden zweiten Platz.
Seewer gab die Verfolgung auf, während Gajser neun Sekunden Vorsprung herausfuhr, bis Seewer plötzlich an Gajsers Hinterrad klebte! Gajser hatte sich von einem Überrundeten aufhalten lassen, was Seewer die Chance auf einen Sieg ermöglichte.
Seewer versuchte an Gajser so nah möglich heranzufahren, was ihm aber ein Überrundeter vermieste. Gajser tat, was er zu tun musste, machte gute Überholmanöver und hielt sein Tempo hoch, um letztendlich den Sieg zu holen. Er hatte damit einen perfekten Start in seine Saison mit einem Doppelsieg im ersten Rennen des Jahres.
Arminas Jasikonis holte sich den dritten Platz. Er überholte Geerts und Teamkollegen Jonass, die um die Position gekämpft hatten. Gautier Paulin folgte dem schnellen Litauer, nachdem dieser ihn überholt hatte. Dafür musste er einen Zahn zulegen, um mit dem rasanten Husky-Fahrer mithalten zu können.
Jasikonis: "Als erstes hatten wir keinen guten Start und ich mussten mich nach vorn vorarbeiten. Im zweiten Race hatte ich einen besseren Start. Ich bin Dritter geworden und sehr glücklichdarbüer."
Seewer: "Es war knapp, weil Tim einen Fehler gemacht hat. Ich glaube, er ist zusammen mit einem überrundeten Fahrer gestürzt. Es war eine schwierige Situation, um sie herumzukommen. Ich hatte einen guten Rhythmus und bin zu diesem Zeitpunkt über meine Leistung mehr als glücklich"
Gajser: "Es war ein guter Tag. Ich bin so glücklich, nach so einer langen Pause mit diesem Ergebnis in die neue Saison zu starten. Beim zweiten Race hatte ich wieder einen guten Start und ich machte eine gute Führungsarbeit, aber als wir zu auf die überrundeten Fahrern aufliefen waren sie viel langsamer als wir und einer berührte mein Vorderrad und ich produzierte einen riesigen Sturz! Zum Glück konnte ich das Motorrad schnell wieder starten, denn Jeremy war nur eine Sekunde dahinter und so musste ich in den letzten Runden so richtig pushen. Aber trotzdem bin ich super glücklich, die Saison so zu beginnen."
Ergebnisse / Results – SUPERFINAL
supercampione - gara - classifica - 2020-01-26 16.36.27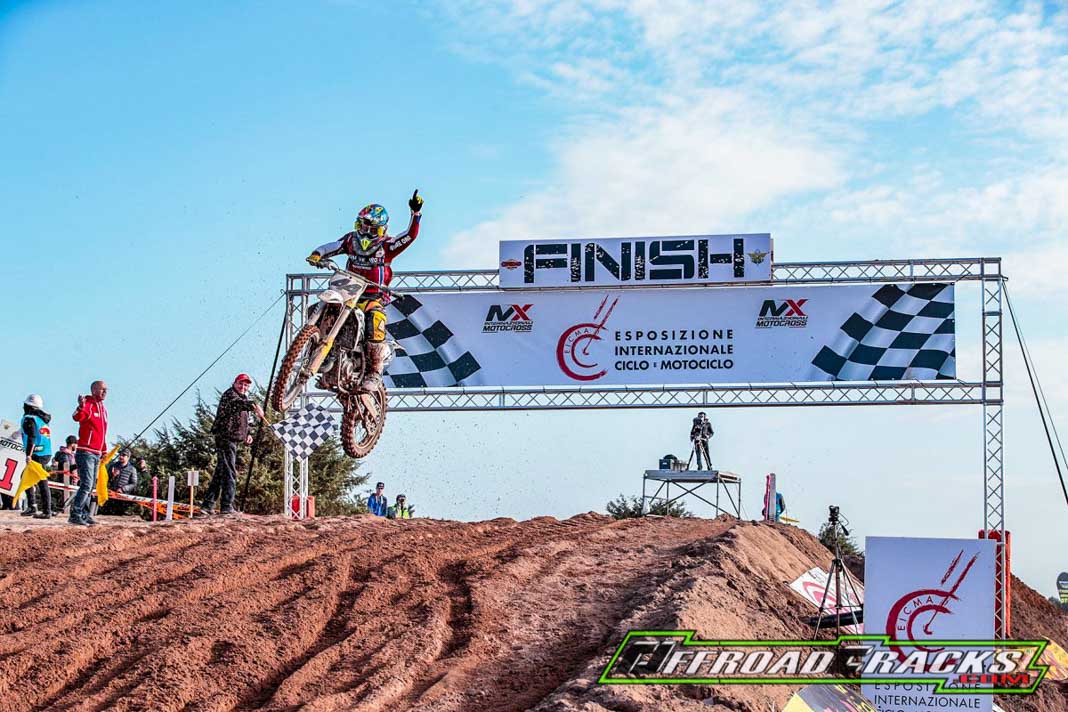 ---
HINWEIS: Mit Anklicken des Videos stellen sie automatisch eine Verbindung zu Youtube/Google her, was einen ungewünschten personenbezogenen Datenaustausch mit sich bringen kann. Weitere Infos unter: www.google.de/privacy
---

The International motocross season is finally underway and it wasn't an easy start for the riders down in Riola Sardo, Sardinia, Italy with a rough sand track ready to test the eager participants in their first race of the year!
MX2– Jago Geerts took the holeshot from teammate Ben Watson with Maxime Renaux in tow. Renaux looked good early and was all over Watson only to go down and lose his chance at the win, eventually coming back to third but the leaders were long gone.
Geerts seemed to be controlling things out front but with a couple of laps to go Watson got right on his rear wheel and was looking for a way by. The young Belgian responded only for Watson to put the hammer down again and be right on Geerts rear wheel on the last lap despite getting held up by a backmarker with two laps to go! But Watson couldn't quite find a way by in the time remaining leaving Geerts to take the first win of the year.
"We are very happy, they respect each other and didn't do something wrong," said a happy Bervoets after watching his charges duel for the win.
Watson said: "It was a really nice race, I had a lot of fun out there, we have been training here and it's so different (faster in the race). I followed Jago the whole race and was trying to make the opportunity to pass him, I tried all the way to the last corner but couldn't make it happen."
Geerts commented: "It was a good race for me, I had some arm pump and it was really difficult to control the lead but in the end I won and I'm really happy to start the season with a win."
MX1 – Tim Gajser debuted the 2021 Honda in style by taking a wire to wire victory in the sand but the real story was Mitch Evans! The Aussie finished second and actually caught Gajser slightly towards the end once Evans had dispatched a vibrant Monticelli who was very quick in the first half of the race.
Jeremy Seewer went from fourth to second early and was chasing Gajser when he went down but he did pick himself up to get back to third however, by this stage the damage to his chances of a win was done with the two Honda's too far away up front.
Seewer said: "A good start for the season even though I made a mistake following a Tim. I'm happy I'm building up even thought there were some mistakes still."
"Not at all," Evans said when asked if his performance surprised him. "I'm on the best team there is, I have been able to ride with Tim on the new bike. I've always said the 450 suits me better and it's good to prove it but there is a long way to go."
Gajser commented on his first moto win: "I was feeling okay, I had a good start but quite early in the race I got arm pump. We have nice weather today so it is a really nice day of racing."
Superfinal – Tim Gajser took the lead as carnage ensued for his teammate Mitchell Evans in turn two. Evans banged bars with Seewer out of turn one with the knock-on effect leaving Paulin up the bank and then Evans going down in turn two while second and trying not to get run over as the pack came through! Jeremy Seewer nearly went down doing the exact same thing as Evans while in his wheel tracks but somehow stayed on and moved into second.
Seewer gave chase but Gajser pulled out a nine second lead until, all of a sudden, Seewer was on Gajser's rear wheel with only a few minutes remaining! Gajser had come together with a backmarker and hit the deck giving Seewer his chance at the win.
Seewer tried to get close enough to pass but with backmarkers not moving out of his way, the Yamaha factory man would lose and catch Gajser based on how much free track he had. Gajser did what he had to do, making good passes on the lappers and keeping his pace high to take the win and enjoyed a perfect start to his season with a double victory in the first race of the year.
Arminas Jasikonis was best of the rest after coming through the pack to take third, passing Geerts and teammate Jonass who had been battling for the position. Gautier Paulin, after getting passed by Jasikonis, followed the fast Lithuanian through the pack. upping his speed to match the rapid Husky man. Paulin would take fourth with Geerts, riding in third for a long time, finally coming home fifth, just ahead of teammate Watson.
Jasikonis: "First moto we didn't have a great start and had to work my way through. Second moto I had a better start but I got pushed wide. I finished third and quite happy from where I started."
Seewer: It was getting close because Tim made a mistake, I think he crashed with a lapped rider, it was a tricky situation getting around them. I had a good rhythm, I'm happy at this stage for the end of January.
Gajser: "It was a good day. I'm so happy to start the season after a long break. The second moto I had again a good start and I made a comfortable lead but after we started to get to the lapped riders they were way slower than us, one touched my front wheel and I made a huge crash! Thankfully I could pick up the bike quickly, Jeremy was one second behind so in the last couple of laps I had to push but anyway, I'm super to to begin the season like this."
Quelle / Source: Promotocross