Und das betrifft primär die Königsklasse in Form der Honda CRF450R und ihre Cross-Country-Version CRF450RX. Denn die Überarbeitung durch die Honda-Techniker bringt einen unglaublichen Gewichtsvorteil zum Vorjahresmodell von satten zwei Kilogramm ein, während die RX sogar 2,3 schafft – das ist ein Wort! Das bedeutet, dass man für 2021 eine komplette Neuentwicklung erhält, die direkt aus den Erfahrungen und Entwicklungen von Tim Gajser's Untersatz in der MXGP profitiert. Und wer Honda kennt weiß, dass damit unzählige Neuerungen in nahezu jedem Bereich des Cross-Geräts Einzug halten.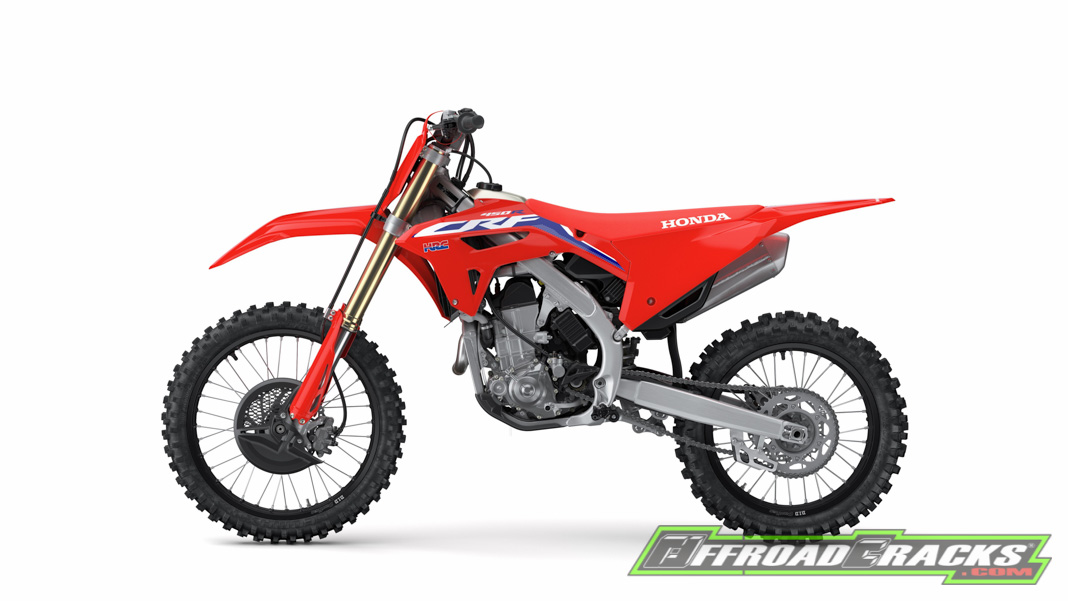 NEUERUNGEN CRF450R 2021
Neuer gewichtsoptimierter Leichtmetall-Rahmen mit -Heck (-1,02 kg)
Optimierter Steifigkeitsverlauf an der neuen kompakteren Schwinge (-20%)
Verbessertes Einlenkverhalten durch neue Rahmen- und Fahrwerksgeometrie
Gabelbrücken-Kit mit erhöhtem Flex
49er Showa-Upsidedown-Gabel mit 5mm mehr Hub (310mm Federweg)
Achsklemmen nun steifer
Fahrwerks-Update dank neuem Setup
Federbein mit neuem Dämpfungskolben für verbessertes Ansprechverhalten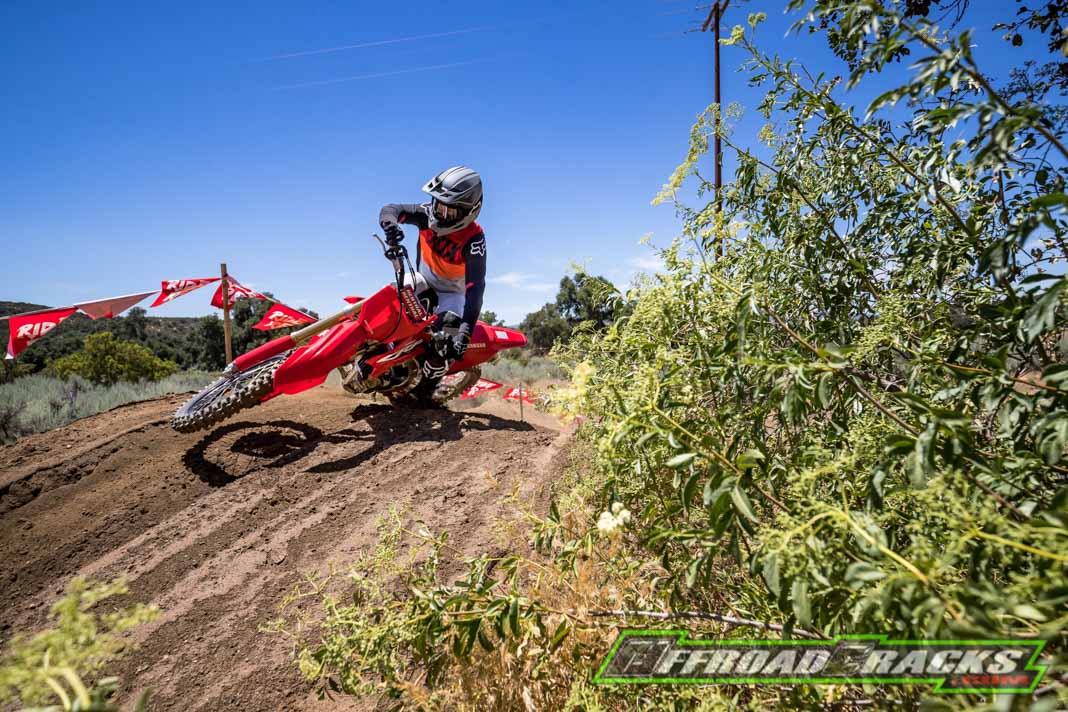 Leichte Federbein-Feder (-200g)
Kompaktere Sitzbank (10mm kürzer)
Neu gestaltete Kunststoff-Teile
Schmalere Fahrzeugsilhouette (-50mm linke Seite, -20mm rechte Seite)
Lenkkopfwinkel/Nachlauf: 62,9° bei 114mm (2019: 62,6° bei 116mm)
Neuer Radstand: 1481mm (2019: 1482mm)
Renthal Fatbar Lenker
Obere Gabelbrücke mit zwei Lenkerpositionen und insgesamt vier Einstellmöglichkeiten
Neue Elektrik (-100g)
Schwarze D.I.D Leichtmetall-Felgen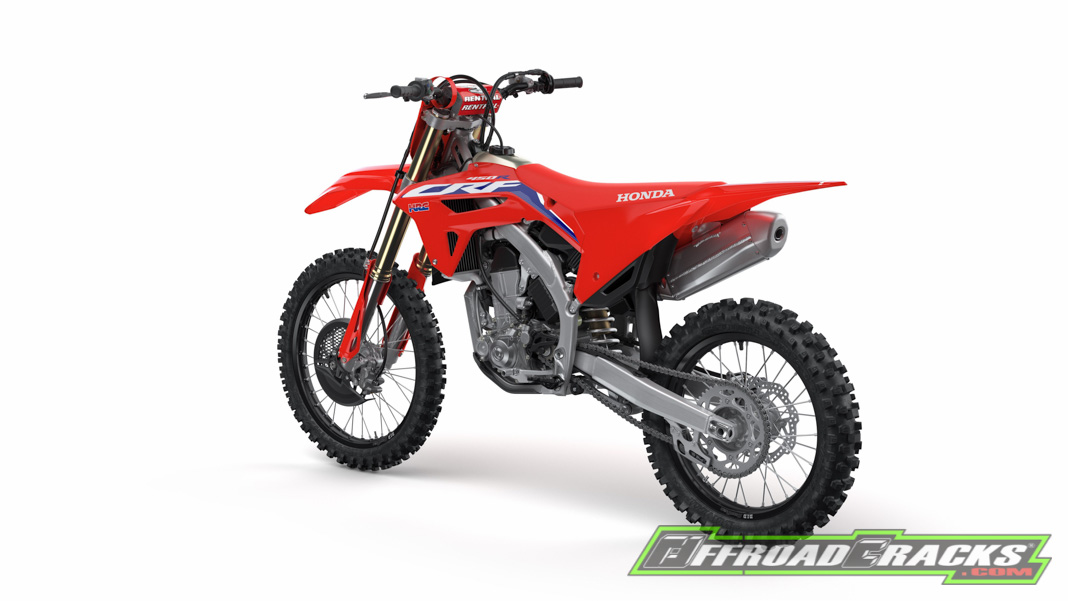 Vergrößerte Airbox (+ 1800cm³ Volumen)
Überarbeitetes Drosselklappengehäuse
Optimiere Auslasskanäle (Oval anstatt rund)
Leichtere Auspuffanlage zur Steigerung des Drehmoments (-1,24kg)
Hydraulische Kupplung (10% weniger Kraftaufwand gegenüber der Seilzugkupplung)
Acht Kupplungsscheiben anstatt sieben plus extra Feder
Neues Dekompressions-System zur Verringerung des frühzeitigen Absterbens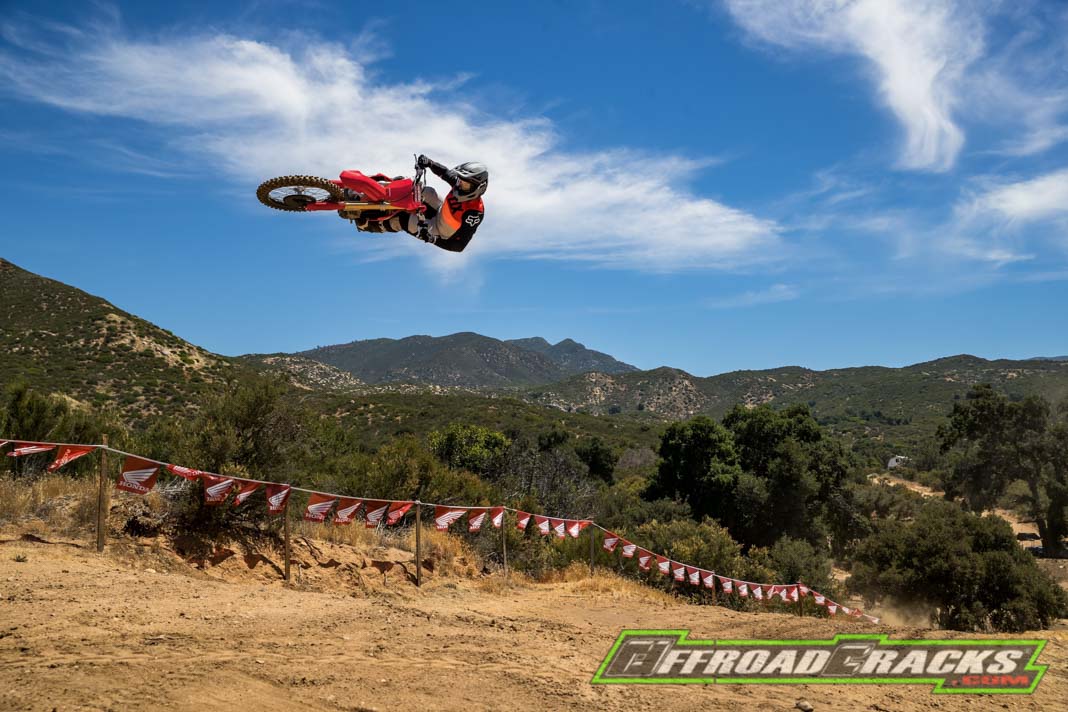 Leistungssteigerung: + 2,45PS
Drehmomentsteigerung: + 2Nm
Modifizierte Launch Control, Traktionskontrolle und PGM-FI-Mapping
Magnesium-Ventildeckel mit reduzierter Wandstärke
Kleinere Kraftstoffpumpe mit vier statt sechs Schrauben(-120g)
HSTC in der linken Lenkerarmatur integriert (Honda Selectable Torque Control mit drei Modis)
Vereinfachtes HRC Einstelltool zur Änderungen der Modis "Aggressiv" und "Smooth"
Trockengewicht: 105,8kg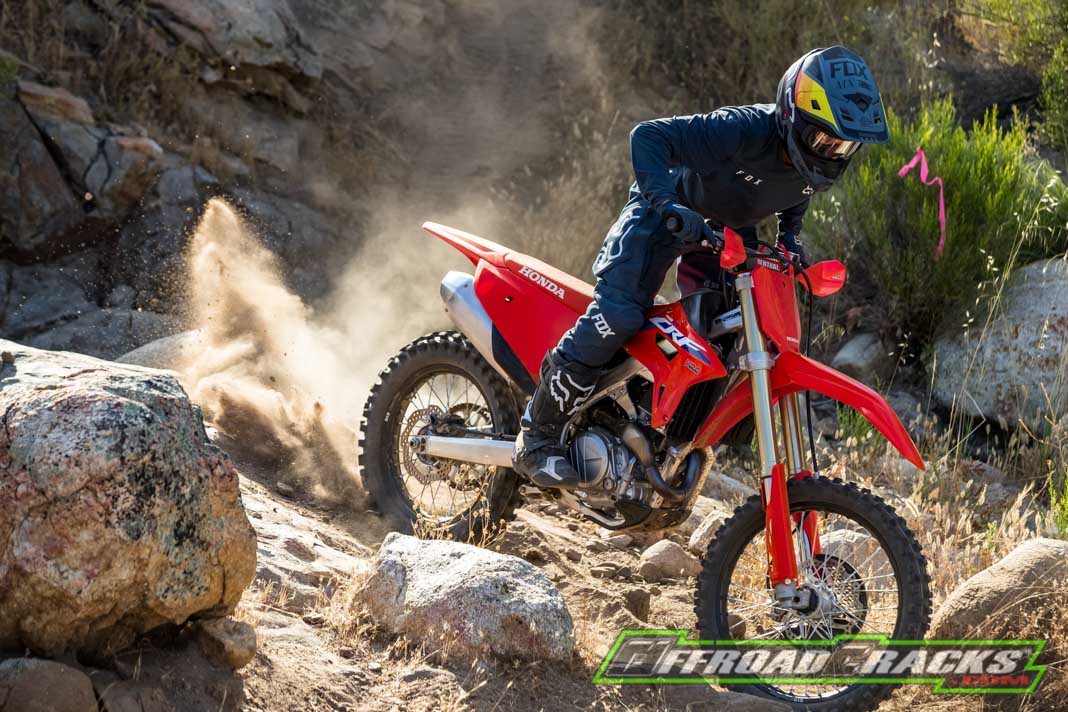 NEUERUNGEN CRF450RX 2021
Alle Neuerungen der CRF450R treffen auf das RX-Cross-Country-Modell zu, bis auf…
Neuer gewichtsoptimierter Leichtmetall-Rahmen mit -Heck (-2,3 kg)
0,82 PS Leistungsplus ab 5000/min
Dunlop Geomax AT81 Bereifung
Geschmiedeter Leichtmetall-Seitenständer
Offen Hebelschützer
Angepasste Fahrwerks-Abstimmung
Spezifische Motor-Abstimmung
Größerer Kraftstoff-Tank
18-Zoll-Hinterrad
Trockengewicht: 107,6kg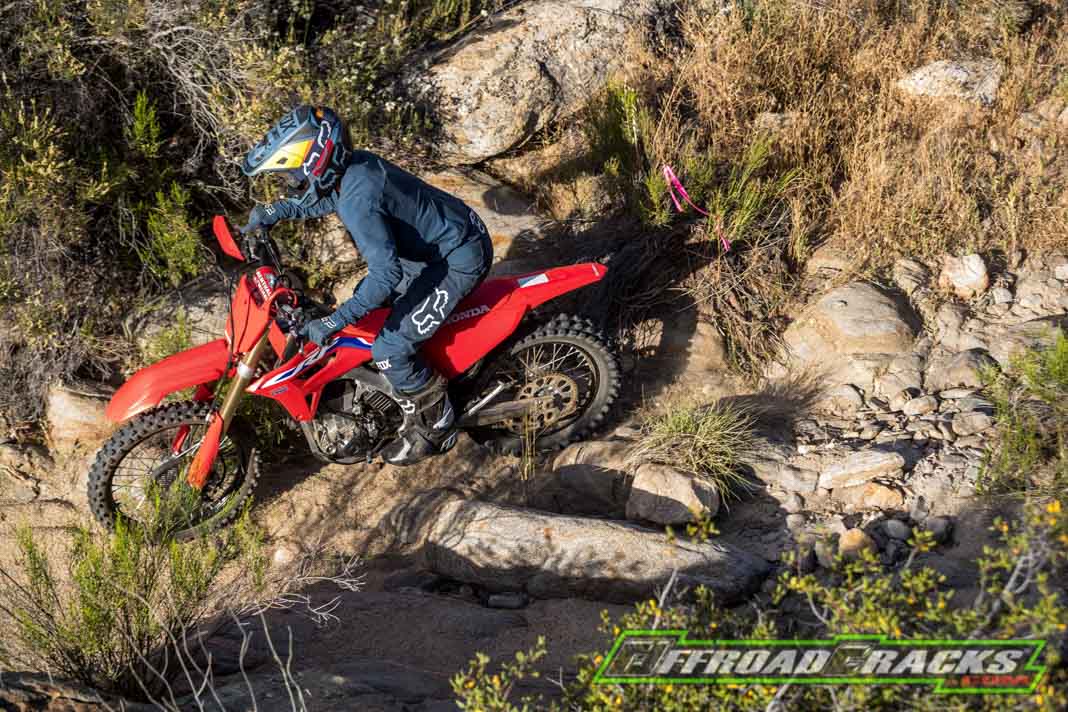 Verfügbarkeit und Preise werden wie üblich nachgereicht, sobald verfügbar.
Impressionen / Impressions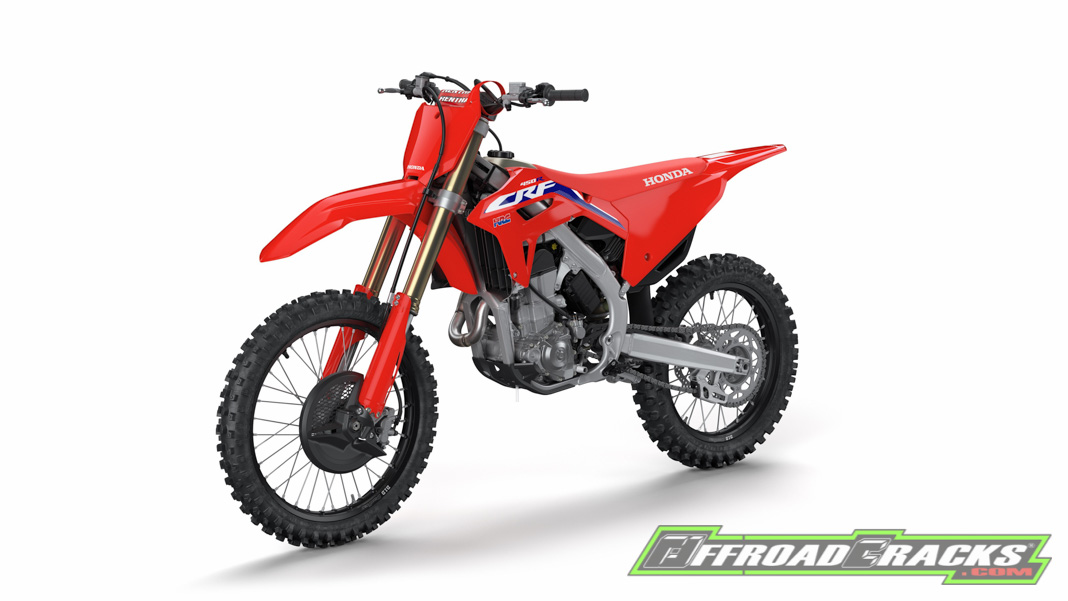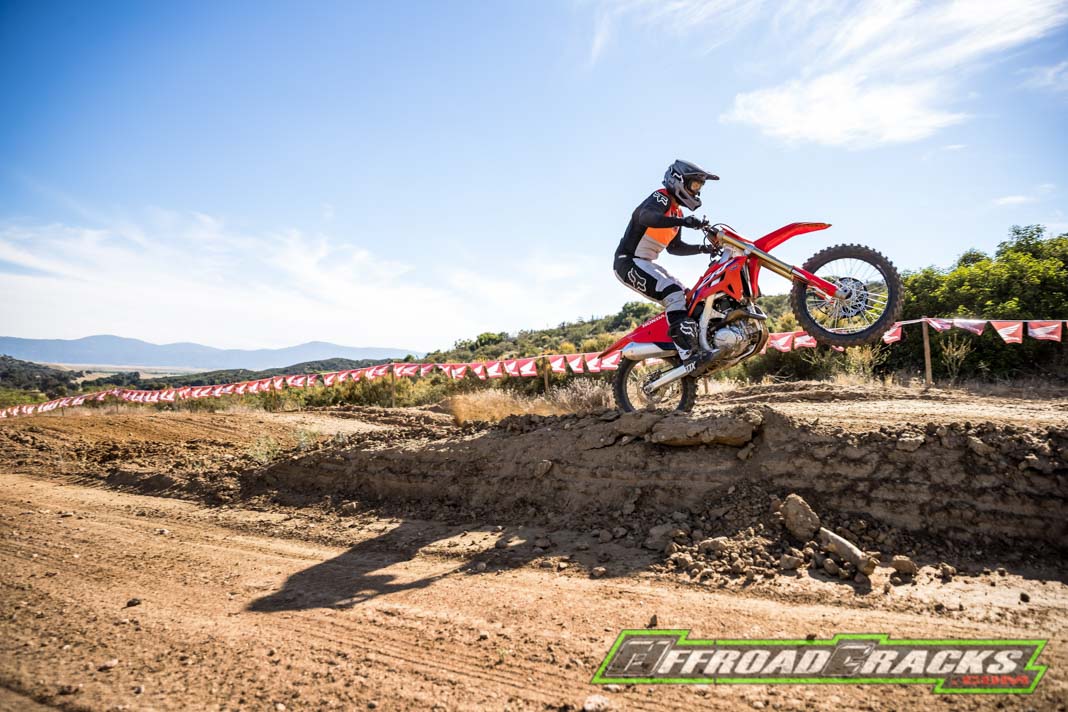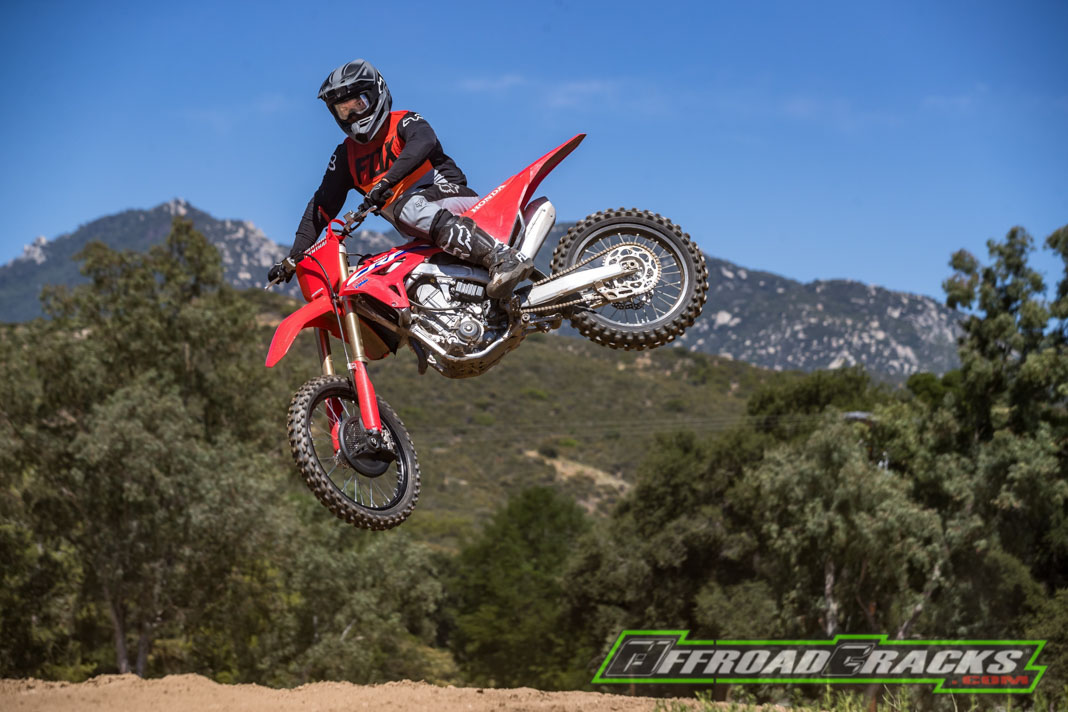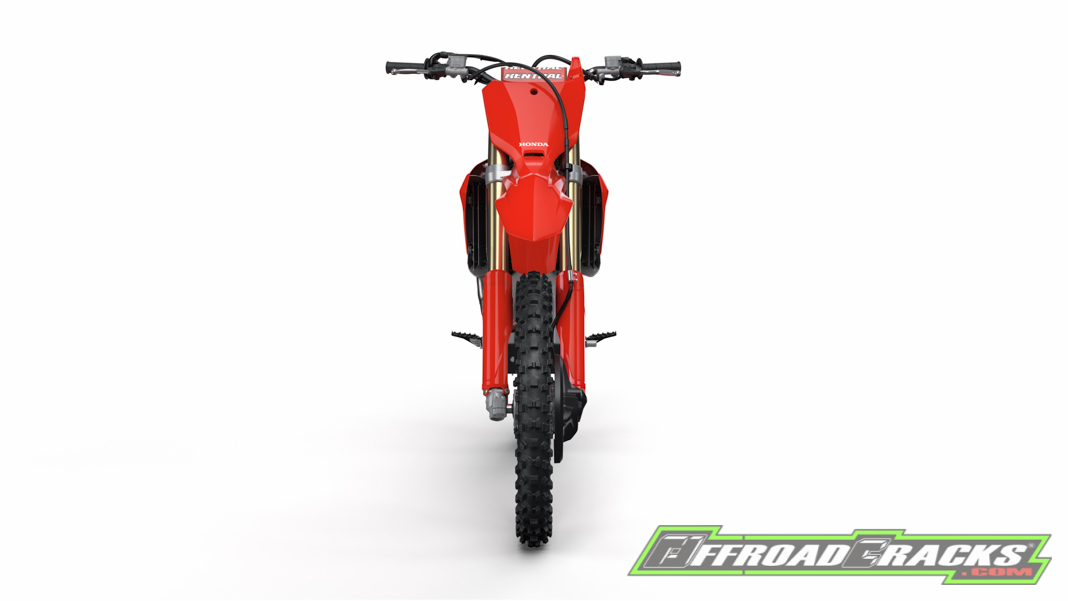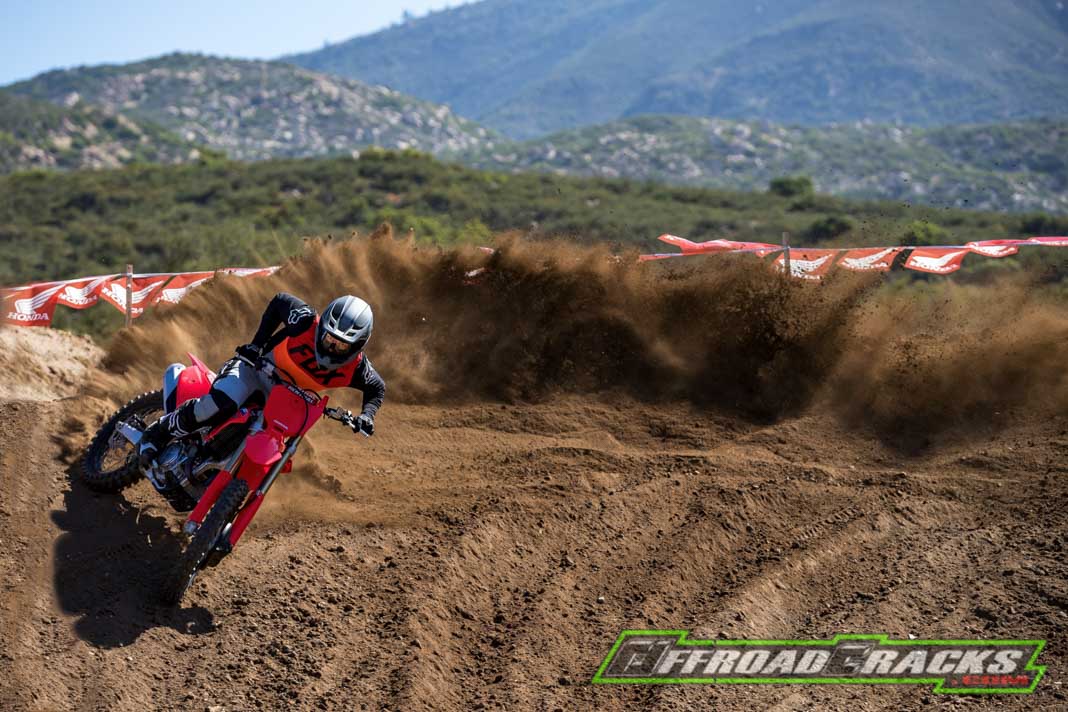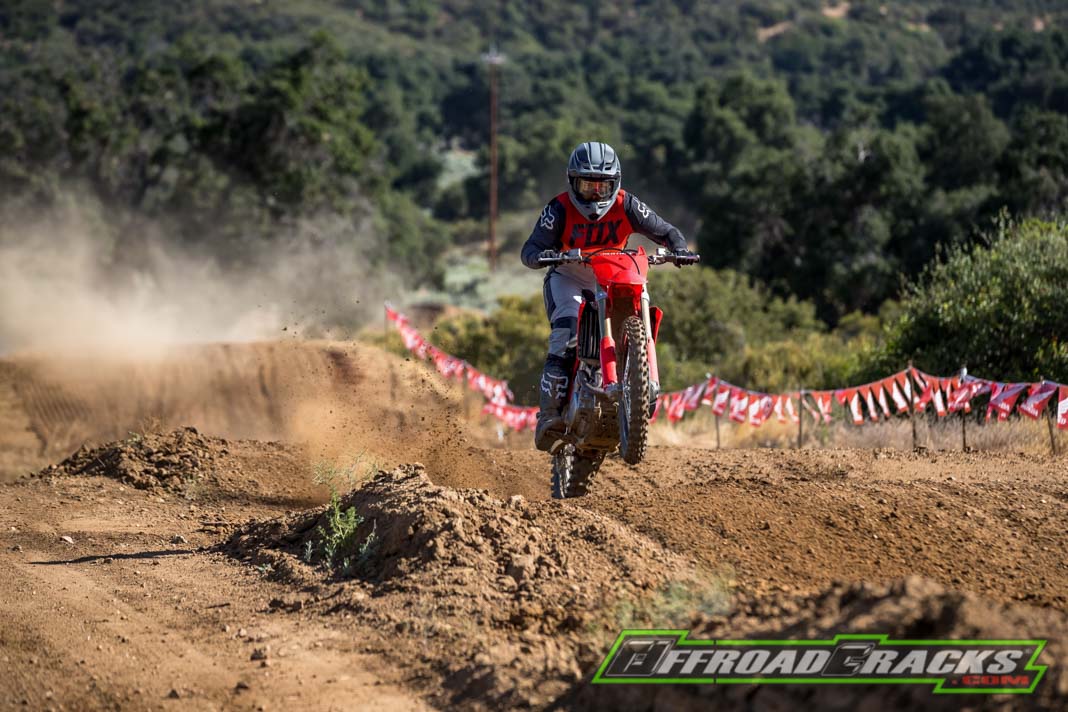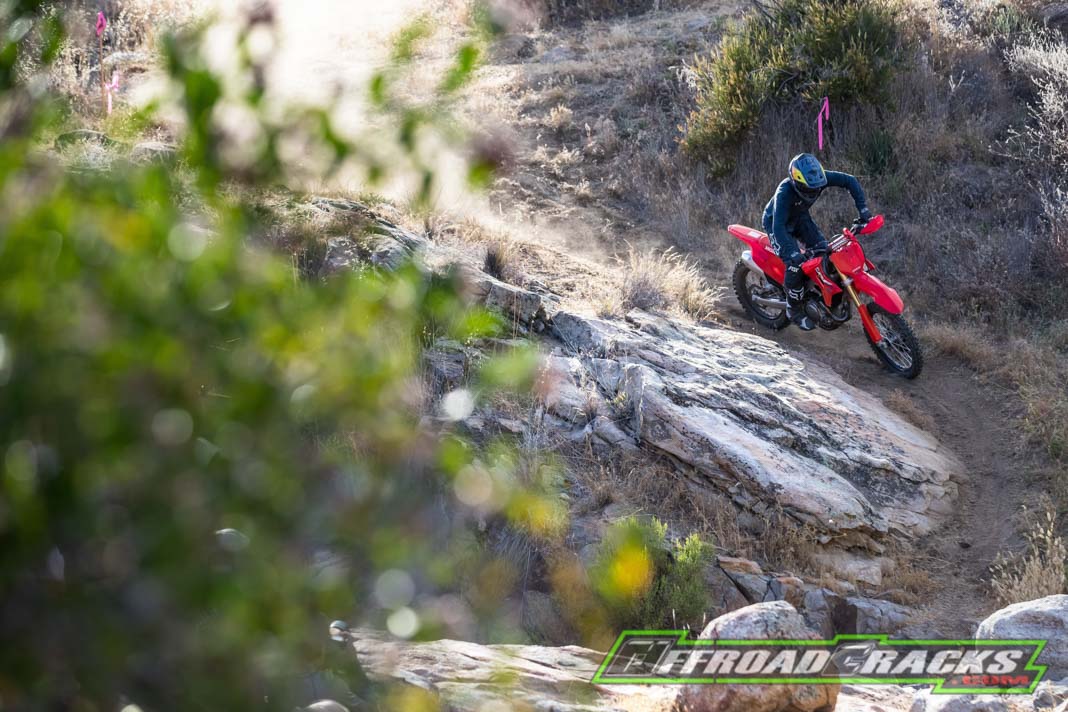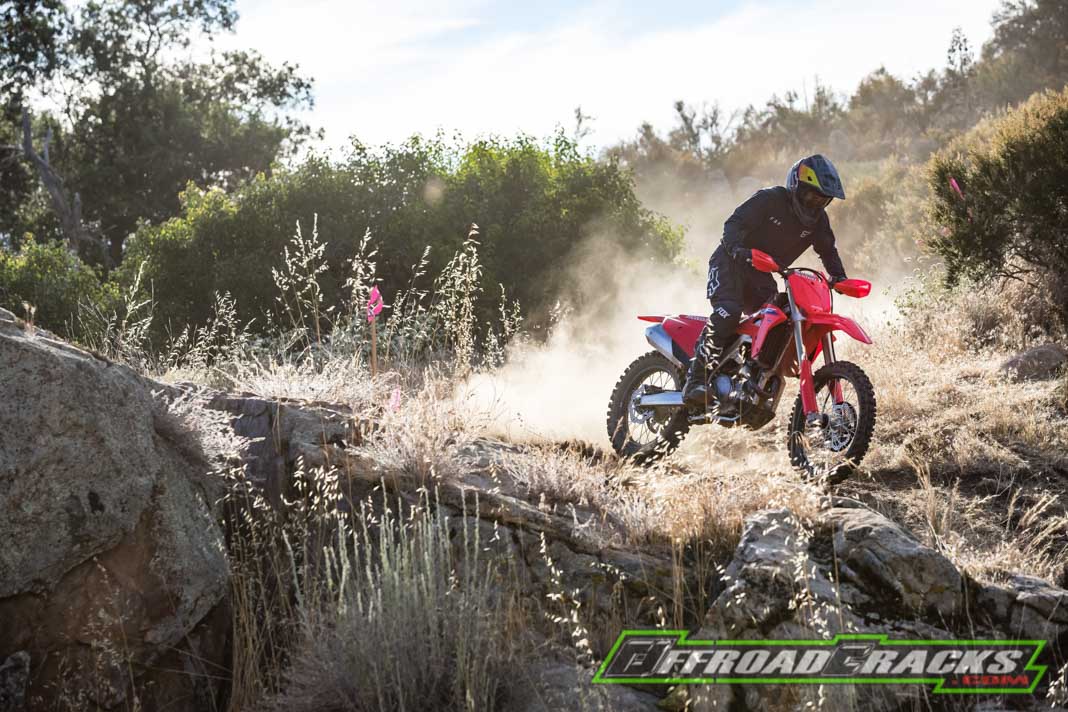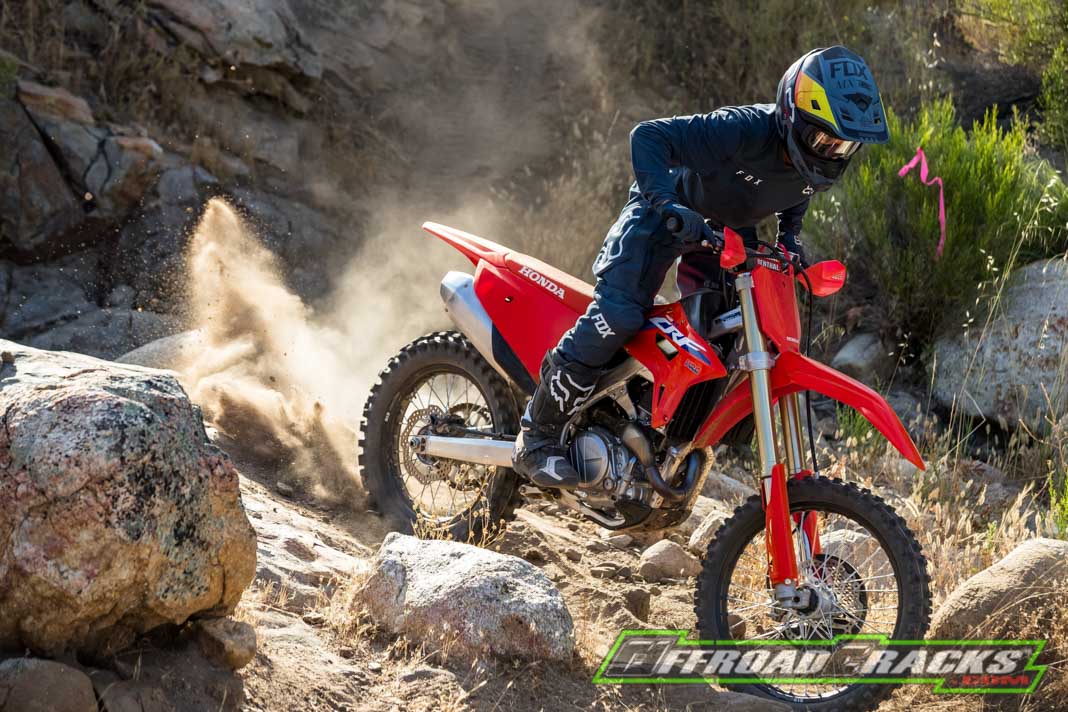 ---

And that primarily affects the premier class in the form of the Honda CRF450R and its cross-country version CRF450RX. Because the revision by the Honda technicians brings an incredible weight advantage compared to the previous model of a whopping two kilograms, while the RX even manages 2.3 – that's a word! This means that for 2021 you get a completely new development that benefits directly from the experience and developments of Tim Gajser's base in the MXGP. And anyone who knows Honda knows that innumerable innovations have found their way into almost every area of ​​this motorcycle.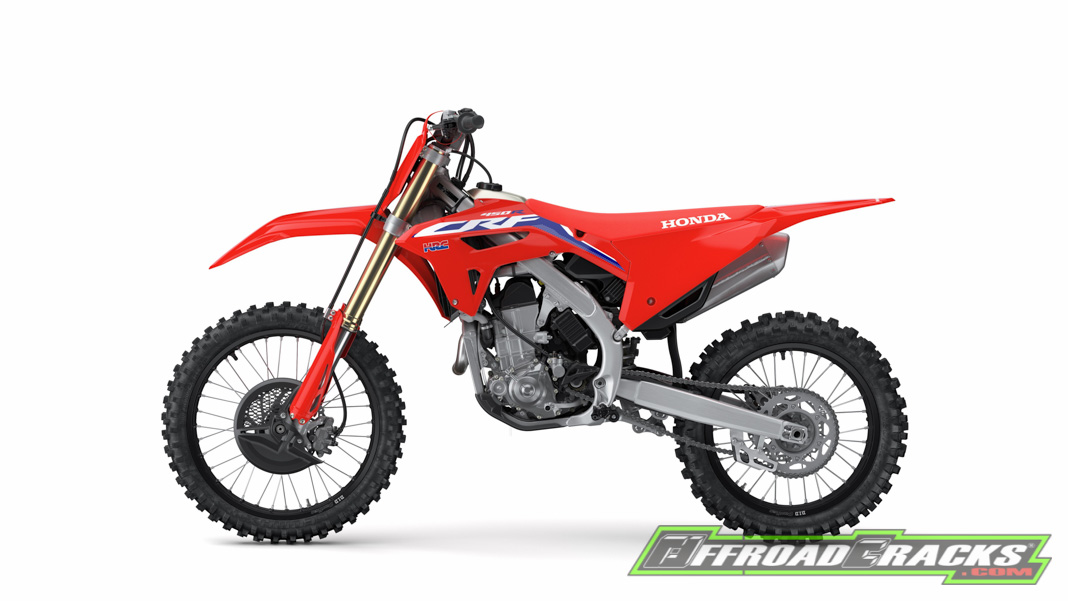 WHAT'S NEW CRF450R 2021
New weight-optimized alloy frame with subframe (-1.02 kg)
Optimized stiffness curve on the new, more compact swing arm (-20%)
Improved steering behavior thanks to new frame and chassis geometry
Triple clamp kit with increased flex
49er Showa-Upsidedown fork with 5mm more travel (Overall: 310mm)
Axle clamps are now stiffer
Suspension components with new setup
Shock with new damping piston for improved response
Lighter shock spring (-200g)
More compact bench (10mm shorter)
Redesigned plastic parts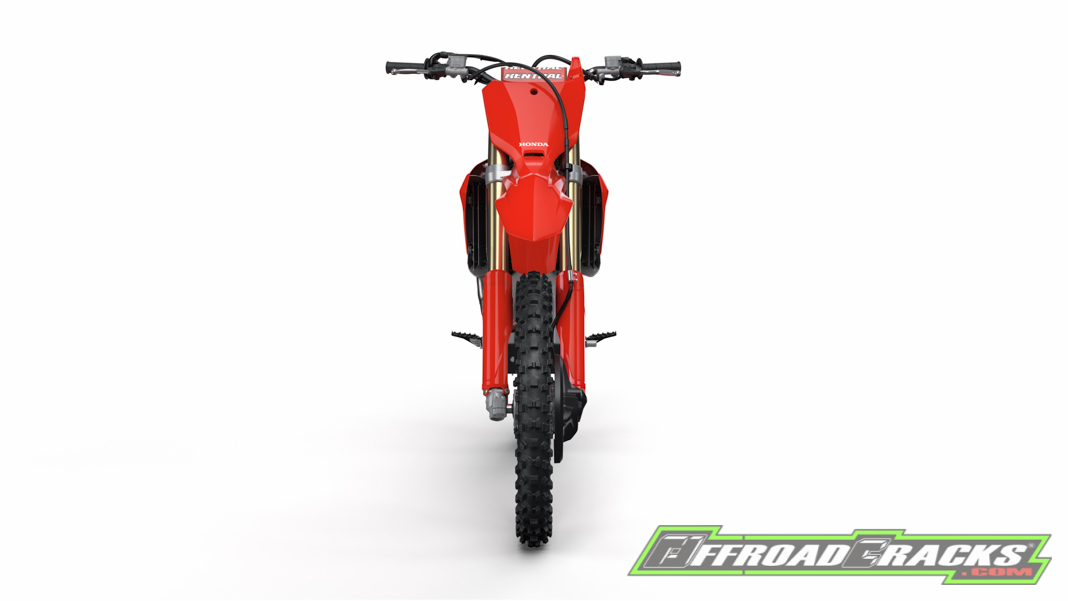 Narrower vehicle silhouette (-50mm left side, -20mm right side)
Steering head angle / caster: 62.9 ° at 114mm (2019: 62.6 ° at 116mm)
New wheelbase: 1481mm (2019: 1482mm)
Renthal Fatbar handlebar
Upper triple clamp with two handlebar positions and a total of four adjustment options
New electronics (-100g)
Black D.I.D alloy wheels
Enlarged airbox (+ 1800cm³ volume)
Revised throttle body
Optimize outlet channels (oval design instead of round)
Lighter exhaust system with the function of increased torque (-1.24kg)
Hydraulic clutch (10% less effort compared to the cable version)
Eight clutch disks instead of seven plus an extra spring
New decompression system to reduce stalling
Performance increase: + 2.45PS
Torque increase: + 2Nm
Modified launch control, traction control and PGM-FI mapping
Magnesium cylinder head cover with reduced wall thickness
Smaller fuel pump with four instead of six screws (-120g)
HSTC integrated in the left handlebar fitting (Honda Selectable Torque Control with three modes)
Simplified HRC setting tool for changing the 'Aggressive' and 'Smooth' modes
Dry weight: 105.8kg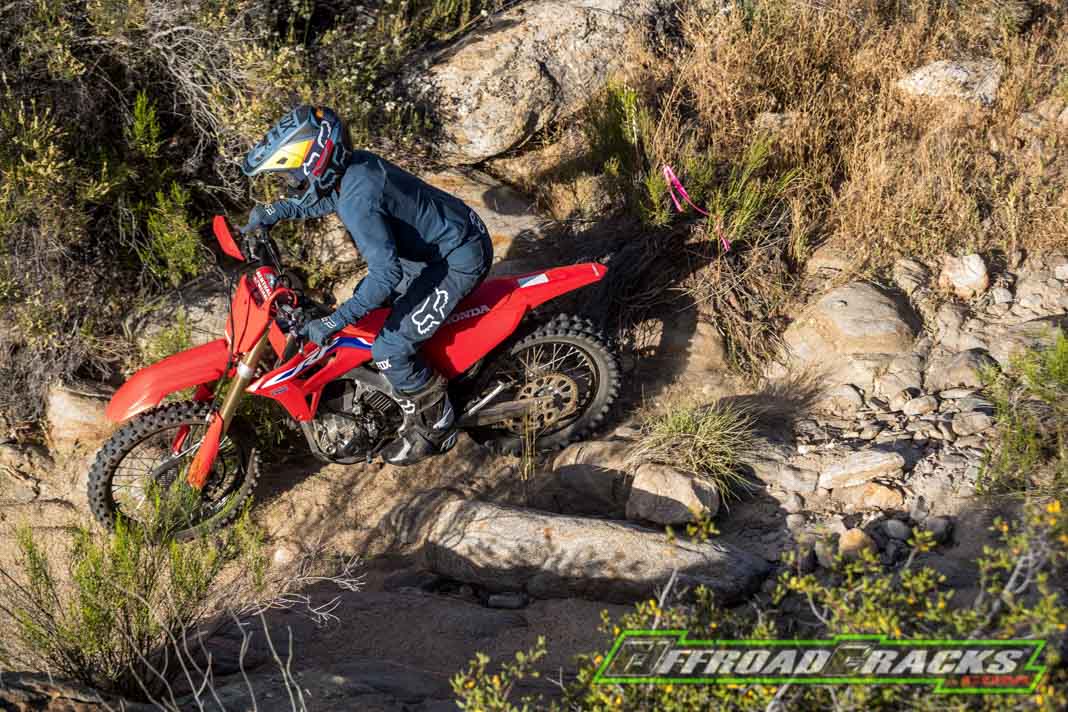 WHAT'S NEW CRF450RX 2021
All innovations are identical to the CRF450R, except …
New weight-optimized light metal frame with rear (-2.3 kg)
0.82 hp performance plus from 5000 / min
Dunlop Geomax AT81 tires
Forged light metal side stand
Open lever protector
Adjusted suspension setup for cross country
Specific engine tuning
Larger fuel tank
18 inch rear wheel
Dry weight: 107.6kg
As usual, availability and prices will be submitted as soon as available.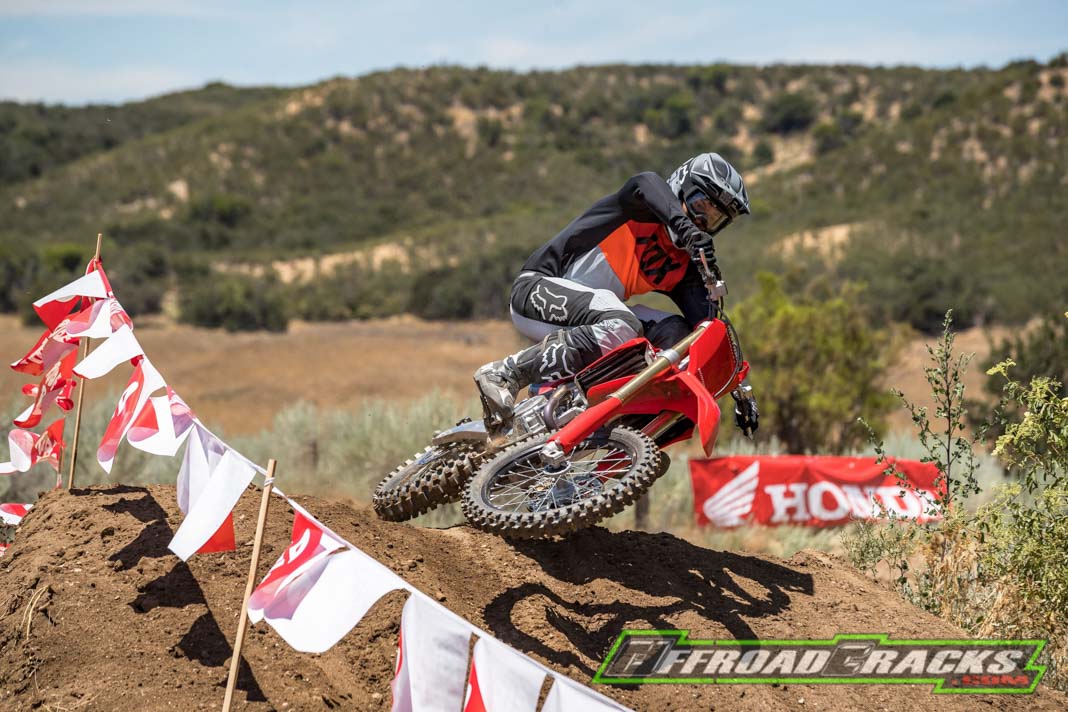 Quelle / Source: Honda Motor Europe