Gut zwei Wochen nach dem Finale in Schwepnitz präsentiert die HardEnduroSeries Germany einen ersten Kalenderentwurf für 2020. Dabei handelt es sich noch nicht um den finalen Kalender. Dafür gibt er aber bereits einen ersten Einblick in die dritte Saison der HESG 2020.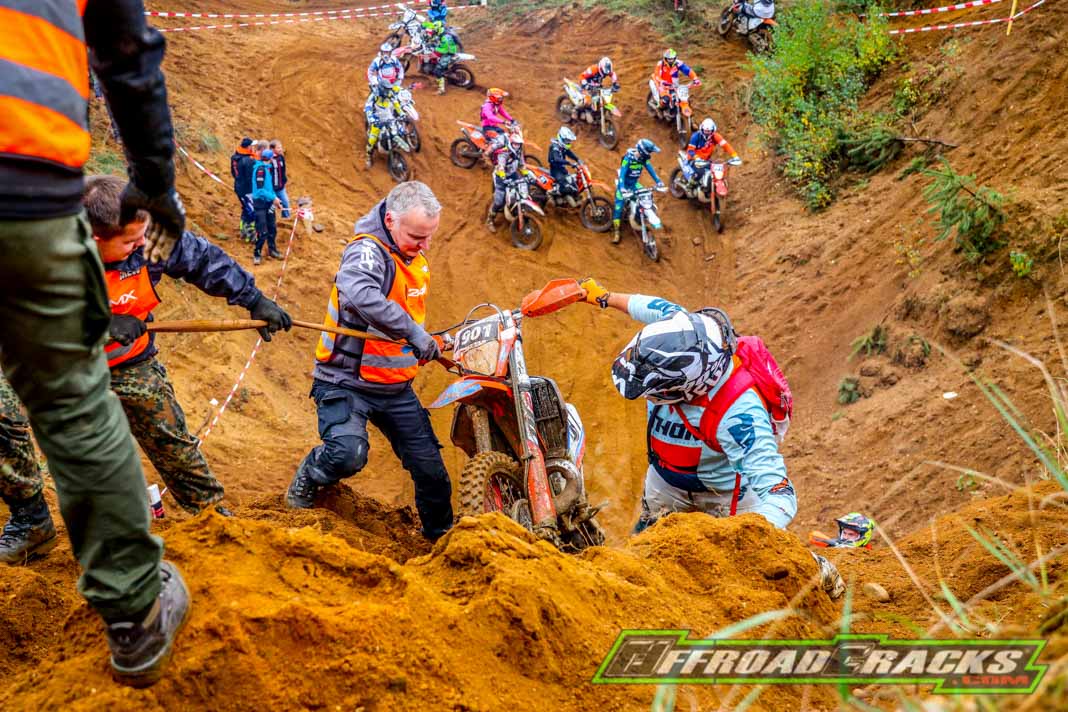 Im nächsten Jahr wird die Serie primär in Mitteldeutschland von März bis Oktober ausgetragen. Leider werden die Veranstaltungen in Vellahn und Hamma 2020 pausieren. Hamma kommt aber 2021 definitiv zurück. Auch auf den Lauf in Neugattersleben wird verzichtet, da die Fahrer der HESG ein geteiltes Echo über die Strecke abgegeben haben.
Der Saisonstart wird wie schon in 2019 in Neuhaus-Schierschnitz durchgeführt. Ein genauer Termin wird noch bekannt gegeben, aber man kann schon vorab Ende März einplanen. "Wir wollen eine Kollision zum Saisonbeginn mit der Deutschen Enduromeisterschaft vermeiden, deshalb warten wir noch etwas mit dem tatsächlichen Termin", so Clubchef Thomas Sünkel.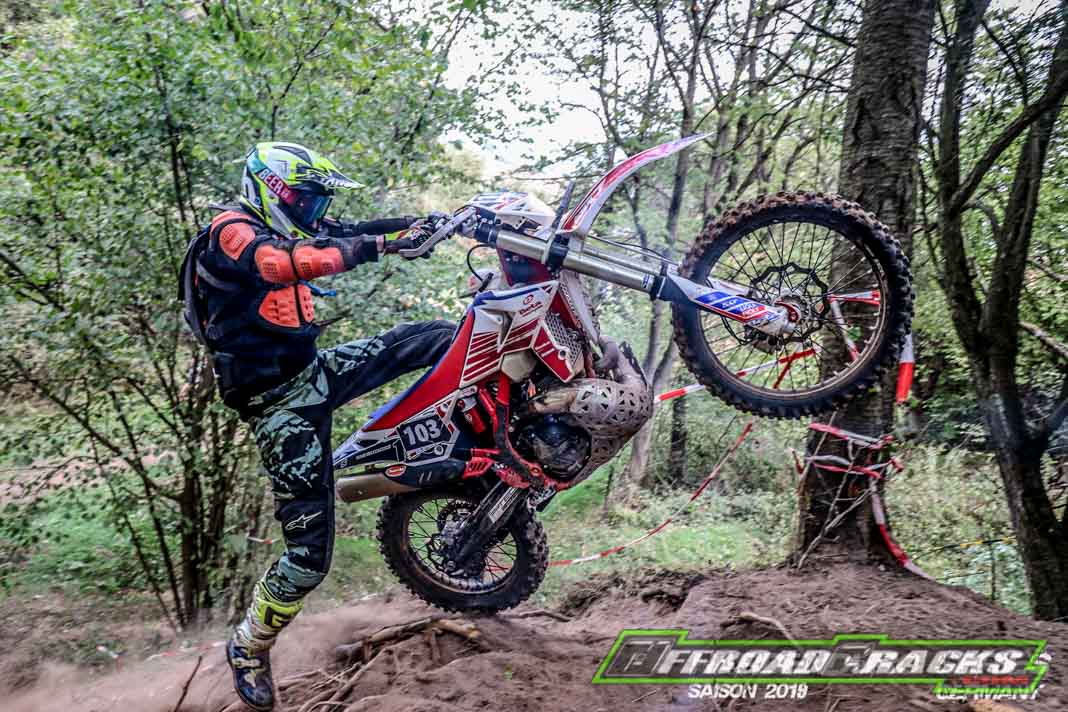 Die Reise der HardEnduroSeries Germany geht danach weiter nach Crimmitschau. Dort wartet am 30./31.05. wieder das volle Programm auf die Fahrer. Neben den Serienlauf am Sonntag gibt es bereits am Samstag wieder die volle Action mit dem Sächsischen Offroadcup, einem Superenduro am Abend und anschließender Party.
Nach der Sommerpause folgen die Läufe am 13.09 in Meltewitz und das große Finale in Schwepnitz Ende Oktober. Der Finaltermin wird ebenfalls in Kürze bekannt gegeben. "Eventuell kommt noch ein fünfter Termin hinzu, allerdings sind wir von der Serienorganisation mit dem bisherigen Kalender sehr zufrieden. Wichtig sind uns hochklassige Rennen mit einem starken Teilnehmerfeld. In der kürzlich abgelaufenen Saison hatten wir gegen Saisonende einen kleinen Teilnehmerschwund was aber hauptsächlich an Terminüberschneidungen und Verletzungen lag. Mit dem etwas ausgedünnten Kalender geben wir nun allen die Chance auf Erholungszeit und auch auf Starts bei anderen Rennen und Serien." schildert Denis Günther die Pläne für die neue Saison.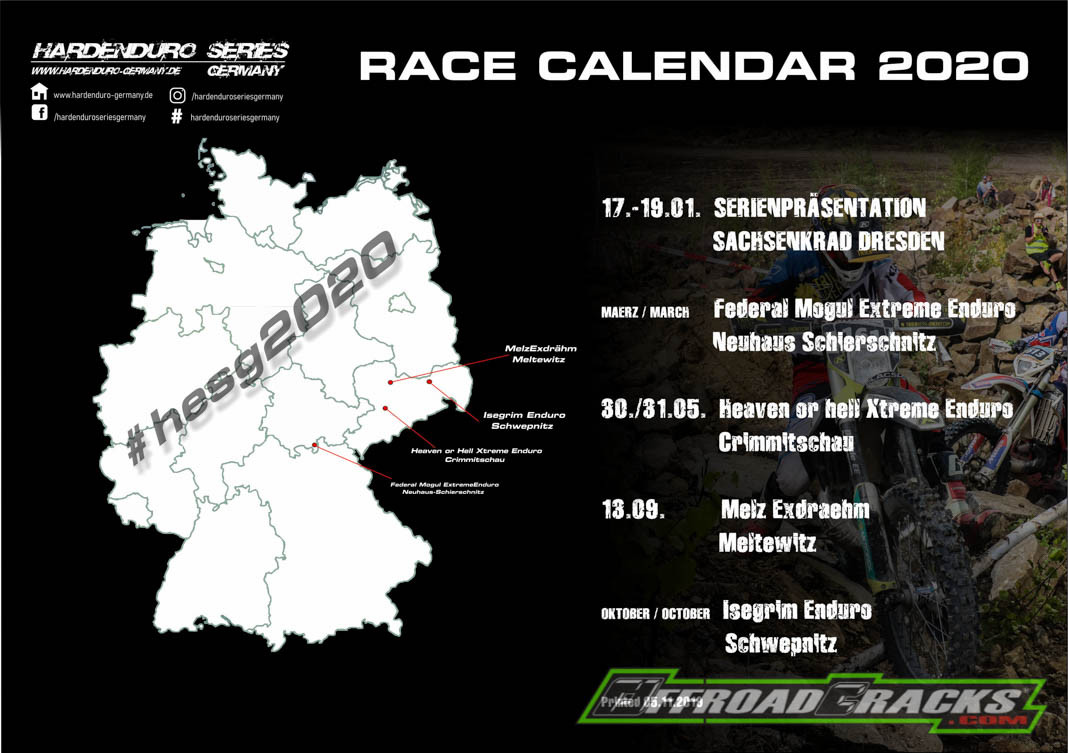 RÜCKBLICK 2019 – Schwepnitz / Finallauf
HINWEIS: Das Video ist noch deaktiviert, damit keine unerwünschte Datenübertragung zu Youtube stattfindet. Zur Aktivierung bitte auf das Vorschaubild/Video-Link klicken. Damit werden Daten übermittelt, zu deren Art, Umfang und Verwendungszweck wir keineAuskünfte geben können. NOTE: The video is still deactivated so that no unwanted data transfer to YouTube takes place. To activate, please click on the preview image / video link. This transmits data about the type, extent and purpose of which we cannot provide any information.
---
HINWEIS: Mit Anklicken des Videos stellen sie automatisch eine Verbindung zu Youtube/Google her, was einen ungewünschten personenbezogenen Datenaustausch mit sich bringen kann. Weitere Infos unter: www.google.de/privacy
---
Einschreibungsstart ist der 01.01.2020 ab 12 Uhr
Quelle / Source: HESG