VIDEO-Highlights – GNCC Pro Bike IRONMAN

---
HINWEIS: Das Video ist noch deaktiviert, damit keine unerwünschte Datenübertragung zu Youtube stattfindet. Zur Aktivierung bitte auf das Vorschaubild/Video-Link klicken. Damit werden Daten übermittelt, zu deren Art, Umfang und Verwendungszweck wir keineAuskünfte geben können.
---
NOTE: The video is still deactivated so that no unwanted data transfer to YouTube takes place. To activate, please click on the preview image / video link. This transmits data about the type, extent and purpose of which we cannot provide any information.
---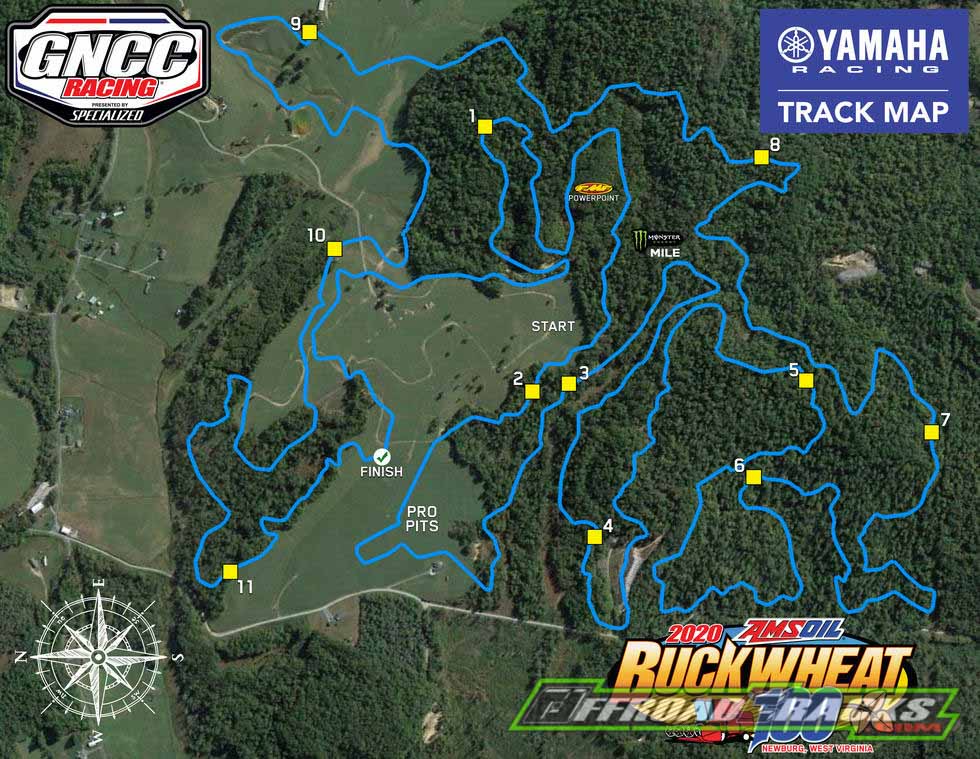 ERGEBNISSE / RESULTS – GNCC Round 13 Buckwheat 100 2020
Buckwheat 100
Newburg, WV – Round 13
01. XC1 Open Pro – Bike –

Class Results

Place
Nbr
Name
Hometown
Brand
Laps
Elapsed

1

514

STEWARD BAYLOR JR

HODGES, SC

YAM

7

03:01:21.298

2

530

BENJAMIN M KELLEY

HARWINTON, CT

KTM

7

03:01:21.810

3

127

JORDAN ASHBURN

LIVINGSTON, TN

KAW

7

03:04:30.291

4

314

GRANT BAYLOR

HONEA PATH, SC

SHR

7

03:07:44.977

5

523

LAYNE MICHAEL

BOONVILLE, NC

YAM

7

03:07:45.719

8

410

ANDREW R DELONG

BIRDSBORO, PA

HON

7

03:11:46.511

8

989

THADDEUS DUVALL

WILLIAMSTOWN, WV

HQV

7

03:11:42.998

8

114

JOSH V STRANG

AUSTRALIA, //

KAW

7

03:14:58.257

9

739

TREVOR BOLLINGER

MORGANTON, NC

HQV

7

03:14:59.450

10

027

EVAN EARL

BLACKSBURG, SC

KAW

6

03:06:09.699

11

484

GREGORY PAMART

BIRDSBORO, PA

KAW

5

03:01:32.318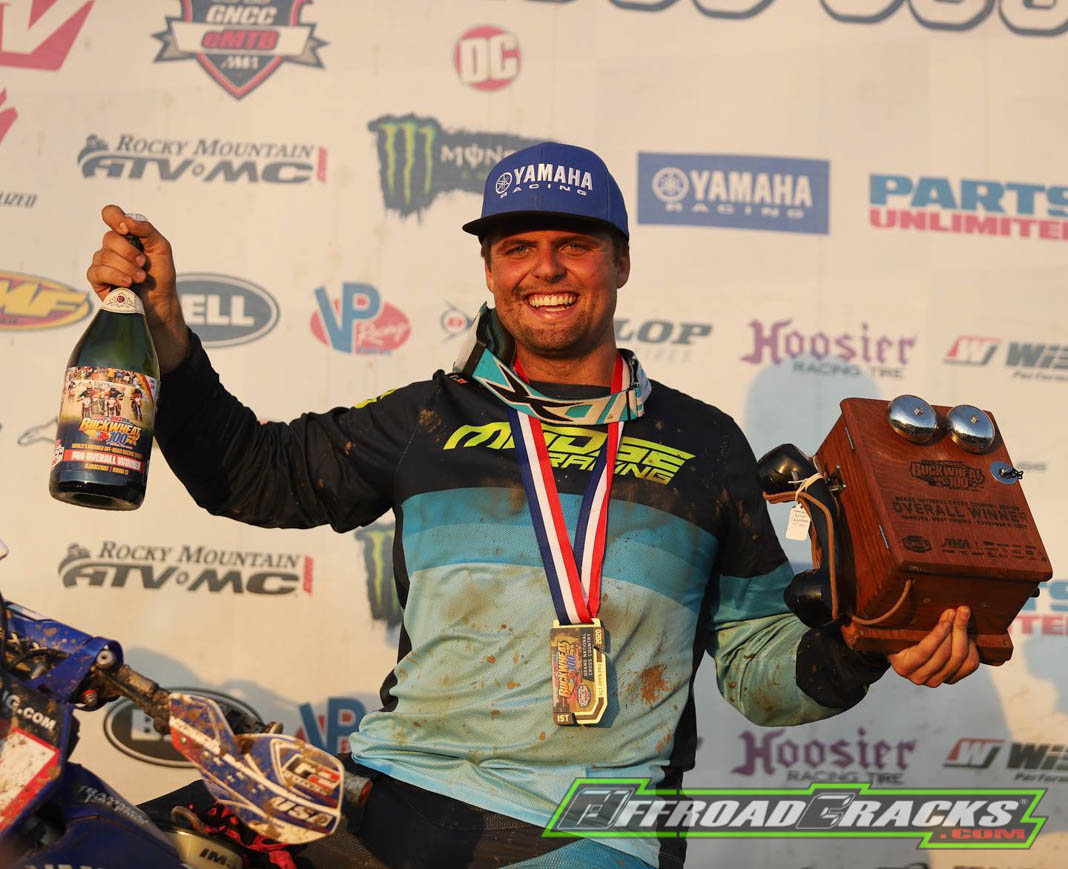 Rider points / Tabellenstand – GNCC 2020
---

The 2020 Grand National Cross Country (GNCC) Series presented by Specialized, an AMA National Championship, finished out its season on Sunday, November 8, 2020 with the inaugural AMSOIL Buckwheat 100 event in Newburg, West Virginia. With unseasonal weather throughout the entire weekend, temperatures in the high 70's helped heat up the season finale of racing.
After three-hours of intense racing at the GNCC season finale it would be AmPro Yamaha's Steward Baylor Jr. standing atop the podium for his fourth overall win of the season. Baylor would battle throughout the day and he would ultimately cross the finish line second, however, FMF/KTM Factory Racing's Ben Kelley, who crossed the finish line first, was given a one position penalty placing him second overall.
Kelley would work his way back from a fourth place start on the opening lap, moving into third and then second before battling for the lead position. Baylor and Kelley would continue to engage in a heated battle all the way to the checkered flag.
Babbitt's Online/Monster/Energy/Kawasaki's Jordan Ashburn got a great jump off the line grabbing the $250 All Balls Racing XC1 holeshot award. Ashburn would lead the pack of XC1 Open Pro riders into the woods, and he would continue to lead the race for the first two laps of racing. Ashburn would then fall back to third overall, but he would push for the remainder of the race to hold onto that final podium position.
Earning fourth overall on the day was FactoryONE Sherco's Grant Baylor. When the green flag flew, Baylor found himself towards the back of the pack but would battle throughout the day to make his way up front. Baylor physically crossed the finish line in fifth, but after a penalty to a fellow XC1 competitor he would be credited with fourth at the final race of the 2020 GNCC season.
Rounding out the top five overall finishers was AmPro Yamaha's Layne Michael. After working his way up to fourth from a seventh place start to the day, an on track incident would move him back to fifth overall. This is Michael's third-straight fifth place finish overall. Michael remains seventh in the points standings for the XC1 Open Pro class.
Three riders will be credited with eighth place finishes after reviewing and assessing penalties on the day. Phoenix Honda Racing's Andrew Delong was having a good race running sixth as the checkered flag flew, however Delong was penalized two positions for two separate on-track occurrences. Rockstar Energy Husqvarna Factory Racing's Thad Duvall found himself running in second during the first part of the race, though as he came around on lap four, he would find himself running ninth. Duvall put his head down and pushed making some necessary passes but would ultimately be one of the three riders credited with an eighth place finish after crossing the line in seventh.
As the checkered flag waved, Babbitt's Online/Monster Energy/Kawasaki's Josh Strang physically crossed the finish line ninth overall but would be credited with an eighth place finish on the day. As the two lap board came out Strang found himself running fourth, but on that lap, he would have to make a longer-than-normal pit stop as he had found that his rear brake line had burst.
Rockstar Energy Husqvarna Factory Racing's Trevor Bollinger made his return to the GNCC Racing circuit after missing the season due to a knee injury. Bollinger was off to a good start as he ran inside the top five for the first part of the race. As the checkered flag flew Bollinger would be credited with a ninth place finish on the day, after a one position penalty was assessed. Rounding out the top 10 in the XC1 Open Pro class was KLM Kawasaki's Evan Earl. Earl had a consistent race running inside the XC1 top 10 for the duration of the three-hour race.
Quelle / Source: GNCC