Oft nur durch wenige Sekunden, manchmal sogar nur durch Zehntelsekunden voneinander getrennt, legten die beiden Sherco-Fahrer eine beeindruckende Performance an den Tag. Bis zu letzten, der insgesamt zehn Sonderprüfungen war nicht klar, wer letztlich den Tagessieg holen würde. Am Schluss hatte tatsächlich, der noch am Vortag schwer gestürzte Jeremy Sydow mit 7,41 Sekunden Vorsprung das bessere Ende auf seiner Seite, während sich Luca Fischeder auch mit Rang zwei äußerst zufrieden zeigt: "Wenn die Leistung stimmt, kann ich mich auch über einen zweiten Platz richtig freuen. Es war ein großartiger Tag mit einem schönen, sehr intensiven Zweikampf. Natürlich ist es schon cooler, wenn man am Ende auch noch gewinnt, aber das ist eben Racing."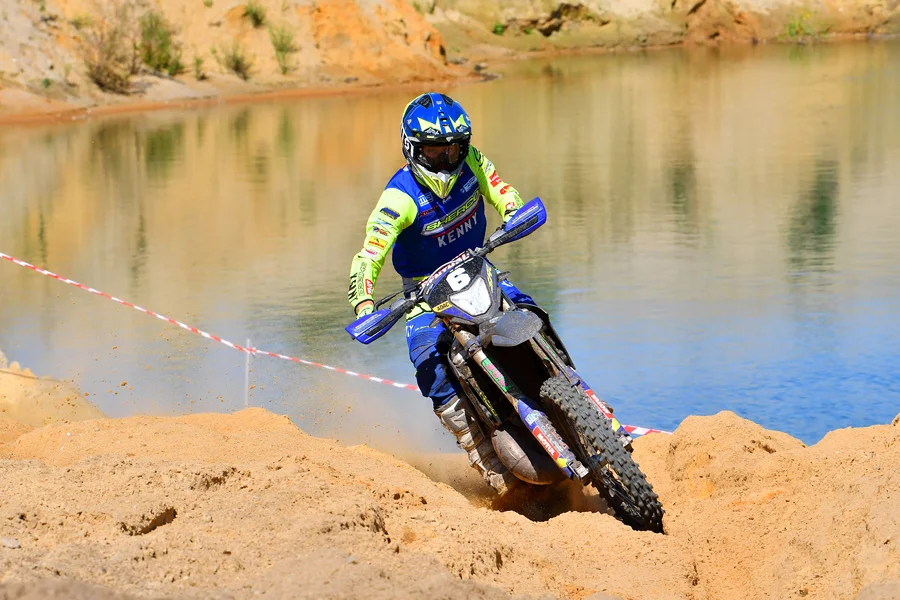 Und was meint der Tagessieger? Der lacht natürlich über das ganze Gesicht. "Es hat viel Spaß gemacht. Die Duelle mit Luca waren großartig und richtig spannend. Am Morgen habe ich noch einen Moment gebaucht, um richtig in den Flow zu kommen. Ab Ende der dritten Runde lief es dann richtig gut. Die Tests waren heute allesamt richtig kaputt gefahren und dadurch sehr technisch. Das liegt mir, aber man musste jederzeit voll fokussiert bleiben. Es war einfach ein super Tag", strahlt Jeremy Sydow.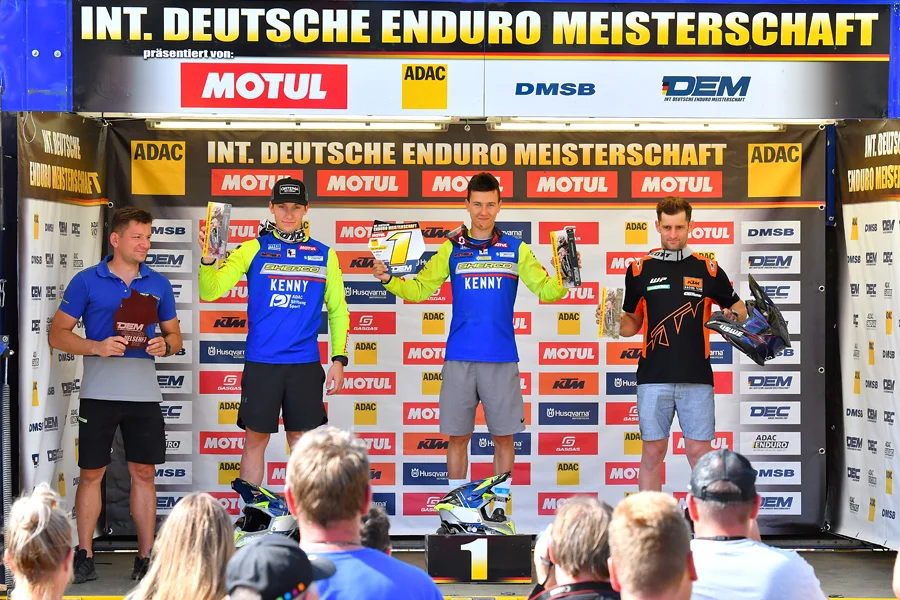 Edward Hübner belegte, wie schon am Vortag den dritten Platz, allerdings mit deutlichem Abstand. "Was die beiden Jungs da vorn abziehen, ist schon aller Ehren wert", zieht der KTM-Fahrer neidlos den Hut, der mit seiner eigenen Vorstellung vollkommen zufrieden war. "An beiden Tagen Dritter hinter den zweien zu werden, ist für mich wie ein gefühlter Sieg", lacht Eddi, der noch anfügt, "ich habe für mich das Maximale heraus geholt und damit kann ich sehr gut leben."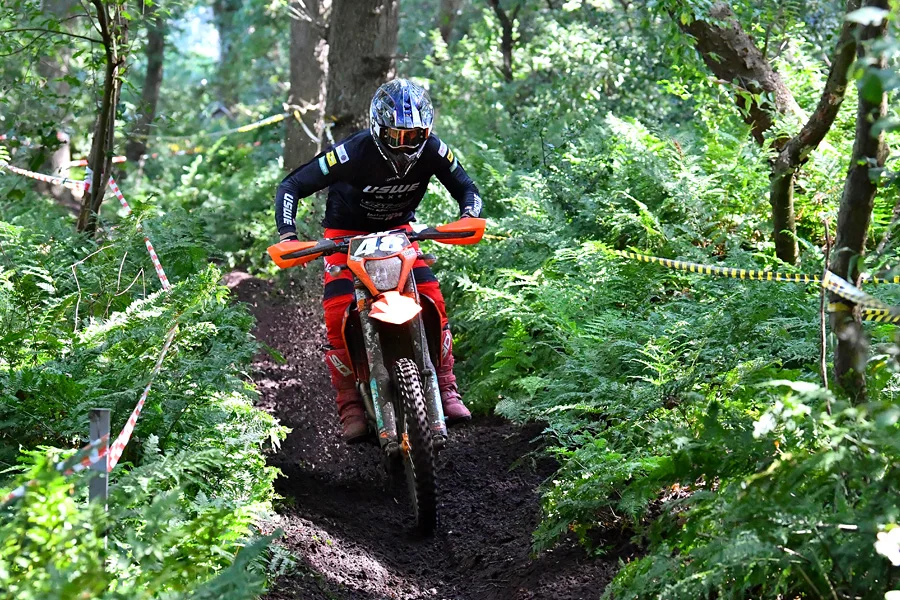 Bis kurz vor Schluss sah es allerdings aus, als könnte Florian Görner erstmals unter die Top Drei fahren. Der KTM-Fahrer lag immer knapp und nur wenige Sekunden vor Hübner. Doch im vorletzten Test stürzte Florian und büßte so alle Chancen auf das Podium ein. "Das war sehr, sehr ärgerlich", zeigt er sich im Ziel sichtlich zerknirscht, "ich bin in der Sandgrube bei einem Bergab-Sprung ganz komisch aufgekommen und komplett weggerutscht. Leider bin ich danach auch nicht gleich wieder losgekommen", seufzt der Erzgebirger, der aber versichert, dieses Jahr unbedingt noch in die Top Drei fahren zu wollen.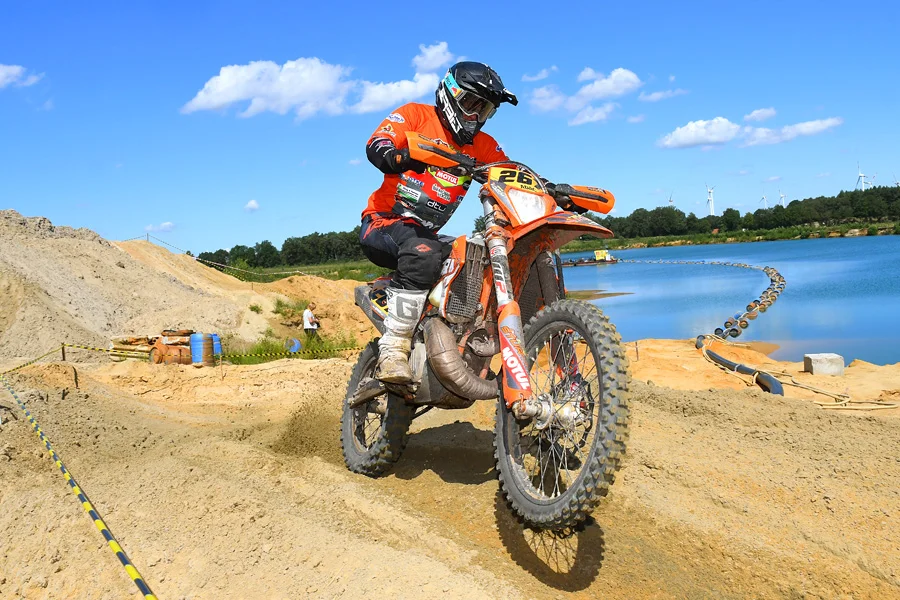 Platz fünf sicherte sich KTM-Fahrer Thierry Pittens aus den Niederlanden, vor seinem Bruder Wesley und dem Schweden Franz Lofquist. Davide von Zitzewitz landete auf Rang acht vor Luca Dolfing, einem weiteren niederländischen Gaststarter. Yanik Spachmüller komplettierte die Top Zehn.
Die Klassensiege gingen an Jeremy Sydow (E1), Thierry Pittens (E2) und Luca Fischeder (E3). Robert Friedrich aus Tschechien gewann mit seiner GasGas die Junioren-Wertung. Die Mannschaftswertung war wieder eine klare Angelegenheit für das Team des ADAC Sachsen mit den drei Tagesschnellsten in ihrer Aufstellung. Und im DMSB Enduro Cup war erneut Fynn Hannemann der bestimmende Fahrer, der, wie schon am Vortag, seine Kontrahenten Nic Matthias und Clemens Voigt auf die Plätze verwies.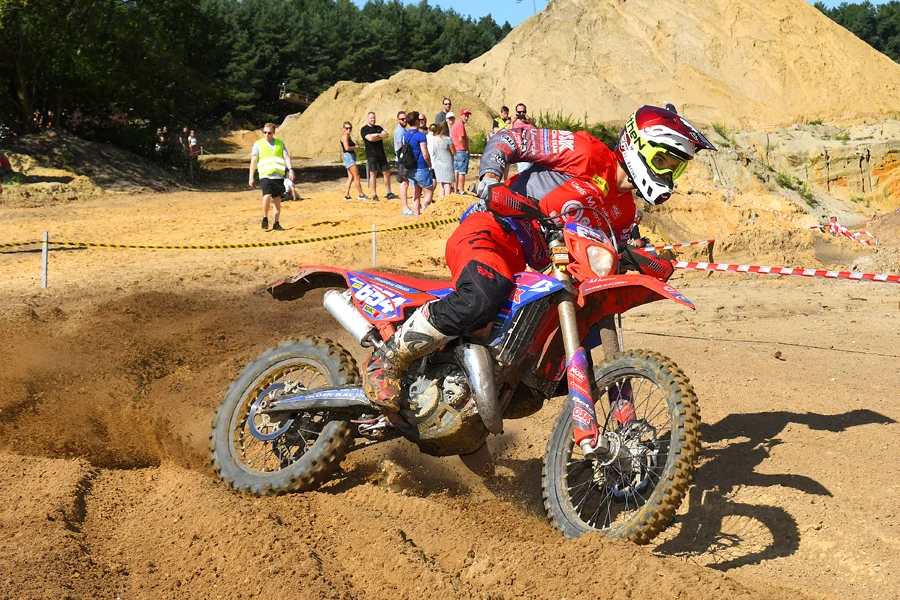 ---

Often separated by just a few seconds, sometimes even just tenths of a second, the two Sherco drivers put in an impressive performance. Up until the last of the ten special stages, it was not clear who would ultimately win the day. In the end, Jeremy Sydow, who had a bad fall the day before, actually had the better end on his side with a lead of 7.41 seconds, while Luca Fischeder was also extremely satisfied with second place: "If the performance is right, I can also have one really happy about second place. It was a great day with a nice, very intense duel. Of course it's cooler if you still win in the end, but that's racing.'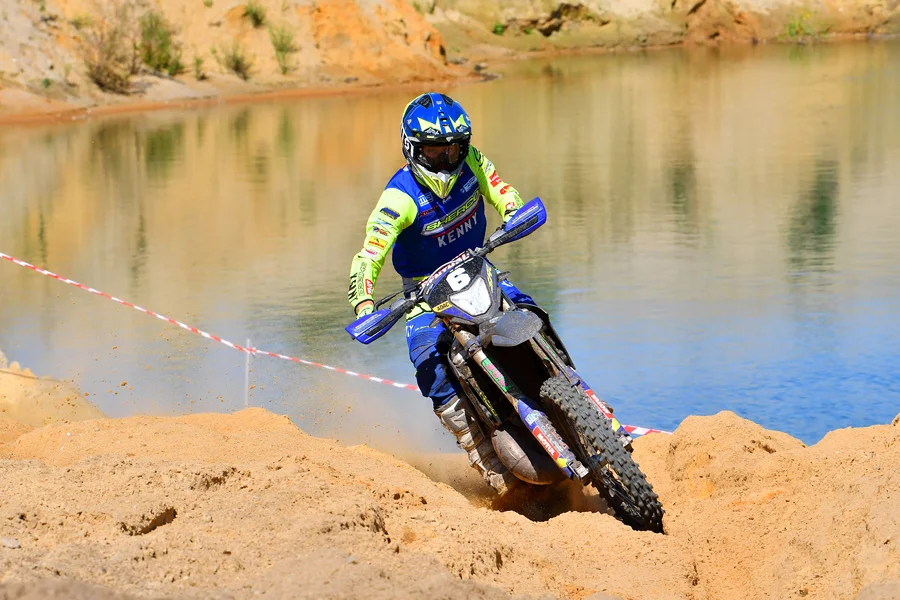 And what does the winner of the day think? Of course he's laughing from the bottom of his face. 'There was a lot of fun. The duels with Luca were great and really exciting. In the morning I needed a moment to really get into the flow. From the end of the third lap things went really well. Today's tests all went really badly and were therefore very technical. That suits me, but you had to stay fully focused at all times. It was just a great day," beams Jeremy Sydow.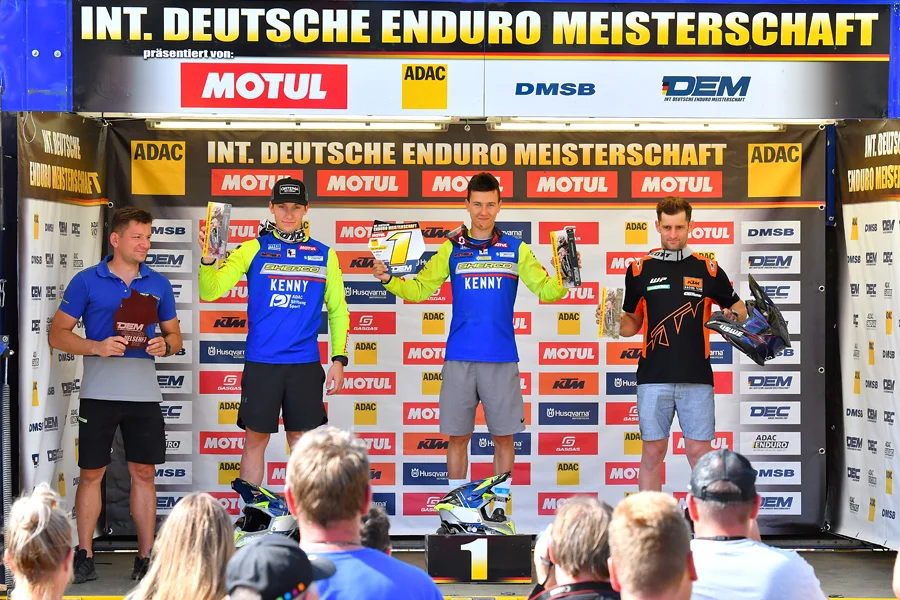 Like the day before, Edward Hübner took third place, but with a clear gap. 'What the two guys up front pull off is worthy of all honor,' the KTM driver takes off his hat without envy, who was completely satisfied with his own performance. 'Finishing third behind the two on both days feels like a victory for me,' laughs Eddi, who adds, 'I got the maximum out of myself and I can live with that very well.'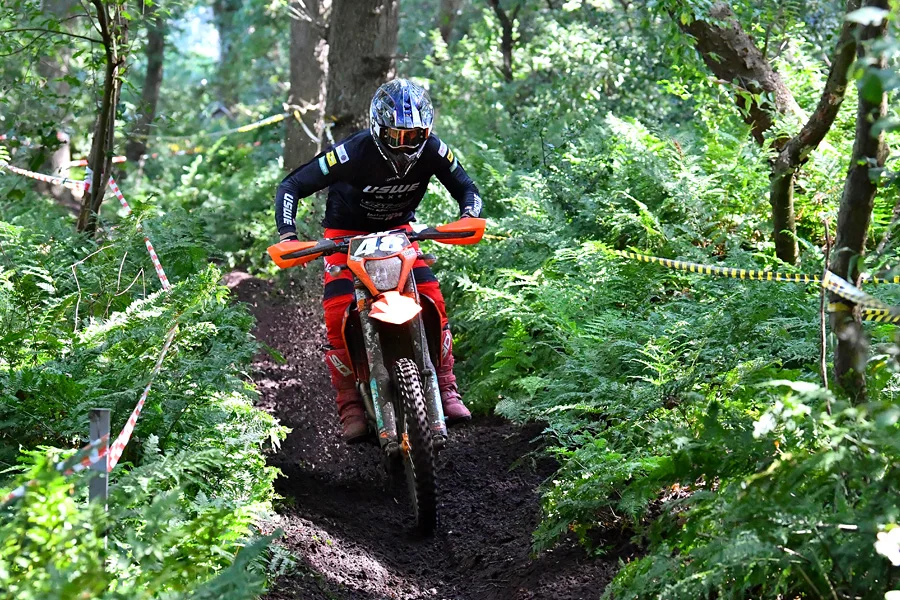 Until shortly before the end, however, it looked as if Florian Görner could finish in the top three for the first time. The KTM rider was always close and only a few seconds ahead of Hübner. But in the penultimate test, Florian fell and thus lost all chances for the podium. 'That was very, very annoying,' he says, visibly contrite at the finish, 'I landed strangely on a downhill jump in the sand pit and completely slipped away. Unfortunately, I didn't get away straight away after that,' sighs the man from the Erzgebirge, who assures that he definitely wants to finish in the top three this year.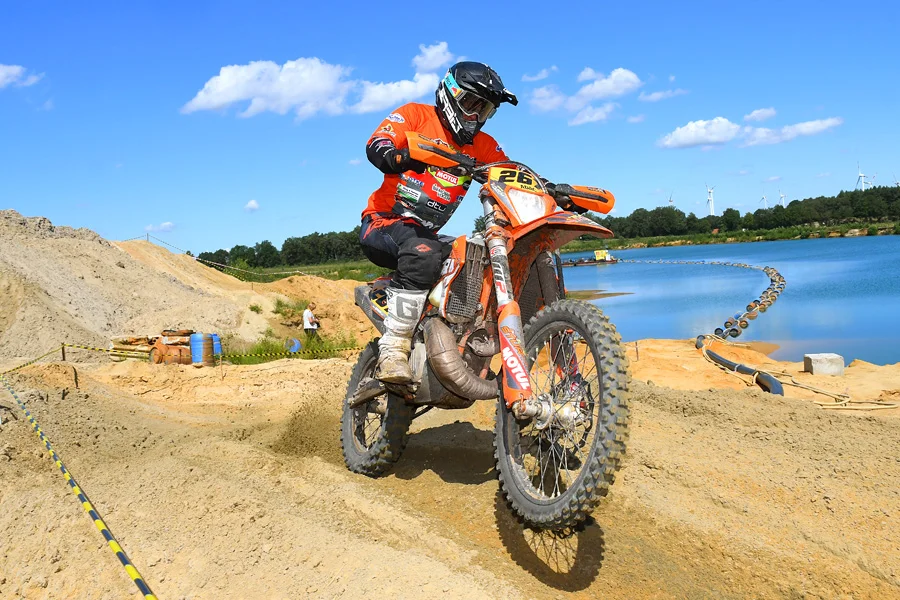 KTM rider Thierry Pittens from the Netherlands secured fifth place, ahead of his brother Wesley and Franz Lofquist of Sweden. Davide von Zitzewitz finished eighth ahead of Luca Dolfing, another Dutch guest starter. Yanik Spachmüller completed the top ten.
The class wins went to Jeremy Sydow (E1), Thierry Pittens (E2) and Luca Fischeder (E3). Robert Friedrich from the Czech Republic won the junior class with his GasGas. The team ranking was again a clear affair for the ADAC Sachsen team with the three fastest of the day in their line-up. And in the DMSB Enduro Cup, Fynn Hannemann was once again the decisive driver, who, like the day before, relegated his opponents Nic Matthias and Clemens Voigt to their places.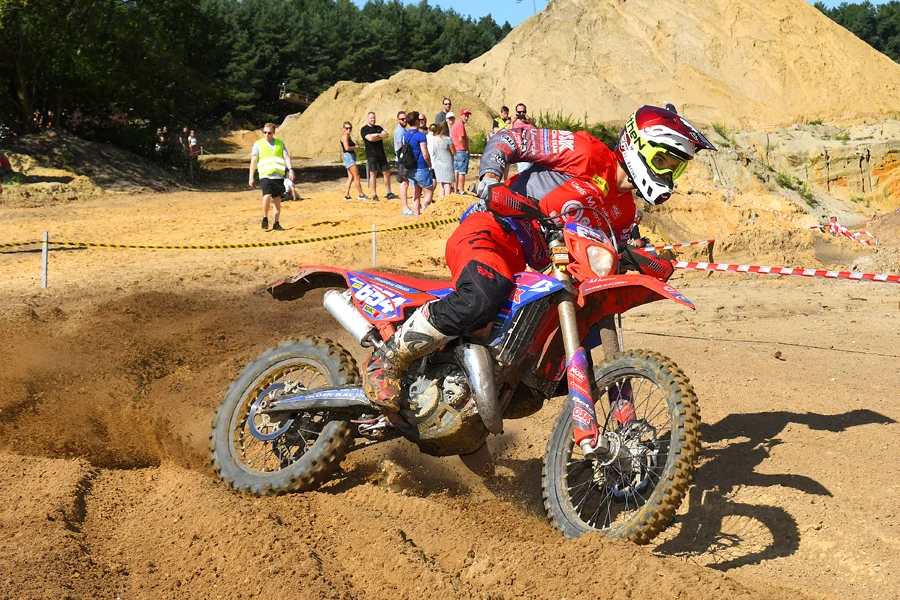 Quelle / Source: Enduro DM