United in Dirt – Reiserberg 2021
---
HINWEIS: Das Video ist noch deaktiviert, damit keine unerwünschte Datenübertragung zu Youtube stattfindet. Zur Aktivierung bitte auf das Vorschaubild/Video-Link klicken. Damit werden Daten übermittelt, zu deren Art, Umfang und Verwendungszweck wir keineAuskünfte geben können.
---
NOTE: The video is still deactivated so that no unwanted data transfer to YouTube takes place. To activate, please click on the preview image / video link. This transmits data about the type, extent and purpose of which we cannot provide any information.
---

United in Dirt ist eine Promotion-Tour seitens GasGas Motorcylces aus Österreich. Im Rahmen dieser Europa-Tour ist es möglich die komplette GasGas-Modellpalette aus allen Sparten direkt zu erleben und zu testen. Das beinhaltet Motocross-Bikes, Sportenduros bis hin zum Trial-Gerät und der Mountainbike-Palette. Hier kurz ein paar zusammengefasste Stichpunkt zu dem Event im bayerischen Reisersberg, das wir besucht haben:
Neben Stopps in Spanien, Italien, Frankreich, Großbritannien und Belgien, machte die United in Dirt GASGAS Tour auch Halt in Reisersberg (Deutschland).
Die United in Dirt GASGAS Tour ist ein Event für Offroadfans aller Altersklassen und Fahrlevels, die eine tolle Zeit zusammen mit Gleichgesinnten erleben möchten. Das Ziel der Veranstaltung ist es Motorradfans zusammen zu bringen und gemeinsam die Modellpalette von GASGAS zu testen und hinter die Kulissen der beliebten Marke zu blicken. Egal ob Anfänger oder Profi, Endurofahrer, Motocrosser, Trialfahrer oder Mountainbiker – bei der United in Dirt GASGAS Tour kommt jeder Offroadfan auf seine Kosten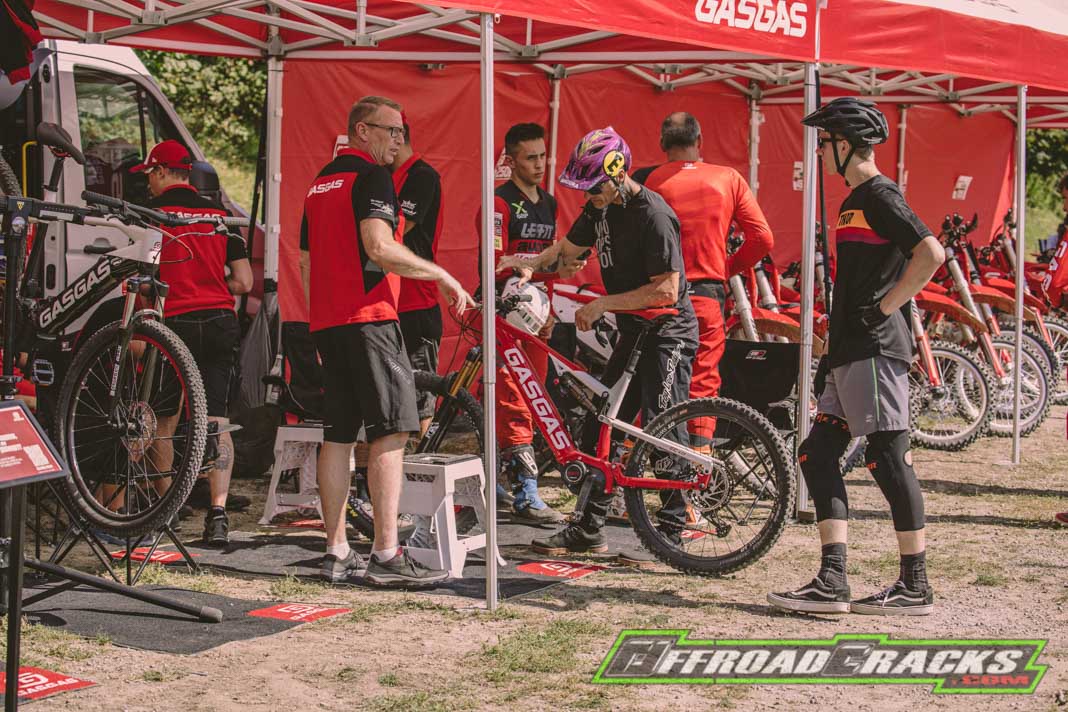 Übrigens: Die Entstehung des Markennames – "Gas gas! Vamos! Full gaaas!!" , ertönte es einst Mitte der 80er Jahre bei einem Endurorennen in Spanien aus Richtung eines enthusiastischen Fan-Bulks – und schon war der Markenname GASGAS für einen neuen spanischen Motorradhersteller gefunden
Drei neue Modelle für 2022: GasGas MC 350 F, GasGas MC 250 und MC 85. Letztere kommt mit kleinen 17- und 14-Zoll-Rädern. Jedoch waren diese Modelle zu diesem Zeitpunkt noch nicht verfügbar. Jedoch ging es bei der United in Dirt Tour in erster Linie nicht um die neuesten technischen Fakten, sondern vielmehr darum das ganze Line Up von GasGas zu erleben. An dieser Stelle sei erwähnt, dass sich aus technischer Sicht zwischen den 2021er und 2022er Modellen kaum etwas verändert hat
Bei den Enduros werden weiterhin Braktec-Bremsen und -Kupplungsarmaturen eingesetzt. Allerdings konnte bei den Testfahrten die Breaktec-Bremsanlage hinsichtlich Druckpunkt und Bedienkraft nicht ganz auf dem Niveau der Brembo-Komponenten agieren – Letztere ist bei den Motocross-Modellen vorzufinden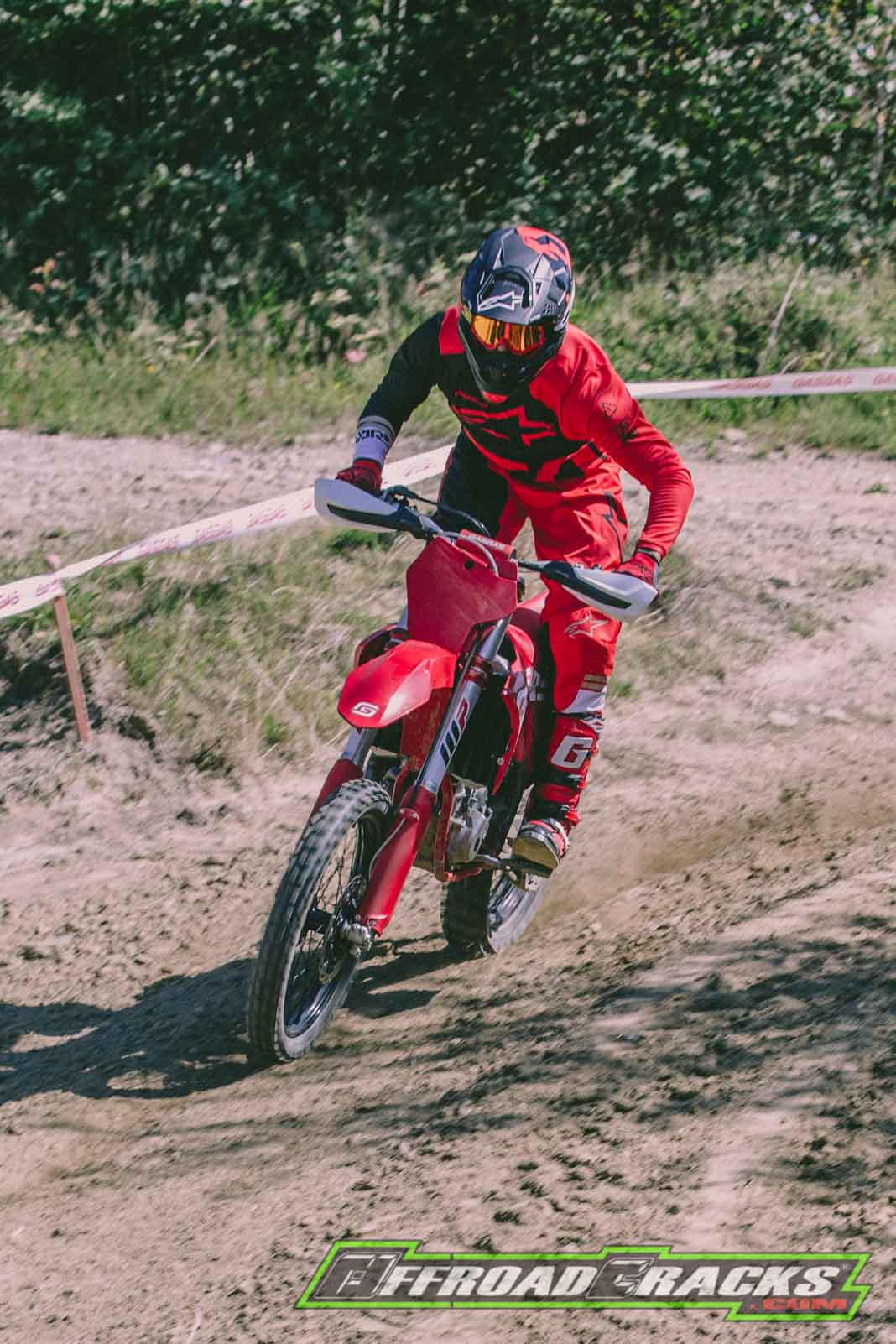 Die Fahrwerksabstimmungen bei den Motcross- und Enduro-Bikes sind grundsätzlich auf der weicheren Seite zu finden. Jedoch wurden bei einigen Testmotorrädern die hochwertigen XACT Pro Komponenten von WP verbaut, welchen für mehr fahrerische Sicherheit und notwendige Reserven im Grenzbereich sorgten. Dieser Unterschied macht sich sofort positive bemerkbar.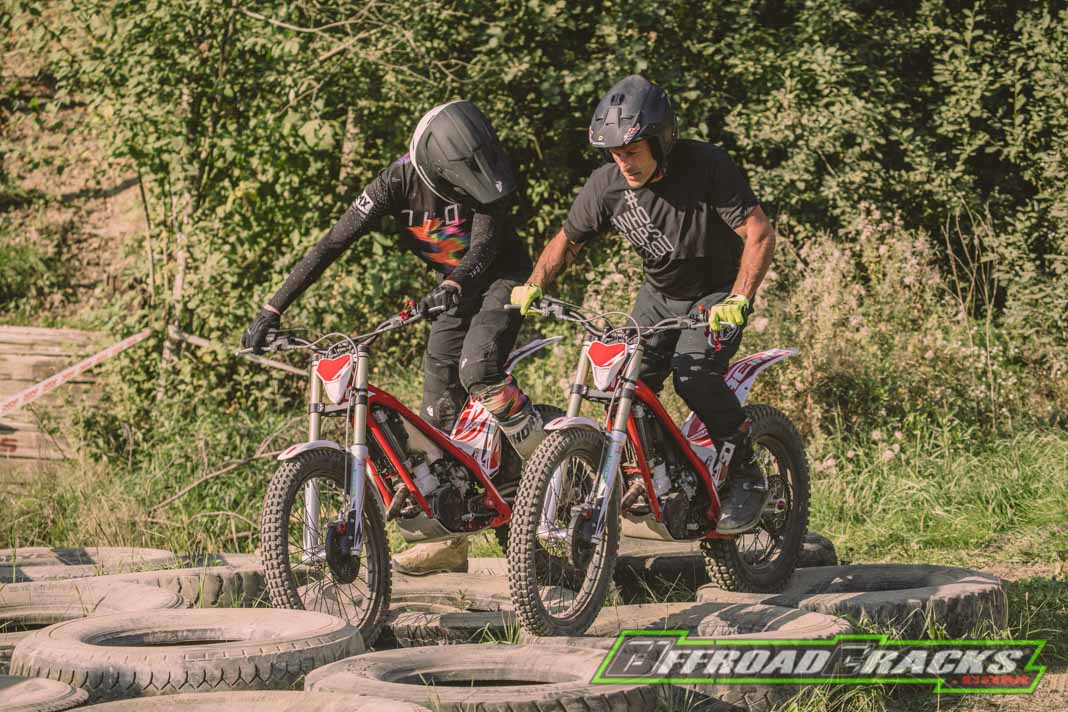 Auf dem Gelände des MCC-Reisersberg konnte über den ganzen Tag auf den verschiedenen Strecken aller Fahrzeugkategorien auf Teufel komm raus getestet werden. So unterschiedlich und anspruchsvoll die einzelnen Sportarten und Kategorien auch waren kam es primär darauf an Freude am Fahren zu haben, sich neuen Herausforderungen zu stellen und gemeinsam das Thema OFFROAD zu leben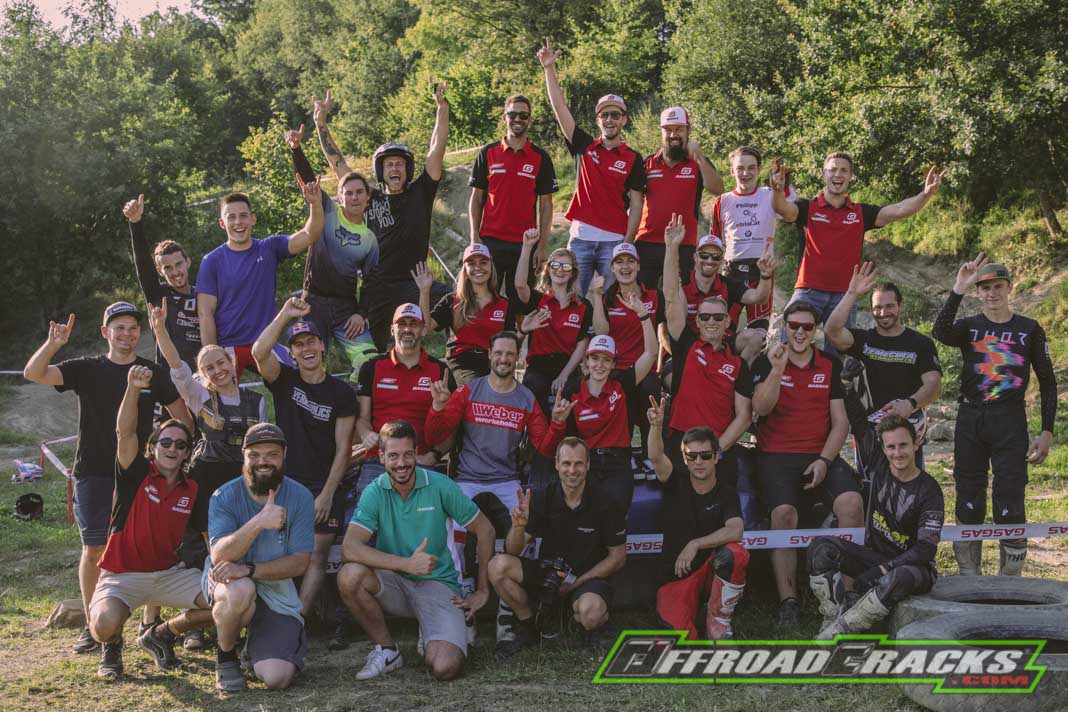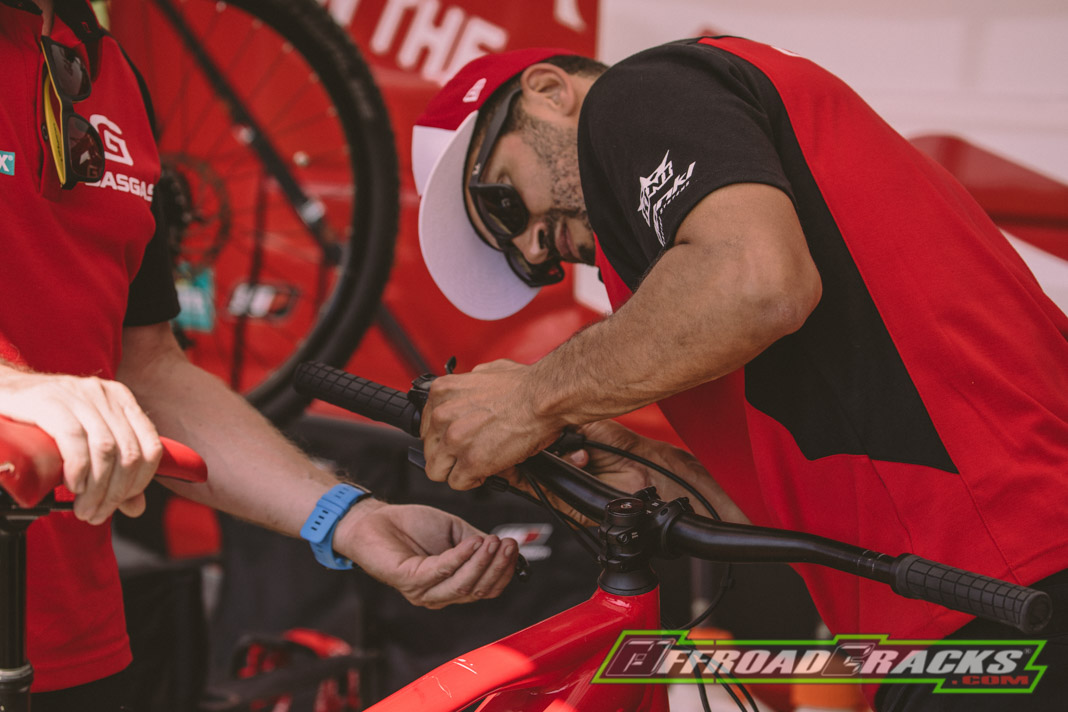 ---

United in Dirt is a promotional tour by GasGas Motorcycles from Austria. As part of this European tour, it is possible to experience and test the complete GasGas model range from all sectors directly. This includes motocross bikes, sport enduros, trial bikes and a range of mountain bikes. Here are a few summarized key points about the event in Bavarian Reisersberg that we attended:
Additional stops in Spain, Italy, France, Great Britain and Belgium
The United in Dirt GASGAS Tour is an event for off-road fans of all ages and driving levels who want to experience a great time together with like-minded people. The goal of the event is to bring motorcycle fans together and test the GASGAS model range and take a look behind the scenes of the popular brand. Whether beginner or professional, enduro rider, motocross rider, trial rider or mountainbiker – at the United in Dirt GASGAS Tour every off-road fan gets their money's worth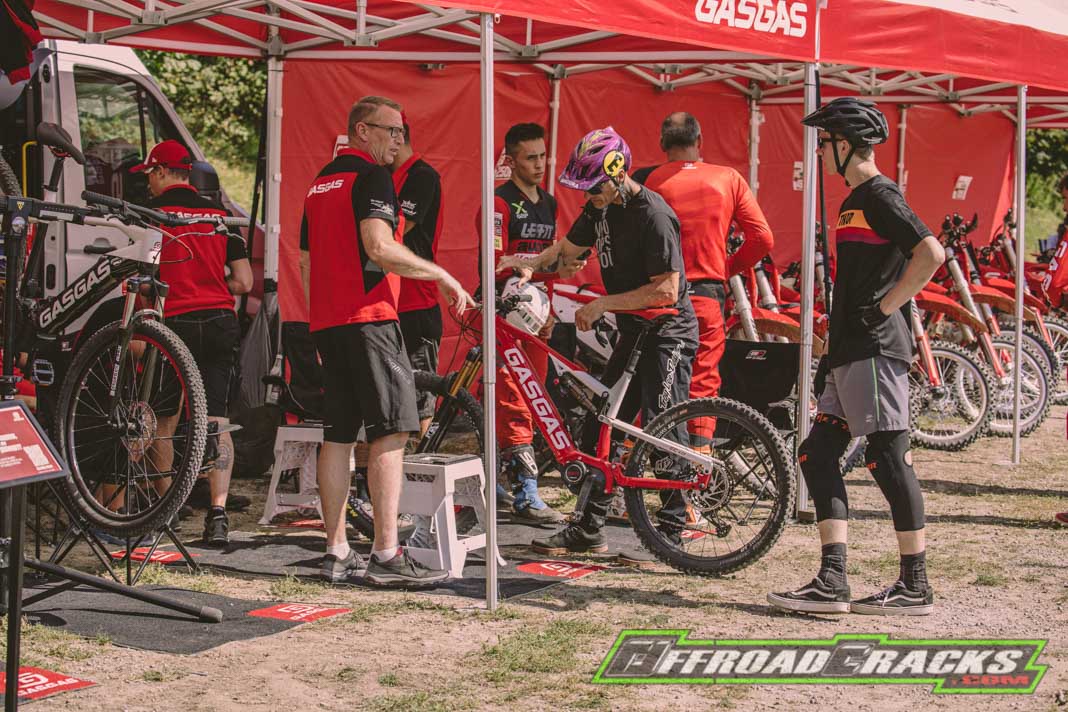 By the way: The origin of the brand name – "Gas gas! Vamos! Full gaaas !! ' , it rang out once in the mid-80s at an enduro race in Spain from the direction of an enthusiastic fan bulk – and the brand name GASGAS was found for a new Spanish motorcycle manufacturer
Three new models for 2022: GasGas MC 350 F, GasGas MC 250 and MC 85.The latter comes with small 17- and 14-inch wheels. However, these models were not yet available at this point in time. However, the United in Dirt Tour was not primarily about the latest technical facts, but rather about experiencing the entire GasGas line-up. At this point it should be mentioned that, from a technical point of view, hardly nothing has changed between the 2021 and 2022 models
Braktec brakes and clutch fittings will continue to be used on the enduro bikes. However, during the test drives, the Breaktec brake system was not able to operate at the same level as the Brembo components in terms of pressure point and operating force – the latter can be found at the motocross models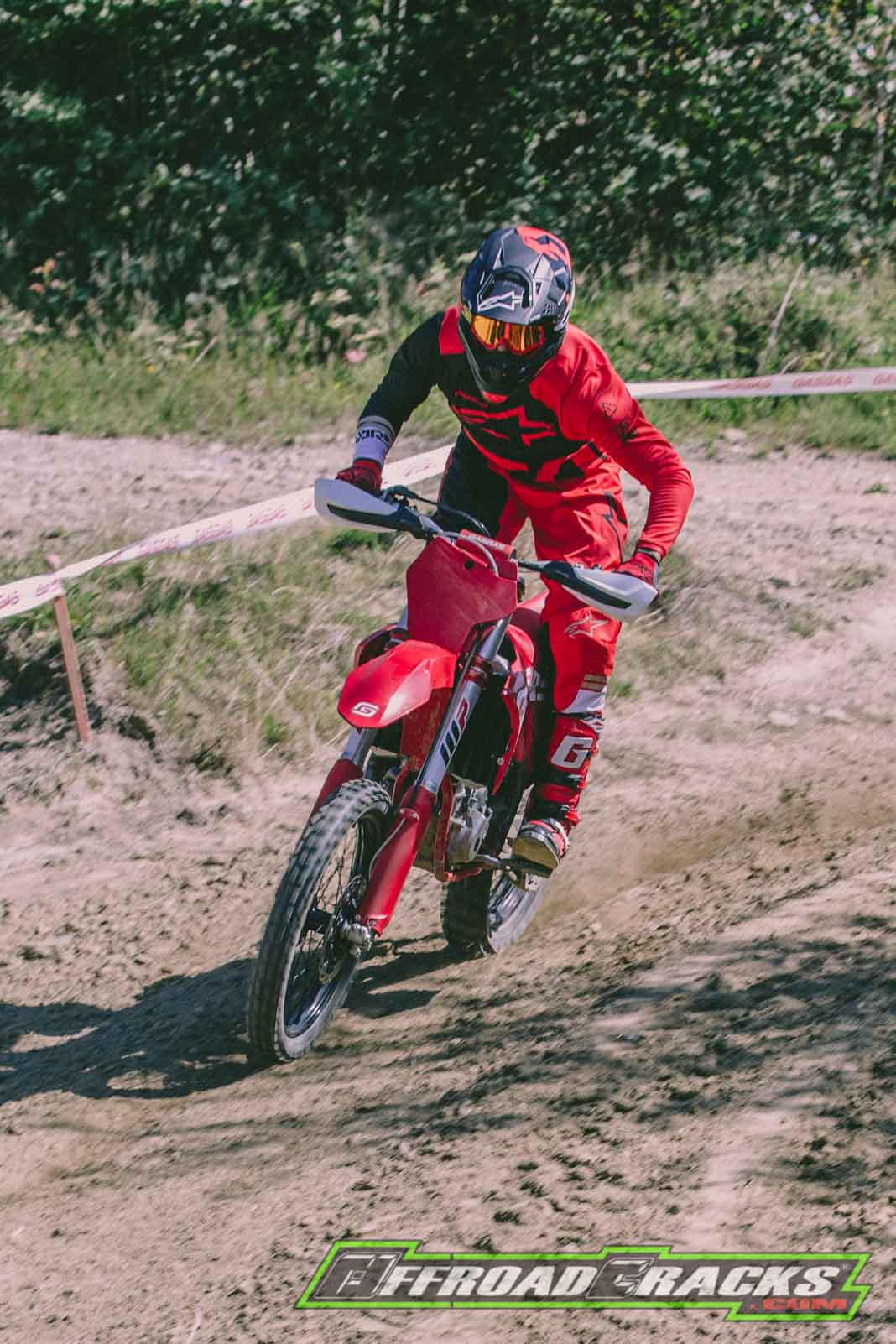 The chassis settings for the motcross and enduro bikes are mor on the softer side. However, the high-quality XACT Pro components from WP were installed in some of the test motorcycles, which ensured more driving safety and the necessary reserves in the limit area. This difference is immediately noticeable in a positive way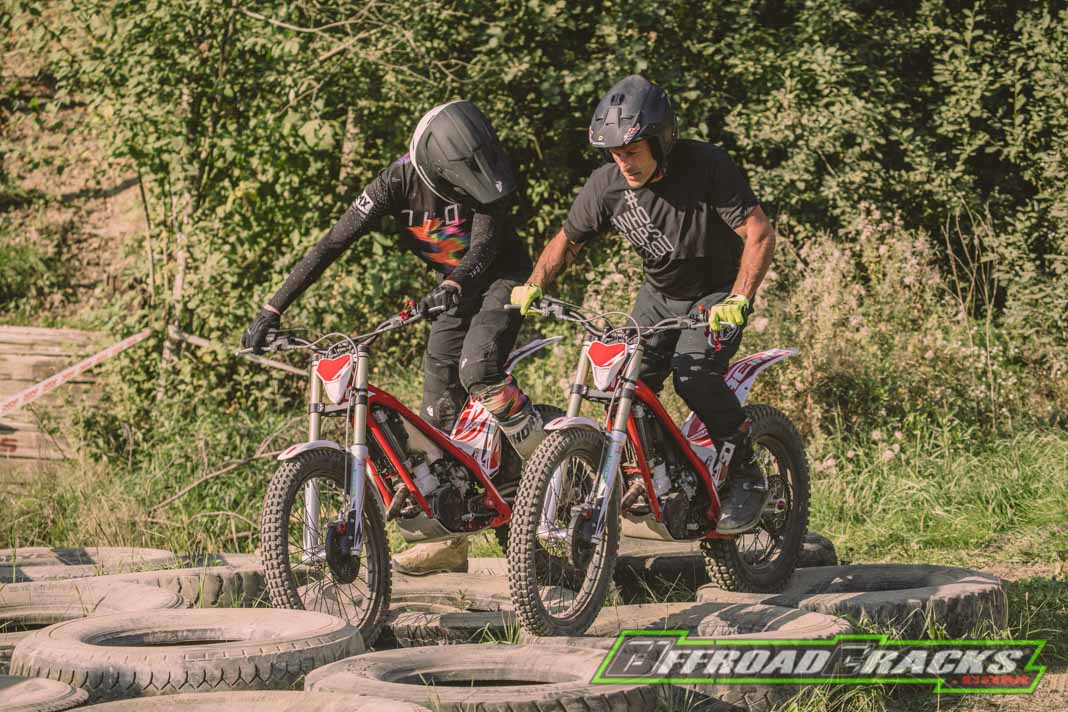 On the track of the MCC Reisersberg, tests could be carried out on the various routes of all vehicle categories throughout the day. As different and demanding as the individual sports and categories were, the main thing was to have fun riding, to face new challenges and to live the OFFROAD theme together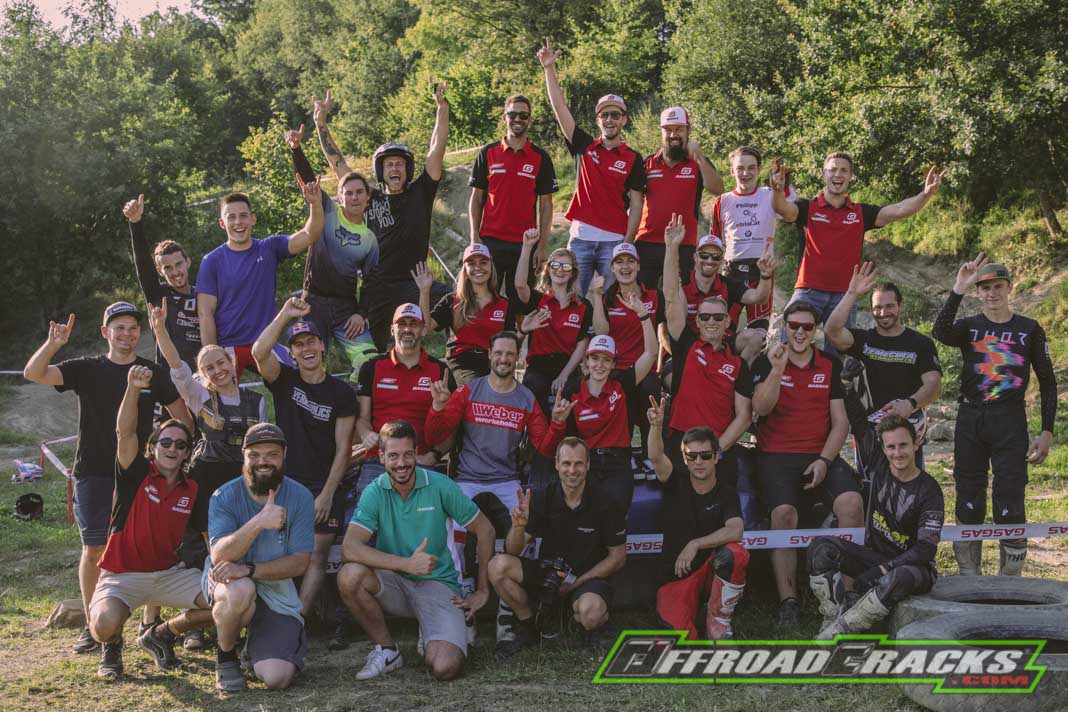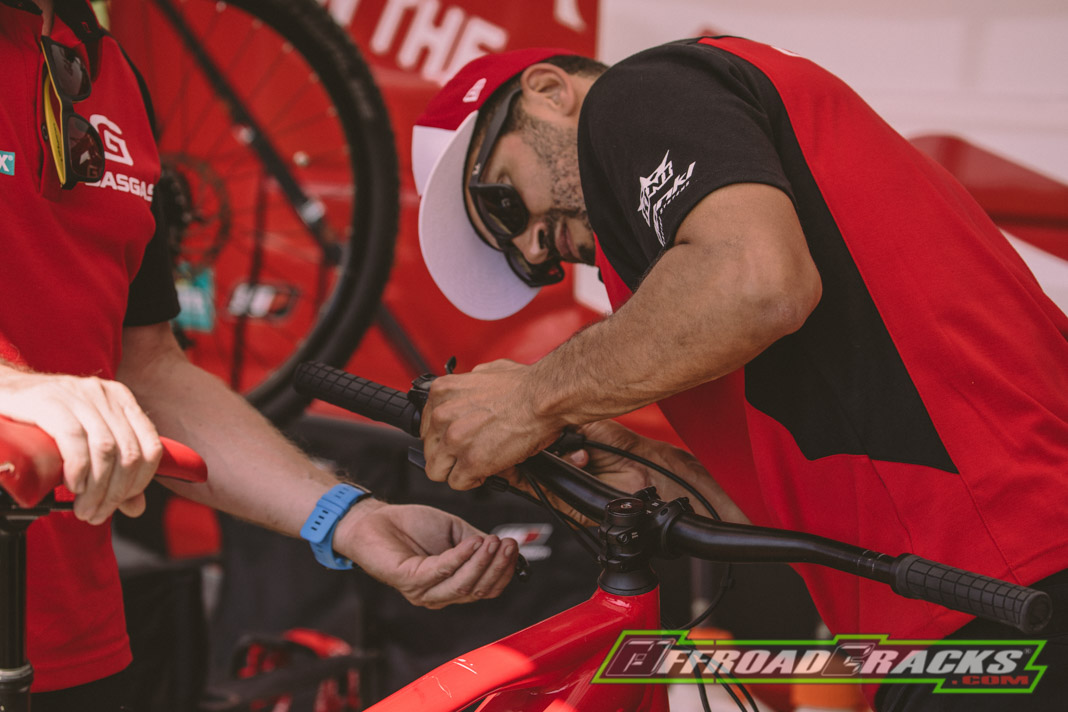 Quelle / Source: TC, GasGas