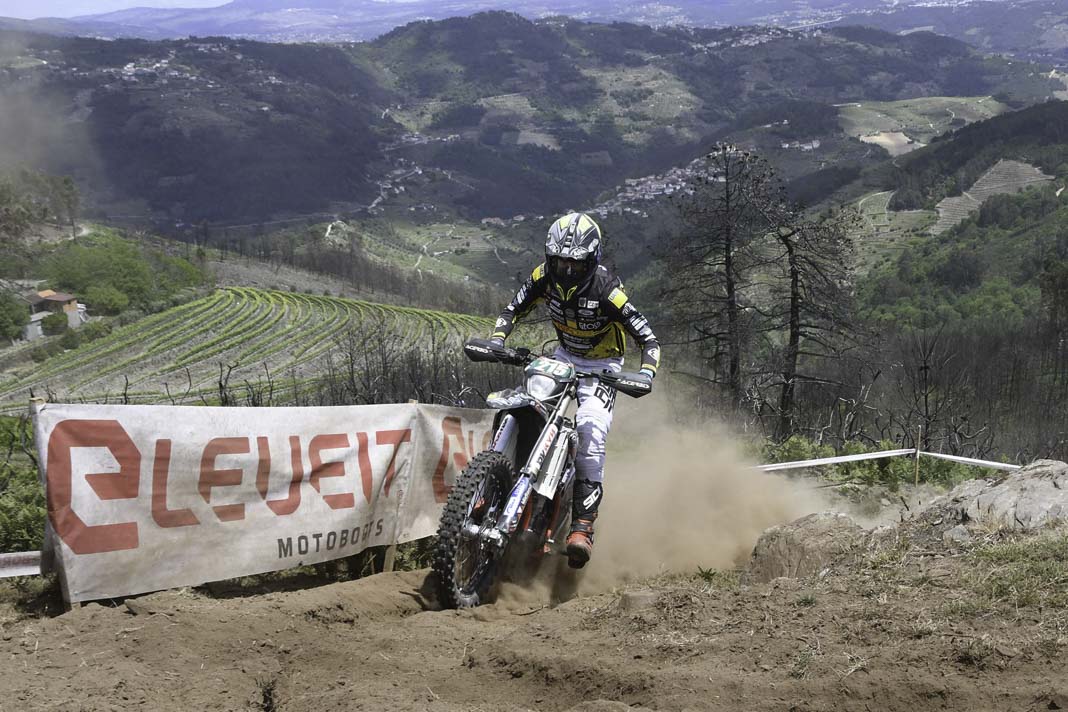 Die Sonne schien wieder in Santa Marta de Penaguiao, der zweiten Runde der Borilli Enduro-Europameisterschaft 2023, Tag 2. Am zweiten Tag von Eleveit standen sich die Fahrer erneut in den drei für die Veranstaltung konzipierten Sonderprüfungen gegenüber; Der 24MX Extreme Test und der Airoh Cross Test blieben unverändert, während der Eleveit Enduro Test Änderungen unterzogen wurde, um die Sicherheit der Fahrer zu gewährleisten. Spurrillen, Wurzeln und Steine ​​machten den Fahrern zu schaffen, sie mussten ihren Fahrstil an das neue Setup der Prüfungen anpassen.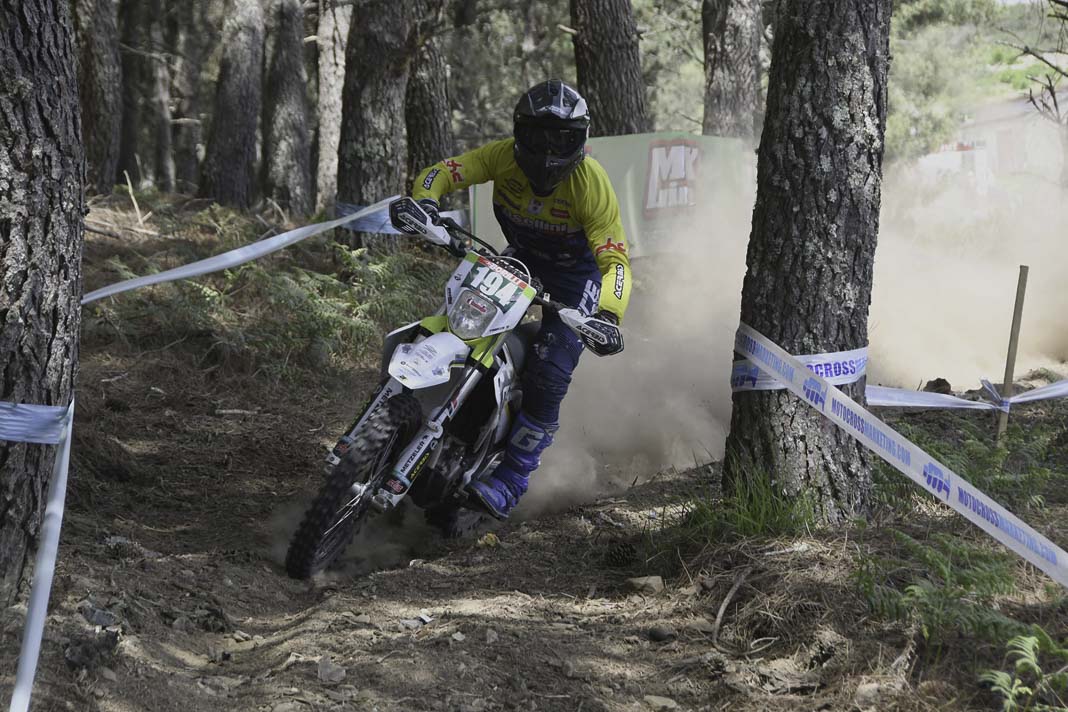 Riccardo Fabris
Doppelt für Matej Skuta, der sich auch heute noch als insgesamt bester Fahrer herausstellte; Auch an diesem zweiten Tag fuhr der tschechoslowakische Fahrer die beste Gesamtzeit mit nach Hause. David Abgrall verbesserte sich und wurde Zweiter; ein Rennen, das aufgrund einer undurchsichtigen ersten Runde ein Comeback für sich darstellte. Dritter Gesamtrang für den jungen Romain Dagna; Nach dem gestrigen Sieg in der Jugend gelang es ihm, immer bessere Zeiten zu erzielen und auf das Gesamtpodest zu gelangen.
Matej Skuta: "Ich bin sehr zufrieden mit meinem Tag. "Die Tests waren wirklich schwierig, aber am Ende habe ich es geschafft, hervorragende Zeiten zu fahren und erneut den ersten Platz sowohl in der Klasse als auch im Scratch zu gewinnen."
David Abgrall: "Ich habe langsam angefangen und musste daher wirklich hart pushen, um die verlorene Zeit aufzuholen, aber am Ende ist es mir gelungen. Ich bin Gesamtzweiter und Erster in der Klasse geworden, und das macht mich glücklich."
Romain Dagna: "Mein Rennen verlief wirklich gut, ich hatte ein tolles Gefühl mit dem Motorrad und auch bei den Tests. Ich bin wirklich sehr glücklich.'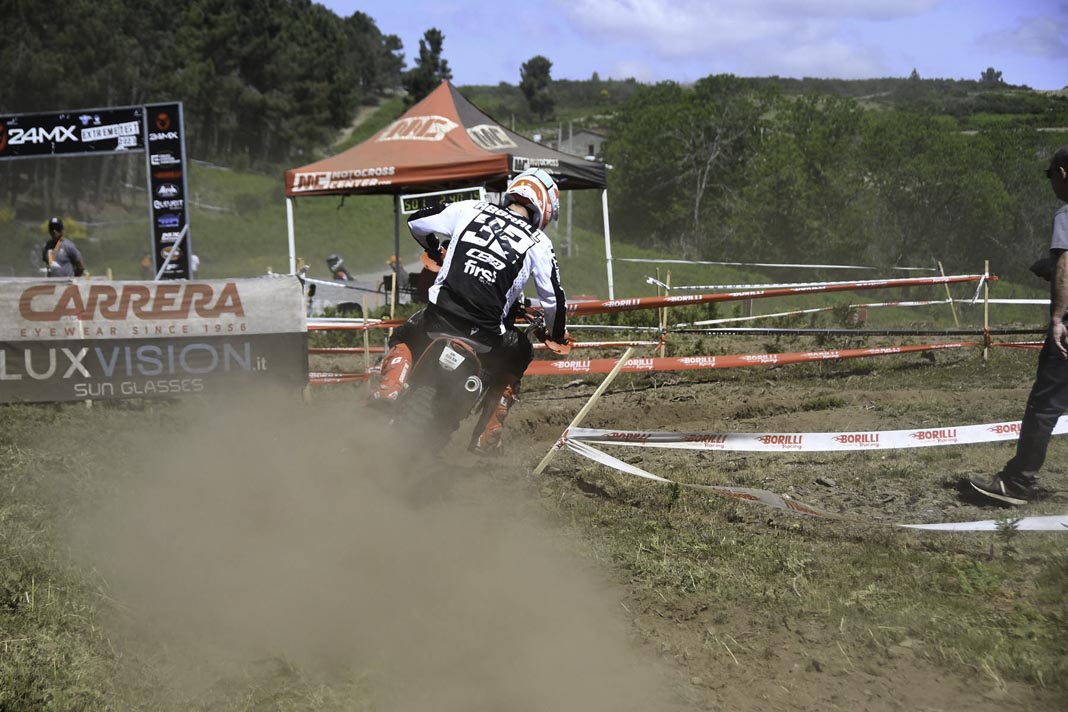 David Abgrall
Romain Dagna gewann erneut in der Jugendklasse, nach dem ersten Platz am Samstag verbesserte sich der Franzose, interpretierte die Prüfungen noch besser und gewann erneut. Zweiter Platz für den Italiener Luca Colorio, nachdem er dem Sherco di Dagna den ganzen Tag über schwer zu schaffen gemacht hatte, überließ er dem Franzosen den Vortritt und wurde Zweiter. Davide Mei bestätigte sich als drittbester Fahrer seiner Klasse und stand erneut auf dem Podium. In der Juniorenklasse 1 holte sich Riccardo Fabris den vierten Sieg in Folge, bisher ließ Riccardo niemandem Platz und landete erneut auf der ersten Stufe des Podiums. Dawid Babicz und Nicolò Paolucci bestätigten gestern die Plätze zwei und drei. Zweiter Klassenerfolg auch für Matej Skuta in der Junior 2-Klasse, der Tschechoslowake setzte sich erneut vor dem Franzosen Diego Haution durch, der es schaffte, seinen Landsmann Quentin Tournier hinter sich zu halten. Heute landete Quentin auf der dritten Stufe des Podiums.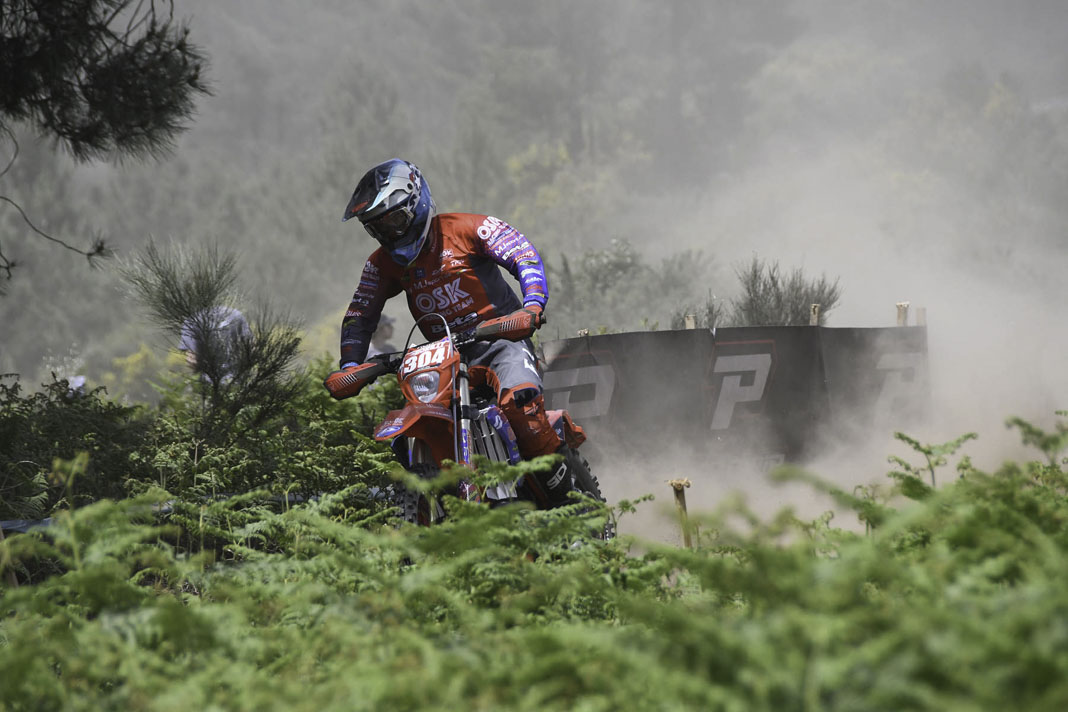 Andreas Beier
Mit dem vierten Sieg in Folge für Andreas Beier erzielte der Deutsche eine weitere hervorragende Leistung, die ihn erneut vor allen Enduro 1-Fahrern ins Ziel brachte; Den zweiten Platz belegte Aleksander Bracik, während das Podium dieses zweiten Tages von Patrick Irmscher geschlossen wurde. Doppelter Erfolg auch für Alex Walton; Der Engländer triumphierte erneut in der E2-Klasse, indem er Yann Dupic auf dem zweiten Platz und Killian Irigoyen auf dem dritten Platz festhielt. Der zweite Gesamtplatz ermöglichte David Abgrall den zweiten Sieg in der E3-Klasse; Europameister Dietger Damiaens belegte den zweiten Platz, während Roberto Da Canal das Podium komplettierte. Ein technisches Problem ließ Gabriel Chetnicki ausscheiden, der Dritter wurde. Vierter Sieg in Folge auch für Maurizio Micheluz, der Europameister der E1-Klasse hat einen neuen Erfolg errungen, der ihn an der Spitze der Seniorenklasse bestätigte. Nico Rambow wurde Zweiter, André Decker sicherte sich den dritten Klassenplatz. In der Damenklasse kam es in der letzten Kurve zu einem Kampf zwischen Vilde Marie Holt und Tanja Schlosser, am Ende setzte sich die Norwegerin durch, während Joana Gongalves Dritte wurde.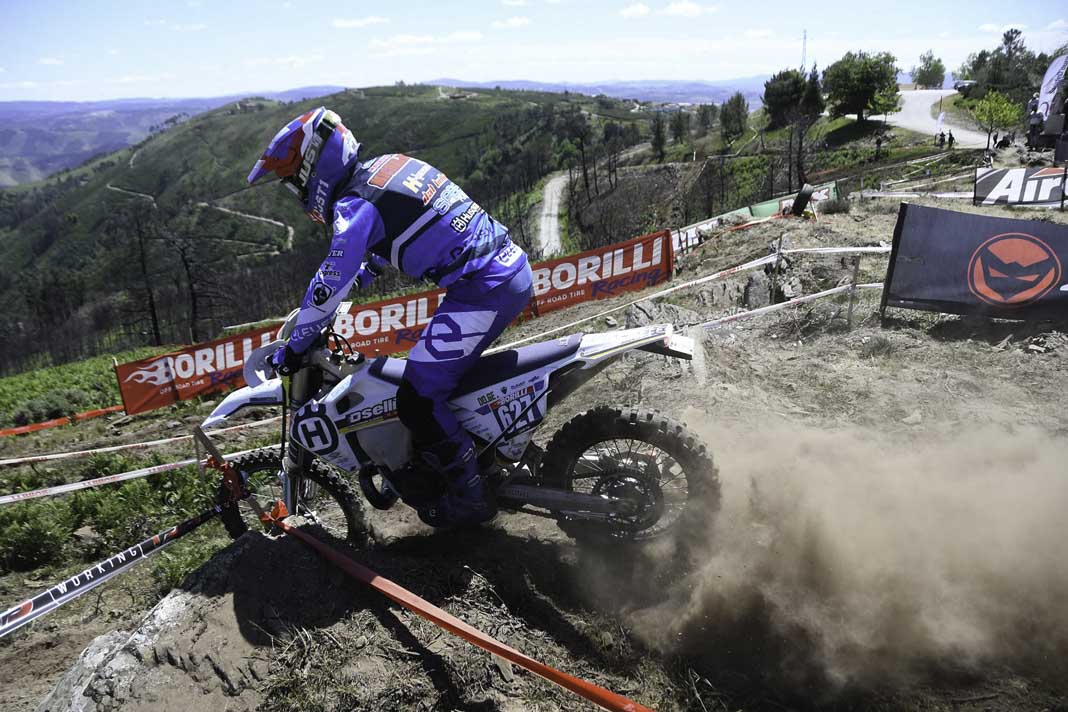 Maurizio Micheluz
Bei der Eleveit Enduro Test Trophy lag erneut Diego Haution an der Spitze, dem Franzosen gelang es, die Strecke richtig einzuschätzen. Bei der Airoh Cross Test Trophy war es stattdessen David Abgrall, der die beste Zeit erzielte und den Tag gewann.
Damit endet die zweite Runde der Borilli-Enduro-Europameisterschaft 2023, zwei schwierige und staubige Tage, die das Ende der ersten Hälfte der Meisterschaft markierten; Jetzt ist es an der Zeit, über die 24MX-Runde Nr. 3 nachzudenken, die am 15. und 16. Juli in Estland stattfinden wird. Folgen Sie uns weiterhin auf unseren sozialen Seiten und auf der offiziellen Website der Meisterschaft, um über alle Neuigkeiten auf dem Laufenden zu bleiben.
Ergebenisse OVERALL – 2. Fahrtag
FINAL-OVERALL-CLASS-DAY2_optimize

Ergebnisse nach Klassen – 2. Fahrtag
EEC-2023-standings-after-round2-day2_optimize

Ergebnisse der Teams – 2. Fahrtag
TRADE-TEAMS-DAY2_optimize

European Enduro - Round 2 Portgual 2023
---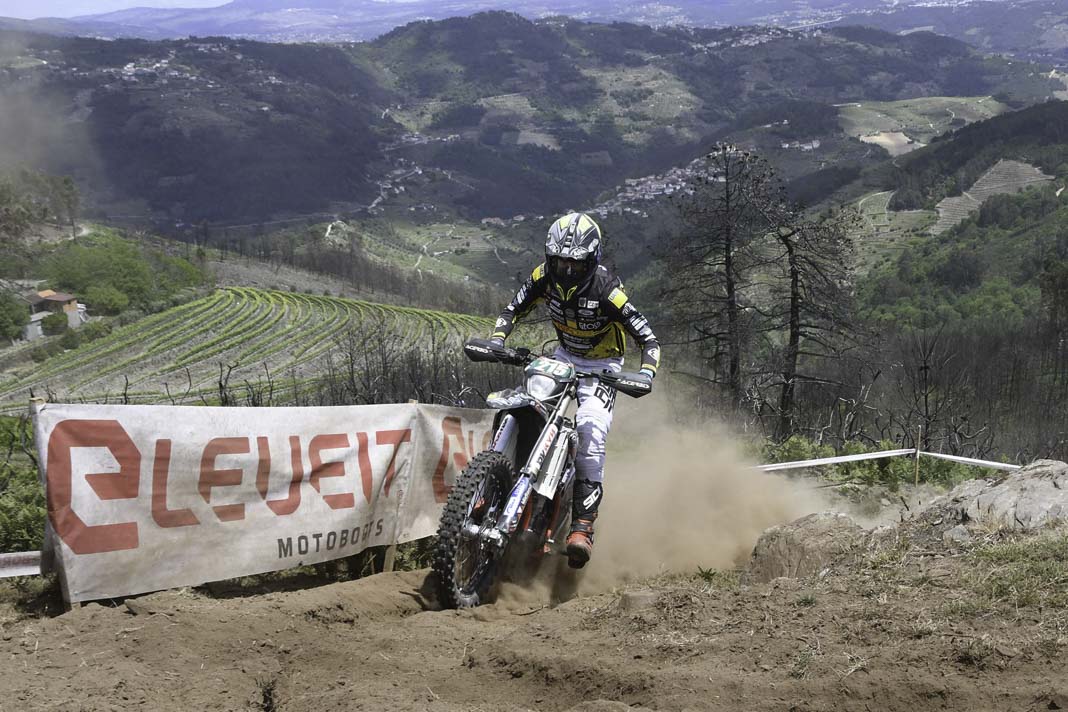 The sun shone again on Santa Marta de Penaguiao the 2023 Borilli Enduro European Championship Round #2 Day 2. The Eleveit day 2 saw the riders again face each other within the three special tests designed for the event; the 24MX Extreme Test and the Airoh Cross Test remained unchanged while the Eleveit Enduro Test underwent changes to ensure riders' safety. Ruts, roots and stones gave the riders a hard time, they had to adapt their riding style to the new set-up of the tests.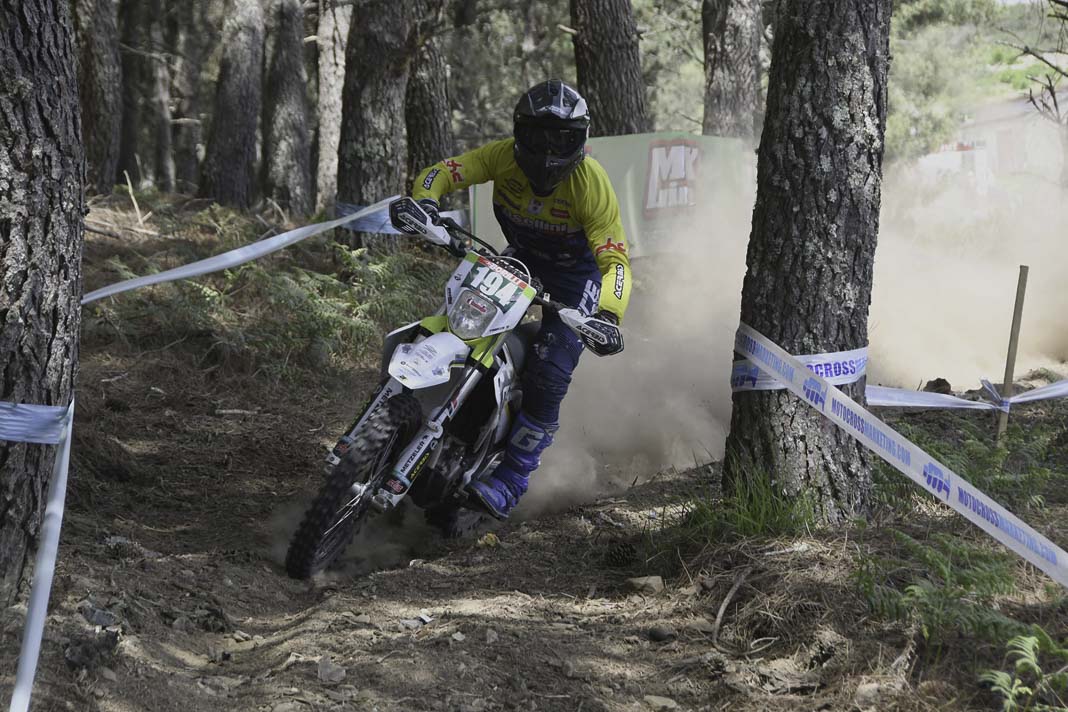 Riccardo Fabris
Double for Matej Skuta, who even today turned out to be the overall best rider; also on this second day the Czechoslovak rider took home the best overall time. David Abgrall improved and finished second; a race in a comeback of his own, due to an opaque first lap. Third place overall for the young Romain Dagna; after yesterday's victory in the Youth he managed to realise better and better times and to get on the Overall podium.
Matej Skuta: "I am very happy with my day. The tests were really difficult but in the end I managed to make excellent times and again win the first position of both class and scratch."
David Abgrall: "I started slowly and as a result I had to push really hard to make up for lost time but in the end I succeeded. I finished second overall and first in class and that makes me happy."
Romain Dagna: "My race went really well, I had a great feeling with the bike and also with the tests. I'm really very happy."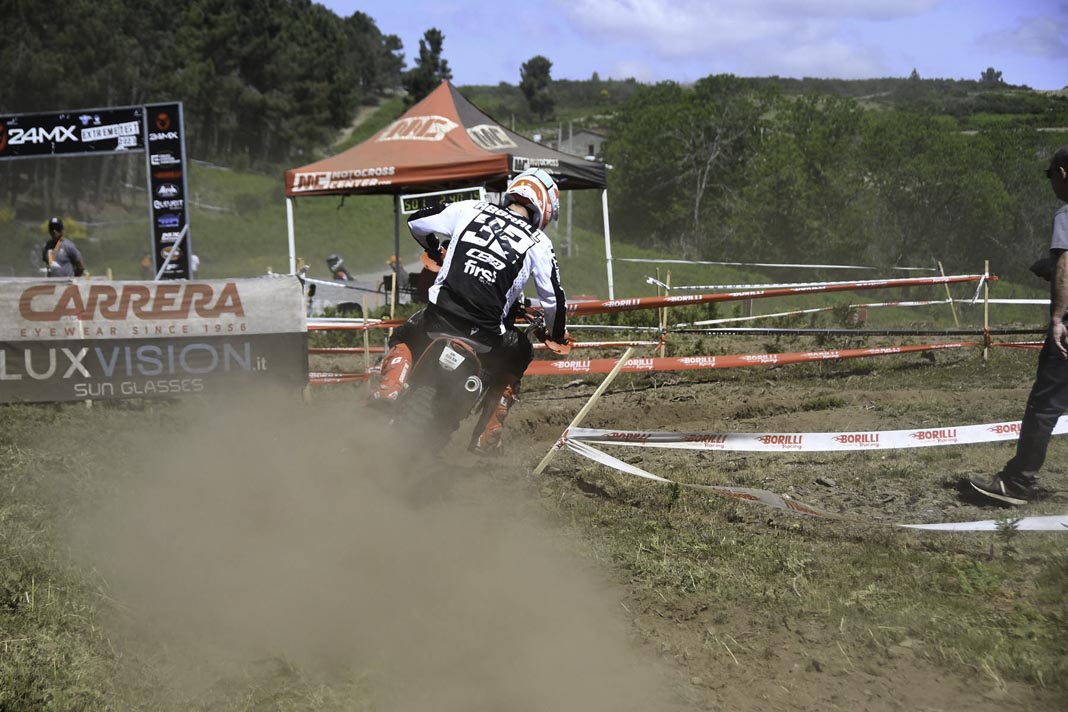 David Abgrall
Romain Dagna won again in the Youth Class, after the first position on Saturday the Frenchman improved, interpreted the tests even better and won once again. Second position for the italian Luca Colorio, after giving a hard time to the Sherco di Dagna throughout the day, he gave way to the Frenchman and finished second. Davide Mei confirmed himself as the third best-in-class rider, getting on the podium again. In Junior 1 Riccardo Fabris took home the fourth victory in a row, so far Riccardo has left no space for anyone and finished again on the first step of the podium. Dawid Babicz and Nicolò Paolucci confirmed yesterday's second and third positions. Second class success also for Matej Skuta in the Junior 2 class, the Czechoslovak once again put the wheels ahead of the Frenchman Diego Haution, who managed to keep the compatriot Quentin Tournier behind. Today Quentin finished on the third step of the podium.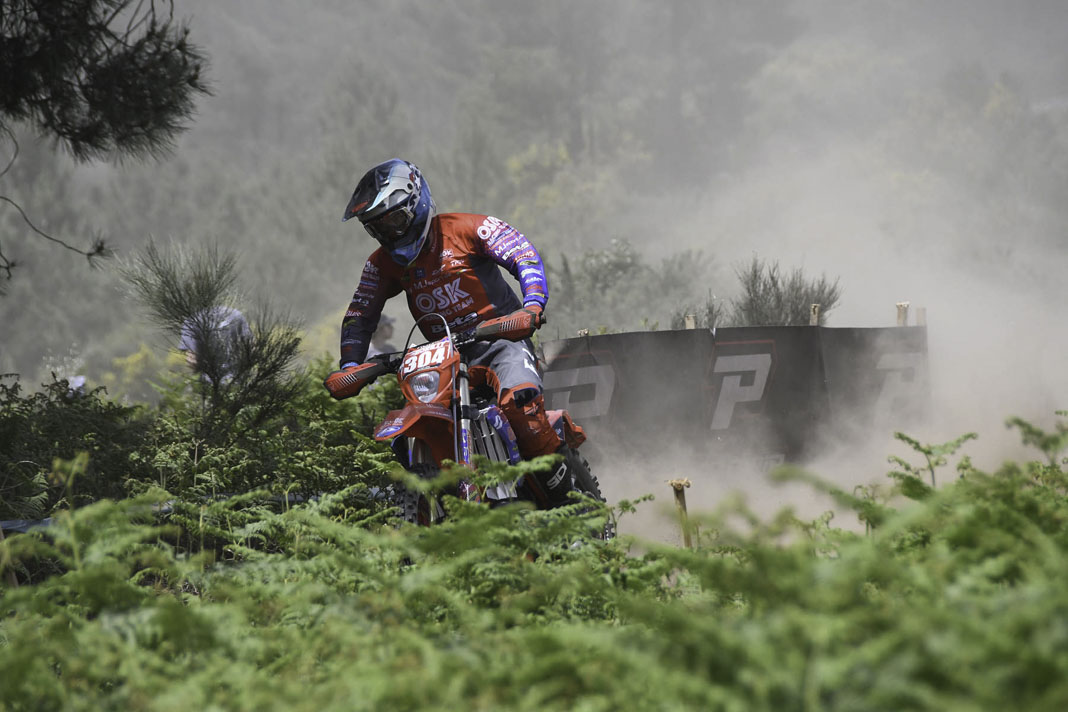 Andreas Beier
Fourth victory in a row for Andreas Beier, the German scored another excellent performance which led him to finish again ahead of all Enduro 1 riders; second position for Aleksander Bracik while the podium of this second day was closed by Patrick Irmscher. Double success also for Alex Walton; the Englishman triumphed again in the E2 class by binding Yann Dupic in second position and Killian Irigoyen in third place. The second overall position allowed David Abgrall to take the number 2 victory in the E3 class; European champion Dietger Damiaens took second place while Roberto Da Canal closed the podium. A technical problem knocked out Gabriel Chetnicki, who was third. Fourth victory in a row also for Maurizio Micheluz, the European champion E1 class has won a new success that confirmed him at the top of the Senior Class. Nico Rambow finished second, André Decker confirmed the third class position. The Women class saw a fight at the last corner between Vilde Marie Holt and Tanja Schlosser, in the end to prevail was the Norwegian while Joana Gongalves finished third.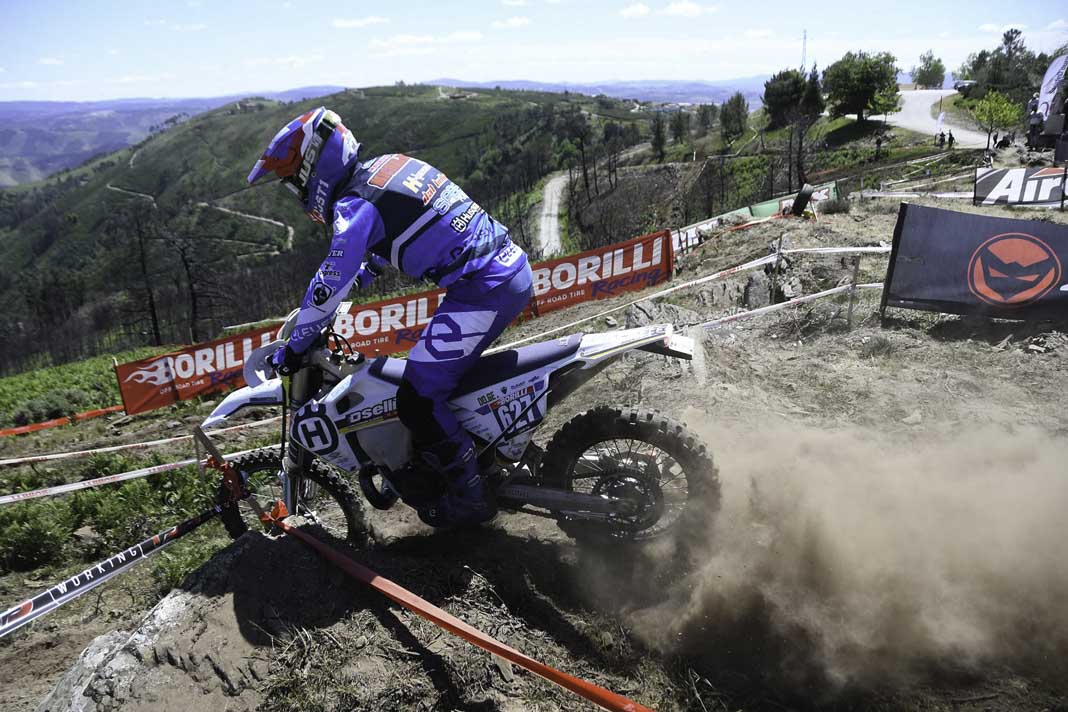 Maurizio Micheluz
The Eleveit Enduro Test Trophy saw Diego Haution topping again, the Frenchman managed to correctly read the track. In the Airoh Cross Test Trophy it was instead David Abgrall who recorded the best time, winning the day.
Thus ends the second Round of the 2023 Borilli Enduro European Championship, two tricky and dusty days that marked the end of the first half of the championship; now it is time to think about the 24MX Round #3 that will take place in Estonia on July 15 and 16. Keep following us on our social pages and on the official website of the championship to stay up to date on all the news.
RESULTS OVERALL – Day 2
EEC-2023-standings-after-round2-day2_optimize

RESULTS by classes – Day 2
FINAL-OVERALL-CLASS-DAY2_optimize

RESULTS Team – Day 2
TRADE-TEAMS-DAY2_optimize

European Enduro - Round 2 Portgual 2023
Quelle / Source: European Enduro