Der 1. Prolog war ein Zeitenkrimi der Superlative. Der superschnelle Dakar Sieger und Dominator Matthias Walkner auf seiner KTM-Rally wurde von dem spanischen Enduro-Wunderkind Josep Garcia um 1,56 Sekunden geschlagen!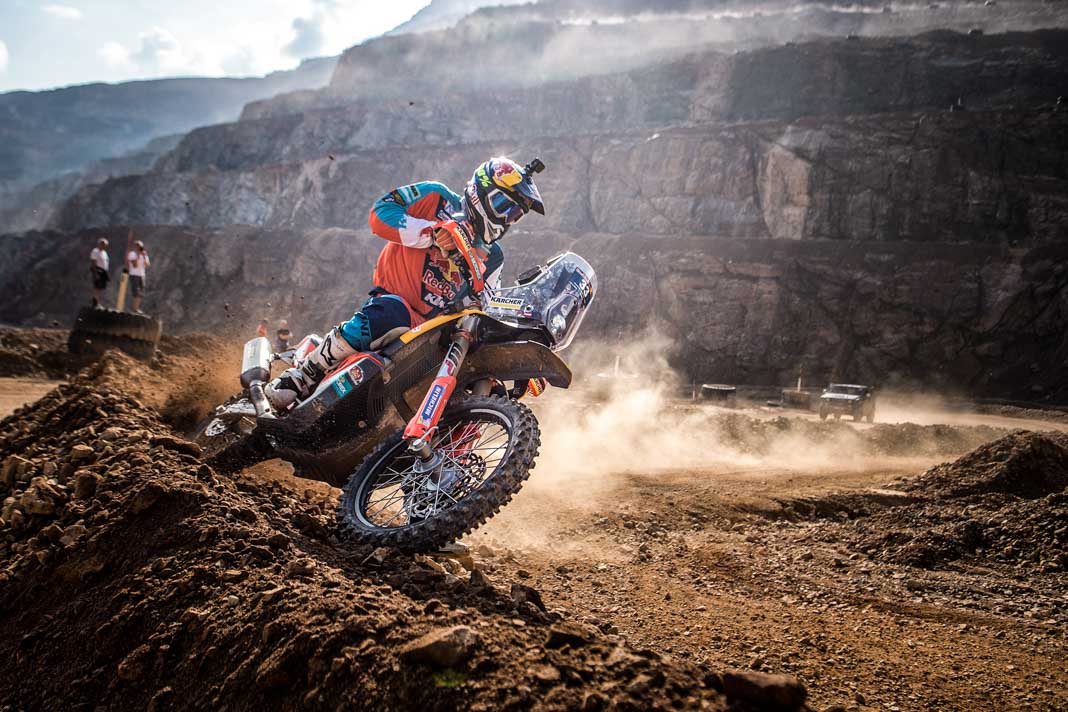 Auch der Enduro-Weltmeister Joakim Ljunggren aus Schweden (19. Platz) gab mächtig Gas, ebenso wie unser deutscher Hoffnungsträger Manuel Lettenbichler (13. Platz) und Kevin Gallas (34. Platz). Letzterer wird sich hoffentlich eher im Extrem-Gelände hervortun – wir drücken die Daumen!
Ty Tremaine (USA) auf seiner elektrischen Alta Motors schnappte sich trotz trotz Übersetzungsproblemen den 43sten Prolograng. Seine Worte: "Mit der richtig angepassten Übersetzung müsste morgen noch die eine oder andere Sekunde zu holen sein!".
Eine Spitzenleistung zeigte auch Laia Sanz (ESP/KTM), die bei ihrem heutigen Erzberg-Debüt auf der KTM 450 Rally mit einem hervorragenden 45ten Platz glänzen konnte.
In der Zweizylinderklasse gingen alle Podiumsplätze ausnahmslos an Aprilia 450 (!), deren Zweizylinder schon seit Jahren nicht mehr produziert wird.
---
Zwischenstand IRON ROAD PROLOG 2018 (1. Lauf):
1. Josep Garcia (ESP/KTM) 10:11,02 Minuten
2. Matthias Walkner (AUT/KTM) 10:12,58
3. Colton Haaker (USA/Husqvarna) 10:14,88
4. Ossi Reisinger (AUT/Husqvarna) 10:20,27
5. Walter Feichtinger (AUT/KTM) 10:24,1
6. Jonny Walker (AUT/KTM) 10:25,06
7. Travis Teasdale (RSA/Beta) 10:25,57
8. Taddy Blazusiak (POL/KTM) 10:26,81
9. Paul Bolton (UK/KTM) 10:27,69
10. Cody Webb (USA/KTM) 10:29,93
Das komplette Zwischenergebnis Iron Road Prolog auf www.erzbergrodeo.at
---
Ab geht die Luzi im VIDEO-Mitschnitt…
HINWEIS: Das Video ist noch deaktiviert, damit keine unerwünschte Datenübertragung zu Youtube stattfindet. Zur Aktivierung bitte auf das Vorschaubild/Video-Link klicken. Damit werden Daten übermittelt, zu deren Art, Umfang und Verwendungszweck wir keineAuskünfte geben können. NOTE: The video is still deactivated so that no unwanted data transfer to YouTube takes place. To activate, please click on the preview image / video link. This transmits data about the type, extent and purpose of which we cannot provide any information.
---
HINWEIS: Mit Anklicken des Videos stellen sie automatisch eine Verbindung zu Youtube/Google her, was einen ungewünschten personenbezogenen Datenaustausch mit sich bringen kann. Weitere Infos unter: www.google.de/privacy

---
Bilder: WESS, Erzbergrodeo, Red Bull