English text version link
---
Für dieses letzte Wettbewerbswochenende in der 2019er Saison bedeuteten die Tests des Acerbis GP von Frankreich für viele Fahrer eine harte Zeit. Der vierfache Weltmeister Steve HOLCOMBE (GBR-Beta) hat alle Schwierigkeiten gemeistert und die Kategorie E3 gewonnen. Mit diesem neuen Erfolg kann er auf beeindruckende fünf Titel in seiner noch jungen Karriere verweisen.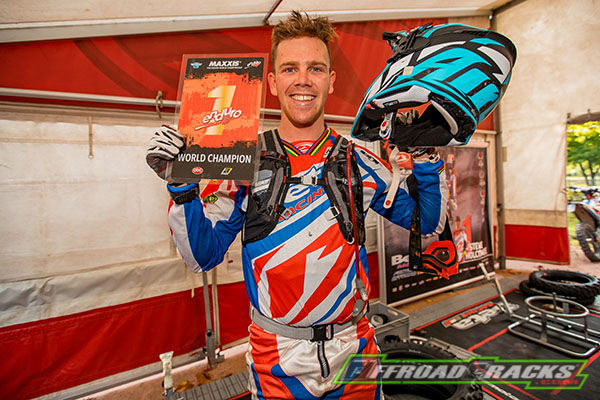 Brad FREEMAN (GBR-Beta) bleibt an seinem Speed aus dran.  Der E1-Weltmeister von 2019 geht hochkonzentrierte in den Wettbewerg und dominiert das Event mit fünf gewonnenen Tests. Heute zähmte der junge Brite erneut seinen stärksten Gegner im Kampf um den EnduroGP-Titel: Steve HOLCOMBE.
Der frisch gekrönte HOLCOMBE scheint akzeptiert zu haben, dass er derzeit nicht in der Lage ist auf dem gleichen Niveau wie sein junger Landsmann zu fighten. Aufgrund seiner körperlichen Verfassung kann er keine zusätzlichen Risiken eingehen, um FREEMAN noch einzuholen. Er wurde am ersten Tag Zweiter und sieht seine Chancen auf den GP-Titel schwinden.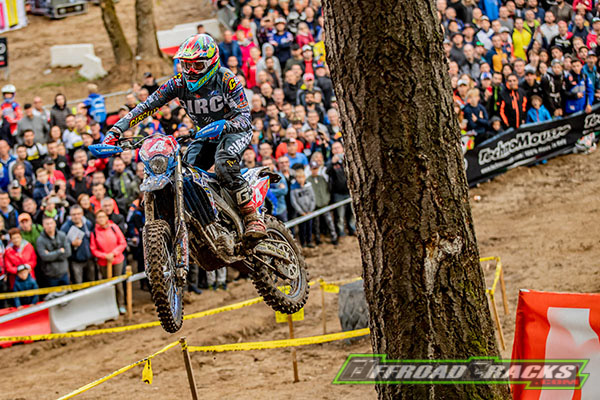 Danny MCCANNEY (GBR-TM) sorgt erneut für ein rein britischen Podium, indem er das Beta-Paar auf dem Podium mit Platz drei ergänzt. Der TM-Pilot gewann 4 Tests, was eine beeindruckende Leistung gegen FREEMAN und HOLCOMBE darstellt. Zudem hat man sich gegen die französische Enduro-Macht auf deren Boden einwandfrei durchgesetzt.
Der erste Nicht-Brite ist der Franzose Loïc LARRIEU (TM), der vor seinen Anhängern einen großartigen Tag hatte. Er konnte immerhin zwei Tests gewann. Loïc räumte ein, dass die Fans ihn zwar anfeuerten, ihm aber auch dermaßen pushten, dass man schnell selbst einen Fehler produziert.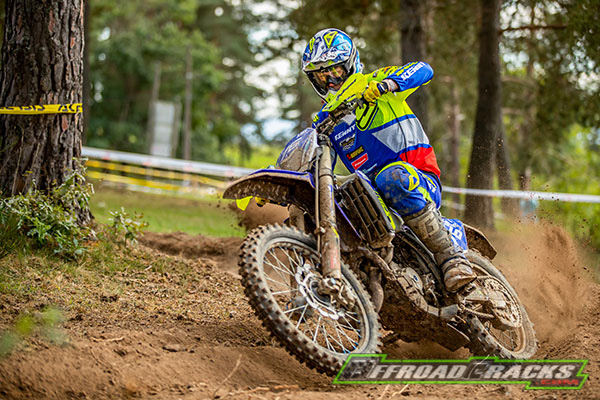 Alex SALVINI (ITA-Honda) gab sich viel Mühe und landete in den Top 5. Der Italiener litt unter dem extrem anspruchsvollen Terrain der Livradois-Runde. Rocky hätte LARRIEU gerne in der E2-Klasse besiegt, was leider nicht in Erfüllung ging.
Andrea Verona (ITA-TM) – Junioren-Weltmeister von 2019 – nimmt das zweite Mal in der großen Klasse teil und setzt sich gegen die Top-Guns mit einem 6. Gesamtrang durch. Aufgepasst, von ihm wird man noch hören!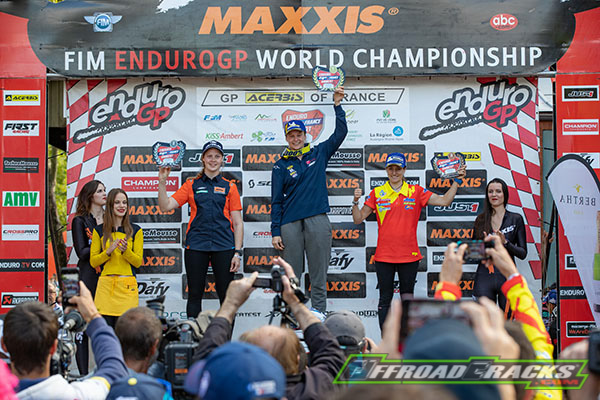 Hamis MacDonald aus Neuseeland holt sich den ersten 125er Weltmeistertitel während Wil Ruprecht seinen zweiten Gesamtsieg einfährt.
E1 Ergebnisse / Results Day 1 – EnduroGP of France 2019
FOCE1

E2 Ergebnisse / Results Day 1 – EnduroGP of France 2019
FOCE2

E3 Ergebnisse / Results Day 1 – EnduroGP of France 2019
FOCE3

Women Ergebnisse / Results Day 1 – EnduroGP of France 2019
FOCEW

Youth Ergebnisse / Results Day 1 – EnduroGP of France 2019
FOCEY

EnduroGP Ergebnisse / Results Day 1 – EnduroGP of France 2019
FOCGP

Junior 1 Ergebnisse / Results Day 1 – EnduroGP of France 2019
FOCJ1

Junior 2 Ergebnisse / Results Day 1 – EnduroGP of France 2019
FOCJ2

Open 2s Ergebnisse / Results Day 1 – EnduroGP of France 2019
FOCO2

Open 4s Ergebnisse / Results Day 1 – EnduroGP of France 2019
FOCO4

Open Senior Ergebnisse / Results Day 1 – EnduroGP of France 2019
FOCOS

"Brave One" Ergebnisse / Results Day 1 – EnduroGP of France 2019
GAH

---

For this last weekend of competition in 2019, the tests of the Acerbis GP of France meant a hard time for many of the riders. Overcoming all the difficulties that arose, quadruple World Champion Steve HOLCOMBE (GBR-Beta) got the job done and won the E3 category. With this new success, he boasts an impressive five titles in his young career.
Brad FREEMAN (GBR-Beta) continues his momentum, the 2019 E1 World Champion offered up a repeat performance of the incredible pace he had in the Czech Republic. Highly focused and dominating the day, the Beta Boano rider finishes as the best performer of the day by winning 5 tests. Today the young Brit once again tamed his most serious opponent for the EnduroGP title: Steve HOLCOMBE.
The freshly crowned HOLCOMBE appears to have accepted the fact that he is currently unable to fight at the same level as his young compatriot. His physical condition does not allow him to take the extra risks to catch up with FREEMAN. He finished second on Day 1, and sees his chances to keep his overall world crown slip a little further away.
Danny MCCANNEY (GBR-TM) once again makes it an all British podium by accompanying the Beta pair on the podium. The TM rider won 4 tests today, a impressive feat against the likes of FREEMAN and HOLCOMBE, as well as a charged up French contingent.
The first non-Brit is France's Loïc LARRIEU (TM) who, in front of his supporters, had a great day during which he won 2 tests. Loïc acknowledged that whilst the fans cheering him on helps him, it also means it's easy to be overwhelmed and make an unfortunate mistake.
Alex SALVINI (ITA-Honda) put in a lot of effort and finished in the Top 5. The Italian suffered in the extremely demanding transfers of the Livradois lap. 'Rocky' would have liked to beat LARRIEU in E2.
Andrea Verona (ITA-TM) had one of the day's greatest achievements – the 2019 Junior World Champion is competing in his second Senior Grand Prix and has been up with the top guns on many occasions. The TM rider is gaining in confidence and took 6th overall on Saturday.
In E1, no change as FREEMAN signs off on a new success in the class. He was ahead of a surprising Andrea VERONA. Another Italian joins them on the podium, Thomas OLDRATI (Honda).
The fight in the E2 category was superb all day. It was Loïc LARRIEU who snatched the victory at the expense of Alex SALVINI. The two men fought blow for blow. But LARRIEU, probably boosted by the many French fans, found the strength to win and separate himself and SALVINI by just one point. Sunday will be an intense and decisive day for the title.
Steve HOLCOMBE did it, he took a new world title in the E3 category! The 5th in 4 years of Senior competitions. The Brit knew he could 'save' his very tough season with this success and have a reason to smile. Very emotional when he arrived back into the paddock, HOLCOMBE dedicated his latest title to his team and all his relatives. Joining HOLCOMBE on the podium were his season long rival, Danny MCCANNEY (GB – TM) and France's ever-improving David ABGRALL (FRA – Beta).
Wil RUPRECHT Takes his Second Overall Win of 2019

In Junior, Wil RUPRECHT (AUS-Yamaha) won despite the Epstein Barr virus that continues to wreak havoc with his health. The Australian has drawn on all his resources to get this second win in 2019. It's a great reward for him and Joakim JOHANSSON's team. Theo ESPINASSE (FRA-Sherco) was just over a second and a half behind the Australian, having provided a spectacular race as usual. The young Brit Dan MUNDELL (GBR-Sherco) accompanied these two on the podium, bringing more silverware to Sherco Factory.
The Junior 1 podium was identical to that of Junior Overall: RUPRECHT, ESPINASSE and MUNDELL.
In J2, Ruy BARBOSA (CHI-Husqvarna) won ahead of Till DE CLERCQ (FRA-Husqvarna) and Emanuele FACCHETTI (ITA-Gas Gas). But we must give a nod to Enric FRANCISCO (ESP-KTM) who, despite a big crash which left him battered and bruised, won the World J2 title, triggering euphoric celebrations for his team and manager, Ivan CERVANTES.
Hamish MACDONALD: Youth 125 World Champion 2019
Hamish MACDONALD (NZ-Sherco) has made a whole nation proud by becoming the first World Enduro Champion from New Zealand. The Sherco rider won the title after a very complicated season after MACDONALD broke his collarbone in Spain. He pushed hard to recover and return to the top of the category. This title augurs really well for the Kiwi, who hasn't yet realised the full extent of his success.
On this first day of action, home favourite Nathan BERERD (FRA-Husqvarna) won in front of Sergio NAVARRO (ESP-Husqvarna) by less than a second! MACDONALD climbs onto the final step of the podium in the Youth category.
The Enduro Woman Cup is back! For the second consecutive year, the best girls on the planet come to battle to win the Women's World Cup at the final round of the season. And defending champion Sanna KARKKAINEN (FIN-KTM) has a lot to do if she wants to keep her crown.
Jane DANIELS (GBR-Husqvarna) surged to success by winning on this first day. The Brit is ahead of KARKKAINEN and the Spanish rider Mireia BADIA (KTM). DANIELS is extremely motivated after the big disappointment she suffered in 2018, when she had to give up her title hopes after breaking her collarbone early in the weekend. Today, Jane left no chances to her rivals, winning 5 out of the 6 tests.
The Top 5 was completed by France's Justine MARTEL on her Sherco and Joana GONCALVES (PRT-Husqvarna)
There were definitely a lot of riders on the track competing during this first day of racing. The riders in the Champion Lubricants Enduro Open World Cup also fought it out on the tough terrain, chasing the best riders in the world. In Open 2-Stroke, after his absence in the Czech Republic, Gonçalo REIS (POR-GAS GAS) has come back with a win. He won in front of Benet GOMEZ (ESP-GAS GAS) and a quick Jack CADWALLADER (GBR-KTM). In Open 4-Stroke, Belgium's Mathias VAN HOOF (Beta) had announced he was hoping to take the top step on French soil – and he managed it! He took victory over Robert RIEDEL (GER-KTM) and Dylan LEVESQUE (FRA-Honda). In the absence of the giant from the Isle of Man, David KNIGHT, it was Andrea BELOTTI (ITA-KTM)'s turn to win. The Italian had this first win of the year in Open Senior ahead of Enrique GONZALEZ VEGA (ESP-KTM) and Patrik ANDERSSON (SWE-Yamaha).
The Acerbis Grand Prix of France saw a record 249 starters in all categories. The massive and passionate crowds in the Auvergne will enjoy another day of thrills and action on Day 2, the last day of racing in the 2019 season.
What They Said:
Steve HOLCOMBE (GBR-Beta): "This season was really very complicated for me. The virus I've carried all year has really destroyed me, I had to let everything go. I fought hard and this title is a great reward for all of us. I would have loved to fight for more, but we must also recognise our failures."
Brad FREEMAN (GBR-Beta): "Everything is going perfectly so far. I rode really calmly, without making any mistakes. Tomorrow there will be a little more pressure, because I'll be closer to achieving my ultimate dream. I will give my best whatever happens."
Loic LARRIEU (FRA-TM): "Thanks to all the French fans who have come to support us. It really gives me extra strength and even more desire to succeed. I am very happy with my day, because I managed to beat Alex. I know that everything still remains to be done, and tomorrow will be very intense. We'll have to fight until the last metres of the last test."
Hamish MACDONALD (NZ-Sherco): "I can not find the words, this title is just incredible! The season was very tricky when I broke my collarbone, and my rivals have pushed. All I can say is thank you to my team and my family, but also to the Edmondson family for welcoming me and taking care of me away from home all year. I still haven't taken in what's happening, but I can promise you that we're going to celebrate tonight!"
Quelle / Source: EnduroGP