DEM REHNA 2022 – TOP 10
---
HINWEIS: Das Video ist noch deaktiviert, damit keine unerwünschte Datenübertragung zu Youtube stattfindet. Zur Aktivierung bitte auf das Vorschaubild/Video-Link klicken. Damit werden Daten übermittelt, zu deren Art, Umfang und Verwendungszweck wir keineAuskünfte geben können.
---
NOTE: The video is still deactivated so that no unwanted data transfer to YouTube takes place. To activate, please click on the preview image / video link. This transmits data about the type, extent and purpose of which we cannot provide any information.
---

Damit hatte der Sherco-Fahrer am Ende, bei einer Gesamtprüfungszeit von einer knappen Stunde, deutliche 53 Sekunden Vorsprung auf den ersten Verfolger. Und dieser war sein Teamkollege und Newcomer Jeremy Sydow, der mit dem zweiten Rang einen sehr starken DEM-Einstand gab. Das Podest komplettierte, sehr zu Freude des gastgebenden MC Rehna e.V. im ADAC, Vereinsfahrer Tilman Krause. Für den KTM-Fahrer ein traumhafter Tag, der zum ersten Mal überhaupt als Dritter in die Top Drei des Championats fuhr.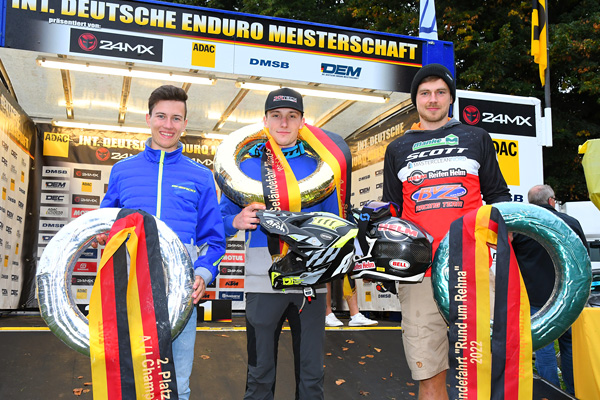 "Es war großartig. Schöne Strecke, geile Sonderprüfungen, anspruchsvoll und abwechslungsreich. Dazu perfekte Bedingungen und natürlich ein super Publikum, das richtig gute Stimmung gemacht und mich super angefeuert hat", schwärmt Tilman Krause, der seine fahrerische Leistung mit einem breiten, zufriedenen Grinsen im Gesicht mit "Alles gut. Heute hat endlich einmal alles gepasst" kommentiert.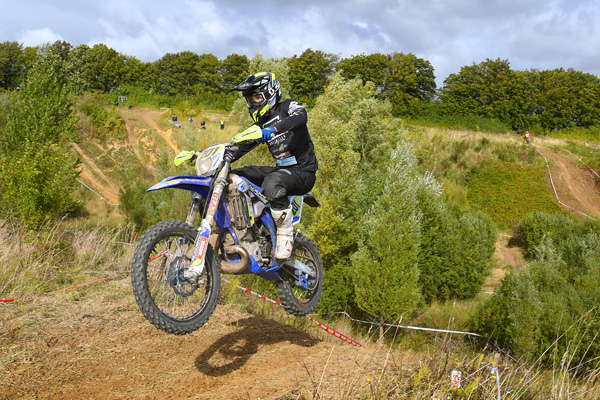 Ebenso positiv fällt natürlich das Resümee von Luca Fischeder aus: "Ich bin natürlich absolut zufrieden. Es lief von Beginn an erstklassig. Ich habe mich super gefühlt, vom Fahrerischen her, ebenso wie in Punkto Fitness. Beide Tests waren richtig gut. Vor allem der erste Test hatte schon WM-Charakter – wirklich top! Es hat großen Spaß gemacht", so der 23-Jährige, der nach Dahlen nun seinen zweiten Championatssieg holte und logischerweise auch in der Klasse E3 auf dem obersten Treppchen stand.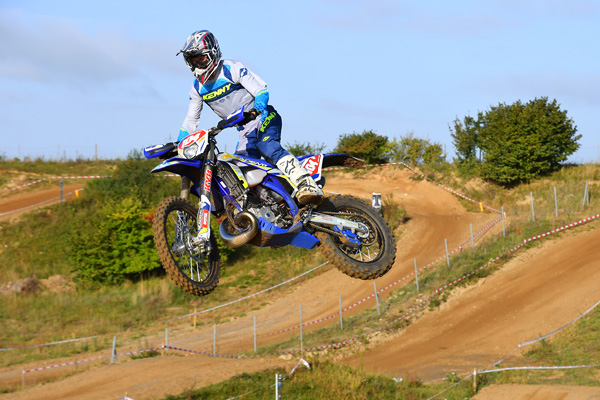 Wer meint, auch Jeremy Sydow war nach seinem zweiten Platz im Championat und dem E2-Tagessieg restlos glücklich, der wurde eines Besseren belehrt. "Das Ergebnis ist super, ein guter Einstieg. Dennoch ärgert es mich ein wenig, dass ich ausgerechnet in der letzten Prüfung noch zweimal gestürzt bin. Das hätte nicht noch sein müssen", zeigt sich der 22-jährige Youngster selbstkritisch, der bei der Siegerehrung aber sein Lächeln schnell wiedergefunden hatte.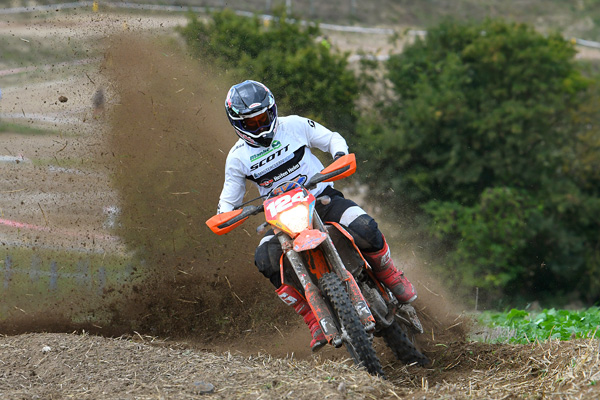 Hinter den Top Drei des Tages belegte Routinier Andreas Beier den vierten Rang. Nach der Hälfte des Tages lag er sogar an dritter Stelle, doch ein heftiger Sturz an einem Bergab-Sprung kostete wertvolle Zeit. "Schade, in die Top Drei im Championat zu fahren, wäre wirklich eine schöne Sache gewesen", stellt der KTM-Fahrer nüchtern fest, der sich zumindest mit dem E1-Tagessieg etwas trösten konnte.
Platz fünf in der Tageswertung ging an Benjamin Meusel, der bewies, dass er auch weiterhin den Speed hat, vorn mitzufahren. Hinter ihm folgten jeweils in Abständen von unter einer Sekunde (!) Robert Riedel, Chris Gundermann und Philipp Müller auf den Positionen sechs bis acht.
Die Junioren-Wertung gewann erstmalig Leon Thoms, ein weiterer Lokalmatador der lautstark angefeuert wurde. Der Sieg in der Mannschaftswertung ging erneut an den ADAC Sachsen (mit Luca Fischeder, Andreas Beier und Edward Hübner). Und im DMSB Enduro Cup holte sich Felix Melnikoff, nach Waldkappel 2021, seinen zweiten Gesamtsieg in seiner noch jungen Karriere.
---

Germany's currently fastest enduro rider underscored his current supremacy more than impressively in Rehna. Not only did Luca Fischeder win the championship, no, he also secured the absolute best time in every single special stage!
In the end, the Sherco driver had a clear lead of 53 seconds over the first pursuer, with a total test time of just under an hour. And this was his teammate and newcomer Jeremy Sydow, who made a very strong DEM debut with second place. The podium was completed, much to the delight of the host MC Rehna e.V. in the ADAC, club driver Tilman Krause. A dream day for the KTM rider, who finished third in the top three of the championship for the first time ever.
'It was great. Beautiful route, cool special stages, demanding and varied. Add to that the perfect conditions and, of course, a great audience that created a really good atmosphere and cheered me on," enthuses Tilman Krause, who described his driving performance with a broad, satisfied grin on his face with "Everything is good. Everything finally worked out today" commented.
Of course, Luca Fischeder's summary is just as positive: 'Of course I'm absolutely satisfied. It was top-notch right from the start. I felt great, in terms of driving skills, as well as in terms of fitness. Both tests were really good. The first test in particular had the character of a World Cup – really great! It was great fun," said the 23-year-old, who after Dahlen now won his second championship and logically also stood on the top step of the podium in the E3 class.
Anyone who thinks that Jeremy Sydow was also completely happy after his second place in the championship and the E2 day victory was taught a lesson. "The result is great, a good start. Nevertheless, it annoys me a little that I fell twice more in the last stage of all places. It didn't have to be that way,' says the 22-year-old youngster self-critically, but he quickly found his smile again at the award ceremony.
Behind the top three of the day, veteran Andreas Beier took fourth place. Halfway through the day he was actually third, but a bad fall on a downhill jump cost him valuable time. 'It's a shame, it would have been nice to finish in the top three in the championship,' says the KTM rider soberly, who could at least console himself a little with the E1 day's win.
Fifth place in the daily standings went to Benjamin Meusel, who proved that he still has the speed to be up front. Behind him in intervals of less than a second (!) followed Robert Riedel, Chris Gundermann and Philipp Müller in positions six to eight.
Leon Thoms, another local hero who was cheered on loudly, won the junior classification for the first time. Victory in the team classification went again to ADAC Sachsen (with Luca Fischeder, Andreas Beier and Edward Hübner). And in the DMSB Enduro Cup, Felix Melnikoff clinched his second overall victory in his young career after Waldkappel in 2021.
Quelle: Enduro-DM