Enduro DM Rüdersdorf – Day 1
Der Neuseeländer demonstrierte auch bei äußerst schwierigen Bedingungen sein ganzes Können und gewann den Tag am Ende mit über einer Minute Vorsprung.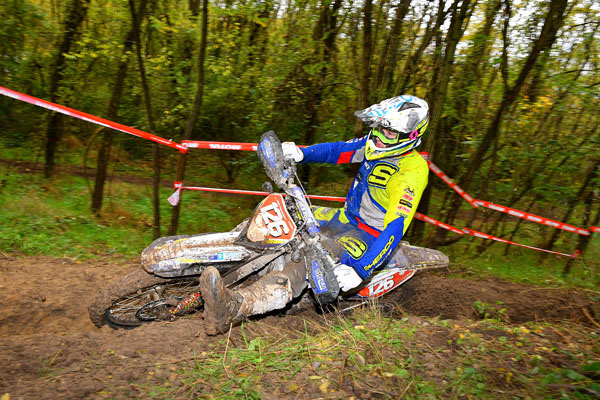 Doch zunächst sorgte Luca Fischeder für großes Aufsehen. Der Sherco-Fahrer erwischte einen perfekten Start in den Tag und sicherte sich die Bestzeit im Extrem- sowohl als auch im Enduro-Test! "Ja, das war schon richtig gut", strahlt der Youngster über das ganze Gesicht, auch wenn er im weiteren Tagesverlauf noch zwei Ränge abrutschte. "Ich habe in der dritten Runde im Extrem-Test zu viel gewollt. Prompt ist mir ein Fehler unterlaufen. Ich bin aus einer Rinne rausgeschnappt und einen Berg hinunter ins Unterholz gerutscht. So musste ich den Hang noch einmal komplett von unten anfahren. Davon abgesehen, war es aber ein richtig guter Tag. Ich bin extrem happy und stolz auf mein erstes Podium im Championat", freut sich Luca Fischeder, der nur seinem Sherco-Teamkollege Hamish MacDonald und Dennis Schröter den Vortritt lassen musste.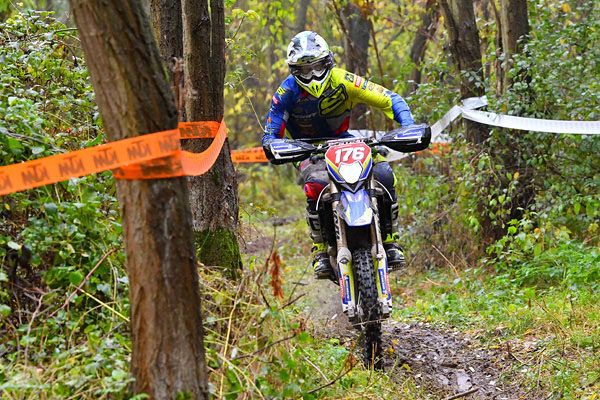 Der Neuseeländer war auch bei schlammigen Verhältnissen nur schwer zu bremsen, so dass dieser mit Saisonsieg Nummer fünf einen weiteren großen Schritt in Richtung Titelgewinn machte! "Es war ein guter Tag. Ich begann leider etwas zu langsam, weil die Strecke glatt und schmierig war. Doch aber der zweiten Runde, als sich ein paar Rinnen ausgefahren hatten, lief es richtig gut. Einen kleinen Crash hatte ich noch, aber nichts Wildes. Es hat Spaß gemacht, ich mag solche schlammigen Bedingungen total", lacht der Tagessieger.
Dennis Schröter konnte den Spaß-Faktor nicht ganz teilen. "Es war okay", ließ er sich mit einem verschmitzten Lächeln lediglich entlocken. "Es waren wirklich harte Bedingungen. Ich denke, jeder hat heute ein paar Fehler gemacht. Auch ich bin nicht ganz ohne um die Runden gekommen. Zum Glück waren es immer nur kleinere Dinge. Von daher passt alles", zieht der Husqvarna-Fahrer ein zufriedenes Resümee.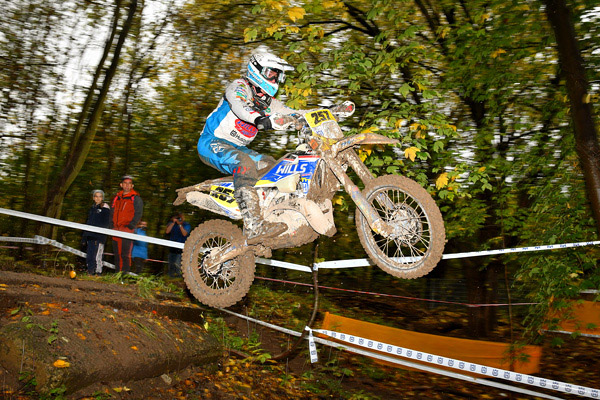 In der Tat erwies sich der erste Fahrtag des "Novemberpokal 2020" als echter Härte-Test. Starker, anhaltender Regen der letzten Tage ließ die Strecke extrem schlammig und folglich sehr glatt und rutschig werden. Vor allem die beiden Sonderprüfungen mit teils kniffligen Auf- und Abfahrten, welche sich manches Mal eng um Bäume hinauf und hinunter schlängelten, hatten es in sich. Kaum ein Fahrer kam ohne zu straucheln oderhängen zu bleiben über die Runden.
Daher sind einige Leistungen umso bemerkenswerter! Beispielsweise Edward Hübner, der gegen Ende immer weiter aufholte, noch bis auf eine Sekunde an Luca Fischeder heranfuhr und letztlich Vierter wurde. Oder Chris Gundermann, der als Fünfter sein bis dato bestes Resultat in der Int. Deutschen Enduro Meisterschaft einfahren konnte! Aber auch der Tagessieg in der E1 durch den Schweizer Jonathan Rossé ist eine der positiven Überraschungen des ersten Fahrtages in Rüdersdorf, ebenso wie die Leistung von Kevin Nieschalk, der seinen ersten Saisonsieg bei den Junioren einfahren konnte.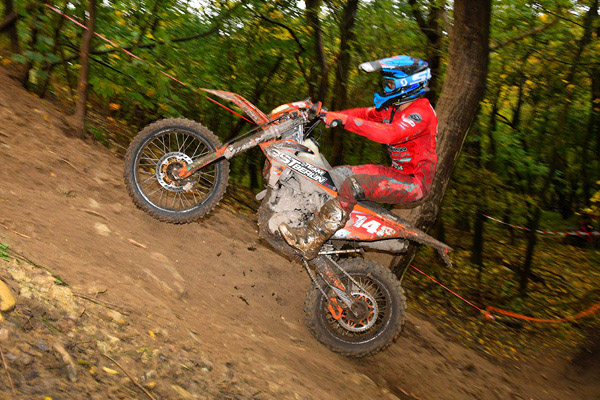 Während in den DEM-Klassen noch keine Titelentscheidung gefallen ist, kann hingegen im DMSB-Enduro-Cup den ersten Titelträgern gratuliert werden! Maximilian Wills (E1B), Mike Uhe (E3B) und Nils Teegen (Jugend) sind der Konkurrenz bereits so weit enteilt, dass sie morgen keiner mehr von der Spitze ihrer Klassenwertung verdrängen kann.
VIDEO-Impressionen/-Impressions
---
HINWEIS: Das Video ist noch deaktiviert, damit keine unerwünschte Datenübertragung zu Youtube stattfindet. Zur Aktivierung bitte auf das Vorschaubild/Video-Link klicken. Damit werden Daten übermittelt, zu deren Art, Umfang und Verwendungszweck wir keineAuskünfte geben können.
---
NOTE: The video is still deactivated so that no unwanted data transfer to YouTube takes place. To activate, please click on the preview image / video link. This transmits data about the type, extent and purpose of which we cannot provide any information.
---
Enduro DM Rüdersdorf – Day 2
Die Saison der Internationalen Deutschen Enduro Meisterschaft in einem überaus verrücktem Jahr 2020 ist Geschichte. Auch am Finaltag in Rüdersdorf bewies Hamish Macdonald seine ganze Klasse und holte sich überlegen seinen sechsten Sieg in Folge.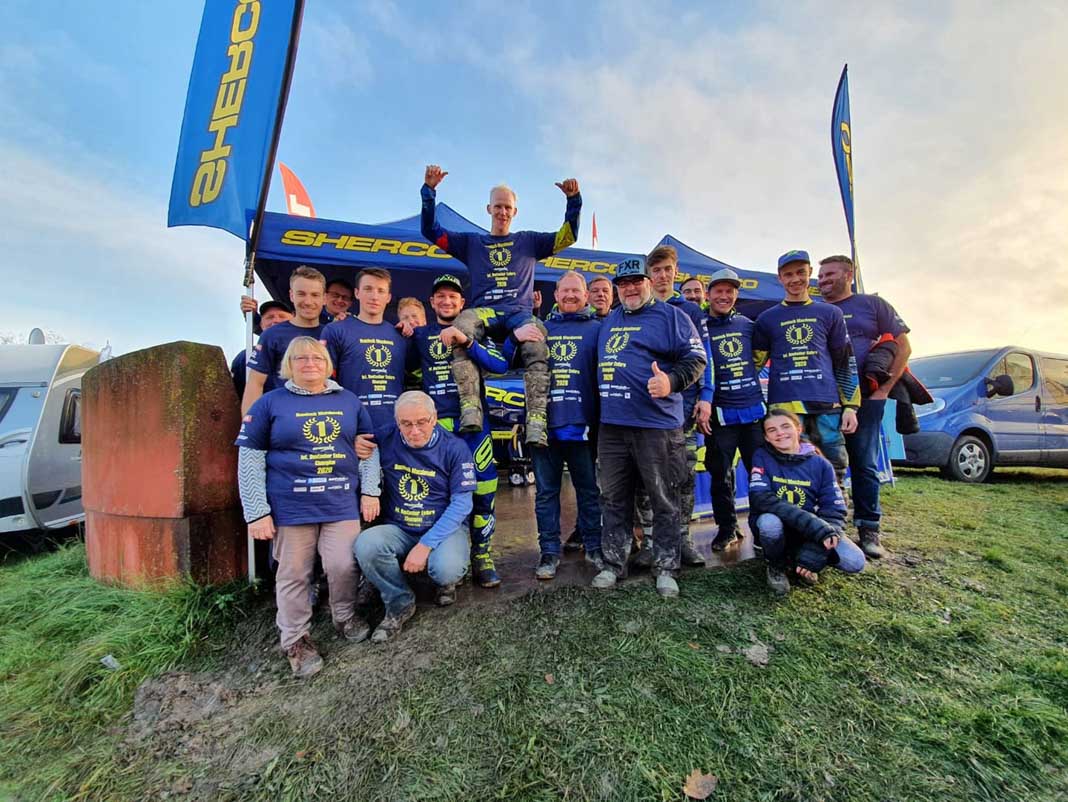 So blieb der Neuseeländer ungeschlagen und wurde folglich auch hochverdient Internationaler Deutscher Enduro Meister. Damit löste der Sherco-Fahrer Dennis Schröter ab, der heute sein letztes Rennen bestritt. Rang vier in der Tageswertung war zwar nicht ganz, was er sich zum Abschluss einer großartigen Karriere gewünscht hatte, doch eigentlich war das letztlich auch egal. "Jetzt ist Feierabend", meint der 38-Jährige emotional aufgekratzt, aber auch sichtlich erleichtert. "Der Tag heute hat mir nicht ganz so Spaß gemacht. Aber okay, man kann sich die Bedingungen eben nicht aussuchen. Unterm Strich war es eine schöne Saison und mit dem E3-Titel auch ein schöner Abschluss für alle, die in all den Jahren immer hinter mir gestanden haben!"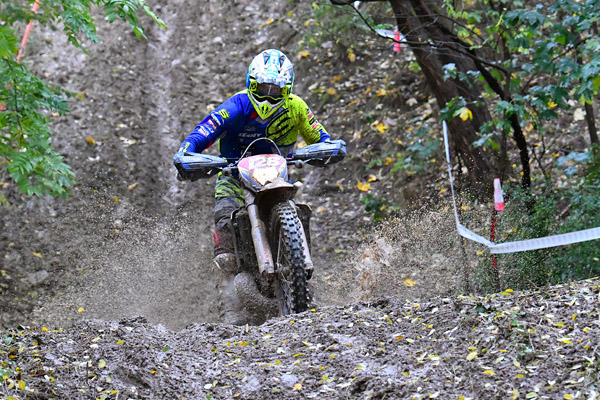 Auf Tagesrang zwei, hinter dem neuen Champion Hamish Macdonald, landete Teamkollege Luca Fischeder auf Rang zwei. Der Sherco-Youngster sicherte sich damit seine bis dato beste Platzierung im Championat und rückte dadurch in der Gesamtwertung sogar noch auf die dritte Position nach vorn. Tagesrang drei ging an Edward Hübner, der mit Nachdruck bewies, dass mit ihm immer auch bei schwierigsten Bedingungen zu rechnen ist. Ebenso wie mit Florian Görner, der als Tagesfünfter, hinter Dennis Schröter für eine faustdicke Überraschung im positiven Sinne sorgte!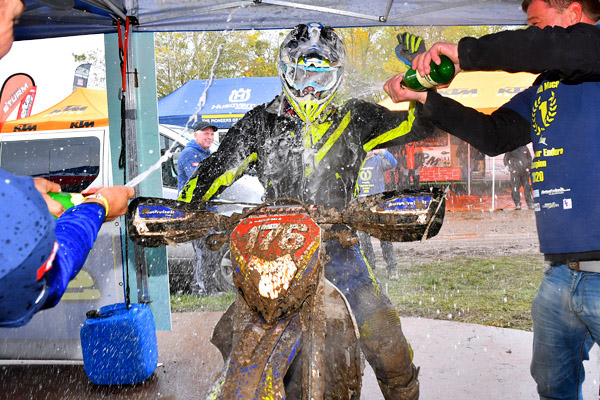 "Ja, es waren schon taffe Verhältnisse", gesteht Tagessieger Hamish Macdonald, der zudem mit dem großen Novemberpokal für den Gesamtschnellsten der Veranstaltung in Rüdersdorf ausgezeichnet wurde. Für Außenstehende pflügte er scheinbar mühelos durch die Schlammrinnen, was jedoch harte Arbeit war. "Es war nicht einfach und auch ziemlich anstrengend. Ich variiere gern einmal die Spur, aber bei den tiefen Rinnen war das nahezu unmöglich. Man musste immer hochkonzentriert bleiben. Diesen Tag dennoch zu gewinnen und natürlich den Titel ist toll. Das war auch mein Ziel und ich freue mich, dass es geklappt hat!"
Großen Jubel gab es bei Robert Riedel. Der Rüdersdorfer gewann bei seinem Heimrennen den Meistertitel in der E1. "Etwas Größeres gibt es doch nicht, oder? Ich bin wirklich sehr happy. Heute war es ja noch einmal richtig schwer, da war es schon eine Kunst, überhaupt durch zu fahren. Mir gelang es sehr gut, wesentlich besser als gestern, als in den Tests immer irgendetwas war. Heute lief von beginn alles glatt", freut sich der KTM-Fahrer, der seinen Titel standesgemäß mit dem E1-Tagessieg perfekt machte.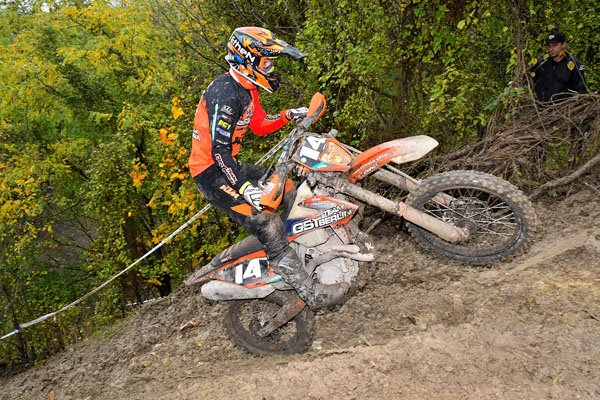 Die Erleichterung, dass der Tag endlich vorbei war, stand Davide von Zitzewitz ins Gesicht geschrieben. "Über Nacht hat sich der Mittelfinger meiner linken Hand entzündet. Da habe ich gedacht, wie soll das heute nur gehen. Aber irgendwie hat es dann doch funktioniert. Zwar bin ich im Championat noch auf Platz Vier zurückgefallen, doch was für mich in erster Linie zählt ist der Meistertitel", so der alte und neue Meister in der E2.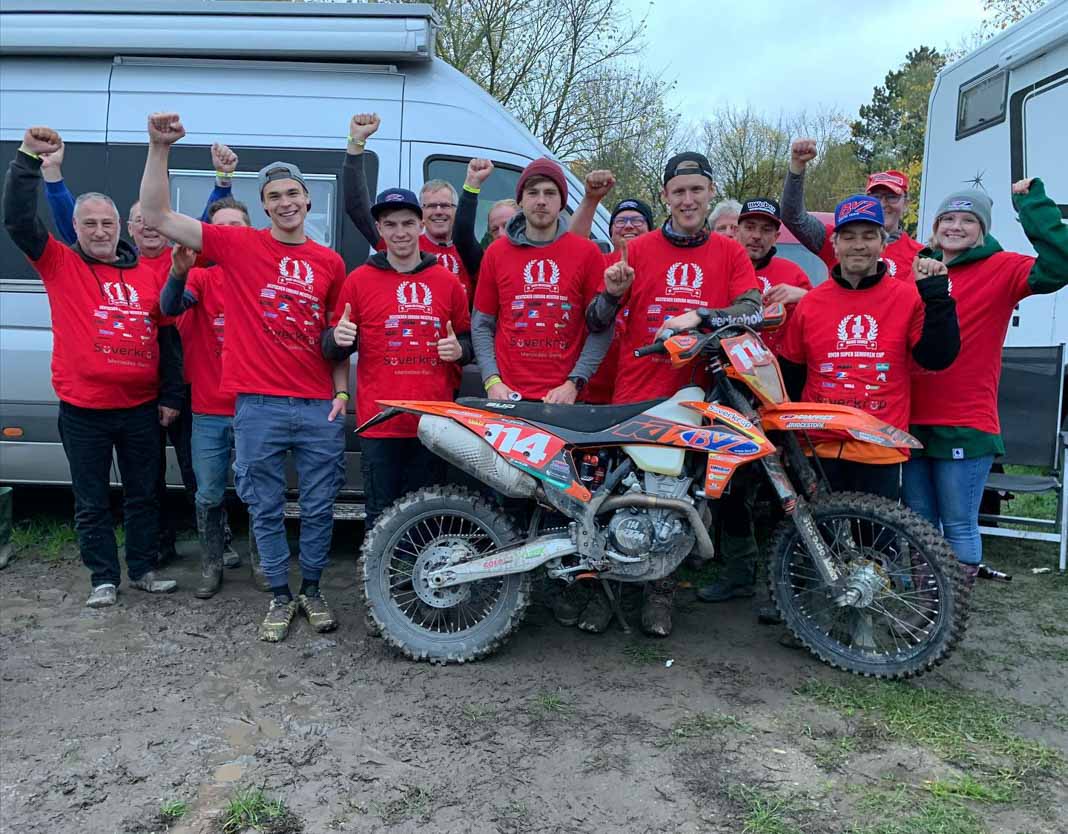 Bei den Junioren ging der Tagessieg erneut an Kevin Nieschalk, dem letztlich nur ein Zähler zum Titelgewinn fehlte, denn Noah Wenz rettete seinen Punktevorsprung über die Ziellinie. "Nach der letzten Sonderprüfung wusste ich nicht, ob es gereicht hat, da noch einige Fahrer meiner Klasse im Test unterwegs waren. Erst im Ziel habe ich erfahren, dass es gereicht hat. Mega, ich bin so froh, dass es mit dem Titel geklappt hat."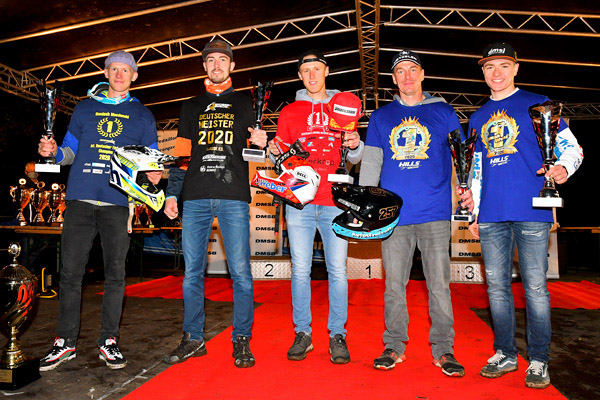 Der Titel in der Deutschen Enduro-Mannschaftswertung ging an den ADAC Niedersachsen / Sachsen-Anhalt mit Dennis Schröter, Tristan Hanak und Benjamin Meusel. Im DMSB Enduro-Cup siegte die Mannschaft des ADAC Sachsen. Maximilian Wills sicherte sich nach seinem E1B-Titel nun auch die Krone im B-Championat. Mark Ziegler (E2B), Dirk Peter (Senioren), Mario Grimm (Super-Senioren), Stephanie Sonnenberg (Damen) und Richard Minderlein (Klassik) machten die Titel in ihrer jeweiligen Kategorie fest.
---

International German Enduro Championship FINAL Rüdersdorf – Day 2
The New Zealander demonstrated all his skills even in extremely difficult conditions and in the end won the day by over a minute.
But initially Luca Fischeder caused a stir. The Sherco driver got off to a perfect start to the day and secured the best time in both extreme and enduro tests! 'Yes, that was really good', the youngster beamed all over his face, even if he slipped two places later in the day. "I wanted too much in the third lap in the extreme test. I made a mistake immediately. I snapped out of a gutter and slid down a mountain into the undergrowth. So I had to approach the slope all over again from below. Other than that, it was a really good day. I am extremely happy and proud of my first podium in the championship, "said Luca Fischeder, who only had to give way to his Sherco team-mate Hamish MacDonald and Dennis Schröter.
The New Zealander was difficult to slow down even in muddy conditions, so he took another big step towards winning the title with victory number five of the season! 'It was a good day. Unfortunately, I started a little too slowly because the track was slippery and greasy. But on the second lap, when a few gullies opened up, things went really well. I still had a little crash, but nothing wild. It was fun, I really like such muddy conditions, "laughs the winner of the day.
Dennis Schröter couldn't quite share the fun factor. 'It was okay,' he said with a sly smile. "The conditions were really tough. I think everyone made a few mistakes today. I couldn't make ends meet without either. Fortunately, it was always just small things. So everything fits, "the Husqvarna driver sums up with satisfaction.
In fact, the first day of driving of the "November Cup 2020" turned out to be a real tough test. Heavy, persistent rain in the last few days made the track extremely muddy and consequently very smooth and slippery. Above all, the two special stages with partly tricky ascents and descents, which sometimes snaked tightly around trees, were tough. Hardly any driver got by without stumbling or getting stuck.
Therefore, some achievements are all the more remarkable! For example Edward Huebner, who continued to catch up towards the end, still pulled up to Luca Fischeder for a second and ultimately came in fourth. Or Chris Gundermann, who finished fifth to have his best result to date in the Int. German Enduro Championship! But also the day's victory in the E1 by the Swiss Jonathan Rossé is one of the positive surprises of the first day of driving in Rüdersdorf, as is the performance of Kevin Nieschalk, who clinched his first win of the season in the juniors.
While no title decision has yet been made in the DEM classes, the first title winners can be congratulated in the DMSB Enduro Cup! Maximilian Wills (E1B), Mike Uhe (E3B) and Nils Teegen (youth) are already so far ahead of the competition that no one can push them from the top of their class tomorrow.
International German Enduro Championship FINAL Rüdersdorf – Day 2
The season of the International German Enduro Championship in a crazy year 2020 is history. Hamish Macdonald also demonstrated his class on the final day in Rüdersdorf and won his sixth victory in a row.
So the New Zealander remained undefeated and consequently also became the highly deserved International German Enduro Champion. The Sherco driver replaced Dennis Schröter, who contested his last race today. Fourth place in the daily standings wasn't exactly what he wanted to end a great career, but in the end it didn't really matter. "Now it's the end of the day," says the 38-year-old, emotionally excited but also visibly relieved. "Today was not that fun for me. But okay, you can't choose the conditions. The bottom line was that it was a great season and with the E3 title it was also a great end to everyone who has always stood behind me over the years! '
In second place on the day, behind the new champion Hamish Macdonald, team mate Luca Fischeder landed in second place. The Sherco youngster thus secured his best position in the championship to date and even moved up to third position in the overall ranking. Third place on the day went to Edward Huebner, who emphatically demonstrated that he can always be reckoned with in the most difficult of conditions. Just like with Florian Görner, who as fifth of the day behind Dennis Schröter caused a big surprise in a positive sense!
'Yes, the conditions were tough,' admits the winner of the day Hamish Macdonald, who was also awarded the big November cup for the fastest overall at the event in Rüdersdorf. To outsiders, he plowed through the mud gutters with seemingly effortless ease, but it was hard work. "It was not easy and it was also quite exhausting. I like to vary the track, but that was almost impossible with the deep gullies. You always had to stay highly concentrated. Still winning this day and of course the title is great. That was my goal and I'm happy that it worked! '
There was great cheers from Robert Riedel. The Rüdersdorfer won the championship title in the E1 in his home race. "There is nothing bigger, is there? I am really very happy. Today it was really difficult again, it was an art to drive through at all. I did it very well, a lot better than yesterday when there was always something in the tests. Today everything went smoothly from the start, "says the delighted KTM rider, who made his title perfect with the E1 victory of the day.
The relief that the day was finally over was written on Davide von Zitzewitz's face. "The middle finger of my left hand became infected overnight. So I thought, how is that supposed to work today? But somehow it worked. Although I fell back to fourth place in the championship, what counts for me in the first place is the championship title, "said the old and new champions in E2.
In the junior division, the day's victory went to Kevin Nieschalk again, who was ultimately only missing one point to win the title, because Noah Wenz saved his points lead over the finish line. "After the last special stage, I didn't know whether it was enough because some drivers in my class were still in the test. Only at the finish did I find out that it was enough. Mega, I am so happy that it worked out with the title. '
The title in the German Enduro team competition went to ADAC Niedersachsen / Sachsen-Anhalt with Dennis Schröter, Tristan Hanak and Benjamin Meusel. The team from ADAC Sachsen won the DMSB Enduro Cup. Maximilian Wills has now secured the crown in the B championship after his E1B title. Mark Ziegler (E2B), Dirk Peter (seniors), Mario Grimm (super seniors), Stephanie Sonnenberg (women) and Richard Minderlein (classic) made the titles in their respective categories.
Quelle / Source: Enduro DM, P. Teichmann, Zitzewitz, Sherco Detuschland