DAKAR 2023
---
HINWEIS: Das Video ist noch deaktiviert, damit keine unerwünschte Datenübertragung zu Youtube stattfindet. Zur Aktivierung bitte auf das Vorschaubild/Video-Link klicken. Damit werden Daten übermittelt, zu deren Art, Umfang und Verwendungszweck wir keineAuskünfte geben können.
---
NOTE: The video is still deactivated so that no unwanted data transfer to YouTube takes place. To activate, please click on the preview image / video link. This transmits data about the type, extent and purpose of which we cannot provide any information.
---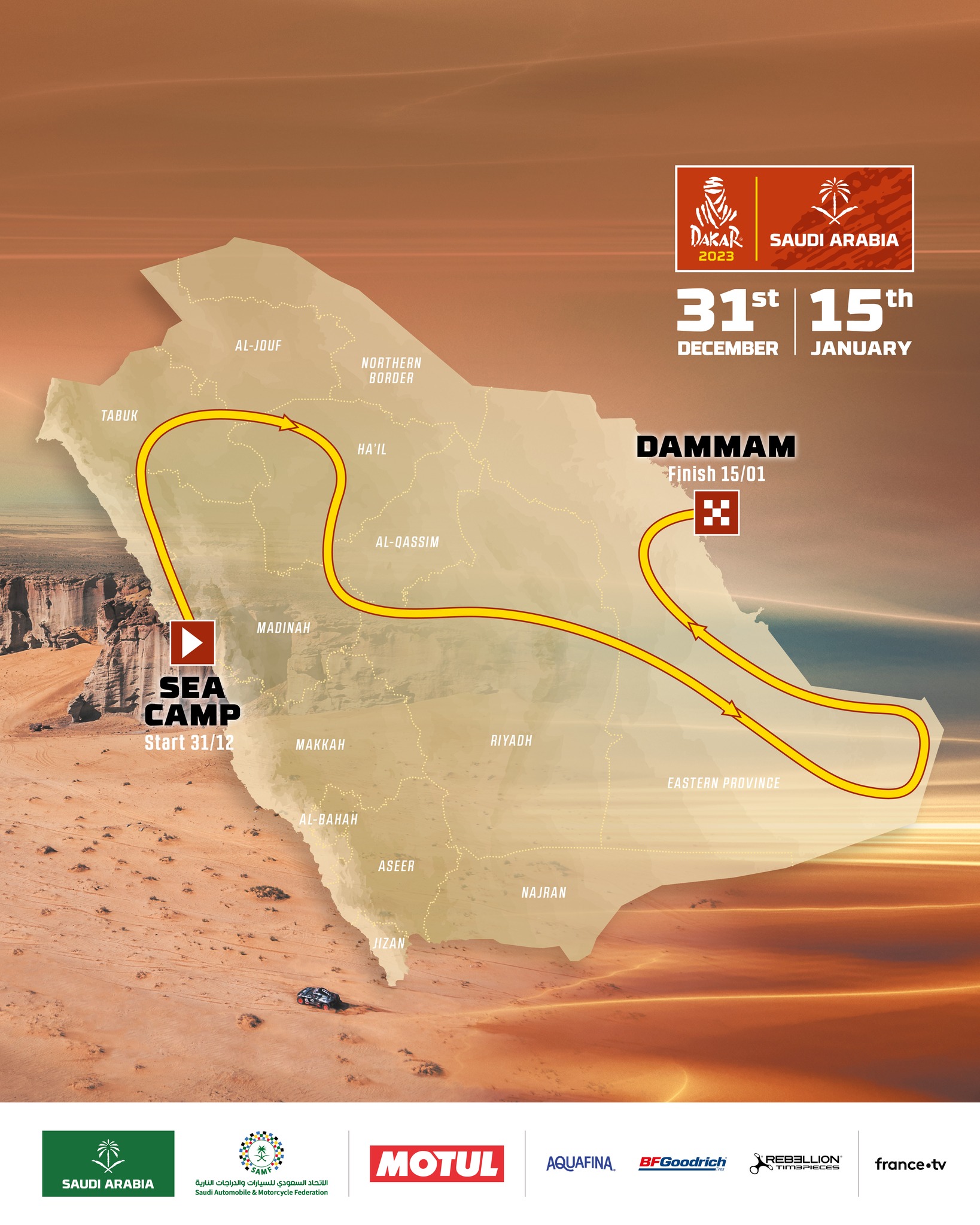 FACTS / FAKTEN
14 Tage Racing anstatt 12 / 14 racing days instead of 12
31.12.22 – 15.01.2023
Sea camp
From coast to coast
70% new tracks
Exploring the Empty Quarter
Dammam
There will be a new itinerary for the fourth edition of the Dakar in Saudi Arabia from December 31, 2022, to January 15, 2023 and 1st round ot the FIA-FIM World Rally-Raid Championship. The route will take the pilots from the beaches of the Red Sea to the sands of the Arabian Gulf in Dammam. This crossing of the country will be, in fact, a complete tour as the 14 stages will first lead the Dakar to the north-western mountain regions before heading to the deep southeast for a three-day journey through ocean of dunes in the Empty Quarter.
Für die vierte Ausgabe der Dakar in Saudi-Arabien vom 31. Dezember 2022 bis zum 15. Januar 2023 und der 1. Runde der FIA-FIM World Rally-Raid Championship wird es eine neue Route geben. Die Route führt die Piloten von den Stränden des Roten Meeres bis zum Sand des Arabischen Golfs in Dammam. Diese Durchquerung des Landes wird in der Tat eine komplette Tour sein, da die 14 Etappen die Dakar zunächst in die nordwestlichen Bergregionen führen, bevor sie für eine dreitägige Reise durch den Dünenozean im Leeren Viertel in den tiefen Südosten aufbrechen .