DAKAR 2021 – LIVE Präsentation / presentation
---
HINWEIS: Das Video ist noch deaktiviert, damit keine unerwünschte Datenübertragung zu Youtube stattfindet. Zur Aktivierung bitte auf das Vorschaubild/Video-Link klicken. Damit werden Daten übermittelt, zu deren Art, Umfang und Verwendungszweck wir keineAuskünfte geben können.
---
NOTE: The video is still deactivated so that no unwanted data transfer to YouTube takes place. To activate, please click on the preview image / video link. This transmits data about the type, extent and purpose of which we cannot provide any information.
---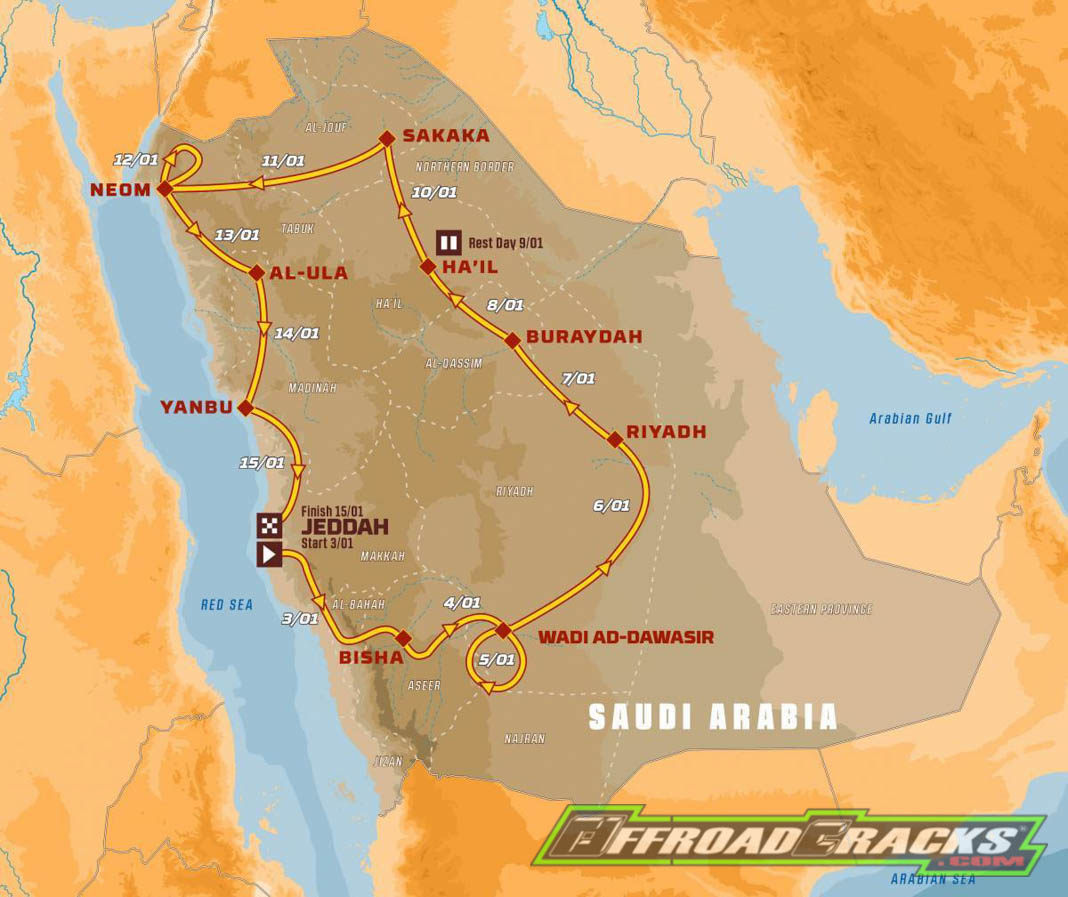 | Stage | Date | Start and Finish | Bike/Quad | Car/SSV | Truck | |
| --- | --- | --- | --- | --- | --- | --- |
| | | | Total | Special | Total | Special | Total | Special | |
| P | Saturday, january 2, 2021 | Jeddah > Jeddah | 11 km | 11 km | 11 km | 11 km | 11 km | 11 km | Prologue |
| 1 | Sunday, january 3, 2021 | Jeddah > Bisha | 622 km | 277 km | 622 km | 277 km | 622 km | 277 km | Stage1 |
| 2 | Monday, january 4, 2021 | Bisha > Wadi Al Dawasir | 685 km | 457 km | 685 km | 457 km | 685 km | 457 km | Stage2 |
| 3 | Tuesday, january 5, 2021 | Wadi Al Dawasir > Wadi Al Dawasir | 630 km | 403 km | 630 km | 403 km | 630 km | 403 km | Stage3 |
| 4 | Wednesday, january 6, 2021 | Wadi Al Dawasir > Riyadh | 813 km | 337 km | 813 km | 337 km | 813 km | 337 km | Stage4 |
| 5 | Thursday, january 7, 2021 | Riyadh > Buraydah | 625 km | 419 km | 625 km | 419 km | 625 km | 419 km | Stage5 |
| 6 | Friday, january 8, 2021 | Buraydah > Ha'il | 655 km | 485 km | 655 km | 485 km | 655 km | 485 km | Stage6 |
| – | Saturday, january 9, 2021 | Jeddah | | | | Rest |
| 7 | Sunday, january 10, 2021 | Ha'il > Sakaka (marathon) | 737 km | 471 km | 737 km | 471 km | 737 km | 471 km | Stage7 |
| 8 | Monday, january 11, 2021 | Sakaka > Neom | 709 km | 375 km | 709 km | 375 km | 709 km | 375 km | Stage8 |
| 9 | Tuesday, january 12, 2021 | Neom > Neom | 579 km | 465 km | 579 km | 465 km | 579 km | 465 km | Stage9 |
| 10 | Wednesday, january 13, 2021 | Neom > AlUla | 583 km | 342 km | 583 km | 342 km | 583 km | 342 km | Stage10 |
| 11 | Thursday, january 14, 2021 | AlUla > Yanbu | 557 km | 511 km | 557 km | 511 km | 557 km | 511 km | Stage11 |
| 12 | Friday, january 15, 2021 | Yanbu > Jeddah | 452 km | 225 km | 452 km | 225 km | 452 km | 225 km | Stage12 |
---

"Wir hören oft, dass die Teilnahme an der Dakar schon allein ein Sieg für sich ist. Dies ist sicherlich das Gefühl, das uns alle am 3. Januar in Jeddah erreichen wird", unterstrich David Castera, als er mit der Präsentation der Dakar 2021 begann. Die Vorbereitung und insbesondere die Streckenerkundung mussten nach einem striktien Zeitplan durchgeführt werden, der sich wiederum an die Reisebeschränkungen für 2020 anlehnte. Ebenso wird die Präsentation unter ungewöhnlichen Bedingungen abgehalten, was in einem Protokoll genau festgelegt ist, um einen maximalen Schutz gegen die Ausbreitung des Covid-19-Virus gewährleisten zu können. Aber für Rallye-Raid-Enthusiasten wird die größte Veranstaltung dieser Disziplin die Zutaten enthalten, die "diejenigen begeistern, die sich auf den Weg machen und diejenigen, die zu Hause bleiben, zum Träumen zu bringen", um das Ethos ihres Schöpfers Thierry Sabine zu zitieren.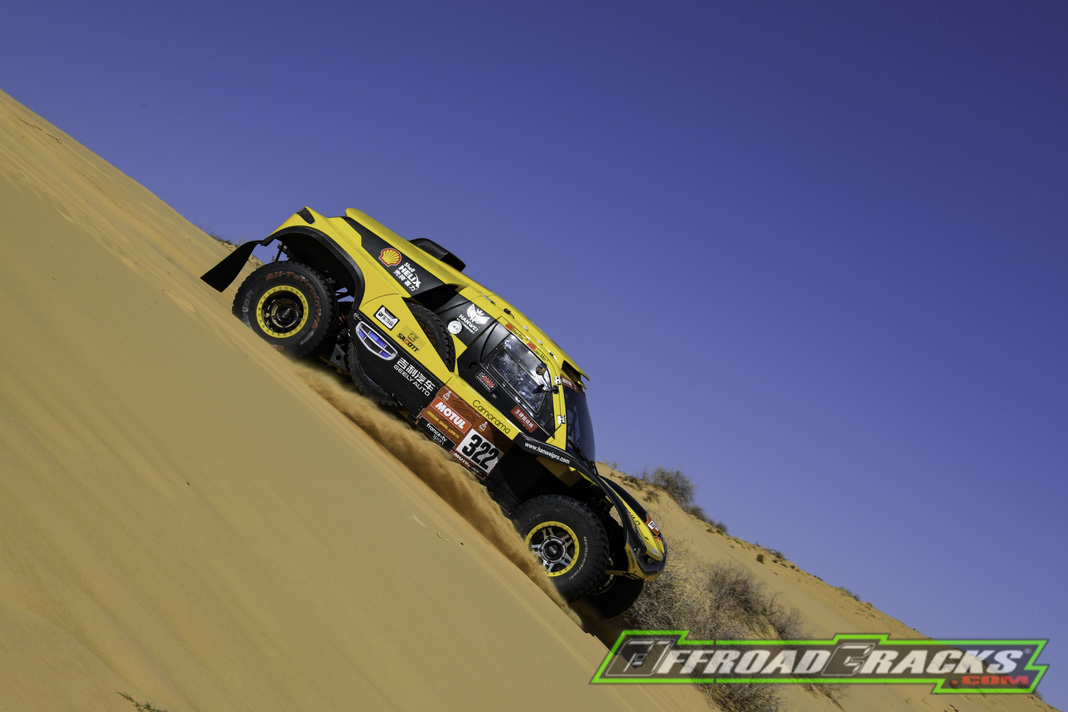 Nach einer Einführung in die saudischen Wüsten erhalten die Teilnehmer der Dakar 2021 eine noch tiefere Lektion in Geographie. Die Eigenschaften der Strecke sowie die neu eingeführten Vorschriften zielen darauf ab, die Durchschnittsgeschwindigkeit zu verringern, die Sicherheitsbedingungen weiter zu verbessern und die sportlichen Qualitäten der Wettbewerber hervorzuheben. Insbesondere sollte der Kampf um die verschiedenen Titel die Konkurrenten, die es gewohnt sind, um Top-Platzierungen zu kämpfen noch mehr in Konkurrenz zueinander  bringen.
In der Motorradkategorie beendeten Ricky Brabec und Honda eine Serie von 18 Siegen in Folge durch die österreichische Firma KTM, die mit einer All-Star-Aufstellung von Fahrern zurückkehren wird, um ihre außergewöhnliche Siegesserie bei Dakar fortzusetzen. Der Quad-Champion Ignacio Casale wird sich einer neuen Herausforderung in der Truck-Kategorie stellen, in der er 2010 auch die Dakar erstmals bestritt. Der 2020-Sieger in der Auto-Kategorie Carlos Sainz auf einem Mini X-Raid-Buggy kehrt mit dem gleichen Ehrgeiz zurück, um die Titel-Bedrohung durch Toyotas Nasser Al-Attiyah erneut abzuwehren. Mit einem bereits lebhaften Wettbewerb zwischen den beiden führenden Konstrukteuren wird der Wettbewerb durch die Rückkehr von Sebastien Loeb nochmal verschärft. Er wird, wie auch Joan 'Nani' Roma im privaten BRX-Team am Start stehen. Cyril Despres und Mike Horn, die ein Projekt für ein Fahrzeug mit alternativer Energie für die Dakar gestartet haben, werden ein weiteres Duo sein, das man im Auge behalten sollte. Und der Gewinner der SSV-Kategorie 2019, Francisco 'Chaleco' López aus Chile wird der Mann sein, den es bei den leichten Sidebysides zu schlagen gilt.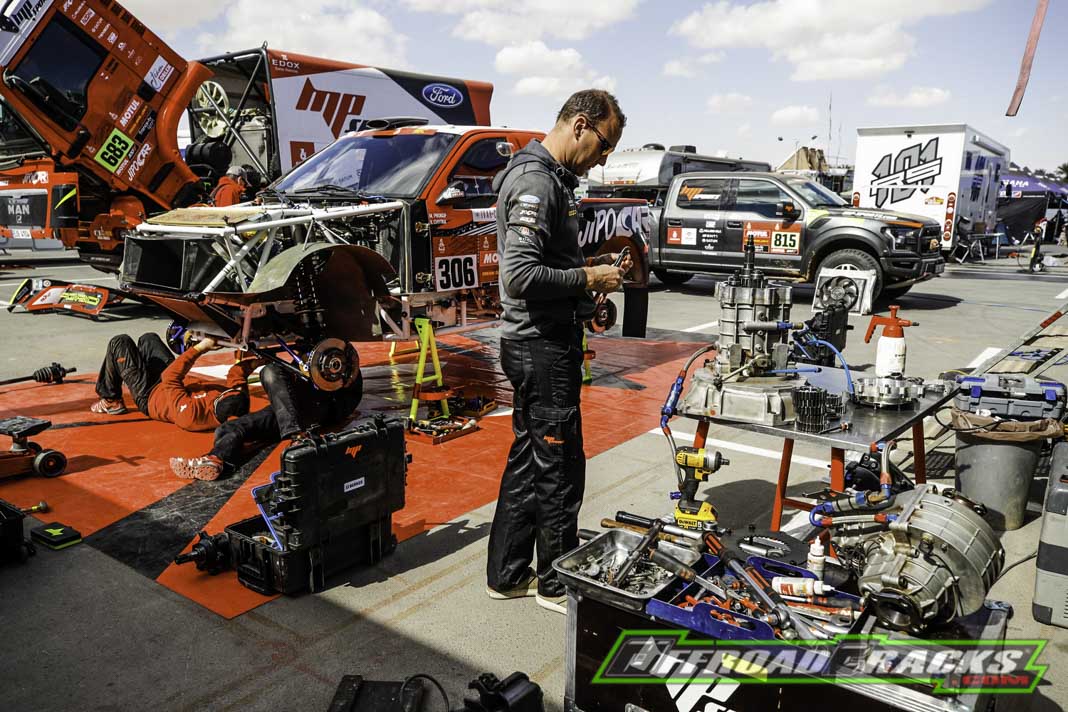 Bevor die Dakar-Teilnehmer am 2. Januar mit einem kurzen Prolog (11 km) zur Festlegung der Startposition für den eigentlichen Start der Rallye loslegen können, sind vorher noch ein paarZwischenschritte zu durchlaufen. Ein Großteil der Fahrzeuge wird am 1., 2. und 3. Dezember nach Marseille beordert, um auf ein Frachtschiff in Richtung Jeddah verladen zu werden. Das Aufeinandertreffen am Ufer des Roten Meeres findet dann am 30. und 31. Dezember statt, während die technischen und administrativen Abnahmen am 1. und 2. Januar gemäß den Gesundheitsschutzbestimmungen durchgeführt werden.
---

"We often hear that participating in the Dakar is a victory in itself. This is certainly the feeling that will invigorate us all on January 3rd in Jeddah", underscored David Castera as he begun the presentation of the 2021 Dakar. The preparation and in particular the reconnaissance, had to be conducted according to a schedule adapted to the 2020 travel restrictions. Similarly, the rally will be held under unusual conditions drafted in a protocol designed to ensure maximum protection against the spread of the Covid-19 virus. But for rally-raid enthusiasts, the discipline's biggest event will feature the ingredients that "thrill those who set off and make those who stay home dream", to quote the ethos of its creator, Thierry Sabine.
After an introduction to the Saudi deserts, the 2021 Dakar competitors will receive an even more in-depth lesson in geography. The characteristics of the route as well as the new regulations introduced aim to reduce average speed, further improve safety conditions and highlight the sporting qualities of the competitors. Specifically, the fight for the various titles at stake should put the top competitors, who are used to battling it out at the sharp end of the standings, in competition with each other. In the motorcycle category, Ricky Brabec and Honda put an end to a series of 18 consecutive victories for the Austrian firm KTM, which will return with an all-star line-up of riders to try to begin another Dakar winning streak, while the reigning quad category champion, Ignacio Casale, will set off on a new challenge in the truck category, the same class in which he discovered the Dakar in 2010. 2020 winner in the car category behind the wheel of a Mini X-Raid buggy, Carlos Sainz returns with the same ambition but maybe not with the same good fortune that allowed him to control the threat of Toyota's Nasser Al-Attiyah. With an already lively competition between the two leading constructors, the competition will be intensified by the return of Sebastien Loeb, who, like Joan "Nani" Roma in the private BRX team, will be back. Cyril Despres and Mike Horn, who have launched a project for an alternative energy vehicle for the Dakar, will be another duo to keep an eye on. And 2019 SSV category winner, Francisco "Chaleco" López from Chile will be the man to beat, in a category where the hierarchy however is constantly changing.
While the Dakar participants will head into action on January 2nd with a short prologue (11 km) to determine the starting position of each competitor for the opening stage, they will have to go through several intermediate steps before then. A majority of the vehicles will be summoned to Marseille on December 1st, 2nd and 3rd to be loaded on to a cargo ship, direction Jeddah. The meeting on the shores of the Red Sea with the owners will take place on December 30th and 31st, while the technical and administrative checks will be conducted on January 1st and 2nd in accordance with health protection regulations, as required by the period we live in.
Original by Motul: the culture of challenge
The ''malles-motos'' area, as the old-timers say, is the sector of the intractable, who have chosen a Dakar where the word challenge takes on its full meaning. On a motorbike or quad, 34 competitors will participate in the most demanding conditions, i.e. by looking after their machines themselves after spending the day in the stage. For them the nights are short and the race is a daily struggle. Prepared for this task, they are, however, fully aware of the need to give priority to managing their equipment and riding prudently. Above all fascinated by the adventure, these riders are no less competitive and are vying for a coveted title. Romania's Emanuel Gyenes is a three-time winner in the category and will be one of the men to watch, as will France's Benjamin Melot and Portugal's Mario Patrao, who makes his debut among the "Originals". This brotherhood also welcomes for the first time a Saudi rider, Mishal Alghuneim, who completed the rally last year with the help of a service crew, as well as an Indian, Ashish Raorane. Another to keep an eye on will be veteran rider Franco Picco, who finished on the podium of the African Dakar three times (1985, 1988, 1989), as well as Willy Jobard, who will spice things up by trying his luck on a hydrogen-powered hybrid bike.
Quelle / Source: Dakar, A.S.O