Carlos Sainz: Flys to victory on stage 5 /  Fliegt zum Sieg auf der 5. Etappe
Mit einem weiteren Sieg auf der Etappe von Al-`Ula nach Hail konnten Carlos Sainz und Lucas Cruz (beide ESP) im MINI John Cooper Works Buggy ihren Vorsprung in der Gesamtwertung ausbauen. Seine Bahrain JCW X-raid Team-Kollegen Stéphane Peterhansel (FRA) und Paulo Fiuza (POR) beendeten die Prüfung in ihrem MINI JCW Buggy auf Platz drei.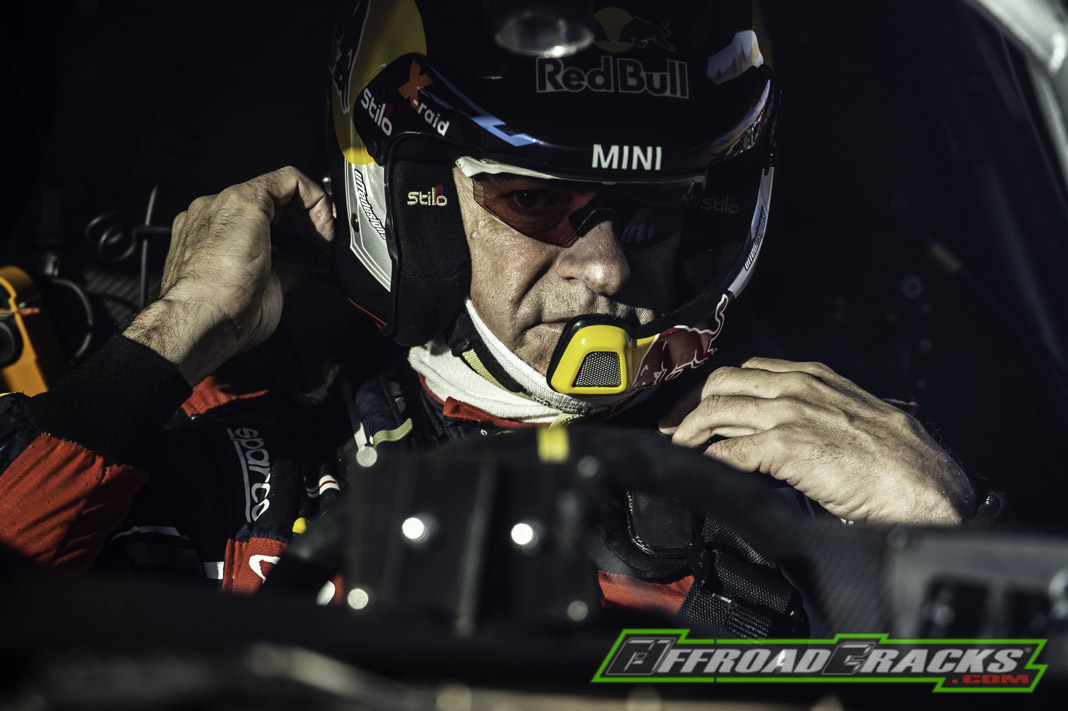 Auch die Crews, die mit einem MINI JCW Rally am Start sind, waren heute sehr gut unterwegs. Orlando "Orly" Terranova und Bernardo "Ronnie" Graue beendeten die Prüfung auf Rang fünf und halten diesen Platz auch in der Gesamtwertung. Yasir Seaidan (KSA) und sein russischer Co-Pilot Alexey Kuzmich erreichten Platz acht gefolgt von Jakub "Kuba" Przygonski (POL) und Timo Gottschalk (GER).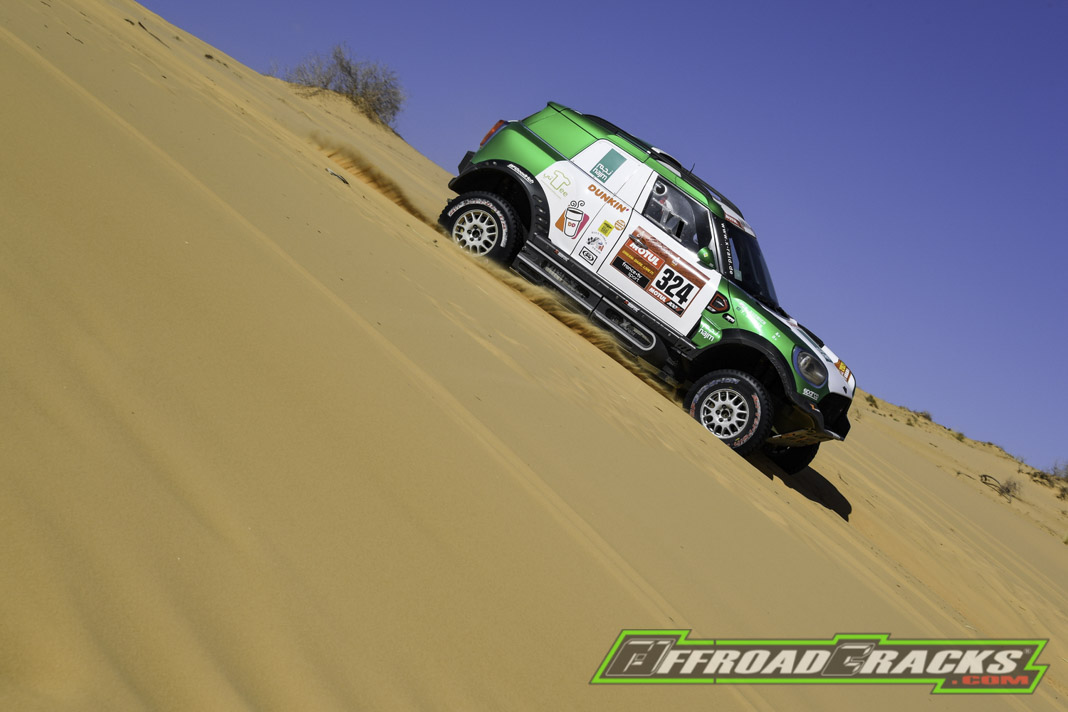 Durch einen Reifenschaden fiel Sainz zu Beginn der Prüfung zunächst zurück, doch er schaffte schnell den Weg zurück an die Spitze. Den Wegpunkt bei Kilometer 250 passierte er als Führender und hielt diese Position bis ins Ziel. "Wir hatten gut angefangen und mussten dann leider einen Reifen wechseln", erzählt Sainz. "Der letzte Teil der Prüfung war schwierig: schnell, aber sehr uneben mit viel Kamelgras. Dieses Terrain liegt unserem Buggy, der heute wieder super lief. Zudem konnten wir unseren Vorsprung in der Gesamtwertung um knapp drei weitere Minuten ausbauen."
Peterhansel und Fiuza können mit dem dritten Tagesrang auch ihren dritten Platz in der Gesamtwertung festigen. Das Duo war schnell unterwegs, büßte aber durch zwei Reifenschäden immer wieder etwas Zeit ein. "Wir hatten nach etwa 80 Kilometern einen Platten und mussten stoppen", berichtet der Franzose. "Auf dem zweiten Teil der Prüfung gab es extrem viel Kamelgras, die Schläge gehen auf Mensch und Maschine. Leider habe ich mir in dieser Passage einen schleichenden Plattfuß eingefangen. Carlos hat uns hier eingeholt und wir sind zusammen bis ins Ziel gefahren."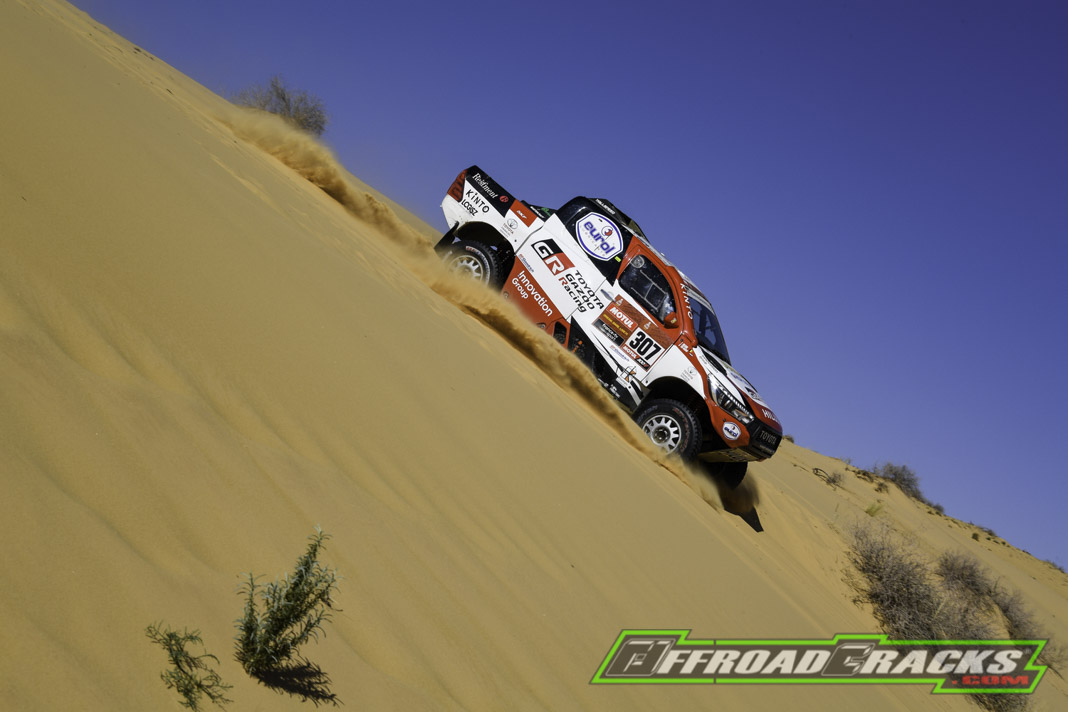 Nach ihrem gestrigen Pech waren Seaidan und Kuzmich heute sehr gut in ihrem MINI JCW Rally unterwegs. Die erste Hälfte der Prüfung waren sie sogar in den Top 3 unterwegs. Auf der zweiten Hälfte verloren sie allerdings etwas Zeit und erreichten einen guten achten Rang. Direkt hinter ihnen platzierten sich Przygonski und Gottschalk auf Position neun. "Es war eine harte Prüfung mit vielen Steinen, Dünen und Kamelgras", so der Pole. "Wir haben angegriffen soweit uns das ohne zu großes Risiko möglich war."
Beste Tagesleistung
Cyril Despres gewann seine erste Etappe bei seinem Dakar-Debüt in der Kategorie SSV und war damit der erste Teilnehmer, der eine Etappe in drei verschiedenen Kategorien (Motorrad, Auto und SSV) gewann. Zumal sein Co-Pilote Mike Horn ein absolute Neuling ist. Da er das Rennen jedoch über die Formel Dakar Experience wieder nach behobenem Motorschaden wieder aufgenommen hat, wird Despres nicht mehr in der Gesamtwertung aufgeführt.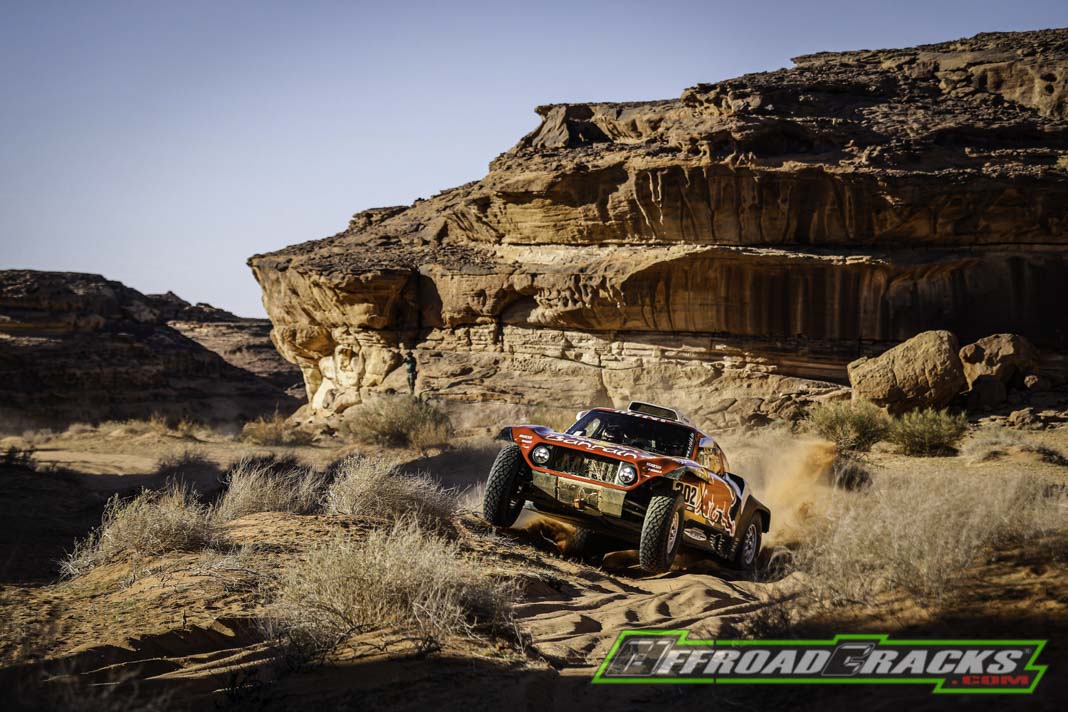 6. Etappe – Samstag
Morgen führt die Route die Teilnehmer in die saudische Hauptstadt Riad, in der am Samstag der Ruhetag absolviert wird. Doch vorher steht ihnen ein langer Tag bevor: nach einer 177 Kilometer langen Verbindungsetappe müssen die Piloten 477 km gegen die Uhr absolvieren. Danach noch 177 Kilometer bis ins Biwak in Riad. Der Organisator hatte im Vorfeld bekannt gegeben, dass der sechste Tag zu den härtesten der Dakar gehören soll.
Dakar Map 2020

DEUTSCHE TEILNEHMER

TIMO GOTSCHALK (X-Raid Team – Nr: 303) : Mit Platz 9 bewegt man sich erneut unter den Top-10 und ist nur knapp 13 Minuten später als die Spitze im Ziel. OVERALL bedeutet das Rang 39!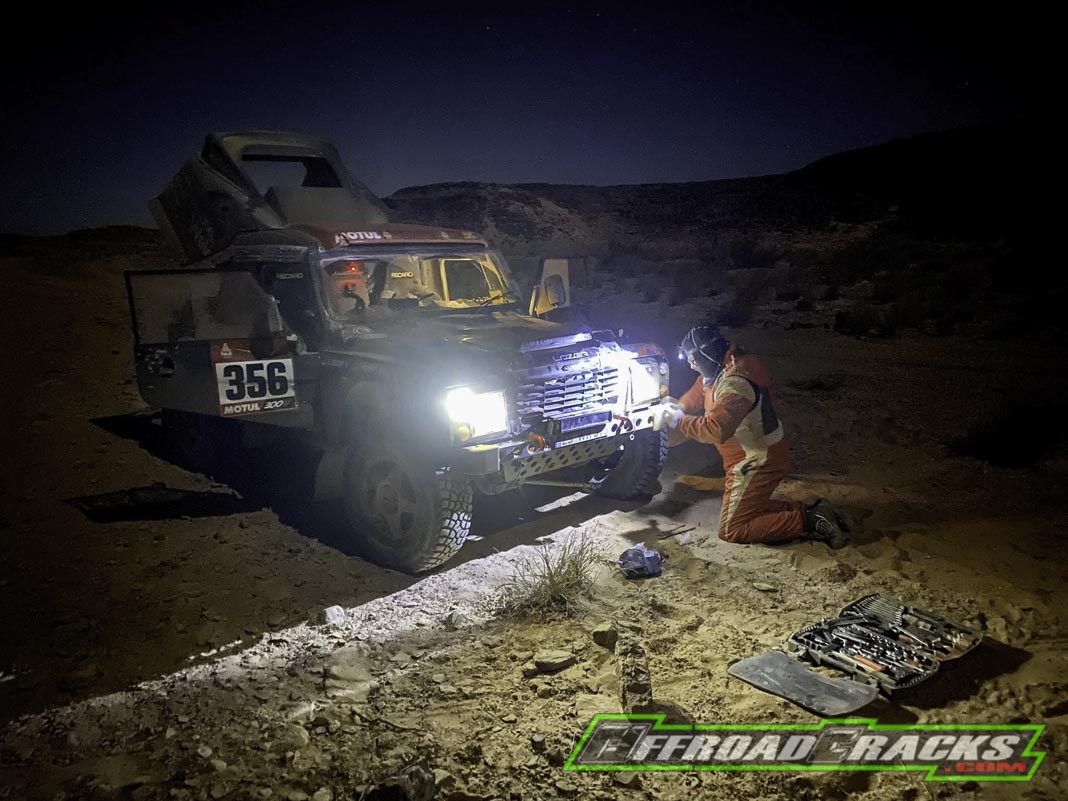 MARKUS WALCHER/TOBIAS HENSCHEL (ENDURO XXX – Nr. 356): Mit Platz 54 zeigt man einen klaren Aufwärtstrend und die technischen Probleme vom Vortag scheinen behoben. Overall bedeutet das Rang 56 – weiter so JUNGS!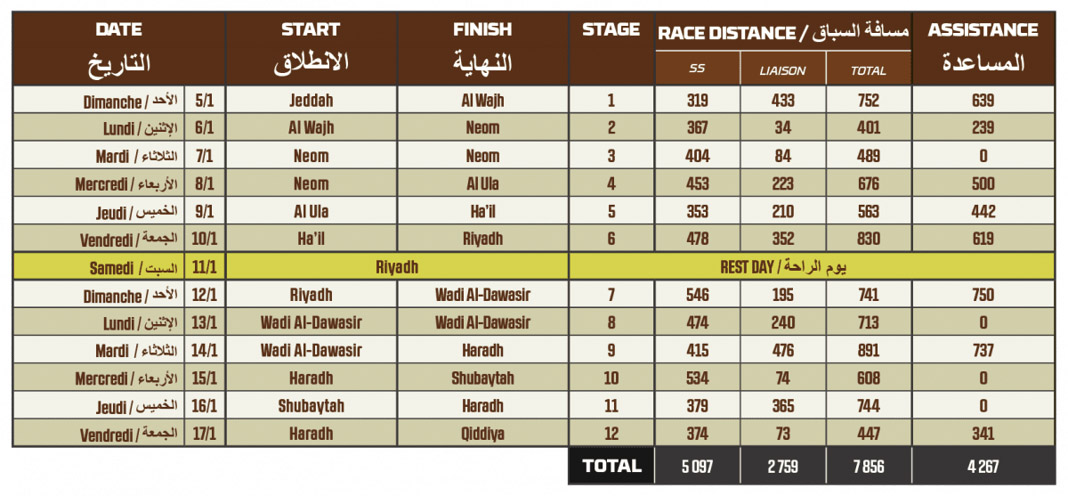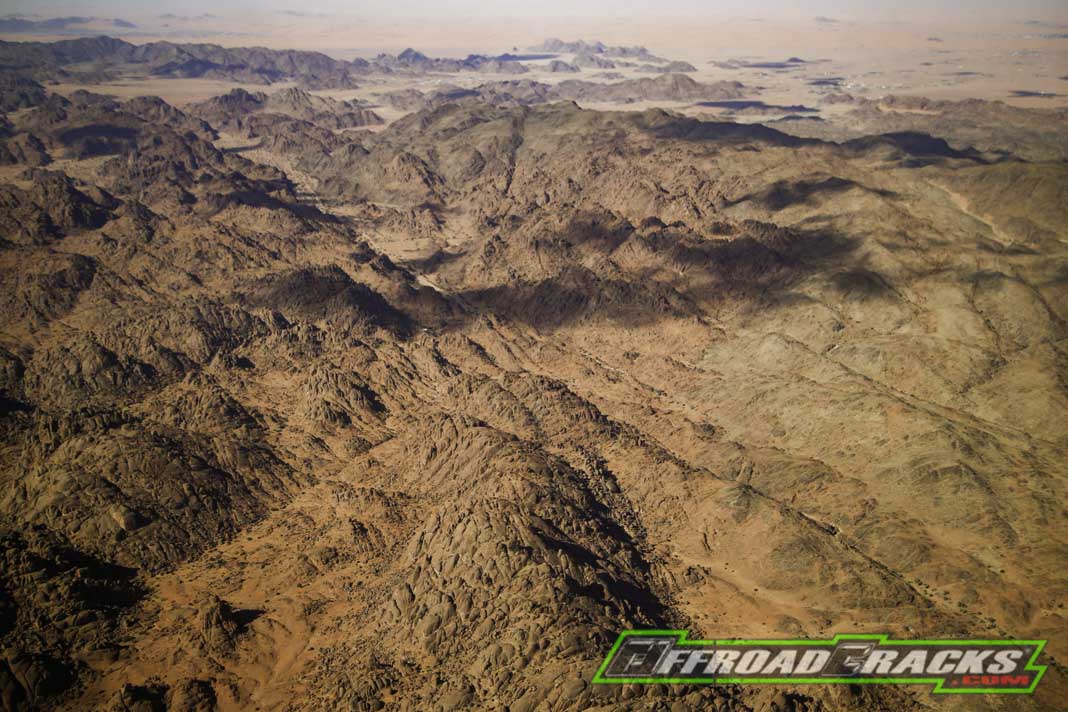 ERGEBNISSE / RESULTS – STAGE 5 – CARS
| Pos. | N° | Drive-Team | Mark-Model | Time |
| --- | --- | --- | --- | --- |
| 1 | 305 | | BAHRAIN JCW X-RAID TEAM | 03h 52′ 01" |
| 2 | 300 | | TOYOTA GAZOO RACING | 03h 54′ 57" |
| 3 | 302 | | BAHRAIN JCW X-RAID TEAM | 03h 58′ 12" |
| 4 | 309 | | OVERDRIVE TOYOTA | 04h 00′ 30" |
| 5 | 311 | | X-RAID MINI JCW TEAM | 04h 00′ 53" |
| 6 | 304 | | TOYOTA GAZOO RACING | 04h 03′ 47" |
| 7 | 310 | | TOYOTA GAZOO RACING | 04h 04′ 24" |
| 8 | 324 | | RACE WORLD TEAM | 04h 04′ 40" |
| 9 | 303 | | ORLEN X-RAID TEAM | 04h 04′ 48" |
| 10 | 315 | | SRT RACING | 04h 09′ 50" |
HINWEIS: Das Video ist noch deaktiviert, damit keine unerwünschte Datenübertragung zu Youtube stattfindet. Zur Aktivierung bitte auf das Vorschaubild/Video-Link klicken. Damit werden Daten übermittelt, zu deren Art, Umfang und Verwendungszweck wir keineAuskünfte geben können. NOTE: The video is still deactivated so that no unwanted data transfer to YouTube takes place. To activate, please click on the preview image / video link. This transmits data about the type, extent and purpose of which we cannot provide any information.
---
HINWEIS: Mit Anklicken des Videos stellen sie automatisch eine Verbindung zu Youtube/Google her, was einen ungewünschten personenbezogenen Datenaustausch mit sich bringen kann. Weitere Infos unter: www.google.de/privacy
---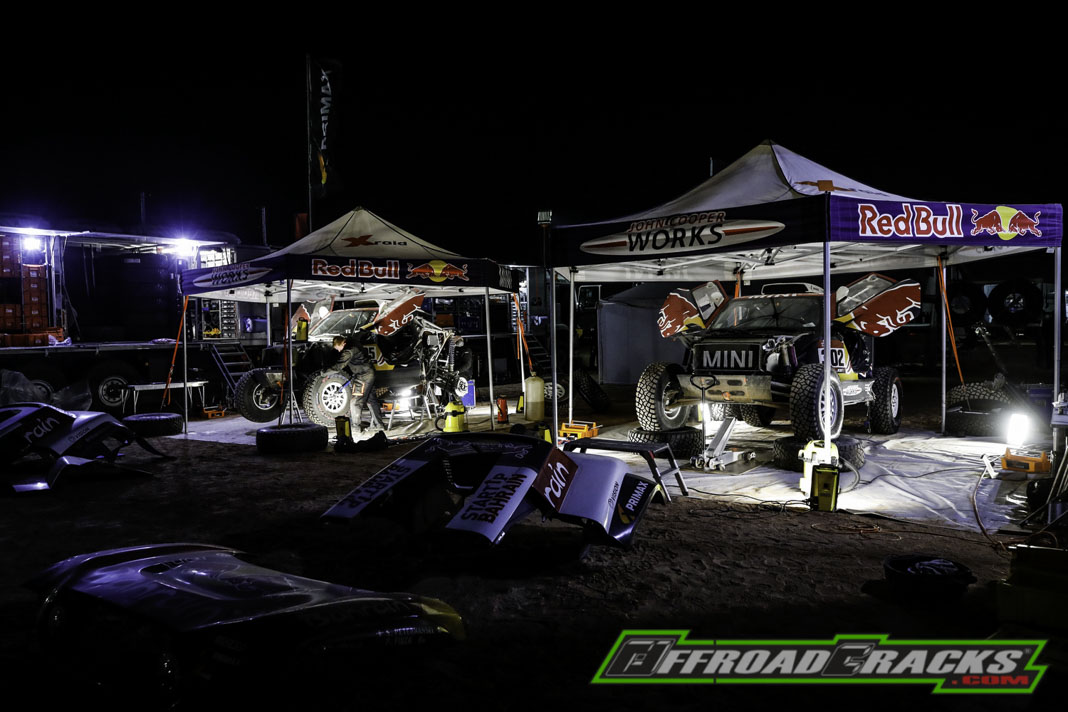 ERGEBNISSE / RESULTS – OVERALL CARS
| Pos. | N° | Drive-Team | Mark-Model | Time |
| --- | --- | --- | --- | --- |
| 1 | 305 | | BAHRAIN JCW X-RAID TEAM | 19h 04′ 13" |
| 2 | 300 | | TOYOTA GAZOO RACING | 19h 10′ 12" |
| 3 | 302 | | BAHRAIN JCW X-RAID TEAM | 19h 22′ 06" |
| 4 | 309 | | OVERDRIVE TOYOTA | 19h 35′ 52" |
| 5 | 311 | | X-RAID MINI JCW TEAM | 19h 36′ 18" |
| 6 | 315 | | SRT RACING | 19h 48′ 57" |
| 7 | 304 | | TOYOTA GAZOO RACING | 19h 50′ 39" |
| 8 | 307 | | TOYOTA GAZOO RACING | 20h 09′ 07" |
| 9 | 324 | | RACE WORLD TEAM | 20h 47′ 17" |
| 10 | 312 | | INBANK TEAM PITLANE | 21h 12′ 22" |
All results / Alle Ergebnisse: LINK + SSV

Carlos Sainz, who was at his best today, now firmly leads, gaining an extra 3 minutes on his fiercest opponent, Nasser Al-Attiyah. In third, Stéphane Peterhansel still lies in wait, ready to take advantage of the slightest weakness shown by his two rivals. Cyril Despres and Mike Horn resumed the race within the framework of the Dakar Experience after having broken their engine two days ago to win their first stage in the SSV race, just 41 seconds ahead of Aron Domzala.
STAGE 5: On leaving Al Ula this morning, the riders, drivers and crews of the Dakar threw themselves into a genuine exercise of dexterity. Over 150 kilometres, the mainly sandy terrain forced them to be extremely watchful due to several rocky sections. They then reached the high plateaux of Jabal Sammar at an altitude of almost 1,500 metres, where in fact the hills to be tackled were often a series of tricky steps to be climbed. In any case, the city of Ha'il, renowned as one of the major settlements from the pre-Saudi era, is especially the national capital of the discipline for all-terrain aficionados. The Rally of Ha'il is the most prestigious and oldest event in the country, on which Saudi riders and drivers have been battling against each other for more than ten years, making it a necessary stopping point for the first Dakar in Saudi Arabia!
Performance of the day
By winning his first stage on his debut in the SSV category on the Dakar, Cyril Despres also became the first competitor to win a stage in three different categories (bike, car and SSV), a fine performance from the Frenchman, achieved, no less, with an inexperienced co-pilot, namely Mike Horn. However, because he resumed the race via the Dakar Experience formula, Despres will no longer be included in the general standings.
Stat of the day
34-34. the battle between Nasser Al-Attiyah and Carlos Sainz is a classic on the Dakar, like Borg versus McEnroe in tennis or Prost against Senna in Formula 1 in the 1980's. In 2010, their duel finished with the smallest gap in the rally's history, with only 2'12'' between the two men, in favour of the Spaniard for his first triumph. Ten years later, after many episodes in this confrontation, the Qatari has won outright three times and obtained 34 stage wins in total, which is the exact number that Sainz reached today by wining the special in Ha'il. Deuce!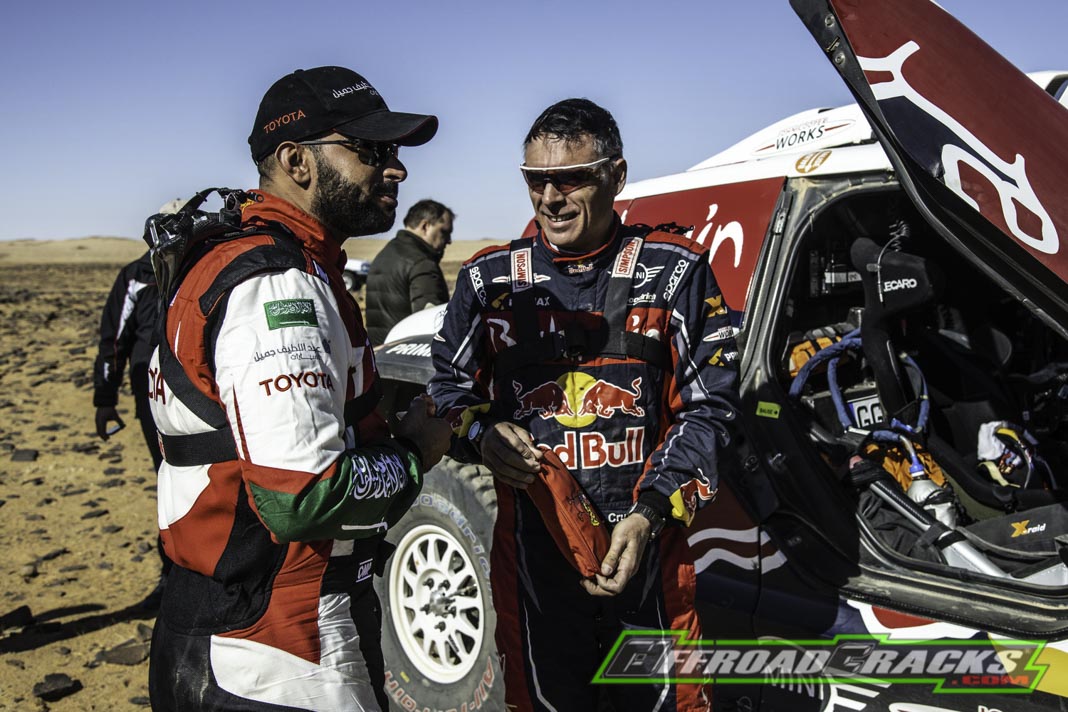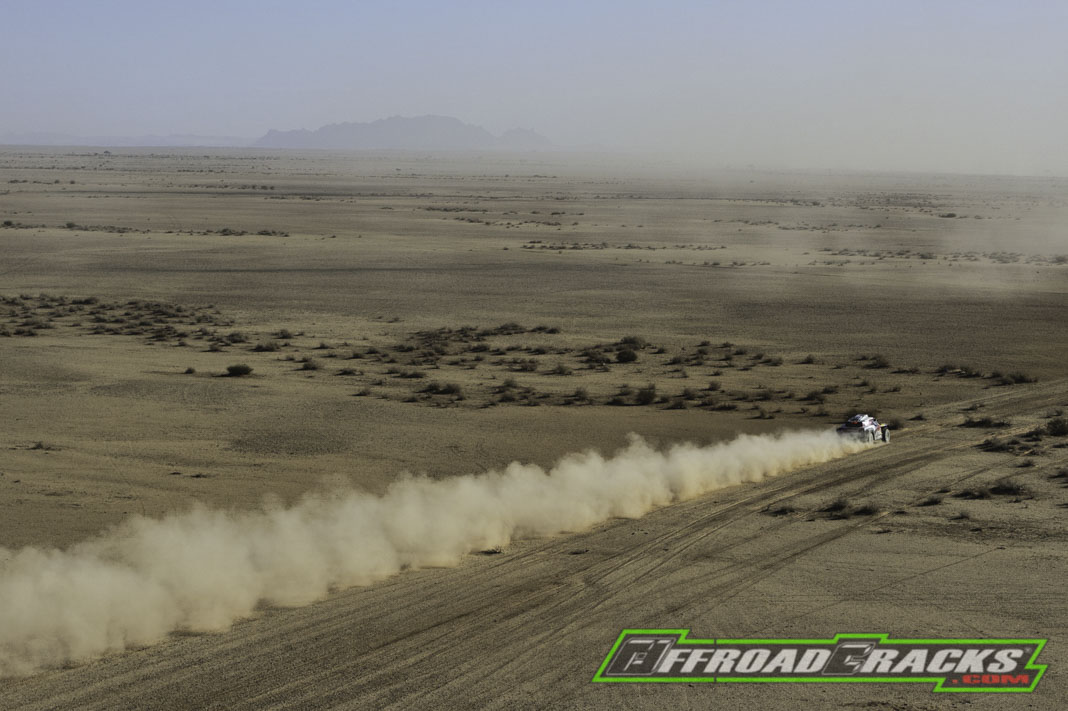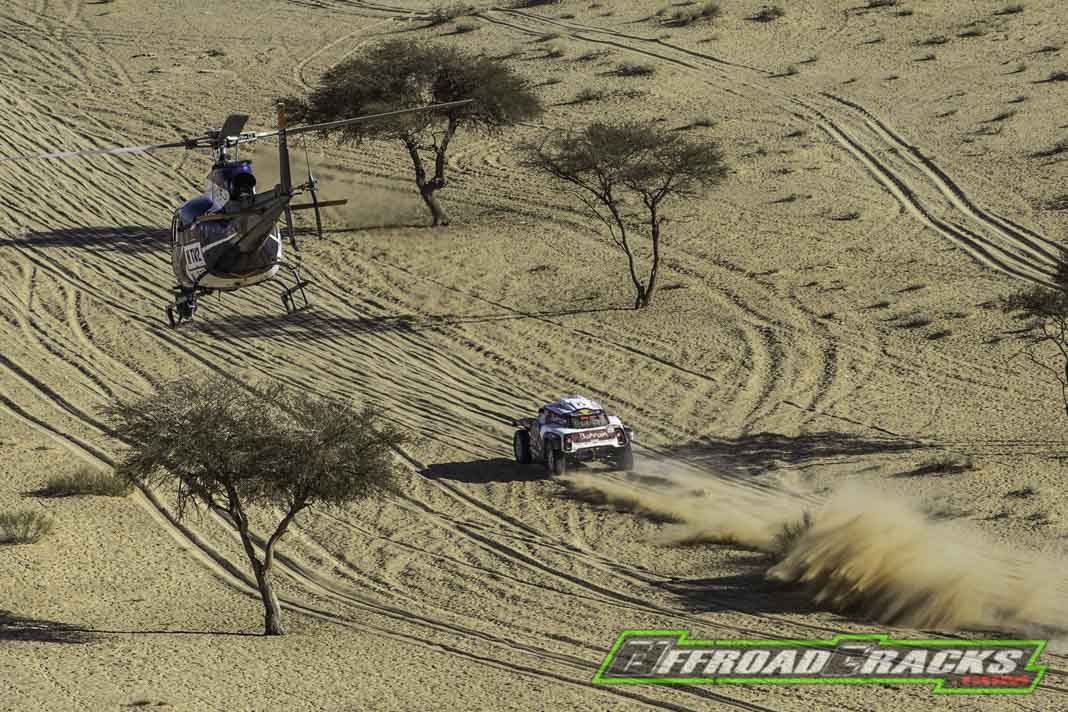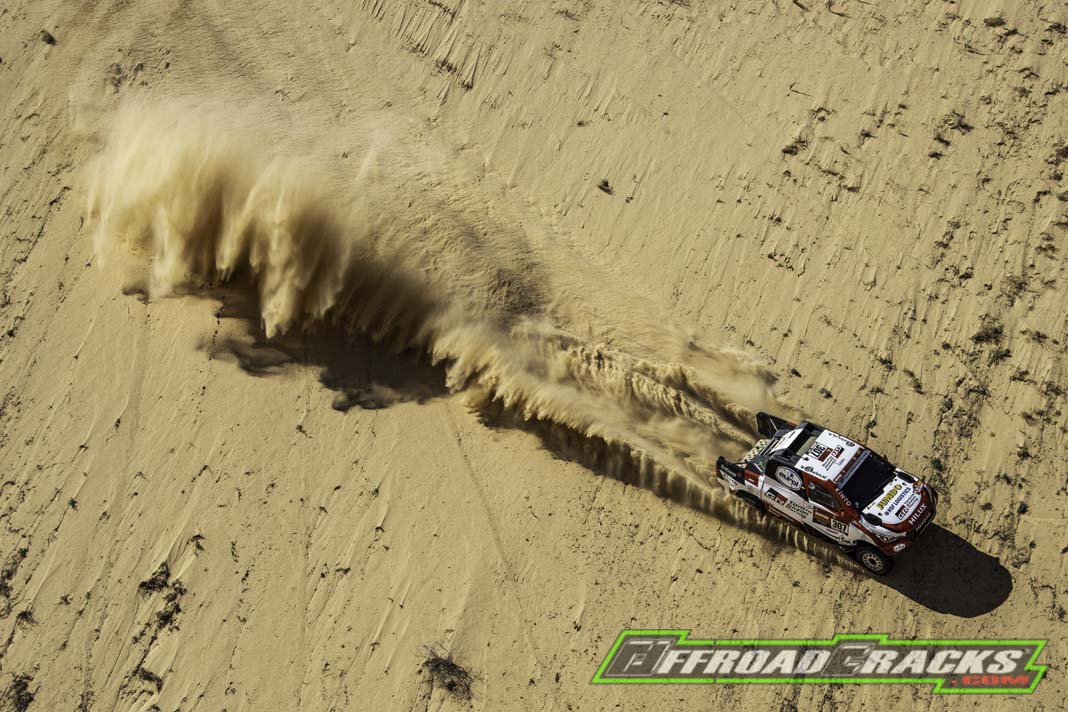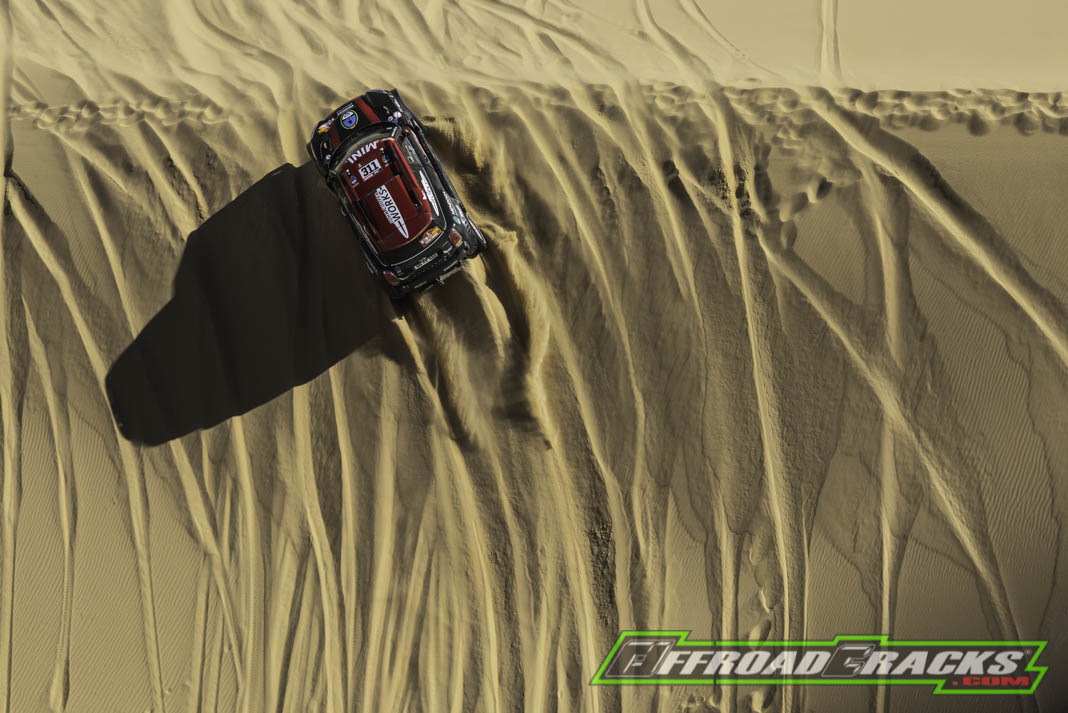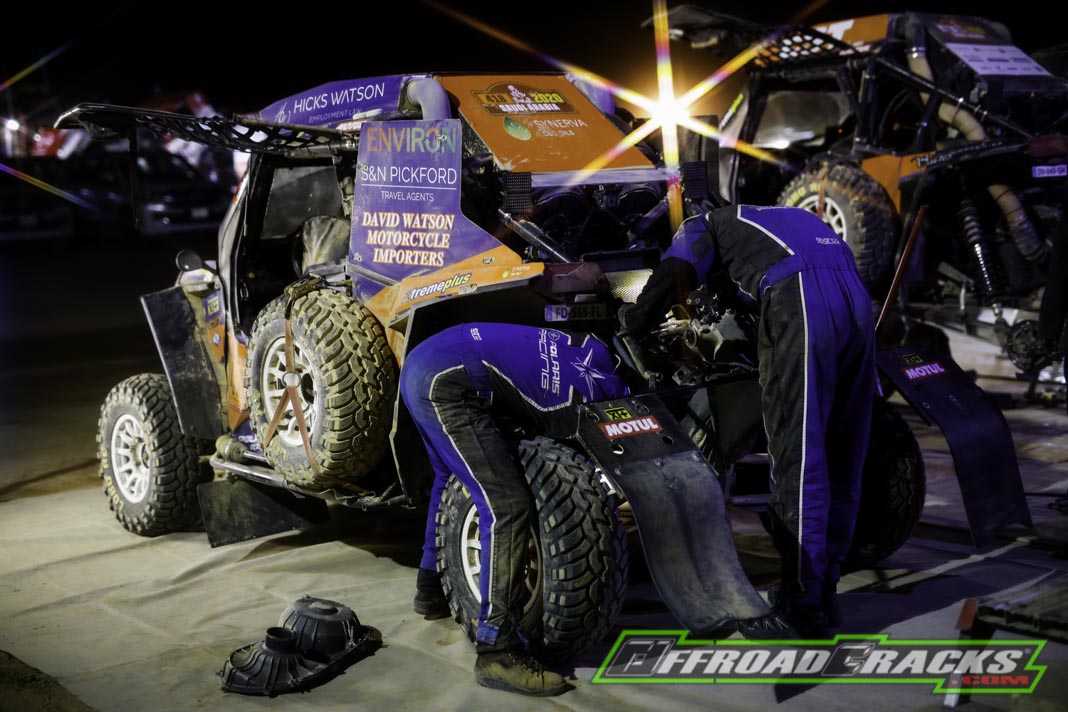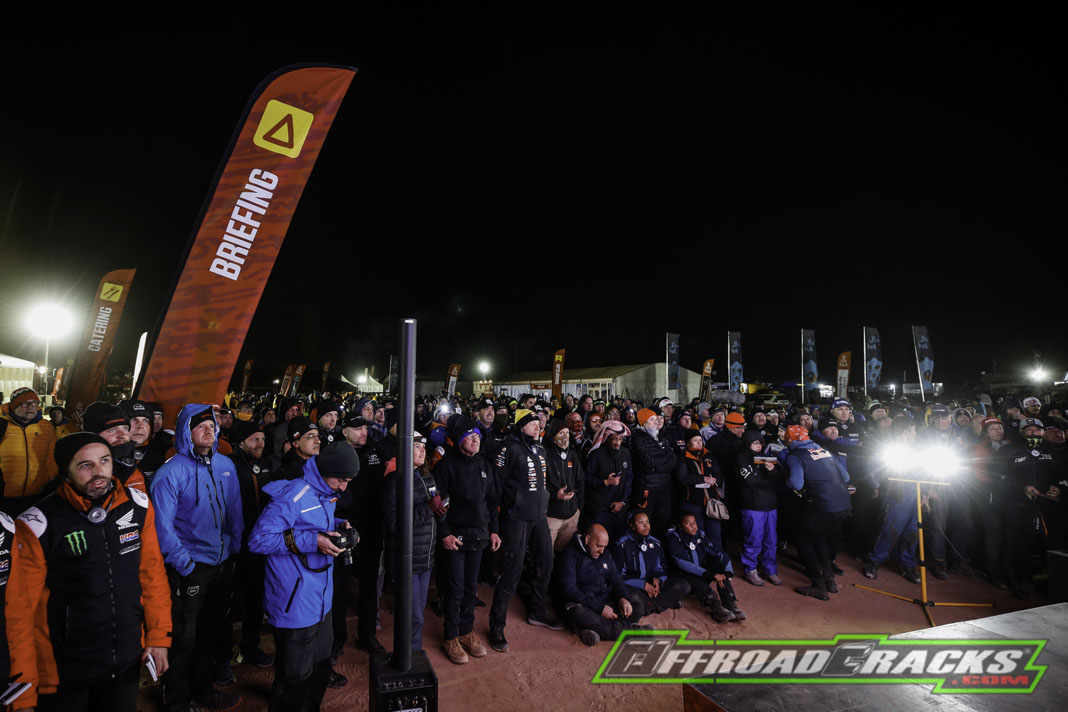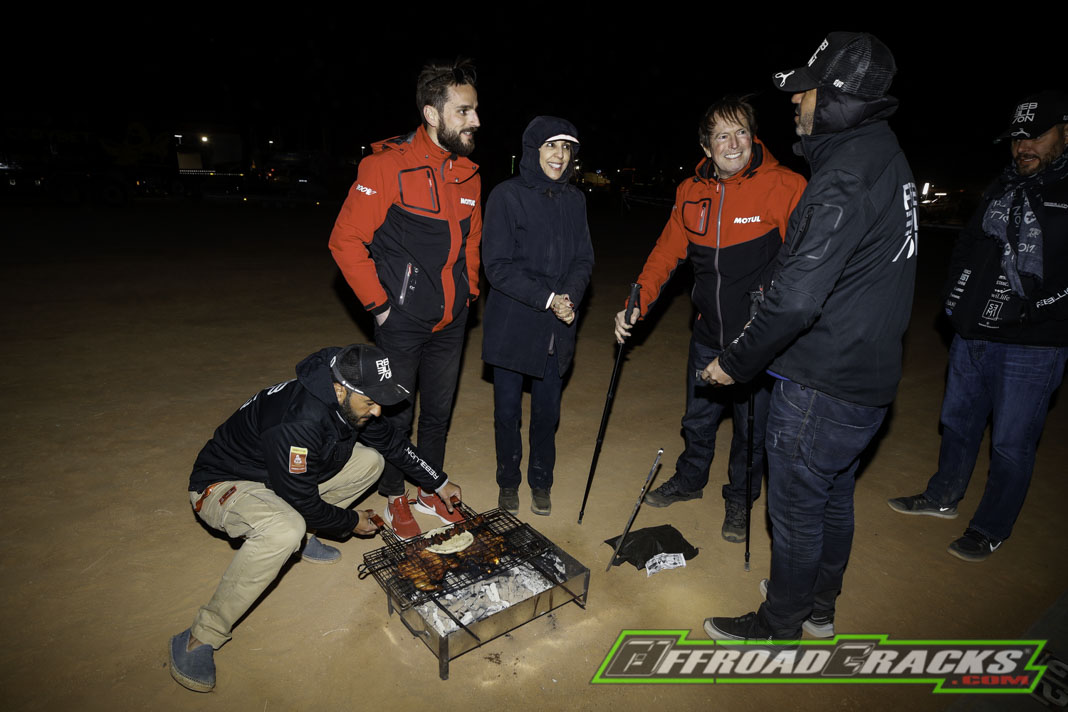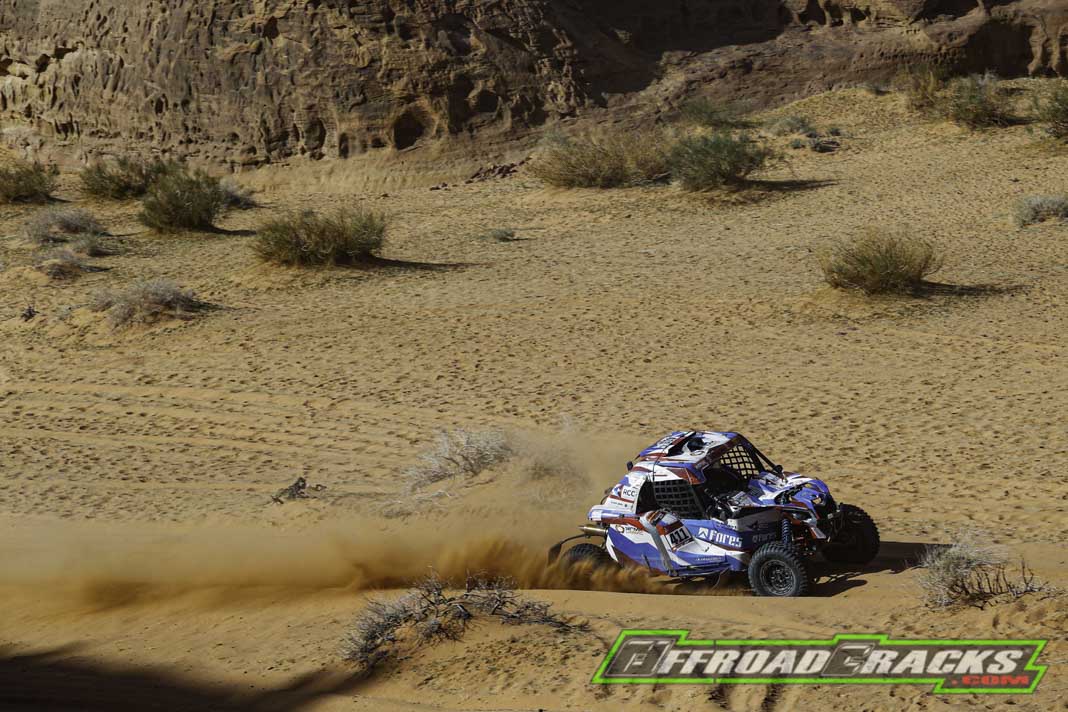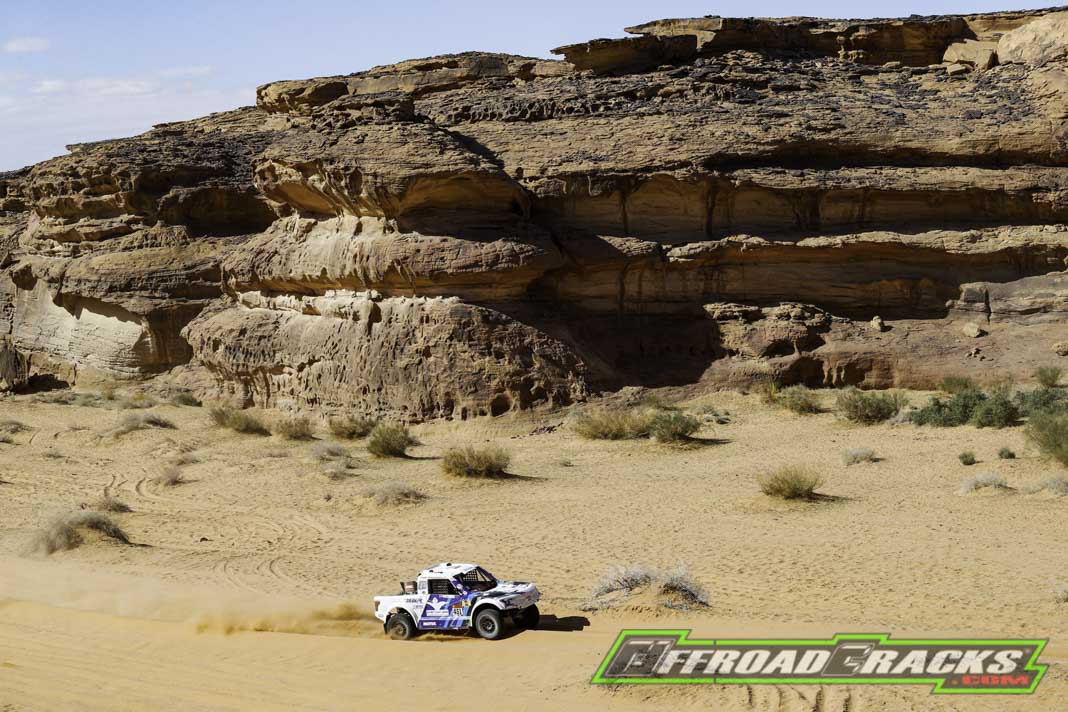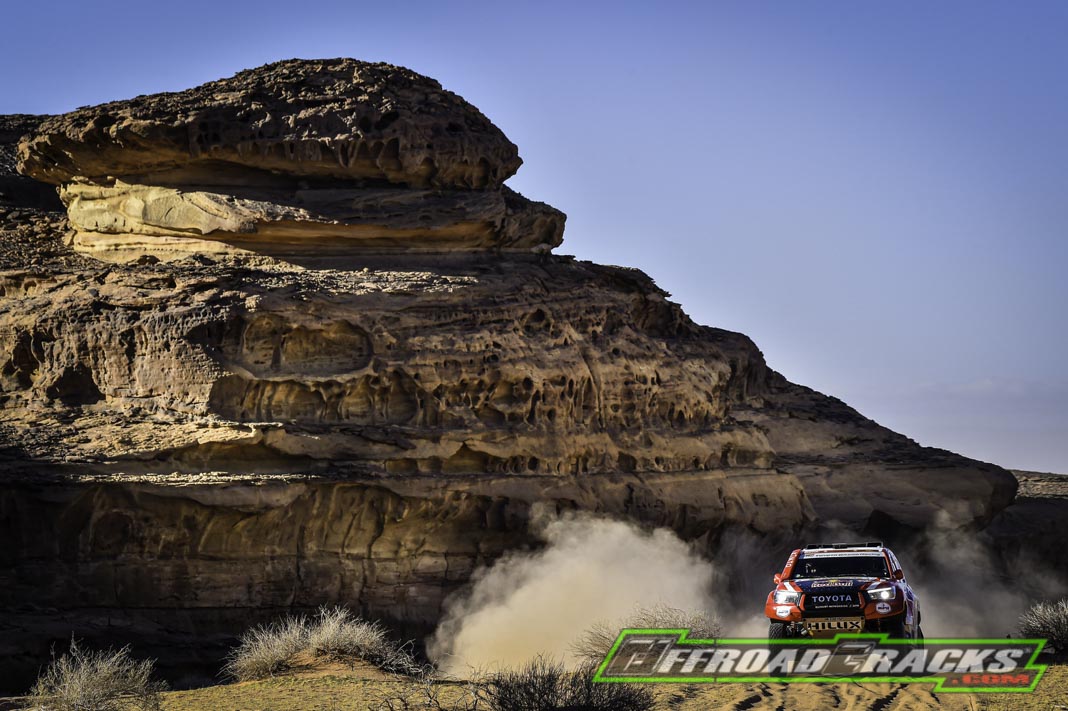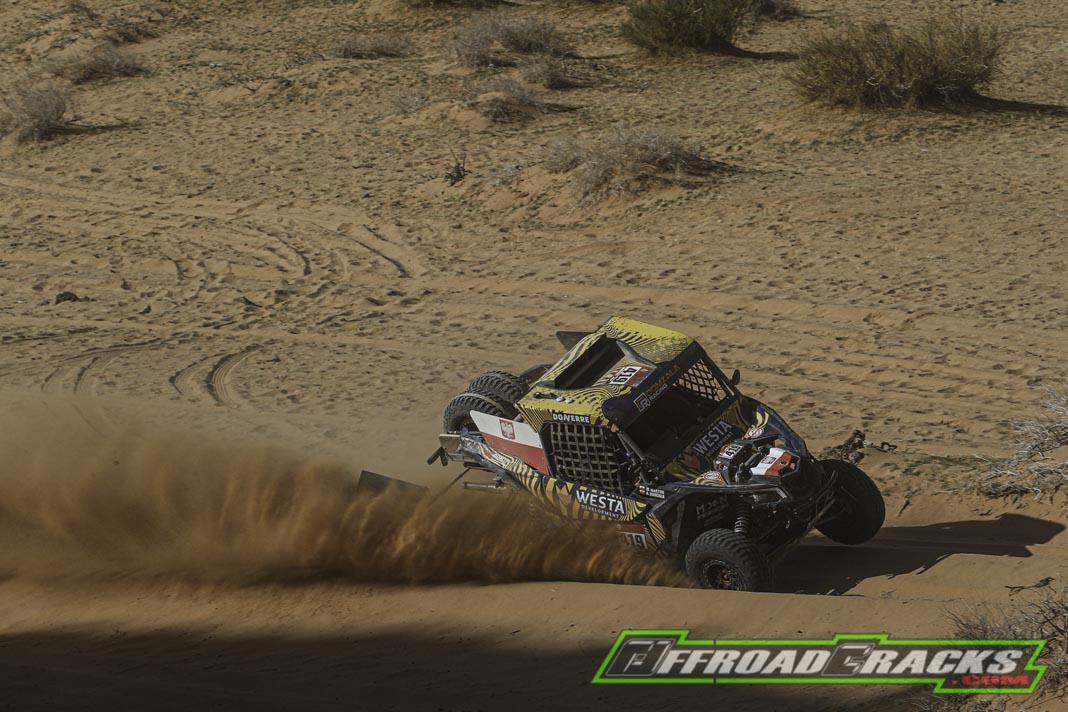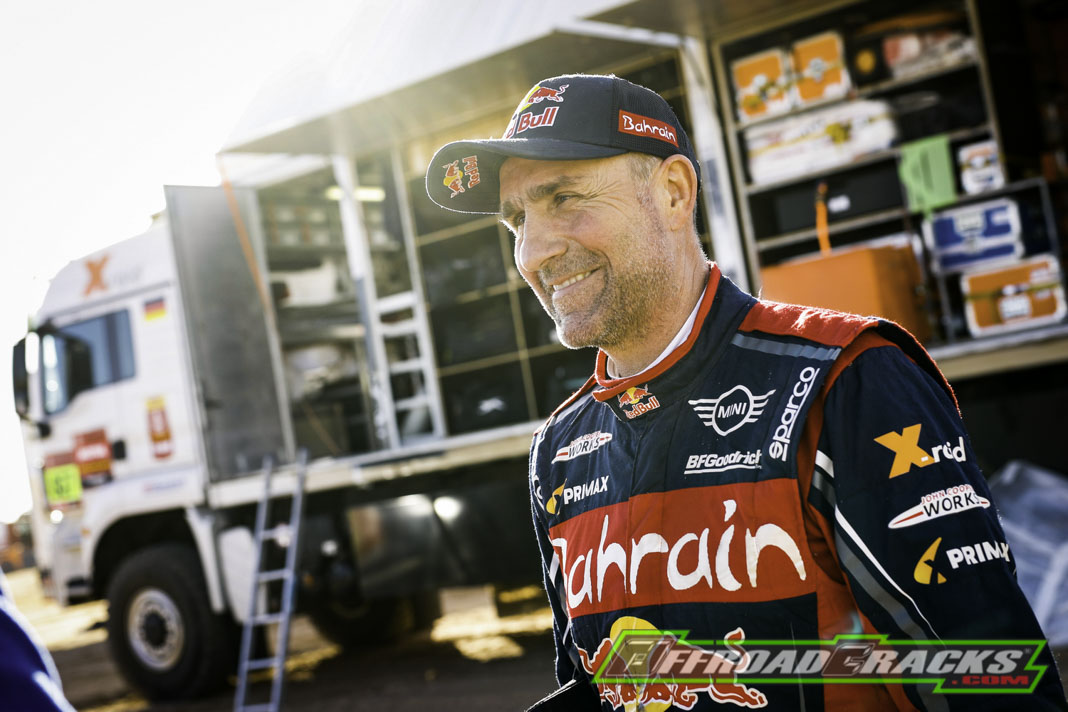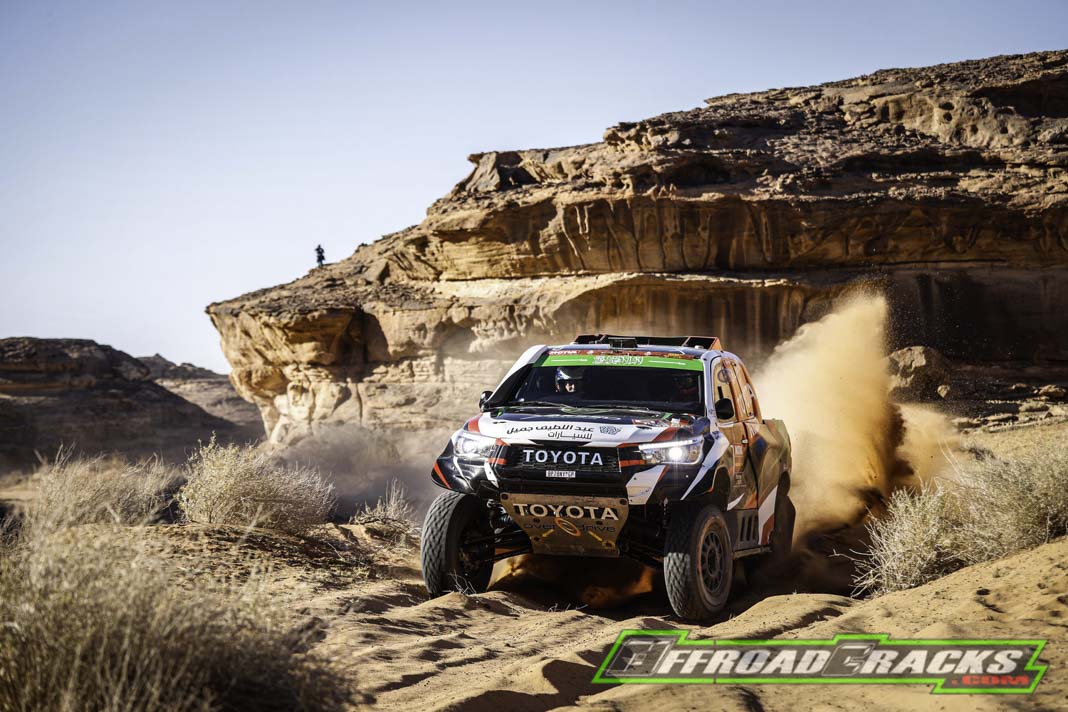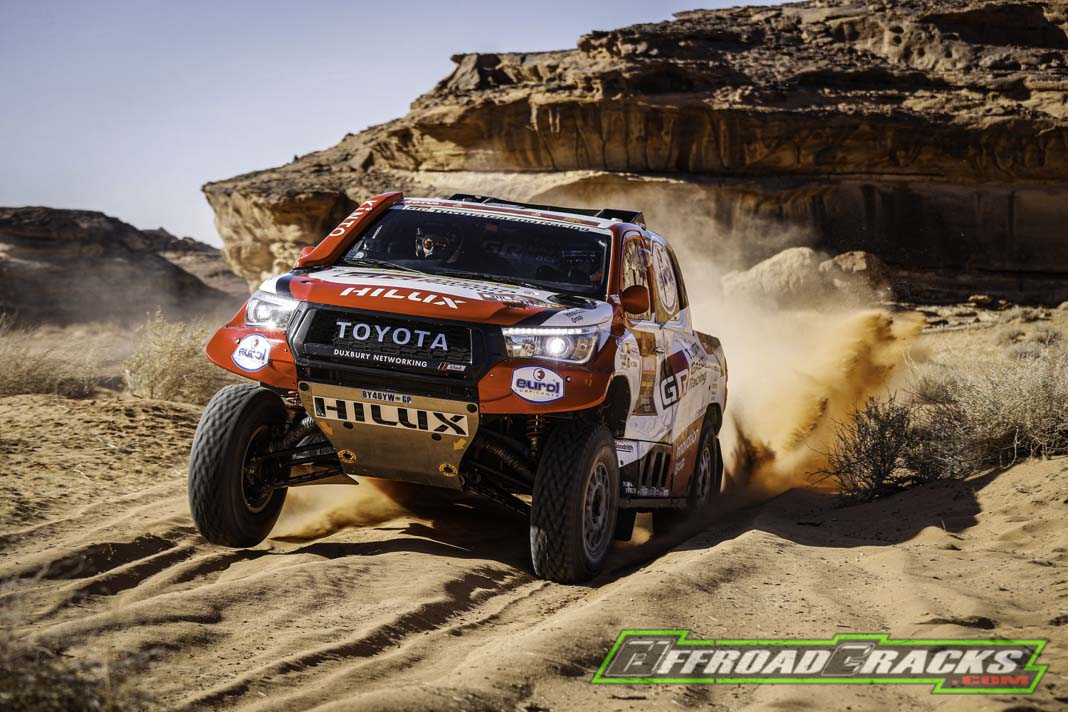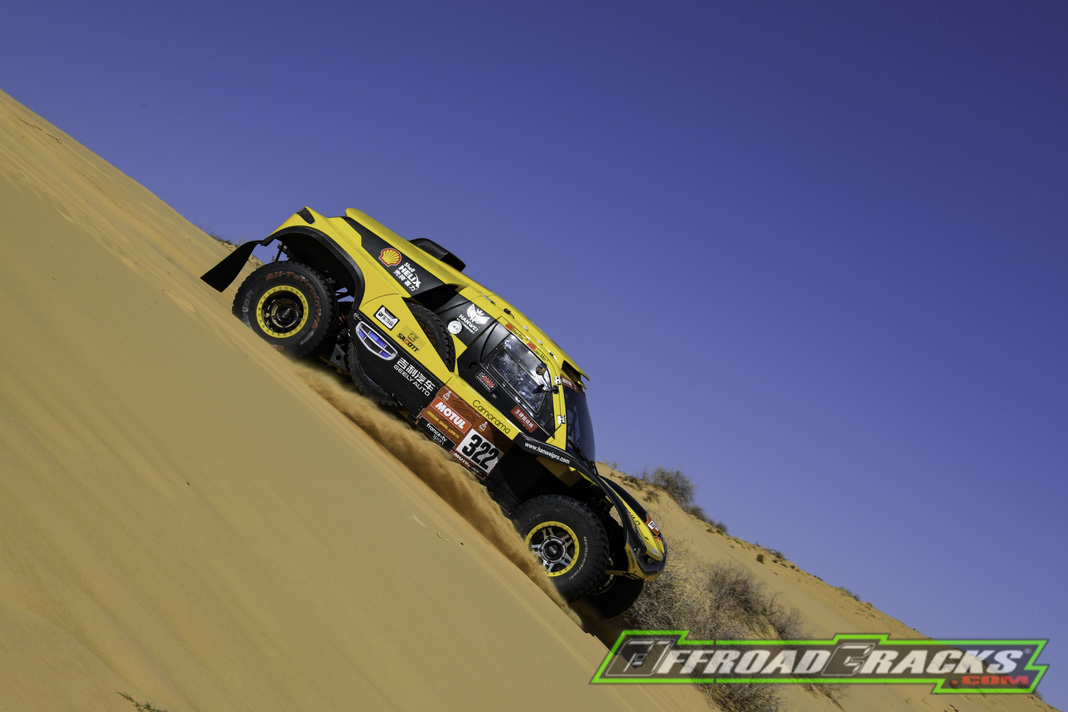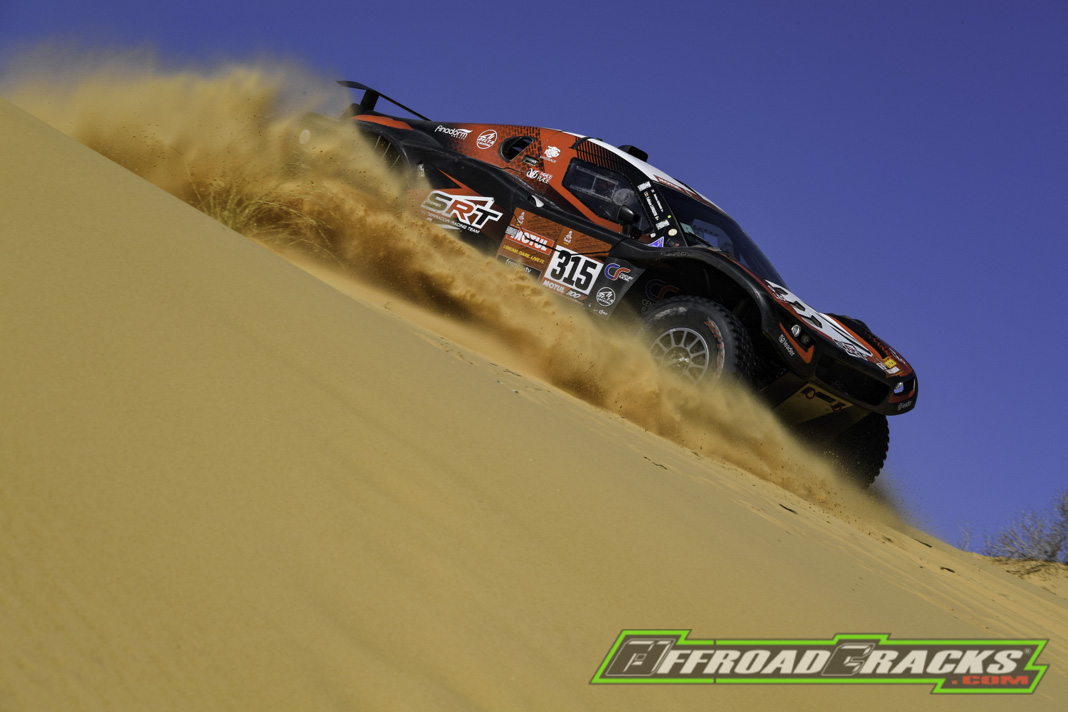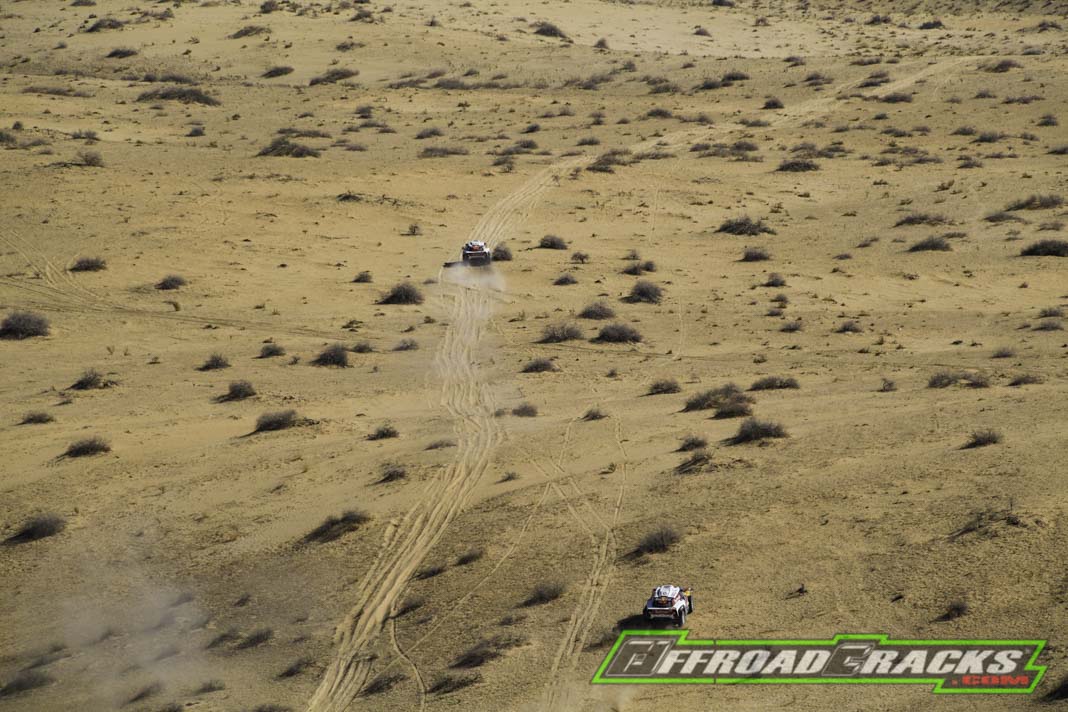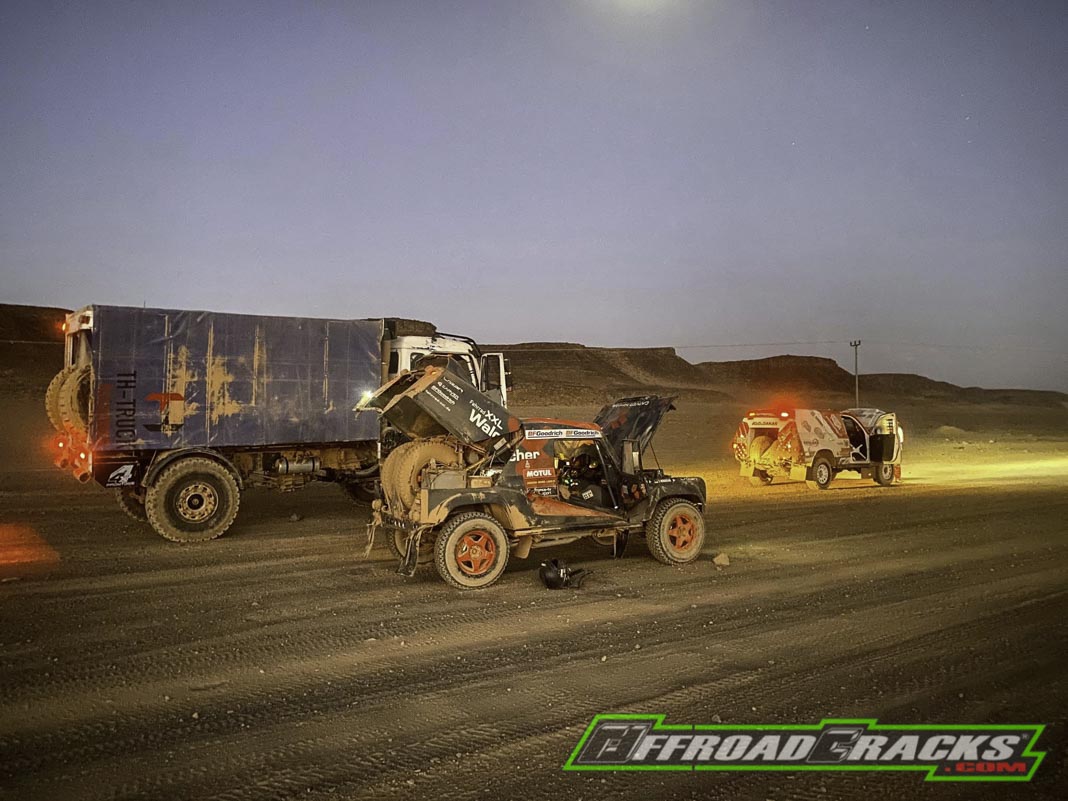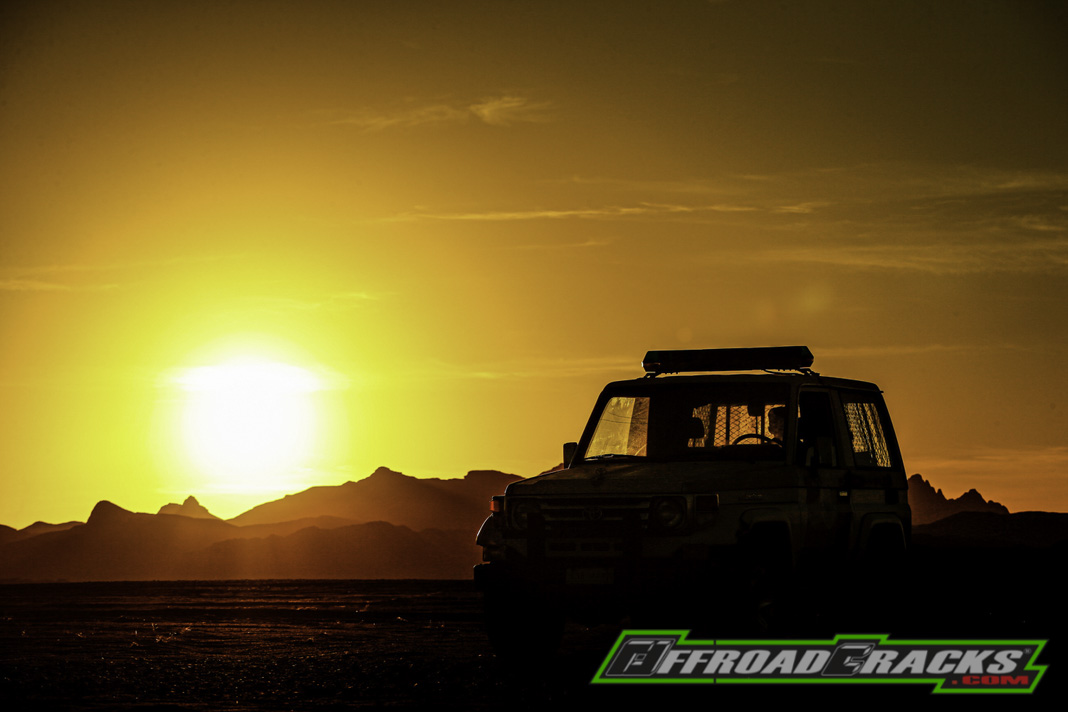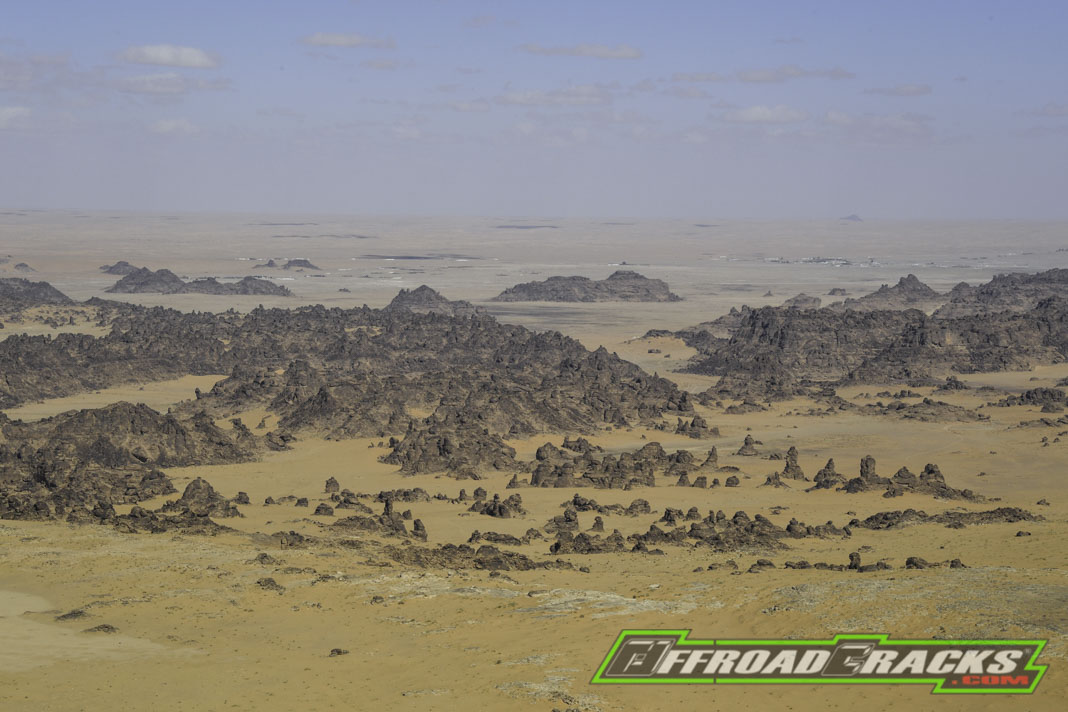 Quelle / Source: Dakar, ASO, Walcher-Racing-Team