---
Am vergangenen Samstag gab das Sherco TVS Factory Rally Team in Goa/Indien die Namen der offiziellen vier Fahrer bekannt, die bei der Rallye Dakar 2020 an den Start gehen werden. Die Rallye findet vom 5. bis 17. Januar in Saudi-Arabien statt.
Die Fahrer: Michael Metge (Frankreich) gewann die 9. Etappe im vergangenen Jahr, der ehemalige Enduro-Meister Lorenzo Santolino (Spanien), der Multi-Enduro-Weltmeister Johnny Aubert (Frankreich) und der Fahrer aus Indien – Harith Noah – der sein Dakar-Debüt geben wird.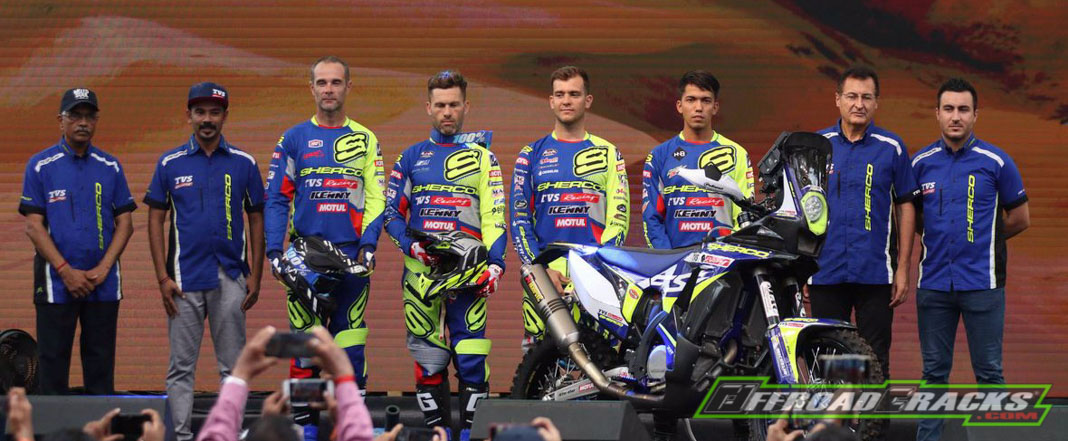 Das Sherco TVS Rallye-Team hatte ein beeindruckendes Jahr mit starken Leistungen bei allen internationalen Veranstaltungen einschließlich der Merzouga-Rallye, Desert Storm und Baja Aragon. Ziel ist es bei der Dakar 2020 einen starke Vorstellung abzuliefern.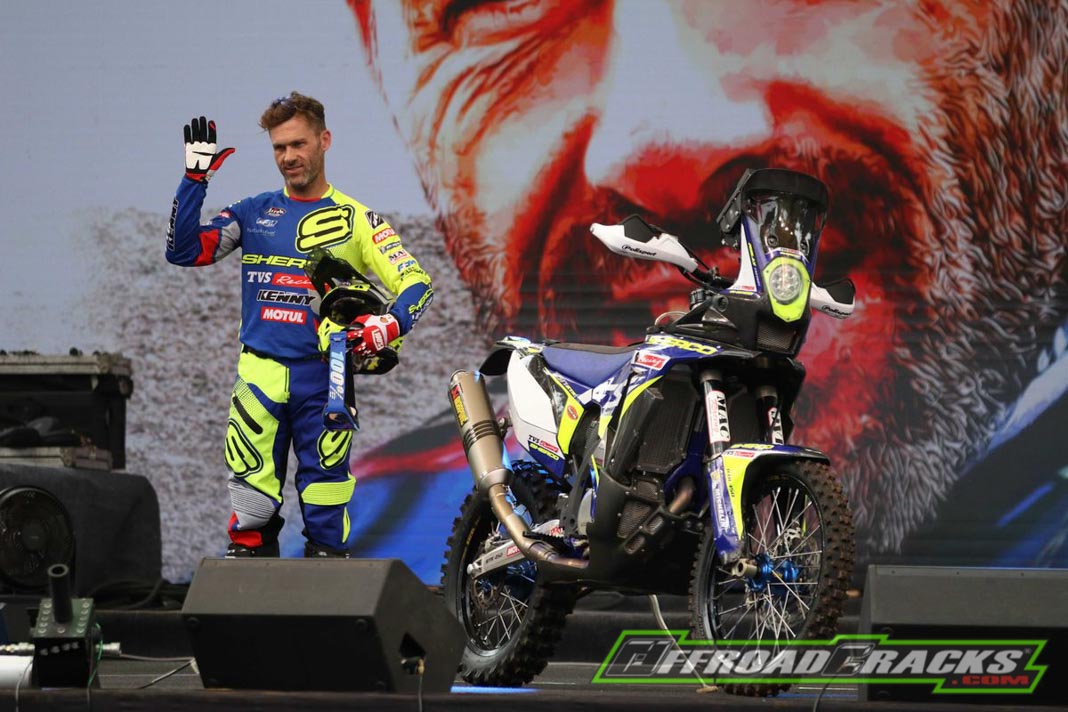 Dies ist das sechste Jahr in Folge in dem das Team an der Dakar teilgenommen hat. In diesem Jahr wechseln werden die Kontinente und gewechselt, wo es an die 42. Auflage des berühmtesten internationalen Rallye-Raids gehen wird. Dies wird eine neue und interessante Erfahrung für die Fahrer werden. Es gilt neue aufgestellte Regeln zu beachten, so dass es für alle bei Null los gehen wird. Dieser Trip wird wieder ein ereignisreiches Abenteuer. Aber es liegt nun an Sherco seine Geschichte in diesen neuen Dünen in diesem neuen Land zu schreiben – Saudi-Arabien.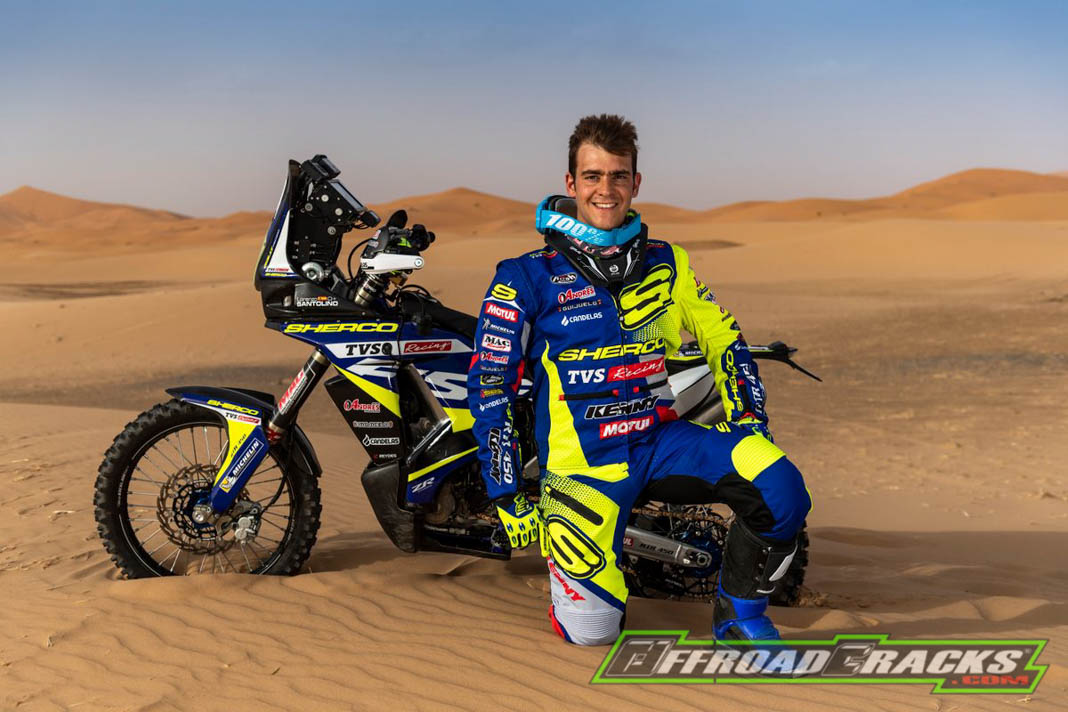 Teamleiter Michael Metge bereitet sich auf seine 7. Teilnahme an dieser Rallye vor. Lorenzo Santolino war in seinem Anfängerjahr sehr beeindruckend. Er wird nun seinen zweiten Auftritt bei der Dakar machen. Das Team empfängt auch Johnny Aubert, der bei der Dakar 2018 Sechster wurde. Der vierte Fahrer, Harith Noah ist einer der talentiertesten Inder.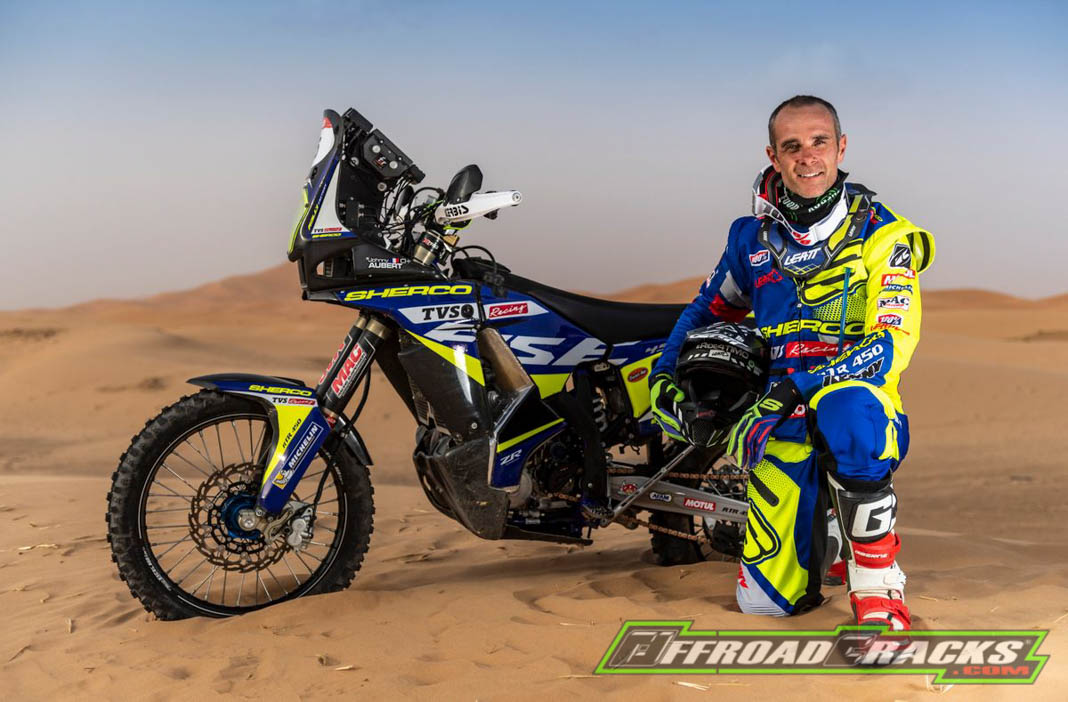 HINWEIS: Das Video ist noch deaktiviert, damit keine unerwünschte Datenübertragung zu Youtube stattfindet. Zur Aktivierung bitte auf das Vorschaubild/Video-Link klicken. Damit werden Daten übermittelt, zu deren Art, Umfang und Verwendungszweck wir keineAuskünfte geben können. NOTE: The video is still deactivated so that no unwanted data transfer to YouTube takes place. To activate, please click on the preview image / video link. This transmits data about the type, extent and purpose of which we cannot provide any information.
---
HINWEIS: Mit Anklicken des Videos stellen sie automatisch eine Verbindung zu Youtube/Google her, was einen ungewünschten personenbezogenen Datenaustausch mit sich bringen kann. Weitere Infos unter: www.google.de/privacy
---
---

On Saturday in Goa, India, The Sherco TVS Factory Rally Team announced the names of the four riders who will compete in the 2020 Dakar Rally in front of a journalist crowd. The rally will be held in Saudi Arabia and run from January 5th to the 17th.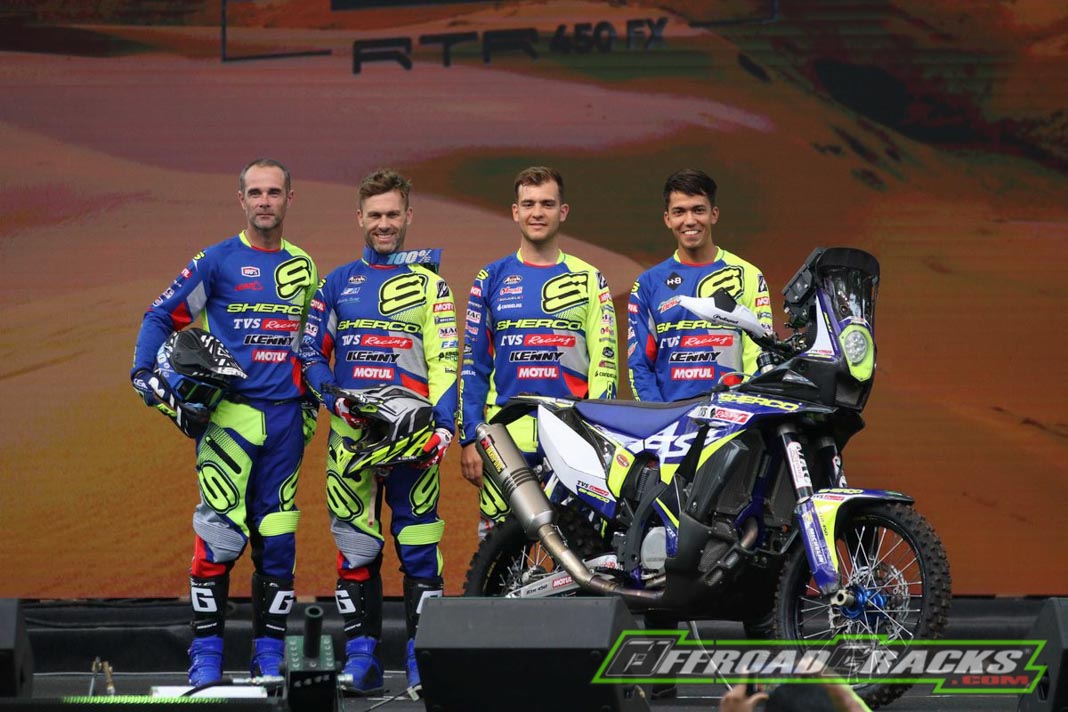 Michael Metge (France) won the 9th stage last year, former Enduro champion Lorenzo Santolino (Spain), Johnny Aubert (France) and the rider from India, Harith Noah, who will make his Dakar debut.
The Sherco TVS Rally team has had an impressive year with strong performances in all the 2019 international events, including the Merzouga Rally, Desert Storm, Baja Aragon, and their goal is to finish strong in the 2020 Dakar.
This will be the 6th year in a row that the team has participated in the Dakar. This year, we change continents and we will head to Saudi Arabia, where we will compete in the 42nd edition of the most famous international Rally Raid. This will be a new and unexpected experience for the riders. There are going to be new rules to be observed, it is a zero start for all the competitors. The trip promises to be once again eventful, but it is now up to us to write our history in these new dunes, in this new country.
Our team leader, Michael Metge is preparing for his 7th participation in this rally. Lorenzo Santolino was very impressive during his rookie year; he will be making his second appearance at the Dakar. The team also hosts Johnny Aubert, who finished 6th in the 2018 Dakar. The fourth rider, Harith Noah, is one of the most talented Indian riders.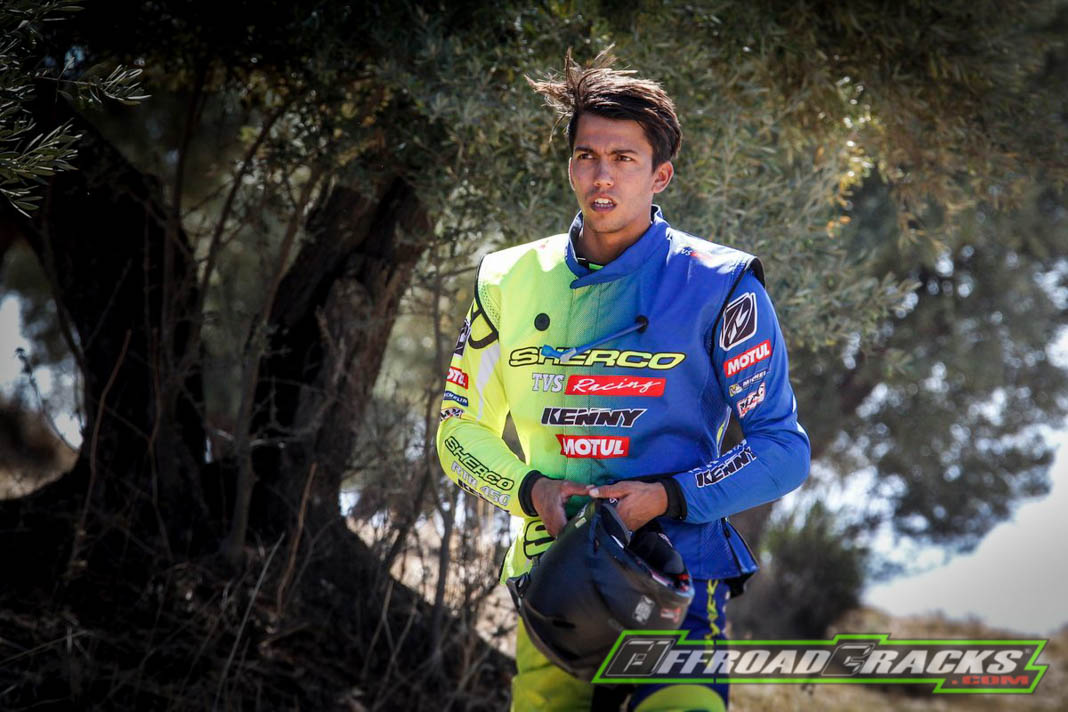 Enjoy the video of the team announcement above!
Quelle / Source: SHERCO