Bremsen-Update vom Premium-Hersteller für knapp 200 Kilogramm Kampfgewicht. Der Italienische Hersteller Brembo muss Kante zeigen – hier alle Details.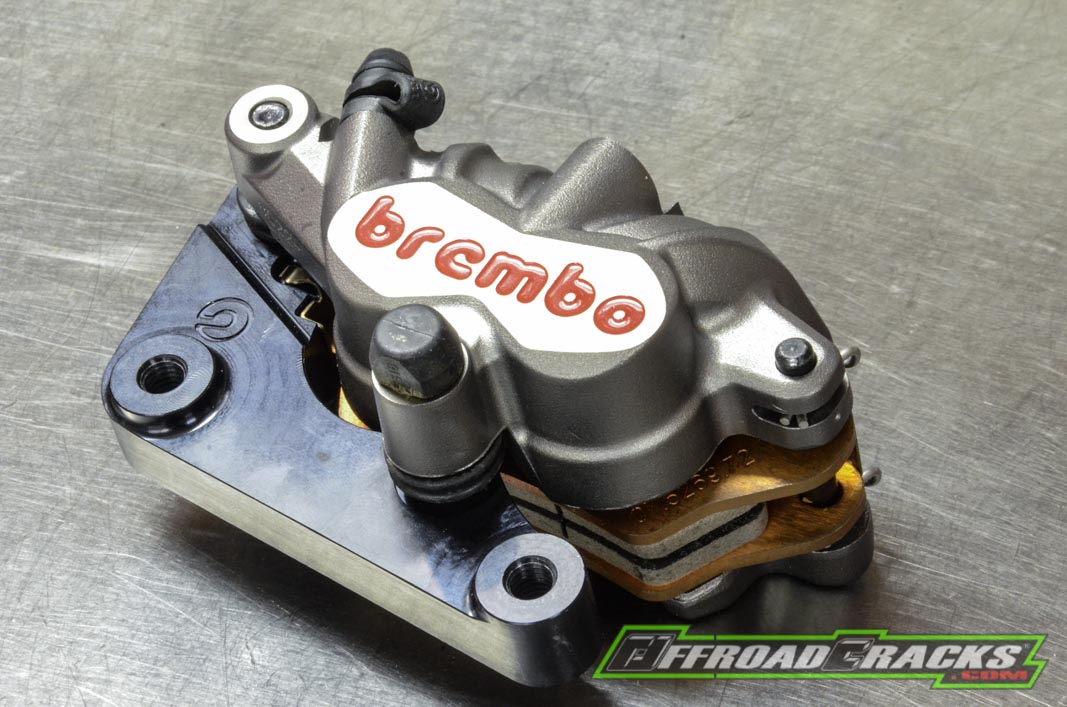 Bremsen will gekonnt sein. Was nützt eine High-End-Bremse, wenn man deren Potenzial zur Verzögerung der Fahrzeugmasse auf losem Untergrund nicht fahrerisch umsetzen kann. Oder anders betrachtet: Hat die Bremsanlage zu viel Biss wird's auf losem Untergrund schwierig das Vorderrad nicht ständig zu überbremsen, was die Verzögerungsarbeit unweigerlich vernichtet. Deshalb nur auf das Vorderrad bezogen, da es durch die Lastverteilung des gesamten Motorradgewichts die Hauptaufgabe für die Verzögerung von Mann oder Frau samt Maschine übernimmt.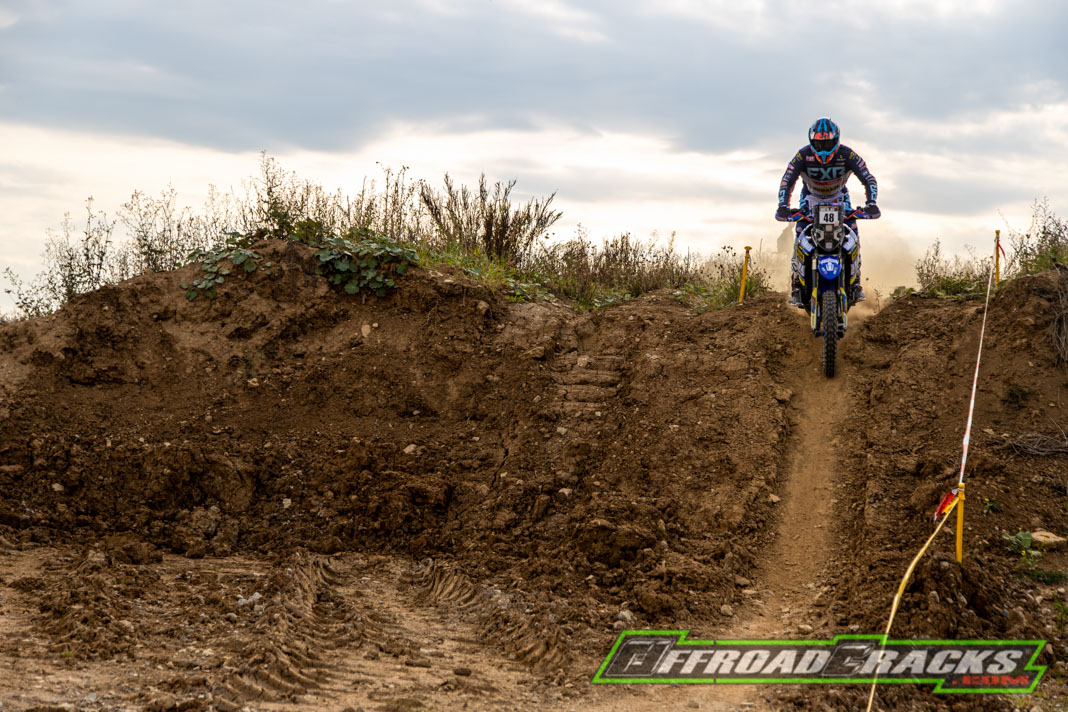 Eine ideale Basis für diesen Test ist unsere Yamaha Ténéré 700 Rallye (wir berichteten LINK), die gerade mit unserem Umbau besondere Anforderungen an die Bremsanlage stellt. Denn die serienmäßig montierte Doppelscheiben-Bremsanlage lässt sich zwar unter normalen Bedingungen auffällig einfach und gut dosieren, doch mit Stollenbereifung auf losem Untergrund und Wettbewerbstempo kommen noch zusätzliche Faktoren hinzu. Was auf der Straße vielleicht noch auf den letzten Metern erbremst wird, ist im Gelände schon meist zu spät und man verlässt unweigerlich die Spur oder die Strecke und landet im Unterholz. Um dies zu vermeiden muss die Bremskraft bewusst reduziert werden, was in diesem Fall glücklicherweise auch eine Gewichtsreduzierung mit sich bringt.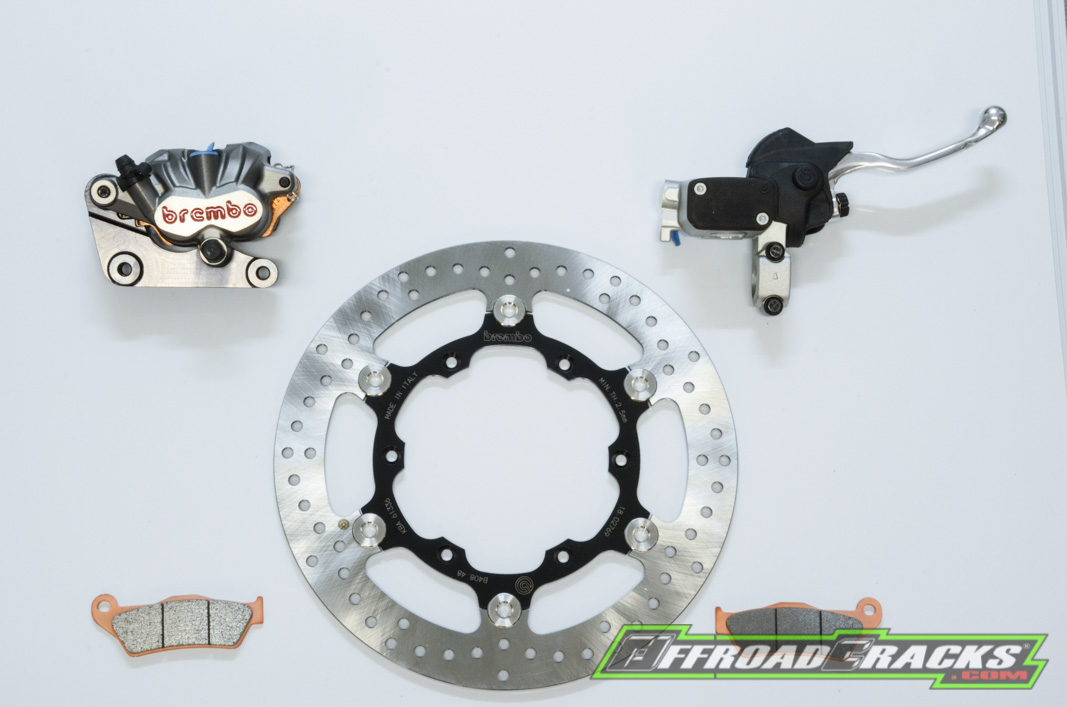 Aus diesem Grund kommt ein Bremsen-Kit des italienischen Premium-Herstellers Brembo mit einem schwimmend gelagerten Monoblock-Bremssattel und 24 Millimeter große Aluminium-Kolben zum Einsatz, die mit einer doppelten Abdichtung für den extremen Offroad-Einsatz ausgestattet sind. Der Monoblock-Sattel besteht aus Aluminium und wird mittels Gießverfahren und anschließender CNC-Bearbeitung hergestellt. Laut Hersteller wird dadurch eine optimale Steifigkeit, also weniger Verwindung auch bei hohen Temperaturen, garantiert. Der Bremssattel-Kit M2-XGP schlägt mit 301 Euro zu Buche und hinterlässt einen äußerst hochwertigen Eindruck.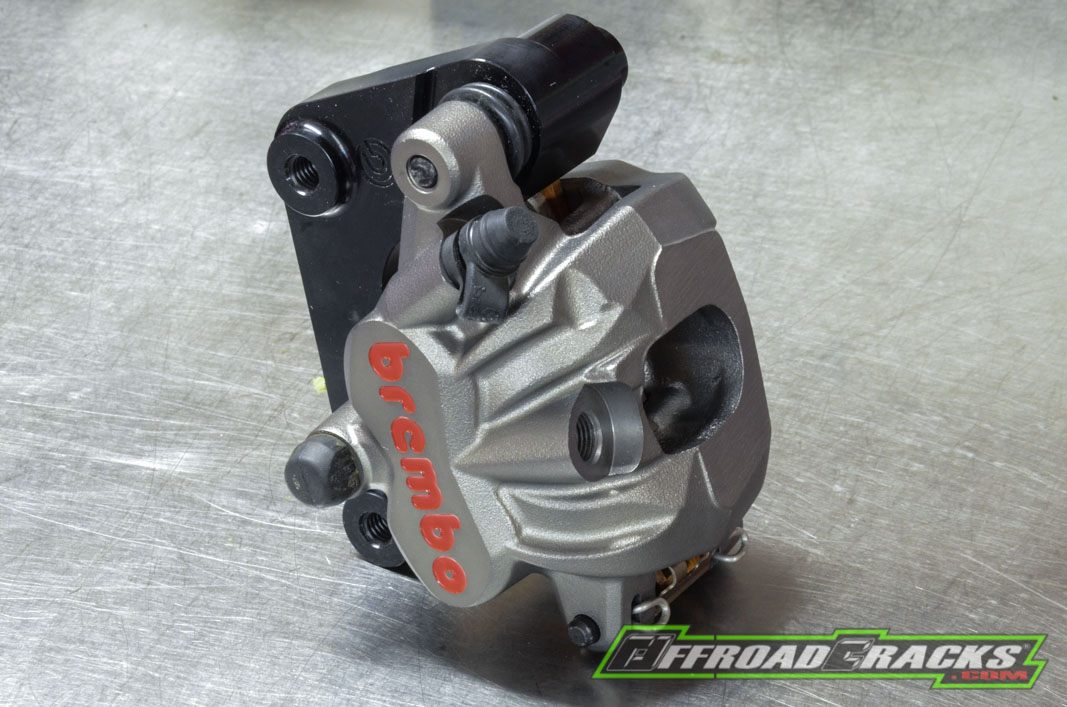 Zur Erzeugung der passenden Reibung sind Sinter-Bremsbeläge die erste Wahl, die in einer gefrästen Aufnahme sitzen. Dazu kombinieren wir für den Test diesen individuell zusammengestellten Brembo-Kit mit einer zehn Millimeter Handbremspumpe aus gleichem Haus, die ebenfalls in gleicher Art und Weise wie der Bremssattel hergestellt wurde und einen einstellbaren Bremshebel mit Gummiabdeckung besitzt, die vor eindringenden Schmutz und Staub schützen soll. Für diese Handbremspumpe mit Hebel ruft Brembo 201 Euro auf.
Natürlich fehlt jetzt noch eine passende Bremsscheibe, die in Form einer 270 Millimeter großen schwimmend gelagerten Edelstahl-Scheibe mit innen liegendem schwarz beschichtetem und gefrästem Aluminium-Trägerkranz zum Einsatz kommt. Schwimmend gelagert bedeutet, dass der Träger-Ring nicht fest, sondern in diesem Fall über sechs Hülsen mit dem Edelstahl-Kranz verbunden ist und sich beide gegeneinander horizontal bewegen können. Das hat den Vorteil, dass sich die Beläge unter fast allen Bedingungen immer perfekt und vollflächig an die Bremsscheibe anlegen können, so dass stets die gewünschte Verzögerungsperformance garantiert werden kann. Diese ORO-Bremsscheibe wird mit 180 Euro taxiert. Natürlich kommt hier noch eine angepasste Stahlflexleitung zum Einsatz sowie DOT4-Bremsflüssigkeit.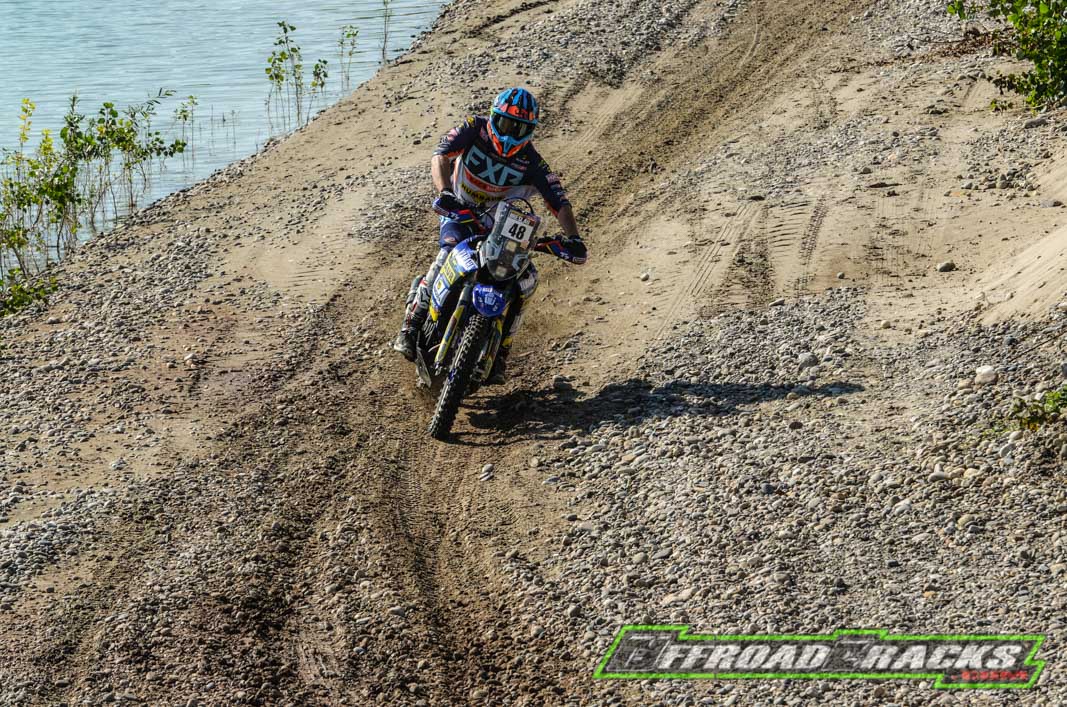 Was vermag diese Kombination zu leisten? Natürlich musste die Bremsscheibe mit Bremsenreiniger von jeglichem Fett durch die Montage befreit werden. Anschließend wurden die Bremsbeläge auf die Scheibe vorsichtig eingebremst, was so viel bedeutet wie leichtes anschleifen der Scheibe durch die Beläge im Fahrbetrieb, ohne dabei zu viel Hitze und das ungewollte Verglasen der Beläge zu erzeugen.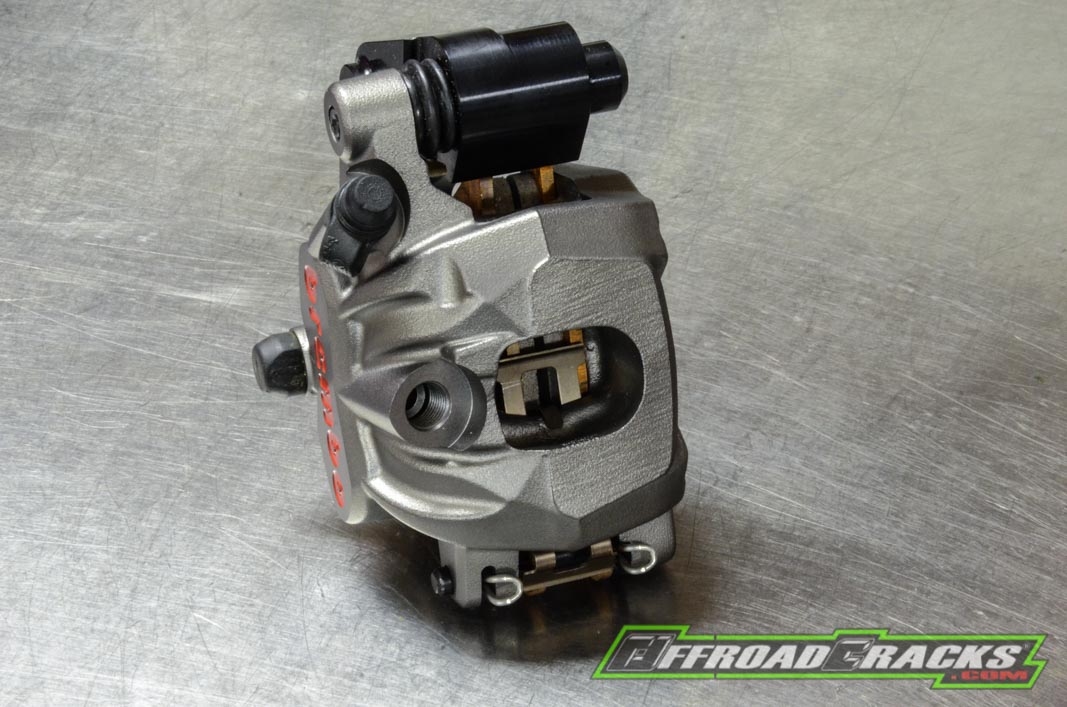 Die Bremshebel-Ergonomie ist bestens von den KTM-Modellen bekannt und man fühlt sich sofort wie zuhause. Die Einstellung der Hebelposition erfolgt über das bekannte schwarze Stellrad direkt am Hebel.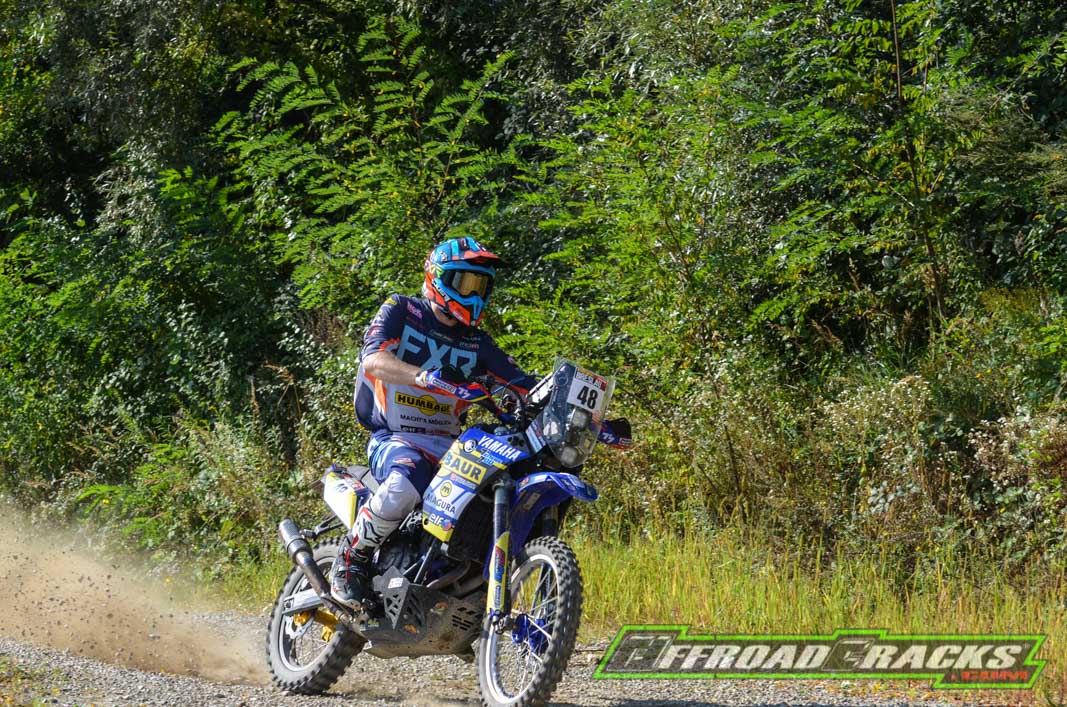 Hoch beschleunigt auf 60 km/h und die erste Bremsung erfolgt. Die Anlage wirkt noch etwas stumpf und muss daher nochmal etwas eingebremst werden, wodurch sich die Verzögerung merklich verbesserte. Der Druckpunkt ist deutlich definiert und sofort lässt sich auf Anhieb das Bremsmanöver steigern. Mit jetzt 120 km/h geht es erneut auf staubiger harter Piste entlang, Kupplung gezogen und nur übers Vorderrad verzögert, überrascht die 270er Scheibe mit guten Verzögerungswerten und passender Ein-Finger-Betätigung, ohne dazu einen zweiten oder gar dritten Finger einsetzen zu müssen. Auch auf sandigem Boden oder typischen Waldboden erweist sich die Verzögerung stets als bestens dosierbar.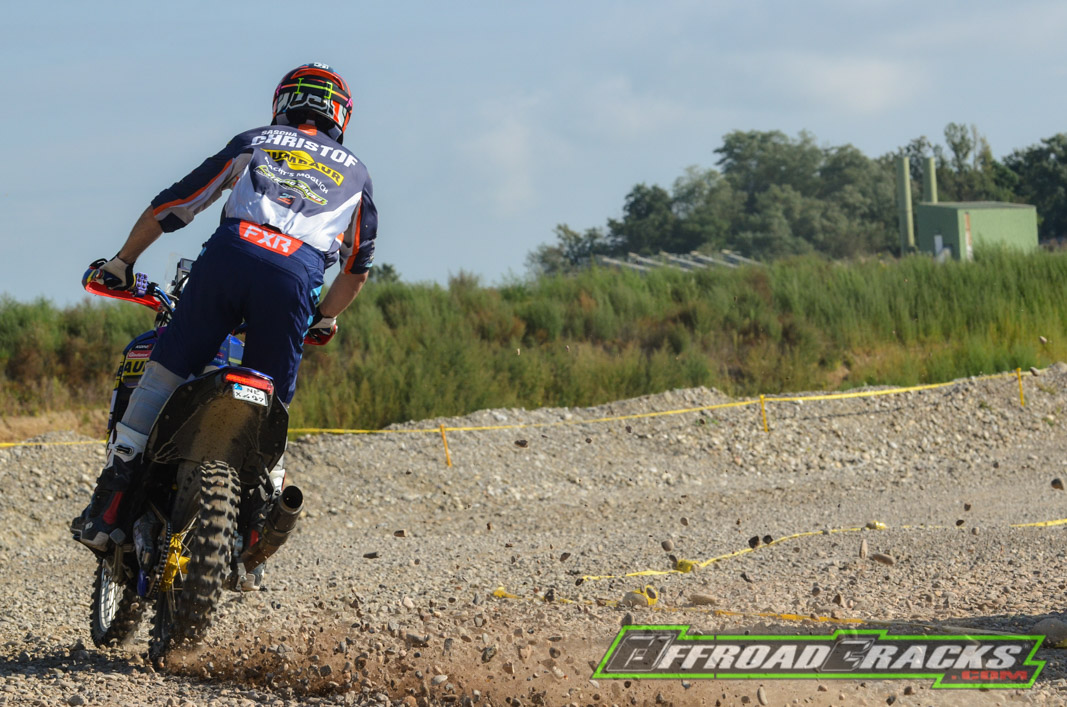 Bei voller Betätigung ist problemlos das Vorderrad zu blockieren, was aber logischerweise bei fast 200 Kilogramm Gewicht maximale Fingerkraft bedeutet. Natürlich kann diese Anlage auf der Straße nicht mit dem Serien-Doppelscheiben-System mithalten, das sowohl für den Sozius-Betrieb und der Zuladung ausgelegt ist. Aber das soll und muss sie auch nicht, da im Gelände in diesem Fall weniger mehr ist und die T7 tatsächlich verzögert auch wenn es mal nass und rutschig wird, wo die Serien-Anlage bei sportlichem Tempo gnadenlos überbremsen würde. In der Gesamtbetrachtung können wir dieses hochwertige Bremskomponenten-Paket von Brembo für unseren speziellen Einsatz uneingeschränkt empfehlen – jetzt wäre nur noch ein Upgrade auf eine 320 Millimeter Scheibe interessant.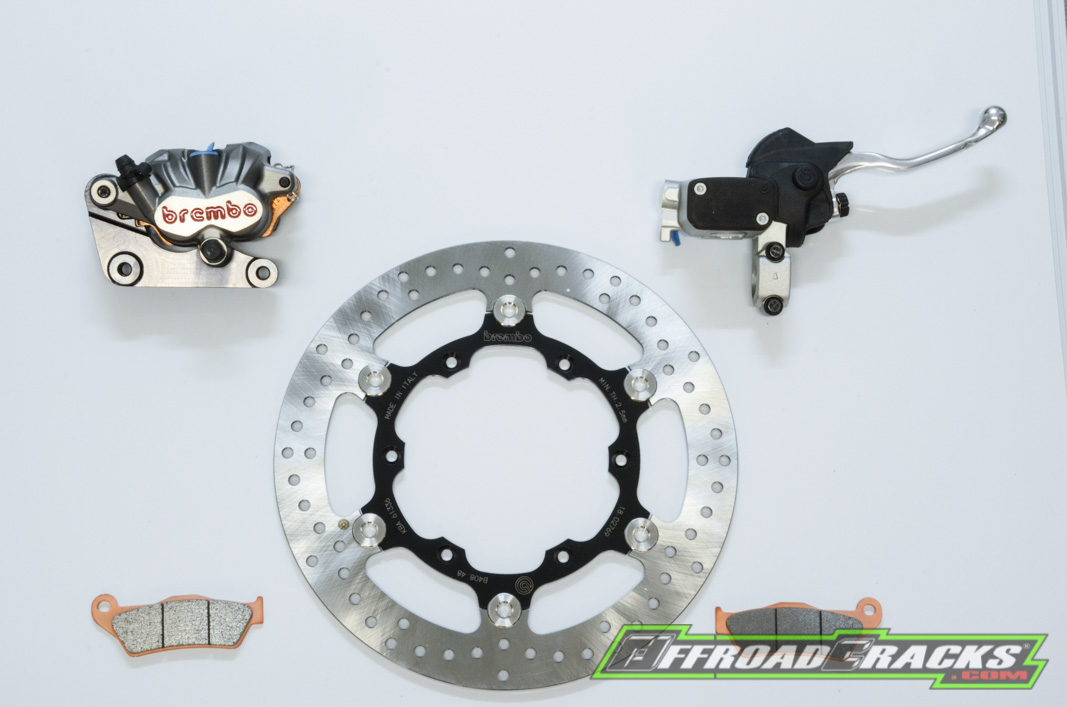 Hersteller
---

---
Montierte Komponenten
Bremsattel-Kit M2-XGP, Brembo 301 Euro
Handbremspumpe Ø 10mm, 10B89610 Brembo, 201 Euro
270mm Edelstahl-Bremsscheibe ORO, 78B40848, Brembo 180 Euro
---

Brake update from a premium manufacturer for almost 200 kilograms of combat weight. The Italian manufacturer Brembo has to show its performance – here are all the details.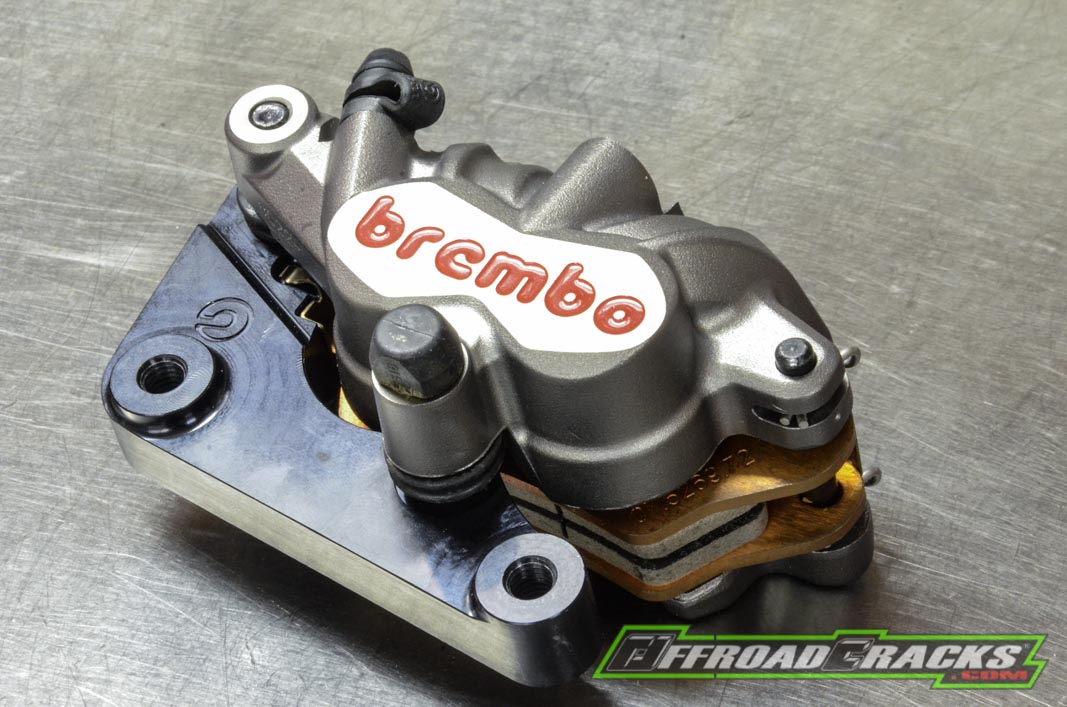 Braking has to be done skillfully. Why use is a high-end brake if you cannot implement its potential to decelerate the vehicle mass on loose ground. Or to put it another way: If the brake system has too much bite, it will be difficult not to overbrake the front wheel on loose ground, which inevitably destroys the deceleration work. Therefore only related to the front wheel, as it takes on the main task of braking work with the entire weight of the motorcycle including rider.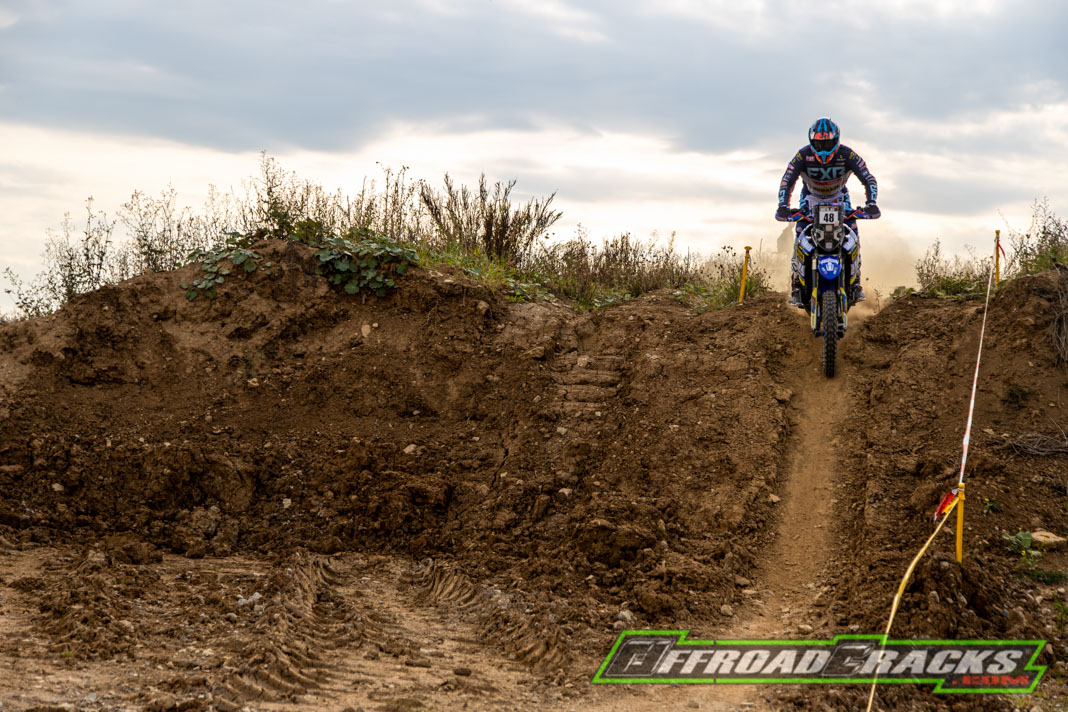 An ideal basis for this test is our Yamaha Ténéré 700 Rallye (we reported LINK), which, with our conversion, places special demands on the braking system. The OEM double-disc brake system is noticeably easy to use under normal conditions, but with lugged offroad tires on loose ground and the pace of competition there are additional factors. What is slowed down on the road in the last few meters is usually too late on loose terrain and you inevitably leave the track and end up in the bushes. To avoid this, the braking force has to be consciously reduced, which in this case fortunately also results in a reduction in weight.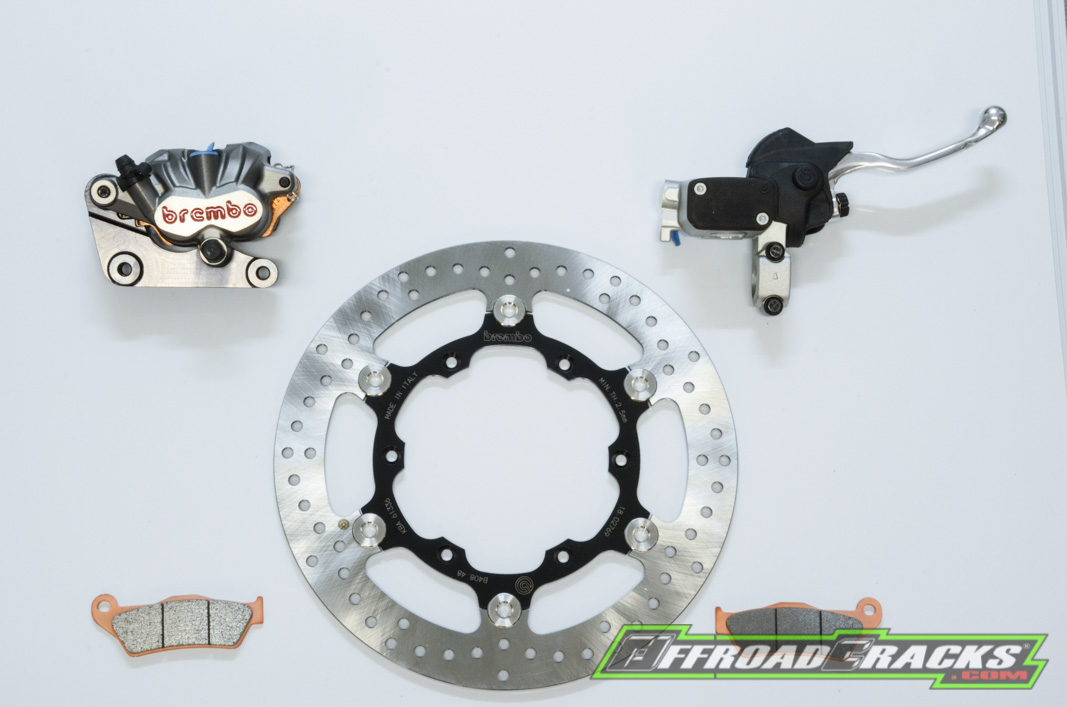 For this reason, a brake kit from the Italian premium manufacturer Brembo with a floating monoblock brake calliper and 24 millimeter aluminum pistons, which are equipped with a double seal for extreme off-road use, is used. The monoblock caliper is made of aluminum and is manufactured using a casting process and subsequent CNC machining. According to the manufacturer, this guarantees optimal rigidity, i.e. less torsion even at high temperatures. The M2-XGP brake caliper kit costs 301 euros and leaves an extremely high-quality impression.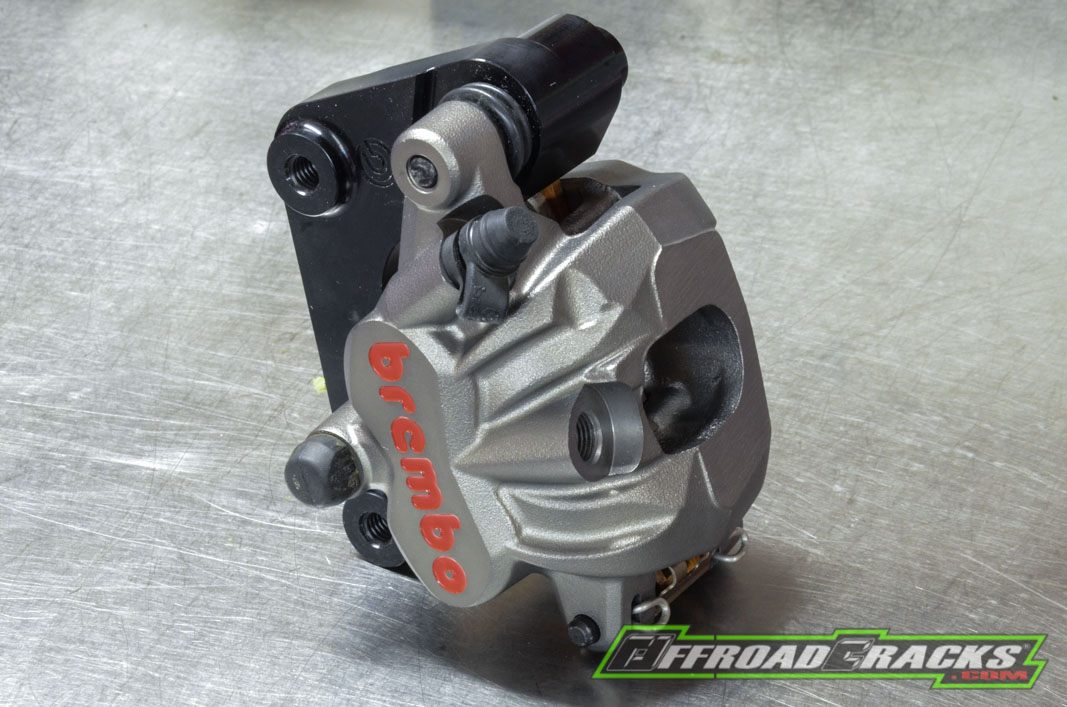 Sintered brake pads that sit in a milled mount are the first choice to generate the right friction. For the test, we combine this individually compiled Brembo kit with a ten millimeter hand brake pump from the same company, which was also manufactured in the same way as the brake caliper and has an adjustable brake lever with a rubber cover, which is supposed to protect against the ingress of dirt and dust. Brembo calls 201 euros for this hand brake pump with lever.
Of course, a suitable brake disc is still missing, which is used in the form of a 270 millimeter floating stainless steel disc with a black coated and milled aluminum support ring on the inside. Floating means that the carrier ring is not fixed, but in this case is connected to the stainless steel ring via six bushes and both can move horizontally against each other. This has the advantage that the pads can always fit perfectly over the entire surface of the brake disc under almost all conditions, so that the desired deceleration performance can always be guaranteed. This ORO brake disc is valued at 180 euros. Of course, an adapted steel flex line and DOT4 brake fluid are also used here.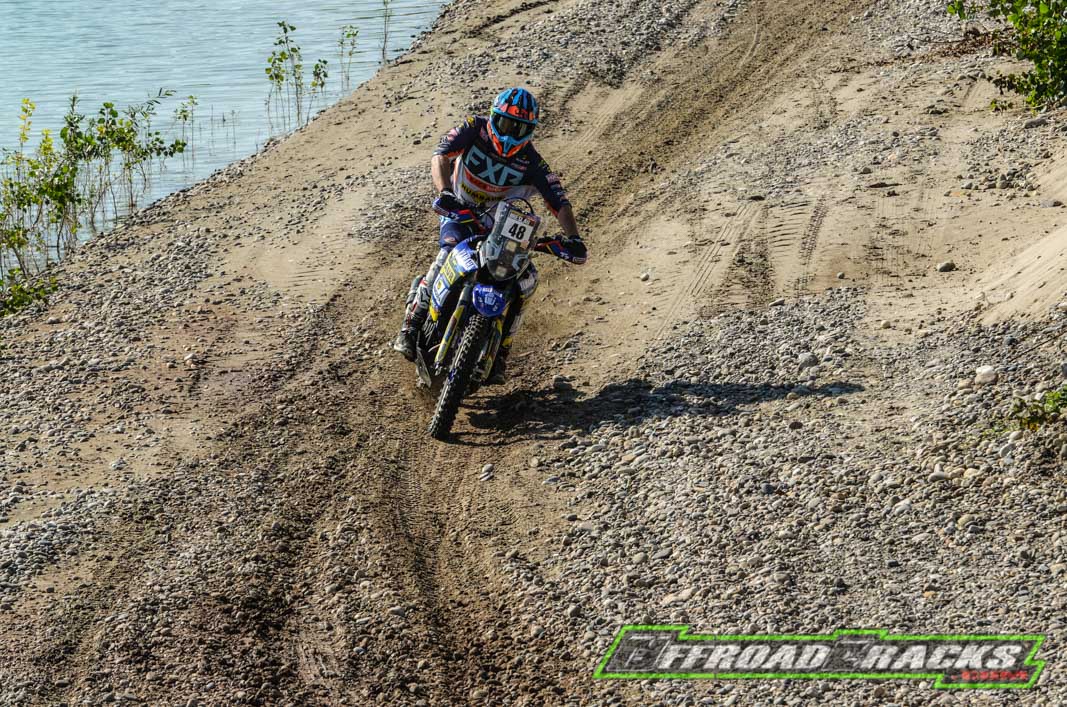 How can this combination perform? Of course, the brake disc had to be freed from any grease during assembly using a brake cleaner. Then the brake pads were carefully braked onto the disc, which means something like lightly rubbing the disc through the pads while driving, without generating too much heat and unwanted glazing of the pads.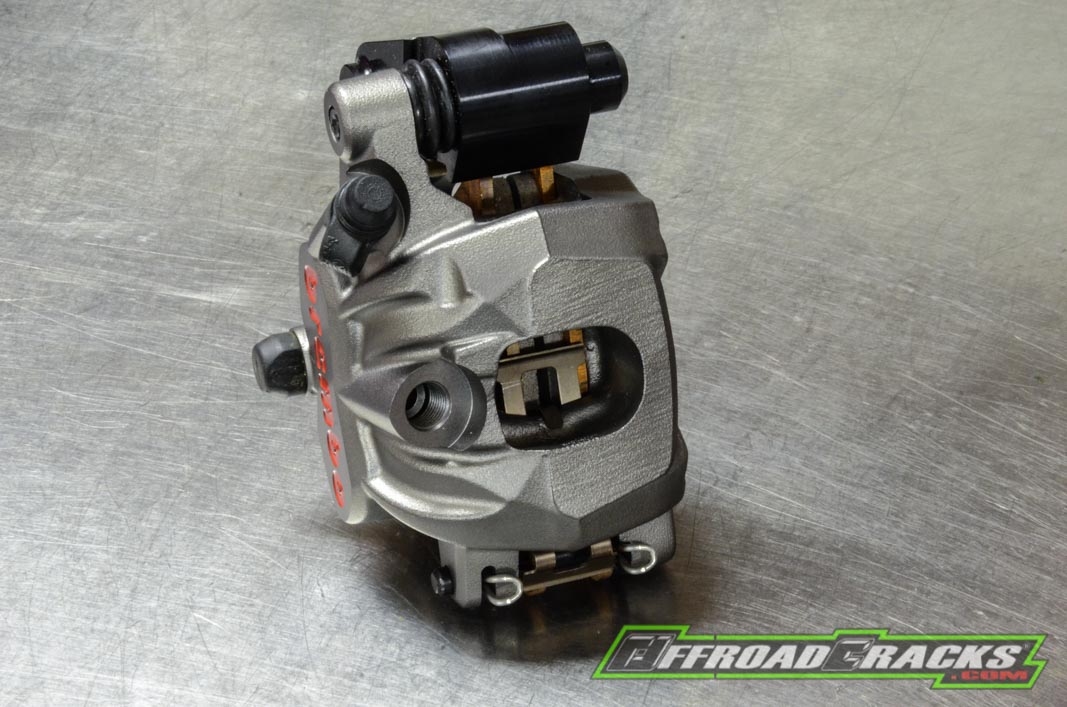 The brake lever ergonomics are well known from the KTM enduro models and you immediately feel at home. The lever position is set using the black setting wheel directly on the lever.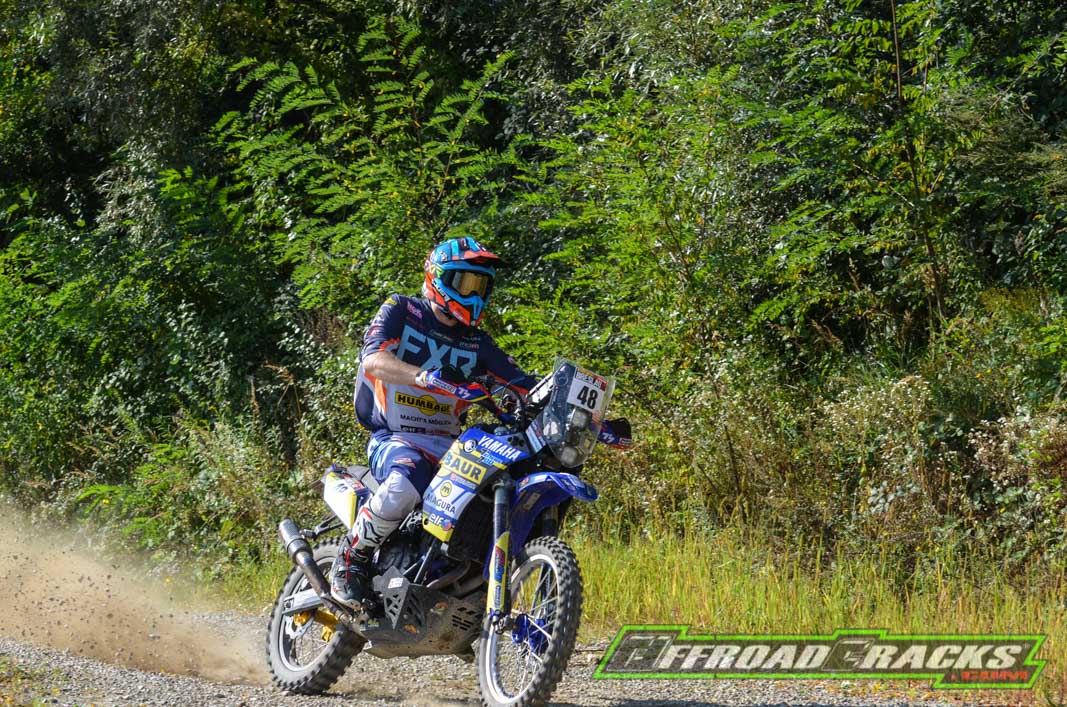 Accelerated to 60 km/h (37.5 mph) and the first braking took place. The system still feels a bit dull and therefore has to be braked again, which noticeably improved the performance. The pressure point is clearly defined and the braking maneuver can be increased immediately. Now at 120 km/h (75mph) it is again on a hard, dusty track, clutch pulled and only decelerated via the front wheel, the 270 mm disc surprises with good deceleration values ​​and suitable one-finger actuation without having to use a second or even third finger. Even on sandy soil or typical forest soil, the deceleration always proves to be controllable optimally .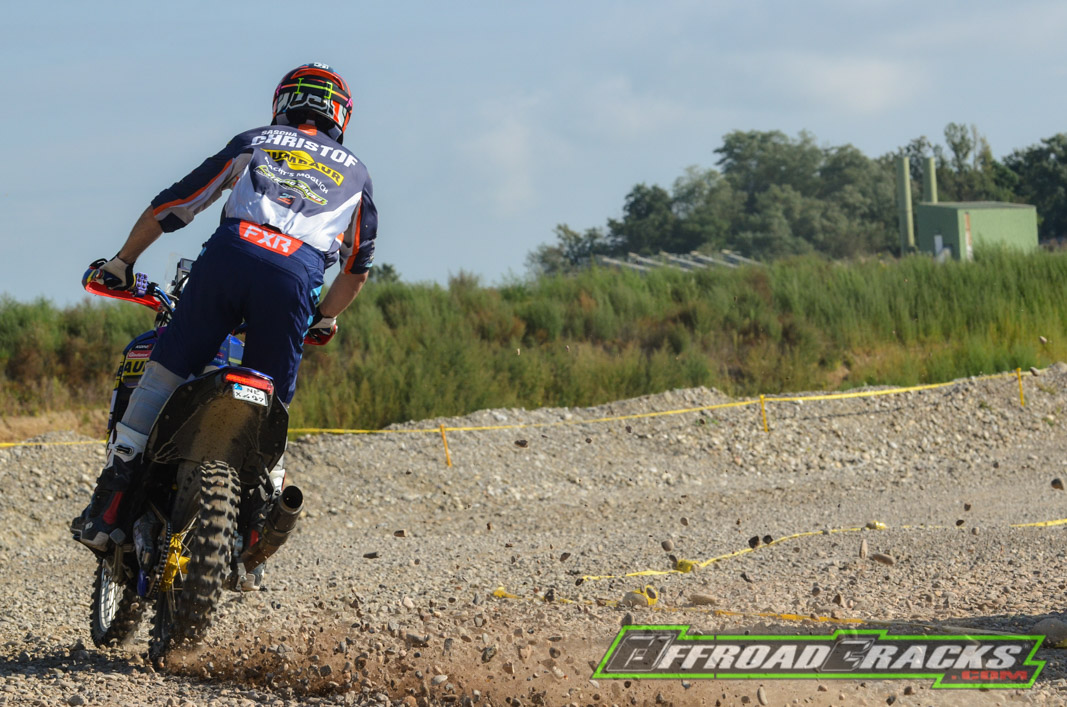 When fully actuated, the front wheel can be locked without any problems, which logically means maximum finger strength at a  weight of almost 200 kilograms. Of course, this system cannot keep up with the standard double-brake system on the road, which is designed for both pillion operation and payload. But it shouldn't and doesn't have to, because in this case less is more and the T7 actually decelerates even when it gets wet and slippery, where the OEM system would mercilessly overbrake at a sporty pace. All in all, we can unreservedly recommend this high-quality brake component package from Brembo for our special use – the only thing that would be interesting now is an upgrade to a 320 millimeter disc.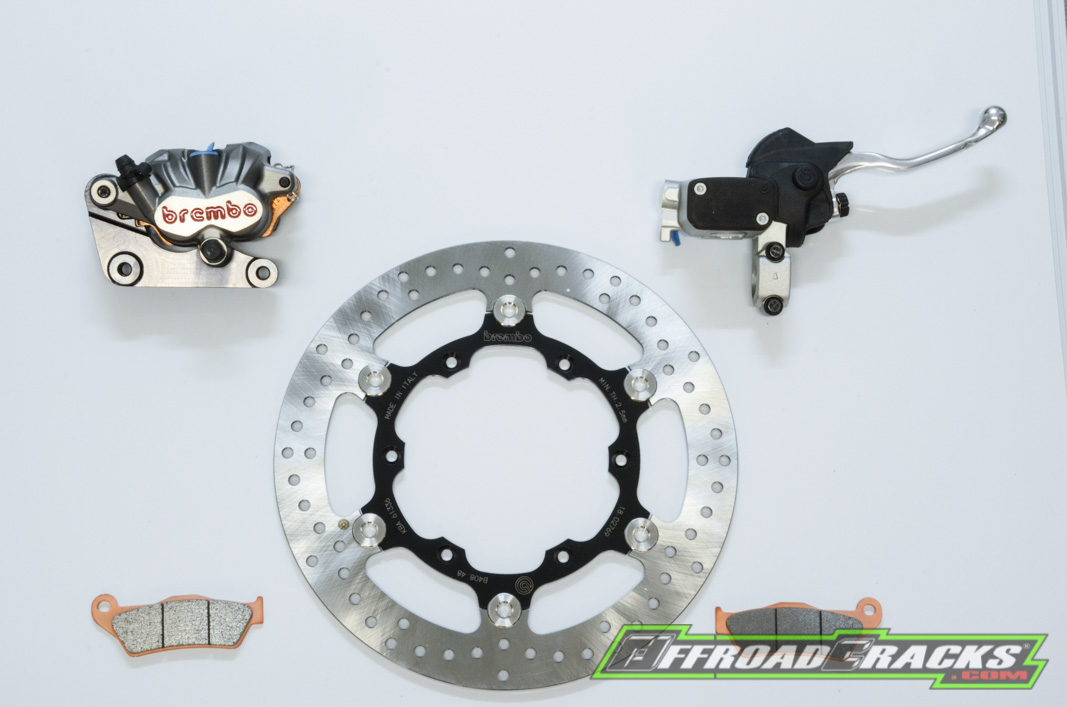 Manufacturer
---

---
Mounted components
Brake caliper Kit M2-XGP, Brembo 301 Euro
Hand brake pump Ø 10mm, 10B89610 Brembo, 201 Euro
270mm stainless steel brake disc ORO, 78B40848, Brembo 180 Euro