BEN WATSON in Action
---
HINWEIS: Das Video ist noch deaktiviert, damit keine unerwünschte Datenübertragung zu Youtube stattfindet. Zur Aktivierung bitte auf das Vorschaubild/Video-Link klicken. Damit werden Daten übermittelt, zu deren Art, Umfang und Verwendungszweck wir keineAuskünfte geben können.
---
NOTE: The video is still deactivated so that no unwanted data transfer to YouTube takes place. To activate, please click on the preview image / video link. This transmits data about the type, extent and purpose of which we cannot provide any information.
---

Es ist ja schon längst bekannt, dass Beta eine RX 300 2T am Start hat, die eher im Cross-Country angesiedelt ist und damit gerade den amerikanischen und australischen Markt und deren Anforderungen bedient. Dabei setzt man auf Bewährtes wie beispielsweise ein Endurogetriebe und mehr, während man bei der RX 450 einen komplett anderen Weg ging als bisher und eine reinrassige MX-Kampfmaschine entwickelte.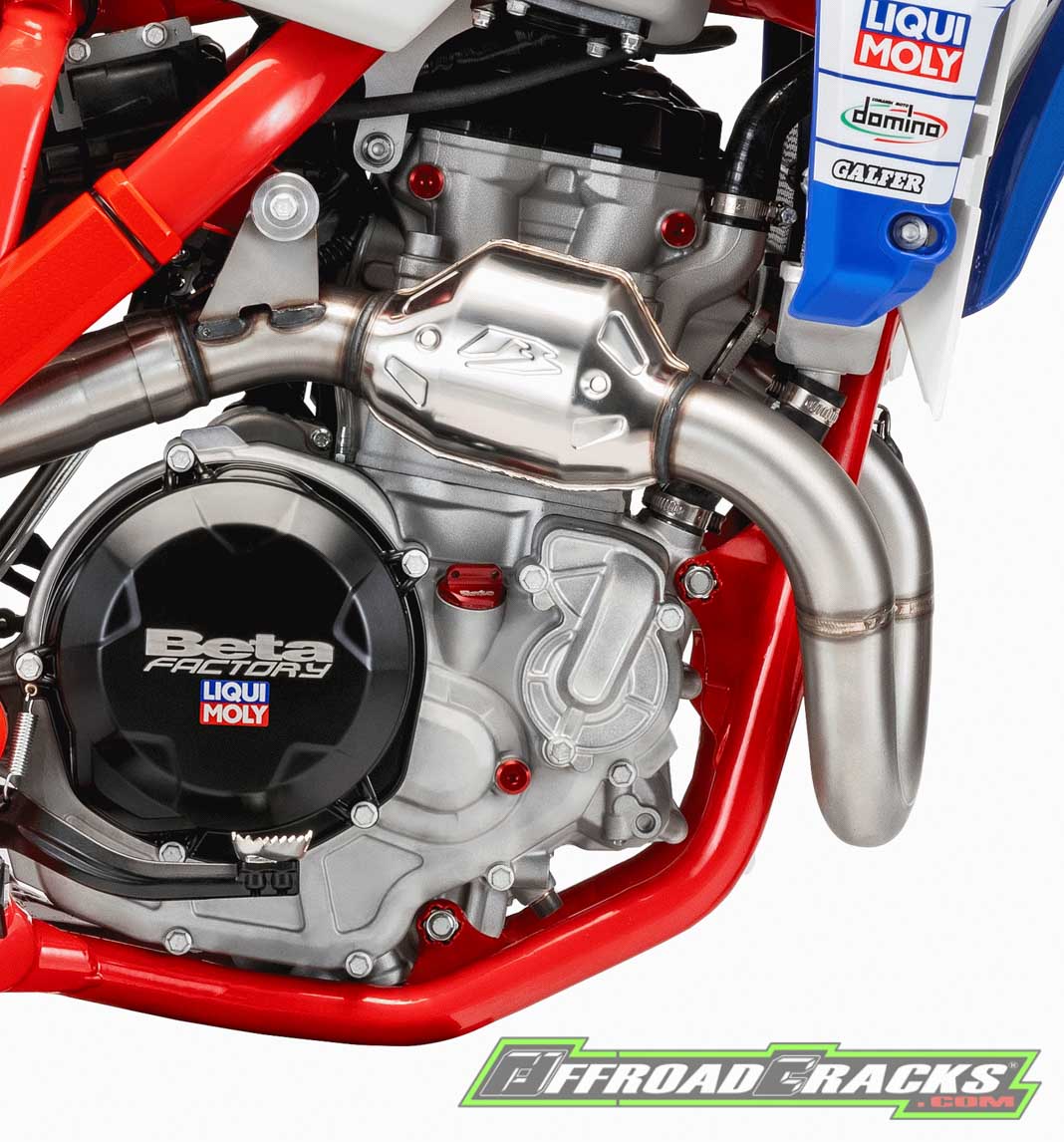 Die RX 450 ist ein völlige Neuentwicklung mit eigens dafür konstruierten MX-Motor und -Rahmen, um den spezifischen Anforderungen auf der Motocross-Strecke eins zu eins gerecht werden zu können. Der Prototyp hatte bereits sehr erfolgreich sein Debüt in der MX-Weltmeisterschaft zusammen mit Jeremy van Horebeek und dem SDM-Beta-MXGP-Team bestanden.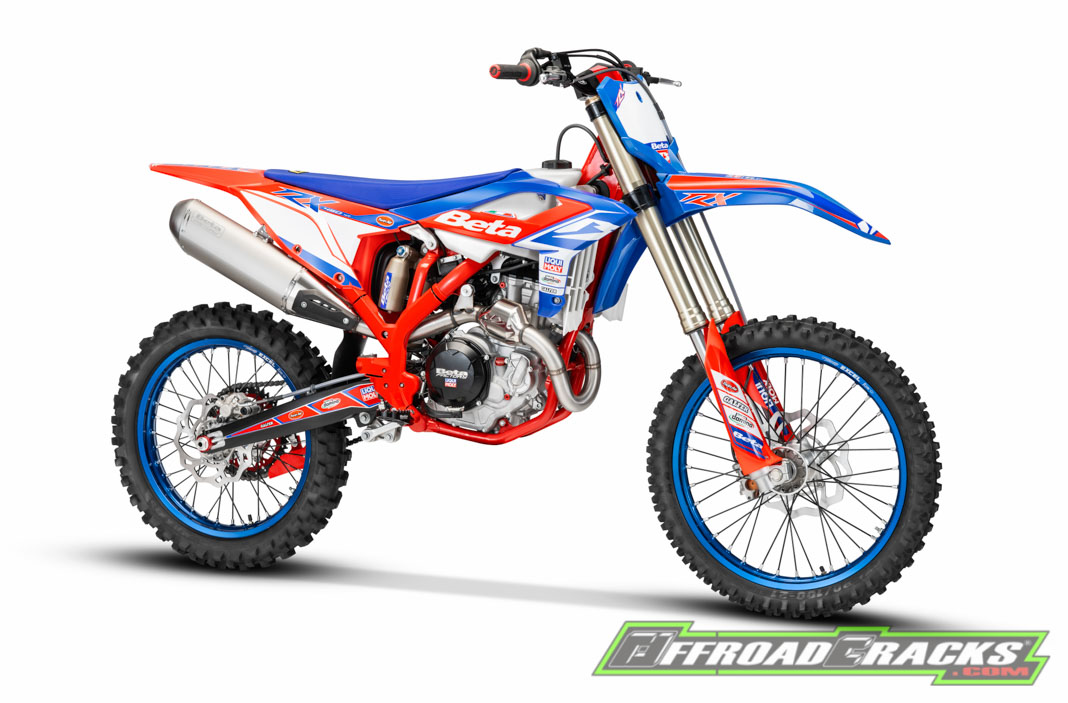 Technische Highlights
Rahmen: Rein für den MX-Einsatz konzipiert, ohne dabei die typischen Proportionen der Beta-Modelle außer Acht zu lassen. Das bedeutet, dass zur Versteifung der Hauptträger um 10mm angewachsen ist. Das steigert die Längssteifigkeit enorm. Auch das Einlenkverhalten in Kurven ist dadurch deutlich präziser. Für eine optimierte Schwerpunktlage des Motors wurden die Aufnahmepunkte neu positioniert.
Ein neuer Heckrahmen aus Aluminium sorgt für zusätzliche Steifigkeit und nimmt die völlig neu designte Airbox auf, die für deutlich höheren Luftdurchsatz für den 46mm großen Drosselkörper sorgt. Dabei ist der Luftfilter ohne Werkzeug schnell erreichbar und austauschbar.
Der Kunststoff-Tank hat ein neues Design und fasst 7 Liter
Fahrwerksseitig greift man auf die bewährten Komponenten von Kayaba zurück. Das bedeutet eine 48er Upsidedown-Gabel vorn und ein Federbein mit 50er Kolben hinten mit deutlich straffere MX-Abstimmung, um den harten Bremsmanövern oder das zu tiefe Eintauchen der Federelemente bei deftigen Sprüngen entgegenzuwirken.
Reifen und Räder: Hier setzt man auf Maxxis-Reifen in den Dimensionen 90/100-21 und 110/90-19
Bremsen: Nissin ist nach wie vor die erste Wahl bei Beta und verbaut schwimmend gelagerte und leichtere Sättel sowie eine 260er Bremsscheibe vorn und eine 240er hinten. Der hintere Bremspumpen-Ausgeleichsbehälter wurde neu designt, damit der Krümmer mehr Platz bekommt.
Motor: Ein Fünfgang-Getriebe ist State of the Art mit einer klassischen MX-Abstufung. Die Kupplung verfügt über Tellerfedern, die in drei Positionen verstellbar ist. Ein Kickstarter ist nicht vorgesehen und alle elektronischen Bauteile wurden neu dimensioniert. Mit einer Kompression von 13,5 dürfte einiges an Motorleistung zu erwarten sein. Der Motor selbst sollt über einen extrem knackigen Antritt im mittleren bis hohen Drehzahlbereich besitzen, ohne dabei unkontrolliert seine Leistung abzugeben.
Kennfelder: Hier setzt Beta auf zwei Mappings für trockene und nasse Bedingungen sowie eine Traktionskontrolle mit 4-stufiger Einstellung. Dieser Mappingschalter befindet sich im Lenkerpolster integriert.
Sonstiges: Lithium-Batterie, rote Kettenspanner aus Ergal, blau eloxierte Excel-Felgen, rote Kunststoff-Kettenführung, rot eloxierte Antriebskette und schwarze Ergal-Fußrasten mit Stahlstiften.
Lieferumfang: Personalisierter Ständer sowie vier verschiedene Rollen für den Gasgriff zur Anpassung des Hubs.
Verfügbarkeit: Ab sofort
Der Preis für Deutschland ist noch nicht bekannt, wird aber sobald wie möglich nachgereicht. In den USA ruft man dafür $ 10.999 auf.
Technische Daten
TECH_DATA_2024_DE

---

It has long been known that Beta has an RX 300 2T on the market that is aimed more at cross-country and thus serves the American and Australian markets and their requirements. They rely on proven things such as an enduro gearbox and more, while with the RX 450 they took a completely different path than before and developed a pure-bred MX fighting machine.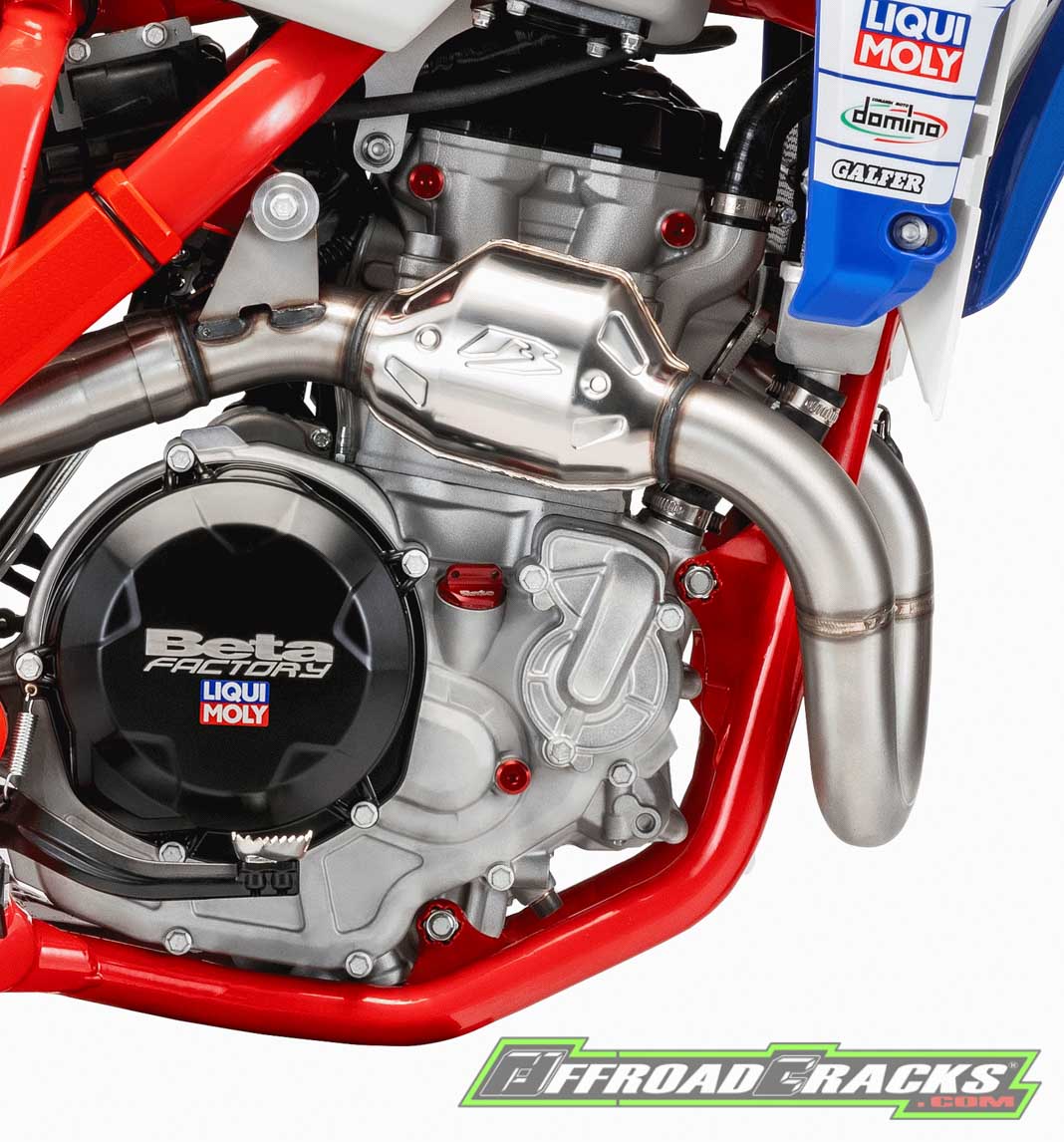 The RX 450 is a completely new development with a specially designed MX engine and frame to meet the specific requirements of the motocross track. The prototype had already had a very successful debut in the MX World Championship together with Jeremy van Horebeek and the SDM Beta MXGP team.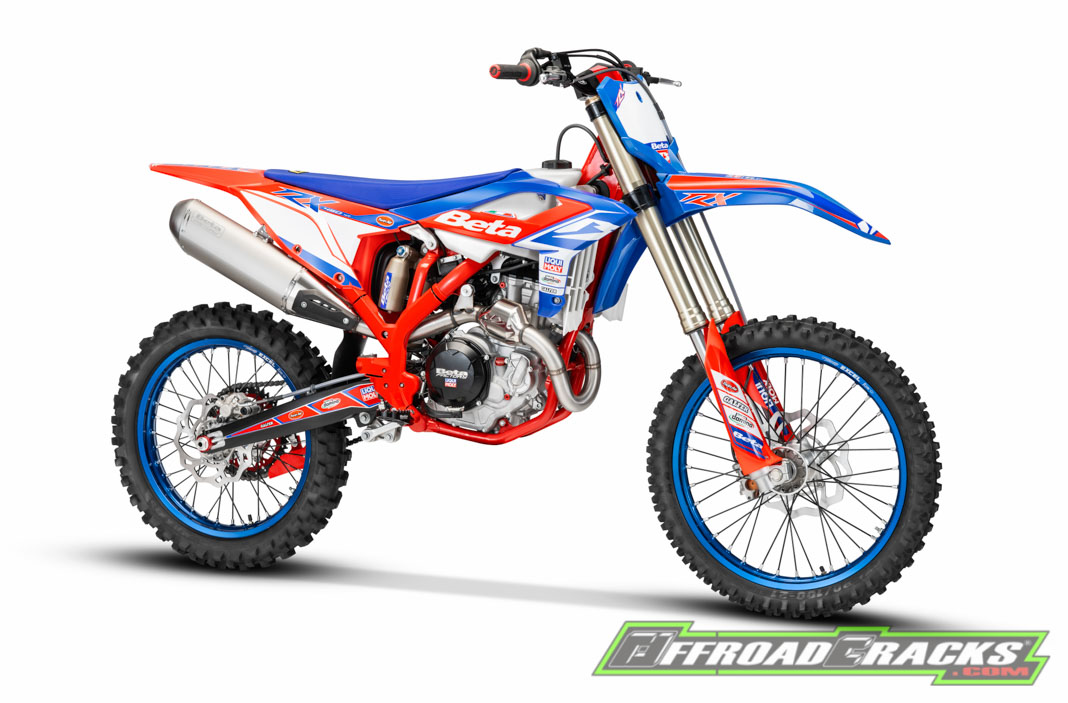 Technical highlights
Frame: Designed purely for MX use, without neglecting the typical proportions of the Beta models. This means that the main beam has grown by 10mm to stiffen it. This increases the longitudinal rigidity enormously. The steering behavior in curves is also much more precise. The mounting points were repositioned to optimize the engine's center of gravity.
A new rear frame made of aluminum provides additional rigidity and accommodates the completely redesigned airbox, which ensures significantly higher air flow for the 46mm throttle body. The air filter can be quickly accessed and replaced without tools.
The plastic tank has a new design and holds 7 liters
On the chassis side, the tried and tested components from Kayaba are used. This means a 48 mm upside-down fork at the front and a shock absorber with 50 mm pistons at the rear with a significantly tighter MX set-up to counteract hard braking maneuvers or the spring elements diving too deeply during big jumps.
Tires and wheels: Maxxis tires are used here in dimensions 90/100-21 and 110/90-19
Brakes: Nissin is still the first choice at Beta and installs floating and lighter calipers as well as a 260 brake disc at the front and a 240 brake disc at the rear. The rear brake pump reservoir has been redesigned to give the manifold more space.
Engine: A five-speed gearbox is state of the art with a classic MX gradation. The clutch has disc springs that can be adjusted in three positions. A kickstarter is not provided and all electronic components have been resized. With a compression of 13.5, you can expect quite a bit of engine power. The engine itself should have extremely crisp acceleration in the medium to high speed range, without releasing its power in an uncontrolled manner.
Maps: Here Beta relies on two mappings for dry and wet conditions as well as a traction control with 4-stage settings. This mapping switch is integrated into the handlebar padding.
Other: Lithium battery, red Ergal chain tensioners, blue anodized Excel rims, red plastic chain guide, red anodized drive chain and black Ergal footrests with steel pins.
Scope of delivery: Personalized stand and four different rollers for the throttle grip to adjust the stroke.
Available immediately
The price for Germany is not yet known, but will be announced as soon as possible. In the USA it costs $10,999.
TECH SPECS
TECH_DATA_2024_ EN

Quelle / Source: Beta