Das Team von Hennessey Performance Engineering (HPE) plant den Bau des größten und leistungsstärksten Trucks in der 29-jährigen Unternehmensgeschichte. HPE wird in Kürze einen 6X6-Umbau des 2021 Ram TRX Pickup Truck bauen. Der werkseitig aufgeladene Hellcat-V8 mit 702 PS wird jedoch durch einen speziell abgestimmten 7,0-Liter-Hellephant-Motor ersetzt, der über 1200 PS leistet.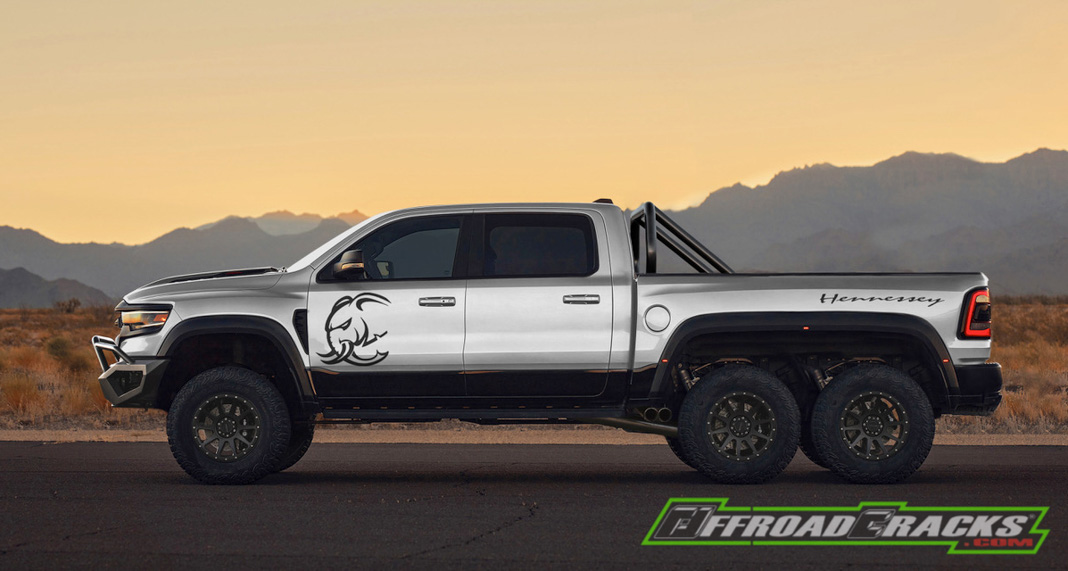 Seit 2017 hat das Hennessey-Team insgesamt 15 VelociRaptor 6X6- und GOLIATH 6X6-Trucks gebaut und an Kunden aus der ganzen Welt ausgeliefert. Damit gehören sie zu den exklusivsten Fahrzeugen, die jemals von Hennessey Performance hergestellt wurden. Hennessey wird nur insgesamt drei Ram TRX Trucks mit Mammut 6X6 Hellephant-Antrieb bauen. Damit ist Hennessey der leistungsstärkste und exklusivste Truck, den das Unternehmen jemals angeboten hat. Mit Kosten von 500.000 US-Dollar, einschließlich des Basis-Ram TRX, wird es auch das teuerste sein.
"Wir freuen uns sehr über den Ram TRX", sagte Firmengründer und CEO John Hennessey. "MAMMOTH 6X6, angetrieben von einem 1200 PS starken Hellephant-Motor, ist eine völlig verrückte Idee und genau deshalb tun wir dies. Wir werden nur drei Exemplare bauen, die diesen Truck wahrscheinlich zum exklusivsten und teuersten machen, den wir je gebaut haben."
Zusätzlich zu seinem brandneuen 6-Rad-Antrieb und dem neuen Ladeflächenumbau wird der MAMMOTH 6X6 über eine vollständig optimiertes Offroad-Fahrwerk, ein maßgeschneidertes Interieur, verbesserte vordere und hintere Stoßstangen mit High-End LED-Lichtern und mehr verfügen.
Aufgrund der limitierten Auflage dieses Fahrzeugs akzeptiert Hennessey Bestellungen erst ab dem 4. September 2020 um 12.00 Uhr (Ortszeit). Käufer müssen 1-800-897-0426 anrufen, um ihre Bestellung aufzugeben.
---

The team at Hennessey Performance Engineering (HPE) is planning to build the biggest and most powerful truck in the company's 29-year history. HPE will soon be building a 6X6 conversion of the 2021 Ram TRX truck. However, the 702 bhp factory Hellcat supercharged V8 will be replaced by a specially tuned 7.0L Hellephant engine that will deliver over 1200 bhp.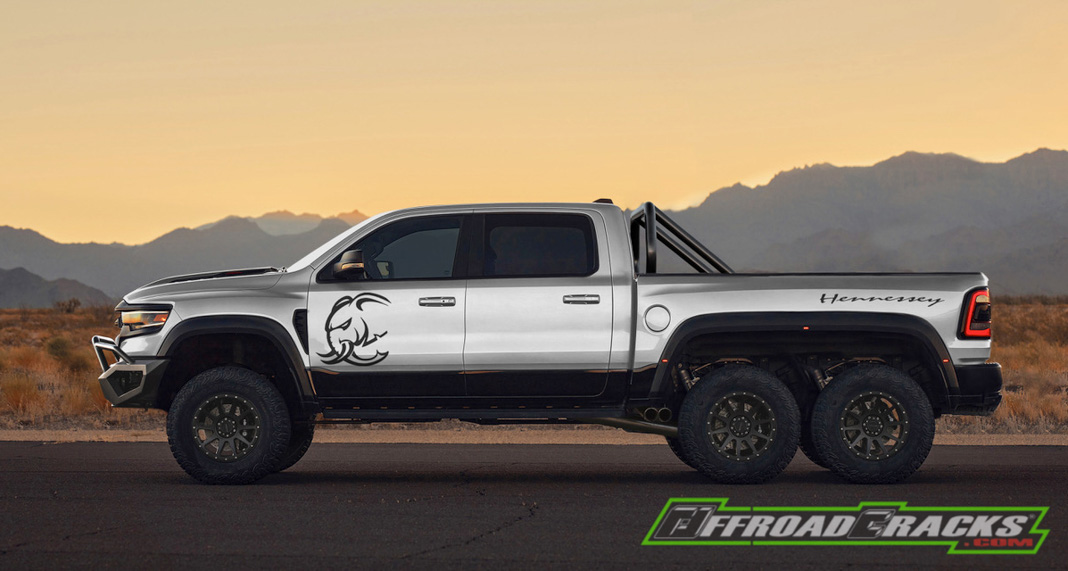 Since 2017, the Hennessey team has built and delivered a total of 15 VelociRaptor 6X6 and GOLIATH 6X6 trucks to clients from around the world, making them some of the most exclusive vehicles ever produced by Hennessey Performance. Hennessey will only be building a total of three Mammoth 6X6 Hellephant-powered Ram TRX trucks which will make it the most powerful and most exclusive truck ever offered by the company. It will also be the most expensive with a cost of $500,000 which includes the base Ram TRX.
"We are very excited about the Ram TRX," said company founder and CEO, John Hennessey. "MAMMOTH 6X6 powered by a 1200 HP Hellephant motor is just a completely ridiculous idea, which is exactly why we are doing this. We are only going to build three examples which will likely make this the most exclusive and most expensive truck we've ever built."
In addition to its all new 6-wheel drive and all new truck bed conversion, MAMMOTH 6X6 will have a fully upgraded off-road suspension, bespoke interior, upgraded front and rear bumpers with upgraded LED lights and more.
Due to the limited edition nature of this vehicle, Hennessey will only accept orders starting on September 4, 2020 at 12 noon central time. Buyers must call 1-800-897-0426 to place their order.
Quelle / Source: Hennessey