POLARIS goes DAKAR 2021
---
HINWEIS: Das Video ist noch deaktiviert, damit keine unerwünschte Datenübertragung zu Youtube stattfindet. Zur Aktivierung bitte auf das Vorschaubild/Video-Link klicken. Damit werden Daten übermittelt, zu deren Art, Umfang und Verwendungszweck wir keineAuskünfte geben können.
---
NOTE: The video is still deactivated so that no unwanted data transfer to YouTube takes place. To activate, please click on the preview image / video link. This transmits data about the type, extent and purpose of which we cannot provide any information.
---

Polaris hat heute den RZR Pro XP vorgestellt, den seine drei Werks-Teamfahrer bei der  Rallye Dakar 2021 einsetzen werden – einem der anstrengendsten und historischsten Wüstenrennen der Welt. Das bewährte RZR Factory Racing-Team nutzt die branchenführende RZR Pro XP-Plattform und scheint hoch motiviert, um das unerbittliche Terrain der Dakar zu meistern und ihr Können bei unter Beweis zu stellen.
"Wir sind entschlossen unsere Innovation voranzutreiben und freuen uns auf die Gelegenheit unserer legendären Renngeschichte als Marke weiter aufzubauen. Die Erfolge und Lehren aus dem Rennsport beschleunigen die Produktinnovationen und ermöglichen es uns, unseren engagierten Kunden weiterhin ein Kategorie definierendes Produkt zu liefern ", sagte Steven Menneto, Präsident von Polaris Off-Road.

Als erfolgreichste Marke im Side-by-Side-Rennsport sind Polaris und das RZR Factory Racing-Team bereit, weitere Innovationen vorzunehmen und die Messlatte für Performance-Rennfahrzeuge höher zu legen. Das aus dem Rennsport erworbene Wissen ist entscheidend für das zukünftige Design von Serienfahrzeugen. Unzählige Stunden Forschung, Entwicklung und Tests auf der Rennstrecke haben zur aktuellen RZR Pro XP-Plattform geführt. Der RZR Pro XP hat sich bewährt und im letzten Jahr die Baja 1000, Baja 500, Kurzstreckenrennen, WORCS-Rennen, XC-Rennen an der Ostküste und die UTV-Weltmeisterschaft gewonnen.
"Wir haben uns für die T4-Klasse bei der Dakar entschieden, weil wir zeigen wollten, wozu der Polaris RZR Pro XP in der Lage ist und was seine DNA ausmacht – das Streben nach konstanter Leistung. Unser Fahrzeug besteht aus möglichst vielen Standardteilen, um ihre Langlebigkeit und Leistungsfähigkeit im Wettbewerb mit der härtesten Konkurrenz der Welt unter Beweis zu stellen ", erklärte Robert Wilmot, Fahrzeug-Konstrukteur von Polaris RZR und leitender Dakar-Ingenieur. In der den langen Lister der Pro XP-Teile, die das Team verwenden wird, sind der Pro Star-Motor, der Ladeluftkühler, der Turbo, das Getriebe, die Naben, die Bremssättel und vieles mehr. Der serienmäßigen Radstand wird beibehalten.
Der RZR Factory Racing RZR Pro XP wird von einem 4-Takt-DOHC-Zweizylinder-Zweizylinder-925-cm3-Motor mit Kraftstoffeinspritzung angetrieben, der von einem 130-Liter fassenden Tank mit Kraftstoff versorgt wird und eine Höchstgeschwindigkeit von 130 km / h (80,77 MPH) erreicht. Ein Motec®-Steuergerät mit kundenspezifischer Verkabelung und Armaturenbrett, angapsstes Schaltpad und Onboard-Diagnose sorgen für optimale Leistung und ein Heckkühler mit kundenspezifischer Dacheinlass sorgt für maximalen Luftstrom. Eine leichte Lithiumbatterie von Braille Battery® wird den RZR Pro XP während seiner Dakar-Premiere mit Strom versorgen.
Das Team verwendet außerdem ein von Jimco Racing® angepasstes  FIA homologiertes Chassis, das auf der Polaris RZR Pro XP-Plattform basiert. Mit einem Radstand von 96 Zoll, einer Breite von 74 Zoll und einer angepassten Federung mit einem extra Federweg von 1,5 Zoll im Vergleich zum Serienmodell ist das Fahrzeug für die Leistung in rauem Dakar-Gelände ausgelegt. Eine kundenspezifische FOX RACING SHOX®-Federung mit vergrößertem Expansionsbehälter wurde ausgewählt, um die Kühlung, Leistung und Einstellbarkeit zu verbessern. Im Cockpit sorgen während des 12-Tage-Rennens Sparco®-Rennsitze und Sicherheitsgurte für Komfort und Fahrersicherheit. Das Chassis verfügt außerdem über ein integriertes Ersatzteil- und Werkzeugsortiment, was sich zweifellos als unabdingbar erweisen wird, da es keine Boxencrew gibt und die Fahrer auf der Strecke ihre eigenen Reparaturen durchführen müssen.
"Als klarer Marktführer im Side-by-Side-Rennsport gibt es bei unserem Dakar-Debüt viel Erwartungen und Druck, aber das RZR Pro XP bietet uns die ultimative Waffe, um gegen die wohl härtesten Rennbedingungen auf der Welt zu bestehen ", sagte Steve Kemp, Vizepräsident des RZR. "Wir freuen uns, diese unglaubliche Herausforderung anzunehmen, und wir glauben, dass die kombinierte Erfahrung und das Know-how von Polaris RZR Factory Racing und Jimco Racing sich als Erfolgsrezept erweisen wird."
Für das fast 8.000 Kilometer lange Rennen hat sich das Team für die Verwendung von 30-Zoll-Hochleistungsreifen von BF Goodrich® entschieden, die mit Beadlocks und robusten 15-Zoll-Rennräder aus Aluminium daher kommen. Das Fahrzeug ist mit einem vollständigen hydraulischen Scheibenbremssystem und mit einem Doppel-Hauptbremszylinder-Setup ausgestattet.
Die Polaris RZR Factory Racing-Aufstellung von Wayne Matlock und Navigator Sam Hayes, Kristen Matlock und Navigator Max Eddy sowie Craig Scanlon und Navigator Keith Redstrom wird von der Dakar-Rennlegende Darren Skilton gemanaged.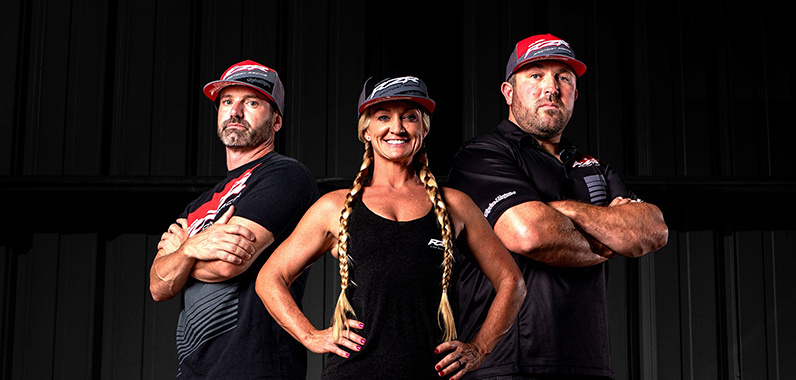 Das Team wird von einigen der angesehensten Marken der Offroad-Branche unterstützt, darunter 4 Wheel Parts – die größte Einzelhandelskette für Offroad-Zubehör, BF Goodrich Tyres – der offizielle Reifen der Rallye Dakar, Method Race Wheels und FOX RACING SHOX. Sparco ist der offizielle Lieferant der Sicherheitsausrüstung, Fahreranzüge und Helme des Teams. Die  Ausrüstung und Fahrzeuglackierungen wurden von Troy Lee Designs® entworfen.. RZR Factory Racing Pro XP Fahrzeuge werden ebenfalls mit Motul, Braille Battery, Motec und Jimco Racing Produkten ausgestattet. Weitere Unterstützer sind Rigid Industries®, Trayco, Shiftpod® und Factory Canopies.
Das Team wird das härteste Rennen der Welt vom 3. Januar 2021 bis zum 15. Januar 2021 in Jeddah, Saudi-Arabien, bestreiten.
---

Polaris RZR, the winningest brand in UTV racing, today debuted the RZR Pro XP that its three factory team drivers will race in their conquest of the SSV class at the 2021 Dakar Rally—one of the world's most grueling and historic desert races. Utilizing the industry-leading RZR Pro XP platform, the proven RZR Factory Racing team is well-armed to battle the unrelenting terrain of Dakar and demonstrate their racing prowess in Polaris' first trip to the Dakar Rally.
"We are committed to pushing our innovation and looking forward to the opportunity to build upon our legendary racing history as a brand. The successes and lessons learned from racing accelerate product innovation, allowing us to continue delivering a category-defining product for our dedicated customers," said Steven Menneto, President of Polaris Off-Road.

As the most successful brand in side-by-side racing, Polaris and the RZR Factory Racing team are poised to continue innovating and raising the bar of performance race vehicles. The knowledge acquired from racing is crucial to the future design of production vehicles. Countless hours of research, development and testing on the race course has led to the current RZR Pro XP Platform. The RZR Pro XP is proven, winning the Baja 1000, Baja 500, short course races, WORCS races, East Coast XC races, and the UTV World Championships all in the last year.
"We chose to race the T4 class at Dakar, because we wanted to showcase what the Polaris RZR Pro XP is capable of, what defines its DNA—the pursuit of constant performance. Our vehicle is built from as many stock parts as possible to show their durability and performance capabilities when competing against the toughest competition in the world," explained Robert Wilmot, Polaris RZR Vehicle Architect, and Lead Dakar Engineer. Amongst the laundry list of stock Pro XP parts the team will be using, some of the marquee stock components include the Pro Star engine, intercooler, turbo, transmission, hubs, brake calipers and much more. The vehicle also utilizes a stock wheelbase.
The RZR Factory Racing RZR Pro XP is powered by a 4-stroke fuel-injected, DOHC, turbocharged, twin-cylinder 925cc engine, fueled by a 130L fuel cell, and capable of a top speed of 130 KPH (80.77 MPH). A Motec® ECU with custom wiring and dash, custom switch pad and onboard diagnostics will ensure optimal performance, and a rear-mounted radiator with a custom roof scoop will provide maximum airflow. A lightweight lithium battery set up by Braille Battery® will power the RZR Pro XP throughout its inaugural Dakar campaign.
The team is also using an FIA homologated chassis, customized by Jimco Racing®, and based off the Polaris RZR Pro XP platform. With a 96" wheelbase, 74" wide stance, and custom suspension with an additional 1.5" of travel compared to stock, the vehicle is built to perform on the harsh Dakar terrain. A custom FOX RACING SHOX® suspension with increased reservoir capacity has been chosen for increased cooling, performance, and greater adjustability. In the cockpit, Sparco® racing seats and safety harnesses ensure comfort and driver safety during the 12-day race. The chassis also has an integrated spare parts and tool storage supply, which will undoubtedly prove imperative since there will be no pit crew, and drivers will need to make their own repairs while on the course.
"As the clear-cut leader in side-by-side racing, there's a lot of expectation and pressure as we make our debut at Dakar, but the RZR Pro XP provides us the ultimate weapon to take on what are arguably the harshest, most-demanding racing conditions in the world," said Steve Kemp Vice President of RZR. "We're excited to take on this incredible challenge, and we believe the combined experience and expertise of Polaris RZR Factory Racing and Jimco Racing will prove to be a formula for success."
For the nearly 5,000-mile-long race, the team has chosen to utilize 30" high-performance BF Goodrich® tires, wrapped around sturdy aluminum 15" Method Race Wheels® with beadlocks. The vehicle is equipped with a full four-corner hydraulic disc brake system, with a dual master cylinder setup and driver-controlled brake bias for maximized braking performance and control to navigate the unknown obstacles that have made Dakar a race all its own.
The Polaris RZR Factory Racing lineup of Wayne Matlock and navigator Sam Hayes, Kristen Matlock and navigator Max Eddy, and Craig Scanlon and navigator Keith Redstrom will be led by Dakar racing legend Darren Skilton.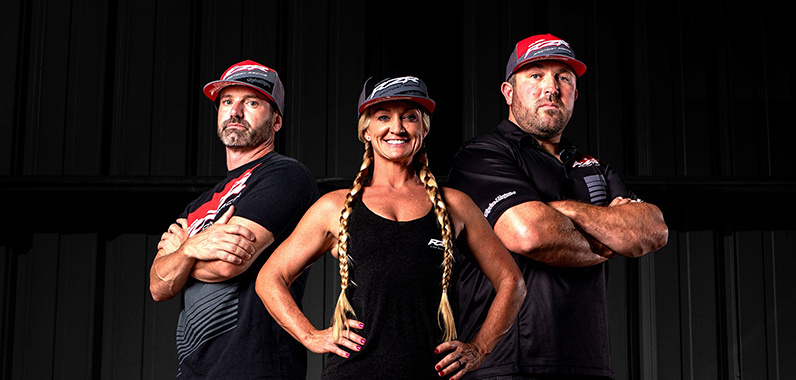 The team is backed by some of the most respected brands in the off-road industry, including 4 Wheel Parts – the largest off-road accessory retail chain, BF Goodrich Tires – the official tire of the Dakar Rally, Method Race Wheels, and FOX RACING SHOX. Sparco is the official supplier of the team's safety equipment, driving suits and helmets, with equipment and vehicle liveries designed by Troy Lee Designs®. RZR Factory Racing Pro XP vehicles are also powered by Motul, Braille Battery, Motec, and Jimco Racing. Additional supporters include Rigid Industries®, Trayco, Shiftpod®, and Factory Canopies.
The team will tackle the world's toughest race beginning January 3, 2021, through January 15, 2021, in Jeddah, Saudi Arabia.
Quelle / Source: Polaris