HERCULINER Ladflächenbeschichtung by Horntools
Pickup-Trucks haben meistens keine Laderaum-Beschichtung ab Werk, so dass sich die dünne Lackschicht bei artgerechtem Einsatz relativ schnell abnützt, die Grundierung durchscheuert und das blanke Metall des Laderaums hervor blitzt. Selbiges ist eine Folge beim Einsatz von Laderaumwannen, die logischerweise auch auf dem darunter befindlichen Fahrzeuglack im Einsatz scheuern. Die Folge ist über kurz oder lang eine punktuelle Korrosion, die durch die vorhanden Umwelteinflüsse nur aufwendig im Nachgang wieder instand gesetzt werden kann.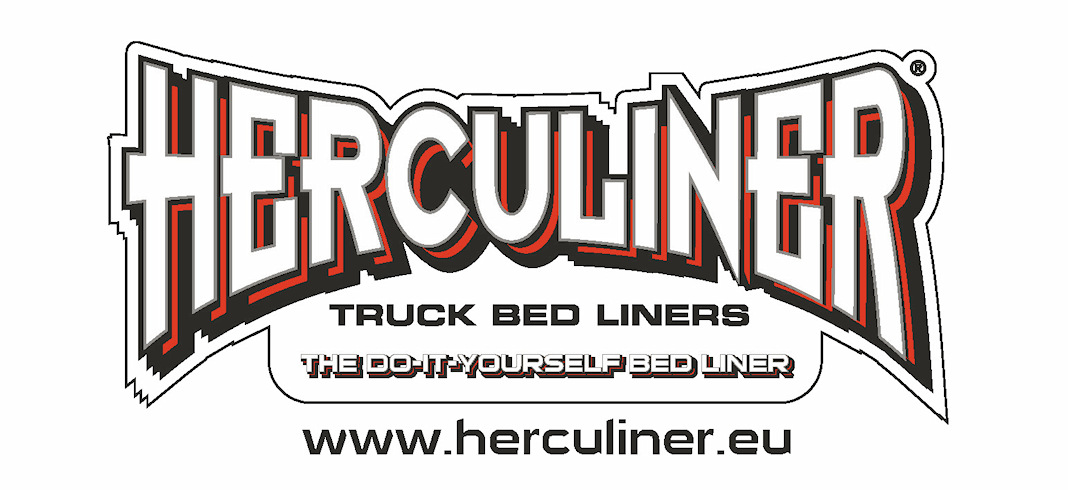 Da unser Redaktionsfahrzeug auf Basis eines Dodge Ram Pickups bereits ab Hersteller eine adäquate Laderaumbeschichtung besitzt, haben wir uns entschlossen die Chrom-Flächen des Kunststoff-Kühlergrills sowie die verchromten Front- als auch Heckstoßstangen mit Herculiner zu beschichten, was die ohnehin gegen Korrosion sehr anfälligen amerikanischen Chrom-Stoßstangen auf lange Sicht konservieren und zugleich für einen neuen Look sorgen soll. Außerdem verspricht diese Art von Beschichtung laut Hersteller eine deutlicher höhere Widerstandsfähigkeit als vergleichsweise der heutzutage trendige Folierungsprozess bis hin zu einer klassischen Lackierung, was für unser Einsatzgebiet alles andere als zweckmäßig wäre. Auch aus finanzieller Sicht ist diese Lösung den bisher genannten deutlich überlegen, sofern man die Arbeiten selbst durchführen kann.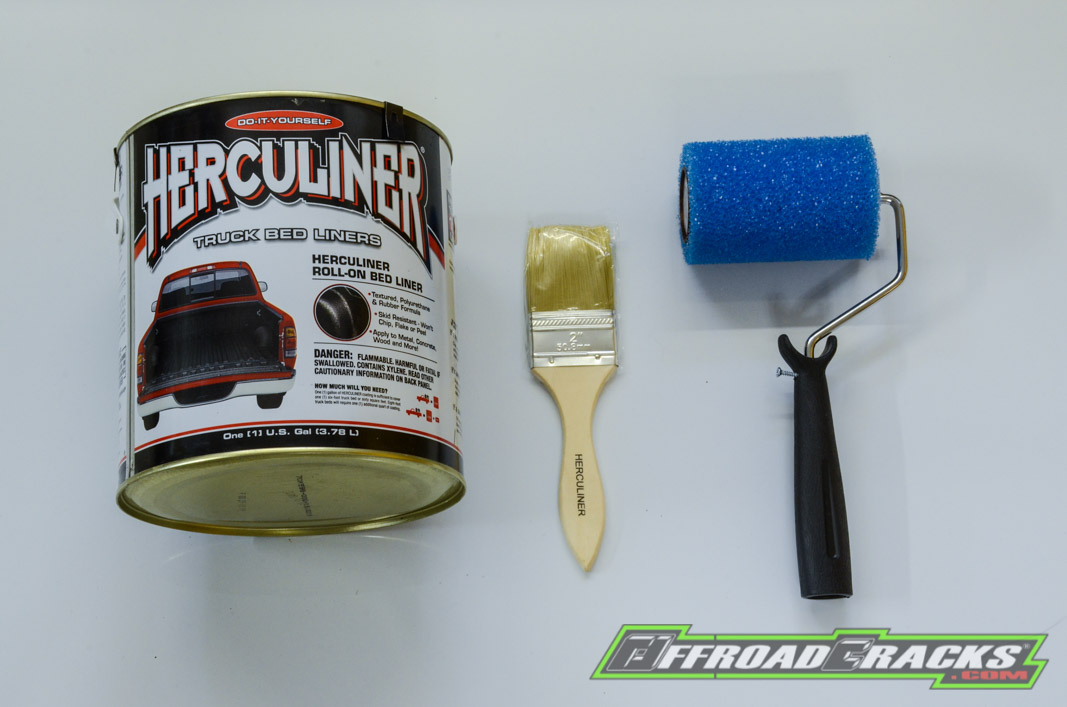 Herculiner-Kit 7m² – schwarz (RAL 9005)
Zum Einsatz kommt das Herculiner-Kit für eine Fläche von gut sieben Quadratmeter, das 3,78 Liter der Polyurethan-Beschichtung, ein Schleifpad, einen Roller mit zwei Aufsätzen, einen Pinsel sowie eine umfangreiche Beschreibung beinhaltet. Seitens des Herstellers werden dafür in Deutschland 130 Euro aufgerufen. Der gewählte Farbton entspricht der Bezeichnung "Tiefschwarz" mit der RAL-Nummer 9005. Für den Test wurde uns noch ein Satz Handschuhe von Horntools mitgeliefert.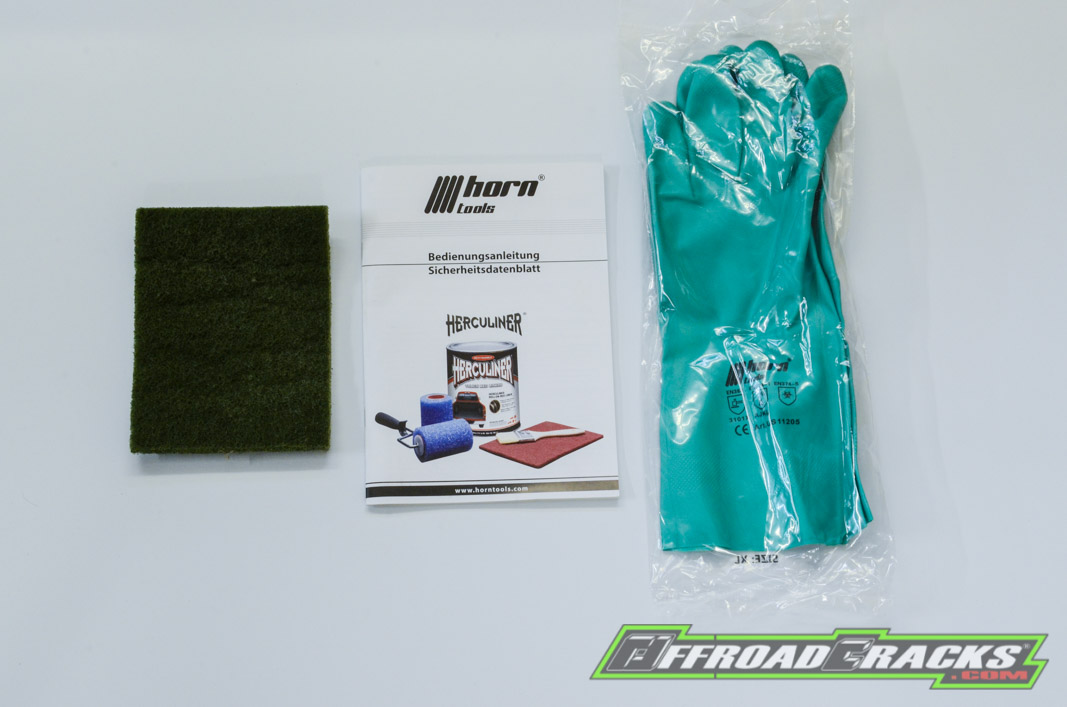 Herculiner-Schleifpad, Bedienungsanleitung und Schutzhandschuhe

Für schwer erreichbare Flächen gibt es zudem ein Herculiner-Spray mit einer Füllmenge von 443 Millilitern, das einen höheren Aerosol-Anteil besitzt, um das Gemisch aus Polyurethan und 30 Prozent Xylen sprühfähig zu halten. Auch sind die darin befindlichen Gummi-Partikel sichtbar kleiner und werden somit im Endergebnis ein feineres Oberflächenfinish erzeugen. Deshalb wird das Spray in unserem Anwendungsfall primär für den Kühlergrill zum Einsatz kommen.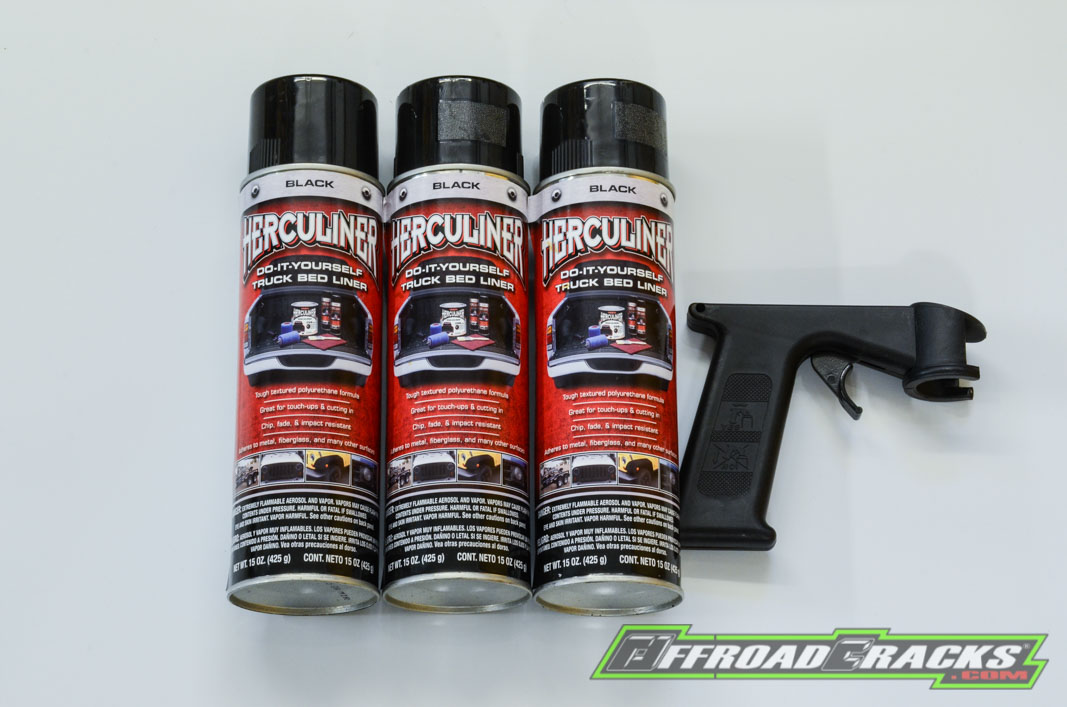 Herculiner-Spraydosen für 1,15m² Fläche je Dose inklusive Sprühgriff

Zunächst müssen die zu bearbeitenden Flächen gereinigt werden, was in unserem Fall in montiertem Zustand wegen Nebelscheinwerfer, Seilwinde, Bergeösen sowie Anhängekupplung, Trittschutz und Nummerschildbeleuchtung alles andere als einfach ist. Daher entschließen wir uns dazu den Kühlergrill sowie Front- und Heckstoßstange zu demontieren, was unweigerlich den größten Arbeitsanteil bei diesem Beschichtungsprozess ausmacht. Dafür erspart man sich die ansonsten unvermeidliche und ebenfalls aufwendige Abklebearbeit. Anschließend werden alle drei Elemente gründlich gereinigt, so dass keine Verunreinigungen mehr auf den Flächen zu finden sind. In zwei Ecken der Chrom-Stoßstangen hat sich bereits oberflächliche Korrosion gebildet, die sich aber durch eine Politur wieder relativ einfach entfernen lässt.
Da Chrom beschichteten Flächen je nach Verfahren unterschiedliche Oberflächenhärtegrade (Vickers) aufweisen könnenm ist hier das normale Anrauen mit einem Schleifflies oder -Pad nicht anwendbar. Deshalb entscheiden wir uns für die etwas aufwendiger Variante mittels Sandstrahlgerät, dass der Chrom-Schicht eine passende Oberflächenstruktur verpasst und dadurch die Haftfähigkeit der Herculiner-Beschichtung maximal verbessert. Hierfür benötigt man eine entsprechende Schutzkleidung, eine Strahlpistole und mindestens einen dauerhaften Luftdruck von 10 bar bei entsprechender Kompressor-Kesselgröße, so dass das Strahlgut (handelsüblicher Quarzsand mit angemessener Körnung) seine Aufgabe erledigen kann.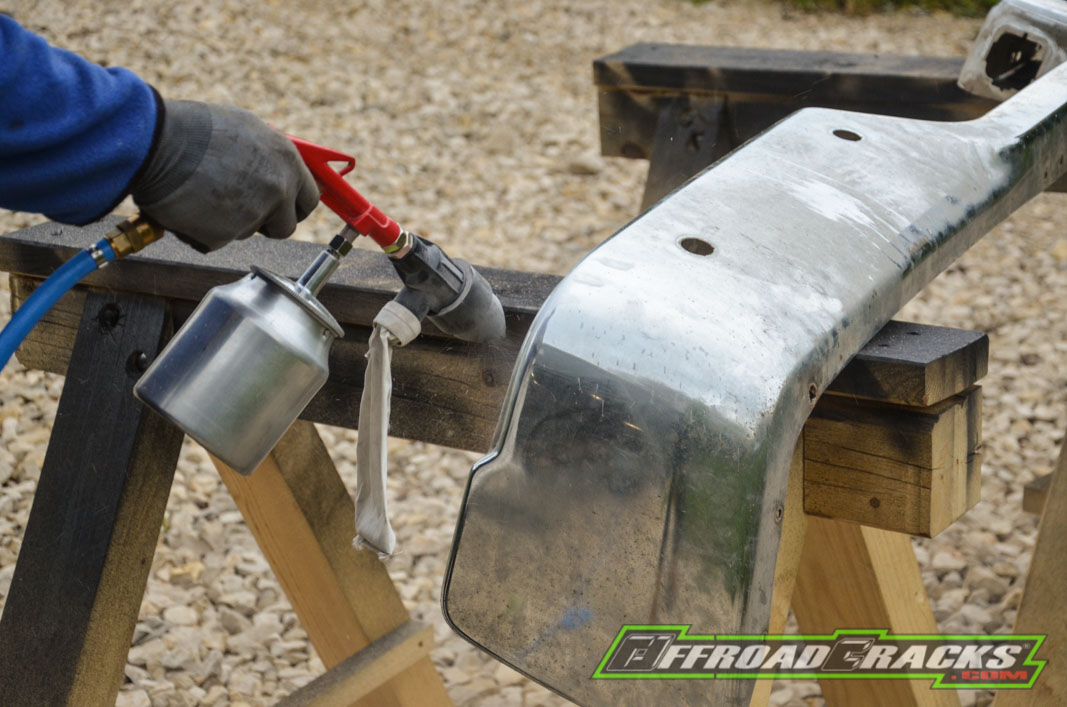 Sandstrahl-Ergebnis: Hier die erreichte Oberflächen-Struktur nach dem Sandstrahlen.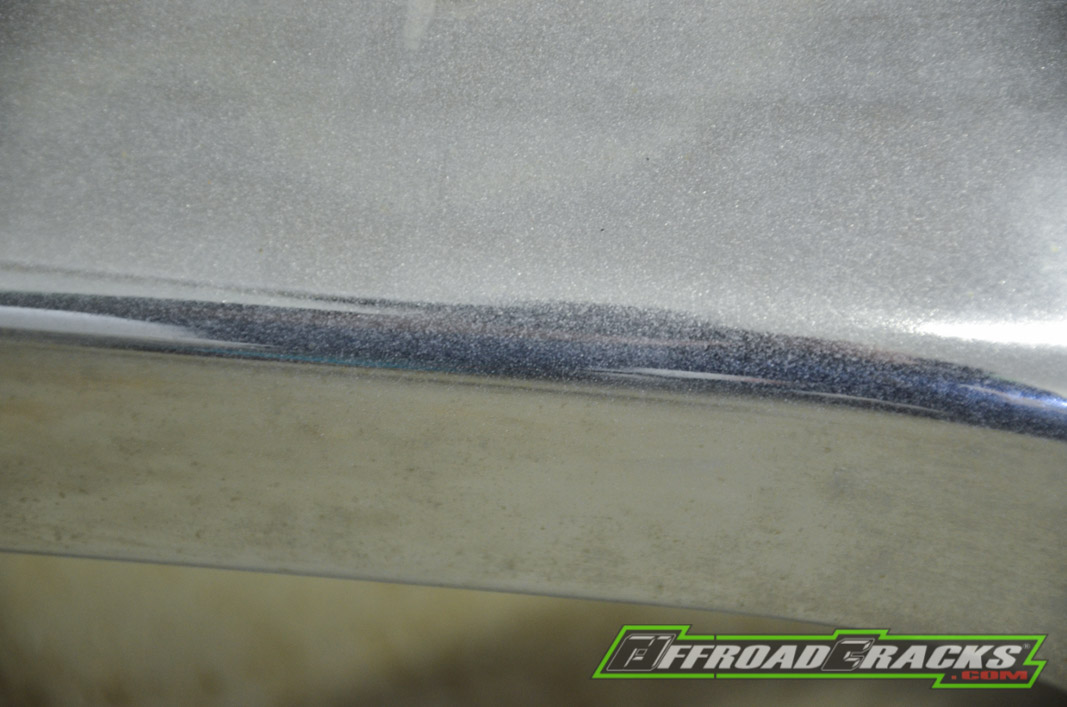 Anschließend werden Strahlgut-Rückstände und Staub beseitigt und alle zu beschichtenden Flächen mit einem Lösungsmittel (Vorgaben des Herstellers berücksichtigen) gereinigt. Dann heißt es mindestens 15 Minuten ablüften lassen und für die anschließende Beschichtung eine gut belüfteten Standort aufsuchen sowie eine Atemschutzmaske der Schutzstufe A2 P2 sowie entsprechenden Augenschutz tragen.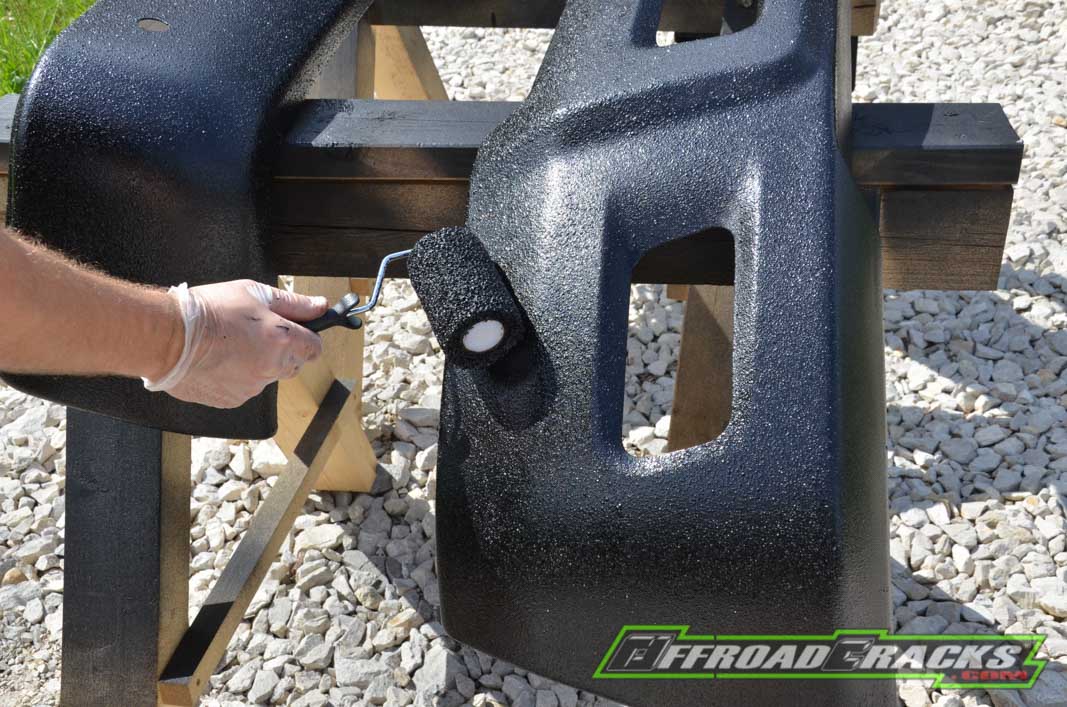 Zunächst muss die Polyurethan-Beschichtung im Behälter intensiv aufgerührt werden, so dass sich das darin befindliche Gummi-Granulat gleichmäßig vermengt. Anschließend kann auf klassische Art und Weise mit der Rolle die Beschichtung aufgetragen werden. Je nach gewünschter Schichtdicke und Deckung sind mehrere Schichten notwendig. Wir ermöglichten eine Trockenzeit je Schicht von mindestens zwölf Stunden. Achtung: Bei hohen Lufttemperaturen trocknet die Beschichtung schnell an, so dass eine konsequente und zeitnahe Verarbeitung von Vorteil ist.
Für schwer zugängliche Bereiche kam an den Stoßstangen auch das Herculiner-Spray (24,90 Euro) zum Einsatz, das im direkten Vergleich zum Auftragen per Rolle deutlich mehr Arbeitsschritte notwendigen werden ließ. Hintergrund ist der erwähnte Aerosol-Anteil, so dass die Beschichtung sprühfähig bleibt. Damit ist der Anteil der Beschichtung deutlich geringer und benötigt daher für ein ähnliches Ergebnis deutlich mehr Arbeitsschritte und Schichten als mit der Rolle. Zudem ist die Oberflächenstruktur im Vergleich deutlich feiner, was an dem beschichteten Kühlergrill gut zu erkennen ist.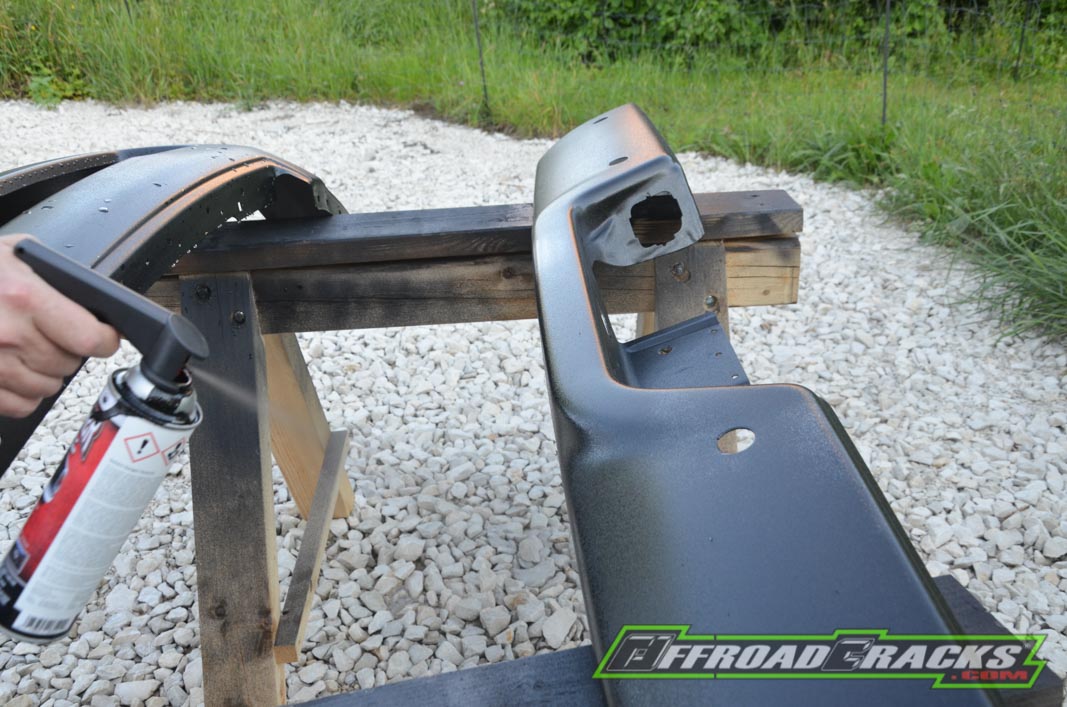 Herculiner-Spray: Ideal für feine Oberflächenstrukturen oder schwer zugängliche Bereiche
Nachdem alle Arbeiten abgeschlossen sind, Spraydosen, Pinsel, Rollen und sonstiges Material gereinigt wurde, heißt es nochmal etwas Geduld aufbringen, so dass die Beschichtung trocknen kann. Wir hatten das Glück unser Redaktionsfahrzeug mehrere Tage entbehren zu können und gönnten der Beschichtung eine mehr als angemessene Trocknungszeit von sieben Tagen. Anschließend erfolgte die Montage, die erneut einen großen Zeitaufwand bedurfte. Aber das Gesamtbild entschädigte uns für die mehrtägige Arbeit. Jetzt muss nach getaner Arbeit der Herculiner beweisen, wie gut er tatsächlich ist. Denn der Winter samt Streusalz ist allgegenwärtig und wird der Beschichtung sicherlich einiges abverlangen. Wie sich der Herculiner nach einem Jahr unter frostigen, als auch heißen Bedingungen sowohl onroad als auch offroad geschlagen hat, wird der nächsten Zwischenbericht Ende 2021/Anfang 2022 im Detail klären.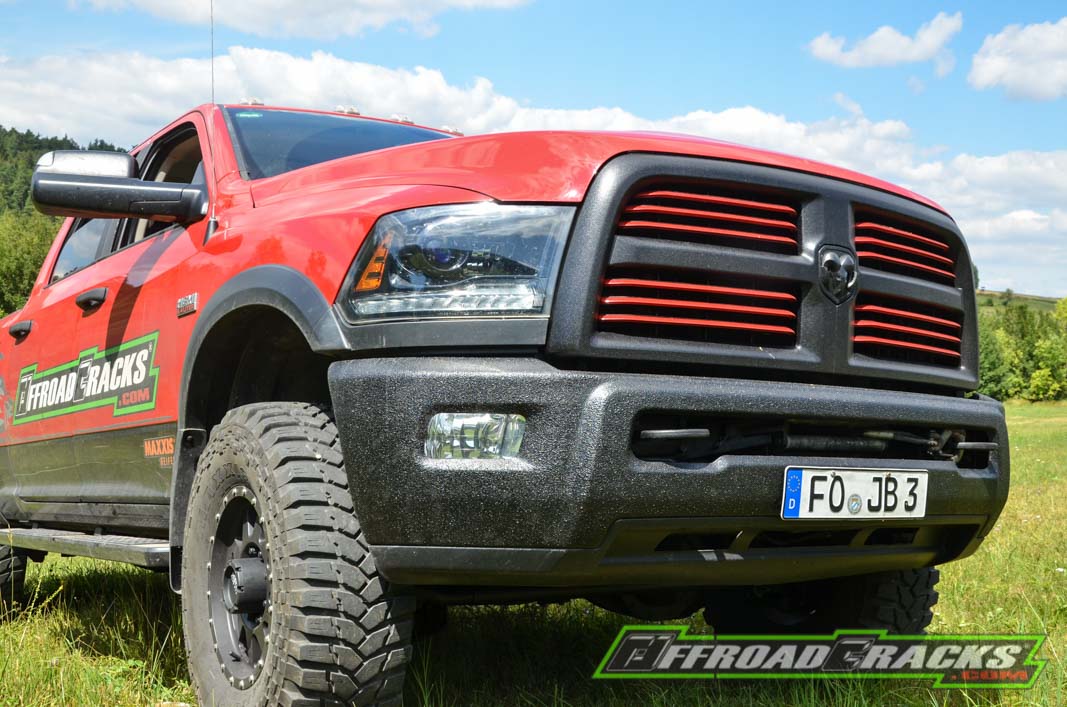 Gelungene Beschichtung von Stoßstange (Rolle) und Kühlergrill (Spray)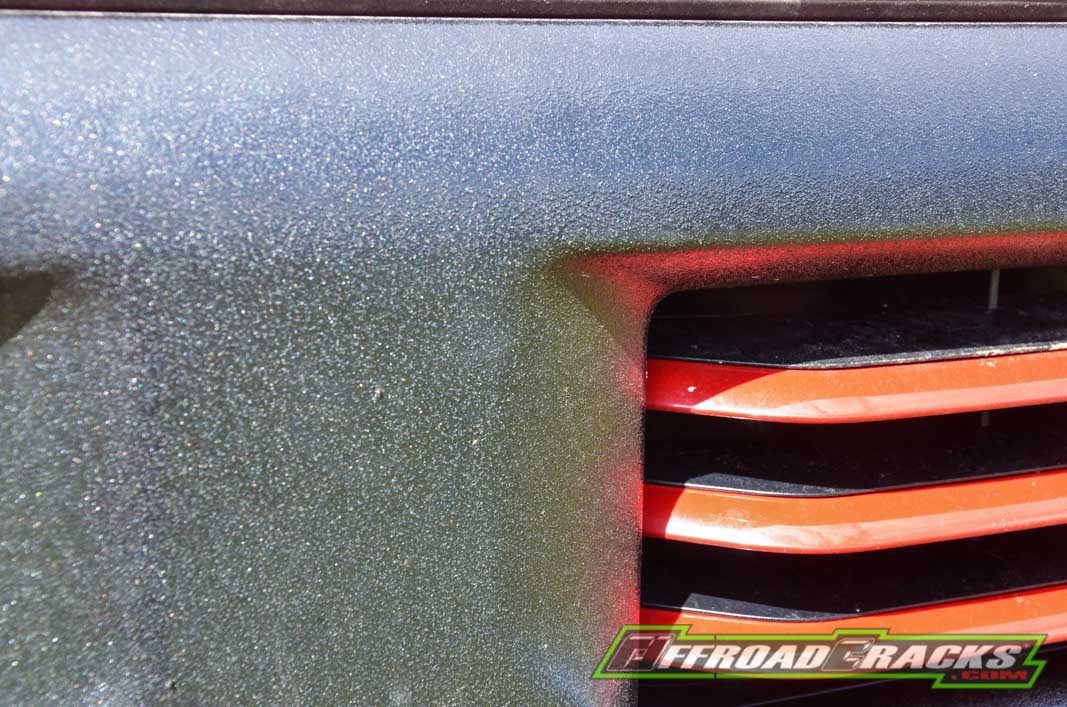 Herculiner-Spray: Sichtbar feinere Oberflächenstruktur am Kühlergrill
Bezugsquelle
www.Horntools.com oder www.herculiner.eu

Produkteigenschaften – Herculiner
Zusammensetzung: Polyurethan, 30 % Xylen, Gummi-Granulat
Löst sich nach 2-3 Tagen von der Haut ab
Siedepunkt: 140° C
5x dicker als vergleichbare Produkte
Flockt und bröselt nicht
Dichtet alle Oberflächen ab (Korrosion nicht möglich)
VOC REG 301g/l
Anwendungsmöglichkeiten: PVC, Holz, Metall, Beton, Aluminium, Asphalt, Gummi, Fiberglas u.v.m.
Anwendungsbeispiele: Ladeflächen, Trittbretter, Kofferraum, Motor Innenraum, Stufen oder Leitern, Nutzfahrzeug Boden, LKW, Offroad Fahrzeuge, Anhänger, Baumaschinen, Boote, Pferdeboxen oder Anhänger, Unterfahrschutz, Haus, Garage, Teer oder Betonboden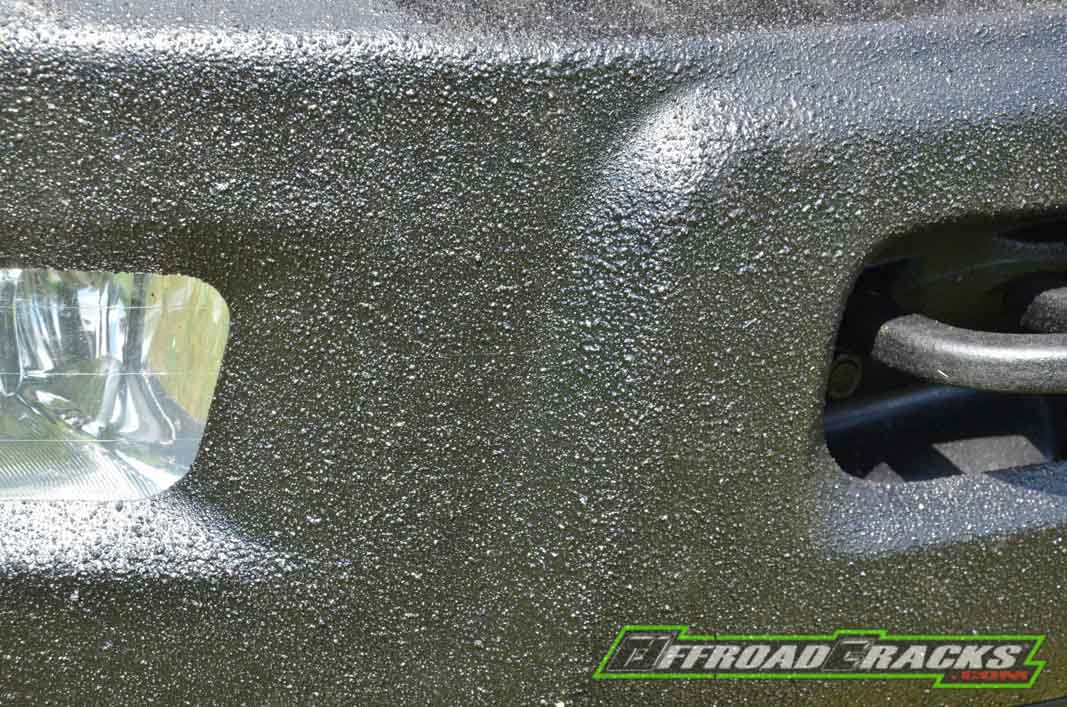 Herculiner mit Rolle verarbeitet: Eine sichtbar gröbere Struktur für den robusten Look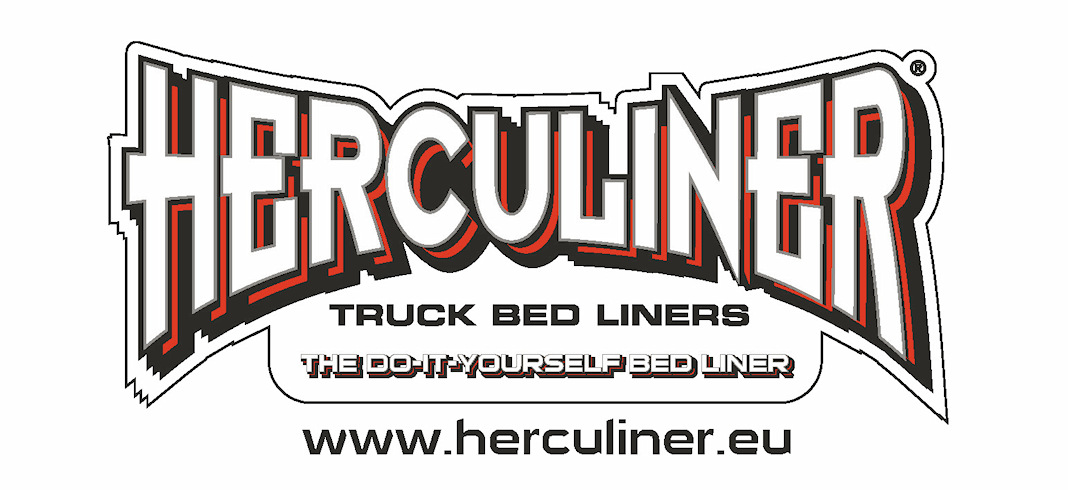 HERCULINER – Sicherheitsdatenblatt & Bedienungsanleitung

MANSDSHHERC001_Herculiner_Manual-Sicherheitsdatenblatt_a5

---

HERCULINER truck bed liner by Horntools
Pickup trucks usually do not have a bed liner ex factory, so that the thin layer of paint wears off relatively quickly when used appropriately, the primer rubs through and the bare metal of the load compartment flashes out. The same is a consequence of the use of cargo underrail, which logically also rub on the vehicle paintwork underneath. Sooner or later, the result is punctual corrosion which, due to the environmental influences, can only be repaired afterwards at great expense.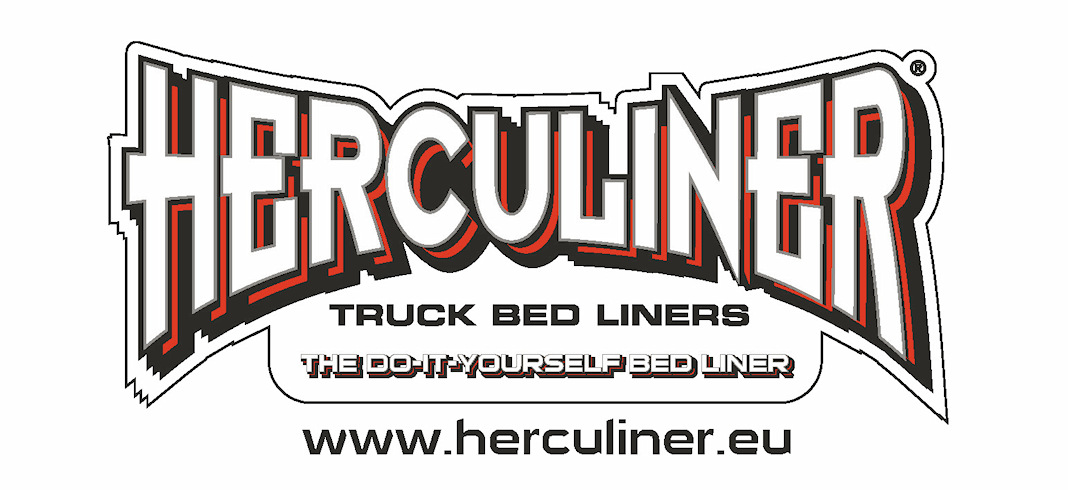 Since our editorial vehicle based on a Dodge Ram pickup already has an adequate truck bed liner from the manufacturer, we have decided to coat the chrome surfaces of the plastic radiator grille and the chrome-plated front and rear bumpers with Herculiner, because the american chrome bumpers are already very susceptible to corrosion which will be protected then all over in the long term and at the same time providing a new look. In addition, according to the manufacturer, this type of coating promises a significantly higher resistance than the comparatively trendy foiling process up to a classic painting, which would be anything but useful for our use. From a financial point of view, this solution is clearly cheaper than all others, provided you can do the work yourself.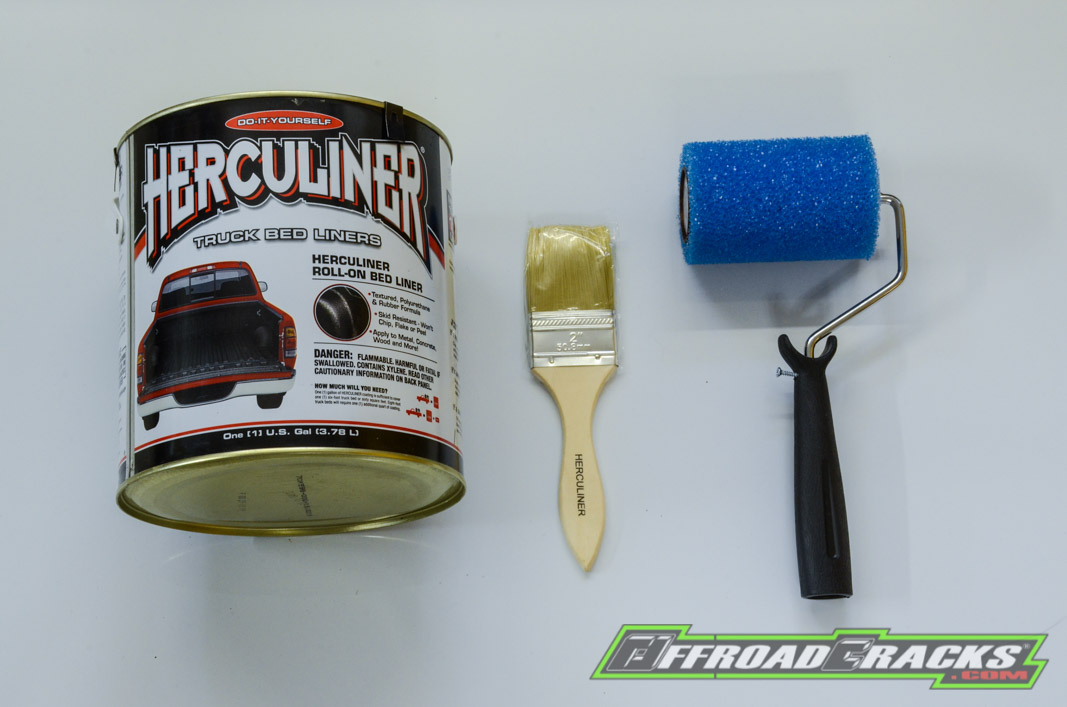 Herculiner-Kit 7m² – black (RAL 9005)
The Herculiner kit is used for an area of ​​a good seven square meters, which contains 3.78 liters of the polyurethane coating, a sanding pad, a roller with two attachments, a brush and an extensive description. The manufacturer is calling 130 euros for this in Germany. The chosen color corresponds to the designation 'deep black' with the RAL number 9005. A set of gloves from Horntools was also supplied to us for the test.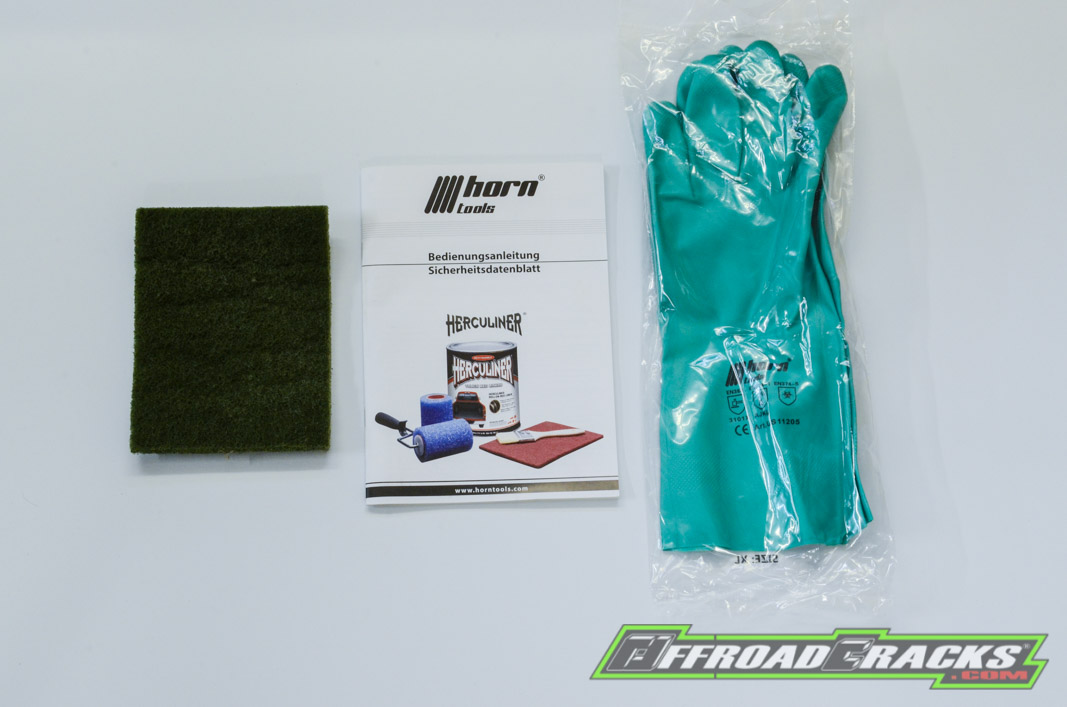 Herculiner sand pad, manual and protective gloves

For areas that are difficult to reach, there is also a Herculiner spray with a capacity of 443 milliliters, which has a higher aerosol content to keep the mixture of polyurethane and 30 percent xylene sprayable. The rubber particles in it are also visibly smaller and will therefore produce a finer surface finish in the end. Therefore, in our application, the spray will primarily be used for the radiator grille.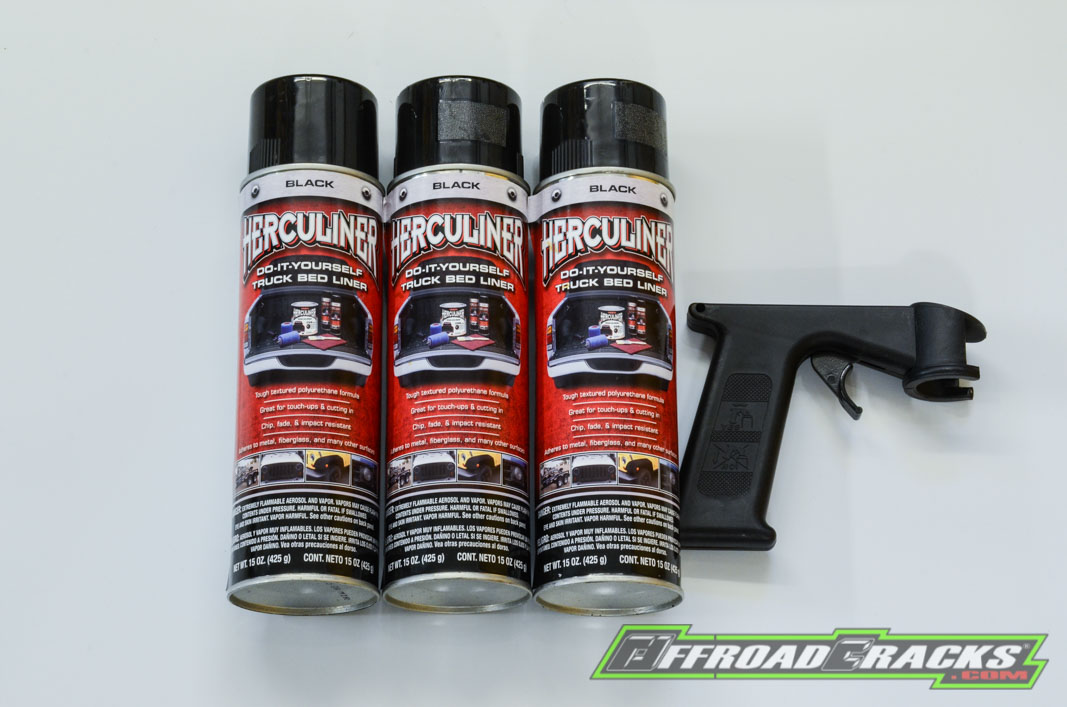 Herculiner spray for 1,15m² surface each unit including a holder

First of all, the surfaces to be worked on have to be cleaned, which in our case is anything but easy in the assembled state due to fog lights, winch, recovery hooks as well as tow hitch, step protection and number plate lighting. Therefore we decide to dismantle the radiator grille as well as the front and rear bumper, which inevitably makes up the largest part of the work in this coating process. In return, you save yourself the otherwise unavoidable and time-consuming masking process. Then all three elements are thoroughly cleaned so that no more contamination can be found on the surfaces. Superficial corrosion has already formed in two corners of the chrome bumpers, but it can be removed relatively easily by polishing.
Since chrome-coated surfaces can have different degrees of surface hardness (Vickers) depending on the process, normal roughening with an abrasive fleece or pad cannot be used here. That is why we opt for the somewhat more complex variant using a sandblasting device, which gives the chrome layer a suitable surface structure and thereby maximally improves the adhesion of the Herculiner coating. For this you need appropriate protective clothing, a blasting gun and at least a permanent air pressure of 10 bar with the corresponding compressor size, so that the blasting material (commercially available quartz sand with an appropriate grain size) can do its job.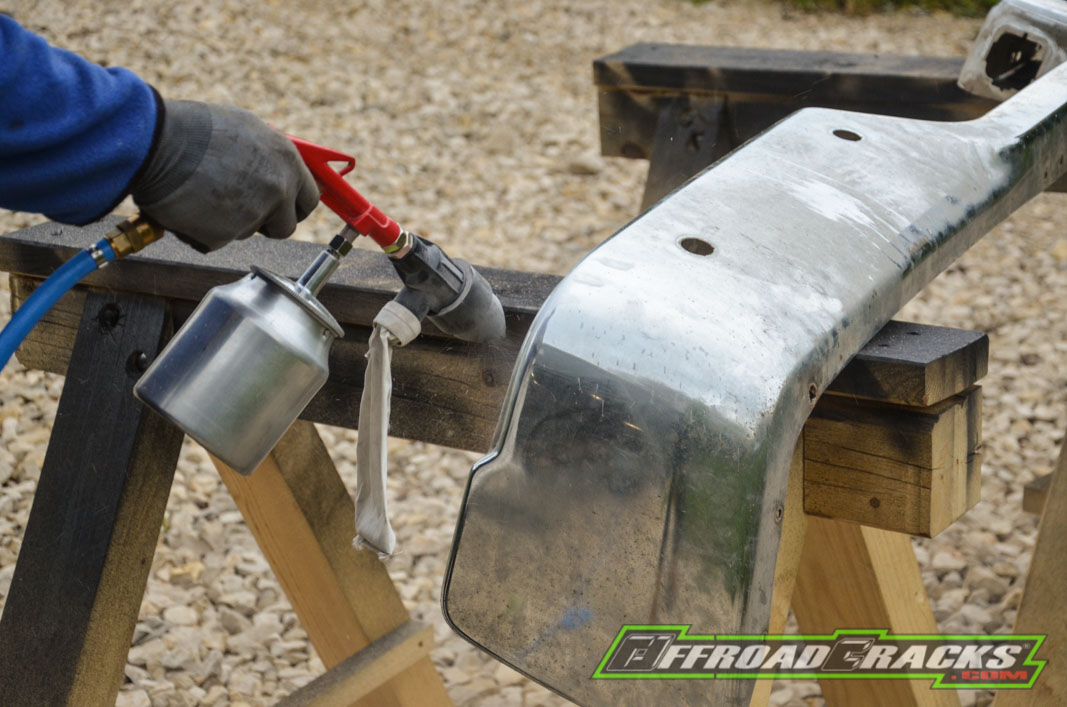 Sandblasting result: Here the surface structure achieved after sandblasting.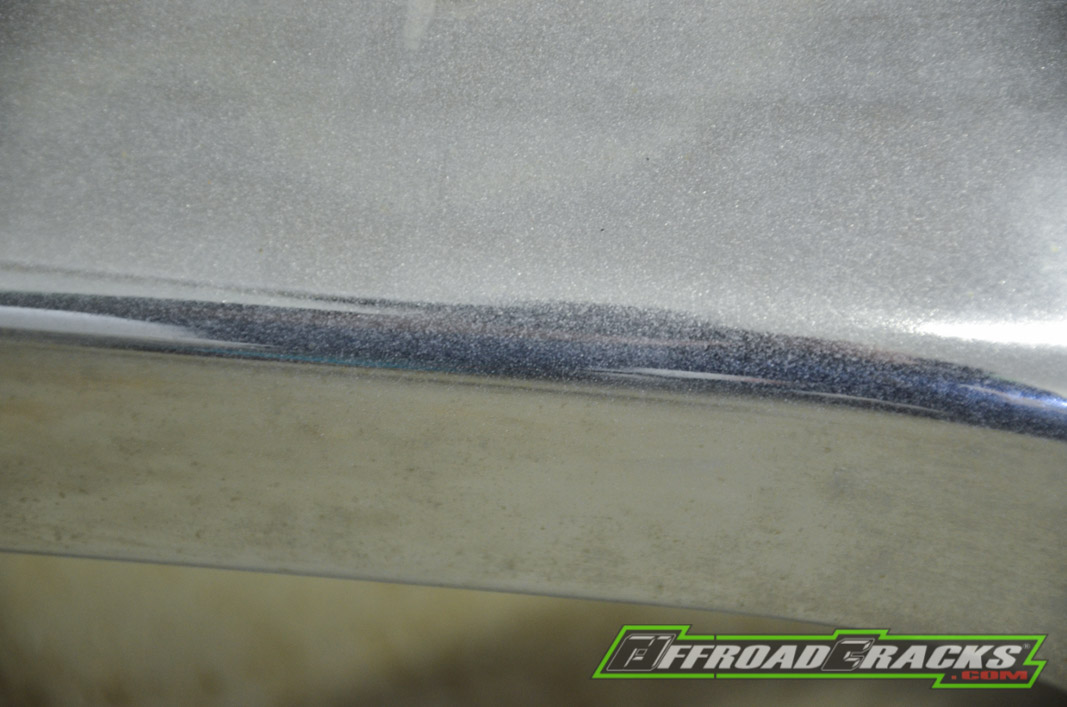 Then blasting material residues and dust are removed and all surfaces to be coated are cleaned with a solvent (take the manufacturer's specifications into account). Then let it flash off for at least 15 minutes and go to a well-ventilated location for the subsequent coating and wear a protective mask of protection level A2 P2 and appropriate eye protection.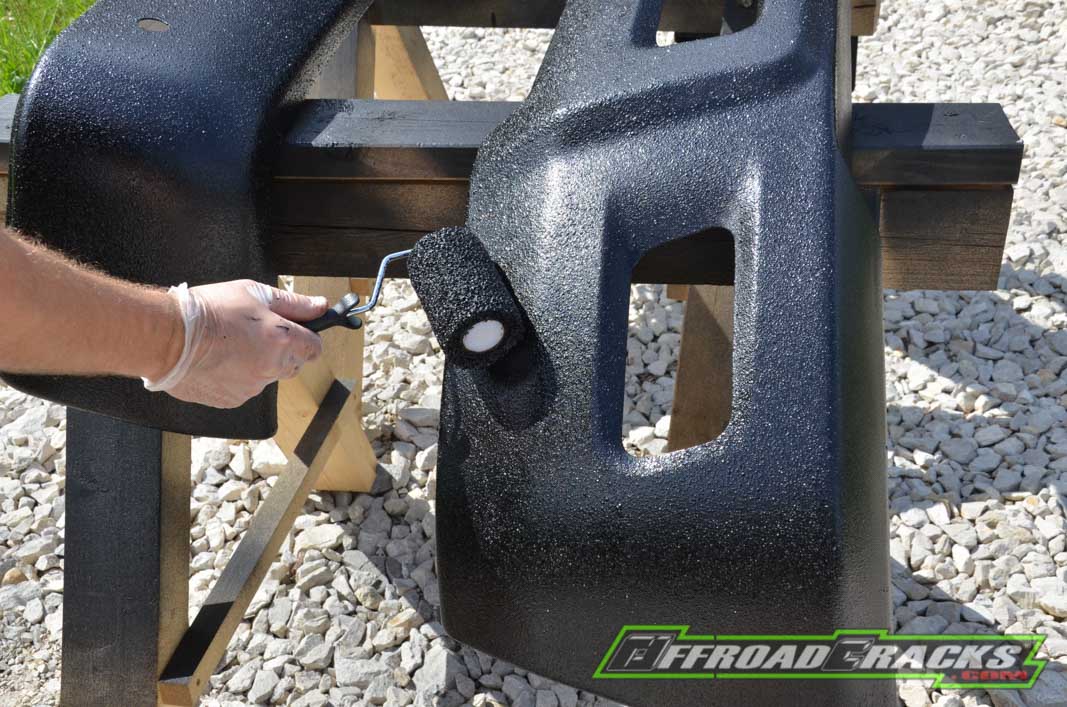 First of all, the polyurethane coating in the container has to be stirred up intensively so that the rubber granules inside are mixed evenly. The coating can then be applied in the classic way with a roller. Depending on the desired layer thickness and coverage, several layers are necessary. We enabled a drying time of at least twelve hours per shift. Attention: The coating dries quickly at high air temperatures, so that consistent and prompt processing is an advantage.
For areas that are difficult to access, the Herculiner spray (24.90 euros) was also used on the bumpers, which made significantly more work steps necessary in direct comparison to application by roller. The background to this is the aerosol content mentioned, so that the coating remains sprayable. This means that the proportion of coating is significantly lower and therefore requires significantly more work steps and layers for a similar result than with the roller. In addition, the surface structure is significantly finer in comparison, which can be clearly seen on the coated radiator grille.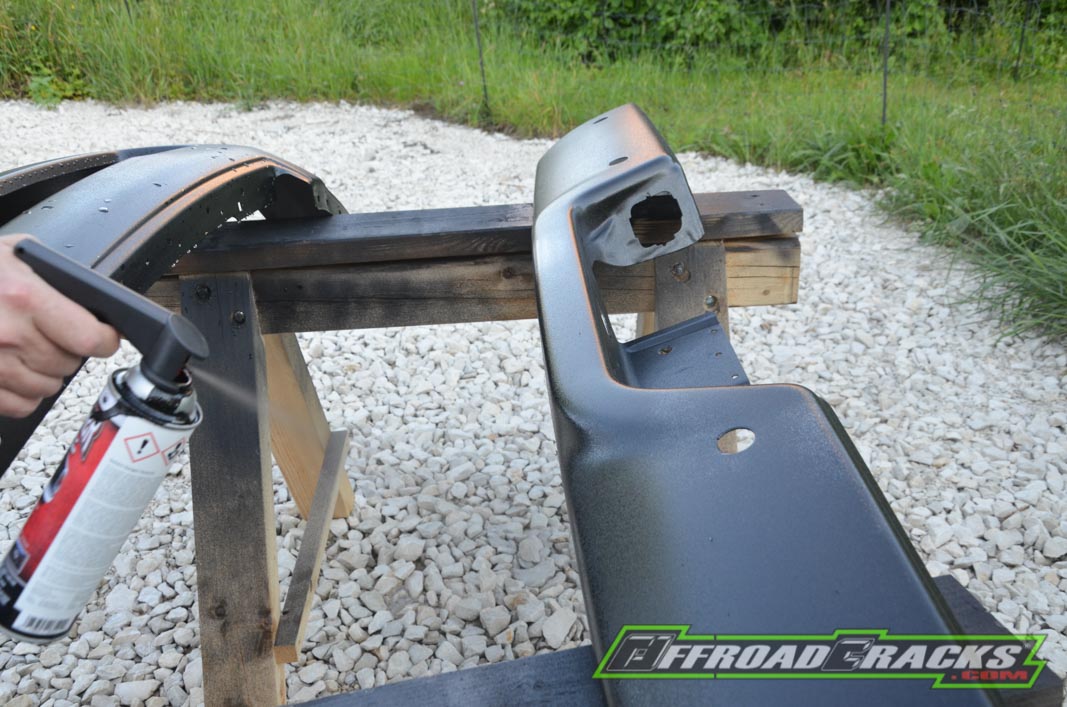 Herculiner spray: Ideal for fine surface structures or areas that are difficult to access

After all work has been completed and the spray cans, brushes, rollers and other material has been cleaned, it is time to be patient again so that the coating can dry. We were lucky enough to be able to do without our editorial vehicle for several days and allowed the coating a more than adequate drying time of seven days. This was followed by assembly, which again required a great deal of time. But the overall picture made up for the several days of work. Now that the job is done, the Herculins have to prove how good it really is. Because winter, including salt, is omnipresent and will certainly demand a lot from the coating. The next interim report at the end of 2021 / beginning of 2022 will clarify in detail how the Herculiner has fared both on-road and off-road after a year under frosty and hot conditions.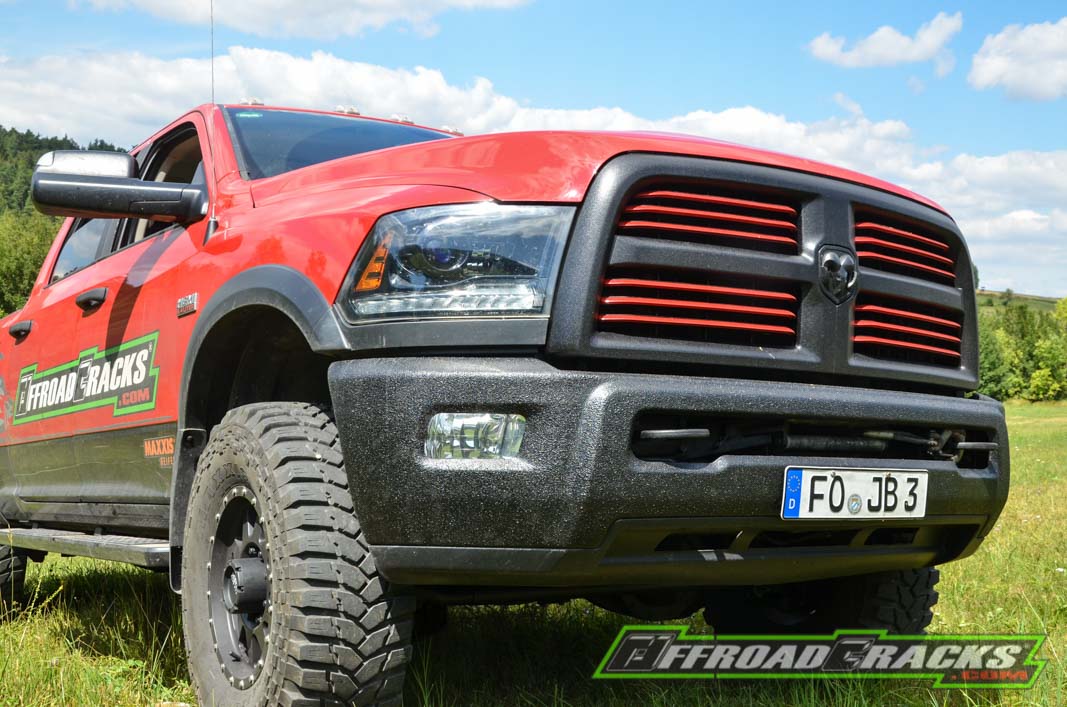 Successful coating of bumper (roller) and radiator grille (spray)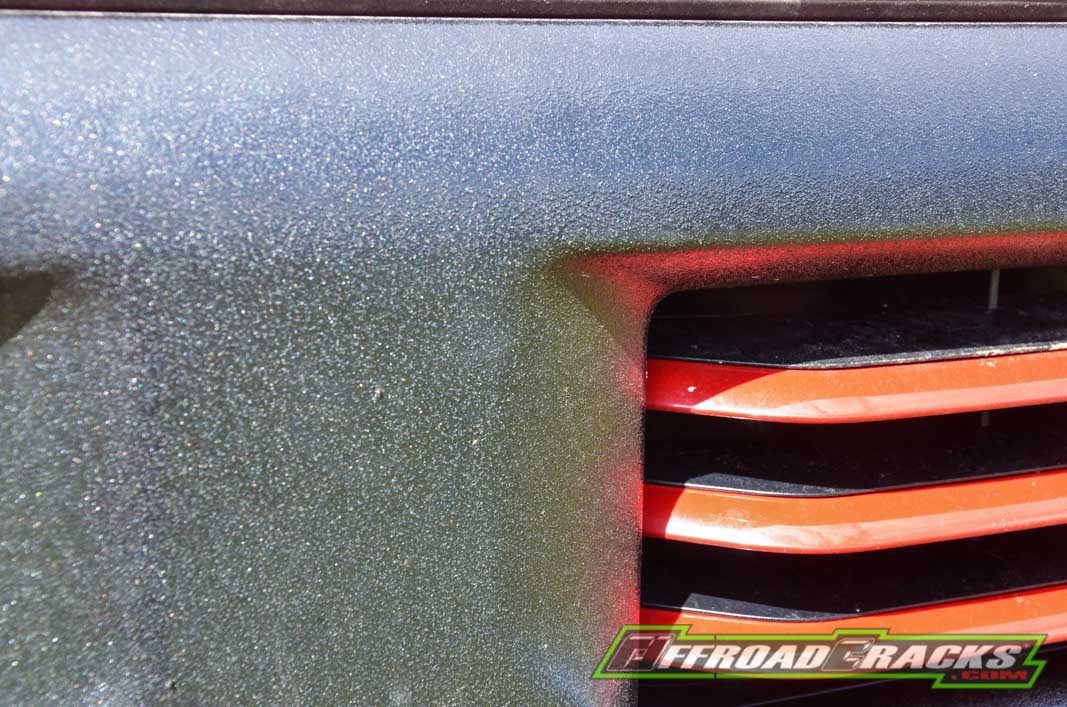 Herculiner spray: Visibly finer surface structure on the radiator grille
SUPPLIER
www.Horntools.com or www.herculiner.eu

Product features – Herculiner
Composition: polyurethane, 30% xylene, rubber granulate
Detaches from the skin after 2-3 days
Boiling point: 140 ° C
5x thicker than comparable products
Does not flake or crumble
Seals all surfaces (corrosion not possible)
VOC REG 301g / l
Possible applications: PVC, wood, metal, concrete, aluminum, asphalt, rubber, fiberglass and many more
Application examples: loading surfaces, running boards, trunk, engine interior, steps or ladders, commercial vehicle floors, trucks, off-road vehicles, trailers, construction machines, boats, horse boxes or trailers, underrun protection, house, garage, tar or concrete floor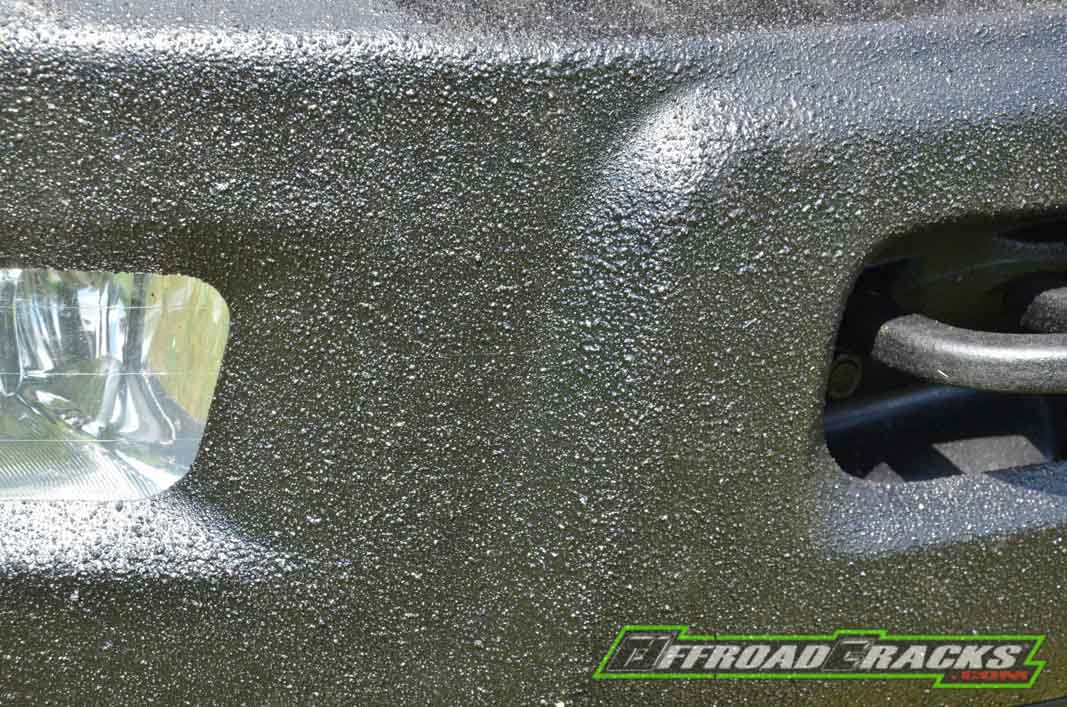 Herculiner processed with a roller: A visibly coarser structure for the robust look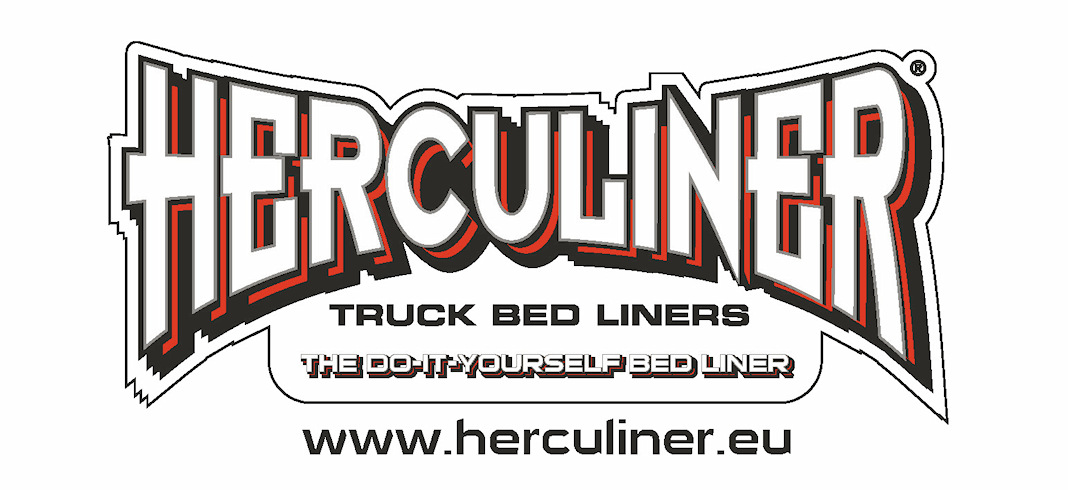 HERCULINER – Operation manual
instructions-other_uses-english

Quelle / Source: Horntools, Herculiner